One of the more fun trends is the addition of dog showers and pet washing stations to the home. That's right, your dog can now enjoy their very own dog shower from the comfort of the place they love the most–home.
Say goodbye to paying extra for professional dog bathing services. Now, you can enjoy washing your pet in a variety of different ways. From built-in dog showers to shower head attachments made specifically for your furry friend, you can invest in a great home addition that adds countless repeated value.
Consider the popularity and benefit of pet washing stations when looking for the next exciting trend to be a part of. This can be an affordable way to begin a renovation project with a couple of changes that are fun for the whole family.
Pet Washing Station
You can build a pet washing station that's equipped with everything you need: An area for your dog to sit or stand, an accessible shower head, and stairs for easy access by your furry loved one. Whether your dog is large or small, they can go up and down the steps and sit in the station so you don't have to arch your back to reach them.
Most pet washing stations resemble smaller, elevated showers. Your dog can enjoy sitting under the warm showers while you have confidence in the easy and clean draining systems. And if your dog happens to be one to dislike water, you can help them feel comfortable by sitting or standing in the shower with them while they are washed. They'll soon feel relaxed and calm, and they may even learn to love their bath time!
Be sure to hook your station up to a running water system so you can adjust the temperature and intensity of the water pressure. It should be a fun, stress-free situation for both you and your pet.
TILE PERCH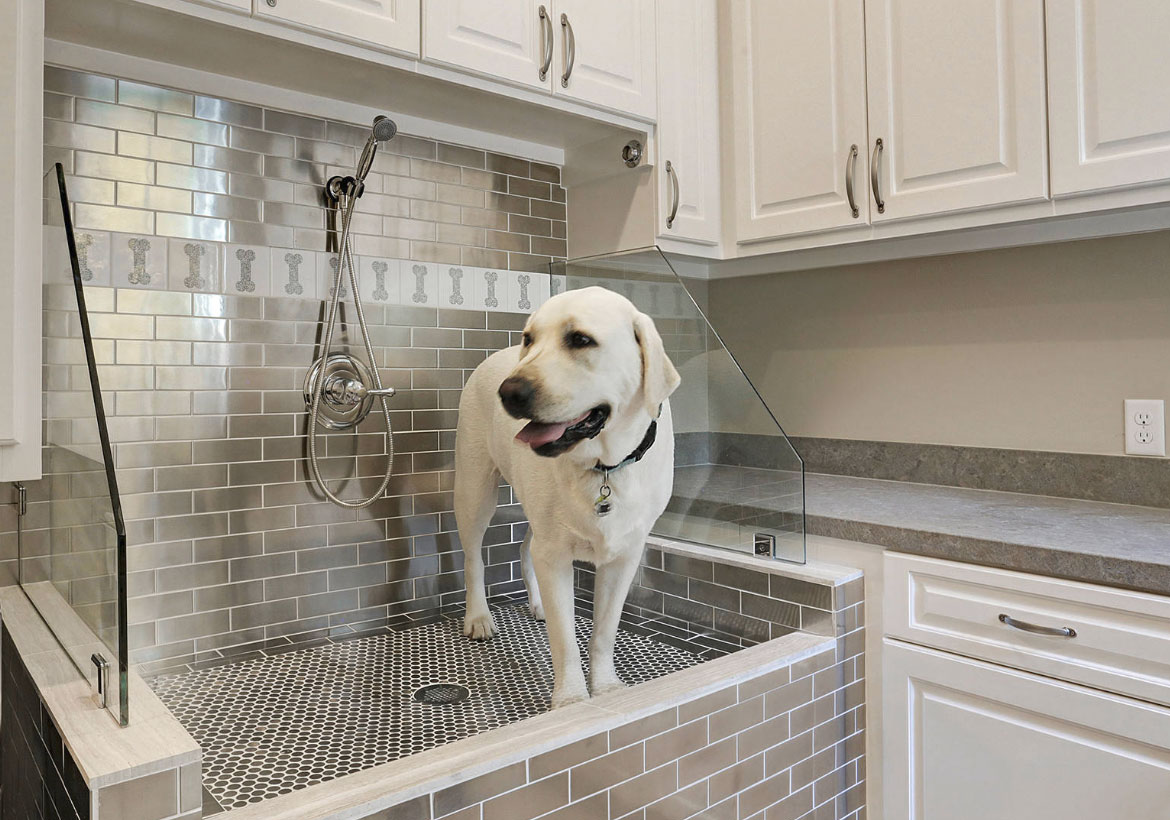 In this modern pet washing station by Metropolitan Custom Homes, a stainless steel dog shower with a detachable sprayer and adjustable temperature controls offers a hygienic and user-friendly bathing experience. The sleek design and integrated storage shelves make it a functional and aesthetically pleasing addition to the laundry room.
LAUNDRY OASIS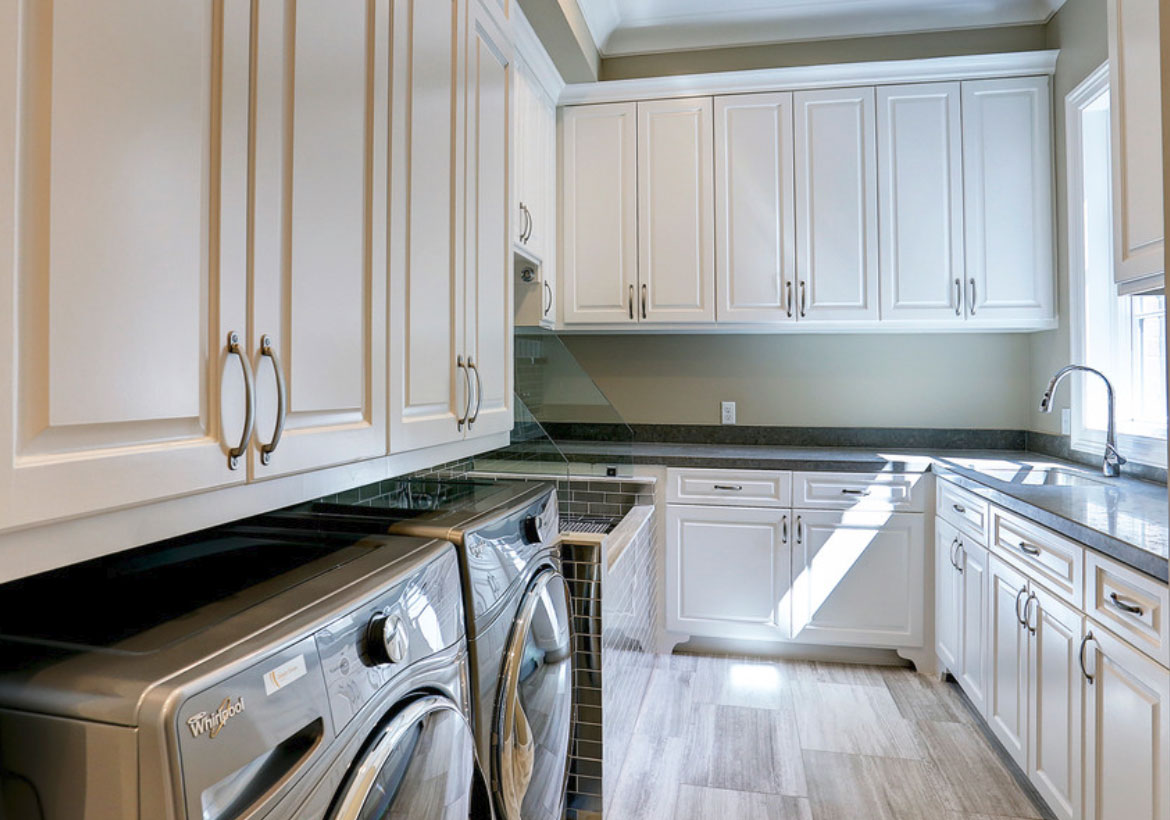 This dog shower design by Metropolitan Custom Homes features a rustic-inspired outdoor washing station with a stone surround and a handheld showerhead connected to a garden hose. The natural elements and convenient location make it a practical and charming area for washing pets after outdoor adventures.
STONE STEP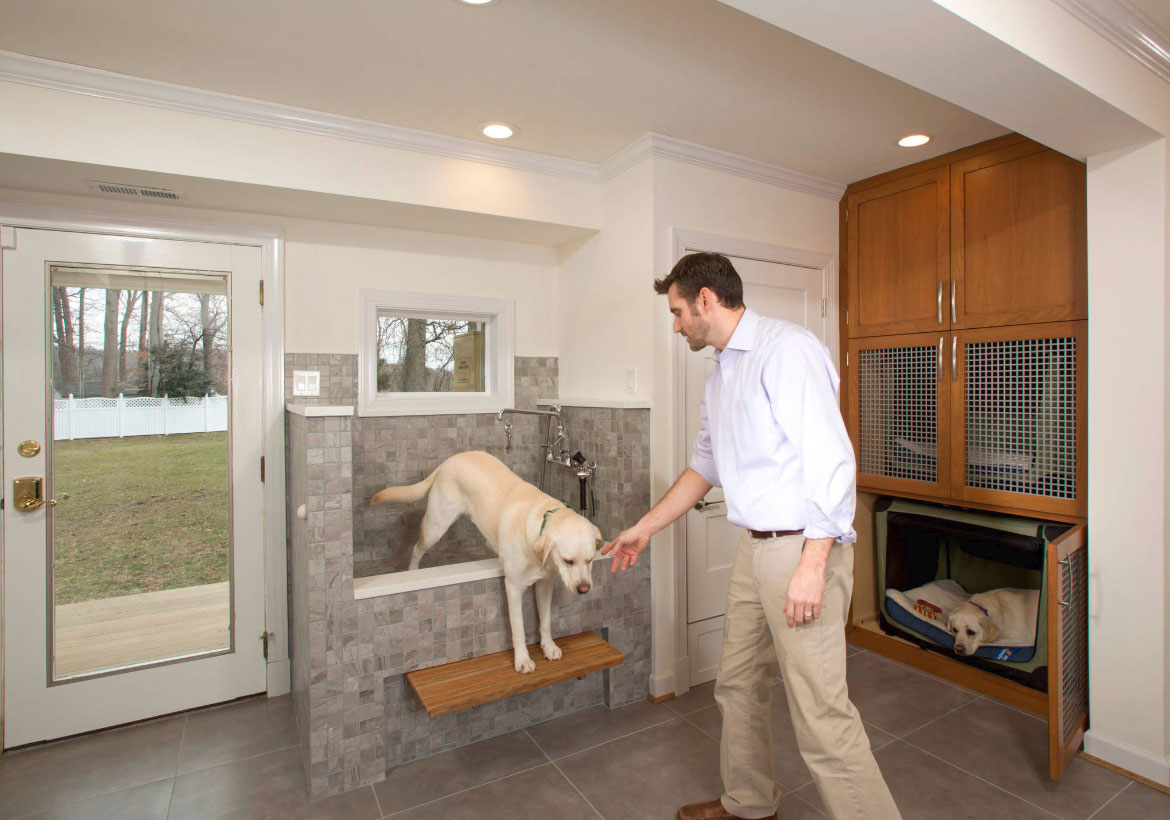 In this compact pet washing station by Four Brothers LLC, a wall-mounted dog shower with a folding door and non-slip base provides a space-saving solution for small homes or apartments. The integrated hooks and shelves offer storage for pet grooming supplies, maximizing functionality in a limited space.
SLEEP SPOT
In this contemporary pet washing station by Four Brothers LLC, a built-in dog shower with a tiled surround and glass door offers a sleek and modern aesthetic. The overhead showerhead and handheld sprayer provide flexibility and ease of use, ensuring a thorough and convenient bathing experience.
SMOOTH GREY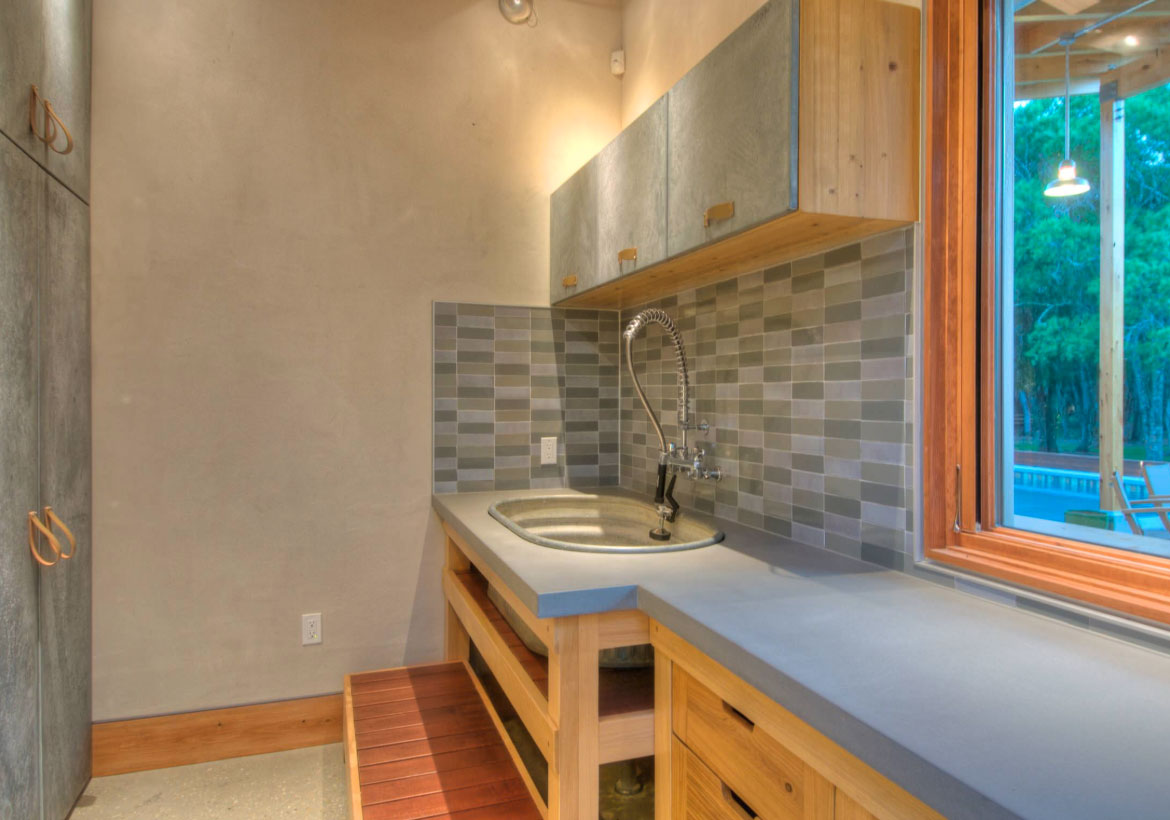 This dog shower design by Josh Wynne Construction features a multi-purpose mudroom with a dedicated pet washing station, complete with a tiled floor, wall-mounted showerhead, and built-in storage cabinets. The functional layout and easy-to-clean surfaces make it a practical and organized space for pet care.
PUPPY PAWS
In this farmhouse-inspired pet washing station by Stanton Homes, a vintage clawfoot tub with a handheld showerhead and charming wall paneling offers a nostalgic and cozy bathing experience for pets. The rustic details and warm color scheme create a welcoming atmosphere in the laundry room.
GREY TILE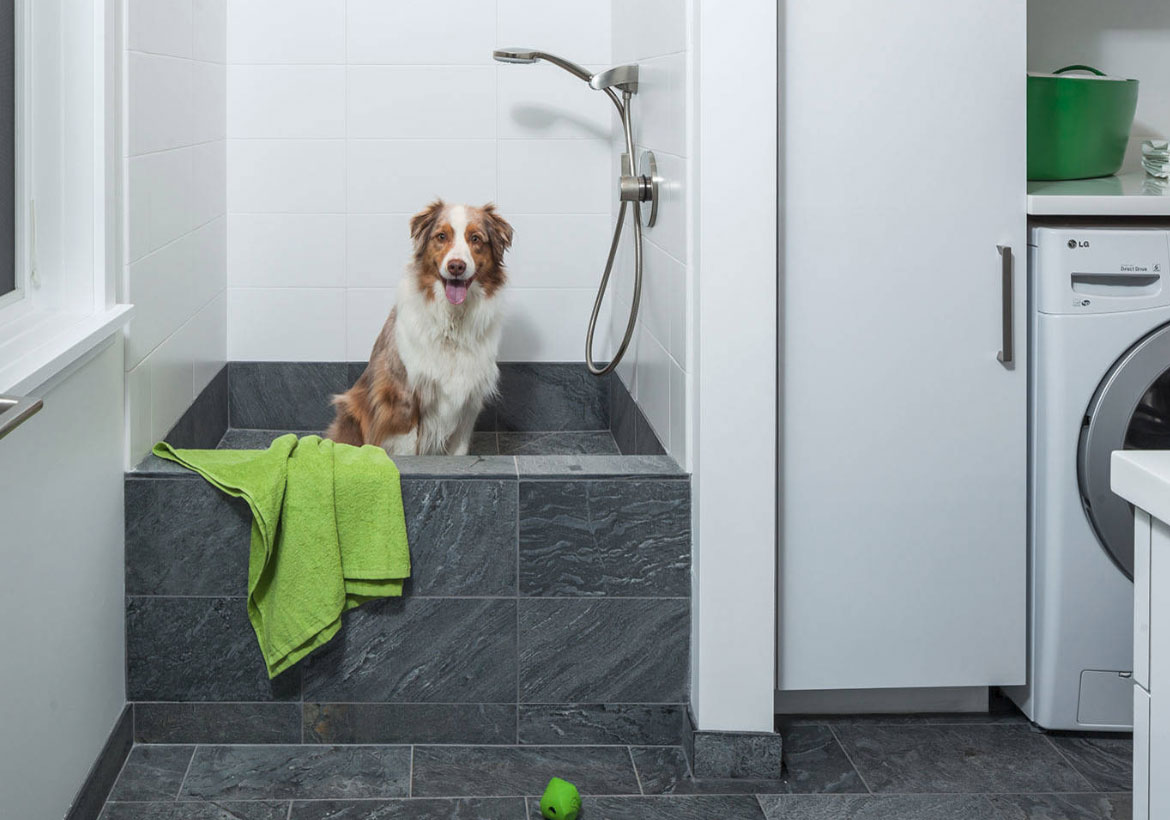 This dog shower idea by Hamish Murray Construction, Inc. showcases a modern and minimalist pet washing station with a sleek stainless steel shower base and a wall-mounted showerhead. The clean lines and uncluttered design make it a stylish addition to any laundry or utility room.
LARGE SINK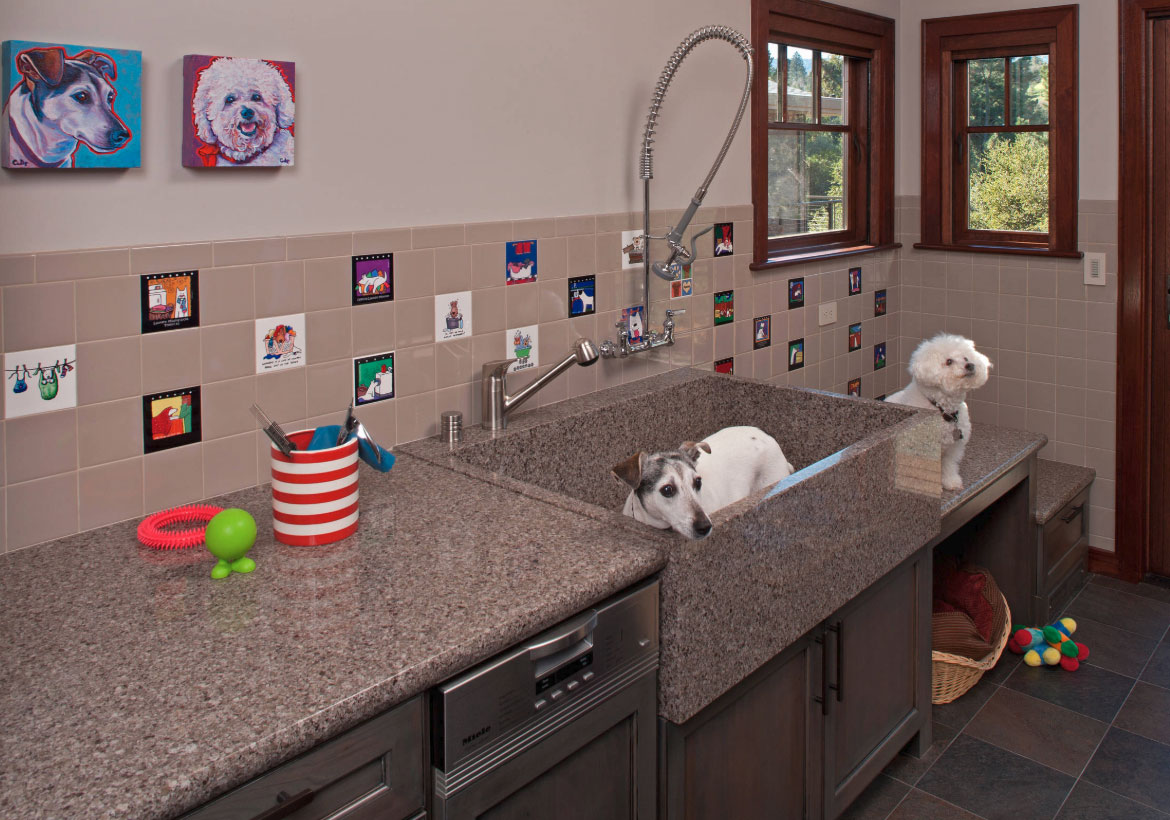 In this outdoor pet washing station by Designs Dell'Ario Interiors, a custom-built dog shower with a stone surround and a rain showerhead creates a spa-like experience for pets. The open-air design and natural surroundings make it an ideal spot for washing dogs after outdoor playtime.
STORAGE ROOM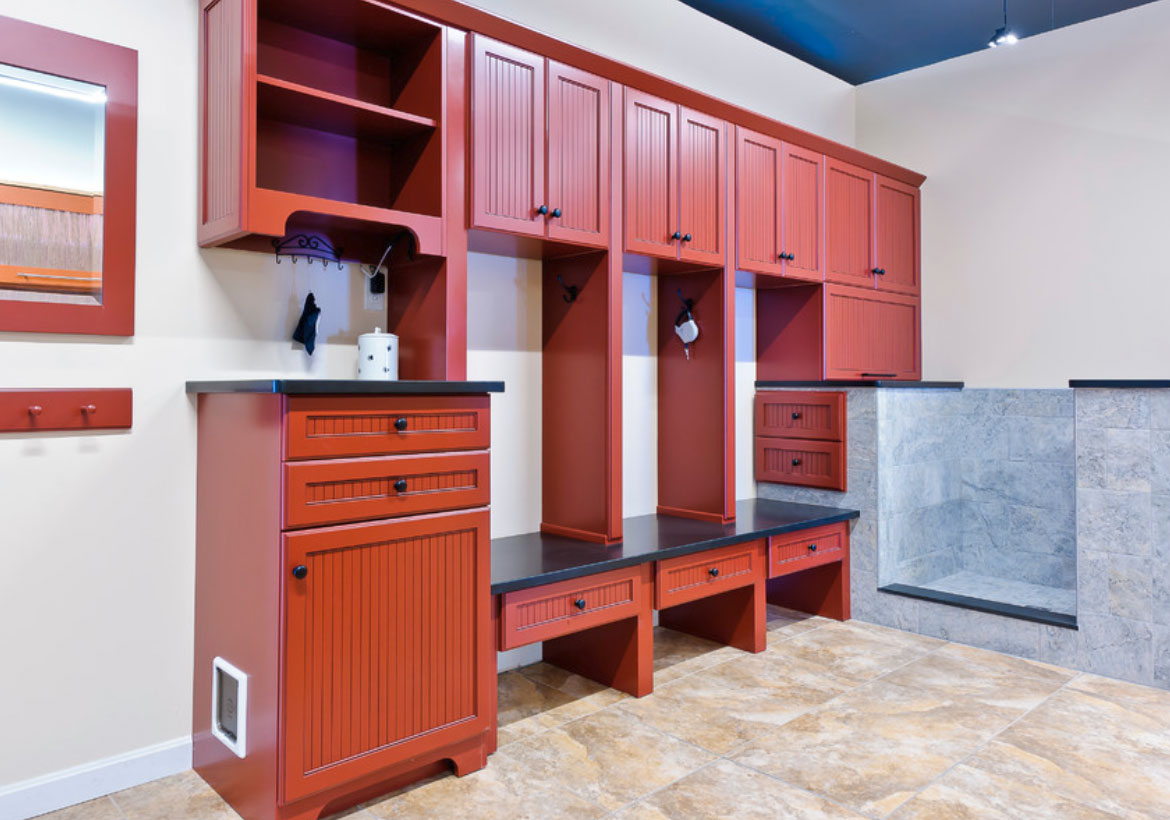 This dog shower design by Inspire Kitchen and Bath Design features a compact and functional pet washing station integrated into a laundry room cabinet. The pull-out dog shower with a handheld sprayer and retractable hose offers convenience and versatility, while the concealed design keeps the space tidy and organized.
Benefits of Dog Washing Stations
Why exactly would a pet owner want to invest in a dog bath station for the home? Well, there are many reasons. Of course, usefulness and practicality can go a long way when deciding on the value of a new project like this. Pet owners and homeowners are finding that a pet washing station can really make some household chores easier.
There are differences in the types of pet bathtub options available, of course. Some residents may prefer a whole dog wash tub, while others may find more value out of a dog shower attachment that can work with an already-existing shower. And building an entire washing station just for your pet is far less excessive than you might think!
This is especially true for those who have a larger dog at home. It can be difficult to have to lean down to scrub and wash the dog, whether he's sitting outside or in the regular shower inside. Dog wash tubs offer a lot of practicality that some pet owners just can't afford to do without.
A variety of pet bathtub options can be installed indoors, outdoors, in the bathroom, in the kitchen, and more. Take a look at some of the options for your home to see what might work best for you.
WHITE ROOM
In this contemporary pet washing station by The Yeatman Group, a wall-mounted dog shower with a folding door and adjustable showerhead provides a space-saving solution in a small bathroom or laundry area. The neutral color palette and sleek finishes add a modern touch to the pet washing station.
SPA LIKE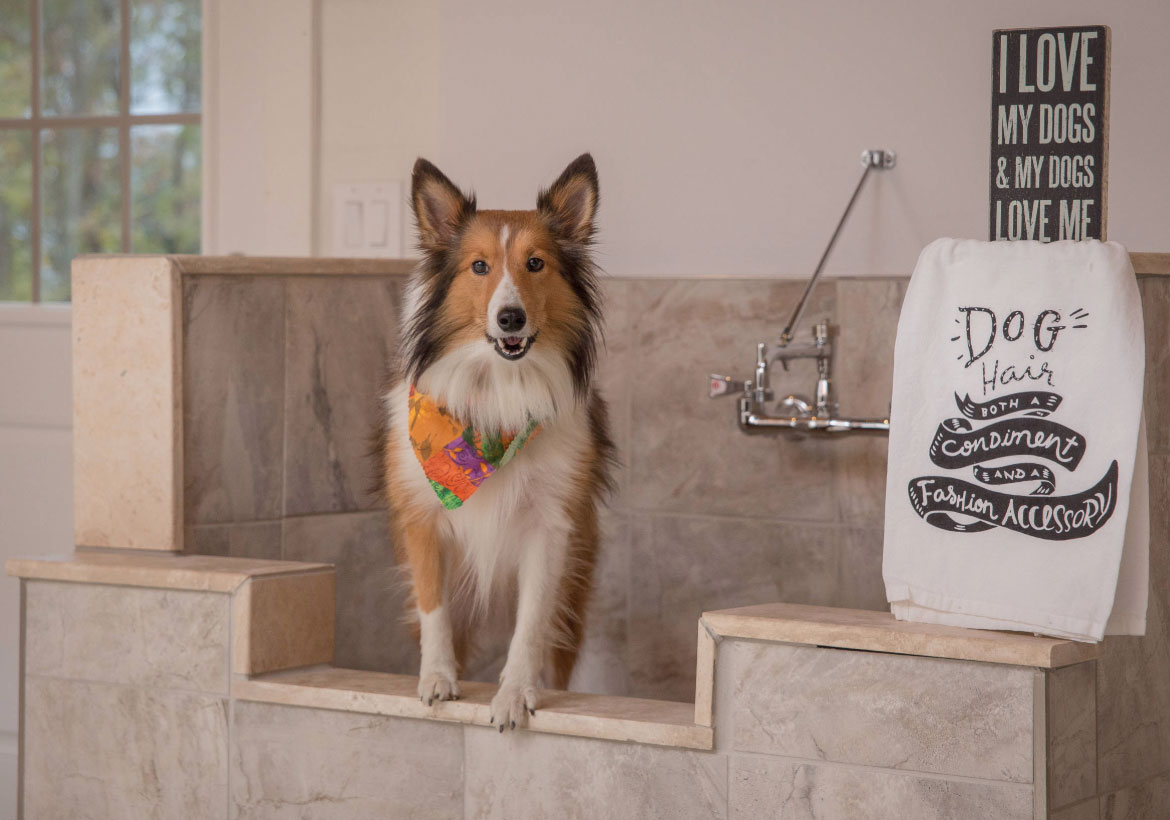 This dog shower idea by Modern Home Concepts showcases a pet washing station with a dedicated tiled area and a glass enclosure, creating a separate space for bathing pets within the bathroom. The built-in storage shelves and hooks ensure all pet grooming essentials are within reach for a hassle-free bath.
COLORFUL
ENCLOSURE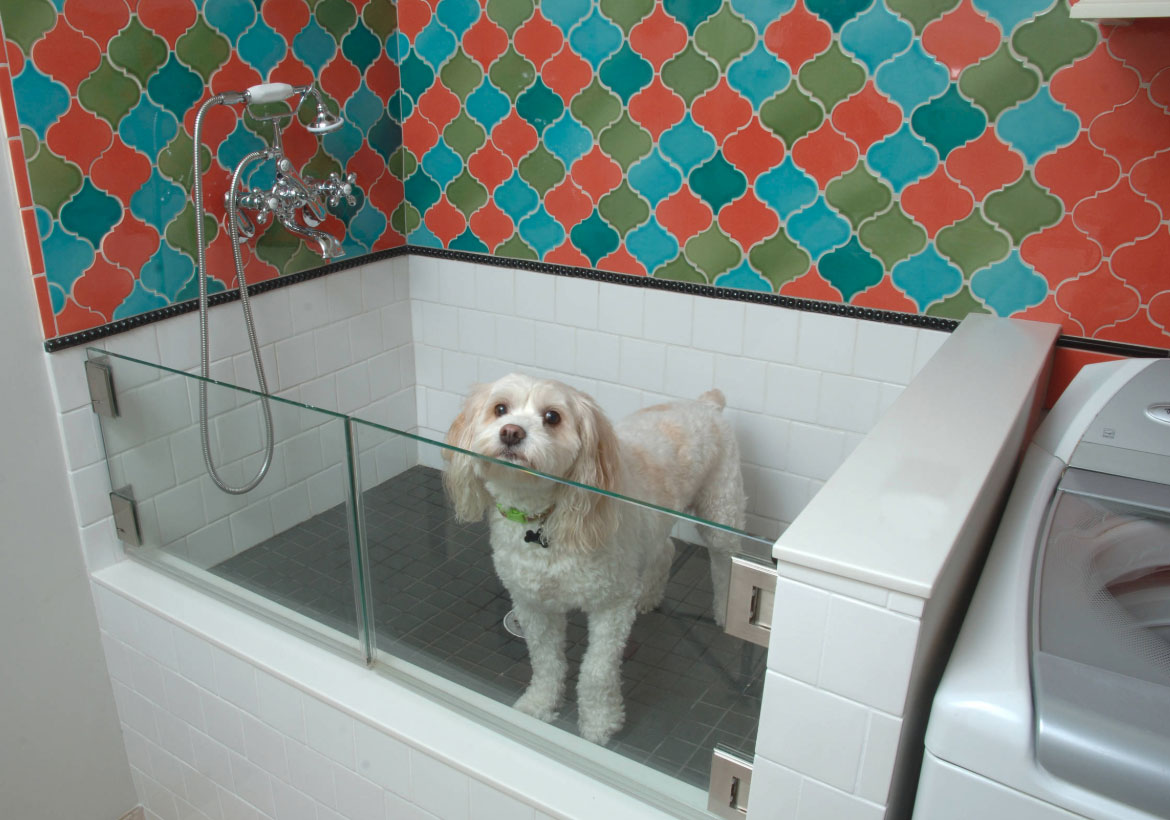 In this industrial-inspired pet washing station by Destiny Homes, a galvanized metal dog shower with a handheld sprayer and a built-in drain offers a durable and utilitarian solution for washing pets. The exposed brick wall and raw materials add a touch of urban charm to the pet care area.
ALL IN ONE
PARADISE
This pet washing station by Jennifer Ryan Design showcases a compact yet functional setup with a built-in shower base and a wall-mounted showerhead. The tiled surround and integrated storage shelves make it a practical and space-saving solution for pet care in smaller bathrooms.
Pet Bathtub Options
Some pet tubs look like traditional baths. Others are designed specifically with the needs of the large or medium dog in mind. You will find that a lot of these pooch-friendly tubs come with customizable options to work out the best situation for you and your fuzzy loved one.
Dog Wash Tubs
It's always a good idea to go for the traditional tub. Some dogs are too large to sit still during a bath, and others might enjoy the comfort of being able to sit inside of something. If you need to soak your dog, or you want a clean space for the water to drain without spilling everywhere, a dog wash tub might be your best bet.
A dog wash tub often resembles a typical bathroom tub, but it is usually situated up on high legs. This is so that you don't have to reach down to scrub your pet; instead, you can lift them into the tub where they will comfortably sit at chest-level while you give your pet a bath. Some dog wash tubs are shaped more like deep sinks, and the style and preference of tub are completely for you and your dog to decide.
Here are some of the pet bathtub and dog wash tub ideas to consider as a part of your next renovation project.
MODERN
In this farmhouse-style dog shower idea captured by Travis Knoop Photography, a galvanized metal shower base with a rainfall showerhead and a charming curtain provides a rustic and functional pet washing station. The use of reclaimed wood accents and vintage-inspired fixtures adds to the farmhouse aesthetic.
ENVIRONMENTAL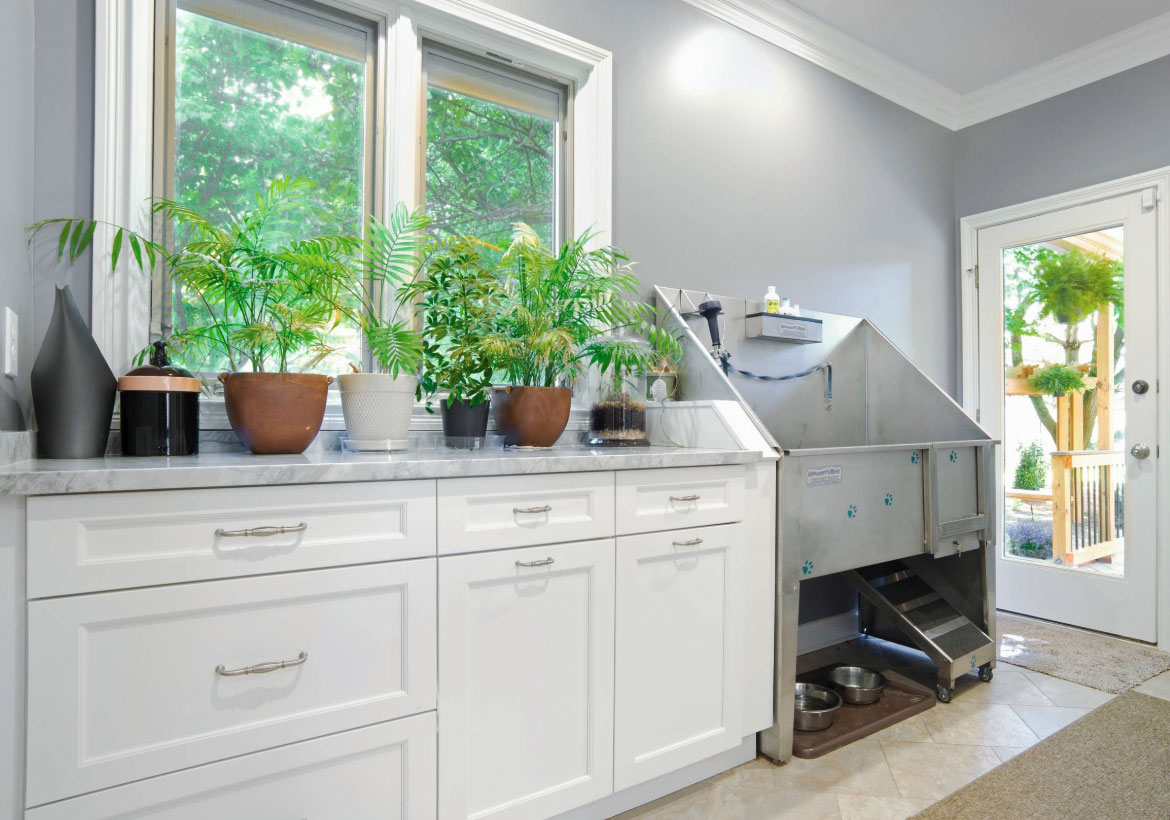 This pet washing station by BACK Construction features a spacious and well-designed setup with a large shower area, tiled walls, and multiple showerheads. The incorporation of a grooming table and storage cabinets creates a comprehensive space for pet care and grooming.
Other Pet Washing Station Ideas and Accessories
Once you've found the perfect dog bath or washing station for your home, you can consider additional types of washers and accessories to complete the at-home pet bath look. Whether you are installing a built-in station that acts as a permanent extension of your bathroom, or you want something more flexible and transportable, you can find a variety of attachments to serve your needs.
Dog Shower Attachment
A dog shower attachment is one of the more diverse dog washing options, as it can easily be attached to a showerhead or a hose. You have the flexibility of washing your pet inside or outside, depending on accessibility and the weather.
For some dogs, washing them outside is inevitable. They are big, messy, and guaranteed to splash water everywhere. If you've got a hose in your backyard, this is the perfect opportunity to attach a dog shower head.
What exactly marks the difference between a dog shower head and a regular shower attachment, though? In truth, there are multiple types of shower heads that work in different ways for different dogs. Some shower attachments offer bigger streams, multiple streams, or longer streams that allow the water to come out in a way that is much more soothing and comfortable for your pet. Other dog shower heads come with sprayer tools with long-reaching nozzles, so that you can wash your dog from pretty much anywhere in your home.
Dog Shower Sprayer
A specific type of dog shower head you can invest in is the pet shower sprayer, which hooks up directly to your shower. This is an efficient and affordable alternative to building a brand new pet shower altogether. Most dog shower sprayers come with an attachment that allows for the easy adjusting of pressure and temperature. They can reach down to give your dog the thorough washing he deserves.
Check online or at your local pet supply store for the variety of pet shower sprayers available. Depending on the type of shower that you have, you might be able to find a custom design or one that can accommodate the size and personality of your dog.
Outdoor Dog Shower
Want to wash Fido outside? You can install an outdoor dog shower on the side of your house, or somewhere in the backyard. It's recommended to install one that can hook up with your water system so you can turn it off and on just like a hose.
Dog showers come in lots of shapes and sizes, and typically resemble stalls for your dog to stand while the water comes out on top of them. A long nozzle and hose are required so that you can reach all angles of your dog to ensure they are getting the best wash. The stations are very easy to clean as well, as a draining system will likely be put in alongside the installation of your outdoor dog shower.
OUTDOOR OASIS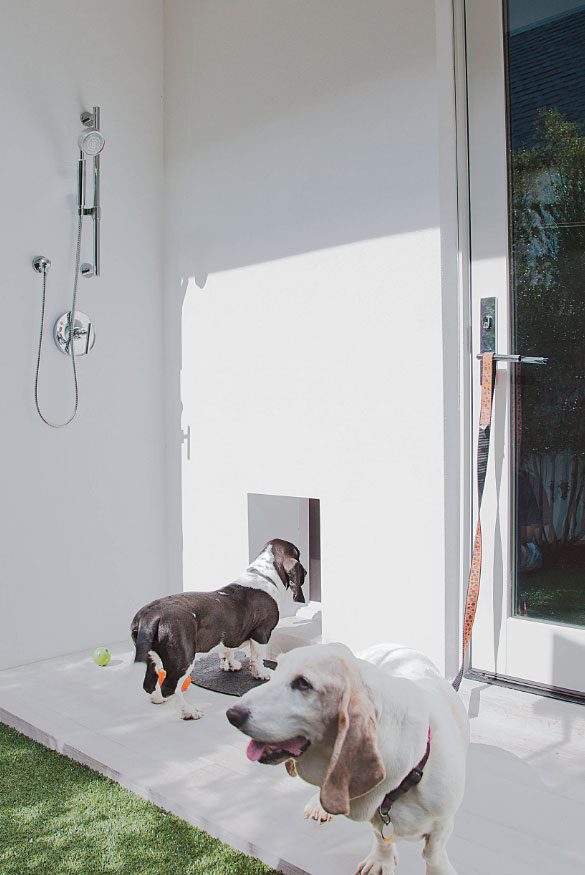 Convenient doggie door leads to this outdoor dog shower.
FUN IN THE SUN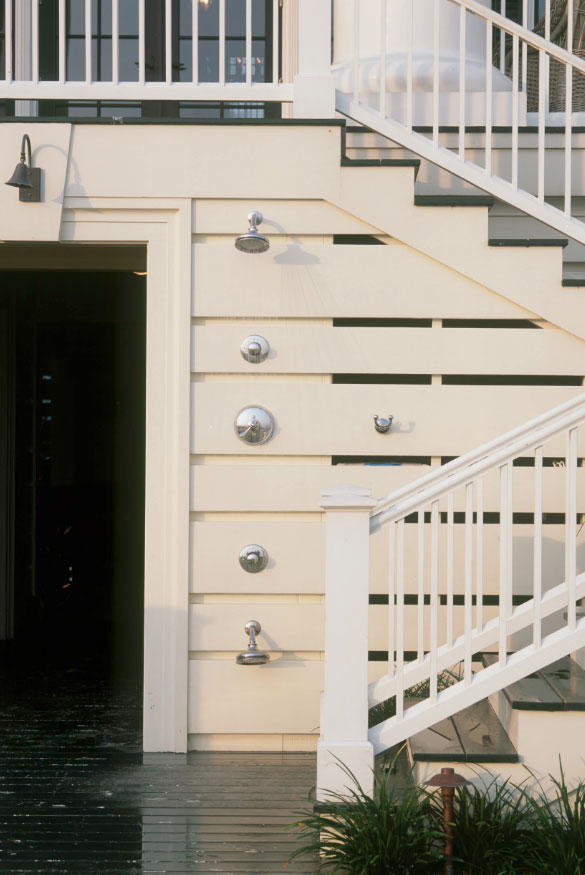 Taking some liberties here — but this is a great base idea to run with to create the perfect outdoor dog shower area.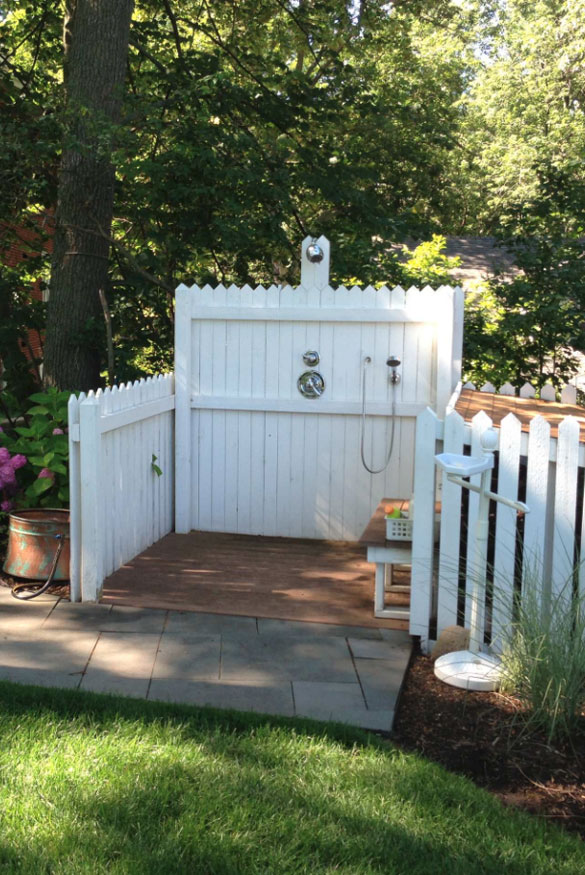 Charming outdoor garden area — perfect for cleaning up pets.
Give Your Dog the Life of Luxury that They Deserve!
It can be fun to take your pet on a trip to the groomer every once in a while. There might even be a professional service company that you pay for with dog washing stations. But what do you do when you want to wash your dog on a more regular basis, and you don't have the funds to pull it off?
That's where at-home dog baths come in. Dog showers, dog washing stations, and pet tubs can be great investments that add a lot of value and dynamism to your bathroom renovation project. Or, you can look into installing a dog tub outside fit with a custom shower head attachment and drain.
If you have a large-sized dog, you know better than anyone the struggles that often come with trying to give them a bath. They might splash the water around, take up a lot of space, and leave you wet while they immediately run back into the mud. Investing in a built-in washing option that specializes in washing your furry friend can save you the time, trouble, and money.
Your pet is an extension of your family, and it will feel nice to treat them the way they deserve. Plus, with dog showers being an exciting new trend in the home renovations industry, you're bound to get a great return on the investment!