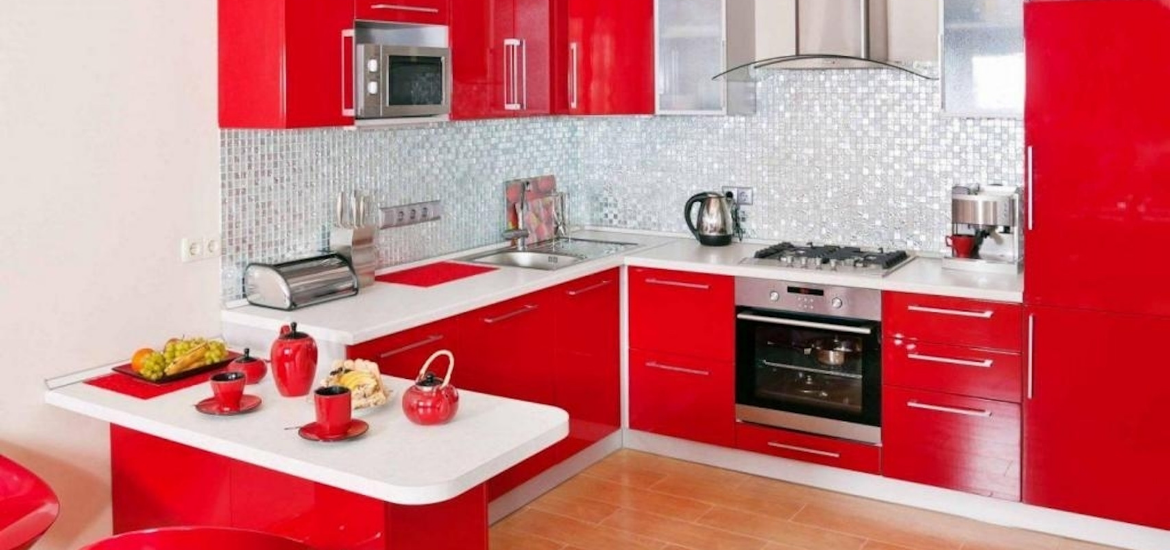 Featured Image Source: Morgan Allen Designs
If you are getting tired of white or gray kitchens, it's time to give these red kitchen cabinets a try! Include a splash of color to the most-used room in your house by adding red oak kitchen cabinets, or maybe barn red kitchen cabinets. Also, if you want to have a rustic feel, why not try distressed red kitchen cabinets? As much as we love neutral designs, there's something about bold colors that excite us! Today, we are quite obsessed with red, and we can't wait to share with you a list of red kitchen cabinet ideas.
CHERRY RED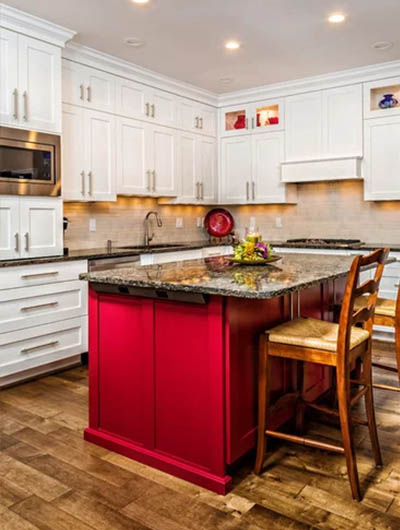 Are you looking for a kitchen remodel that maximizes storage while still being romantic? Contrasting with the rest of the white kitchen, the cherry red cabinetry on the island adds a welcome pop of color. Lincorp/Borchert has created a kitchen with a lot of heart.
HAND-PAINTED
This new take on kitchen design is both ingenious and refreshing. When paired with a granite countertop and an inlaid oak cutting board, the bright red paint on these hand-built cabinets perfectly complements the room. Planet Furniture outdid itself with this kitchen.
GLOSSY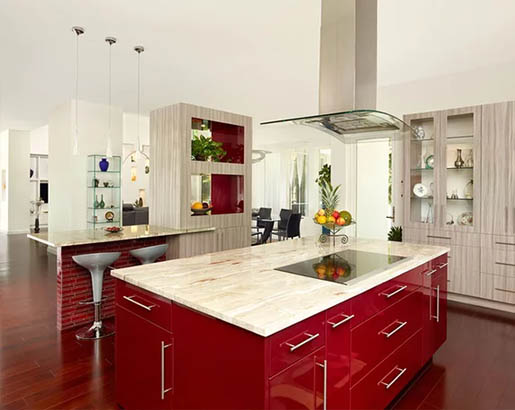 A sleek, modern kitchen design is universally agreed upon to impart an air of luxury and tidiness to any home. DLB Custom Home Design truly outdid itself with this gleaming, ultra-contemporary kitchen. The cherry-red laminated cabinets are the showpiece of this cooking space.
SLEEK RED
Want a red kitchen that is both up-to-date and sophisticated? The cabinets in this modern kitchen are sleek and finished in a crimson gloss that complements the stainless steel equipment. Roselind Wilson Design has created an exceptionally classy kitchen.
The Psychology Of Color Red
In general, red frequently depicts warm, dynamic, strong, and intense emotions. In fact, it is as an energizing and indeed aggressive color, but it can also bring out sentiments of love and comfort. Besides, red is frequently utilized to grab attention, especially in advertising and traffic signage.
Research suggests that when ladies wear red or stand against a red foundation, they are seen as more appealing and alluring, compared to ladies who don't have any red around them. Also, not surprisingly, the same can be said for men who are either wearing red or accompanied by red—the nearness of the color makes them appear more appealing and desirable.
Red is energetic and exciting. Meanwhile, when you use the color red into your kitchen, it will evoke emotions of positivity and it will give you a boost on days that you are feeling "blue." Moreover, having red on your kitchen cabinets will help lift your spirit and focus on the good things in life.
In terms of fashion, red is synonymous with confidence. In fact, they say that a girl who wears red dress, along with a red lipstick, is ready to do anything and conquer the world. If you want this kind of emotion in your kitchen, don't hesitate to introduce the color red in your kitchen cabinets.
Other Depictions Of Color Red
This won't come as a surprise since people often use red for romantic pursuit. As a truly passionate and bold color, red is commonly used to convey emotions related to love. Moreover, red reminds you how great it is to be alive and express your feelings passionately with someone you love.
If you think that red is a dull color, think again. With many shades to choose from, red can be fun, surprising, and joyful. In addition, this is the reason why most festivities, like Christmas and Valentines, are flooded with red colors. Moreover, red brings extraordinary happiness, and we bet you won't regret having the color in your kitchen.
RED & WHITE
Want to experience being in a restaurant kitchen? This kitchen's backsplash has a distinct kitchen feel to it. Chris Pardo Design – Elemental Architecture created such a sleek and functional kitchen. We adore the combination of red top cabinets and white lower cabinets.
DARK RED
Do you want to experience being at a romantic restaurant? The romantic feel of this kitchen design by Palatial Stone and Tile, LLC seems both contemporary and warm. These sleek black tables and dark red kitchen cabinets go so well together!
Red As Part Of Festivities Through The Years
Most of the time, red is an enthusiastic, fiery color that relates to energy, war, peril, and power, as well as passion, love, and desire. In fact, numerous societies have strong associations to the color red, and it frequently plays a vital part in particular celebrations.
In general, red encompasses an exceptional meaning in Chinese culture. Moreover, the color compares with fire and symbolizes great fortune and joy for the coming year. In fact, you'll see red almost about all over the place during Chinese New Year celebrations and throughout the year on other holidays and at special events. Maybe one of the most well-known traditions is the red envelope, which usually contains a monetary blessing which they give on special occasions. In this custom, the red envelope symbolizes great fortune.
What comes to your mind when you think of Valentine's Day? The most common answer is love, romance, flowers, hearts, and of course, the color red. Besides, red has long been related to Valentine's Day, which makes sense, as it's the color of fire, love, and passion. So, how did red end up related to love? It's likely due to the physiological responses you get from the color such as elevated blood pressure and increased respiration rate. Truly, these are sensations we encounter when we're in love and red is known to trigger them.
VINTAGE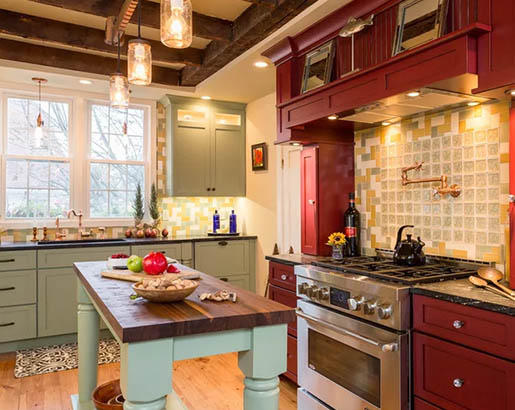 Do you desire a retro kitchen design that exudes both warmth and friendliness? The New England Design Elements kitchen will make you feel cozy and romantic. The cabinets have been custom painted with a glaze and rub-through.
MAHOGANY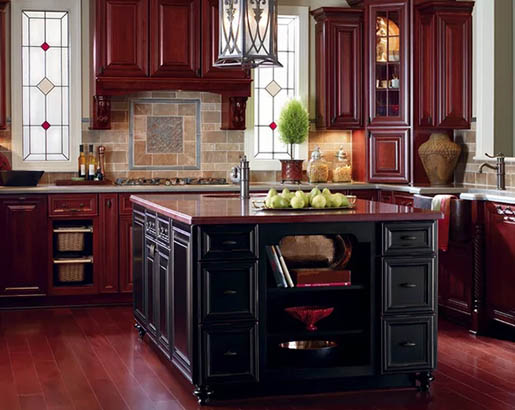 Everything appears to be very contemporary and historic in Lakeland Building Supply's kitchen design! The mahogany theme looks amazing! The dark wood mahogany finish on these kitchen cabinets gives them a refined, upscale appearance.
THERMOFOIL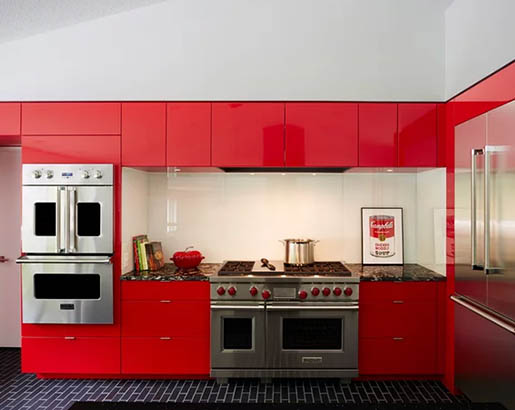 Do you want a well-designed, cozy, contemporary kitchen that exudes cleanliness and organization? Thermofoil is the finish on these red kitchen cabinets; it looks like plastic shrink-wrapped over the door and drawer fronts. The kitchen design by CITYDESKSTUDIO, Inc. is amazing.
Different Ways To Decorate Your Kitchen With Red
Okay, we understand. If you're not ready to commit and overhaul the whole kitchen, you can start with small steps and see how it goes.
In case you're concerned about going wild on red, keeping the exposed upper cabinets their original color and just painting the lower cabinetry could be an awesome way to include a few dynamic color without the fear that it gets too overwhelming.
Next is, you can start by adding red appliances. Also, if you need to include a few vintage flairs to your kitchen, a shinning red stove is a straightforward upgrade that can transform your space. Since red is such a dynamic, attention-grabbing color, even just one apparatus is sufficient to form a solid impression.
Another idea is to put red stools in your kitchen. We get that red can be a scary color to use in your furniture or home décor, but red will prove you that just one piece of furniture can give your room a nice powerful kick!
You can also try mixing red with neutral colors if you think red might be overpowering. In addition, you can have white walls, gray countertops, or even black kitchen island. Moreover, considering mute reds is also a great idea. If a bright bold red is a bit much for you, try warmer shades.
RED & MARBLE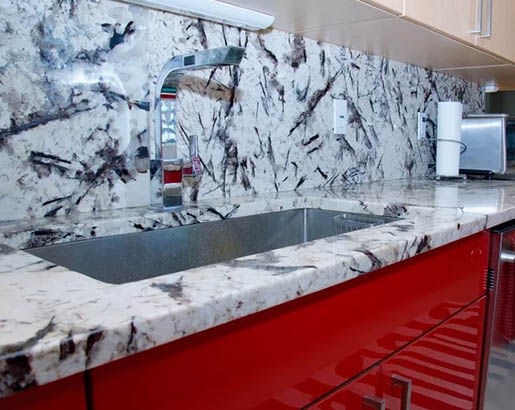 Consider a room with a crimson tone and a marble feel. Everything will appear just as vibrant and contemporary as this! We adore the red kitchen cabinets and marble countertops in this Schrapper's Fine Cabinetry, Inc. kitchen design.
APPLE
Do you want to make your kitchen enticing? Try these kitchen cabinets in the shade of apples. This kitchen design is very modern and bright and appears roomy and spotless. What a magnificently designed kitchen by Carmel Building & Design.
What Red Can Do For Your Kitchen
A sprinkle of red color appears striking. Components in red color ought to coordinate with what you already have in your kitchen, – appliances, kitchen cabinets, embellishments, little enrichments, wall tiles, and lighting installations. Also, coordinating your kitchen design color schemes with red highlights harmonize modern interiors.
Beautiful kitchen design and stylistic layout truly make a trademark for your house. In fact, red color complements vitality, make warm and one of a kind living spaces. There are numerous ways to provide modern kitchen design an exciting touch, including red kitchen cabinets.
Red kitchen cabinets and red kitchen embellishments are well-known ideas for interior decorating with red colors. Also, it is imperative to coordinate the kitchen color scheme with red cabinets or red accessories to form a charming and compelling kitchen design.
Black, gray, or white kitchen cabinets look excellent with red accents. Certainly, black and white decor color combination with red highlights are fantastic ways to provide your cutting edge kitchen design a charming retro look. Besides, there are numerous distinctive kitchen embellishments in red colors on the market, but you can begin with tableware, kitchen utensils, coffee machine, or kitchen towels in red color.
Utilize red colors in balance for your kitchen design plan. For instance, a sensational accent wall made with red wall tiles, red paint, kitchen cabinets or modern wallpaper in red tones, looks shinning and noteworthy. Red color highlights, combined with kitchen cabinets, floor, and ceiling in neutral colors, make a warm and welcoming kitchen.
Begin with red kitchen accessories and see if you'll be able to have red kitchen cabinets, highlight divider or floor in ruddy color. Also, keep kitchen design and decor in red tones straightforward and exquisite. Finally, red kitchen colors are solid and useful for making warm and cozy interior design.
JAM
Looking to pretend you're in a romantic kitchen? Despite the modest proportions of the room, Nicely Done Kitchens has managed to create an inviting and passionate atmosphere in this kitchen design. White and red are safe choices. The proof is in the kitchen.
The Different Shades of Red
While red is known to have particular qualities by and large, subtle differences in the shade of red can make an enormous distinction in how the color makes us feel. It's vital to consider when you're choosing which type of red you're planning to use in any room.
The shade scarlet is a bright red with a bit of orange hue. In fact, surveys in the United States and Europe stated that scarlet, along with other bright shades of red, are the colors most related to force, courage, heat, passion, and joy. In the Roman Catholic church, red is synonymous with blood and sacrifice.
In general, ruby represents the color of the cut and polished ruby gemstone. Ruby is also the birthstone for those who are born in July.
The shade crimson is a bright, strong, deep red color with a hint of violet or blue.
The color rusty red is a metallic color that is first formulated by Crayola in 1990. Although another variation includes a softer shade of red, which is similar to Merlot red with an oaky undertone.
This shade of red is the color of red chili peppers. It is also the shade used in the flags of South Africa and Chile.
In most cases, redwood shade represents the color of the wood of the redwood tree.
Dark red is a common variation of red, which gives more intense color.
Maroon is a deeper shade of red. It is a dark brownish-red color or dark reddish-purple that got its name from the French word marron or chestnut.
Other Popular Shades
This shade is combined with various amounts of white paint to achieve the color barn red.
In particular, blood red is similar to crimson or dark brown red with a hint of an orange hue. This shade is usually darker than maroon and dark red.
The color cinnabar originated from the mineral cinnabar. It is red with an orange hue, with variations ranging from brick to bright scarlet.
Turkey red was famous for dyeing cotton in the 18th and 19th centuries. Also, the dye was made using the root of the Rubia plant. The color originated in Turkey or India, which they later brought to Europe in the 1740s.
A very interesting shade of red, chocolate cosmos looks like deep crimson, dark red, deep red chocolate, deep crimson, velvety maroon, or dark hazelnut.
This is an image roundup post, curated to showcase and promote other reputable contracting companies' and their amazing work.  To have any of the images removed, please reach out to us and we would be happy to do so.
Other Great Articles to Read: