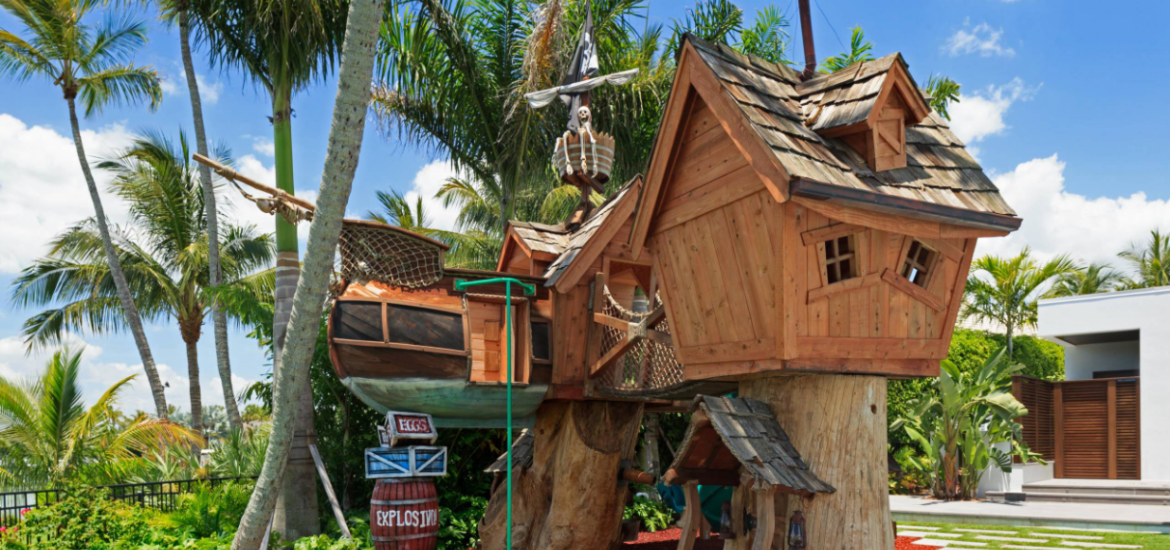 Treehouse ideas constantly fill the minds of countless families with children, even when babies are still on their way. Having a treehouse for kids is a tradition and also part of numerous childhood memories. You will find multiple treehouse ideas that you can choose from, making it hard to decide which you think is ideal for your backyard treehouse. To assist you, we have rounded up some great ideas, and one may be the appropriate treehouse option for you. Gather your family and tools and create your dream treehouse for kids with all of these excellent tree house designs and treehouse ideas!
OUTDOOR PLAYSET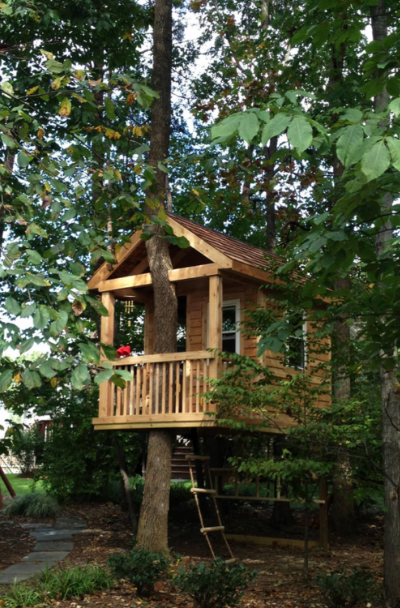 Do you want to build your kids a basic treehouse? This one appears to be a breeze to put together and very secure for your children. For practicality and safety's sake, keep everything at a low profile. Bianco Renovations has designed a fantastic outdoor treehouse.
Have you ever wished there was a simple method to construct a treehouse? Given its ground-level location, this one appears to be a breeze to construct. This treehouse from Backyard Fun Factory is very original and minimalistic. Do-it-yourself construction of this treehouse requires only basic carpentry knowledge.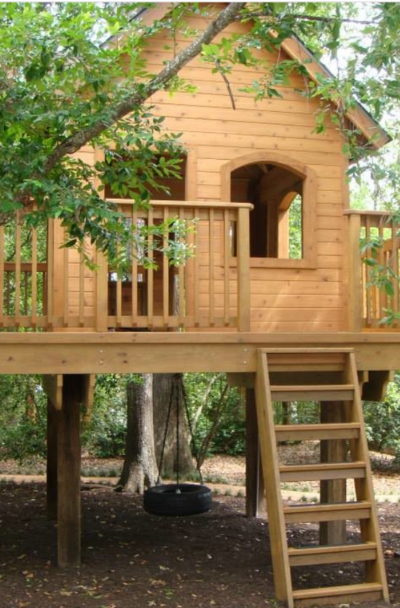 Everyone will agree that this traditional type of treehouse has a good wooden structure! The construction looks strong and pretty at the same time. A small treehouse can be a fortress and secret hideout for your kid like this one—such a good treehouse design by Outer Image Design.
COOL CRAFT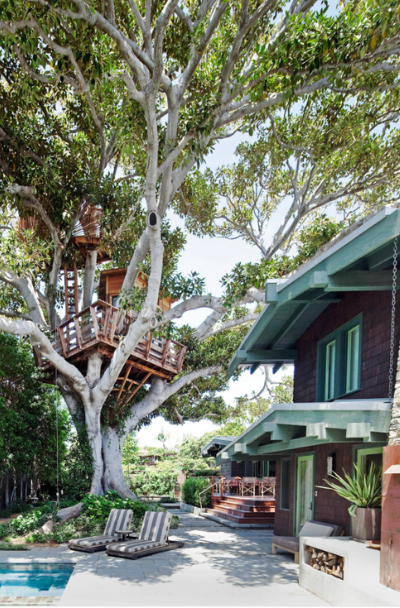 This treehouse, built with skill and imagination, is universally admired for its cool, whimsical aesthetic. Any child's creative juices will be flowing after seeing this treehouse. Katie Leede & Company Studio developed this incredible whimsical treehouse.
BUILT-IN CEDAR
This treehouse has a design so basic that everyone can appreciate it. The children are protected from falling down the edge by sturdy metal rails. You may also take a break here among the trees and natural scenery. This modern treehouse by livingedgetreehouses is a breath of fresh air.
Things To Consider For Treehouse Ideas
Constructing a cool tree house is a wonderfully whimsical & fun idea. But it is essential to go into it with your eyes open. Have the following things in mind: Tree damage. Tree forts harm the trees. Foot traffic compresses the soil, which is harmful to the roots. Adding weight in the branches can additionally stress the tree roots; moreover, fasteners could cause illness. Nearly all trees survive the abuse, but think twice before you construct it in a treasured tree.
Injuries are inevitable everywhere, and a backyard treehouse is no exception. Children can get hurt playing in a treehouse. Do not build a cool tree house above eight feet and also be sure to develop safe, sturdy rails. Additionally, no one should stay in a treehouse in strong winds or even when there is lightning. There are numerous ways to minimize tree damage. Think about using one or two ground supports to take pressure away from the tree. Make the fewest punctures essential to support the tree house easily. Any harm caused to the bark of the tree is a possible entry point for bacteria and disease.
Do not put fasteners too near together because that may weaken that area of the tree. Use a minimum of 3/4 inches bolts spaced a minimum of 18 inches apart vertically and 12 inches apart horizontally. Stay away from slinging ropes and cables over branches. They slice through the bark as the structure moves. As with municipal regulations and local concerns, do you need a construction permit? It all depends on the dynamics and local laws of your treehouse. When you are contemplating having tree house plans that will be noticeable for your neighbors, talk about it with them ahead of time to avoid issues. Frequently, a municipality gets needed after a neighbor complains. Avoid boundary lines and also do not develop your tree house where it is going to infringe on a neighbor's privacy.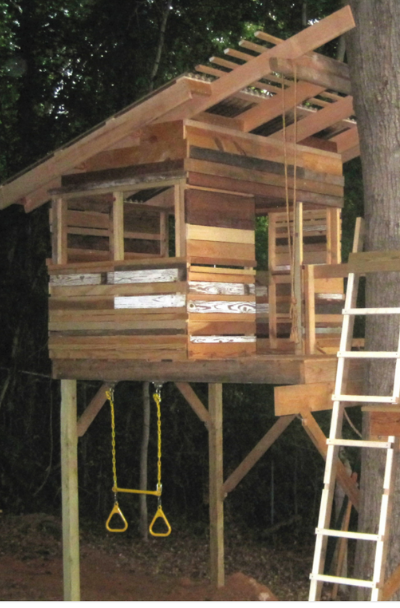 Would you like to build a treehouse with the same interesting and varied design features as this one? This treehouse, designed by LS3P, seems rustic and uncomplicated. To make your treehouse practical, you only need to get imaginative.
NEXT LEVEL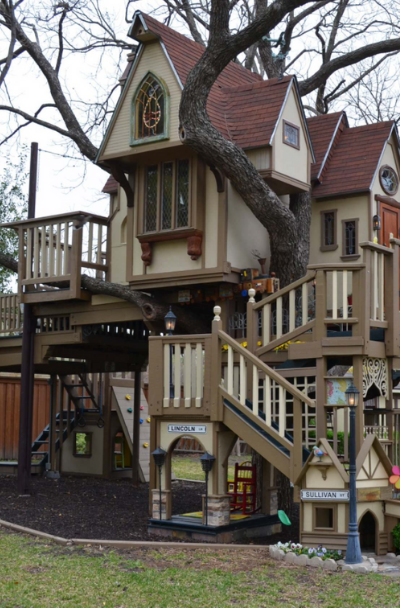 The treehouse is so large and well-designed that even naysayers must admit it's impressive. We're talking about a whole new ballgame with this one! Many playgrounds also have treehouses of a similar kind. Sarah Greenman has constructed an elaborate treehouse that might easily be mistaken for a conventional home.
SLIDE & LADDER
Everyone will agree that this treehouse design by Keith Willig Landscape Architecture, Inc. is excellent and appealing, complete with a slide and a ladder. Everyone will agree that this one looks very straightforward but modern. Don't want to put your house on a tree to raise it? You may test out this treehouse concept.
How To Build A Treehouse
When thinking about treehouse ideas, size up the trees into your lawn. Select a healthy, long-lived hardwood for optimum support, with load-bearing branches about eight inches in diameter (larger in case the species are softwood). The most effective trees are maple, fir, oak, hemlock, and beech. It does not have to be too much; it just needs to be tall enough, so nobody bumps their head when walking underneath it. Does building a treehouse look like biting off much more than you can chew? While it is not hard to get carried away with unique treehouse ideas, creating a home in a tree comes with its specific actual physical limitations. Here are a few structural things to keep in your mind while developing your DIY tree forts:
Make the platform near the trunk as much as possible, and add diagonal bracing for added support to help uneven loads. Place the load over the foundation of the tree, not just on one side. For heavy tree house plans, think about spreading the weight among many trees. A tree house will serve as a sail in strong winds, adding a big load on the tree's roots. In high wind places, develop your backyard treehouse in the lower third of the tree. When building on a single main trunk, level the main platform by cantilevering the beams and supporting them from below.
Do not restrict tree growth and leave spaces across the tree. To support tree movement and development, allow gaps around any trunks or branches that penetrate the tree house. Do not constrict branches with rope, wire, and straps, for this could strangle the tree. Add spacers between the tree and the beams to enable movement. Use extra, long huge bolts. This actually leaves the majority of the shaft uncovered, which means you can mount things on the ends and allow the tree to flourish over the shaft. Allow a two-inch gap within the tree if it passes through the floor along with a three-inch gap in case it passes through the top.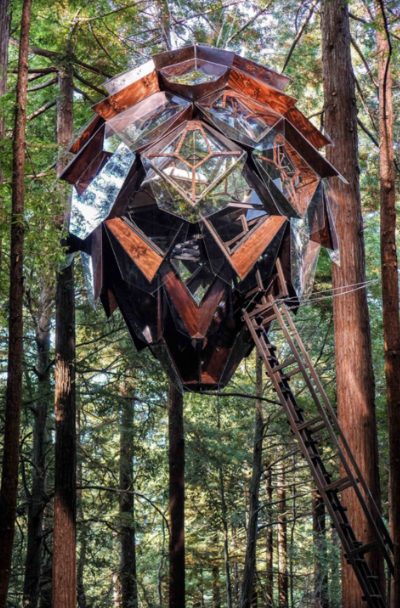 Anyone who views this treehouse design will be astonished by its contemporary and distinctive feel. Everybody will acknowledge the remarkable nature of this treehouse design! In this treehouse design by O2 treehouse, everything appears to be so distinct and abstract.
FUNHOUSE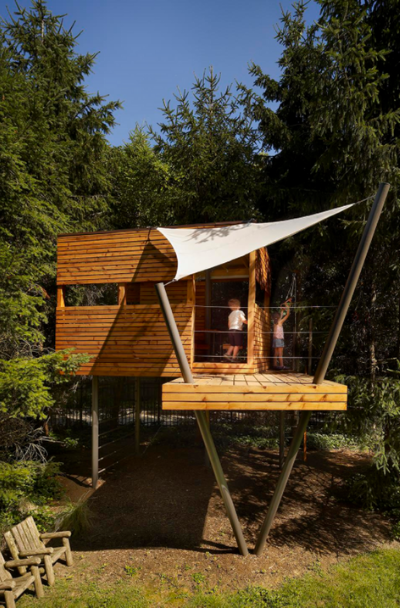 Everyone will concur that this treehouse design appears robust and well-structured. Everything seems contemporary and well-built. This enjoyable treehouse will make your children glad to spend time there—such a fantastic Verner Architects treehouse design.
ZIPLINES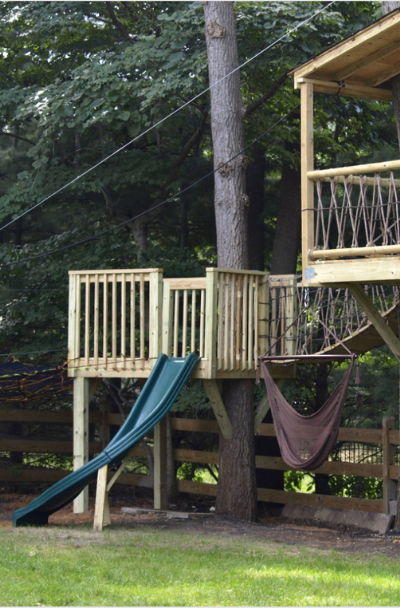 Would you like to play in the great outdoors? It will be universally acknowledged that this playground treehouse design is both attractive and well-built. The swing, slide, and zip line are all included in this treehouse. This treehouse design by Dabah Landscape Designs is amazing.
COZY SPOT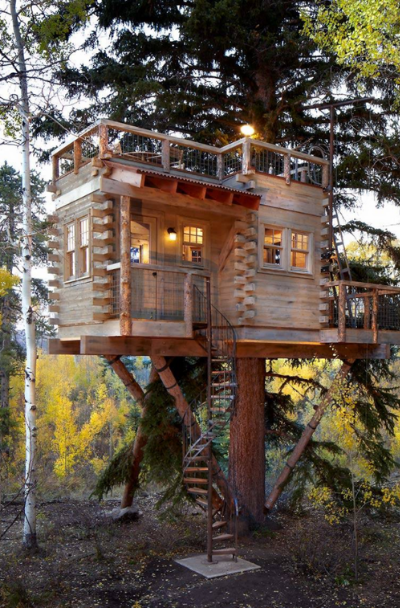 Everyone would concur that this comfortable treehouse design is simultaneously energizing and inviting. The top deck is ideal for picnicking and taking in the scenery. This comfortable treehouse design by Missy Brown Design will make you incredibly happy.
AWESOME HUT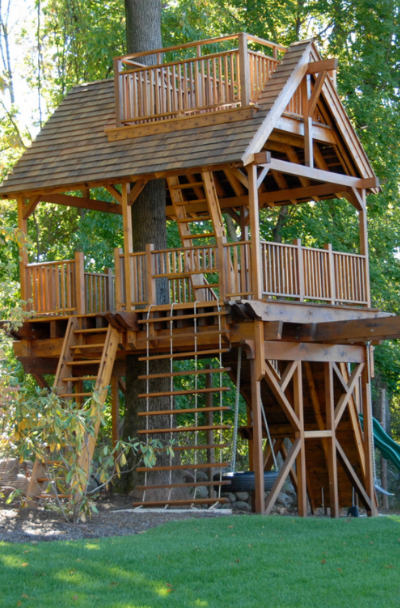 This fantastic treehouse design looks awesome and rejuvenating, with sling ropes, monkey bars, a slide, and a roof deck. What else could you possibly want from this admirable and organic design by brandes maselli architects? What a fantastic treehouse cottage design!
CLASSIC FEEL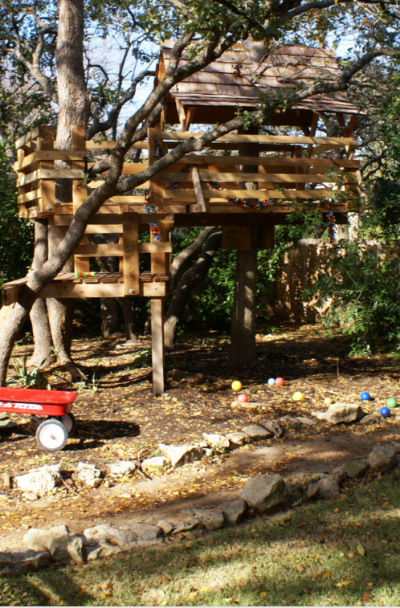 This treehouse has a timeless look and feels that is universally admired. That's why you'd guess this houzz design is decades old yet so refreshing: it seems new. You've gathered a few planks of wood and are ready to embark on an exciting journey with your kids.
Clever Treehouse Ideas You Can Emulate
You might have numerous treehouse ideas going through your mind when you set out to construct the most amazing treehouse of all time. The goal of an awe-inspiring tree house is to make it unforgettable and a location where kids can grow and play for numerous years. Nevertheless, setting out to develop the ultimate treehouse for kids isn't an easy task. Creating new areas that can keep children entertained and loving their personalized structure for decades to come is challenging but rewarding. A backyard treehouse can easily be an unforgettable room for them to envision new worlds. Below are a few cool tree house ideas that are certain to produce a customized space for children of ages. Cool treehouse ideas that get noticed are the unforgettable ones. Creating a deck to your tree forts provides it with that wow factor you are searching for. An outdoor and indoor space provides a unique floor plan that can focus on the kids' imaginations. A very simple tree house immediately becomes a pirate ship or maybe the peak of a huge mountain. Adding a deck is a great brand new method to change some run-down tree houses and carry them to life. This is a choice not simply for kids; amp-up the existing treehouse for kids by including a deck to sit out and relax. A deck is a flexible element that may be included with only quick and easy steps: get the items, have a platform, and start building. The results are something that everyone is able to enjoy for decades to come.
An easy method to get your tree house project to the next level is by including a theme. A tree house theme not only causes a complete brand new world for children to enjoy but also supplies the means for them to voice their creativity. Children are going to explore the Pyramids, raft down waterfalls in the Amazon, or perhaps rule the seven seas all over their own pirate ship. Adding a theme is a distinctive twist on the traditional tree house, which we know way too well. Crafting various elements like a ship deck, a telescope, and a crow's nest makes for endless enjoyment as a pirate checking out the world. Creating walls of ivy & including images of jungle creatures transports an innovative youngster to some tropical forest a long way away. Easy treehouse ideas similar to this are the perfect method to put in just a little life to an otherwise typical project.
An unparalleled element which may be put into almost any tree house is a slide. A slide is a traditional tree house feature that has provided entertainment for a lot of generations. A tree house slide could immediately become something special by having it with the family pool. Having a slide is one of the most exciting treehouse ideas any kid will like. A tree house water slide gives unlimited amounts of summer fun while creating a memory that they won't ever forget. Though a water slide is not the easiest of options to set up, it's a rewarding one that provides the children with the greatest tree house on the block. These kinds of tree house designs have their limitations as you should have a swimming pool to be able to succeed. Nevertheless, escaping summer heat does not need to be very difficult. An enhancement to the common slide is as simple as flipping on the hose. By using a bubble bath and a garden hose, a slide transforms into a water park in your own personal yard. A traditional slide may instantly change from one boring to something amazing just with the addition of water. This is a tree house idea that can provide hours of enjoyment on a warm summer day.
Have Fun With Treehouse Ideas
Is there anything that evokes joy, independence, and magic of childhood a lot better than this legendary structure? It brings adults and kids closer together and even closer to nature. With time, with the ever-increasing interest, as well as the good accessibility of power tools, tree house ideas have evolved from easy tree decks to two-story buildings with many different innovative solutions. Is creating a treehouse difficult? It can in some cases, but it certainly does not need to be, so long as you have some fundamental building experience. Obviously, the difficulty level depends on the tree house kits and tree house ideas itself.
A tree house is a childhood dream we never ever completely get over. Whether you wish to talk about your experience of lording over a one-of-a-kind playhouse in the skies together with your kids or perhaps are keen to create them the tree forts you've always wanted to have, you will find an abundance of tree house ideas. These treehouse ideas will provide you with the boost you need to begin or even finish off the treehouse project for your children, consider all of these inspirations for a treehouse your children are able to look back to as part of their childhood memories! Which of the treehouse ideas on this list are you eyeing on for your new backyard treehouse? Let us know your tree house plans in the comments section below!
This is an image roundup post, curated to showcase and promote other reputable contracting companies' and their amazing work. To have any of the images removed, please reach out to us and we would be happy to do so.
Other Great Articles to Read: