The backyard is a safe and private sanctuary, something that should be enjoyed in the evenings after a long day of work or in the morning before the kids are off to school. It's a place where relaxation and luxury go hand in hand. Hot tubs can be fabulous additions to the home, but maximizing your backyard space to accommodate for it is key. Some deck designs can be built around a hot tub, depending on its size and capacity. Once you figure out how to make your deck and hot tub work together in harmony, you can choose how you want it to look.
Check out our quick hot tub design guide below, and then take a look at our favorite hot tub deck ideas that will help you enjoy your backyard in style.
DECK WITH A VIEW
Are you looking for a spot to unwind in a hot tub while taking in the sights of the great outdoors? Leaving this incredible pool and breathtaking scenery behind will be a difficult decision. ARYZE Development and Construction out of Victoria, BC, designed this beautiful deck with a view.
WESTERN CEDAR
Notice how this tub is so outdated that you hardly ever see it today? This wooden bathtub is rustic and cozy. In the same traditional fashion as they were back in the day. This classic tub by Simmonds & Associates, Inc. was made for relaxing in the great outdoors.
007 SPA DECK
Such a lovely spa with a terrace that seems so relaxing and natural! A lengthy soak in the hot tub on this spa deck will make you feel like you're on an extended vacation. This is the best spot ever for kicking back and unwinding. Amazing, Projects General Construction, Inc.
URBAN OASIS
You will have a very good time in this pool deck! You can think of making this your rest area with your friends and even alone! This tub looks like a perfect fit in this pool deck. The wooden construction of the deck looks very concrete. This is a good design by Frank & Grossman Landscape Contractors, Inc.
How To Determine If A Deck Can Support A Hot Tub
Naturally, you want to inspect your deck to ensure it can hold a fair amount of weight. If it can't, there are ways to add the proper amount of support. Decks are one of the most common (and most preferred) backyard locations for a hot tub, and there are ways to carefully plan for its structural integrity so that all is done safely.
The Formula
There is actually a specific formula that can help you determine the weight of your spa, and whether your deck is supported enough to hold it:
[Weight of Hot Tub + (Number of Gallons of Water in Your Tub x 8.34lbs) + (Number of Total People Hot Tub Can Seat x 175lbs)] / Number of Total Square Feet of Your Tub = Your Pounds Per Square Foot
There can be extra factors and variations added by the manufacturer, or by the professional contractor you're speaking with. This is just a general mathematical formula to determine weight at the baseline, but other considerations are needed. This is especially true if your deck is already elevated, or if you plan on elevating it while installing a built-in hot tub.
ZEN SPACE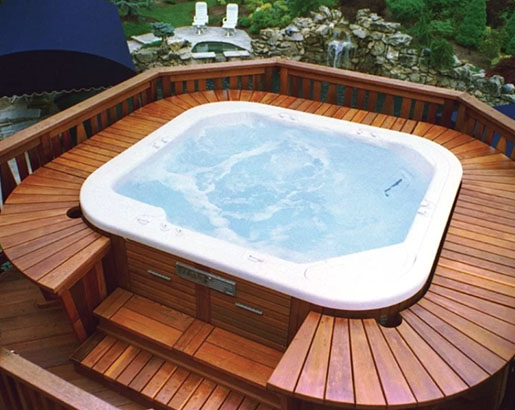 The pool deck that encompasses the hot tub is magnificent. This one looks like a lot of fun, and I think we can all agree that it would be great for a family to spend some quality time together in the tub. The addition of a wooden deck is also a smart move. Hot Spring Spas has created an excellent zen environment.
BACKYARD OASIS
Do you wish you had a convenient and warm setting for hosting intimate gatherings of your closest friends and family members? Adding layers to a deck like this adds visual interest and functionality. A Georgian Hot Tubs & Swim Spas tub fits this chic outdoor space well.
SPA STONE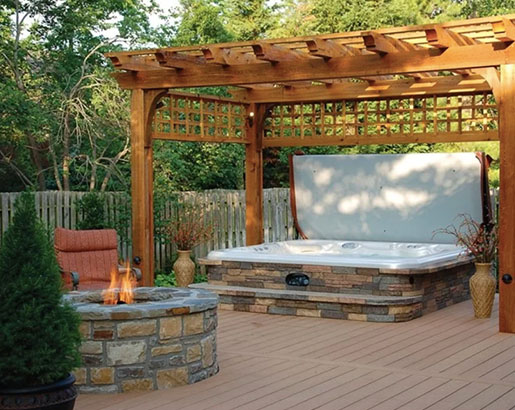 Want to simulate a day at the spa? A stone deck like this one for a hot tub will make you feel like you've entered a luxurious spa. The Hot Spring Spas spa stone design gives the impression that the tub is indestructible and completely in keeping with nature.
HYDROPOOL
Have you always been curious about those pools and tubs with lights concealed beneath the surface? The sleek design of this hydro pool makes it tempting to imagine sipping a cocktail while you unwind. Everybody will appreciate the polished wood and seamless ledge integration—incredible work of art by Georgian Hot Tubs & Swim Spas.
The Rule of Thumb
It's always recommended to check with the hot tub's manufacturer for specific weight information first. It is also to speak with a renovation expert about the status of your deck before starting any projects on your own.
That being said, it is generally understood that decks situated just a few feet above the ground can hold roughly 100 pounds per square foot. If your hot tub's manufacturer lets you know that the hot tub weighs less than 100 pounds per square foot (filled with water, of course), then you do not need to worry about adding extra reinforcements.
Extra Considerations
Of course, it's important to consider extra weight factors such as yourself and your family while you enjoy the tub. Typically, the manufacturer takes this into account when giving you the numbers. But if you still aren't feeling completely confident with how to reinforce a deck for a hot tub, you are encouraged to reach out to a contractor who can help you further your deck specifications for a safe – and stylish – spa construction.
PERGOLA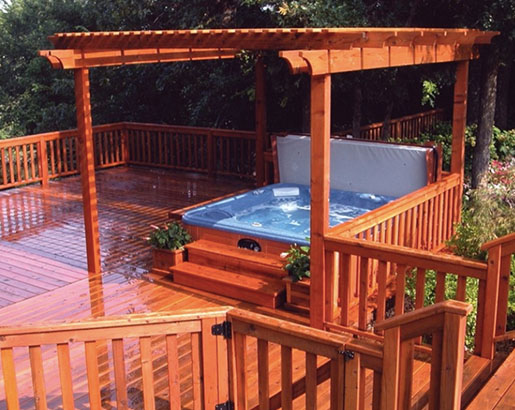 This deck has a bathtub, so you might as well pretend you're at a resort. Incredibly underappreciated and intuitive, the pergola makes perfect sense. Wide open spaces are filled with wooden structures. This Hot Spring Spas design is large enough for intimate gatherings.
STUNNING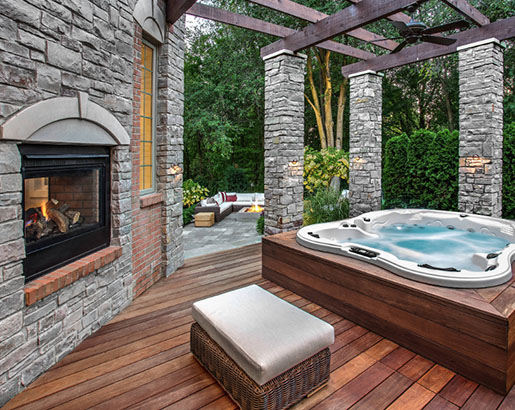 Anyone who sees this deck and tub combo will be completely blown away by its beauty. Even a sophisticated fire pit may fit in that space. Incredible, medieval-looking stone pergola. Stunning work of art by Outdoor Living LLC.
SIMPLE SOLACE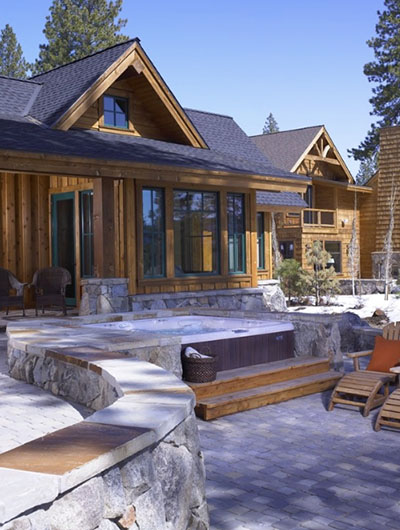 One of this property's most unusual features is the front yard's outdoor bathtub. Wow, it is a neat, clean layout. Even though it's just a hot tub in a cold setting, the idea seems incredibly appealing. A Hot Spring Spas tub with a deck like that must be the ultimate relaxation.
REMARKABLE VIEW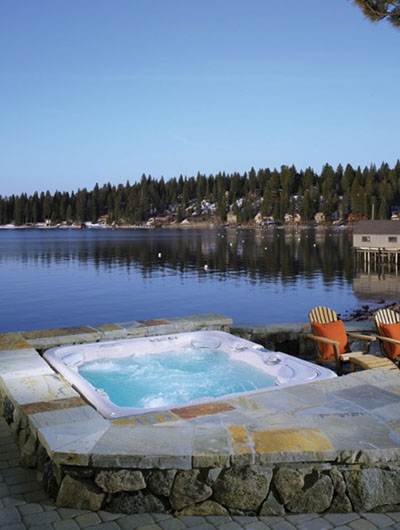 Many magazine layouts include a jacuzzi tub next to a lake in an exotic location. Instances such as this one demonstrate the phenomenon. This deck makes effective use of environmental factors. The scenery appears to be breathtaking. Hot Spring Spas has done it again with another brilliant creation.
Deck Designs With Hot Tub
While a deck with a hot tub isn't the rarest backyard build, there are certainly some designs that stand out more than others. Designing a deck around a hot tub – or vice versa – is a great way to incorporate natural with man-made landscaping. Many homeowners see it as a harmony of the elements, with water and wood completing each other as one extending backyard unit. It flows well with an open-concept style home, where each individual element comes together to be a part of the whole.
Here are some of the top backyard designs to complement your yard, no matter the size or style.
1. Small Space Deck Tub
Our first hot tub on deck design features a smaller backyard, to emphasize the importance of space optimization, rather than expansion. A lot can be done with vertical space, and an elevated spa on top of a small deck can add that sense of depth and dimension to completely transform the space.
Not only will this make your backyard space look larger, but it will also make the hot tub the focal point of the entire display. This is a great idea for deck corners as well. Built-in spas can be incorporated into the overall design of the deck, and elevated spas will add to its value without needing a deck redesign.
2. Big Yard, Small Deck
If you plan on building a deck along with your hot tub, you don't necessarily need to dominate the space. Big backyards can incorporate a number of elements and themes at once, much like a home. You can build a smaller deck that exists on just one side or corner of your yard, while the rest is complete with your other landscaping ideas.
When this type of construction comes into play, it's important to take a piece of wisdom from the previous image. Stack the hot tub on top of the deck to give it more visual size growth. Again, expanding vertically gives you a lot more to work with. These decks can also rest on the ground level, so you won't have to worry about the specifics of weight per square foot.
ROMANTIC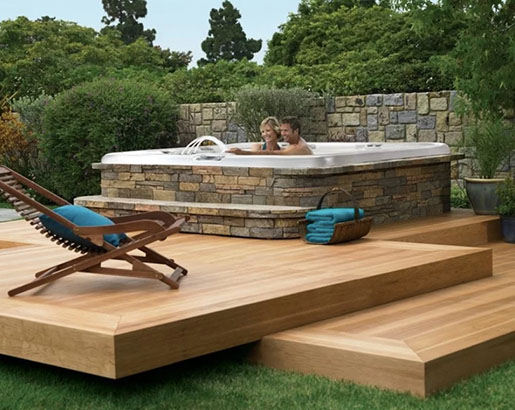 Want a place for relaxation and refreshing moments in the backyard of your house? This is such a romantic bathtub design with a good deck! One-of-a-kind use of stone around the hot tub to give it that rough look—what a romantic bathtub design by Hot Spring Spas.
ROOF DECK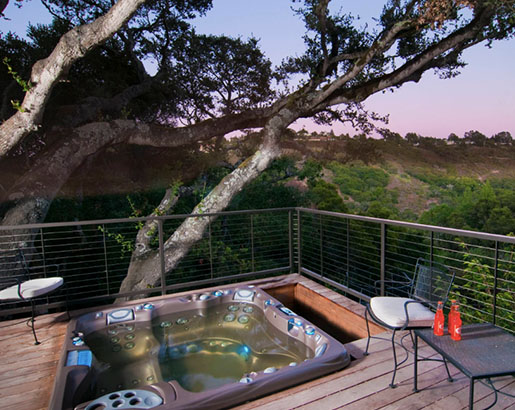 Want to unwind from a stressful week with some quiet time on your roof? You may utilize this style of the bathtub in your restrooms with confidence. The rooftop hot tub is the way to go if you're looking for peace. Trace Kannel Architecture outdid itself with this magnificent rooftop hot tub.
BRILLIANT
In this model of bathroom fittings, everything appears organic and reasonably priced. This hot tub design displays a remarkable application of architecture and design. You can enjoy yourself now that you're out in the open, where the sun and fresh air can do their work. The ingenuity of Andrew Hinman Architecture is on full display in this incredible structure.
JACUZZI
The front yard of your stunning stone and wood home would be the perfect place to relax in a luxurious bathtub. Having the hot tub fit neatly against the façade of the building must be a great feeling of satisfaction. The minimalist design is pleasing to the eye, and the clear roof allows for a wonderful night sky panorama—amazing craftsmanship from Oregon Hot Tub.
3. Raised Short Deck
Combine traditional and modern with a raised short deck and hot tub addition. Short decks are designed to elevate your backyard space while giving you all the luxury of a backyard retreat. One popular idea is to accent the space with seating and greenery while keeping your leisure area as the main focal point of the space. The deck can be built to accommodate the hot tub, or the hot tub can be measured and weighed for the perfect placement on your already-built backyard deck.
4. Rooftop Deck with Raised Spa
Even if you aren't lucky enough to have a rooftop patio, this design might still be useful when it comes to planning out your space. Rooftop decks are not large, yet they can account for a lot of luxury. What it lacks in size, it makes up for in something more precious: privacy. Decks are meant to be an expression of privacy, especially when you can enjoy them in your own home.
Structurally-speaking, you may have special considerations to take into account if the deck is on the roof. Installing a spa might be easiest if you do so above-deck, creating the perfect space for privacy and relaxation – with a stunning view.
INVITING
It's common knowledge that the cabins on the mountain and beside the lake all include some outdoor pool or spa. A place to unwind and reconnect with nature. It's open to the sky and environment, so there's lots of natural light, and extremely appealing. Dimension One Spas really outdid themselves with this one.
WINTER NIGHT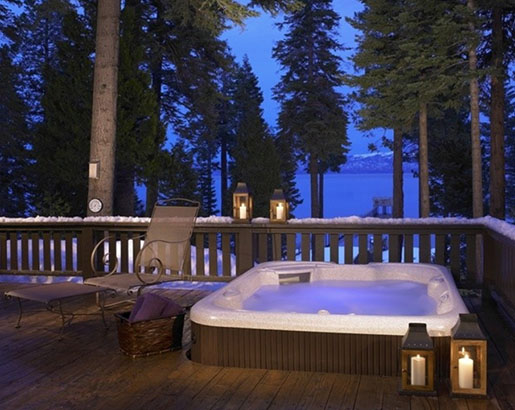 As the temperature outside drops, perhaps you'd like to spend some quality time in the warmth of your bathroom's bathtub. This layout allows for a steamy bathing experience. This cold night seems ideal for soaking in a hot tub. This Hot Spring Spas bathtub is the perfect solution for those chilly winter evenings.
5. Your Own Private Spa
Don't have time to go to the spa? Don't have time for weekly hot tub dips or sauna cleanses? Take matters into your own hands and build a backyard spa that treats your every need in the comfort of your home. You can transform your deck into a private spa area by adding fencing to close the space in. Design steps leading up to an elevated deck, or add a gate to make entry even more private.
Build your hot tub in the deck. Add some comfy chairs or even a massage table in the space to really make it your own. Turn on some relaxing music, enjoy the sights and smells of your thriving gardens, and stay warm in the bubbling hot tub all night long.
Sebring Tip: Add a few drops of natural essential oils into your bubbling hot tub to produce a variety of lovely and calming smells, such as lavender or orange.
6. A Four-Post Structure
Is your backyard a little too free from privacy for your tastes? You can accommodate for that by building your own walls and hedges to keep the neighbors' eyes away. A creative trend that many homeowners are investing in is the four-post structure style, creating lattice walls and trellis around three sides of the hot tub. That way, you can have a more private space on your deck without having to pay for expensive landscaping costs.
Plus, you can control how much privacy you want. With a trellis, you can plant vines, or create a wall of bushes to block the neighbors' view while keeping up with a natural garden look.  Checkout these Spring Gardening Tips.
7. Wrap-Around Deck Stairs
There's just as much opportunity with a real, built-in hot tub as there is with a hot tub stacked on top of the deck. If you want to go completely built-in, you can expand the design of your deck to offer something contemporary and unique. Wrap-around stairs are a popular and inexpensive addition to a deck that can blend the floor and deck levels together while also leading the eyes towards the prize: the hot tub.
Spas should always be a major focus of the backyard, one that suggests luxury and leisure. The hot tub can be made beautiful with all of the solid wood decking surrounding it. Wrap-around wooden deck stairs can frame the tub while adding more natural wood to your yard.
8. A Deck, With A Hot Tub On The Side
Maximizing your space to add a hot tub doesn't mean you have to change anything about the way your deck currently looks. It's always possible to add a side extension to your deck – perhaps even on an elevated level – to fit the hot tub while keeping the main area of your deck as the major focus that pulls the yard together. Add lots of greenery around the deck to blend natural and man-made in perfect unison.
Decks can hold a lot of important backyard pieces in its space. Make sure you have room for your table and chairs, fire pit, barbecue, or any other functional piece that makes your backyard experience complete.
9. Backyard Gazebo Oasis
For those who have as little space as possible to make any additions or changes, there is still hope. You can add layers of privacy, beauty, and dimension by building a gazebo around your hot tub. Raised hot tubs can be an eyesore if they don't have a lot surrounding them. But you can easily box them in with a beautifully-built wooden gazebo that extends the look of your deck upwards and completes your backyard as a cohesive style.
Plus, this will add a layer of privacy that can keep you feeling safe and secure in your backyard – even if it isn't the most closed-off space to begin with. Adding trellises with vines, slatted fencing, or lots of greenery can give you all the privacy you need.
10. Maximum Elevation With Built-in Benches
You can easily build a wooden bench that matches the height of your hot tub while also providing additional seating space. Not only have you just added new levels to your deck, resulting in a look of height and depth, but you've also created more function out of a valuable backyard piece that already serves you so well. This is a great way to maximize your form, function, design, and style all into one.
This works well with elevated hot tubs that are placed on the side or in the corner of the deck area. Lifting the wood up to meet the top of the hot tub makes it all feel like a cohesive unit, rather than just having an ugly spa sitting on top of a wooden deck. Now you have somewhere to safely enter the hot tub, or take a seat, or store your towels. It's a win-win situation for form and function.
Transform Your Backyard Deck Into The Hottest Spa In Your Home!
It doesn't take much to turn your deck into a spa-friendly place for the ultimate luxury and leisure. However, it's important to speak with a professional before moving on to any of the steps in your backyard plan. There are lot of factors that need to be taken into consideration before a hot tub can be safely elevated onto a deck – or built into one.
Depending on the shape, size, and weight per square foot of the hot tub, you will have a number of options to build it into your deck. And if you can only place it on top, you can build extra accommodations to make it look like the tub has existed there all along.
It's easy to do this in an affordable and reliable way with Sebring Design Build. If you are looking to get started, but you still have more questions about the backyard deck and spa building process, you can start with our free eBook: Remodeling 101: A Free Homeowner's Guide. It will set you up with everything you need to know about your backyard, kitchen, or bathroom remodeling project before you get your hands dirty. Reach out to one of our professional staff members with additional questions or concerns!
This is an image roundup post, curated to showcase and promote other reputable contracting companies' and their amazing work.  To have any of the images removed, please reach out to us and we would be happy to do so.
Other Great Articles to Read: