Ever Wondered Why the Open Floor Plan is Here to Stay?
Years ago homes were designed with specific rooms for specific activities.  If you've ever been in an old Victorian home you will remember the formal living room that was only used a few times a year for formal parties.  The dining room was reserved for formal dinners only.  I remember as a kid we were not allowed in the living room in fear of something being broken or the "nice" furniture getting stained. Today's lifestyles are much different.  Today's families like rooms that are functional and not something you walk by and look in at.  Family gatherings and parties are more casual today and people enjoy congregating in the same area.  In my house, the kitchen always seems to be the place where everyone likes to hang out.  Having your kitchen open to the family room allows guests more opportunity to engage in conversations with those that are preparing food.



There are other important reasons why the open floor plan is here to stay. An open floor plan is something that works well for any lifestyle and any age.  If you're considering a remodel, here are some compelling reasons for an open floor plan.  You work from home, you have small children or teenage kids, you have a large family or are planning for one.  Many people look forward to retiring in their home because it's finally paid off!  With all the memories you have created there, you really don't want to leave just because it's not conducive to your needs now.

The 21st Century is Different
The open floor plan has survived almost 40 years of remodeling. Homes are being remodeled into modern trendy styles. Poetic flow is the ideal to be reached, along with family togetherness. Working parents and busy moms have mastered the art of multi-tasking.  Having the space to be able to keep an eye on the little kids playing nearby while helping your older kids with their homework and making dinner all at the same time is a necessity.  Entertaining is also more fun and easier with an open floor plan. More and more people work at home, too, so this flow is even more important.



Trends in paint colors, countertops, flooring, window shapes and dozens of more items are considered to facilitate the wide open light-filled spaces of the open floor plan.
Size Matters
Once only seen in apartment living, the open floor plan is now being considered to give single family homes with small dark rooms a lighter, more airy aura.
Many young couples, just starting out, are asking for this type of floor plan.
The introduction of small children to this type of home, therefore, is already considered.
Young entrepreneurs in small houses benefit from a remodel introducing massive amounts of natural light in their home workstations
These points have led to larger single family homes being remodeled or even built with open floor plans. Formerly new parents move into these homes, where they can keep an eye on the kids, do their work or their cleaning or possibly work with their clients on the other end of the space.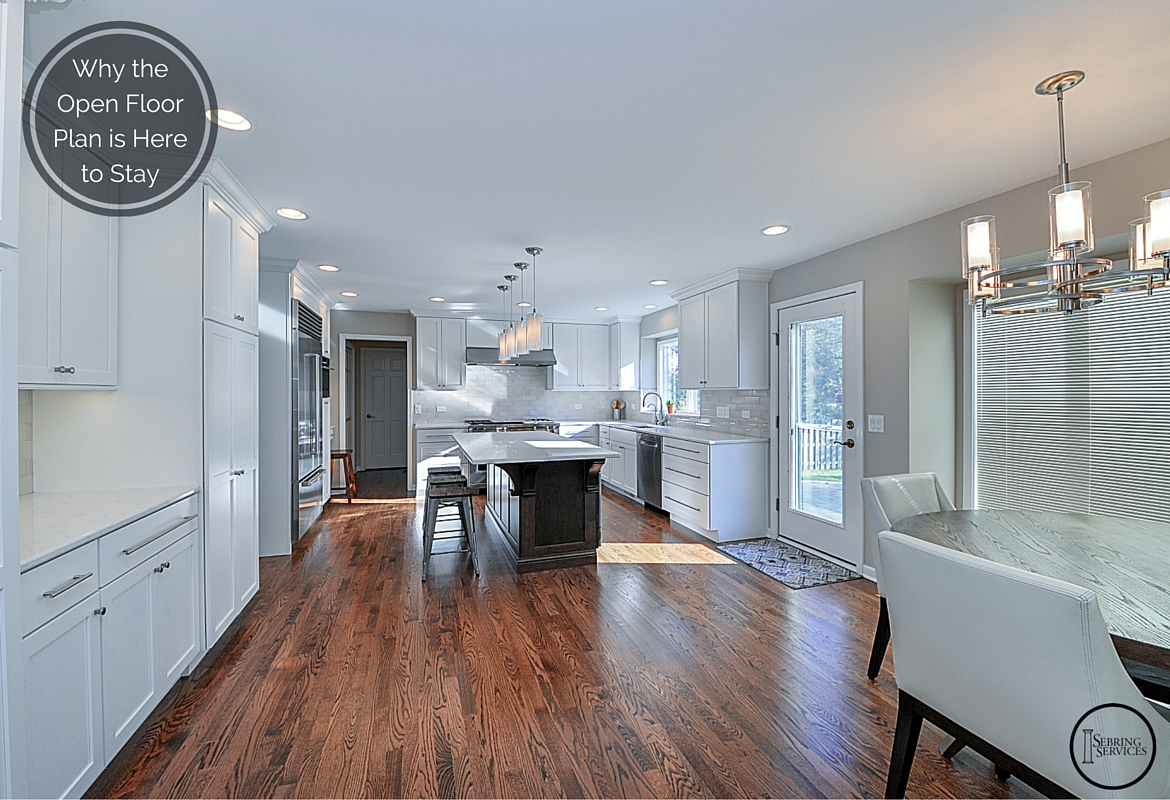 Lifestyle Changes
An active lifestyle means continued good health. It brings families together when they work out with the Wii Fit game, hop on the elliptical or bounce around on the mini-tramp. Should your family find no compelling reason to need a formal living room or dining room, a remodeling designer would arrange your open floor plan to include a work-out space with perhaps a media room nearby for family movie nights while you or someone else is working out. The banks of windows in most open floor plans provide supervisory conditions for those whose kids are into the sporting life. If they stay fit playing ball, being a dancer in the half-time show or doing gymnastics, then you can make sure through the windows that no bones are being broken during practice or fights break out due to adverse opinions of someone's dancing.



Aging in Place
Young folks don't think about, much less plan for, the time when they'll be older. Open floor plans provide those with arthritic fingers and wrists fewer doors with which to contend, in addition to easier navigation through large open spaces instead of narrow hallways. Open spaces mean less chance of falls, which is a major concern of aging. If you are planning on staying in your home for many years, then an open floor plan assures you will not be bruised bumping into furniture, you will not trip and fall over steps up or down into another room, and you will have enough light for aging eyes to better see what you need to see.  The kids you used to watch so carefully and lovingly will have the peace of mind knowing you're safe and healthy. That open floor plan really worked out, didn't it?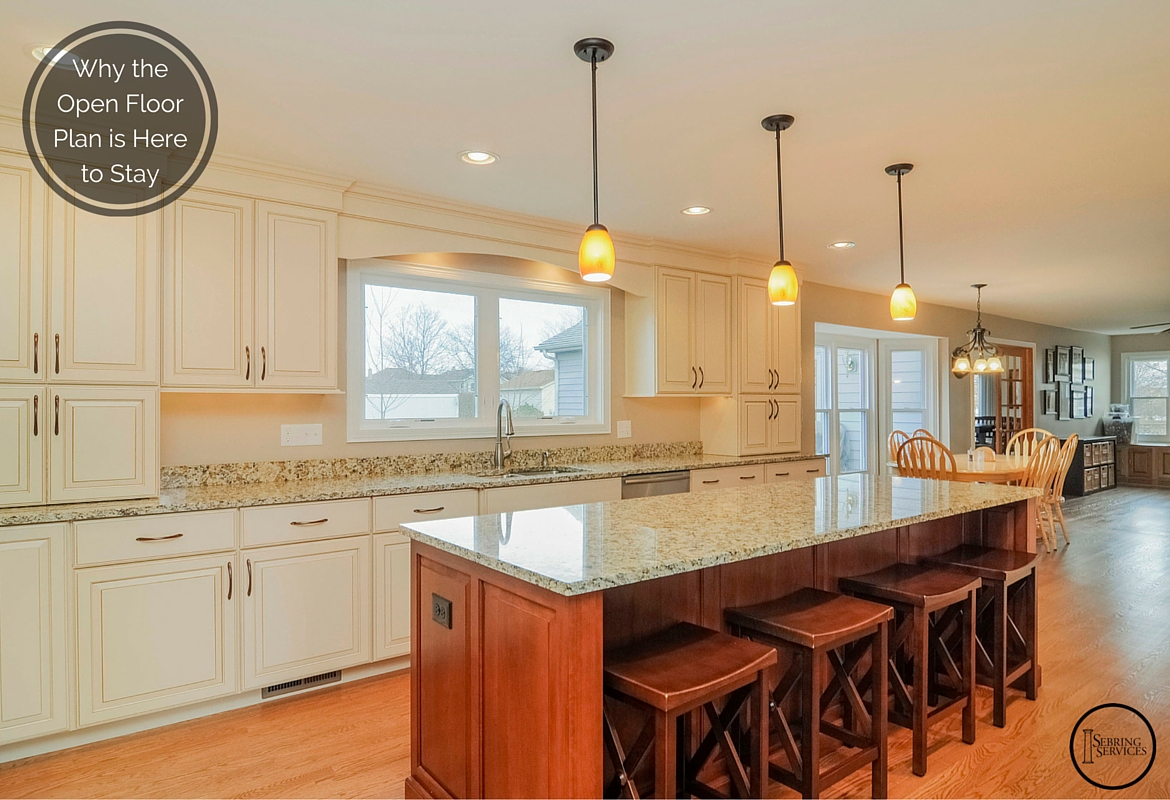 Whether your home is your office or your nursery doesn't matter. What matters is that you have the space to live your life in quality and style. We know how to manifest that for you, so feel free to contact us. We'll sit down and work with you from idea to finished product, within budget and with all the honesty, knowledge and experience we have!