Whether they are snuggling to your lap, waiting around for walk time or even romping around with their favorite toy, every dog requires a space to call their very own. Dedicate places throughout your house, or maybe a whole room, for the dog to play, rest, & nibble. There is zero need for breaking the bank on snazzy designer dog decor. Each one of these projects could be made with regular craft materials, easy food items, and all may be personalized according to your doggy's energy & your home's style. These dog room ideas can also be amazing for congratulating a buddy on welcoming a brand new pup in their house or even preparing for one of your own. Regardless of the occasion, celebrate and indulge your pup with comfortable, stylish, and playful DIY dog space ideas.
This modern dog kennel by Baldwin Homes, Inc. features a little home, providing a comfortable and stylish space for your furry friend to relax and rest. The neutral color scheme and clean lines give it a minimalist and contemporary look.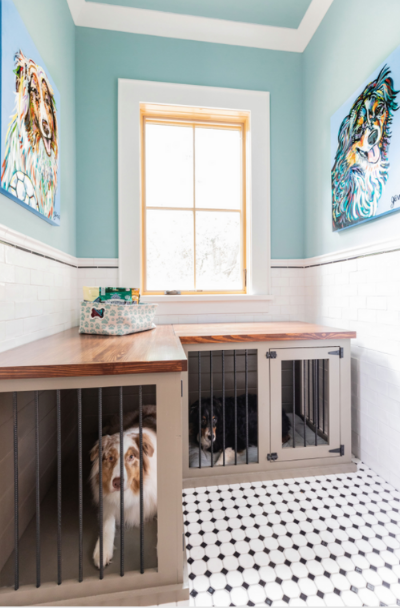 A contemporary dog kennel by Stone Acorn Builders with a metal frame and white and blue accents offers a functional and stylish space for your pet while fitting seamlessly into a modern decor style. The large windows and natural lighting create an airy and bright atmosphere.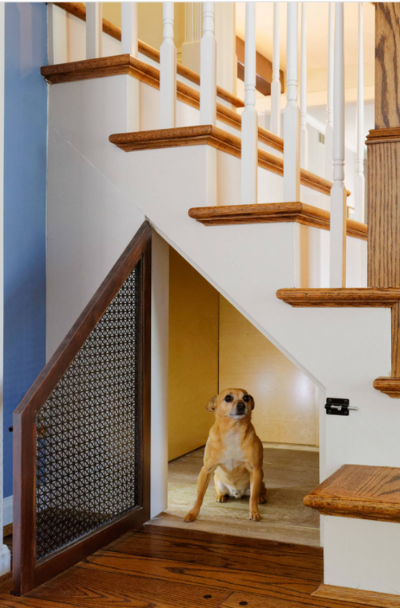 This stylish dog kennel by Michaelson Homes LLC features a wooden frame under the stairs, providing a functional and attractive space for your furry friend. The decorative space add a comfortable touch to the space.
BUNK BED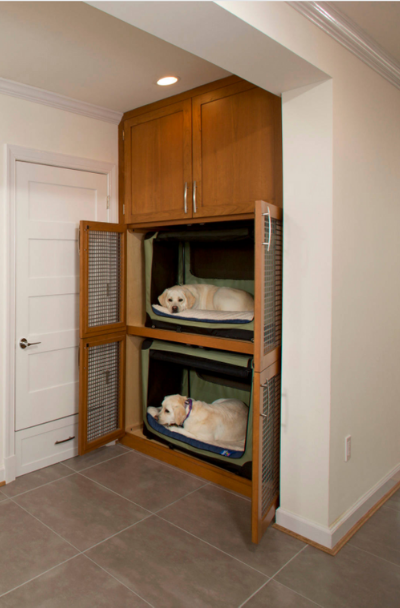 A classic dog kennel by Four Brothers Design + Build with a wooden frame and metal wire paneling provides a traditional and functional space for your pet while fitting seamlessly into a classic decor style. The brown and white color scheme gives it a timeless and elegant look.
CRAFTY
The space in the stair offered an opportunity to create a home for this little dog. This is such a comfortable and convenient kennel by Board & Vellum.
MID CENTURY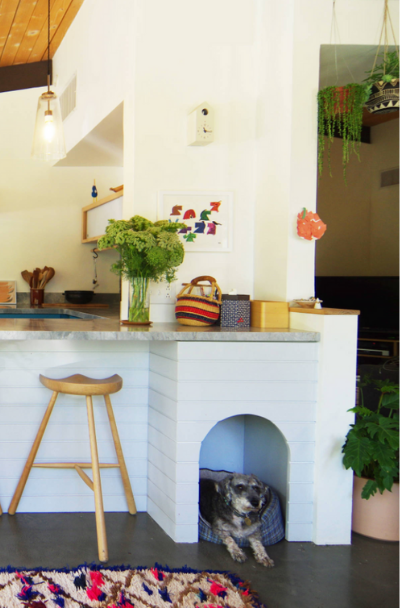 A contemporary and homey dog kennel by Bunch Design with a brick frame and white accents offers a functional and stylish space for your pet while fitting seamlessly into a modern decor style.
EUROPEAN
This rustic dog kennel by Janet Kauffman Interiors & Design LLC features a wooden frame with a built-in shelf for displaying your pet's toys and accessories, providing a functional and attractive space for your furry friend. The bookcase was transformed to include a dog kennel below.
Why You Need A Dog Room
Home is definitely where the dog is, so why don't you make a good spot with your house for your furry friend? Setting up a dog room is a great method to corral your dog's needs—and, let us face it, mess—by confining everything to an area that is designated. Most pets appreciate having an area of their very own. If you have numerous canines, a separate space for their belongings uses area better compared to several crates or dog kennel ideas dispersed all over the building. Try out our several tips to produce the kitchen of your dog's dreams.
Leaving your dog home alone is difficult for both of you. It is hard to keep that sweet-tasting face behind! Though the simple truth is, your dog is able to manage brief periods of alone time just okay, particularly in case you create a "dog safe zone" to have them comfy and entertained. Whether it is a well-appointed crate or a whole spare room, continue reading to understand everything you need to create the best dog zone for your closest friend. A dog room under stairs is useful for creating a feeling of security when they will be maintained by a pet sitter. A dog zone does not need to be big. Actually, most dogs favor smaller spaces. Peace and quiet, comfy, enclosed spaces remind them of the ancestral dens. Additionally, limiting your dog's chance to access the majority of the home might stop undesirable actions such as chewing, barking, and potty accidents.
Nearly any extra room in your house is able to be used as a dog room: a laundry room, extra bedroom, and on occasion, even a big walk-in closet. When you reside in a tiny apartment, a baby gate or maybe dog pen ideas give a protected boundary but may be folded up and also stashed from sight when you are home. A freestanding rubber pet gate could be relocated from doorway to hallway as necessary, which makes it a useful option for a house with a lot fewer rooms.
LAUNDRY ROOM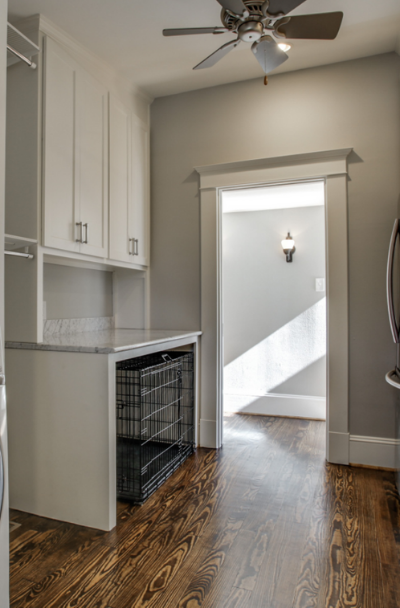 This cozy dog kennel by Bella Vista Company features a metal frame providing a convenient and functional space for your furry friend. A part of the laundry room was also made to be a dog's den.
DOG DEN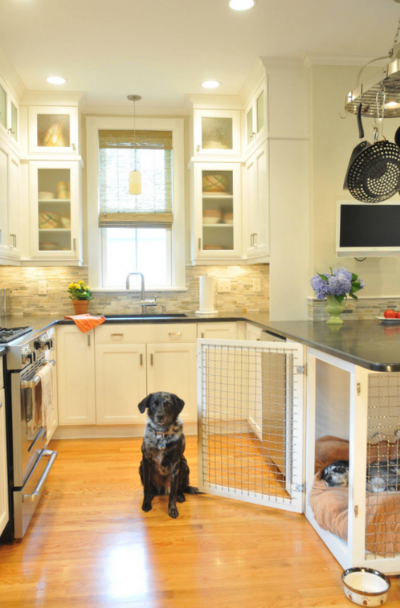 A simple dog kennel by Betsy Bassett Interiors with a wooden frame and metal wire paneling offers a durable and functional space for your pet while blending seamlessly into a rustic decor style. Make your buddy comfy by having a soft mattress in its hideout.
TRADITIONAL
This warm dog kennel by Crown Point Cabinetry features a sleek metal frame with a cushioned bed, providing a comfortable and stylish space for your furry friend to relax and rest. The dog crates fit perfectly and seamlessly to the cabinets.
How To Create The Perfect Spot For Your Dog
Provide your dog a comfy spot to lounge during the day and sleep during the night. Dog beds ideas are made in a multitude of styles and sizes. Just before buying, think of your dog's sleeping position, sizing, temperature needs (do they run hot and you need a little additional warmth?), and some bodily concerns. A bed with an overstuffed construction, bolstered sides, along with a minimal central cushion offers additional joint support, making it particularly designed for more mature dogs. Whatever form of bed you pick, a removable cover makes for easy cleaning. Faux leather covers resist dirt and hair while pairing beautifully with dog wall decor that is contemporary. Plus, since it cleans up with only a wipe, it is ideal for dogs that often drool. Microlinen and also microvelvet bed covers resist pilling and repel pet hair, moisture, and dirt. Additionally, they get softer with each wash. Subtly designed or tweed covers are able to help hide dirt and fur between cleanings.
Baskets and containers keep doggy must-haves from collars, leashes, and dog waste bags to toys, medications, and grooming supplies. Simply be certain, they are stashed on a shelf that is outside of the access of curious beasts who could make a wreck or even enter into a thing that permits them to be sick. Speaking of shelves, a wall-mounted version or a stand-alone bookshelf additionally holds puppy photo and training books albums. It is a fantastic spot to easily store file boxes that contain your dog's health background and vaccination records, along with warranties & teaching manuals for crates, beds, and other things.
Should you have to keep your dogs out from the way for some time, think about using a gate to limit them for their space. Besides maintaining your dogs secure and dealt with—particularly useful during major cooking undertakings or maybe remodeling projects—a gate will help your dogs think as they're a part of the excitement and also allows you to keep a watch on them.
This modern dog kennel by Wesley-Wayne Interiors, LLC features a sleek metal frame with a cushioned bed, providing a comfortable and stylish space for your furry friend to relax and rest. The beautiful laundry room features custom-made dog housing.
LASER-CUT MESH
A contemporary dog kennel by Pineapple House Interior Design with a metal frame and wooden accents offers a functional and stylish space for your pet while fitting seamlessly into a modern decor style. The decorative rug and accent pillows add texture and warmth to the space.
Designing A Dog Room
If you have the area and you are a dog lover, it can make feeling to provide your pooch a comfortable space all his own: He will have an area to unwind in and remain mentally active throughout the day, and also you will ensure he cannot trash your house while you are out. Replace the floors in the dog bedroom with something which could tolerate virtually any scratching from your pooch's fingernails, and it is uncomplicated to clean up whether doggie accidents occur. Tile or sealed concrete works nicely because of this job. Try painting the kitchen with a nontoxic satin or even semigloss paint that is devoid of volatile organic compounds. You are able to scrub away dirty paw prints from these finishes with a sponge, unlike flat surface, and also, they will create much less glare compared to glossy paints.
Mount lighting on the ceiling of the pup's room so you will not have to put lamps within the room. A rambunctious dog may inadvertently knock over a lamp, creating a safety hazard. A ceiling fan w/ a light fixture not just provides illumination within the room, but additionally helps to keep your furbaby cool. Enhance the room with photographs of dogs and stencil dogs on the walls. While this will not always wow your dog, it provides the room a feeling of design and also identifies it as pup-friendly. Additionally, it will make the room an enjoyable conversation piece showing visitors. Have a space for water and food dishes within the room so your dog can access them throughout the day. Raised feeder or maybe dog-themed placemats are able to offer a finishing touch on the feeding area and also help with cleanup. Place a comfy dog bed within the room for your closest friend to relax on. Beds are able to vary from an easy pillow to some designer pet sleeper, which looks like a tiny model of a human bed. Cover the bed with fabric cases that are durable, and you can remove for simple washing.
Put a crate within the room for your dog to offer him a comfy doggie den to unwind in case he feels stressed. Some specialty crates look as end tables, giving the space a beautiful touch. Provide for the dog a potty region, like a dog litter box, so he is able to eliminate while confined within his bedroom. A dog litter box might include a plastic tray lined with synthetic grass or might merely be considered a potty pad your dog can eliminate on and easily toss in the garbage. You will have to clean or even replace these at least every day to keep a sanitary house.
Provide your dog a toy box or maybe a storage ottoman full of dog toys he is can use as much as he wants to. This will help to manage the area and also provides you with an easy means of straightening the room. Then add pooch-friendly technology to the room. Play relaxing music on your pup throughout the day on a stereo. Properly mount a flat-screen television on the wall to entertain your dog. Install a webcam within the room to watch your dog throughout the day to check on him. Store your dog's medicines, health records, blankets, bedding, food, clothing, and other components of an armoire or maybe a chest of drawers positioned in the area, for simple access.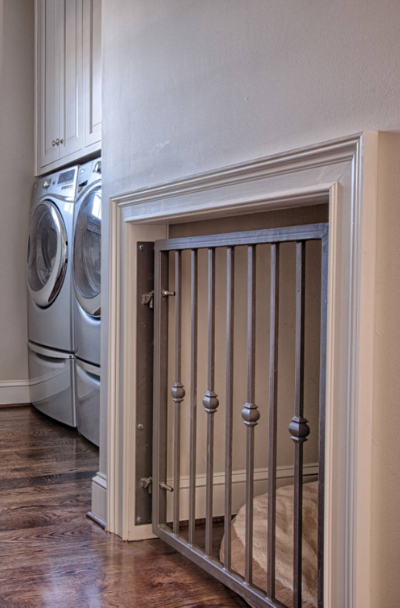 A classic dog kennel by Toulmin Cabinetry and Design with a wooden frame and metal wire paneling provides a traditional and functional space for your pet while fitting seamlessly into a classic decor style. You will be entertained while doing the laundry by having your dog here.
Finding The Perfect Spot For Your Fur Baby
For starters, decide whether you wish to dedicate a whole room to the dog/s or a part of an area. We recommend choosing a location that is reasonably quiet and not highly trafficked. We all know that dogs are extremely social creatures, so make it near a family room, but far enough away for the pup to get some alone time, in case he or maybe she wants time alone. Get creative. A number of homes have nooks perfect for den ideas. When you are devoting a whole room, choose a snug spot from the window, perhaps in space, for the bed or crate. Dogs love to feel secure and safe, so getting their very own space to escape to whenever they have to rest, relax, sleep, or play, may be best.
If your dog is crate-training or crate-trained, the following are a few fantastic items to put in the crate to produce your pup feel really comfortable: a comfortable blanket or bed, its drinking water bowl for overnight, some popular toys to occupy them, and a wee-wee pad for puppies in training. Food bowls would do great on the other side of the room, away from bedding. Utilize a tray or maybe placemat under the bowls, since most dogs are disorganized eaters and keeping food contaminants from carpets and off of wood floors is a great idea.
We hope you enjoy these tips & ideas! Let us know how your dog room goes!
This is an image roundup post, curated to showcase and promote other reputable contracting companies' and their amazing work. To have any of the images removed, please reach out to us and we would be happy to do so.
Other Great Articles to Read: