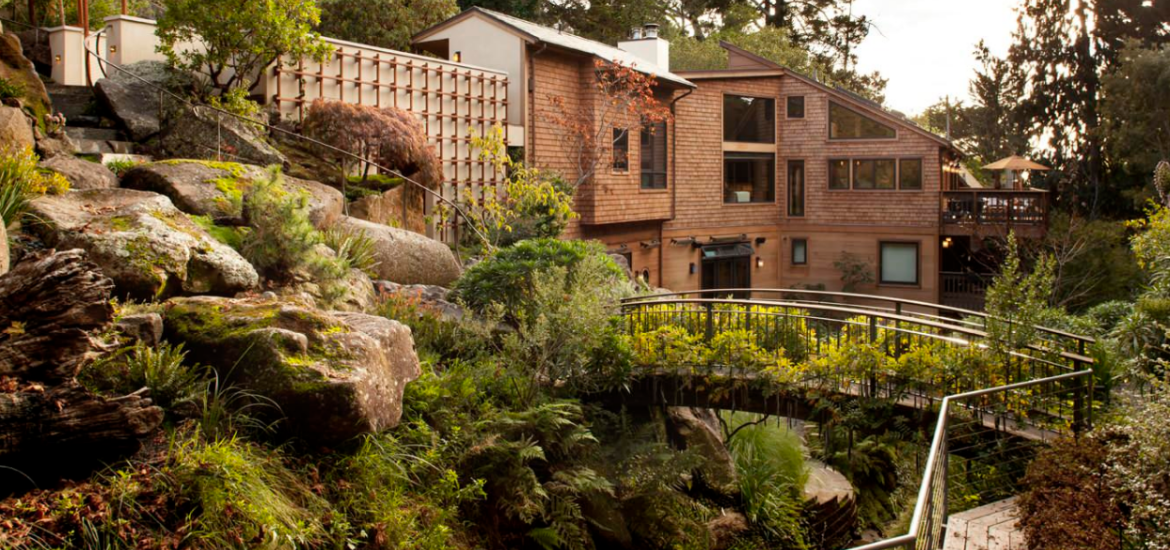 Walkways in your backyard or those approaching the front of your home are both visual and functional in purpose. They help direct individuals along the path you've selected, keep them far from other areas, and develop appealing options to enhance the curb appeal and overall appearance of your house. Whether you are planning to upgrade your existing walkway or perhaps create a complete brand new walkway in your property, these backyard walkway ideas will be sure to give direction and inspiration.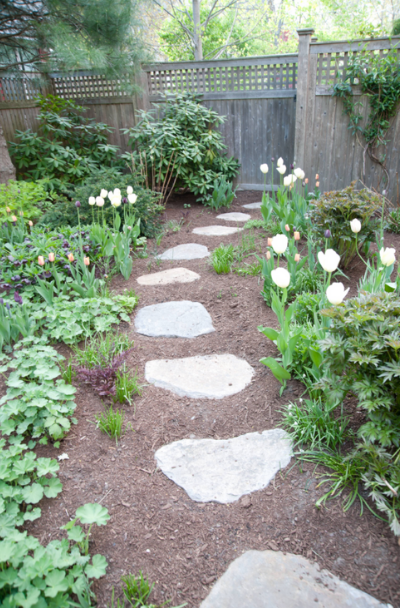 Even if you don't have much money to spend, everything will still appear natural and lovely. Here is one of Jean Brooks Landscapes' examples of a classic stone walkway. Cost shouldn't be a concern while designing your pathway. What you need are only a few slabs of concrete.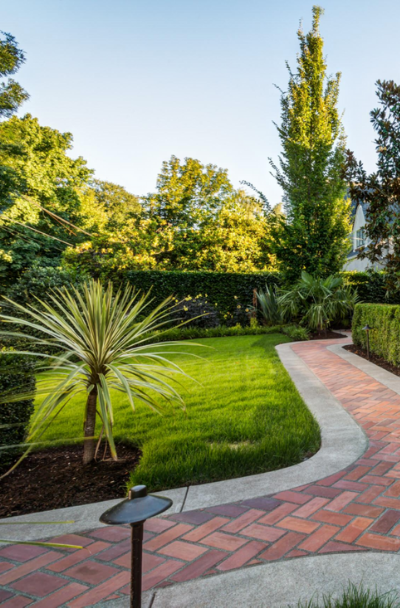 Need a route that fits the mold of the typical and mundane? In my eyes, this one is solid and well-organized. The resurfacing brick looks fantastic even though it is thinner than regular brick. Cornerstone Construction Services has done a tremendous job with the design.
Do you want a walkway in your front yard reminiscent of Tuscany but more modern and refreshing? This route, designed by Frank & Grossman Landscape Contractors, Inc., is beautiful. The scenery in the Mediterranean seems tranquil and rejuvenating.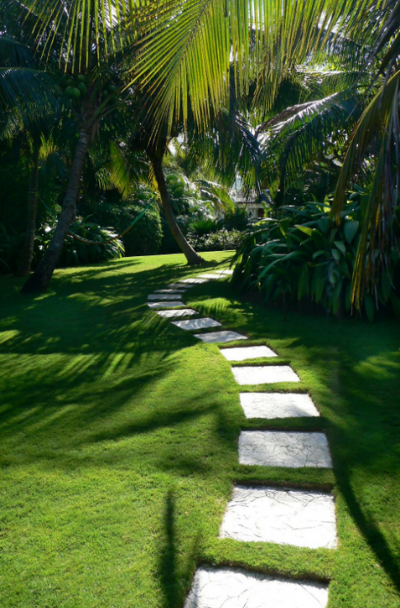 Want your natural garden to appear as organized and revitalizing as this one? The landscaping firm of Craig Reynolds Landscape Architecture did a fantastic job designing this garden walk. The concrete is poured inside crumpled brown paper bags in this particular route design to create a pattern.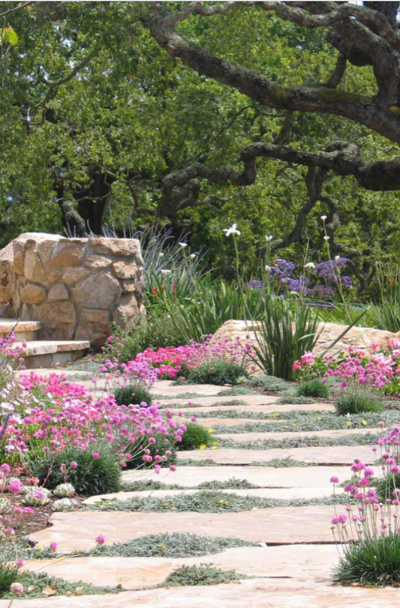 Have you always wanted a pink and purple walkway in your home? You won't find a more endearing or revitalizing walkway design than this one. These massive pieces of Arizona Flagstone provide a lovely accent to the flowers. These walkways by Zeterre Landscape Architecture are fantastic.
Do you want to get the experience of being on a natural slope? This is such a classic design for hillside stairs and gives the impression of being completely natural. Sundance Landscaping outdid itself with this stunning design. This hillside landscaping has concrete stairs for accessing upper levels.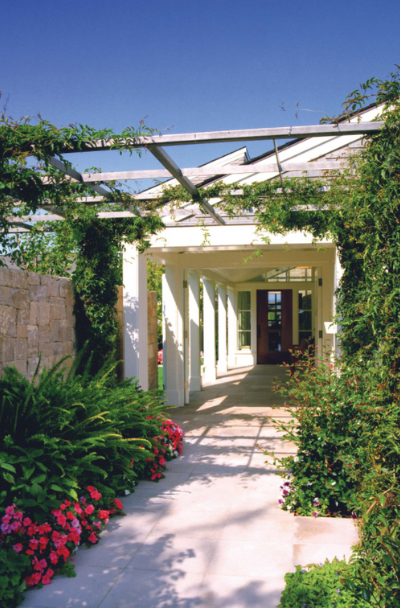 Do you want a doorway to open directly into your home? What an excellently designed walkway like a ranch porch! A wide pathway connects this porch's elegance to the house's interior. Sutton Suzuki Architects was responsible for creating such a spectacular walkway.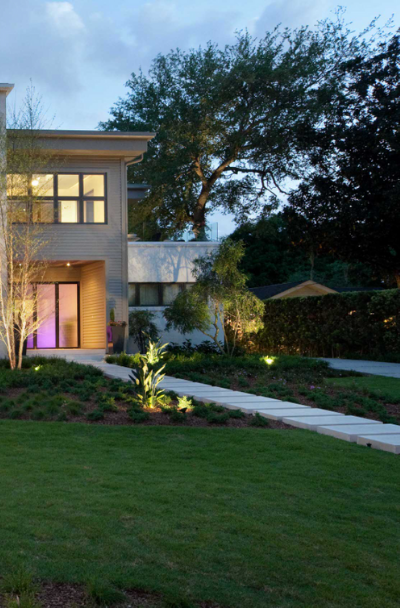 Do you want to imagine yourself in a special home with a special entrance? This is a wonderful and original front walk that complements the contemporary home. There's a one-of-a-kind floating staircase in front of the property. Phil Kean Design Group was responsible for creating such a one-of-a-kind foyer.
LAY-OFF LINES
This Mediterranean garden's wooden and concrete paths are an elegant blend of the old and the new. This is a fantastic layout that enhances the visibility of the walkway while yet appearing natural. Sage Ecological Landscapes has done a tremendous job.
YARD STONE
Do you want a low-cost and environmentally friendly walkway to lead guests through your yard to the base of a tree? Barron Custom Design, LLC makes it simple to create this proposed route. Creating a pathway like this in the sideyard like a true artisan is a breeze.
Importance Of Walkways
A walkway is much more than simply an area to stroll from the sidewalk to a house or building. It will make up an immensely important component of the scenic landscape inside your front or backyard. Just like the driveway, nobody is able to stay away from getting a walkway installed. Since it is essential, you might as well make it look as appealing as possible. A walkway should be both aesthetic and functional in design. It must be eye-catching and one of the primary features that individuals notice whenever they look in a yard. A plain, straight walkway is similar to a neutral-colored home with no bold colors or maybe fascinating designs.
Along with being appealing, the walkway has to be completely effective. For starters, it ought to offer simple access to the front door. No one loves a path that travels the longest distance out of the sidewalk on the door. Build one that offers the easiest and shortest course to the entrance. Some homes are made on slopes; therefore, it is harder to build stable walkways. Let be simple for everybody to stroll on your path, particularly somebody who is disabled or elderly. Add stairs and steps to avoid individuals from slipping on the walkway. Once it rains, a sloped walkway gets to be more slippery, making it much easier for individuals to tumble down. If an accident happens on your property, any individual is able to sue you for liability damages. It seems like an inconvenience to set up steps, but it is more so to contend with lawsuits and accidents. Make your walkway secure and effective for everybody who uses it.
An eye-opening scenery surrounds an excellent walkway. You can create a course that's nestled between rows of hedges or shrubs, or maybe develop a curved path in the form of a "Z" or "S" which snakes around various plants. You will find a stone or wooden sculptures installed in the process or perhaps water fountains in several yards. Many people would like the walkway to be the center of attention and place it in the center of the yard. All the various other characteristics, like the bushes and flowers, are designed around this specific course. Some other homeowners would like the walkway to be constructed on the side and hardly noticeable. The majority of suburban homes have this particular style. Sidewalk ideas are just functional without any obvious appeal. The direction and shape of the walkway is an individual choice. An "L" shaped walkway isn't better or worse than a one that is "S" shaped. Nevertheless, be sure that your walkway is included a place in the design.
FRONT YARD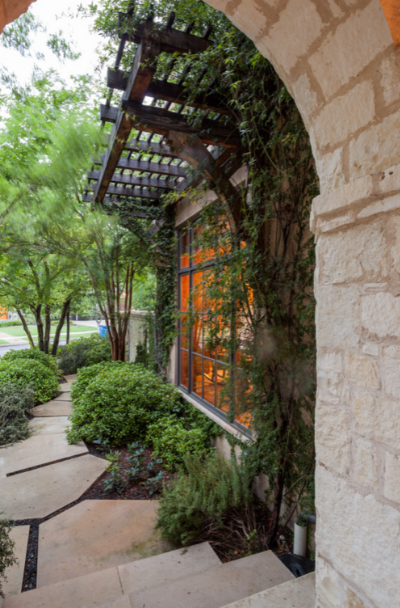 Want a front yard landscaping plan that will leave your guests in awe and feeling like they've stepped into a fairy tale? A promenade like this, surrounded by verdant plants, is guaranteed to be appreciated—a beautiful and refreshing front yard walkway designed by SHM Architects.
ROW HOUSE
This inexpensive, low-maintenance walkway design is perfect for your row house's outside garden. The shaded promenade is covered by a deck overhead. These walkways by Four Brothers Design + Build are very stunning.
NATURAL STONE
Do you want to have the sensation that you are in some resort due to the design of your pathway, which is made of natural stone? Stone Worthy has come up with a really impressive plan for a pathway here. This is a stunning example of a traditional stone garden path in the front yard.
GABLE ROOF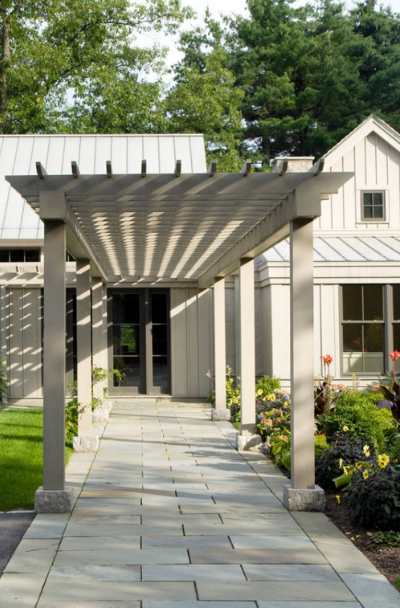 Do you want a home that, thanks to the liberal use of the color grey, exudes an air of tranquility and sophistication? The designers at Hutker Architects deserve praise for this pristine walkway. The massive slabs of concrete that make up the walkway are a hallmark of modern design.
Material For Your Walkway Ideas
Next, there's the type of material to set up. Concrete paths are discovered in many suburban homes and industrial buildings. It is popular since it is less complicated to get, and construction workers think it is less difficult to work with. Concrete isn't the sole material offered. Additionally, there are paths made of wood, plastic, stone, metallic, or even vinyl. Any material which can be used on roofs may be used on the path. Several individuals love to polish the surface area of the material to ensure it mirrors the sunlight. Others love to mix and match various materials. For example, a limestone walkway might have polished cork pieces across the border.
A stamped concrete path can resemble the appearance of wood but keep the sturdiness of concrete. A lifeless rubber path is usually enlivened with LED lights, which instantly switch on at night. Along with selecting the material, consider just how much of the design you wish to customize. Several companies let you mix colors or even create personalized designs that are noticeable to anybody who walks up to your home. Decide whether you want a path that's made up of walkway stepping stones. Individual stones make some walks more fascinating and challenging. In that case, choose from a selection of sizes and shapes for the stones. Additionally, it presents a fair distance from a single stone to the next. No one desires to leap, moving from one stone to another.
ELEGANT WHITE
Want a white-themed home with a natural-looking walkway design? This beautiful white home by Diversified Contractors / DC Patio features a natural stone walkway. Create a lovely pathway to help you stay organized at the front door.
SUMMER
When you have this pathway made of natural stone installed in your front yard, it will look and feel just like summer! This walkway design was created by Firlit Landscape Design, Inc., and it will make you feel like you are on vacation. The stone landscaping in the front yard is just what you need for the warm summer days.
FRONT ENTRANCE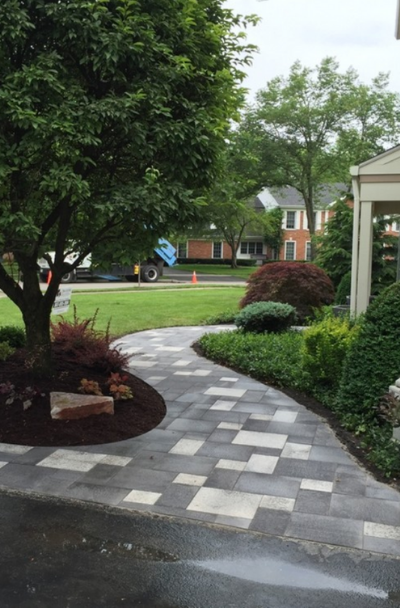 The white and gray sidewalk looks great next to the garden, as do the other colors throughout the home. PaveStone Brick Paving Inc. did a wonderful job with this front entry design, which exudes an air of nature and renewal. Wow, that's a beautifully crafted walkway!
FACADE ENTRY
Your home's new front door is so stunning that all your neighbors will be jealous. The entryway of this home is the perfect spot to relax and enjoy the outside. A distinct path to walk on might help prevent damage to your grass. Murphy & Co. Design has created a route that is both beautiful and inviting.
DIY Walkway Ideas
Upcycling wooden pallet is an innovative method to make a lovely pallet walkway, improving the look and design of your lawn in an easy and inexpensive way. Take some old wooden pallets and place them on your walkway following innovative patterns and style. You can also paint your walkway to add a far more interesting structure. You are able to utilize a wok maker to develop your concrete walkway easily. Be sure to scrape away loose dirt or any mulch and level the pathway out before layering the concrete as well as the stones.
A walkway or even stepping stone pathways within your backyard is able to assist you better enjoy your outside space. Creating your personal DIY walkway design could be achieved without a good deal of cash and as a weekend project. Let us share several of the most famous kinds of materials used to enable you to think of walkway ideas for your own yard. Brick is ideal for outside walkways because it provides a unique look that's elegant and attractive. Nevertheless, brick is better when used in gentle climates and will have to be sealed every several years to help you prevent some water penetration. Pavers are usually used for paths and walkways and can be available in numerous different materials. Concrete, clay tile, brick, and stone are usually used as pavers, which makes them both low and durable maintenance. Regular cut stones might be placed down across your lawn or garden to create a path wherever you want. These are popular selections for fast stone walkway ideas as they're both easy and inexpensive to do yourself.
Concrete slabs, pavers, and stamped concrete blocks are usually utilized for constructing strong walkways. Concrete is a popular choice since they can stand as much as adverse environmental conditions and be personalized to get the appearance you want. With coloring techniques, molding, and stamping, you can get a customized look that's special to your yard.
Tips On Nailing Awesome Walkway Ideas
You would like your walkway to connect with the surrounding architecture—specifically, the home itself. When it does not easily fit in with the surrounding architecture, it will stick out like a sore thumb. While you would like for your walkway to be gorgeous, you also don't want it to stick out. It must blend with its environment in a complementary manner. We've discovered that flagstone or bluestone all work properly for the Colonial homes that we generally see around. When you reside in contemporary style home, you may still pick another purely natural stone option but in color or texture, which is much more streamlined in its appearance (as flagstone typically carries a multi-color overall tone to it). It is essential to find a material and a complementary color when producing your stone walkway design.
You need to make your walkway about four feet wide. This enables two adults to comfortably walk side-by-side without jockeying for a place or even being forced to walk single file as though they had been back in elementary school. Five feet wide is much better. It makes a pleasant quantity of room for guests to traverse the course. Landscape lighting is additionally a tremendously critical section of your respective stone walkway design. You will find numerous different options out there, but the key is not to draw a substantial focus on the path lights. You need them to serve their goal of making the path simpler to navigate, but you do not want the lighting fixtures to stand out. One mistake we generally see happens when homeowners use way too many lights. You do not wish to make your walkway look like an airport runway.
A well-crafted pathway is probably the first introduction to the house, guiding guests for your front door in a type that hints at what is to come. When developing a brand new pathway, your paver walkway ideas must run together with your home's general design scheme. A walkway to the front door has to be inviting and simple for your visitors to navigate. The choices abound, whether you're choosing front walkway ideas or maybe have to design the best garden path ideas.
This is an image roundup post, curated to showcase and promote other reputable contracting companies' and their amazing work. To have any of the images removed, please reach out to us and we would be happy to do so.
Other Great Articles to Read: