Something is energizing about the color green, with its connotations of freshness ranging from apples to spring lawn, soft sage, and beyond. Moreover, green is often stately and dark, or modern and zesty. And since green is such a versatile color, it can do wonders for your front door.
SOFT GREEN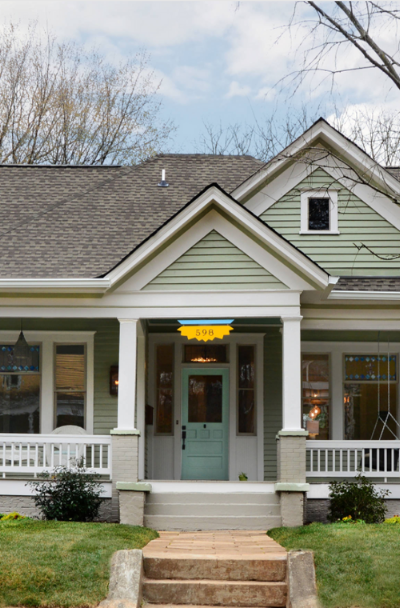 This modern home by Carl Mattison Design has a vibrant green front door with a textured glass insert, complemented by the simple landscaping and clean lines of the architecture.
PORTICO
A dark green door by Rudloff Custom Builders with a brass handle and kickplate makes a statement in this traditional brick home, surrounded by lush greenery.
TEQUILA LIME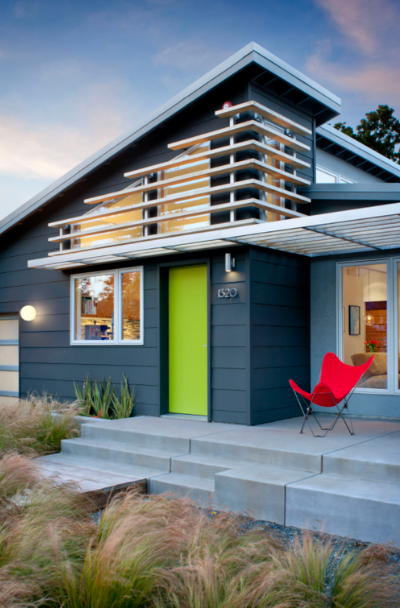 This classic white home by Ana Williamson Architect has a striking green front door with a raised panel design and black hardware, adding a pop of color to the otherwise neutral exterior.
SLAB DOOR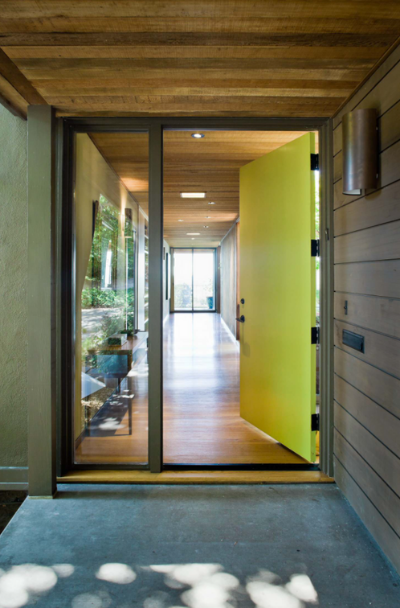 A bright green door by Koch Architects – Joanne Koch with an arched top and glass paneling provides a cheerful entrance to this white home, accented by potted plants and a wreath.
BILL GREEN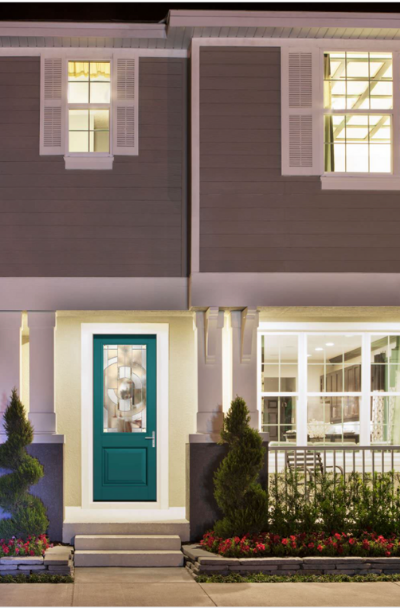 This contemporary home by Therma-Tru Doors features a sage green front door with a matte finish and black hardware, surrounded by tall windows and a modern metal railing.
ELEGANCE
An elegant green door by Doyle Herman Design Associates with a glass insert and black hardware creates a tranquil entrance to this modern farmhouse-style home, nestled among trees.
OCEANVIEW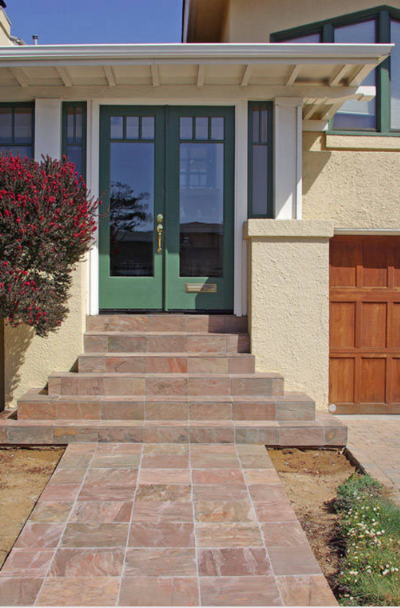 This white home by Continuum Tile Co. has a bold green door with a textured glass insert and sleek black hardware, flanked by large windows and simple landscaping.
BLOCK HOUSE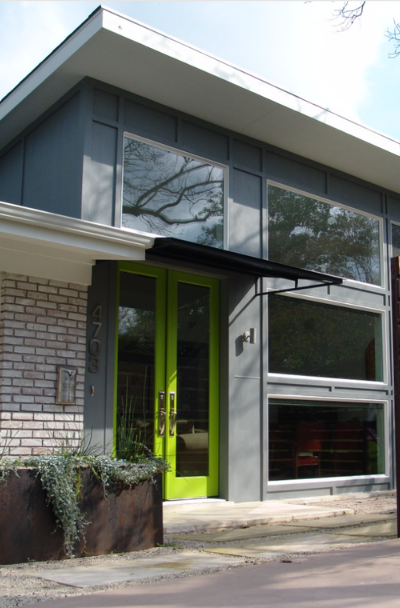 A charming green door by Steve Zagorski, Architect with glass panes and black hardware adds character to this white bungalow-style home, surrounded by lush foliage.
RUSTIC RANCH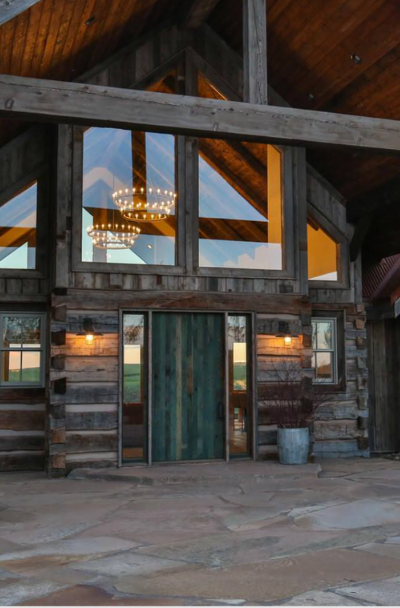 This elegant home by Laura Fedro Interiors, Inc. has a rich green front door with a glossy finish and brass hardware, accented by white trim and classic stone steps.
Why Go For Green Front Door
You can go for muted and elegant or bold and bright with green. Creamy sage is the go-to color if you want to amp the building's rustic credentials. This gentle color wonderfully blends in with natural stone and slate. Going out every morning through a hallway with a green door at the end would most likely set you up in the energy and stamina necessary for the day ahead. A green door pairs incredibly well if you have a white-painted space. If you're courageous enough to go for a lime green front door, fire it up with hints of red in your decorations.
Based on Feng Shui concepts, you cannot go wrong with the color green with its renewal and balance color. Do not worry whether it will blend in with your gardening; using green can bring out the various shades naturally found in your yard. The color green is also an excellent choice for a Southeast or East facing home as, the same as the brown color, a green lifestyle is an expression of the Wood Feng Shui element. We all associate the color green with the spring season; therefore, if you have a door that faces one of these two compass directions (Southeast or East), know that a lovely green front color could be an excellent Feng Shui option for it! Green is one of the best selling Home Depot entrance door colors. What does a green door say about you? Do not be afraid to choose a vivid green color. A green front door indicates that you hold traditional values and are a reliable member of the neighborhood. Frequently associated with prosperity and growth, green signifies wealth, development, and change. Green tree doors are inviting and invigorating and used to connect the earthly things outside of the home with the safe interior.
Deciding on the best front door color is crucial if you truly want to take full advantage of curb appeal and make a fantastic first impression. Mainly if your home is green, it is not a simple color to work with, but you can accomplish some great results if you do it correctly. So what are the most incredible front door colors for green house? Ask anybody involved in real estate, and they will tell you exactly how crucial maximizing curb appeal is. The first impression buyers get when seeing a house for the first time can make or break a possible sale. And it is a lot more vital if it is your house since you are the one looking at it every single day. Green is an extremely distinct siding color, so you genuinely have to nail the front doorway and all your other accents. It is not a simple choice to make when you consider that front door paint is available in thousands of color variations. Green is a gorgeous color for the exterior of a house. A green door sure looks cozy and welcoming, and it will truly stand out in the neighborhood.
And the design element that serves as the cherry on top will be the front door. Thus, it is not surprising that this particular design part is so visually important.
MIDCENTURY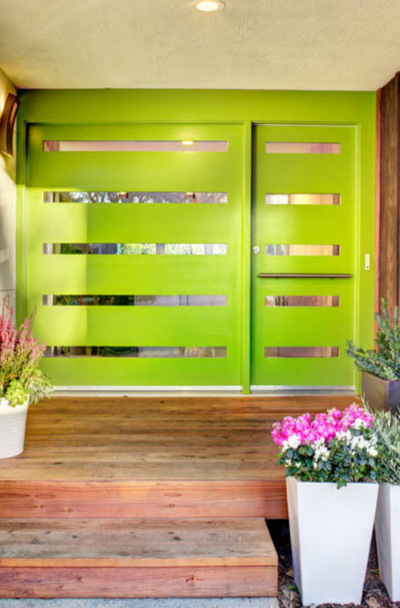 A bright green door by MAK Design + Build Inc. with a diamond-shaped window and black hardware creates a fun and playful entrance to this white home.
OASIS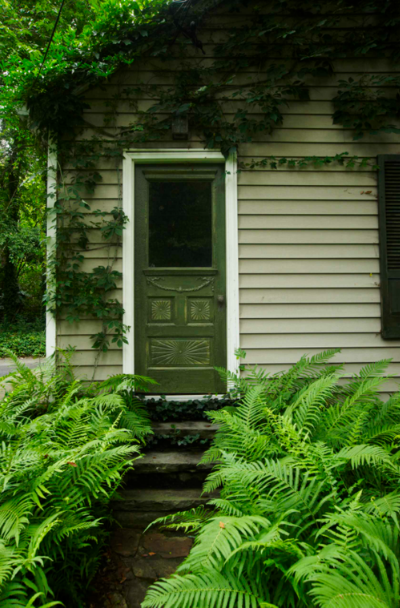 This charming brick home by Troy Rhone Garden Design has a forest green door with black hardware, surrounded by classic landscaping and a brick pathway.
FROSTED GLASS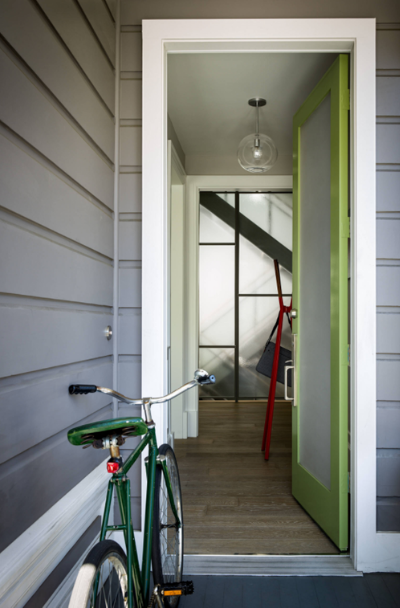 A vintage-style green door by Feldman Architecture, Inc. with a stained glass window and bronze hardware adds character to this traditional home, surrounded by a lush lawn.
SPANISH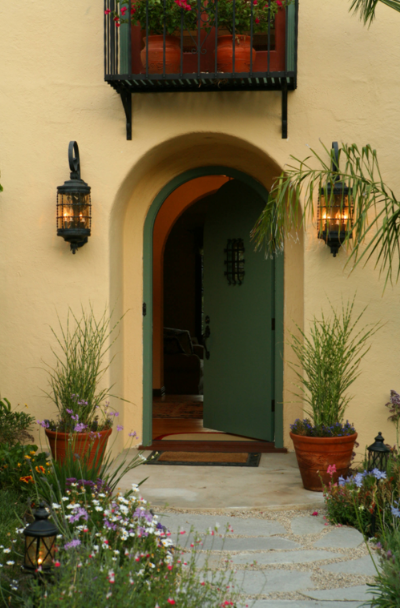 This rustic home by Sue Eller of RSIR has a deep green door with a textured finish and iron hardware, accented by natural stone and wood elements.
Mixing And Matching Colors For Your Home
Color theory plays a role when you are selecting any color to apply in or on your house. Before we begin talking about specific door colors, there are a couple of things you should understand about home colors in general. Firstly, the best way to choose the house colors is to understand their relationship on the color wheel. This causes a great flow between your colors instead of a disconnection. Every color you choose for your house should feel like it is part of the overall plan and not just an afterthought. They should mesh and complement each other. Think of it like making an outfit. Your pants, jewelry, hat, belt, shoes, shirt, etc. should play into a general appearance. Something out of place throws the entire look off. These are simple concepts any designer or artist knows. Understanding the connection colors have with each other is essential when designing by yourself without an expert's assistance.
Complementary colors are high contrast colors positioned opposite from each other on the color wheel. They are occasionally referred to as opposite colors. The very best illustration of this is black and white. Complementary color schemes typically use a cool color next to a warm one. Yellows, reds, and oranges are warm colors, while blues, greens, and purples are cool. When these colors are alongside one another, it creates something that is referred to as simultaneous contrast. When choosing the best front door color for a green house, keep in mind the color wheel and the complementary colors.
Analogous colors are similar to each other. These colors are found side by side on the color wheel, such as orange and yellow or purple and blue. Using these colors creates a good color scheme like tan and brown. Analogous colors are among the simplest to find on the color wheel since they are close to each other. Take any color at any point on the wheel. Next, choose any three colors straight to the left or right of it. Together, those four colors are a team of analogous colors. Analogous colors are prevalent, often occurring in plants. Have a look at anything natural, and you will find a lot of examples. Analogous colors can be seen in a single flower's petals or the skies at sunset or sunrise. Neutral colors sometimes occupy a place in the middle of the color wheel and are usually regarded as black, gray, white, cream, and brown. Neutrals could be safely paired with almost any other color, which is why they are trendy. Earthy colors are typically considered to be simple. They go along with nearly everything and make just about all the shades present in natural materials such as wood, concrete, and stone. Classic neutrals such as beige, taupe, ivory, and grey have little to no coloring put into them. They are essentially only a base color combined with only a tiny amount of pigment.
HISTORIC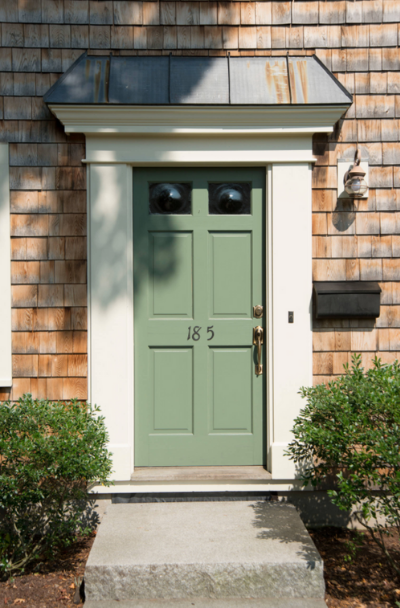 This white colonial-style home by Cummings Architecture + Interiors has a fresh green door with a raised panel design and brass hardware, flanked by tall columns and a tidy lawn.
PICKLE GREEN
This modern home by Studio3 Design, Inc. has a vibrant green front door with a glass insert and sleek hardware, surrounded by large windows and a simple landscape design.
Complementing Green Front Door
Allow us to share a few other things to consider when choosing front door colors for green house. Every element you use on the home is essential because the front door and green siding are simply two parts of a massive color scheme. The color of your roofing is often overlooked, which shouldn't be the case. The roof caps your home and creates a division between your house colors and the sky. Be sure you consider this when matching your front door color with your green siding. The mailbox is one more thing you will have to think about, and for some reason, it is also usually overlooked. What color is it, how huge is it, what is it made of? Is it something basic or an elaborate construction made of stone or brick? Please give it some thought because a mailbox is a crucial part of the color scheme and your curb appeal. Gutters are available in an assortment of materials and colors. The material and color of your driveway is a factor. Concrete or asphalt complements almost anything, but it complicates things if you have a paver or brick garage. Every color on the house is a part of its overall color scheme; this includes your railings and columns.
Deciding on the best front door to complement your green siding and most of these various other smaller elements are not simple. However, it is well worth the effort if you want a gorgeous home that maximizes curb appeal. Green is a classic color that will never go out of style. The benefit and problem of selecting green is the wide selection of shades it comes with—particularly when your home is painted dark, light, muted, or bold green.
There are an enormous number of color choices when it concerns green, and each will have its own best front door color. That is why it is essential to select a front door color that seems excellent with the precise shade of green you are using rather than choosing a color you saw in a picture or on TV. We suggest bringing front door color samples in your house instead of getting a siding test on the paint shop. It helps you to see the color of your existing home in natural light. This is where a great paint color chart can come in handy since it will have a paint sample for pretty much every color in the shop. Fortunately, a green home is visually suitable for a selection of front door colors.
TRENDY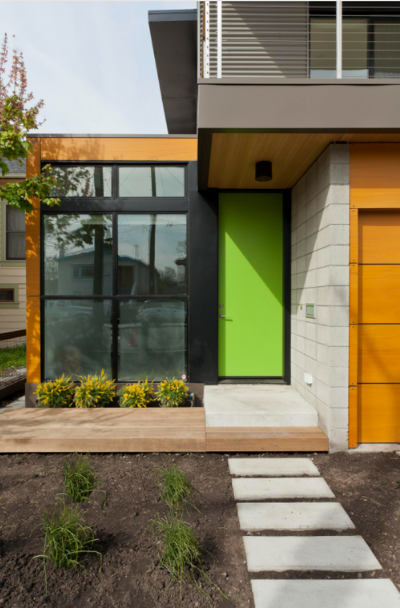 This charming white cottage by Moderna Homes, Inc. has a playful green door with a whimsical oval window and black hardware, surrounded by colorful flowers and foliage.
ESSEX GREEN
A deep green door by Sundeleaf Painting with a glass insert and brass hardware adds a touch of elegance to this classic white home, surrounded by tall trees and shrubs.
Let's Go Green!
Although the right front door color is dependent on your exact siding color, we can still discuss colors that will generally pair amazingly with green. Just because your siding is green does not mean you cannot enjoy having green front door colors. Choosing a great color accent to help you balance the drama associated with a green on green combo is your single struggle here. We would stick with neutral colors. When combined, white and black trim over a green home is elegant and stately. Black trim seems bold and formal, while a white frame is striking and dramatic. White and black are classic house colors that have been in existence since colonial times. They are both a safe choice, which won't ever go of style.
Neutral colors go perfectly with green because they mainly match everything. These earthy neutrals can help keep the color design understated but appealing. However, since they are all so close over the color wheel, you get rid of the outcome of contrasting styles. Nothing will stand out if all your shades are so closely linked. Green and blue have a fantastic quality when paired together, which makes them look somehow tied together. Gray is a beautiful, stunning color combined with the color green, particularly if your gray has a tint. Whether in daring chartreuse or a far more basic olive green shade, a green front door is an excellent way to welcome guests.
Also, green front doors genuinely stand out from red brick because the two colors are opposite of each other (or complementary) on the color wheel. When the door is in a warm orange or red shade, it will merge with the brick. Terra-cotta pavers might be challenging to work with due to their intense pinkish-orange color. A warm-yellow siding or a light jade green door will work well with terra-cotta.
This is an image roundup post, curated to showcase and promote other reputable contracting companies' and their amazing work. To have any of the images removed, please reach out to us and we would be happy to do so.
Other Great Articles to Read: