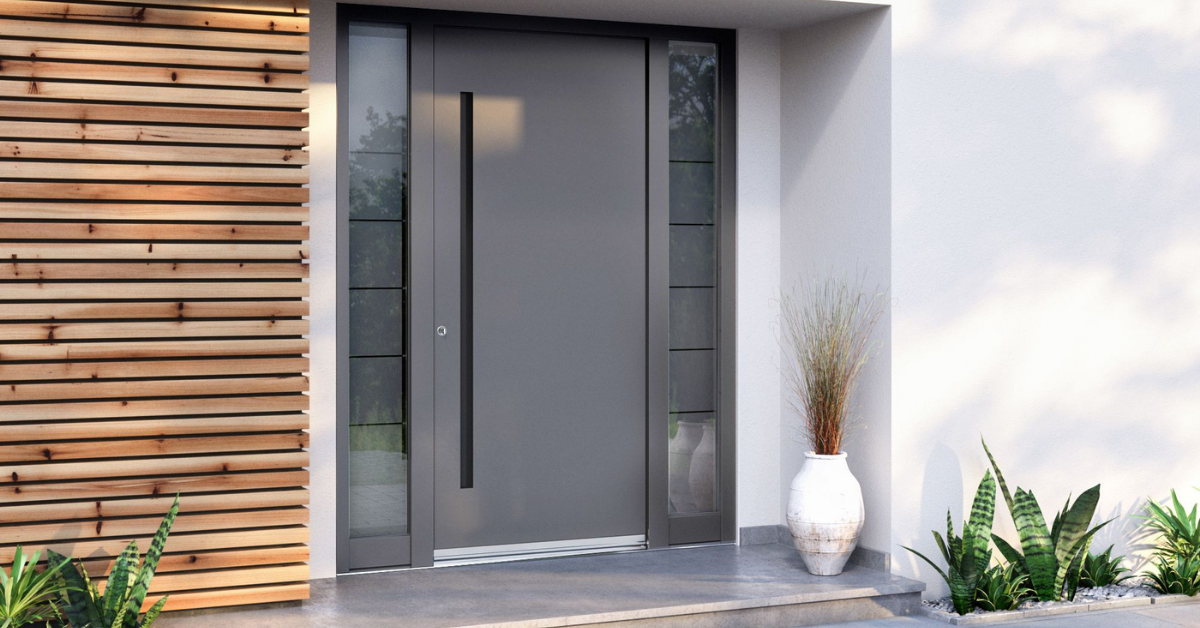 The front door serves as a form of business card for your residence. And in this situation, it's not so much about the interior as it is about the atmosphere. Front door colors can reveal a lot about the owners' outlook on life, social standing and taste, and even their attitude toward guests and neighbors. Designers now see it as a significant interior and external component, urging them to pay close attention to its aesthetics.
For individuals who are uninterested in design, it may come as a surprise that designers introduce new front door colors and trends every year. However, the reality is that today, harmony is more important than ever in the design of apartments and houses, and it can only be achieved by paying close attention to every detail. We recommend evaluating the current front door color and trends that will affect front doors' design in 2023 for those who want perfection and follow trends.
The following are the top ten front door trends for 2023.
Specialists emphasize versatility when producing emerging solutions for 2023: door design trends and front door colors are equally essential for apartments in multi-story buildings and private houses. Let's go through ten significant themes that have had the most visible impact on the design of entry doors in more detail.
Minimalism
The major motivation for the design of front doors is laconicism. Designers recommend focusing on the color and feel of the material without getting sidetracked by extraneous features—and putting their ideas into action using the following solutions:
Distinct lines
monochrome
Crafted products that are minimal and austere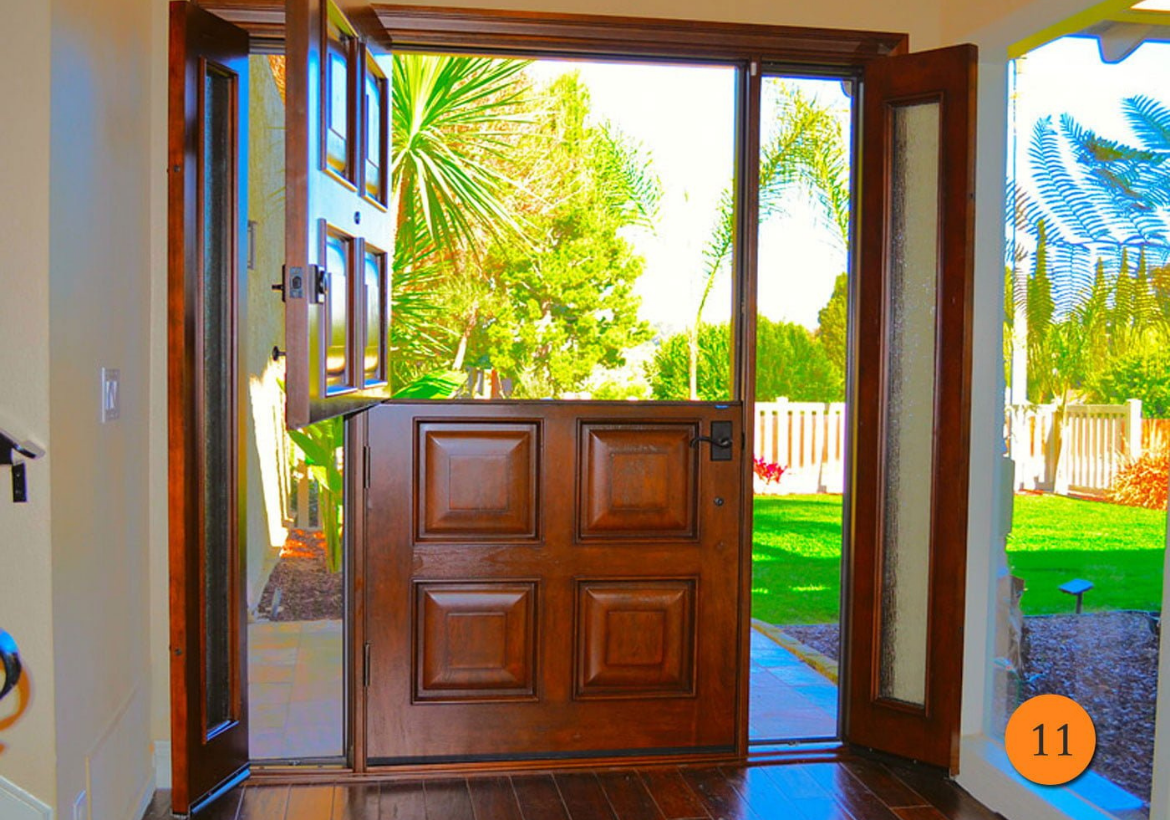 Wide doors are convenient and bring in a lot of natural light.
Extra-Wide Front Doors
Designers have outdone themselves in their search for freedom and space. The bigger the door, the better - this is their firm conclusion on current door design dimensions. This idea may appear lavish at first look, yet it offers numerous advantages:
Convenience. These doors will allow you to enter the house freely, whether alone or in a large group, to bring in a bicycle, scooter, or segway, to take out a baby carriage, or to pull everything you need for a BBQ into the yard.
Visual space enlargement. Because of the unusual size of the doors, the house's facade appears more representative, and the structure itself appears slightly higher.
A refined appearance. Wide wood door leaves seem dependable and modern, accentuating the harmony of the area and exhibiting the owners' taste.
A comparable approach is also appropriate for apartments because it allows for unrestricted passage and crucial ergonomics. You should try this solution if you can widen the opening for such a door.
Elegant Neutrals
When it comes to front door colors, soft dove gray is a stylish option. This traditional neutral paint color complements white house siding. It is ideal for older homes with a low-key aesthetic footprint. To greet fall in a gentle way, hang a basket of dried grasses in beige tones.
Natural Wood Stains
Using the elegance and beauty of natural wood stains is a look that will never go out of style. Outdoor features are being incorporated by using natural wood stains for the entire door or just as an accent on a few key sections of the door. However, depending on the material of your current door, integrating natural wood features may need to completely replace an exterior door. This could get pricey, especially if you try to make unique natural wood parts. If you currently have a wood door, 2023 may be the year to experiment with letting its natural beauty shine through. If you want to add a lovely wood element to an existing door, know that you'll be bang on trend, but be prepared for a larger (and possibly more expensive) undertaking.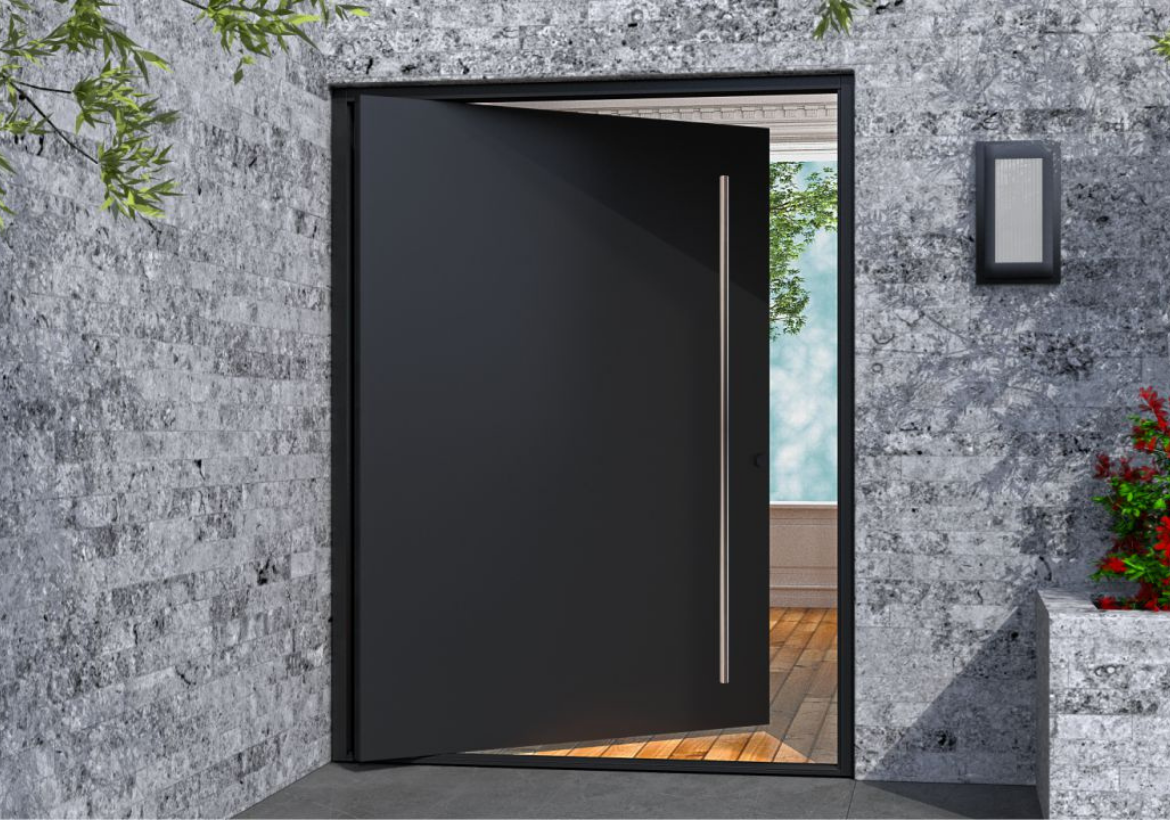 Love the sleek and modern design of this steel front door!
Steel And Fiberglass
Wooden frames are among the most ancient and time-tested building elements. Front doors in 2023, on the other hand, will be made of low-maintenance fiberglass and steel. Fiberglass is less expensive than wood, more durable, and can be painted over or made to seem like wood. Steel is a lighter and stronger material that is more environmentally friendly and energy-efficient. Doors with steel sheathing and a polycarbonate foam insulation core that do not require additional weather stripping are a sensible alternative for houses in colder climates in 2023.
Outstanding Contrasts And Unique Accords
In 2023, an entry door that appears to blend with the house's front or is not distinguishable from other doors is out of style. The contrast in color and texture of the entrance groups that will be relevant in the approaching season is captivating. Heavy wooden doors in a natural shade lend firmness to a light-painted exterior; a turquoise-colored door in an unpainted brick wall creates a beautiful summer relaxing environment.
At the same time, the trend's duality cannot be overlooked. If the outward treatment of the door suggests a contrast, the inside finish offers a unique combination with the interior of the corridor or hallway. It is not required to use color to achieve this: matching the finishing of the entry door to the texture of the floor covering or the design of the inner doors leading into the hall looks much more harmonious.
Smart Home Features
Most homeowners are concerned about ensuring the security of their home. Simultaneously, the cost of smart houses has decreased, making smart home technology a 2023 trend that will not only continue to develop during the year, but will most likely become universal. On the market, there are numerous smart gadgets that will improve the security of your home. Start with a smart lock for your front door if you want to get started. From anywhere in the world, you can access, unlock, or change the pin code. Smart video cameras and alarm devices, which are relatively inexpensive and can be put near your front door to check your entry at all hours, can provide utility and peace of mind.
Eclectic Combinations
The combination of materials is another significant trend for the next season. You can choose alternatives in which metal is coupled with wood, glass is combined with metal, and hardwood is combined with technologically superior carbon fiber with confidence. This variant adds the necessary texture and variety to the entry doors. When the door is matched to the house, it adds considerable individuality to the exterior. It is crucial to remember that in this case, we are discussing not only the canvas but also the door frame, which can be mixed with the materials of the door itself or create a compelling and diverse combination with it.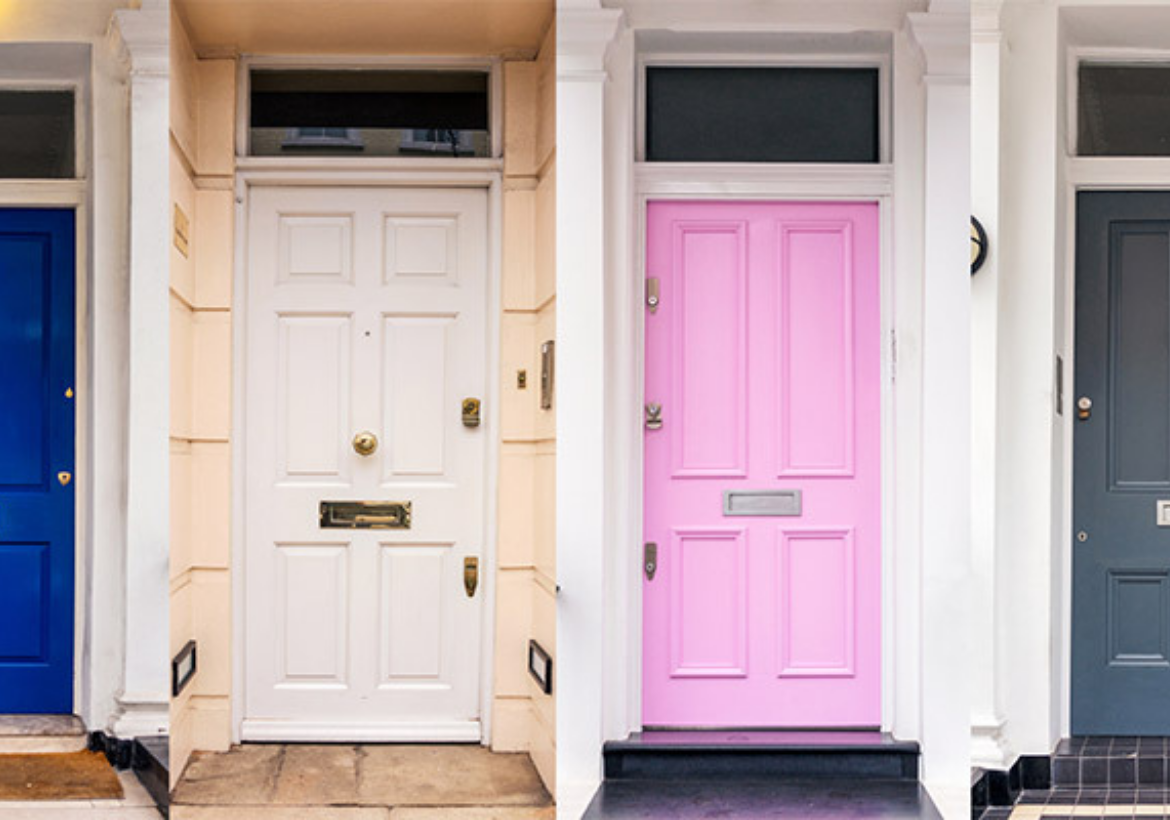 Some hot color picks you can choose for your front door!
Moody Colors
Doors with brilliant splashes of color in teal, orange, or red have been popular for quite some time. However, we anticipate that in 2023, people will be opting for front door concepts that incorporate strong, dark, and melancholy colors. To get this look, all that is required is a simple do-it-yourself application of paint, which keeps the expense of this makeover minimal. Midnight blues, charcoal, and deep purples are popular colors that complement a neutral façade. What's the best part? With this trend, there is no need to replace the entire door, and it is the most cost-effective way to give the façade a quick facelift.
Modern Choices
Smooth and shining materials with improved robustness should be preferred when selecting doors for modern residences in a loft and industrial styles. If your cottage is concealed behind a fence, a door made of solid sheets of glass will be a fantastic find, allowing you to let in more natural light and emphasize the lightness of the facade lines.
Steel buildings are equally useful for houses and apartments. Simultaneously, basic blank canvases are not required: elegant glass inserts or subtle finishes with geometric designs will add variation.
Popular Front Door Colors In 2023
How to pick a front door color?
The trend for front door colors 2023 takes us by surprise: it turns out that this architectural element can become an expressive accent that provides a one-of-a-kind style for your home. To achieve this result, it is essential to learn more about door painting ideas for 2023. Check out our front door paint colors pictures!
Metal and wood. Natural materials' textures and hues are so natural that hiding them is pointless. Front door stain colors will be big this year. If the natural wood pattern on the surface of the canvas has been retained, you must not hide it under the paint—a bit of tinting will be enough. The same is true for metals with noble tones, which require little more than a faint patina to achieve true refinement.
Shades of calm light. A neutral-colored door can have a blank canvas or mild glazing. However, this is not the most crucial thing to remember: it is far more vital to use it as an expressive detail. That is why a front door should be paired with a wall that is at least two or three shades darker. If you're not sure which door color to go with, consider the Behr palette options in 2023 breezeway, studio clay, etched glass, or evergreen gray - Sherwin Williams' color of the year.
Green, gray, and blue color schemes. These exterior door stain colors merit their own discussion since designers have unveiled their amazing potential in a fresh way this year. They allow you to transform your entrance door into an exceptionally trendy and contemporary accent by being cool and captivating, quiet and mysterious, comfortable and friendly. And if you're looking for colors like sage, mint, jojoba, gray-green, and classy gray-blue, you've come to the correct place. Modern green front door is an excellent place to start.
Vibrant colors. White front doors are a thing of the past. A mood-creating door is a wonderful idea for 2023. Such a design usually implies that the owners of this property are welcoming and think in non-trivial ways. The most appealing aspect of this style is the freedom of choice: you determine what color your door will be. It may be something from the Behr palette, such as corn stalk, wave top, or lingonberry punch, or something utterly out of the ordinary, such as sunny yellow, lime green, vivid crimson, or cobalt. By the way, painting the door frame the same color is optional: contrasts will be the order of the day in the new year.
A modern front door exudes sophisticated elegance.
Conclusion:
These front door colors and trends are based on a fascinating yet understood concept of simplicity, color purity, moderate innovation, and visual space expansion. By viewing them as an important architectural component, you may give your home or apartment a distinctive appearance.
Other Great Articles to Read: