From their humble, rustic roots, barn doors have grown to be a very sought after interior feature. Readily available in a selection of styles with exposed mounting hardware, barn doors have a huge visual effect on a room and also work nicely in a variety of instances because of their sliding action. Look at our preferred uses of barn doors, proving this farmhouse attribute can have a place in the contemporary home.
These 23 sliding barn doors with glass and their clever uses will have you looking at these rustic accents in a brand new light.
ETCHED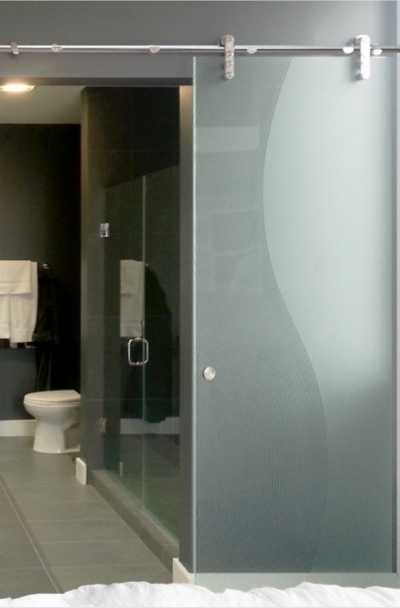 Astounding etched sliding glass barn door for this contemporary bathroom in Chicago.
RUSTIC
The white sliding glass door looks fantastic in this cozy lake house living room.
ECLECTIC
Sliding barn doors for the passageway between the patio and the swimming pool.
GARDEN
Cool barn door hardware by Real Sliding Hardware for this eclectic landscape.
LAUNDRY
This traditional laundry room in Detroit looks timeless and chic with the barn doors.
CONTEMPORARY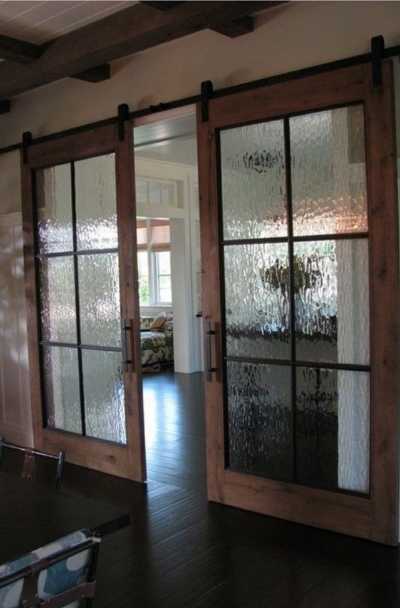 This contemporary sliding barn door hardware is custom-made by Specialty Doors.
SLEEK
Do you love modern style, but also want a barn door design? Why not mix them both!
TREE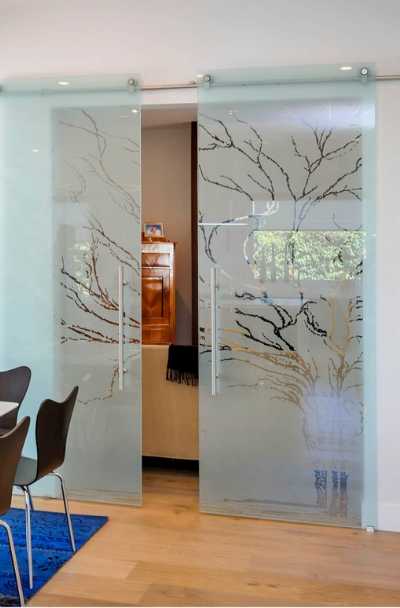 The beautifully etched glass barn door is made by European Cabinets and Design Studios.
INDUSTRIAL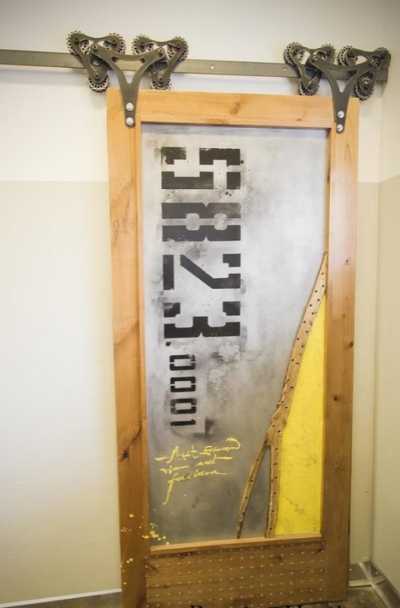 The sub forest barn door infused nature feel for this industrial home gym in Salt Lake City.

TRADITIONAL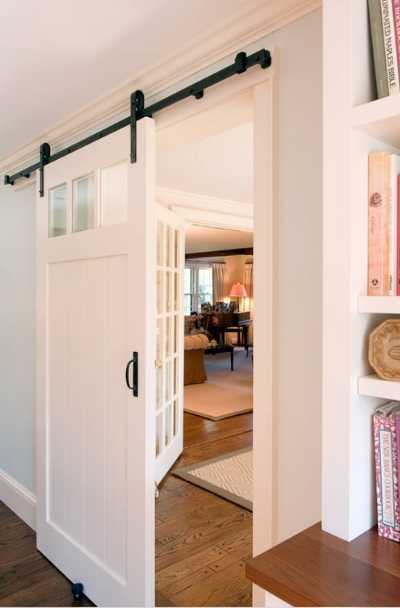 The beautiful white glass barn door is made by South Shore Millwork in the Boston area.
What Is A Barn Door
Doors have been around inside of houses in several fashions since early times, but today, you will find more choices to select from when attempting to make a customized look and feel in your dwelling. Barn doors have gained popularity in the last several years and also have become a go-to, or maybe staple, for all those interested to attain a farmhouse chic perception in an area. Though the joy of using this door type continues to grow, you will find a couple of things you must understand before making the choice of having one set up at your house.
The very first thing to understand about this particular door style is the thing that causes it to be special. What does it take for a door to be categorized as a barn door? First, they could be an attractive and useful substitute for a swinging door or maybe a pocket door. Although a specialist installer is able to purchase doors made for a barn door installation, practically any door could be changed to a barn door with unique tracks & hangers.
Because barn doors are hung in a manner that enables them to move horizontally, you need to consider space if you speak to your installer. Every barn door can vary in the distance it sticks out; some industry experts point out you need to account for approximately two inches of room from the wall with regular tracks. There is additionally no need to be concerned about whether or maybe not all is going to be aimed correctly because when your installer hangs your barn door, they are going to make sure it's in the middle and on track.
SCANDINAVIAN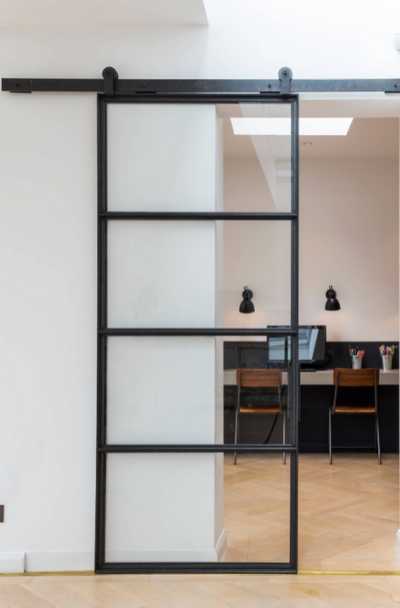 This chic glass door in this Scandinavian living room in London is provided by Plain English,
REMODEL
The glass doors are probably a hundred years old. The old loft had it, and the designer reused it.

CIRCLES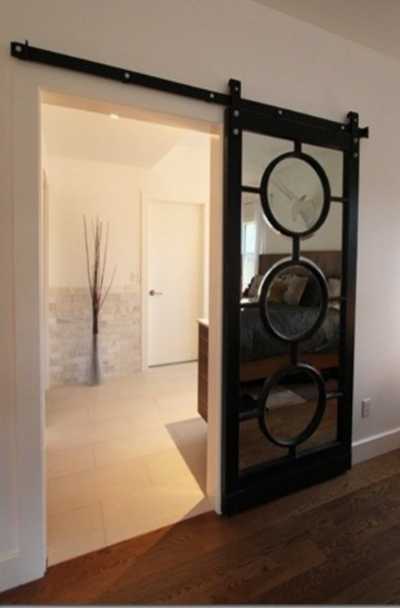 This contemporary sliding barn door hardware looks gorgeous with its modern and unique design.

CUSTOM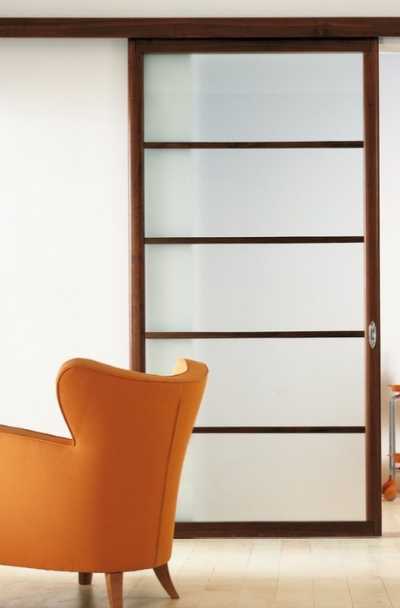 This sliding barn door looks like the one you'll see from Japanese rooms and houses.
Where To Install Glass Barn Doors
Generally, there is not actually a "wrong place" to get your barn door installed. In numerous cases, they are able to function as a way of separating rooms. For instance, in case you have the proper dining area which is not used frequently, you can consider separating that dining area and have a barn door. This can enable you to showcase your formal area when preferred, and when it is not in use, you are able to slide the door to close that area.
Sliding barn shower door – Frosted glass barn door in the bathroom? Indeed, you can also include a barn door to your bathroom. In many instances, it is going to serve as your shower door. This particular alternative largely consists of glass being utilized instead of wood. A barn glass door on your shower door is a practical choice for smaller bathrooms in which a swinging door is not great. Should you determine to utilize glass for your bathroom barn door, you must additionally be alert to what glass can be utilized. You will find two types of glass options for shower doors—they're tempered and laminated. Both are with safety glazing.
You may want to utilize a barn door in a room where a standard door won't work or even fit. Your door installer can come with extra placement choices in your house that will help you discover what'll best perform for you. Extra barn door placement options can include living rooms, bedrooms, pantry, home office, closets, and pantry.
TRENDY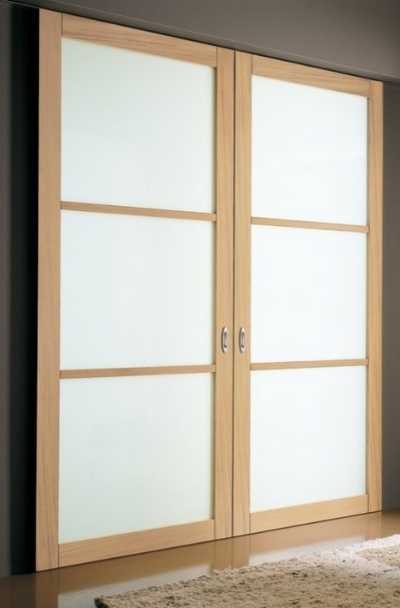 This trendy home design in Los Angeles features a sliding barn door with light wood frames.
PURPLE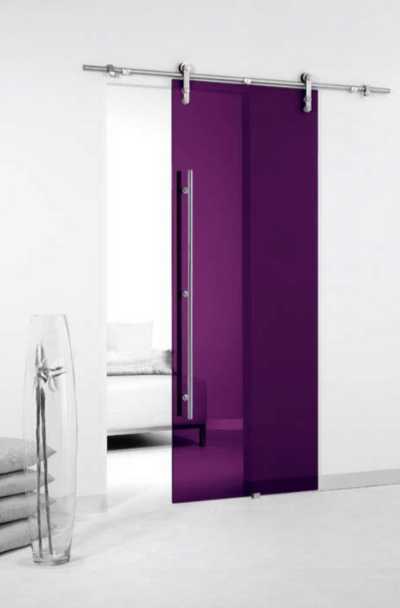 We love this minimalist room with a pop of color from the purple sliding barn door.
LIGHT WOOD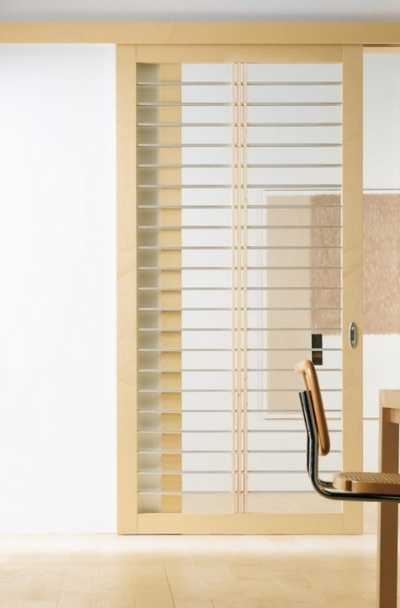 This contemporary home design in Los Angeles looks refreshing and inviting.
CLASSIC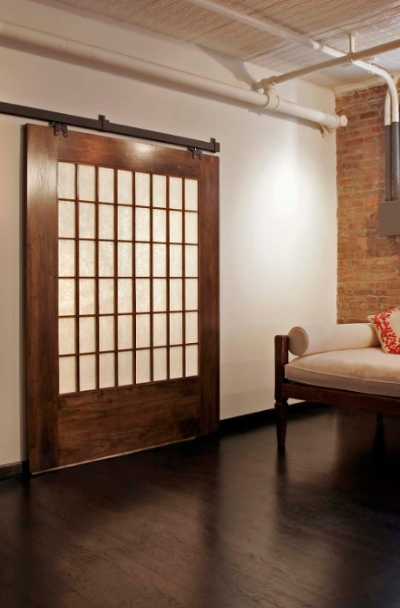 This industrial living room in New York features a dark wood sliding barn door.
ASIAN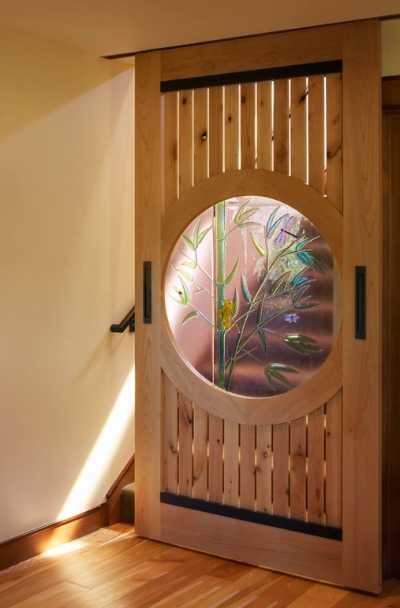 Sliding wood door with circular glass by Harrell Remodeling for this Asian hall.
ITALIAN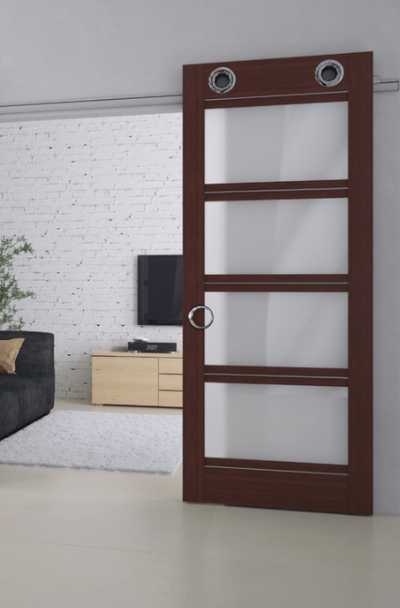 These modern and gorgeous sliding interior doors are from ITALdoors.
Why Are Sliding Glass Doors The Best Sliding Barn Doors?
While barn doors remain somewhat popular, an increasing number of people are realizing that they may not be the best choice for their own homes. Part of the difficulty is that they aren't as functional as they appear at first glance—because they glide across a door frame rather than opening inward or outward, you're actually constrained in terms of where you can utilize them in space. When the barn doors are in the "open" position, you need at least an equal amount of space on either side of the frame to house them, which isn't always achievable in older homes.
Because barn doors are so large, they quickly close off a room, which is problematic if you value the benefits of an open floor plan elsewhere in your house. Also, barn doors include gaps that transfer sounds, making it difficult to obtain a true sense of seclusion in most settings. Because of their massive size and structure, they are also incredibly heavy, which might make them difficult to utilize in particular situations.
Finally, while the barn doors themselves are fairly simple to install, finding locking systems for them can be difficult—which may make them a complete non-starter depending on your circumstances.
On the other hand, sliding doors provide all of the benefits you expected from barn doors while removing as many of the potential drawbacks as possible.
Glass doors have come a long way from their minimalist forefathers. Today's glass door options not only provide unique finishes that are ideal for any style of home, but they also provide remarkably thin profiles that allow them to be used in even the smallest places. They're not the sliding glass doors that you're used to seeing in track houses, which is a good thing.
A Horizontal Sliding Wall (or HSW for short) is an excellent choice for use as an interior divider to enclose or free up space in your home. The HSW Door System is the best solution for maximizing apertures (up to 100%) by sliding and storing panels outside of the opening. The panels move and stack wherever—even in a closet around the corner—and have entirely configurable parking areas.
In an era when social distancing and room dividers are becoming more popular, offices are turning to sliding glass doors as the ideal barn door replacement. Sliding glass doors provide private isolation without obstructing valuable views or daylighting.
GRAY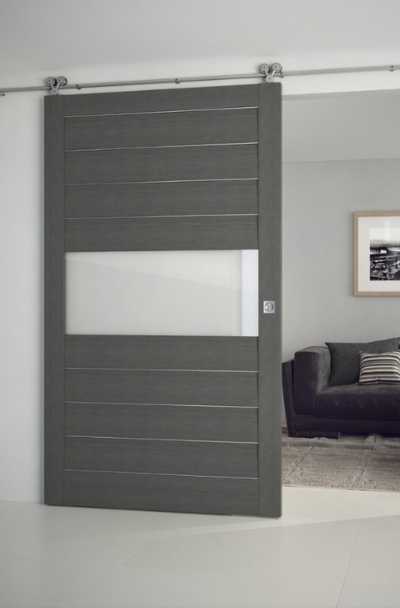 Sophisticated and warm gray modern sliding door with Italian hardware.
LARGE
Keep it charming and classy with a huge sliding door like this one.
Clever Uses Of Glass Barn Doors
Modern glass barn doors can be a disguise for a kitchenette. Barn doors are a good way to conceal and reveal practical areas such as a bathroom or storage alcove. The doors enable maximum versatility since they are on a sliding track; therefore, areas could be partly opened up as needed.
Next, it can set up space to entertain. Whenever a room for entertaining is adjacent to quieter rooms or maybe circulation areas, it is advisable to build sound barriers between the spaces. Sliding barn doors are able to supply some acoustic properties between areas when they are closed, though they likewise enable bigger, expansive spaces with the great flow when they are open—far more so compared to standard swinging doors.
Translucent interior glass barn doors are in! While conventional barn doors were created from wood, there is absolutely no reason why interior doors cannot be produced from even more contemporary and unexpected materials, including glass. For security reasons, particularly in a bathroom, the glass may be textured or perhaps tinted to be translucent, though the appearance will regularly be modern and distinctive.
Barn doors are space savers. One of the primary advantages of sliding barn doors is their space-saving nature since they do not need space to move away into, saving approximately nine square feet for an average three-foot-wide door. This may be crucial in smaller areas, including small apartments and small homes, where every inch counts!
Make The Most Out Of Your Barn Doors
The barn is a lot more than merely an essential farmyard implement, but an icon of provincial values, along with time-honored sensibilities.
Roughly hewn but always welcoming, sound but undeniably stylish, the barn visual has acquired a steady and loyal following amongst interior aficionados, with the barn door particularly making its way into homes of all the shapes, styles, and size.
Double glass barn doors bring some of the old worlds in the most contemporary of houses, and because of today's lots of materials and motifs, blends in seamlessly with its environment.
Whether you are seeking to change a room divider or entryway, or just wish to put in a touch of the shabby chic sentiment for your house, a barn door could immediately give an air of poetic familiarity. Bigger spaces are perfect for broad, sliding barn panels, while smaller abodes are ideal for any quaint Dutch door. And with an endless array of styles and materials ranging from wood to metal, you are able to be confident your barn door will highlight your individual tastes without detracting from your home's collective scheme.
The barn has stood the test of time in even more ways than one, staying mostly unchanged in function and form. And today, because of the rustically inclined, these sliding inside barn door ideas is an unforgettable interior addition. You do not need to sign up for the full-blown farmhouse visual to adopt the unpretentious beauty of the barn door. In a metropolitan dwelling or a suburban domicile, the glass barn door has proven that some emblems of yesteryear hardly ever go of style.
Transform Your House With Glass Sliding Barn Doors
The demand for sliding glass barn doors is quickly expanding due to their impactful and unique design. Sliding glass barn doors interior bring a contemporary look to your house. You are able to experience an easy elegance put into the room without sacrificing any light or even functionality. Add back painted or even etched glass, and yes, it is able to look like a thing of beauty.
While interior barn doors are often characterized by country style, they have become a fashionable mainstay in contemporary houses & farmhouses equally. Oozing with vintage appeal, a barn door with glass is a simple method to include style and separation to toilets, closets, bedrooms, and other things. They are also amazingly versatile; they feel rustic enough to spotlight that charming vintage bookcase but contemporary enough to blend nicely with a mid-century console table. When you are searching for ideas for how you can carry this particular contemporary farmhouse feel in your house, look no further. Check out our 23 sliding interior barn doors with glass ideas and implement them in your home.
This is an image roundup post, curated to showcase and promote other reputable contracting companies' and their amazing work. To have any of the images removed, please reach out to us and we would be happy to do so.
Other Great Articles to Read: