Featured Image Source: octava.co
You might be more concerned with the contents of your closet than its exterior, but don't rush to dismiss the design potential of your closet. For rooms that could utilize a quick do-over, closet doors are a simple method to make an extraordinary transformation. To demonstrate, below are closet door ideas for bedrooms that you can use as a reference for your next project.
Mirrored facades, sliding and bi-fold doors, and curtains are some of unique closet door ideas that are sure to bring your space to the next level. In addition, based on the space available, you can transform your closet doors into expansions of the closet itself. You can do that with built-in racks and storage compartments, as well as overhead hanging shelves.
CUSTOM GLASS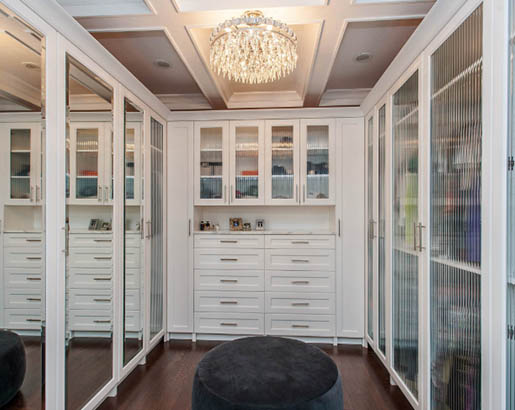 This closet door features a modern and sleek design by Heritage Luxury Builders with frosted glass panels and a black frame, adding a touch of sophistication to any room. The cabinetry and glass inserts are custom-made to meet the owner's requirements.
WARDROBE SYSTEM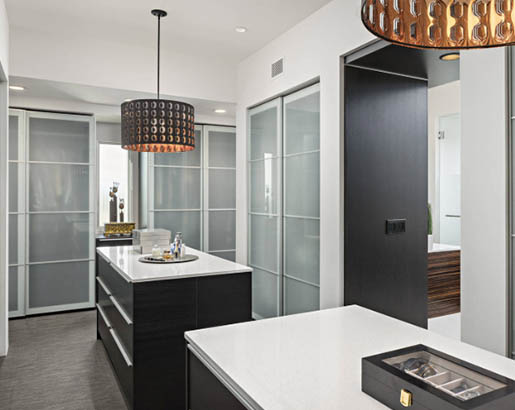 This modern sliding glass door is a perfect addition to a farmhouse-style home, providing a charming and cozy atmosphere to the room by Dale Gardon Design. The interior sliding glass doors are from California Closets.
MIRROR DOOR
This closet door is made with elegant double doors featuring raised panel details, providing a classic and timeless look to any bedroom or dressing room. Simply Beautiful Kitchens made this built-in cabinetry by jodi foster design + planning.
KIDS CLOSET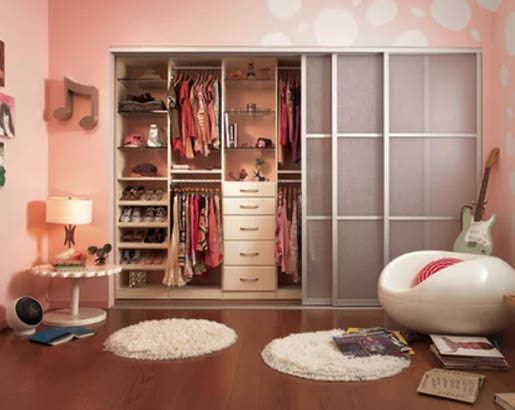 This mirrored sliding door is an excellent choice for a small room, as it creates the illusion of more space with California Closets while also providing a functional and stylish feature. We love all the details of this room, especially the closet doors.
Moreover, getting rid of old doors and installing new closet doors is moderately simple. It requires fundamental tools and a basic plan, making the transformation of closet's standard hinged door a snap. While sliding closet door ideas keep your storage room space open and uninhibited, extra inlaid glass, mirror, or iced framing gives further extraordinary look and feel. Explicitly, bi-folding doors are a conceivable option also, taking up less than half of the floor space of a swinging door and limiting the danger of sudden clutter fallouts. On the other hand, curtain closet door ideas and screens keep your closet partitioned without feeling wholly shut off.
Meanwhile, a closet is an extension of one's room and not every person wishes to hide the contents of their closet. Surprisingly, an expertly chosen and actualized closet door gives style and personal appeal to a generally disconnected subchapter of a room, permitting smoother foot activity and more space to store your clothes and accessories.
SHOE CLOSET
This mirrored sliding closet door by Built-Rite Closets with a black frame is a perfect choice for a modern and minimalist room, providing a functional and stylish feature. This beautiful custom white closet comes with a shoe closet and pullout laundry baskets.
BLUE-GREEN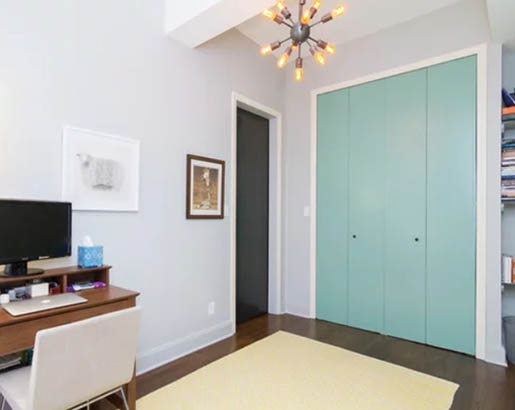 This traditional closet door design by Andrew Mikhael Architect features elegant double doors with raised panel details, providing a timeless and classic look to any bedroom or dressing room. The closet doors in this office were stock doors painted with a custom color.
SLIDING DOORS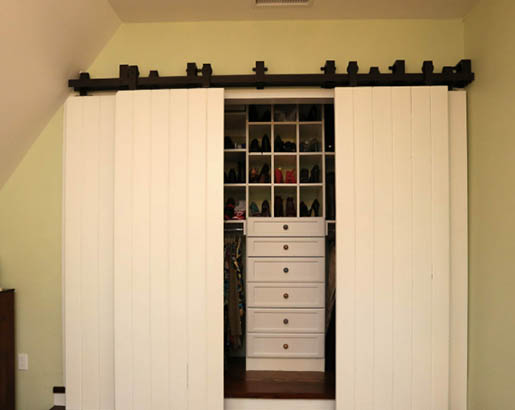 These traditional French doors with glass panels are perfect for a bedroom or dressing room by Castle Construction of Santa Barbara, providing a touch of elegance and sophistication to any space. This beautiful custom white closet comes with a shoe closet and pullout laundry baskets.
Bring Life To Your Room With New Closet Door Ideas
Particularly, the most boring white panel or laminate hinged closet doors on the world can become a new focal point of the room after a trip to the craftsmanship supply store. For instance, you can have canvas stretchers with mitered corners put together to make equal squares and rectangles attach as raised boards to the doors. Next, put a row of squares on each door, with a row of long thin rectangles, repeating the pattern once again so you can glue top-to-bottom panels on the doors. Subsequently, paint doors and boards with bright colors like lime green, iris purple, or buttercup yellow. Accordingly, flat paint is modern while eggshell provides doors a minimal sheen.
In that case, probably one of the best alternative closet door ideas for bedrooms is to convert your spare bedroom into a walk-in closet with sliding closet door ideas. Ultimately, a snappy and cheap design arrangement lights up the room and brings different touches of color all through your place. Next, you can put wallpaper on your sliding closet door ideas. Pick a sedate pattern for a more classy look, or you can use florals in bright colors for a lively vibe.
On the other hand, you can also choose a wallpaper that resembles a leather material or use maps of your cities. In either case, removable wallpaper gives you a chance to change your design or theme as often as you want. Usually, the vastness of available patterns and designs will give your closet doors their needed transformation, and your entire room will benefit from it. This is also a perfect example for small closet door ideas.
ANTIQUE MIRROR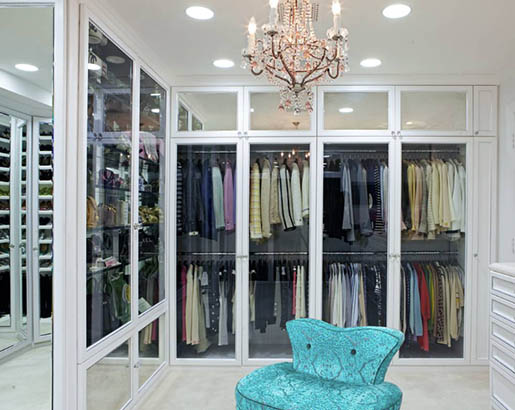 This sliding closet door with frosted glass panels and a sleek silver frame adds a contemporary touch to any room while also providing a functional feature. These glass closet doors by Lisa Adams, LA Closet Design are ideal if you instantly want to see what's inside your closet.
LOUVERED SLIDING
This double closet door design by Sinclair Associates Architects features a combination of frosted and clear glass panels, adding a unique and stylish feature to any room. You can easily get similar louvered doors from most lumberyards.
CRISSCROSS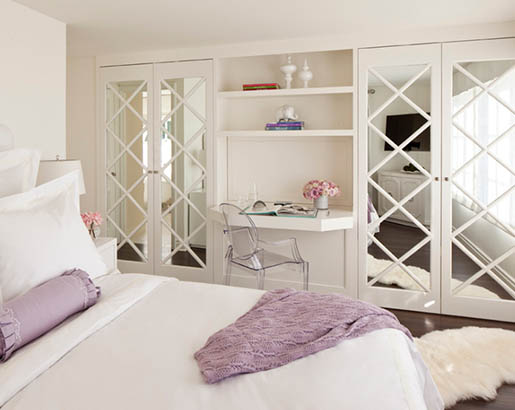 This modern sliding barn door by Smith Firestone Associates is a perfect choice for a cozy bedroom or dressing room, providing a warm and inviting atmosphere to the space. Who will not be smitten with these styled closet doors?
How Much Does It Cost To Replace A Closet Door
To give you an idea, the price of one solid hinged closet door can range from $20 to $100 for a nitty-gritty interior door slab with no hardware or frame. Meanwhile, the price can range from $200 to $500 for a pre-hung wood door and $500 to $1,000 or more for high-quality wood like mahogany or walnut. On the other hand, you might need to shell out $50 to $300 or more for the installation, making the total costs to $70 to $450 for a simple door, and $250 to $1,300 or more for a mid-range to top of the line interior door.
Moreover, it can cost $50 to $200 for simple or mirrored sliding closet doors in steel or aluminum, contingent upon style and size. However, with installation, the complete expense can be $100 to $300. Meanwhile, sliding closet doors in wood, with alternatives like raised panels or different sheets of frosted or designed glass, can cost from $500 to $2,000 or more, based on style, size, and materials. Additionally, installation can in add $100 to $1,000 or more, based on area, making total expenses to $600 to $3,000 or more.
Bi-fold closet doors begin at around $25 to $150 for hollow core doors made of plywood or composite. Particularly, it can cost from $100 to $500 or more for a set of wood bi-fold doors, contingent upon the size and the kind of wood; or $500 to $1,000 or more for bi-fold doors with particular accents and excellent wood like cherry, walnut, or mahogany. To point out, installation can make the total expenses to $75 to $250 for straightforward hollow core bi-fold doors, or $600 to $1,500 or more for bigger, top of the line doors.
BUTTERNUT CLOSET DOOR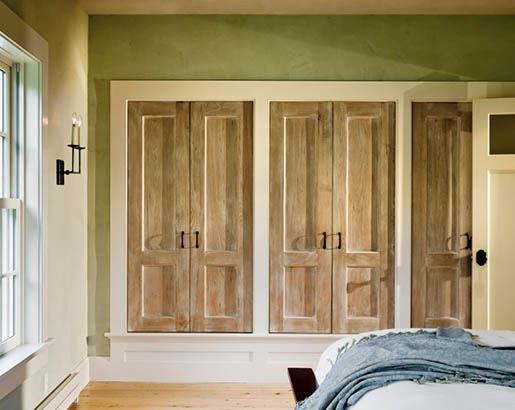 This unique closet door design by Smith & Vansant Architects PC features a series of wood slats in a diagonal pattern, providing a modern and minimalist look to the space. These doors have a light milk paint finish which enables the natural beauty of the butternut to come through.
Creative Ways To Decorate Your Closet Doors
Notably, perhaps one of the most straightforward approaches to spark up your room style without painting the walls or replacing your furniture is to spruce up your closet doors. Why settle for plain white doors when there are such a large number of DIY approaches to include color, design, pattern, or function without spending a lot of money?
Whether you need to have a ton of fun in the children's room or add a touch of eccentricity to your very own room, you're certain to discover motivation in our unique closet door ideas. Firstly, be sure to remove the doors from the hinges and lay them level before beginning any of the painting projects, and you'll see it a lot simpler to work that way.
On the other hand, in case that you've discovered a wallpaper that you adore but you prefer not to cover your full room walls with this, you can just drape the paper on your closet doors instead. Significantly, the wallpaper available today is a far cry from the hard to-hang, difficult-to-remove paper you may recall from your childhood. In addition, most wallpaper nowadays is self-adhesive and simple to strip in the event that you move or do not feel the design anymore.
Finally, you can provide your closet with a stylish flair with stencil art. In fact, you can go as straightforward or as intricate as you'd like—there are stencils accessible in each theme that you can imagine. Hence, spruce up a child's bedroom with forest animals or sports pictures.
Specialty stores, paint stores, and online retailers all sell a noteworthy exhibit of stencils. Must be remembered: before you start, use graph paper to design your stenciled plan, testing until you have the most satisfying pattern.
PLANTATION SHUTTERS
This sliding barn door by Elizabeth Shutters with a geometric pattern adds a unique and artistic element to any room, creating a bold statement piece. These plantation shutters are practical and useful, at the same time attractive.
Budget-Friendly: DIY Cheap Closet Door Ideas
Who said that closet doors need to be solid wood, or even be a door by any means? We are here to give you cheap closet door ideas! In particular, in case you need something delicate, textural, and as simple to change as your mood, you can try curtain closet door ideas. For example, try to hang the curtain rod inside the closet, up over the door so that from the exterior, the highest point of the curtain is covered up. Check out some of the best blackout curtains.
After that, you now have a closet door that needs no swing room to open. Now, you can simply slide the curtains to the side or part in the center in case you are utilizing two pieces.
Next, decoupage is an extraordinary method to utilize fabric scraps, gift wrap, scrapbooking paper, old maps, or some other lightweight, level material that can be pasted to your door. Interestingly, you can cover the whole door, make a highlight and encompass it with painted embellishment, decoupage only one door of a couple of sliders, or decoupage an open structure that lets the door's unique surface show through.
Finally, designing your closet doors with wall decals is possibly the simplest method to give them a touch of color and style. Uniquely, this procedure is great in a kid's room, where you'll most likely need to change the design as your youngster gets more matured. Moreover, wall decals are self-adhesive and strip away effectively without leaving any imprints or buildup. Furthermore, they also come in almost boundless designs, sizes, and hues, so you can go as straightforward or as intricate as you'd like.
Alternative Closet Door Ideas
Ultimately, a closet door's principal intention is to hide clothes and mess from view. The most well-known kind of closet doors are bi-fold doors, wooden sliding doors, regular hinged doors, and mirror sliding doors. While those doors are sufficient, they are unwieldy for specific individuals. In case you are arranging a remodel or a room makeover, think about the alternative to traditional closet doors. Additionally, replacing conventional closet doors offer you a chance to boost living spaces and add a visual effect to your rooms.
First, we have French doors. French doors are lightweight interior doors that you can buy in pairs. The doors come with glass boards along the length. They swing out simply like customary doors. Unlike bi-fold doors, French doors do not need sliding tracks. Ideally, you can utilize different sets of French doors for closets with large openings. Furthermore, French doors with frosted glass or mirror panels add light and receptiveness to small living areas—best for small closet door ideas.
Similarly, appealing room dividers or shoji screens are perfect for home office closets. Convenient dividers come in lightweight materials like wood, bamboo, paper, or fabric. First, remove closet doors totally and place a shoji screen to hide the opening. Any lighting inside the closet will quickly become mood lighting through the screen.
Swinging doors are otherwise called saloon doors or cafe doors. They swing two ways—inward and outward. Also, you can get these doors in pairs. Indeed, cafe doors make a decent choice to closet doors in case you want a feeling of openness in your room design. Thus, this kind of door is perfect between your room and walk-in closet.
This is an image roundup post, curated to showcase and promote other reputable contracting companies' and their amazing work. To have any of the images removed, please reach out to us and we would be happy to do so.
Other Great Articles to Read: