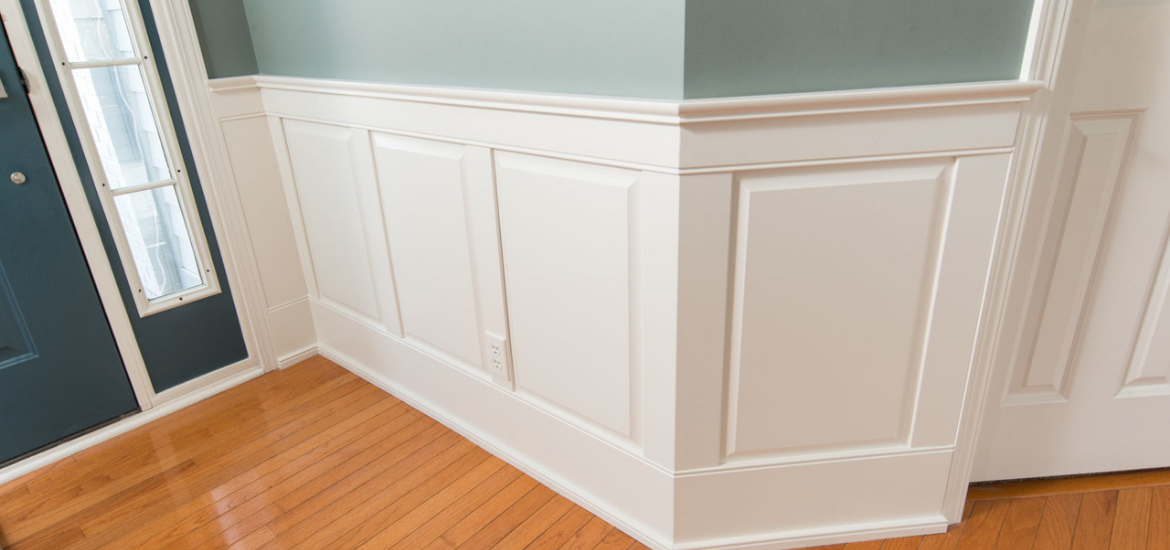 Featured Image Source: MantelCraft
Dating back centuries, wainscoting is a tradition that adds value to the home regardless of style or design. Installing unique wainscoting patterns in the bathroom, kitchen, or hallways can really boost your overall look. When it comes to these architectural accents, there is something for everybody to enjoy.
It is one of the simplest and most elegant ways to add architectural detail to your home. It is the perfect technique for making your plain walls a little more lively. Not only is it visually stunning, but it's utilitarian as well.
Whether you want a simple trim, or you want to go all out with molding and chair rail details, there are a lot of ways to turn wainscoting into something useful. Below are our favorite bathroom wainscoting ideas, as well as some DIY wainscoting ideas for those of you who want to start this project as soon as possible.
Wainscoting, Defined
First, let's take a look at what wainscoting means for your bathroom. According to Realtor.com, wainscoting began as a tradition in the early 1700s to provide more insulation to homes for added warmth. It also provides a fairly durable sheeting around your wall for extra protection. Nowadays, it's used mainly for decorative purposes to create more visual appeal.
In the past, wainscoting has been made completely from wood. While that's largely still the case, the art of wainscoting has grown to include a number of materials such as pressed wood, fiberboard, PVC plastic, and embossed metal. Even drywall can be used for wainscoting, although it is not often recommended for wainscoting ideas in the bathroom due to its inability to hold up to moisture.
When designed correctly, wainscoting should start partly up the wall with a chair rail, and have a base board at the bottom of the wall. While wainscoting typically does not go higher than 31" – 32", it can be applied liberally if the design is right. Between the base molding and the top railing, what happens in between is up to the creative eye of the homeowner.
TRADITIONAL ENTRY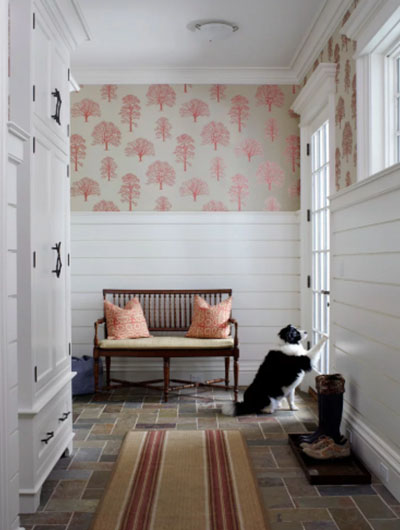 This traditional wainscoting by Country Club Homes, with its clean lines and bold black color, creates a striking and minimalist look in a contemporary living room. This entry makes you feel you are walking into something special.
MODERN BATHROOM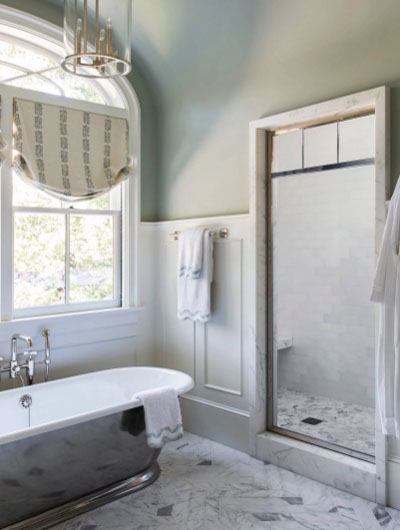 This charming wainscoting in a cottage-style bathroom by Artistic Designs for Living, Tineke Triggs, painted in a soft green, creates a cozy and inviting atmosphere. Beautiful touch of modern to complement the shower and bath.
Let's take a look at some popular and artistic wainscoting ideas that can help spruce up your bathroom or foyer.
Unifying Wainscoting
Wainscoting is often installed in the bathroom in order to blend the room together. It's a great way to join ceiling and floor, making everything look like one cohesive unit. It's a good idea to match wainscoting to the color of your sinks or tub, for example, and then raise it upwards to the wall to incorporate elements at all levels. This can really help to elevate your bathroom from plain to sophisticated.
Matching Cabinetry
Another idea is to match your wainscoting to your bathroom cabinetry, which can make the whole room look more uniform rather than disjointed. This is well done in a traditional style, and can be incorporated into more contemporary looks as well. Wainscoting that is painted in the same color as the cabinets can extend the look of the cabinets upwards and outwards, which actually can make the room appear bigger altogether.
Merge With Backsplash
Speaking of making the room look bigger, merging the wainscoting with the backsplash can make your bathroom walls grow – literally. This is another ideal way to create a spacious effect. It will also make the wainscoting appear higher, since it blends so seamlessly with the backsplash. But this makes it easier for you to attach additional features to your bathroom such as towel rings, light fixtures, and wall art.
Floor Matching
Matching with cabinets and appliances might be one thing, but matching with the floor is another option as well. This serves to both elongate the room and bring it together. And by matching, not only do we mean matching the color of the floor, but the texture and pattern as well. Wood paneling looks great when extended upwards on the wall, or when finished across the room in a molding.
More Wood Paneling
When it comes to wood paneling on your wainscoting decoration, there are nearly countless ways to go about it. One thing that deserves to be brought to attention is the unique usefulness of horizontal lines. It's no secret that most wood paneling is assembled vertically, and there's good reason for that – it can accentuate features and elongate the look of the room. But there's a place in design for horizontal panels too. In fact, it might serve to add some dynamism to the room if you combine both vertical and horizontal panels together.
Going Back To The Basics
One of the best DIY wainscoting ideas is to just stick with the basics. All you need for successful wainscoting is a top rail, stiles, and a baseboard. You have a number of style and material options at your disposal, and as long as you have the tools to accurately measure the walls and place the studs, you can transform your bathroom into something of elegance all on your own.
Updating Existing Wainscoting
Maybe you already have a wainscoting decoration in your bathroom, but you don't like the way it looks. Instead of tearing it down and building a completely new one, you can apply some updates to what you have. An easy and budget-friendly way to do this is to repaint and re-stain your molding and baseboards to match a color you desire. We recommend using a semi-gloss paint, as they are more resistant to dirt and can be wiped down easily.
Forget Color
On the opposite end of the spectrum, sometimes adding more color is too much for your bathroom. Instead, leave the wainscoting white. This is an especially good bathroom wainscoting idea if you already have a lot of color and vibrancy to begin with. If you've chosen intricate flooring or brightly-colored cabinets, add white wainscoting to neutralize the area and offset the chance that someone will be visually overwhelmed. Plus, it adds a touch of class, which boosts the value of your home.
RELAXED
The tall wainscoting in this traditional living room by Whitlock Builders, painted in a warm white, adds a touch of elegance and sophistication to the space. Love the look and the way the color pops.
9. Use Wainscoting To Cover Up Tile
The great thing about wainscoting is that you don't necessarily need to have a solid foundation behind it in order to build upon. If your bathroom has some damaged tile or vinyl on the walls, it can be cheaper to cover it up than to go through a full bathroom remodel. Simple wainscoting can be applied in front of your damaged tile to create a whole new look for a bathroom, increasing its value in the process. This takes "out of sight, out of mind" to a whole new level!
Wainscoting As The Defining Color
Some people have a lot of color in their bathrooms, and others don't. For those who are lacking in something other than monotone, the wainscoting can be an excellent opportunity to add a splash of flair. Make the wainscoting the primary source of color in the room. Not only will it beautify the bathroom, but it will train the eyes to make the wainscoting the focal point of the room. This will make it even more appealing.
Replace Tiles
If you're considering putting wall tiles in your bathroom, you might want to think about installing wainscoting instead. Not only can this save you money (especially if you are a DIY wainscoting kind of person), but it can actually amplify the visual and architectural appeal of the bathroom. Plus, tile in many cases actually adds an element of coldness to the bathroom, which may not be the type of ambiance you're looking for.
Dark Wainscoting To Accentuate The Mood
Small half-bathrooms and powder rooms can benefit from some mood-amplifying wainscoting. You may think that adding architectural detail to a room that's already so small is too overwhelming, but not when it's done right. For example, a dark powder room with moody wallpaper can be accentuated by black wainscoting to give the once insignificant room a dramatic appeal. The same method can be applied with light, cheery colors as well.
Match Your Floor Tiles
You can match your wainscoting to your floor without having to completely make things color-for-color. If your bathroom has a nice floor tile pattern with multiple colors, choose the one you'd like to highlight the most. Paint your wainscoting in that color (or very similar shades of that color) to make the room pop. It creates a sense of cohesiveness in the meantime, too.
Wainscoting Around All Elements Of The Bathroom
You can help create a "pop" in your bathroom by wainscoting around the elements of the bathroom, rather than just the walls. For example, if your tub is built into the structure of the bathroom with a little bit of drywall around it, you can add the wainscoting around all four sides of the tub for visual appeal. This will definitely make the space in your bathroom appear larger, and it will give it some depth so you have different height levels to work with.
Wainscoting With A Pattern
You don't need to limit yourself to the traditional paneling or bedboard style. Wainscoting has limitless decoration options, and it's important to find one that you can get the most value and enjoyment out of. One of our favorite selections includes diamond-shaped panels between the railing and the baseboard to make things architecturally interesting.
DINING ROOM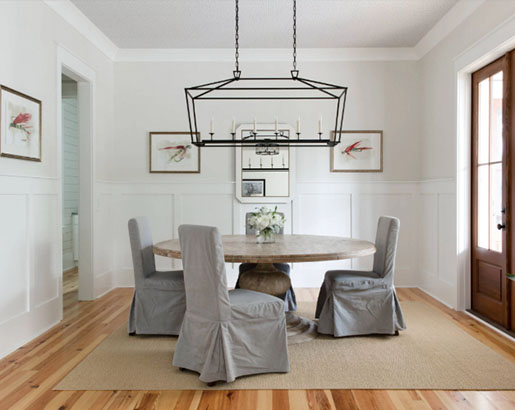 This classic white wainscoting in a traditional dining room by Barrow Building Group, combined with a marble floor and countertop, creates a timeless and luxurious look. This space has tons of character and invites conversation.
How High Should The Wainscoting Wall Be?
Incorporating your wainscoting bathroom ideas can be a challenge if you don't have a ton of wall height to work with. But thankfully, most wainscoting professionals aren't too stingy on the specifics. While the traditional height of a wainscoting design reaches up to 32", the average in bathrooms is extended to 36". Some people with very tall ceilings in their bathrooms have reported their wainscoting measuring up to 52". This is mainly up to a personal decision, but there are a few things to consider:
Building the wainscoting too high, or all the way up to the ceiling, will sacrifice the nature of the duality that wainscoting brings to the bathroom in the first place.
You don't want the wainscoting to overwhelm all other elements of the bathroom, but rather you want to use it as an accent.
Wainscoting can be a good way to protect the bathroom walls against mildew, mold, and moisture buildup. But be sure to get an exterior grade paint that will ward that moisture off in the first place.
Remember that wainscoting is a textured wall paneling that adds to your existing wall, rather than replaces it. If you want floor-to-ceiling paneling, it can serve well in the way of design, but some people would be hard-pressed to call that actual wainscoting. It shouldn't extend more than halfway up the wall, and in most cases, it covers even less of it. You want something that will add to your architectural height, not completely take it over.
The wainscoting in this elegant bedroom by Laura Design Company, painted in a soft green, adds texture and interest to the walls, while the crystal chandelier adds a touch of glamour. This look just calms the room to make bedtime easier.
WOOD PANEL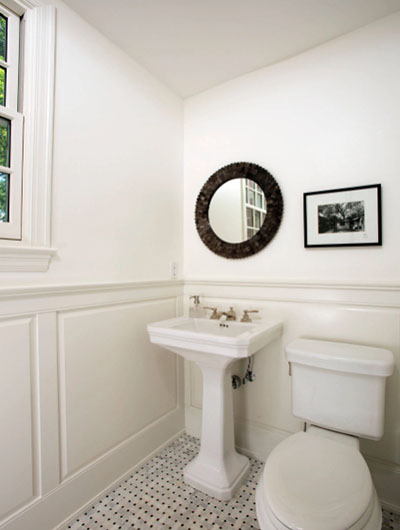 This modern wainscoting in a contemporary bathroom by Four Brothers Design + Build, with its geometric pattern and bold black color, creates a stylish and minimalist look. The floor helps bring out the character in the wood panel.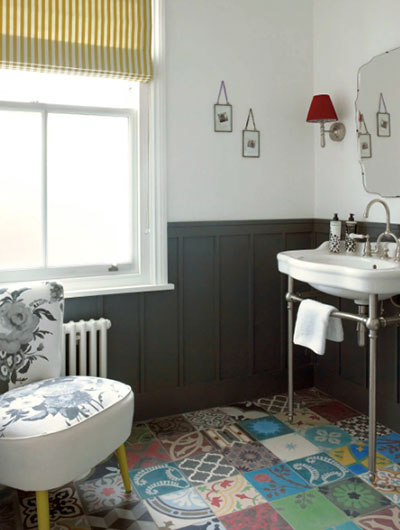 The wainscoting in this transitional bathroom by LEIVARS, painted in a soft blue-gray, adds texture and interest to the walls, while the plush bedding adds comfort and coziness. This powder room floor looks amazing.
Find Additional Wainscoting Techniques For Your Dream Bathroom Remodeling Project
Wainscoting is certainly not one of the top necessities of any room, but it can add plenty of value and architectural appeal. If you're looking for ways to accentuate your half-bath, powder room, or full bathroom, wainscoting can be an elegant and affordable way to do it. In fact, improving on the trim around your walls, especially on your wainscoting, can really boost the net value of your home.
While most wainscoting projects can be done in a DIY fashion, it's important to work with a professional contractor you can trust. That way, you know that each panel is installed correctly, and all external factors are taken into account. For example, you want to make sure that wainscoting is actually effective in protecting your wall against moisture and mildew. Then you won't have to replace any of that broken or old tile that you're sick of looking at.
More ideas for getting started with wainscoting can be found in our free eBook, Remodeling 101: A Free Homeowner's Guide. In the book, you can get access to tips for designing the bathroom remodel you've always wanted. Additional information about home remodeling is included so you can be as prepared as possible by the time you are ready to make your first steps towards your remodeling project.
This is an image roundup post, curated to showcase and promote other reputable contracting companies' and their amazing work. To have any of the images removed, please reach out to us and we would be happy to do so.
Other Great Articles to Read: