You've come to the right spot if you are looking for inspirational powder room ideas or half bath designs. No matter the size or square footage of a home, adding a powder room or a half bath is always a welcome feature to any home. Many homeowners are deciding to add these specialty refreshment rooms for family members and guests alike. As a nod to past leisurely pursuits and an excellent modern addition to any home, powder rooms and smaller baths are definitely worth taking a look at. This article will detail everything you need to know about powder rooms and half baths, including their standard dimensions, sizes, layouts, and design ideas. A brief overview of some creative ways to make your powder room stand out can perhaps inspire you towards your next remodeling project.
What is a Powder Room?
A powder room is traditionally defined as a bathroom that does not have a bathtub or a shower. It functions as a small room with a toilet, a sink, and an area for hand towels to freshen up. It is built for its small size and its convenience and quick access to guests. Most powder rooms are built in private homes and can be decorated with a variety of stylish touches and designs.
If you're struggling to find the space in your home, keep in mind that a lot of homeowners find that old hall closets can serve as great small powder rooms. Since powder rooms come with a sink and a toilet, you may be struggling to see how there can be value in something so small. However, the level of convenience and leisure it adds for guests and family members really makes it worth its weight when it comes time to put your home on the market.
BEACH STYLE
Do you want to inspire your inner artist by creating a luxurious, elaborate bathroom room? This home's bathroom room is the perfect blend of beachy and fun. Another quality of Katie Malik Interiors' beach-themed design is its white and light brown color scheme.
HEART OF STONE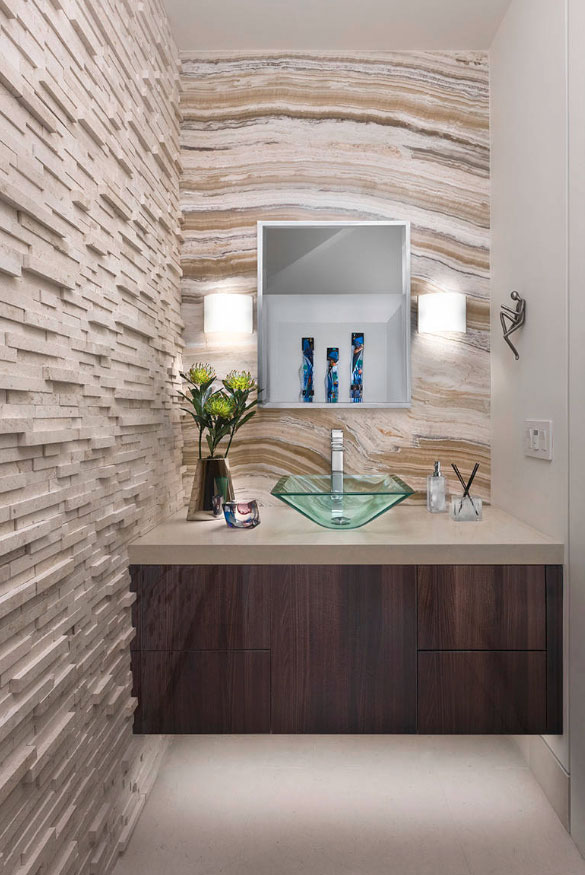 The beautiful stonework in this cloakroom is sure to wow. Bonuses include a sink and faucet made specifically for glass vessels. Do you want a towel rack, artwork, or both to go on the wall to the right? Design of the Interior is responsible for this exquisitely crafted powder room with stone walls.
MIAMI MODERN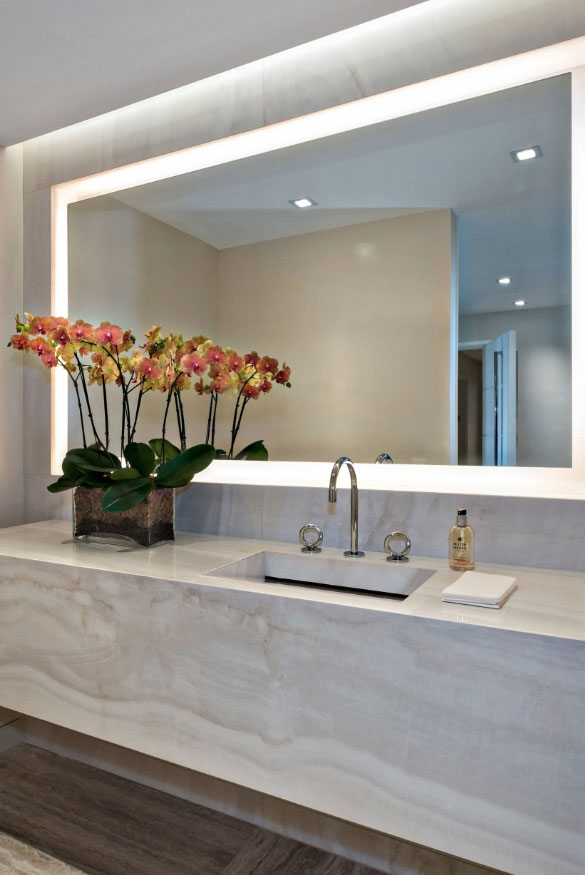 A lit mirror, clean and sleek worktops, and cool circular faucet handles are just a few of the contemporary details in this Miami powder room. Cambridge Construction LLC spared no expense on its powder room design.
Powder Room Lighting
How can you best set up lighting in a powder room? The best way to add light to a powder room or a half bath is to make the most out of the natural elements in the room. If you don't have enough wall space to add sconces, or if there isn't room on the ceiling for overhead vanity lights, perhaps you might want to consider installing a skylight. Light from above can bring in a huge amount of natural brightness that will give your guests as much light as they need to see what they are doing.
But if your powder room is on the first floor of a two-story home, or if you are worried about nighttime visibility, there are plenty of alternative options at your disposal as well. Many homeowners like to install small lamps that jut out from the wall, on either side of the sink to provide enough space. Or, installing a standard overhead light can sometimes do the trick.
Lanterns and sconces are also encouraged, as long as there is enough space for them. It's great to be able to decorate your powder room or half bath in the style that you please, especially when you know how to make the most of a small space.
Powder Room Layout
Typical powder room dimensions include the following:
Standard size of 20 square feet, with smaller powder rooms being allowed as small as 11 square feet
Minimum of a 32" opening for a door
At least 21" in front of the toilet and sink for leg room
Toilet and sink must be 15" apart
Space between the toilet and the walls must be 15" each, measuring from the center of the toilet
Sink and toilet only, no baths
When it comes to different powder room layout options and powder room ideas, there are several things you can consider. First, you can think about a traditional design, which includes having the toilet and the sink against one wall, sharing plumbing in order to save space. However, if you have a little more space to increase your powder room size, you can increase the amount of venting and waste lines in the room. For example, the toilet can be adjacent to or across from the sink, with a towel rack on the nearby wall. Just be sure to consider what's in your budget and how you can best utilize the space given to you.
L-SLAB
This stylish and unusual toilet area has a decor motif of dark brown, which looks great. The Stone Forest Wood L-Slab Pedestal sink adds a natural and cozy touch to the Phonix guest bathroom. IMI Design, LLC nailed the mood in the toilet area with the use of low lighting and candle lanterns.
WHITE CLASSIC
Do you want a typical, unremarkable style for your bathroom room? Rasmussen Construction outdid itself with this design for a ladies' restroom. A window lets in light from the outdoors, too.
FARMHOUSE FANTASTIC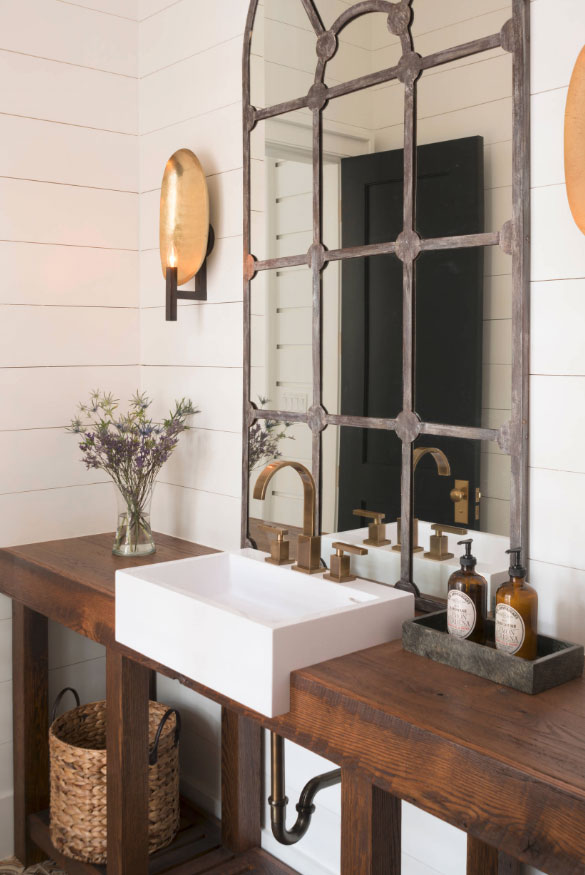 Do you want a powder room that seems to belong in a country home? This rustic farmhouse's toilet room is full of charming architectural elements. The sink and mirror both have an antique, medieval feel. Cameron Custom Builder truly outdid themselves with this one.
What is a Half Bath?
A half bath is also a type of bathroom that contains a sink and a toilet but no shower or bathtub. Often, half baths are interchangeable with powder rooms, as they can be referred to in both ways by a professional remodeler or home designer. They are small but powerful additions to any home that add a lot of functionality. They are also a great place to start if you are looking for a remodeling project since there is not a lot of space involved but you can certainly get your feet wet when it comes to learning the ins and outs of bathroom remodeling.
Half Bath Size
There are certain dimensions and standard layout requirements that make up a half bath. Typically, the minimum size depends on the size of your home, as well as your association specifications and your environmental surroundings. However, according to the International Residential Code, the minimum requirements for a half bath size are as follows:
From the center of the toilet to the wall, there must be at least 15" of space
Minimum headroom is 7'
Front toilet bowl clearance must be 21"
If windows are installed in the half bath, they must be at least 3 square feet, and 1.5 square feet of that space must be able to be opened
Half baths require a fan that offers at least 50 cfm of ventilation in place of a window that opens
There are a few requirements about door placement as well. Typically, it is pivotal that the homeowner considers which way the door opens and closes. Should it swing in or out? Make sure that there is enough clearance space for the door to open inward so that it doesn't hit the sink or the toilet. Otherwise, it may need to swing outward.
Half Bath Designs Ideas
When it comes to a half bath remodel, there are a lot of ideas to take into consideration. Want something elegant, unique, and truly eye-opening for your guests? Build a sink space with plenty of cabinets underneath and fresh brass handles. Use this same brass for your towel rack, and even perhaps for the mirror on the wall overhead.
If you like using neutral tones, keep the walls and the floors an off white while you add a colorful tile backsplash to the wall opposite the toilet. This gives your guests something to look at and enjoy while they are using the room. The toilet itself can come in alternative colors and styles as well. Often, to save space, remodelers will use a smaller round toilet, rather than a standard-sized oval toilet. In fact, this even adds character to the charm of a half bath.
One of the most popular half bath ideas is to add vanity lighting above the sink. Even if you have an open window in the room as well, it doesn't hurt to add more lighting, which can offer a warm glow rather than the harsh white glow of natural daylight.
Powder Room Ideas
Modern powder rooms take comfortability and luxury to the next level. A powder room vanity isn't an unheard option, as long as there is the space for it. Try installing a sink that is fixed to the wall, including faucets attached to the wall itself in order to save space.
A floor-to-ceiling mirror can really make the powder room seem expensive and vast while giving your guests a chance to brush up their appearance while they use the room. Adding porcelain or marble tiles to the floors and walls can also help to open up the space, with neutral tones to highlight that sense of modernity once again.
Take a look at this impressive collection of powder room ideas:
Add A Powder Room To Your Home No Matter How Big Or Small
The beauty of powder rooms and half baths is that you can find the space in your home to add one, no matter how many free square feet you have available. These convenient and functional little rooms are essential for entertaining guests, and also serve as a nice relaxing place to help you freshen up.
Although powder rooms have existed for centuries, homeowners have given them a modern twist with the additions of such things as skylights, tile flooring, and colorful backsplashes. Small sinks and toilets can be convenient for small spaces, giving you plenty of room to stand and look at yourself in the mirror when you freshen up.
Whether you just need a convenient place to wash your hands, or you plan on offering it as a bathroom to family members and guests who are spending a weekend with you, you can be sure that your next smaller bath project will be a hot topic of any conversation with your neighbors and friends.
Level Up Your Powder Room Ideas
When it comes to house renovations or refreshes, powder room décor may have been the last thing on your mind. We're here to convince you that even the smallest half-bathroom can be a fantastic space for experimenting with pattern, color, and texture. Whether it's finally having an excuse to use that patterned wallpaper or the light fixture of your dreams, transforming your bathroom into a fashionable retreat creates a delightful draw for guests as well as an energetic spot for you to rejuvenate while entertaining.
Sometimes, all it requires is a new coat of paint to give your bathroom the needed boost, yet choosing eye-catching bathroom tiles may be the unique design feature you're searching for. From grandiose designer bathrooms to modest Southern powder rooms, you'll fall in love with these gorgeous settings that will inspire you to build your own half-bath.
Guests and family members frequently utilize the powder room. Even though it is the smallest room in the house, it deserves an improvement. Allow these low-cost ideas to inspire you to brighten up your own area.
1. Stick to a theme.
You can be adventurous because there is no bathing area. Spa-like, elegant Victorian, ultra-modern, or a contemporary, artsy are just a few ideas. Remember that your décor should complement the rest of your house.
2. Apply a new coat of paint.
You may always repaint the plain wall above the tiles if you desire a different look to save time and money.
3. Keep it clean at all times.
Maintain a tidy powder room. Wipe up any spilled water, and don't forget to restock the toilet paper and towels.
4. Include an intriguing work of art.
Display a spectacular piece of art in your powder room if it is adequately ventilated—it will instantly become a point of curiosity. T protect the painting from moisture, make sure to remove it every time the powder room is cleaned.
5. Create the illusion of more space.
Placing a huge rug in the center of your bathroom room can make it appear smaller. Instead, you may use a sequence of smaller rugs.
6. Separate the trash.
Make your powder room green by including two trash cans for biodegradable and non-biodegradable garbage, or even only paper and plastic. Brown bags should be used to line them.
7. Add some foliage.
Freshen up your powder room with live plants and flowers. Choose plants that thrive in moist conditions.
8. Make use of a great rack.
Avoid putting a lot of things on the powder room floor because this will take up a lot of space. Instead, hang them on the wall. Magazines can be stored on a rack designed to hold cling wrap or aluminum foil.
9. Place towels on a tray or in a basket.
Instead of just one hand towel for everyone, present numerous guest towels attractively placed on a tray or basket. You might also put together a small hamper for the used ones. Put a single towel in it to indicate what it's for.
This is an image roundup post, curated to showcase and promote other reputable contracting companies' and their amazing work. To have any of the images removed, please reach out to us and we would be happy to do so.
Other Great Articles to Read: