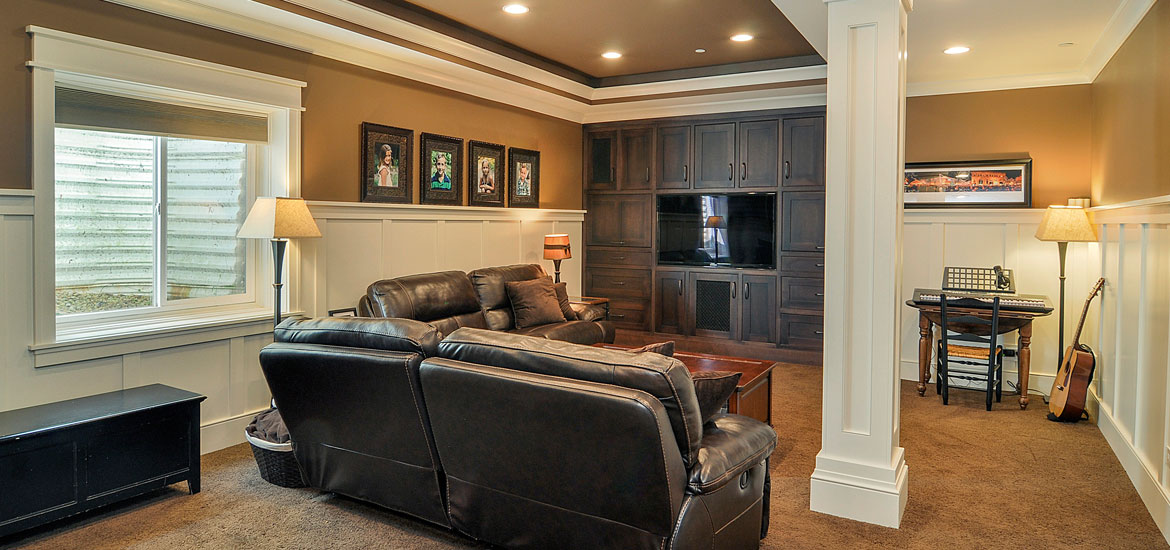 Wainscoting provides the perfect mix of function and style by adorning the lower half of walls while also protecting the wall from scuffs and smudges. This form of wall paneling started back in 1300s primarily as a way to shield the lower half of plaster walls from damage from things like chairs and boots. Today, they make up an important part of interior design, helping add some warmth and style to a space. Wainscoting is especially great at styling up bare walls that would otherwise look dull and boring.
Traditionally, wainscoting (typically pronounced as Wayne's-Coating) is made from solid wood panels. But these days, there is so much more variety in materials. You can get it in plastic, plywood or medium fiber board (MDF). For more money per square foot, you can get yourself custom made hardwood wainscoting panels. Other materials used, though less commonly, include stone, tile and acrylic.
CURVED AND CLASSIC
In this design by Assyrian Star Construction, Inc., a traditional living room is transformed with the addition of beadboard wainscoting painted in a soft blue. The vintage-style theme complements the classic look.
Wainscoting Installation
While you can install your own wainscoting during your home renovation if you know your way around with tools, it is always best to hire a contractor to do a perfectly neat wainscoting installation. To save time and money, you can buy pre-made wainscoting panels so that the only work will be installing them onto the wall.
There are numerous styles, colors and patterns to choose from, ensuring that you can find something to match your décor. For instance, you can choose a recessed type of panel, raised panel or shaker panel.
Wainscoting Height
An important part of wainscoting is its height. This greatly defines its look and how it impacts the overall style of the room. When planning a wainscot installation, the first step is to measure the height you want it to reach. Here are a few pointers on how to Measure Your Walls for Wainscoting Panels.
Generally, the wainscoting goes up to a 1/3 of the wall height. This is not a rigid rule; you can place it lower or higher depending on your specific décor preferences.
Determine the height of the bottom wainscoting railing, which usually starts at 7.5 inches.
Measure the width of the wall and divided it by the number of panels you want, determining the size of each panel.
For more accuracy, ask your contractor to help you take the wall measurements. Use these measurements in buying the right wainscoting panels and molding.
Related: Ideas for Remodeling Your Kids Bedroom
Whatever style, height or type of wainscoting you choose, the effect will be positively stunning.
CRISSCROSS DESIGN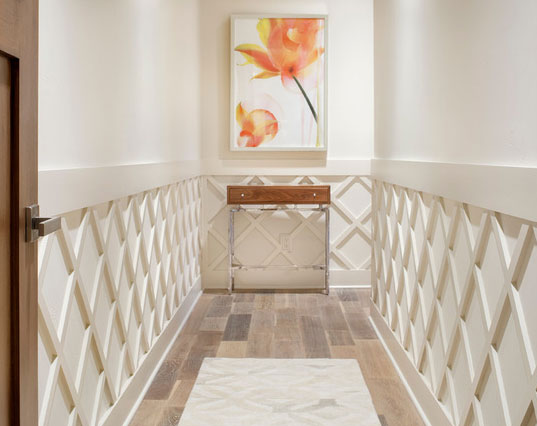 In this design by JAUREGUI Architecture Interiors Construction, the bold and vibrant wallpaper is paired with white wainscoting with a unique scalloped edge, creating a playful and whimsical look in this eclectic hallway.
BOLD AND BEAUTIFUL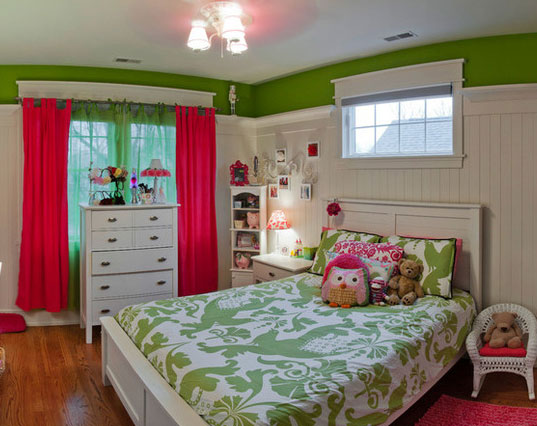 This design by Sebring Design Build showcases a traditional bedroom with tall raised panel wainscoting painted in a soft gray. The elegant chandelier and plush bedding enhance the sophistication of the space.
EVERLASTING STYLE
In this design by Sebring Design Build, a traditional stairway is elevated with the addition of white beadboard wainscoting paired with a colorful patterned tile floor. The classic fixtures and accessories complement the retro look.
TRADITIONAL AND COZY
This elegant living room by Sebring Design Build features wainscoting in a classic raised panel design, painted in a crisp white that contrasts beautifully with the dark hardwood floors.
Ideas For Wainscoting
Wainscoting used to serve a simple utilitarian purpose. Back in the 18th century, before central heating, putting the wood to the lower part of a wall was an elegant and inconspicuous way to insulate a space. But just because wainscoting isn't needed to keep your home warm doesn't mean it's lost its allure. With the correct combination, this once-outdated element can feel shockingly new and current.
What Is Wainscoting?
Wainscoting (or paneling) is a wall covering usually used for decorative purposes to provide architectural detail to an interior area.
Wainscoting was initially employed for two reasons: to insulate the chilly stone walls of ancient houses and to keep moisture out.
That is no longer the case, and the purposes and materials employed have developed significantly throughout the years.
Material Used For Ideas For Wainscoting
The chosen material in 18th century Europe was light oak wood, but today it spans from other types of wood to plastic and fiberboard.
Medium-density fiberboard (MDF) engineered wood is a popular paneling material because it is denser than plywood and easier to work with.
Advantages And Disadvantages
Wall panels are stylish and sophisticated. Consider luxurious flats and cottage houses throughout the ages.
They were found in medieval homes, as well as in Georgian and Victorian interiors.
Throughout history, they were seen as beneficial and fashionable, and they expanded all the way to America and European colonies abroad.
So paneling your home is a timeless style statement.
Wainscoting also serves two practical purposes: panels can conceal wall flaws while remaining repairable and interchangeable.
They can conceal abnormalities, protruding wires or cables, and even prevent wetness.
Wainscoting also helps to insulate the walls on the interior.
Even if you don't have a moisture problem, your room could benefit from some soundproofing or thermal insulation to keep you warm in the winter.
Panels, on the other hand, require more care than many other types of walls.
Under certain conditions, wood can rot, distort, or lose moisture.
Of course, wall panels can be fixed or replaced. However, homeowners should still take care of them by ensuring that they are properly mounted and not deformed by external forces, painting them with the appropriate paint, or waxing them if the room conditions are too dry.
Another questionable disadvantage of wainscoting is its age.
While some consider them to be classy, many say they do not necessarily go well with a cleaner, minimalist modern style.
Wainscoting can be quite contemporary and modern-looking, as evidenced by our collection of over 30 ideas.
Types Of Wainscoting
There are several varieties of panels, including flat and raised panels, beadboard, and board and batten.
Typically, when we think of wainscoted walls, we think of panels.
Beadboard
Wainscoting with beadboard is an exception to this norm.
It is made up of panes that are mounted vertically next to one other and separated by a narrow bead (ridge).
Wainscoting panels are made out of a frame (rails and stiles) with a flat panel inside.
They might be flat (flat panel wainscoting) or elevated (raised panel wainscoting) (raised panel wainscoting).
The only distinction between the two kinds is the panel itself, not the frame.
Batten And Board
Board and batten wainscoting is made up of broader boards alternated with narrower battens.
This style adds informality to wainscoting and is even used for building exteriors.
The battens' role is to provide strength to the structure.
Final Thoughts:
With so many styles to choose from, you are assured of finding one that is perfect for your home. Remember to get a style that will blend in well with your existing room décor and which you love. With the right choice, you can transform an ordinary kitchen or living room into a chic yet homely space.
To take a look at our previous projects for Home Remodeling Ideas.
Whether you are constructing a new home or you plan to do some remodeling, we can help you achieve the look you want with the right wainscoting. If you have any questions regarding design, material or installation of wainscoting, we are more than glad to be of help. Contact us with whatever question you might have.
This post was created to showcase other reputable contracting companies' work. To have any of the images removed, please reach out and we would be happy to do so.
Other Great Articles to View: