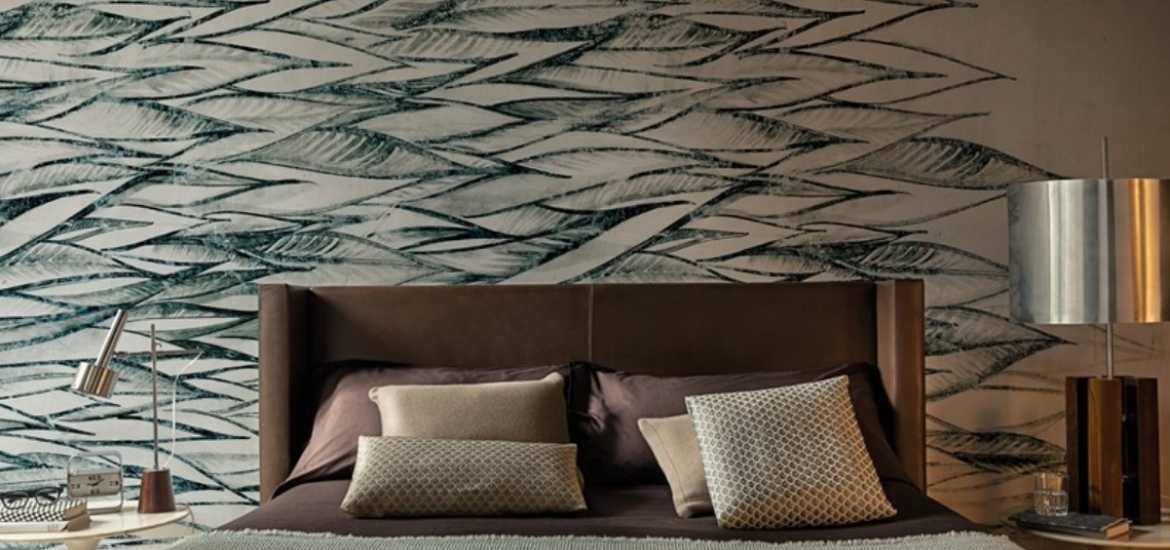 Featured Image:

RADform
It is no secret: Wallpaper carries a reputation and not generally a great one. Usually considered as hard to work with and old-fashioned, wallcoverings are ignored for a long time as neutral and clean wall colors have reigned supreme. Nevertheless, we are here to inform you to keep the paintbrushes and embrace wallpaper's bold revival. Today, we will look at modern wallpaper design ideas and images to see how these revolutionary wallpapers changed the game when it comes to interior designing.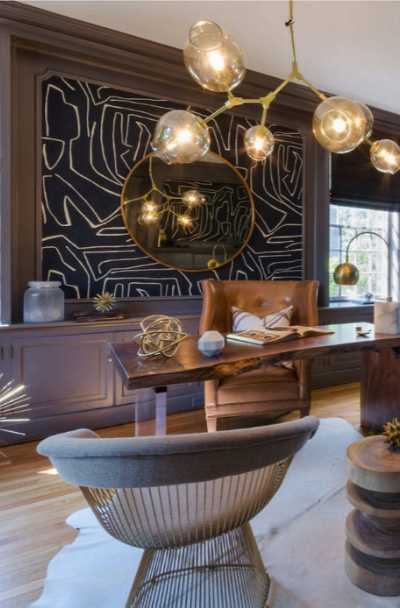 This modern office room by Kenneth Byrd Design features a metallic geometric wallpaper with a subtle texture, adding a touch of glamour to the space.
A minimalist home office by Cornerstone Architects is given a pop of color with a bright blue and white striped wallpaper accent wall.
3D CUBE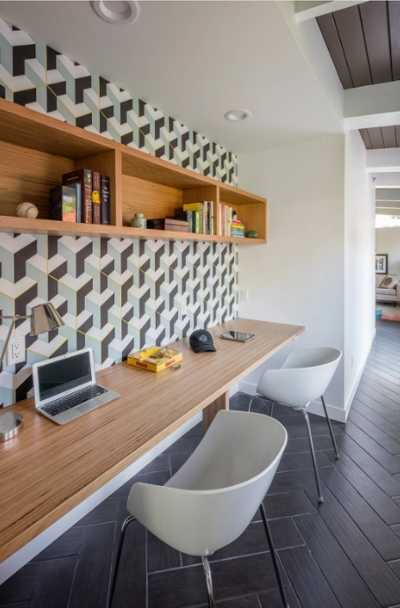 This modern office area by Studio Build features a black-and-white abstract wallpaper accent wall that adds a graphic element to the space.
PEONI POWER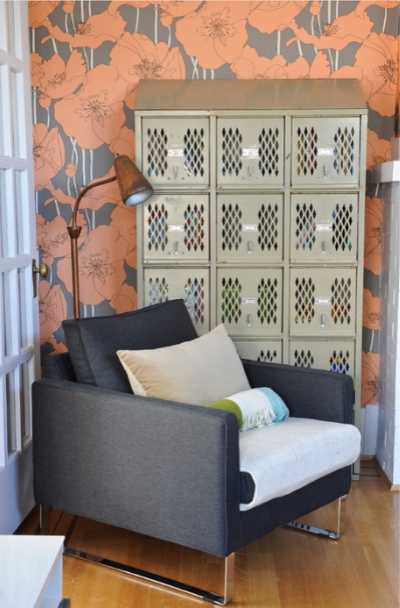 This contemporary living room by A Good Chick To Know features a textured white wallpaper accent wall, adding depth and interest to the space.
DIAMOND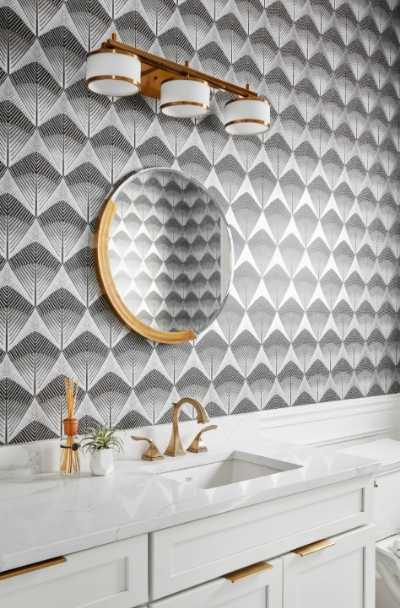 A bold and dramatic wallpaper with a black and white abstract pattern is used to create a stunning feature wall in this modern bathroom by Devon Grace Interiors.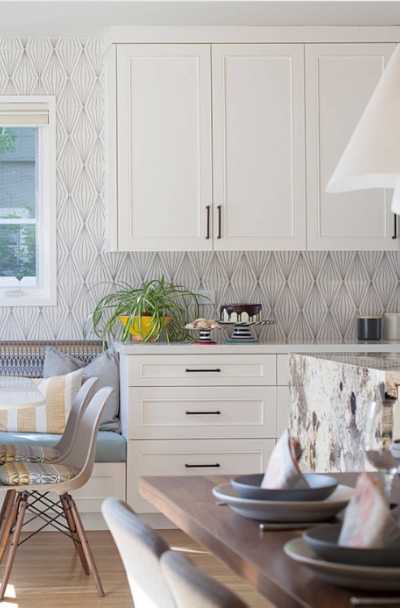 This eclectic dining room by Harwood Construction features bold and colorful wallpaper with a tropical leaf pattern, creating a lively and inviting atmosphere.
NATIVE MAZE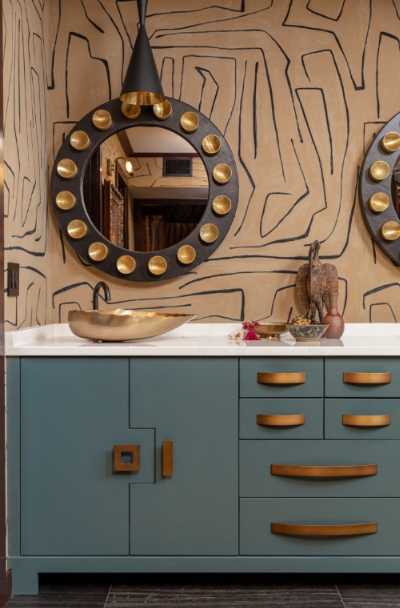 This stylish bathroom design by In Detail Interiors features a subtle geometric wallpaper in a calming shade of blue, creating a serene and relaxing space.
CIRCUS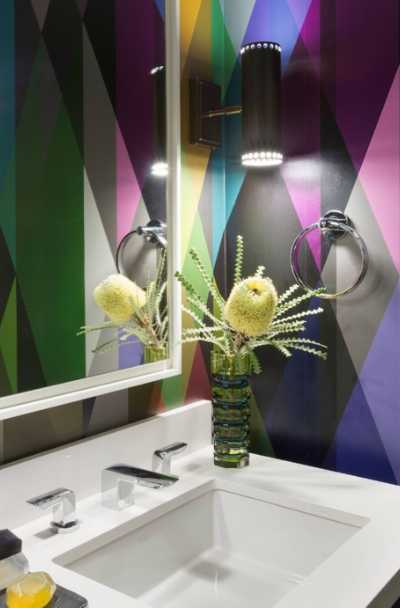 A textured colorful wallpaper with a subtle pattern adds interest and depth to this modern living room by David Duncan Livingston.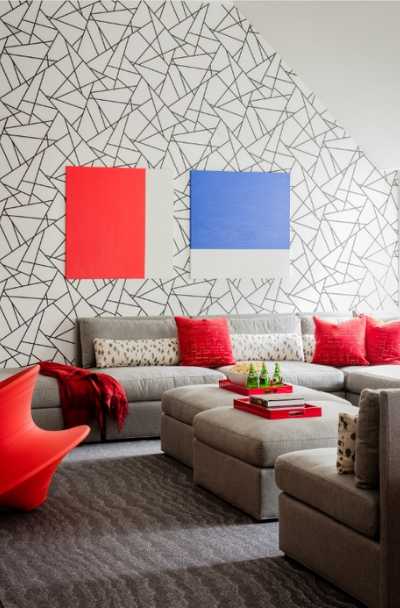 This contemporary living room by Betsy Bassett Interiors features metallic gold and white wallpaper with a geometric pattern, creating a chic and glamorous space.
Welcoming Modern Wallpaper Into Your Home
There is no questioning the wow-factor of a fantastic wallpaper. From nature to geometrics, crazy, and exciting wallpaper suggestions are a good way to jazz up an area without adding needless clutter and decor. Contemporary wallpaper is not determined by the florals & stripes we have from our grandparent's homes. Today's possibilities are limitless and readily available. If you are easing into wall paper, do not feel like you need to cover a whole room. Begin with a tiny, less-trafficked room, like a powder room or even a guest bedroom. In larger spaces, pick an accent wall to embellish and paint the remaining. Hallways, mudrooms, entryways, or laundry rooms make additional excellent candidates for evaluating a bold wallpaper—you typically are not hanging out in them for long periods of time.
Of course, the installation maybe a little of an inconvenience. Take the time to do your research regarding how to put it right, or spend a little to have a professional get it done or you. In either case, it is going to be worthwhile if you swap paint for a bold print and find your room decorate itself.
For some time, wallpaper was viewed as something which would simply be in probably the most outdated of homes. It was connected with big floral prints from strange patterns or Victorian styles, which only your grandmother might love. But that is changing. It is feasible to use contemporary wallpaper in a way that's sleek, updated, and stylish. Among the advantages of wallpaper is the large quantity of choice of styles. This means you are able to find a type that actually works even in probably the most contemporary of spaces. Wallpaper could be as bold or muted as you would like, based on your design. Take a glance below to see the way to use contemporary wallpaper designs into your space.
COASTAL CREST
A vibrant and colorful wallpaper with a floral pattern is used to create a playful accent wall in this eclectic living room by Amrami Design + Build.
Tips On Picking out the Perfect Modern Wallpaper
First, choose neutrals. Wallpaper is generally what somebody pulls away whenever they would like a crazy look on the wall space, but they do not wish the headache of painting it. But wallpaper is also available in more muted colors. When you would like your wallpaper to be on the more contemporary side, try to go for a neutral color. Neutrals would be a mainstay of several contemporary spaces, as they enable one to not become outdated in years to come. There is something really timeless about neutrals. Make use of serious, subdued colorings. Another option for contemporary wallpaper is using a strong, saturated hue. Green wallpaper is fantastic for providing these hues some slight texture. On the other hand, red wallpaper is very customizable; it is easier to get the actual shade you want. Usually, with color, the shade underneath contributes somewhat to the brand-new color unless you slather on numerous coats.
Go light. Large scale floral patterns additionally are not totally out the window in modern designs. Light colorful wallpaper schemes, generally speaking, make some room look contemporary and updated. Additionally, they have the capability of opening up the area visually. So any light simple wallpaper design is able to work if this is the feel you would like to achieve. You can select a floral pattern; you can go for a geometric style or perhaps choose a good light shade.
Make use of black and white abstract wallpaper. Black and white neutrals are one more style that simply screams modern. High contrast color schemes have a tendency to be a hallmark of contemporary styles, while white and dark wallpaper produce the ultimate contrast. Deciding on an artistic wallpaper with a white and black design is a great way to obtain a stark, contemporary appearance.
UP AND OVER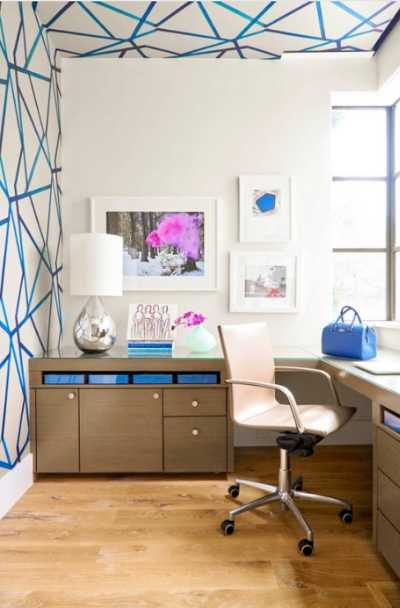 A minimalist and eclectic office room design by French-Brown Floors Co. is given a pop of color with a bright pink and white geometric wallpaper accent wall.
KANDY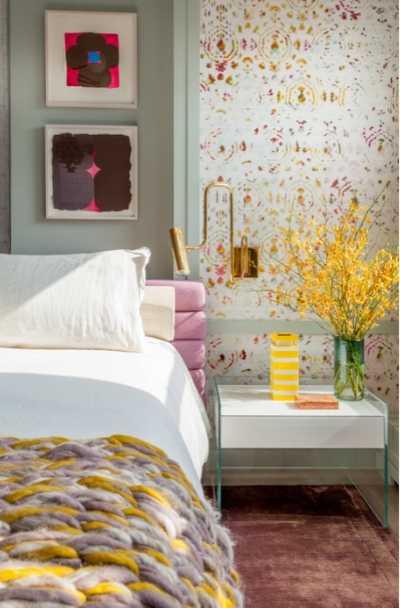 This contemporary bedroom design by Lucy Harris Studio features textured colorful wallpaper with a subtle metallic sheen, adding a touch of glamour to the space.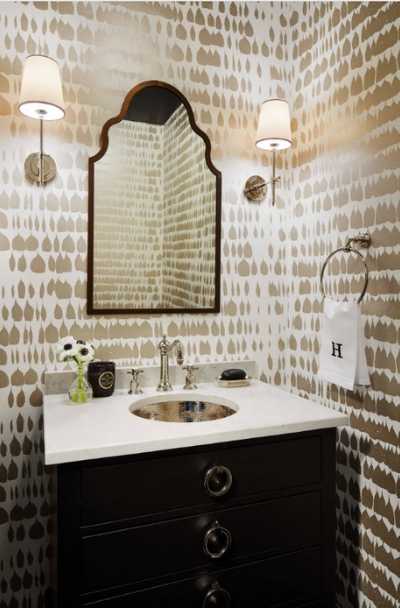 A playful and colorful wallpaper with a retro pattern is used to create a lively accent wall in this eclectic bathroom design by Third Coast Interiors.
CLOUD COVER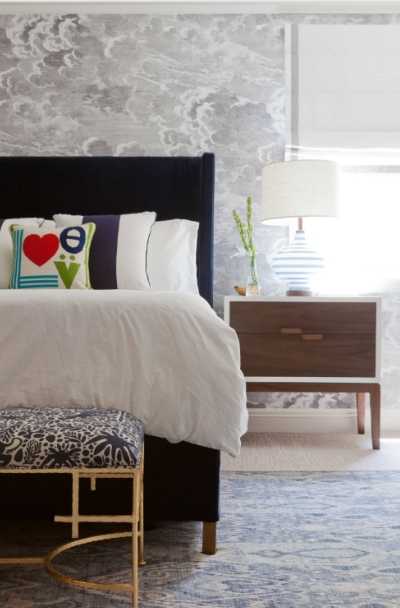 Types Of Contemporary Wallpaper Available Nowadays
Since wallpaper is a lot easier to use, here is a glimpse at the various types easily available on the market to check.
Quick Clean Wallpaper – Ideal for kitchen wallpaper ideas, toilets, along with high traffic areas. See a stain or a spill? Don't fret because you are able to clean away each day's imperfections and accidents in just a couple of minutes. Search for specialized coated Teflon wallpaper, which enables you to wash your wallpaper efficiently, which means you can beat any messy spills. That also helps it be a more affordable substitute for a tiled kitchen backsplash. Talk about cool wallpaper ideas for walls that might be simpler to handle than regular paint.
Easily Removable Wallpaper – The days of tiresome wallpaper removal are gone, as removable wallpaper enables you to just peel away the covering when you would like—without hurting your walls. That is terrific in case you would love to change an area every now and then without having to invest a lot or even bring in professionals for both removal and set up. And most are washable and waterproof, which makes them another terrific choice for high traffic areas also.
Classic Wallpaper – Basic wallpaper still makes for unique wallpaper ideas for walls, although it harkens to the trouble that frequently stressed homeowners in the past. Sure, they could be very easy to clean up and remain adhered to walls better, but they are going to need to be professionally installed and also removed. Having said that, present-day classic wallpaper alternatives will not damage your wall space after removal like they previously did.
Modern Takes On Wallpaper
When you are searching for strikingly great wallpaper ideas for home but short on space, skip out on large prints, which will just make it appear to be smaller. Rather, go for delicate small-scaled prints that will continue to help to define an area in fashion without screaming. Think floral prints and two-toned dot, which are naive in texture yet room defining in effect. Yet another excellent take on unique wallpaper ideas for challengingly small spaces, tonal striped and patterned wallpaper is ideal for maintaining the look easy on the eye while developing a layered play of soothing colors. Thus, rather than going for expressive and bold hues, keep it delicate and choose basic combinations that will continue to enable you to present some necessary depth and color in cramped spaces. Once again, you cannot fail by keeping the look simple. In reality, by choosing calm hues & patterns, it could enable you to value your wall covering choices all the more since they do not elicit too much psychological effect. Plus, with regards to reselling your house, subtly awesome wallpaper ideas for home are going to be certain to meet a possible buyer's approval as the appearance will continue to be timeless in appeal for the very long haul.
Although the Art-Deco era is about to celebrate its centennial in the interior design world, the heady appeal of symmetrically graphic Art-Deco-inspired prints and patterns will continue to endure because of its daily feeling of decadent glamor. Go for a strong appearance with a similar feel and also think about making use of it for just an accent wall to maintain the look contemporary and fuss-free. Next, you can go for faux marble look. Who would not want marble-covered wall space in their house? Though the purchase price tags allow it to be out of the question for many homeowners. But because of contemporary wallpaper ideas and innovations, you are able to get the appearance without it looking way too faux via marble printed wallpaper. Make a rich sense of visual play with a marble printed wallpaper that'll immediately make some room appear even more costly. As with regards to cool wallpaper ideas for home, all you need to accomplish is be a little inventive and think outside the box.
You can also make a delightfully refreshing coastal-inspired experience with contemporary wallpaper ideas that evoke the spirit of the ocean along with happy memories beachside during warmer months. In order to get the appearance right, keep it very simple and also go for a wallpaper that includes a basic pink and white mixture paired with vaguely nautical details. Channel a far-flung wanderlust theme with cool wallpaper ideas that celebrate the way of life and spirit of different ethnic-inspired design movements for a rich and unique feel. Go for batik prints, tie-dye effects, along with Japanese Shibori.
Wake up your blank walls with these contemporary wallpaper designs. Though removal is almost a hassle-free experience, these wallpapers are very fashionable; you will certainly not need to take them down. These modern wallpapers are a real game-changer and will bring life to any room. Make sure you save this page and pull out as a reference when you are ready to remodel.
This is an image roundup post, curated to showcase and promote other reputable contracting companies' and their amazing work. To have any of the images removed, please reach out to us and we would be happy to do so.
Other Great Articles to Read: