If you are partial to an all-white design or even live for a pop of color, there is nothing like a modern and sleek kitchen. Take fashionable cues from nature or also go for a total luxury kitchen; maintain your palette classically monochrome, or choose color that is bold throughout. Regardless of what path you select, a modern style is always a win. Take inspiration from these chic and modern kitchen cabinet ideas and transform your kitchen to a whole new level.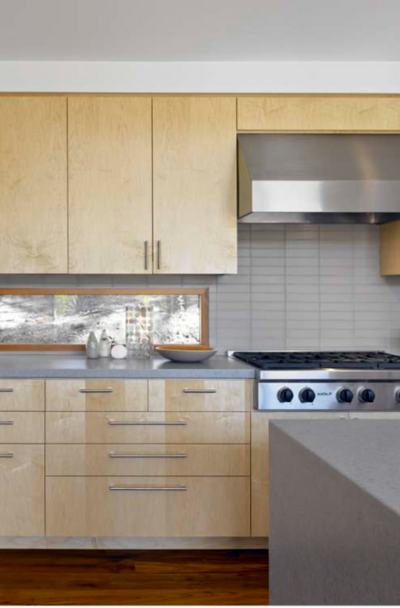 Everything about this kitchen's ultra-modern design appears delicate and gorgeous. This yamamar design kitchen's sleekness gives it a premium appearance. The laminated wood cabinets provide a sleek appearance and a contemporary feel.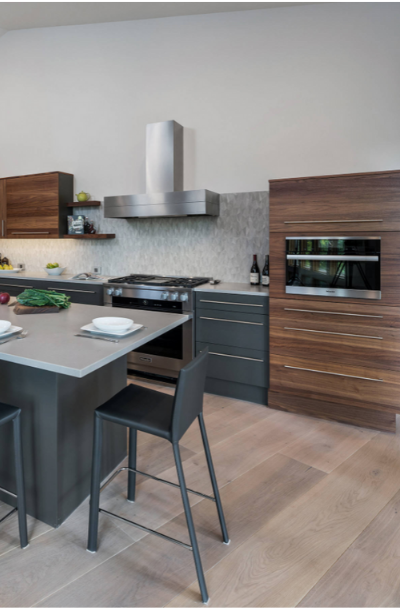 This kitchen design is very minimalistic, warm, and contemporary. The minimalist kitchen design that KuDa Photography managed to capture is amazing. This modern kitchen has dark wood cabinets, matte black chairs, and stainless steel equipment.
This remodeled kitchen design by CCS ARCHITECTURE is excellent and exudes a sense of completion. Everything in this kitchen design seems so contemporary and up-to-date. Caesarstone is used to create the flat countertop and has an Eggshell finish.
REAL DEAL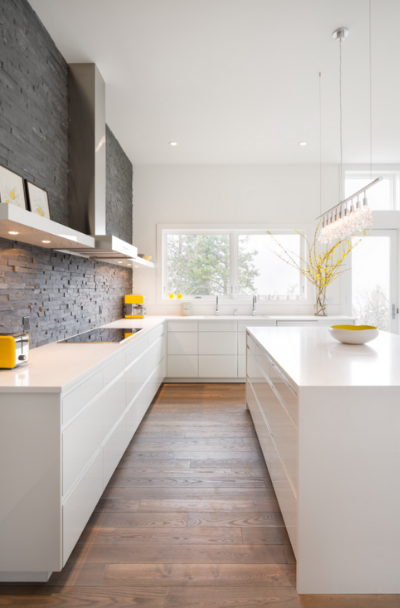 This kitchen design looks so spacious and bright with a very bright and clean vibe. Such a good kitchen design was captured by Josh Partee | Architectural Photographer. Beautiful white kitchen with Charcoal Shadowstone backsplash from Realstone.
INDUSTRIAL MIXED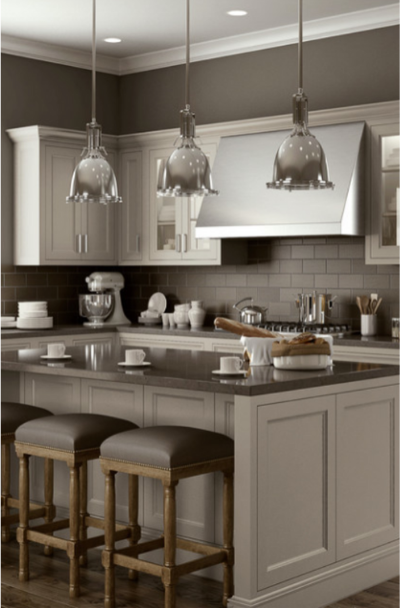 This kitchen design is ideal for you if you want something other than a vibrant and colorful one in your home—such an excellent gray color scheme for the kitchen design by Cupboards Kitchen Bath Discounters. The stainless steel appliances go beautifully with the light gray cabinetry.
PERFECT VIEW
This kitchen is stunning, from the layout to the window views. Carlton Edwards did a fantastic job with this kitchen. Sherwin Williams' Moderne White was used to paint the ceiling, contrasting nicely with the floor's light wood finish.
ORGANIC MODERN
This kitchen's design, which fuses nature and modern architectural elements, manages to look both sleek and homey. That kitchen by Streeter Custom Builder is just stunning. This stunning and unique residence is perfect for hosting elegant gatherings.
Things To Consider When Building A Modern Kitchen
Our kitchen is definitely the heart of the home—and also due to that, you would like it to look as gorgeous as possible. But with a lot of routes to take with regards to decorating your kitchen, it can often be difficult making some choices. In order to assist you in getting going with your home renovation, we recommend looking at several of these modern kitchen ideas. Contemporary spaces give you a dazzling design so your home won't ever go out of style, but do not think that this means it is going to be sterile or cold. Modern kitchen design encourages pops of color, trendy stools, and funky light fixtures, which add whimsy and warmth. Whether you have a little kitchen or may be open and airy space, you will find here a contemporary kitchen concept that you will wish to replicate.
Because of their minimalist cabinetry, neutral color palettes, along with metallic accents, these beautiful kitchens possess a subtle elegance that won't ever go of style. They blend facets of design that is contemporary along with other designs, which includes industrial and traditional, for a look that is sleek and current, but not sterile. A pop of color—whether it is on the furnishings, in a bowl of fresh fruit, or maybe in a vase of flowers—guarantees that these stylish kitchen inspiration models nevertheless look warm and also inviting, as do huge windows which let in the sun, an architectural light fixture, or perhaps a piece of bold decor or artwork.
Unfortunately, for some, the kitchen is nonetheless an area of utilitarian function only. Oven, refrigerator, stove, sink, some counter space—done, right? Alas, just how much they miss. The kitchen area is definitely the nucleus of the house, regardless if you live in the country, suburbs, or the city. It's exactly where you offer and fortify yourself as well as your family, wherever you have friends, and exactly where great memories are created. A kitchen area is a lot more than a need, and present-day designs all but show it could be lifted out of the pages of household pragmatism right into a thing of beauty. Beginning with every conceivable material, from granite to glass, along with finishing with your personal touch, the modern kitchen will be your culinary showcase.
Featuring state-of-the-art technology and also installation motifs, the excellent contemporary kitchen is able to boast galley style wood flooring, flat-panel cabinets, stainless detail and devices, wine storage devices, overhangs for pans and pots, along with appropriate size islands, to name a few.
Convenience and sophistication need to stop being at odds with each other; with an up-to-date and personalized kitchen, you can most definitely have your cassoulet, eat it also, as well as savor a drink after.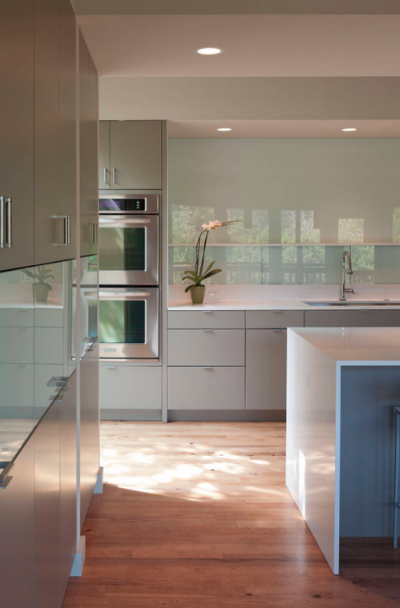 With this modernized kitchen design, everything is very simple and sleek. The room is both enormous and exquisite. That kitchen by Webber + Studio, Architects is fantastic. Keep things straightforward and conceal the mess with a clever storage system.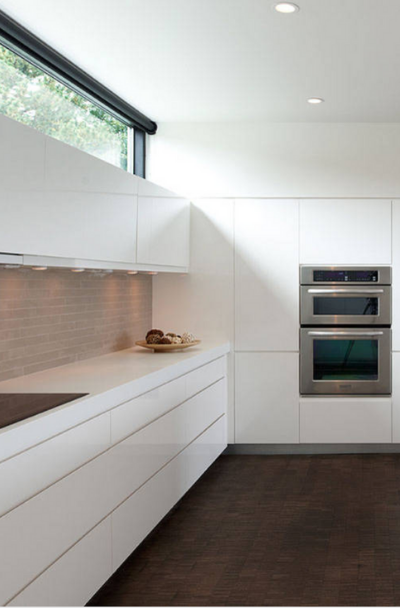 In this kitchen layout, which seems both tidy and tranquil, you would only consider making a good mess. The kitchen design by CHRISTIAN DEAN ARCHITECTURE, LLC, is so simple and elegant. The dark wood floor balances the all-white kitchen.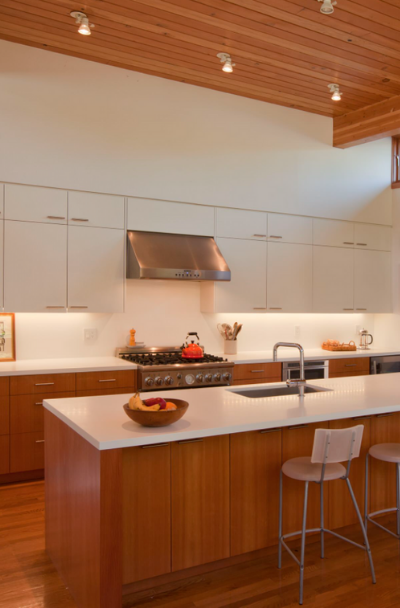 A kitchen with a brown and white color scheme will look trendy and minimalist simultaneously. Hammer Architects created such a cozy, contemporary, and minimalist kitchen design. The ceiling and floor are made of wood, while the cabinets and walls are painted white.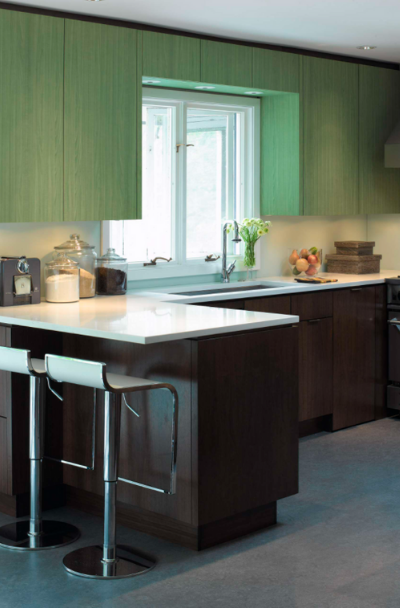 This kitchen's design exudes a very light, airy, and modern vibe. This kitchen design by Lucy Interior Design is so cutting-edge but functional. The lower cabinets are made of dark wood, and the upper cabinets are painted green.
Ideas For Decorating A Contemporary Kitchen
Contemporary kitchen design is often broadly classified as any type that is much less conventional and more contemporary—but in reality, most contemporary design has certain origins in terms of its period, inspirations, and style.
The contemporary design began around World War I and also typically featured flat surfaces, geometric forms, along with little or maybe no adornments or ornamentation. Contemporary kitchen cabinets, for instance, tend to be defined by a dazzling, simple and angular design, featuring little or maybe no hardware, dull surfaces, and flush doors. In the present era, contemporary kitchen design is an element of a bigger pattern that has embraced midcentury modern design and furniture, that introduced daring curves and angles on the layout landscape. Midcentury modern-day design—typically recognized as originating in the Nordic countries in the mid 20th century—has now been integrated into several contemporary kitchen designs.
Whereas conventional kitchen styles typically focus more on their design on materials that are natural for cabinets, countertops, furniture, and floors, contemporary kitchen models depart from this aesthetic relatively regularly, frequently featuring man-made materials like laminate, ceramics and molded plastics. That is not to suggest that contemporary kitchens cannot, should not, or do not feature man-made materials—they usually do, and sometimes to great effect. Granite countertops, sleek hardwood floors, and skillfully designed wooden furniture featuring the signature curves & angles of design that is modern can usually be seen in contemporary designer kitchens.
Other design flourishes and accessories are able to build on a contemporary kitchen theme. Cabinet doors might be replaced with frosted glass or maybe a dazzling wood or laminate veneer to create a contemporary look. Mixers, blenders, espresso makers, and other accessories are best in unique designs and bold colors, which seem positively science fictional. Cookware, utensils, and also flatware are both provided with a contemporary twist, both in conditions of design aesthetic along with daring, up-to-date colors.
Flooring and tile work in contemporary kitchens usually stay within the general aesthetic, sticking with the clean lines and distant relative simplicity recognizable in the wider design. Backsplashes or tile floor surfaces of granite or slate in geometric patterns are popular, as are subway tiles employed for easy, elegant backsplashes.
Lastly, furniture choices are able to contribute significantly to any contemporary kitchen design. Tables, stools, chairs, & benches are obtainable in several flowing and angular designs. Materials like wood, plastic, and metal are used in industrial or modern design, frequently featuring bright and bold shades, which could include great visual interest to the stylish and efficient modern kitchen design.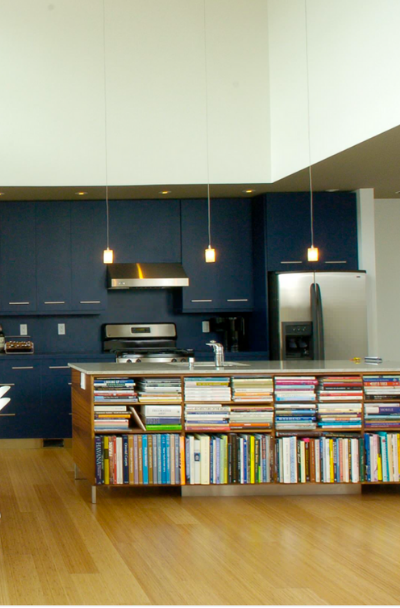 A kitchen needs to be stocked with cooking utensils. Additionally, you might have a well-designed kitchen and arrange your books on the kitchen shelves. You will be motivated to prepare meals if you are in an open kitchen designed by Prentiss Balance Wickline Architects with stacks of cookbooks.
OPEN CONCEPT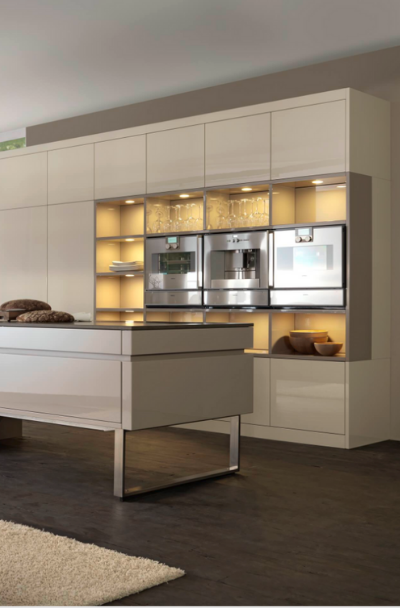 A kitchen with an open-concept theme like this is the best kitchen design you could ask for. High-gloss painted cabinetry is a feature of the open-concept kitchen. This Divine Design+Build kitchen design is stunning in every way.
You must admit that this kitchen's layout gives the impression of an upscale bar area in a luxurious home. This kitchen design by Dark Horse Woodworks is gorgeous. Oak veneer using a rift saw is used to make the kitchen cabinets.
HARMONY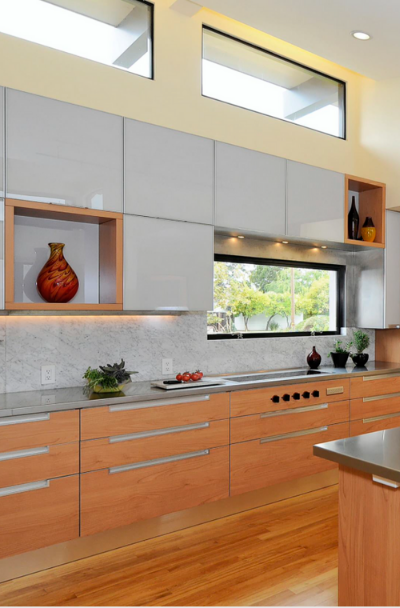 This contemporary kitchen design has a sense of balance throughout. In this kitchen design by Elevation Architects, the glass windows with the breathtaking exterior view look excellent. Atherton Kitchen sells the cabinets, which are from the Italian manufacturer Scavolini.
Unique Pieces For Your Modern Kitchen
Modern kitchen design does not have to mean basic and simple. With the number of selections for cabinet hardware, lighting, flooring, and backsplash tile, you are able to design a contemporary kitchen with functional elements which additionally add to the general design of the home. Test out natural textures and pops of color to produce an inviting and fascinating contemporary kitchen. Check out several of our modern-day kitchen design ideas to get the appearance in your own personal kitchen.
Espresso Cabinets – Dark cabinets are usual in modern kitchen designs. Espresso stain, as well as opaque paint, offer dark cabinets abundant color, warming up the chilly fittings and also fixtures generally present in contemporary kitchens while still appearing contemporary and sleek.
Stainless Steel – Clean and cool stainless screams contemporary. It is likewise an excellent surface area for the cooking area, wherever it's essential to wipe down surfaces and tidy up foods messes frequently. Stainless-steel appliances, hardware, range hoods, faucets, and modern kitchen sinks provide a streamlined appearance. Because a lot of types of items are obtainable in a stainless steel finish, it is even simple to incorporate the material into a small modern kitchen design
Blonde Wood – Blonde wood, particularly when combined with stainless steel, gives off an industrial vibe in contemporary kitchen designs. Cabinets, floors, and butcher block countertops are able to take in the heat of light wood. Balance out the light contemporary kitchen cabinets with darker elements through the layout. For instance, dark tile floors ground a lofty paneled ceiling, and mild wood cabinetry brings in a stylish appeal.
Marble Counters – White marble countertops are fashionable but classic. Marble typically includes swirls of grey within the organic pattern, which pairs nicely with stylish stainless elements. Marble surfaces are porous, and so clean up spills quickly to avoid stains and don't chop food on the countertop.
Vibrant Cabinets – Another common contemporary design trend is painting cabinets with a brilliant paint color. The majority of the kitchen design is frequently basic to keep from overwhelming the area. Burnt orange, teal, emerald green, and navy blue are fun colors to make use of that and appear contemporary when combined with stylish work and hardware surfaces. This is a simple element to test in contemporary kitchen layouts.
Open Shelving – Open shelving can serve as a room for both decor and storage. Neutral shelves or stainless-steel allow accessories and dishes to stand out in a contemporary kitchen. Converting kitchen cabinets to widen shelving removes the heft of cabinet doors and also gives way for a cooking area, specifically in galley-style kitchens present in older homes and apartments.
Geometric Fixtures – Light fixtures, whether a big chandelier or maybe numerous pendants over an island, could immediately add modern vibe to a kitchen space. Light fixtures with geometric shapes and clean lines are specifically popular. Those with round elements are a great way for breaking up the sleek, square edges of contemporary home design and add softness. Contemporary kitchen furniture like retro chairs and round tables also can soften the style.
Banquet – For an attractive and cozy feel that will additionally increase the value of your house, think about working with a custom kitchen banquette feature included in your area which you enjoy for decades to come. And most of all will be the extra storage comes with a smartly created custom kitchen banquette that will lend to the area will help you to keep it cleaner and organized on a regular basis.
Final Tips
It must go without saying that a contemporary kitchen must evoke the embodiment of design that is sleek and smart concepts making for the most effective use of the area you have to work with. But with numerous inspiring contemporary kitchen ideas, how would you narrow down what is perfect for you? Think about what you need and what matches your personal style. Follow what makes your heart happy.
Creating a functional and stylish kitchen design that will help make your time invested in it all of the better must be your primary objective.
This is an image roundup post, curated to showcase and promote other reputable contracting companies' and their amazing work. To have any of the images removed, please reach out to us and we would be happy to do so.
Other Great Articles to Read: