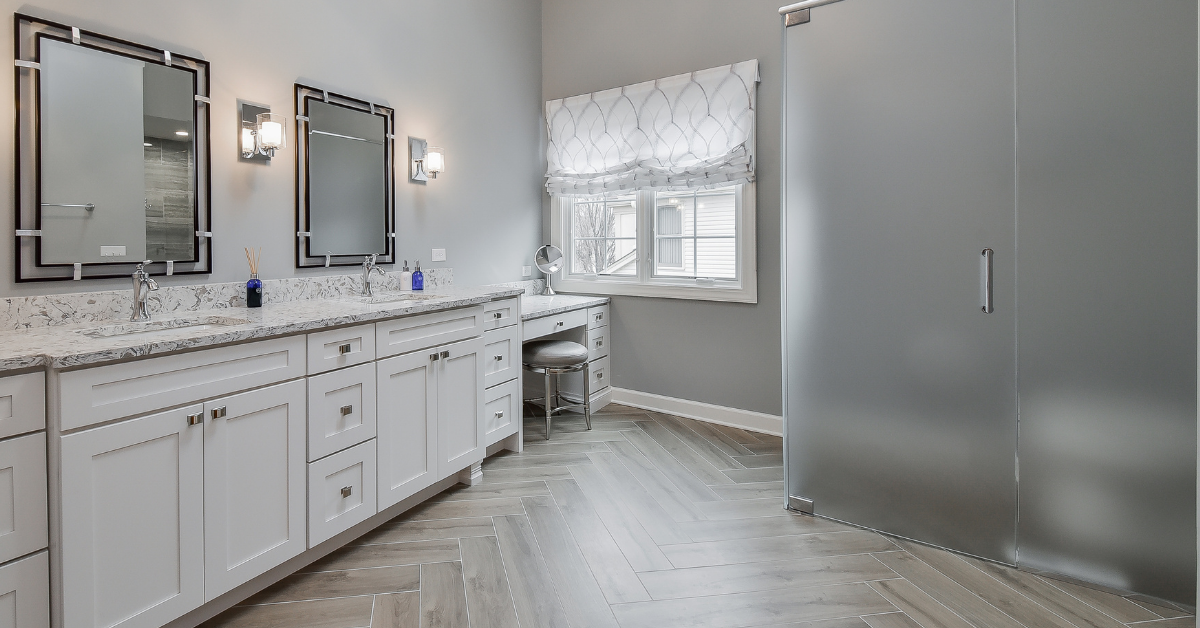 A custom bathroom is very much an extension of you. It reflects your style, it represents your tastes and it exudes your personality. Just stepping into it fills you with untold serenity and bliss.
When building a new home or undertaking a renovation, most homeowners resort to cookie cutter bathrooms. These bathrooms consist of ordinary designs that have no character of their own; soulless spaces that are created only for their practical use, while ignoring their effect on the mind and soul. This is not the kind of bathroom you want.
Yes, custom bathrooms require more time and work to design. Additionally, they will usually end up being more expensive than your traditional bathroom. But they are worth it. So scrap that boring bathroom design you had in mind and go for something you will love for years to come. We have some great ideas to get you started but first, a look at the benefits of a custom bathroom and a few tips to remember.
GRACEFUL BATH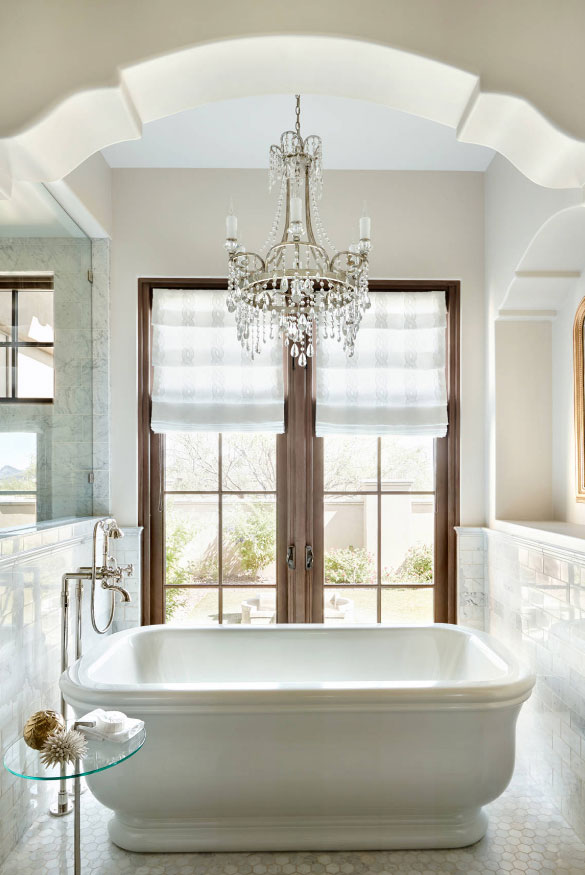 You want to take a luxurious bath that will make you feel like a million bucks, right? The elegant chandelier over the basic bathroom is sure to be a hit with guests. The twin doors are in front of the tub, and the walls are mainly marble—a beautiful bathroom by PHX Architecture.
SIMPLY MODERN
This luxuriously appointed lavatory is as sterile and unadorned as they get. Because of how unusual it is, the bathtub stands out. The bathroom's white walls and brown fixtures are minimalist and contemporary. Coupdeville is responsible for the design of this structure.
GENTLE GREEN
The bespoke bath features a very nice light green accent color. The vanity and sink will both be a hit with guests. It appears to be an integral component of the cabinet! The beauty continues with the stark white brick wall. Stephen Fletcher Architects is responsible for this soothingly eco-friendly layout.
BARRIER FREE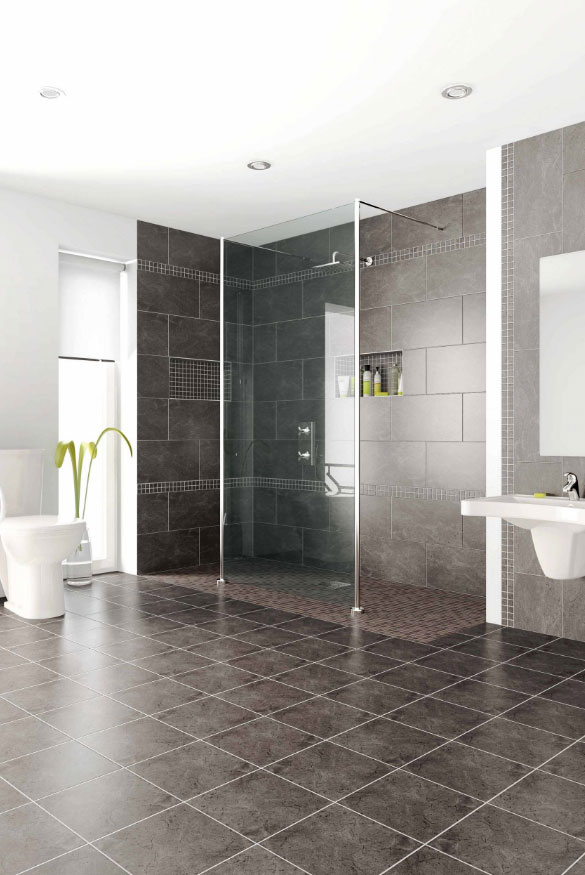 The open layout is a classic that can be adapted to any size of the bathroom. Further, the shower is easily accessible without needing any heavy lifting or stepping over. In this luxurious bathroom, designed by Innovate Building Solutions, taking a bath is as relaxing as possible.
CONTEMPORARY
What a unique bathroom this is! The bathroom seems completely different, with its unusual basin, fluorescent lights, and flushing toilet. Everyone will agree that it has a very original and contemporary appearance. The atmosphere of the room is reflected in the lighting. Juliette Byrne is responsible for the modern aesthetic of this toilet.
SHOWER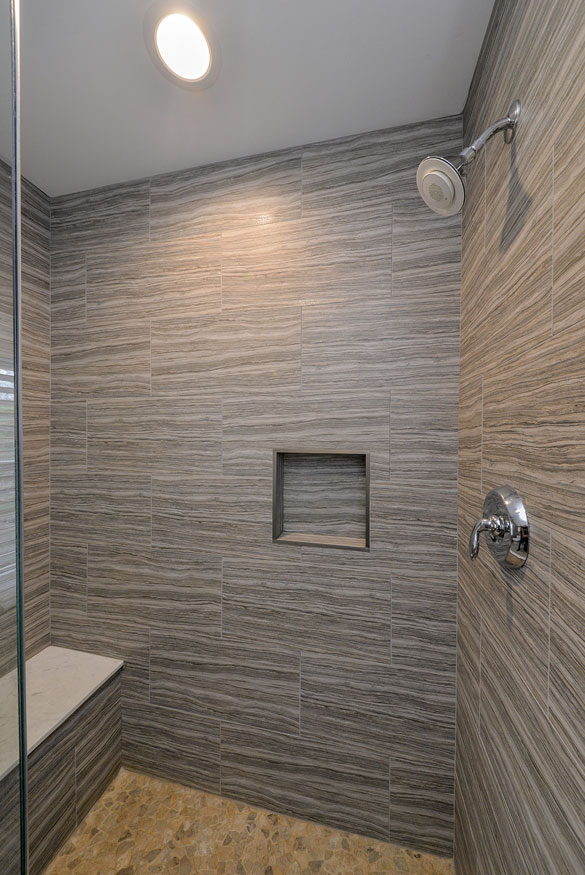 Is a bathroom with a lot of artistic detail and a sophisticated design something you're after? The natural patterns in the tiles are fascinating and provide a touch of art to the space. Very handy and just right for a toilet. Sebring Design Build is responsible for this beautifully crafted toilet.
5 Steps to a Successful Bathroom Remodel
While our 33 inspired images can help give you some visual ideas, it can be difficult to pull the entire look together when you don't know how to properly prepare. We all wish it could be as easy as waving a magic wand and watching every new element fall into place, but unfortunately, it takes a lot of time, planning, and hard work to achieve the ideal look you want.
Did you know that bathrooms are the most popular rooms in the house to renovate, according to Forbes? It's a smart move when you are looking to invest in your future. Remodeling a new room can substantially increase the value of your home, ultimately giving you a great return if you want to make a profit. Plus, it never hurts to beautify your bathroom for the sake of your own enjoyment and relaxation!
But when you've never remodeled your bathroom before, it can be difficult to figure out what exactly to do first. Follow these 5 steps to start planning your remodeling project the right way.
BASKET CASE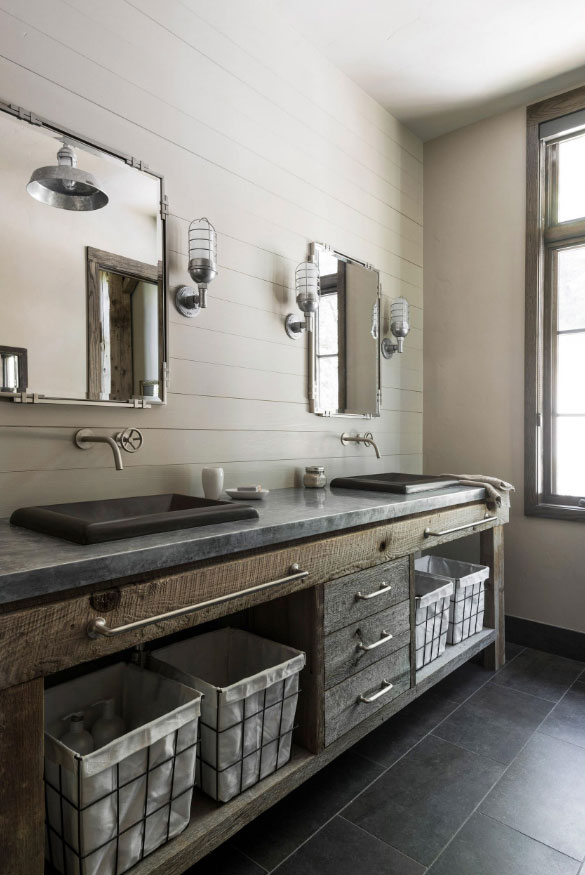 This bathroom has a lot to admire, especially all the rustic touches. Baskets are a unique way to organize your belongings. The fixtures and sinks are stylish and modern. Samsel Architects outdid themselves with this one. The sink's matte' texture is a nice touch as well.
MODERN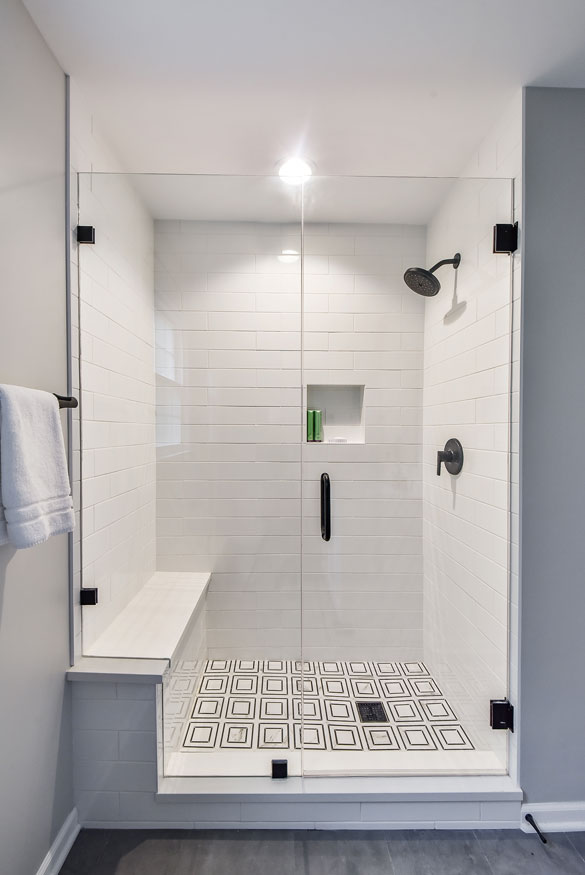 A small space like this can feel much larger because of the bold visual effect of the black-and-white geometric patterns used throughout. Despite its small size, this bathroom exudes an air of order and cleanliness. Glass gives it a contemporary look. Sebring Design Build created this sleek and modern bathroom.
1. Put Aside Money for the Unexpected
Planning your budget is a natural first step for any big project plans. But when factoring your budget, don't just add up the costs of your new materials and labor and call it a day. There are plenty of other expenses you'll need to consider as well. This is especially the case when it comes to unexpected expenses.
The worst feeling is when you are halfway through your remodeling project and you are suddenly hit with a surprise cost. Maybe you lifted up the sink to find a huge leak, and you'll need to call in the emergency plumbers. Or perhaps there is some mold you need to get rid of before your true remodeling plans can begin. All of this costs a little extra cash, and you'll be grateful to have some savings set aside for emergency situations like this.
2. Order Your Materials Ahead of Time
It can take a while to decide what kind of materials, surfaces, products, and colors you want your new bathroom to consist of. But once you do decide, you should start ordering everything as early as you can.
Everything from the new sink faucets to the bathroom floor tile should be ordered in advance. Don't wait until you set your project start date to order the materials. They should already be paid for and on their way to you before you even begin with your bathroom remodeling project.
If something is missing in the middle of your renovation, it will halt the entire process, which may mean that your contractors have to work longer than planned, costing you more money up front.
UNIQUE COMBO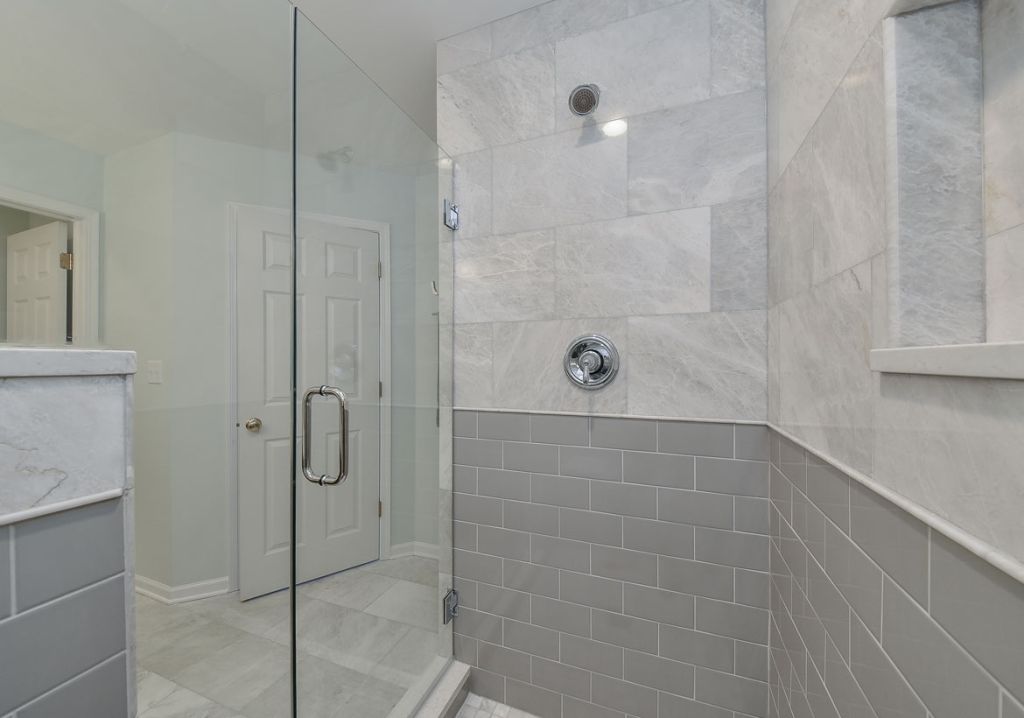 In search of a tranquil space to unwind in after a busy day? Gray is one of those colors that will never get old since it's so soothing to the eyes. The relaxing bathroom atmosphere is enhanced by the white and gray color scheme. Sebring Design Build did an excellent job with this structure.
LUXURIOUS
The beauty of this shower is well-acknowledged. Those beautiful cupboards may be found in the bespoke bathroom. This bathroom gives off an air of extreme affluence thanks to the exquisite lighting and mirror. Sebring Design Build is responsible for this opulent bathroom design.
FLOATING SPA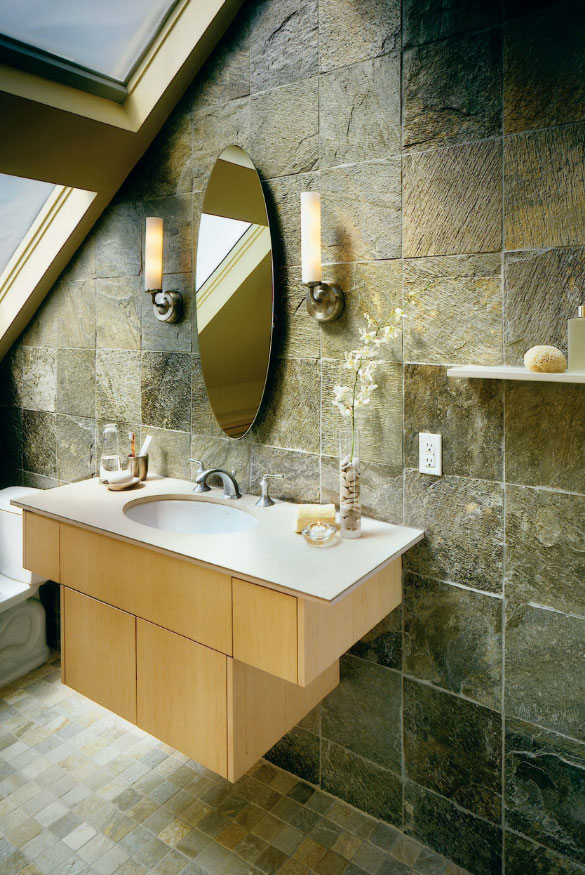 This custom bath by Christine Suzuki, ASID, LEED AP definitely gives you that "spa feeling." Stone walls, mood set by candlelight, and plenty of fresh linens to keep you comfortable while you enjoy some much-deserved alone time.
STUNNER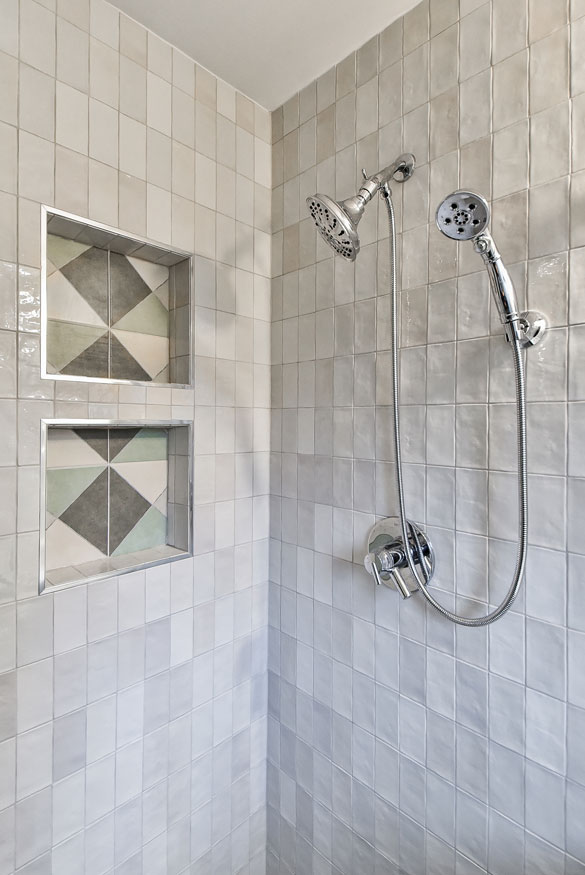 Want a relaxing bathroom but also want some extras? The recessed shower shelves with diagonal tiles will become a new bathroom accessory favorite. Thanks to the finishing touches, the once-plain bathroom has an air of sophistication. Sebring Design Build was responsible for this luxurious bathroom.
3. Increased Quality
Because everything from the cabinetry to the flooring is custom; quality is assured. In other words, you get full value for your money. Your bathroom is likely to last longer and require less maintenance over time. Not only can you choose custom parts, but you can ensure that each and every new material is made to your standards. Just remember to stay true to your budget!
4. Specific Needs
Each home has unique needs that a generic bathroom cannot meet. For example, there may be someone with a disability and requires special fittings in the bathroom. There may be an elderly person who would benefit from a customized shower design. There may be children whose safety must be taken into account when designing the bathroom.
All these needs can only be fulfilled by a custom bathroom.
5. A Place that Makes You Happy
In the end, the purpose of a home is not just to provide a roof over our heads. It is also a personal sanctuary where you can relax and be yourself. A bathroom is even more personal in nature. Nothing beats a place that makes you happy and this is what a custom bathroom will make you feel. You get the colors you want, the materials you want, the atmosphere you desire; it is simply the perfect bathroom.
3. Prepare for Demolition
In order for the new products to come in, the old products must first go out. Demolition is the first step to clearing out your bathroom in order to make way for your new plans. And to be honest, the demolition process is usually one of the fastest and easiest parts of the whole project. But there are still a couple of things you should keep in mind:
● Demolition makes a lot of noise and it would be a good idea to remove all family members and pets from the home during this time.
● Demolition can cause dust and other particles to float in the air for quite some time, so if you are going to remain in the home, you should invest in a mask and some eye protection.
● It's vital that all of your plumbing and electricity hookups are disconnected before you begin removing appliances.
What do you do if you aren't removing everything from the bathroom? Perhaps you want to keep your existing shower or sink. You can leave it in the room, but make sure to protect it with padding and plywood so it stays unscathed during the process.
4. Don't Make New Changes
Once the project has begun, it is really difficult to make any sudden changes. Your budget has been set, your materials have been ordered, and your contractors have been hired. To make a change order in the middle of all the building can really take precious time and money away from everyone involved, especially yourself.
This is especially true if you ask for changes that totally stray away from your original plans and designs. This is just asking to increase costs and make things more difficult for your remodeling team.
5. Upgrade the Essentials
Bathroom remodels usually focus on the visual aspects of the room that you are looking forward to upgrading. It's exciting to pick out new cabinets, countertops, tiling, and bathtubs. Everything can be totally refreshed and refurbished to create a new bathroom look. But you can't forget about the essential, unseen things.
MARBLED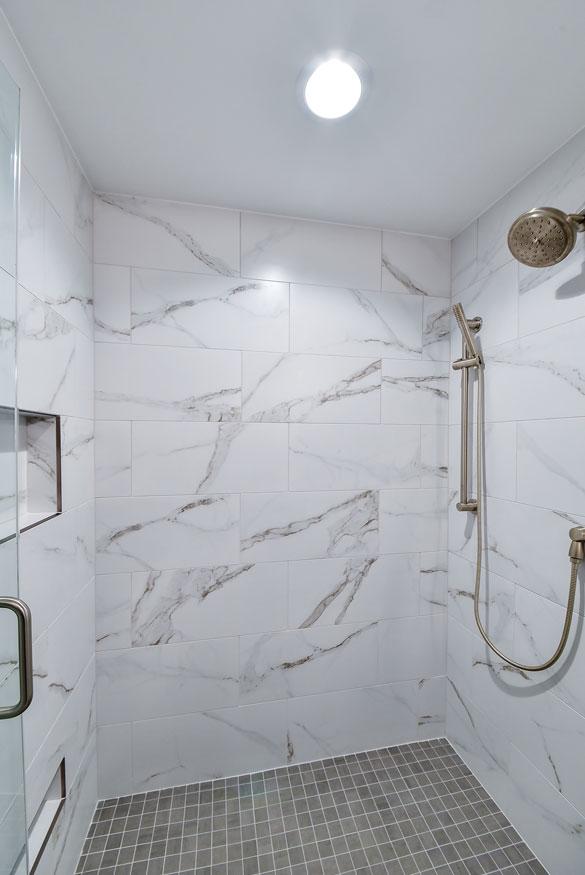 There is a unique tile pattern on the walls and this bathroom floor. Surprisingly, the pair of elements complement each other effectively. The patterned tiles elevate the sophistication and attention to detail of Sebring Design Build's marbled design.
SOPHISTICATED
You won't believe the quality of this bathroom. The ceiling is made entirely of windows so that you may look up at the stars or clouds above. The elegance and class of this bathroom are undeniable. Its walls are gray, but the many compartments are dark brown. Sebring Design Build is responsible for this sleek design.
Benefits of Custom Bathrooms
1. The Perfect Design
You have your dream bathroom in mind. Maybe you want quartz floors, a granite tub, a rainfall shower and so on. A custom bathroom delivers the perfect design, ensuring you get exactly what you desire. Whether you wanted a romantic double tub, a private spa area, a disability access bathroom, a breathtaking view of the outdoors, you can get it all.
In the end, you will be happier and more satisfied with the bathroom for a long time to come. Even more importantly, you will get a bathroom that fits your unique needs.
2. Maximize Space
In many homes, the bathroom is usually one of the smallest rooms in the house. Generic designs tend to under utilize the small space available, leaving dead spaces that could have been put to better use. With a custom bathroom, you can make efficient use of the space available, be it big or small.
Take it a step further with floating shelves and cabinets to maximize your floor space. This is a good opportunity to invest in hidden storage so you can remain organized yet un-cluttered.
A Few Things To Keep in Mind
It does not have to be big. Despite what the magazines tell you, a custom bathroom does not have to be a monstrous room set within an expansive mansion. You can turn your small ordinary bathroom into a luxurious custom space.
In the same breath, it does not have to be expensive. It is true that custom bathroom designs will cost more than a generic one, but they do not have to be ridiculously expensive. There are plenty of custom bathrooms designs that can be achieved on a budget.
Insist on the best. For best results, go for high quality items. Whether it is the flooring, the cabinets or the lighting, opt for the highest quality. They will last longer and make your bathroom look better.
Be bold. Before you even think about the costs involved, determine what kind of bathroom you want. Do not hold back. Whether you want opulent and luxurious, clean and urban or warm and spacious, go for it. Once you decide what you want, it becomes easier to plan around it. You can even work with the contractor to find areas where you can cut the costs down to your budget.
Understand what you are getting into. Too often, homeowners will desire a luxury bathroom without contemplating issues like maintenance and cleaning. Make sure you understand exactly what you are getting. Will the bathroom require special care? What kind of maintenance is required? Ask a lot of such questions before proceeding.
Advantages Of Custom Bathrooms
Is your bathroom conducive for rest, ritual, and relaxation? It ought to. A bathroom redesign may boost your home's happiness and turn your everyday routine into something you look forward to.
Did you know that taking an hour-long bath can lower your risk of having a heart attack, improve your blood sugar control, and even protect you from illnesses and infections? A warm soak can also burn the same number of calories as a 30-minute stroll! These are only some of the benefits that researchers are discovering as they learn more about the wealth of health benefits that soaking baths provide. Many other self-care rituals, including aromatherapy, gua sha, and body masks, are derived from morning and bedtime routines.
Do you have the same rejuvenating energy when you think of your bathroom? If not, it may be time for a new design. A master bathroom redesign allows you to add bespoke features and materials to your bathroom that are tailored to your tastes and budget.
A custom bathroom can be used as an in-home therapeutic retreat with the right design ideas. However, for far too many homeowners, the master bathroom is nothing more than a source of frustration. A gloomy atmosphere is created by unsightly mildew, old appearances, and insufficient lighting. It's no surprise that the majority of homeowners remodel their bathrooms because they dislike the area. A well-designed bathroom is vital not only for the value of your home but also for your entire well-being.
So go ahead and envision a dream that you can transform into a reality. It can be challenging to narrow down your style and look with many gorgeous bathroom renovation samples available. Cabinets, worktops, sinks, flooring, toilets, lighting, and bathtubs or showers are all part of a bathroom redesign.
Getting Started
Cost is often the biggest issue for homeowners when it comes to custom bathrooms. If your budget allows it, you can spend as much as you want. If your budget is more limited, do not give up just yet. We can work together to come up with a custom design that fits your budget.
Start by determining the bathroom you want. Our picture round up is a great place to start. Take into account the unique needs you might have as well as the amount of space available. Also consider your style preferences. We can help you to create a design that fits your needs and style.
Ready to get started? We have put together a collection of amazing custom bathrooms pictures to get you thinking about what you want. We have thrown in a little of everything from opulent designs to small custom bathrooms. Be inspired.
The aim is to make your dream bathroom a reality and creating a space you will fall in love with. Whether you are considering renovating your home or you are in the process of putting up a new home, give us a call today about getting a custom bathroom for your home. You can also send us a message with any comments or queries you may have. We are always glad to assist.
This is an image roundup post, curated to showcase and promote other reputable contracting companies' and their amazing work. To have any of the images removed, please reach out to us and we would be happy to do so.
Other Great Articles to Read: