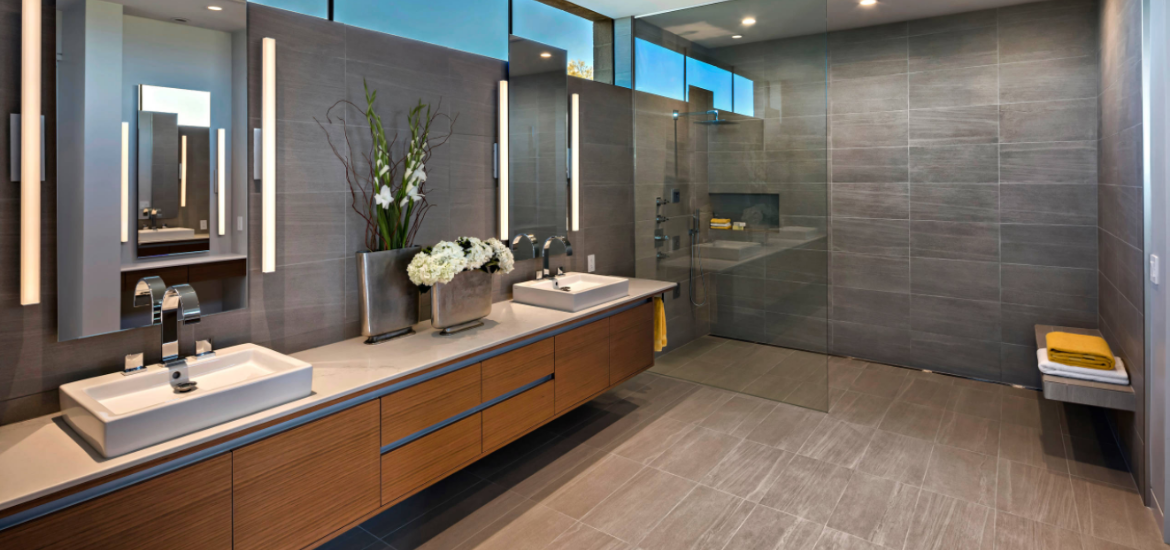 We spend considerable time in our bathrooms. Therefore, it is just appropriate that we should make them into a simply beautiful place. Unique bathtubs, stylish vanity units, and modern toilet models are available in all sizes and shapes, to match budgets and spaces, both small and large. If you are looking to remodel your bathroom and make it more modern and luxurious, you are in the right place! Check out our 61 modern luxury bathroom design ideas and images that will surely make your bathroom drool-worthy.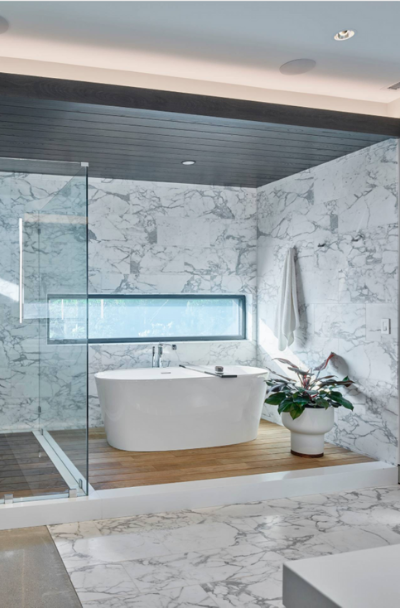 This bathroom design is sure to impress guests. The marble finishes make the room seem expansive and sophisticated. A glass wall surrounds the tub, and the floor is made to seem like wood. The bathroom design by Hays + Ewing Design Studio is very sophisticated and airy.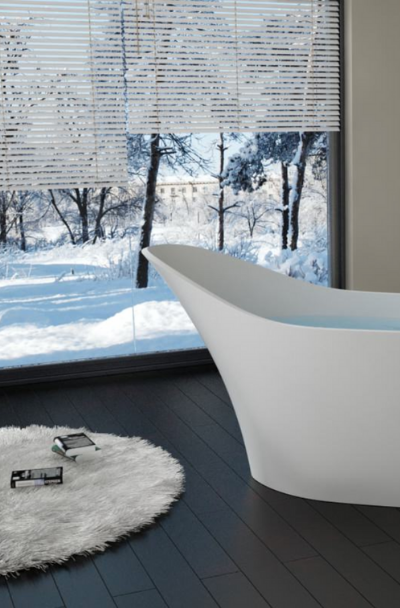 Do you want an outdoor view from your bathroom? The form of this stone resin matte freestanding tub is unlike anything else on the market. The stark contrast between the black floor and white walls is striking. Badeloft USA, LLC has done an excellent job with this bathroom design.
FRENCH VILLA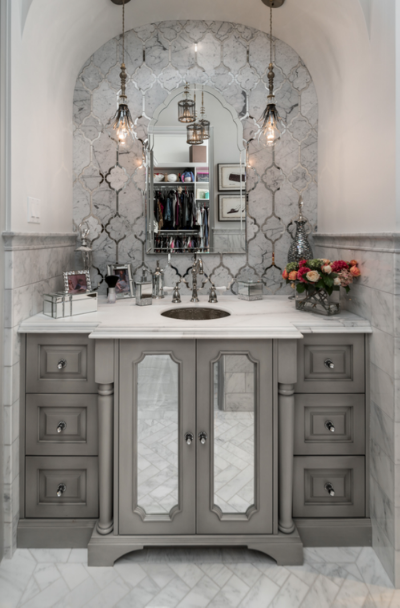 This stunning bathroom in a contemporary French home skillfully blends old and modern elements. It looks like a castle, with a lovely sink and drawer underneath. The walls also create a French villa! Fratantoni Design-Architecture and Interior Design have created a simple yet effective design.
LUXURY SPA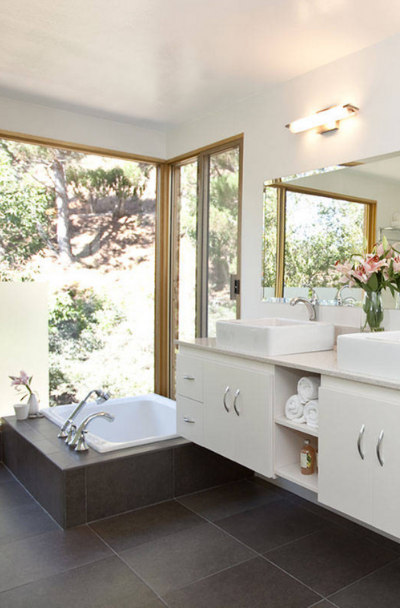 Want a bathroom that exudes sophistication and natural beauty? The soothing effect of all-white walls and cabinetry is not an accident. The bathroom gains a sprightly air thanks to the natural scenery outside the window. The designers at One Week Bath, Inc. have created a stunning model for a high-end spa.
HAWAIIAN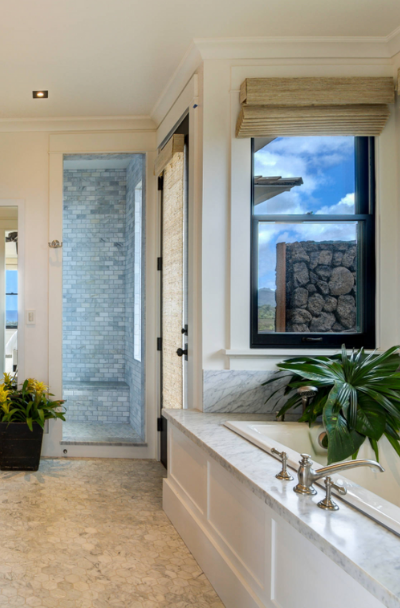 How about a Hawaiian-inspired bathroom design to make you feel like you're relaxing on the beach? This contemporary main suite has a private outdoor shower. Pu'uwai Design & Construction has created a bathroom that blends into its surroundings for a more organic feel.
OCEANA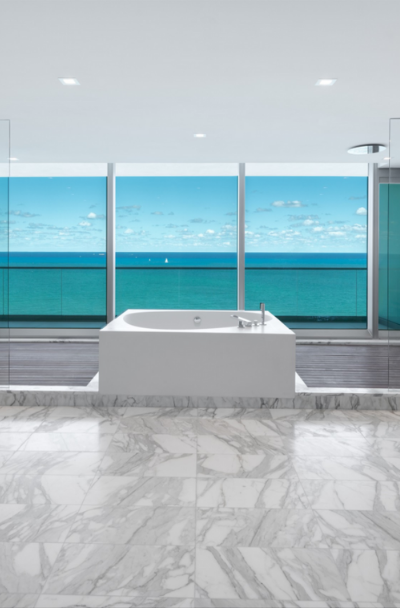 Want a luxurious main suite with floor-to-ceiling windows overlooking the sea? What a luxuriously spacious bathroom this is, all up in sleek marble. The bathroom was designed by Cynthia Kriz Design, which appears quite big and sophisticated.
STYLISH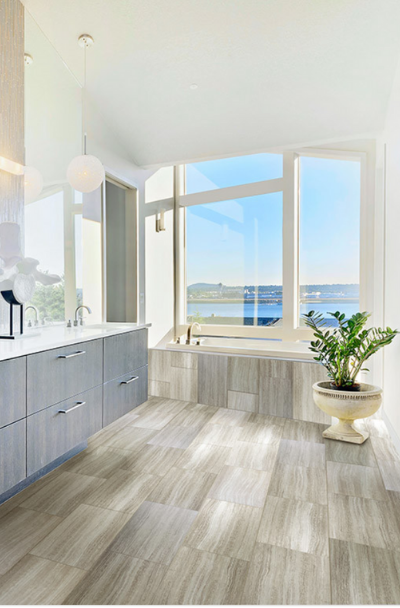 This is a beautiful, spacious, and contemporary bathroom with many windows. The sleek, natural appearance of the flooring is a perfect complement to the outdoor environment. The modern sink also appears to be highly functional. Galleher Hardwood Flooring has done an excellent job designing this bathroom.
SOPHISTICATED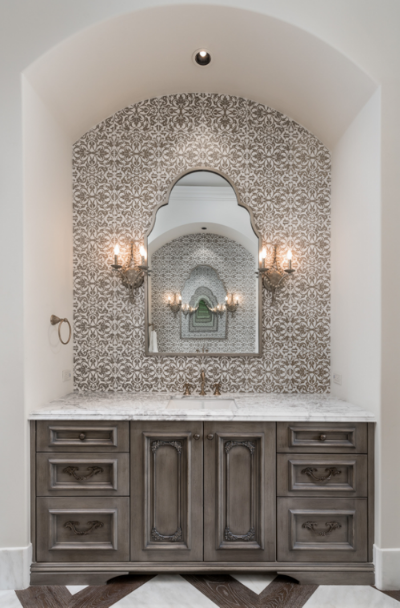 Do you want to wow your guests with your luxurious bathroom? Tiles on the walls with intricate patterns and elegant lighting. The grey drawer beneath the marble countertop adds a touch of warmth and sophistication to the room—amazing work by Fratantoni Design-Architecture and Interior Design.
MOCHA OAK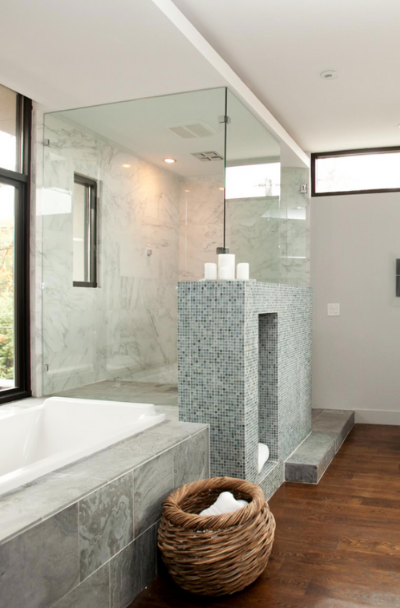 The flooring is "mocha wood," while the walls are white and gray. The tub has a sleek, contemporary design and is situated next to a window with an outdoor view. A glass partition separates the bath from the adjacent shower. Cablik Enterprises has done an excellent job with this bathroom.
CUSTOM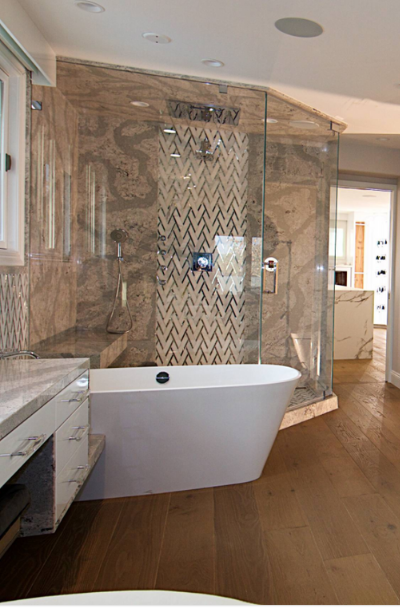 This bathroom design has been universally praised for its sophistication and attention to detail. With its white floating cabinets, this bespoke bathroom is the epitome of contemporary style. The glass wall and door in the shower area contribute to the luxurious ambiance of the space. Wow, Maker Design Group created a masterpiece.
Things To Consider For Modern Bathroom Ideas
Apart from the essential features, bathrooms are accessorized with chic dispensers and storage. Lighting is also an element that must be carefully planned. Lighting is vital because it can change the mood of an area. Spend an evening on the tiles. If you love to spend your night at the tub after some long day at work, make it the focal point of your bathroom. Make a sweet route to the bubble bath with the help of some gorgeous tiles, like many colorful patterned ones. Bathe on a bed of pebbles. Numerous luxury bathroom has adopted the idea of having a tub on top of a bed of stones. Natural stone works well with a botanical theme and wooden elements. Do not have a bathtub to place on the pebbles? No problem, a patch of gravel underneath the vanity is practical also. Do not hang on to the borders. New zoning is attained by creating an excellent dividing wall across the bathtub and putting the bathtub against the opposite side of it.
It is all about the atmospheric shine. Sometimes the simplest, coldest looking bathroom schemes can be given a specific cozy glow by adding perimeter lighting. Make sure to recess LED strips for a subtle and clean effect completely. Textured feature walls change an average room. Play with shape and scale in your fancy bathroom. Metallics and mirrors can give off a modern luxury vibe to the room. One particular modern bathroom design component that may be an excellent complement to a tiny space is a raised or pedestal sink, typically in angular, rounded, and gently curving stainless steel or porcelain.
You can also combine materials efficiently in a modern design, pairing natural wood with stainless in a countertop layout, for instance, or producing a tilework look from ceramic tile and glass above a vanity. When it relates to picking components for your modern bathroom design, timber, stone, slate, glass, and ceramic will all stay in play, as in any bathroom style. However, the way they are displayed will determine precisely how contemporary your design will be. Since basic color combinations could sometimes lack apparent interest, most homeowners increase the curiosity by adding distinctive patterns, such as chevron or herringbone, shown as stenciled structure paintings or wallpaper.
METRO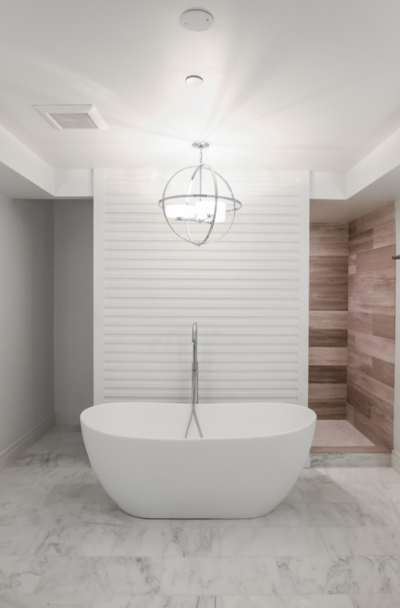 Many individuals feel overwhelmed by their lavatory's abundance of fixtures and amenities. This one is a great illustration of a minimalist bathroom that nevertheless seems classy. This soothing oasis was designed by Safa Interiors, LLC, and has a white bathroom.
RETREAT
What a lovely, secluded spot, complete with a recessed lighting system for the shower. There's no need to worry about the limited square footage since every square inch has been thoughtfully designed to fulfill a specific function. Though compact in size, Heliotrope Architects' bathroom design exudes a sense of refined sophistication.
Modern And Luxurious Take For Your Bathroom
One of the most influential modern bathroom ideas is utilizing glass for walls around the shower. This is particularly great in smaller spaces. Accessories and furniture in modern bathroom designs frequently follow the style's general aesthetic. Lighting accessories could feature a square, rounded, or rectangular lampshades, including a unique touch to the overall style. Chairs or benches can be carved from high-quality wood. Your love for decorating does not need to stop at the bathroom door. Keep your style into this typically private place by improving with high-quality materials and features that change it into a refreshing and elegant space. Stone, such as marble, porcelain, or travertine, together with rich, bright woods, gorgeous fabrics, upholstery, reflective crystal chandeliers, and glass mirrors, all help produce spa- or hotel-like escapes.
Whether it is a master, en suite, powder room, or typical bathroom, check with an interior designer or any other professional to help you direct you through the process, from producing an additional space to choosing materials. Choose a clutter-free atmosphere devoid of personal products, wet towels, and soiled clothes. Think about adding features to what could be a handy space that emphasizes your style and glamour, such as chandeliers, wall sconces, unique lighting fixtures (consider modern styles like orbs), seating, such as a pouf, living room seat, or vanity chair. You can also include slip-resistant rugs, fine art, painting or sculptures, a vanity, mirrors that can be antique or modern fog-free styles, and more.
For generations, the aristocracy considered the bathroom as an area to retreat and regain one's feeling of wellbeing. Bathrooms had been very long and luxuriated in, shaves have been viewed with utmost attention and care, and if one was not in a much better state leaving than upon entering, then the bathroom had not served its purpose. Toilet fixtures, showers, state-of-the-art sinks, and on-trend style pieces are the contemporary male's resources for curating a cool bathroom.
MOSAIC TILE
Do you long to have a bathroom that reflects your refined taste? The dreamlike quality of the wall tiles and sconces. Mosaic artwork decorates the wall, and the sinks provide the illusion of being suspended in midair. The lighting is also really good. The Home Depot has done an excellent job with this design.
SKYLIGHT
Do you want a bathroom to remodel that costs less but looks and feels more luxurious? It's a luxury to take a shower in this space, which features a skylight and an overhead shower. The fixtures and fixtures in this lavatory are all wooden, and there are even plants hanging from the ceiling. Mantis Design + Build, LLC outdid themselves with this one.
EXCELLENT MATCH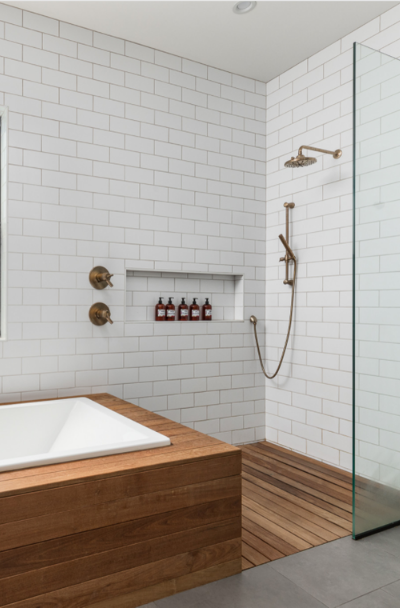 Wooden walls and floor define this tub's natural aesthetic. This bathroom's brick-patterned white wall pairs nicely with the other natural materials used in the space, especially the wood vanity and flooring. This sophisticated bathroom was also crafted by WeBuild Residential.
URBAN ZEN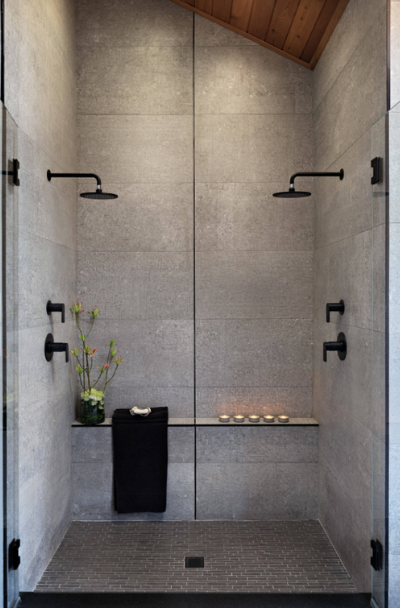 The spa-like atmosphere created by Porcelanosa's Pietra tile line is a hallmark of this lovely bathroom. The overall effect is of quiet modernity thanks to grays and blacks as the theme colors. There are even shower-appropriate candlelights. Lauren Levant Interiors did an excellent job with this.
CONDO LIVING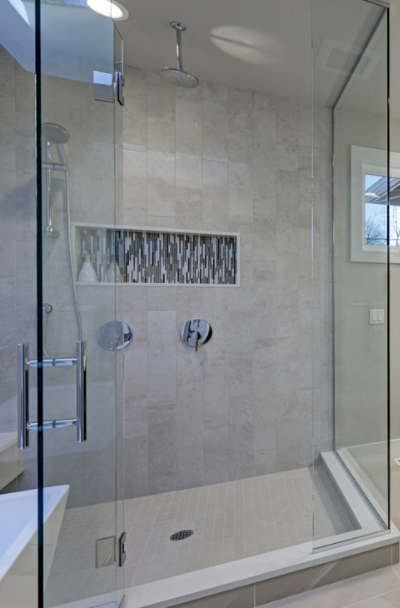 Is a condo-style bathroom something you're interested in? There's a lot of space in this ultra-contemporary bathroom, which has sleek dark wood storage cupboards. The glass partition and doors in the shower provide a very contemporary feel. The BUILDERS have done a fantastic job with this bathroom.
MODERN MOSAIC
All of the ideas and details in this magnificent bathroom are top-notch. The floor-mounted sink is notably cutting-edge, but everything about this space is an ultra-contemporary—fabulous bathroom by Feldman Architecture, Inc.
Modern Bathroom Ideas Worth Considering
A home is where all areas are handled with equal consideration and significance, so the bathroom is undoubtedly no different. A significant difference will be made to turn the tiresome washroom into a fabulous spa like bathroom for both the body and soul. Just like the kitchen, a bathroom offers a purely functional element utilized for cleaning up, relaxing, and you know, being human. When it is about areas that welcome relaxation and elevate our daily routines, we are likely to use style notes from spa like bathrooms we have gone to.
The dark, moody walls and corresponding black floor tiles ensure it is the perfect self-care, relaxation, and romance environment. What looks and feels modern and sleek glamorously to some may feel stark and sterile to another person. So if bright, warm textiles and cheerful colors allow you to feel calm and content, incorporate a printed rug to the bathroom. Incorporating a printed rug to the area is an excellent way to personalize and brighten your room instantly. It is a simple item to change if you feel redecorating. A ladder peaking out in the back is also an excellent touch, and it adds additional storage space.
Contemporary bathrooms are current, sophisticated spaces, which may be a fantastic add-on to any house. They reflect a forward-thinking design strategy, with clean lines, geometric patterns, moving curves, and hard angles. They appear in even more homes as homeowners go beyond standard designs. Contemporary design differs from modern designs in a few crucial ways. Modern design is said to have begun in the 1920s and 1930s. However, it experienced its actual emergence after World War II-era as midcentury modern design emerged from Europe's Nordic countries. While the contemporary design may borrow several of the influences and techniques of modern design, it doesn't reference a specific historical period or design era. Instead, contemporary style can have some type which features up-to-date "of the moment" materials, design trends, or even decor.
SENSUAL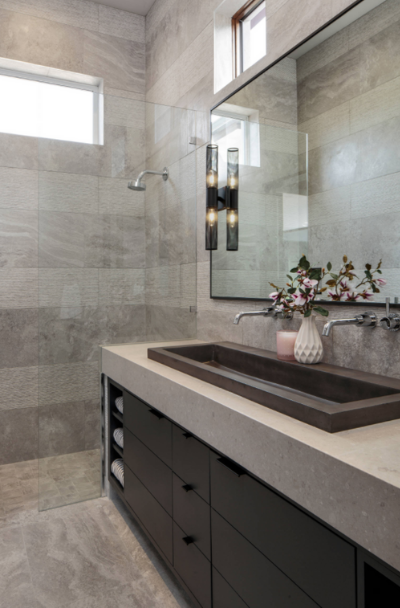 This bathroom's color scheme gives off an air of extreme luxury. It is easy to imagine yourself taking a long, soothing bath in this space. That's one ultra-modern lavatory, complete with a ramp-style sink made of concrete that floats above the ground. Freestyle Interiors outdid themselves with this stunning bathroom remodel.
RENOVATED
Who says a small, compact bathroom can't have a stylish, contemporary layout? Mixed materials, primarily white and gray, characterize this updated bathroom. This KBR Design & Build bathroom appears to have been designed with the user's convenience and efficiency in mind.
How To Transform Your Old-Looking Bathroom
Because contemporary bathroom design usually comes with a sleek, effortless, and reasonably unadorned style, it is frequently viewed as particularly well-suited for small bathrooms. Although this could be true, contemporary design is so wide-ranging that it can work in a bathroom look of almost any size and price, be it an expensive bathroom or a budget-friendly one. If your room is smaller, the clean lines and sharp angles of contemporary design may be of great benefit, but these facets can also enhance a larger space. An angular double sink and cabinet combination, for instance, can quickly fill up a more oversized bathroom while keeping a stylish, useful, and updated look.
A thing about the contemporary bathrooms is that they have at least one of the materials that have become recently available. So whereas more historical designs may feature traditional materials such as wood, porcelain, and stone, contemporary bathrooms usually incorporate current era components, including synthetics like plastics and laminates. This does not mean they cannot feature natural or more traditional elements. Due to their latest design, fashionable toilets are certainly better suited than their historical alternatives when it involves incorporating "modern" or artificial materials.
The bathroom is among a couple of rooms in the house in which most individuals are prepared to spend large sums of cash to renovate. Inspired by dream magazine bathrooms, homeowners want to produce a bathroom that exudes comfort and luxury. The following are tips on transforming your simple bathroom into a spa like bathroom that you have been dreaming of. Go minimalist with your bathroom. Something which makes spas so relaxing will be the lack of clutter. It gives the mind some room to unwind. Do the same for your bathroom. Begin with the medicine cabinet and drawers and toss away something you do not need. Remove items such as toothbrushes, candles, and bathing supplies out of sight by putting them in a drawer or cabinet.
Tips To Have A Spa-Like Bathroom
Let in natural light to brighten the room up. It is often a big window on one wall or a medium-sized windowpane next to the tub. Not only will you acquire some natural light, but the view will also be incredibly calming. Natural light can make your spa bathroom ideas or any ideas beautiful and bright. Have you noticed that most of the spas incorporate the color white? Use the color white on the walls and the ceiling. The lighting in the bathroom must also enhance this white spa bathroom decor. To balance it all, use different shades in some other places such as on vases, tissue roll holder, and box. Create some privacy. Spas make you feel like you have escaped all your troubles and have entered a new world. Try the same with your bathroom. Using colorful curtains to separate your tub from the other parts of the area can do the trick. If you are not delighted about bright curtains, try to use big potted plants.
Moreover, use some artificial lighting. Do not depend solely on the overhead lighting to maintain your bathroom well lighted. Install many stylish lamps in different regions of the bathroom to make a uniform lighted atmosphere. You can also use dimmers to bring down the brightness when you have to take a soothing bath. These spa-style bathroom ideas do not stop here, though! Let us see what other things you can do! Add some music inside your bathroom. The best spa experience involves all of the senses. So while you concentrate on what you see, do not forget about what you hear. Try to incorporate some white noise or some soft music to create a relaxing ambiance. This is particularly essential if there are some unpleasant sounds nearby, like construction noise.
Keep your bathroom neat. Wouldn't you think twice about going back to a spa that was cluttered and disorganized? Do not leave your towel lying around everywhere or your bath oils organized haphazardly at the bathroom counter. When you find maintaining neatness a challenge, start with the first idea of living with a minimalist approach. Pamper yourself with softness. Surround yourself with soft items such as the mat before your tub or the towel you use to dry yourself. Lastly, incorporate some natural elements. Having some flowers or plants can help produce a relaxing atmosphere. Additionally, it helps keep the bathroom fresh. There is nothing much more evocative of the spa visual than natural materials, like teak, stone, and bamboo.
This is an image roundup post, curated to showcase and promote other reputable contracting companies' and their amazing work. To have any of the images removed, please reach out to us and we would be happy to do so.
Other Great Articles to Read: