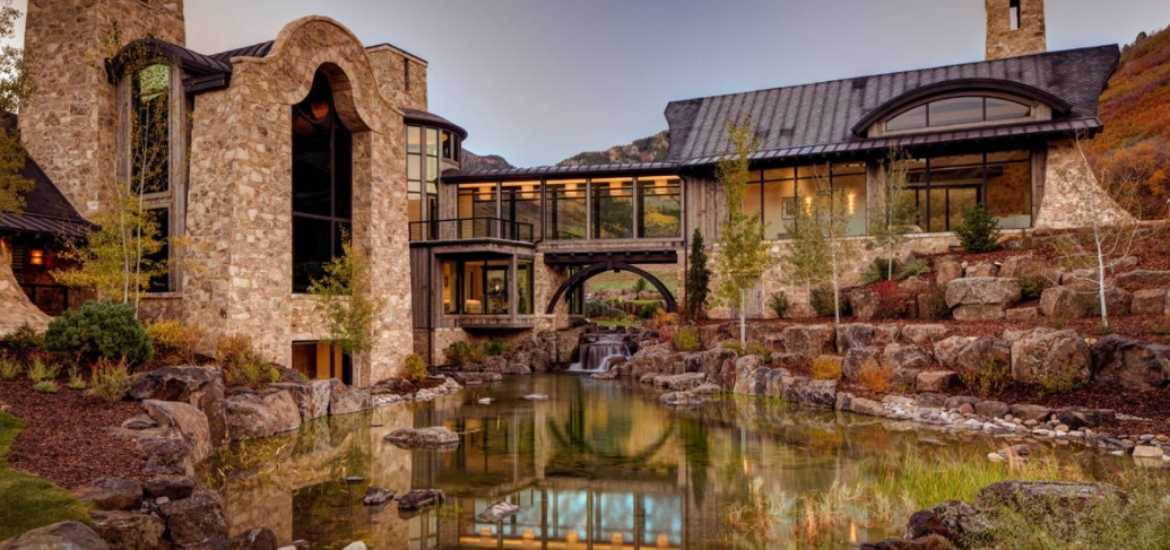 Nothing brightens up a backyard and provides interest quite like water features. Not only will you include a brand new and different ecosystem of plant life with the development of a garden pond, but you also invite a relaxing environment into your outdoor living area. You will find numerous pond types, sizes, and styles to select. To narrow down your search, we have curated the best backyard pond design ideas to give you the inspiration you need in creating your own.
Want to have a backyard pond design in your house that looks so natural and rustic simultaneously? Mediterranean living experience constructed of authentic stone materials evokes true relaxation. This is such a refreshing pond design by Ancient Surfaces.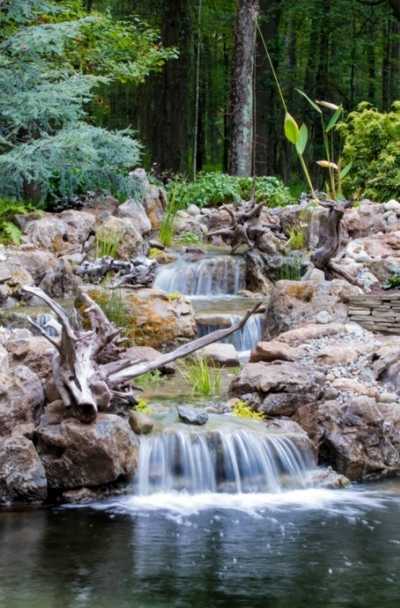 Although it is personalized, the pond design in your home is excellent and appears realistic. This beautiful waterfall would be a wonderful addition to any yard and looks like something from a movie. Such a beautiful, organic pond layout was created by Fitz's Fish Ponds.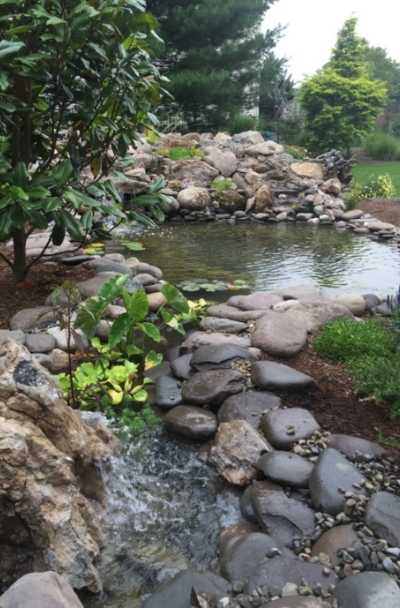 Imagine the calming sounds of the water flowing down the rocks from one pond to the other. This backyard pond design is perfect for your rest house in the countryside. This is a natural and relaxing backyard pond design by Fitz's Fish Ponds.
PRIVATE RETREAT
Do you want a quiet space in your home's backyard that appears so authentic and natural? Swinging in the hammock, listening to the river run, and hearing the birds sing can help you forget your daily worries. This pond was created by Curti's Landscaping, Inc. as a very private getaway.
STATELY GROUNDS
Want to feel like you are in such a huge mansion or castle? This backyard pond was designed by Conner Landscape Architects. will make you feel like you are in one! Reminiscent of a formal French garden, one would expect to see a castle at the other end.
The Search For The Best Backyard Pond Ideas
Ponds are frequently ignored in landscape design preparation as an unnecessary element that produces extra effort and work. But in fact, ponds require hardly any upkeep after their installation, particularly if you are incorporating certain varieties of plant life that help naturally filter water and fish. You will find many ideas to consider when attempting to prepare your perfect garden pond. It is also not hard to be confused with all of the great ideas you can highlight for your preferred garden areas. Make your backyard double the size with a big reflecting pond, which brightens shady areas that arise throughout the morning, and causes a picturesque reflection of your gardening. Practically nothing completes a pond like having several cold-water species, such as Koi or goldfish. Not only will they help keep your water in good condition by munching on unwanted insects, like mosquitoes, but they also help keep algae from forming.
A backyard pond will be the perfect area to spend a tranquil evening and do this without the headache of today's rush all around. It is also an excellent spot for fauna and flora to thrive. A little contemporary pond with an all-natural stone is an equally appealing concept that perfectly fits together the idea of a modern-day backyard. There seemed to be a period when there were very minimal backyard pond ideas. Today, there are many choices for developing a pond or a water feature in your backyard that you could make sure you can find a design and maintenance kind that will match anyone. Ponds do not always have to be on the ground. You can construct an above ground pond a lot more quickly and more accessible. An above ground pond style can be more secure, but always supervise small children around any pond.
Many of us dream of possessing a luxurious fish pond or water garden. But most of us set it off. There is a high cost that comes with professional installation, or the challenging task of preparing, developing, and installing a landscape pond yourself. There might be heavy equipment and many dirt, shovels, picks, and a lot of work. And then there is the liner, the filter, the pump, the fountains, what to purchase, where to get it, and can it work? These days, many of us live in heavily populated urbanized areas, with just a small yard, concrete patio, or a deck readily available to produce our tranquility space. Lots of people move regularly and would not wish to leave their beautiful pond. A pond kit can be disassembled very easily for relocation! Even in case you want to move your pond to an alternative place in your yard. Pond kits are the all-in-one alternative for someone wishing to construct their very first pond or someone that wants much less hassle. Pre-assembled pond kits allow it to be easy to get started now without the headache. Pondless waterfalls provide an impressive soothing sound when you wish to take a seat, clear your mind, and think. Numerous cultures over the generations used waterfalls as being something for relaxation and meditation. Pondless waterfall kits are a tranquil inclusion to the backyard garden—experiment with adding a water fountain as a centerpiece to the deck. A rock column soaring out of your small pond is a perfect idea.
ROMANTIC HAVEN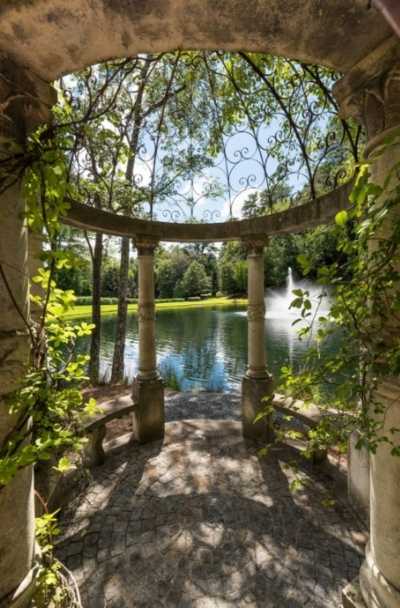 Everyone would concur that this romantic backyard pond design appears enchanting and dreamlike all at once! One may envision their fantasies coming true in this magnificent setting. Virtual Studio Innovations successfully captured this lovely pond design.
PURE PURPOSE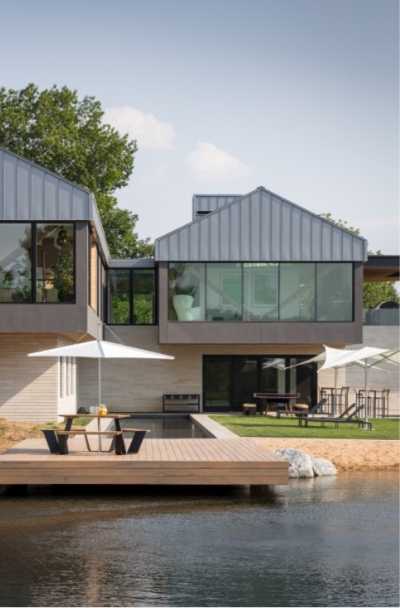 Do you desire a contemporary pond design that is both large and soothing at the same time? The backyard's full sun is perfect for relaxing by the water, eating lunch on the terrace, or swimming. That Duet Design Group pond design is amazing.
BRIDGE THE GAP
Want a pond design that resembles a nice park area in the background of your home? A bridge is necessary across this large body of water, a great spot to look for turtles and fish. The pond design by PACIFIC DREAMSCAPES is really lovely.
ENGLISH COTTAGE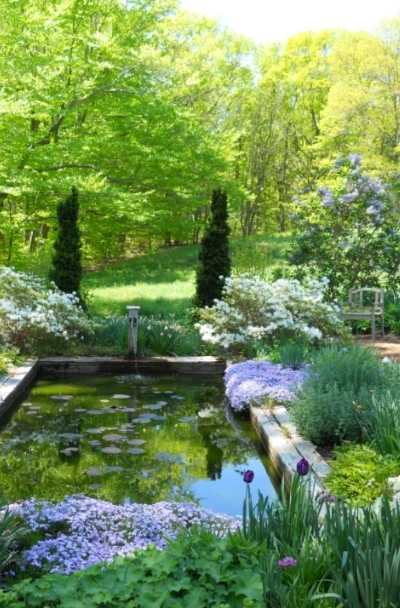 This is a pretty and ideal backyard pond design for such events by Andrew Grossman Landscape Design that looks so pretty with the floral theme! A distinct style that uses informal design, a mixture of dense and ornamental plantings.
How To Develop A Backyard Pond
A koi pond could be regarded as a "swimming pool for koi" or just big fish tanks. There aren't any rocks, gravel, or aquatic plant life in the pond, potentially damaging the Koi. If you want to have a koi pond, first and foremost, you have to start by making some careful plans. Creating and keeping a koi pond is not a challenging process, but it will compromise your fish's overall health and waste your investment if it is not done carefully. You must first need to find the right location where you will have the koi pond. Determine the fish pond's depth and size, then calculate how much water shall go into the pond. That can let you know what size the filtration system has to be. Lastly, you will need to establish the koi pond and include some landscaping around it. It is just at this point that you need to purchase koi fish. Preferably, they will go directly into their permanent habitat.
If you're considering numerous koi pond ideas, you must also consider the following. The koi pond features a minimum level of four feet, typically 5 to 6-foot deep, but can also be more profound. Koi ponds are biologically and micro-filtered with very efficient, easy-to-clean filters, together with fish-pond skimmers, bottom drains, and bottom drain pre-filters that are doing the physical filtering duties. An aeration system provides the koi pond's oxygen need, and the water is pumped using an external pump. No high voltage electric devices are in the water. The koi pond is a far more "formal" framework within the landscape, like a pool area. Koi ponds may be constructed below the ground like some other ponds, or they may be done somewhat underground and partially above ground. It is possible for koi to live harmoniously with different types of fishes like goldfish, but not every type of backyard fish can live with koi. Before introducing new species, it is essential to research precisely how that species will communicate with the koi and what types of demands it will place on the pond's upkeep.
Easy and effective DIY ponds are ideal for first-timers. DIY ponds are available with all of the proper necessities you need to start building instantly. No more hunting down pieces only to discover they are not compatible or even purchasing a pump that is way too little for the dimensions of your fish pond. A DIY pond is not too difficult to get, and it takes much less time to create than you would imagine. It also takes a considerable quantity of DIY skill and a fair bit of preparation, but a lovely small custom pond in the yard can make your life a lot more pleasant! In case you are a passionate fish lover or a person who likes to get closer to nature, some DIY ponds will be the very best. With a couple of simple pumps, natural rocks, and hoses, you can quickly produce a cool DIY pond, making a huge visual impact. A fantastic DIY pond is a lot more than merely investing the starting, filling the gap in the soil with water, and after that, putting a couple of natural stones across its perimeter. It is all about creating the perfect environment which plays up the overall appeal of your yard. Apart from preserving resources, the low-cost DIY pond also provides you with an option to customize and precisely get what you need. Add some lovely flowering plant life around the pond, produce the proper lighting, and ensure it is as natural as they can. The most critical areas of making the best natural ponds are both water supply and the foundation that keeps everything together. When you have both of these in position, it is time to consider aesthetics and other smart additions. When you can add just a little water feature, possibly a fountain or two, or even a pure waterfall, then things will seem even better!
PRAIRIE STYLE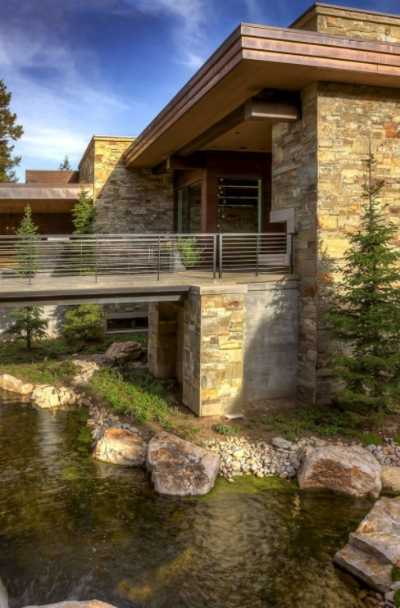 Everyone would concur that this is such a fantastic pond design that simultaneously appears rustic and welcoming. A beautiful construction that authentically combines architecture and nature. The pond design by Pendleton Design Management is amazing.
MULTI LEVELED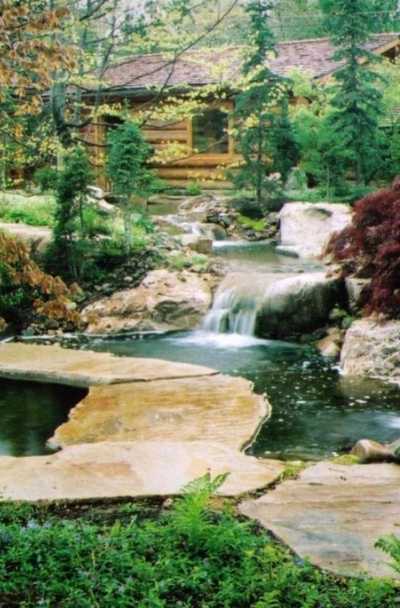 Everything about this pond design exudes a sense of natural beauty and serenity. It was broken up into tiny ponds that flow throughout the landscape rather than a single enormous pond. The pond design by Pendleton Design Management is stunning.
BACKYARD BLISS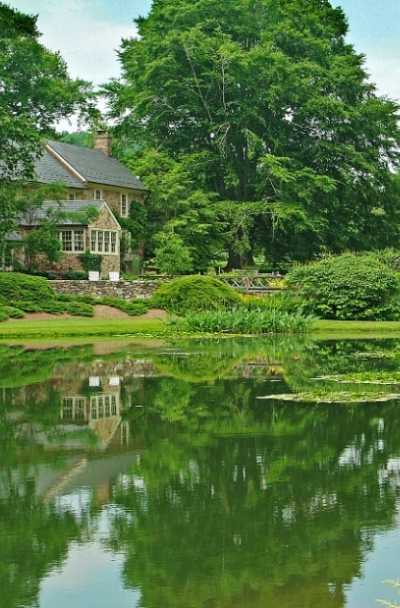 Want a retreat in a remote location with a gorgeous, sizable pond in the backyard that exudes a very natural and soothing vibe? Philadelphia's hills are home to this beautiful treasure. The work of Carter van Dyke Associates is excellent.
ASIAN INSPIRATION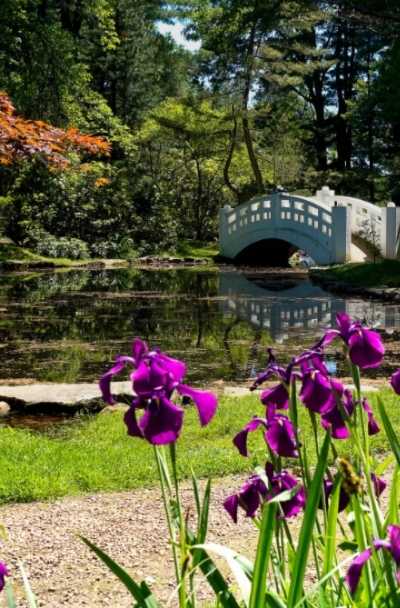 This Japanese Maple and stone arched bridge paired with the purple iris symbolizes peace and wisdom in this inspirational pond design. Everything looks so refreshing and ideal for this Asian pond design captured by lensi designs photography.
SLICE OF HEAVEN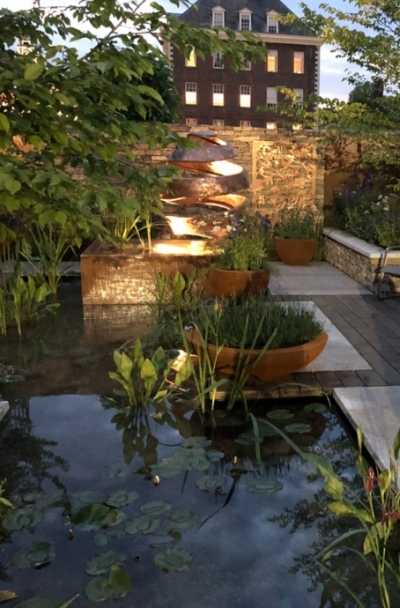 Do you long for a pond in your backyard, but one that is both up-to-date and inviting in appearance? The Silent Pool Distillery in Surrey, England, served as inspiration. David Neale Landscapes has done a wonderful job with this pond, making it look warm and welcoming.
KOI POND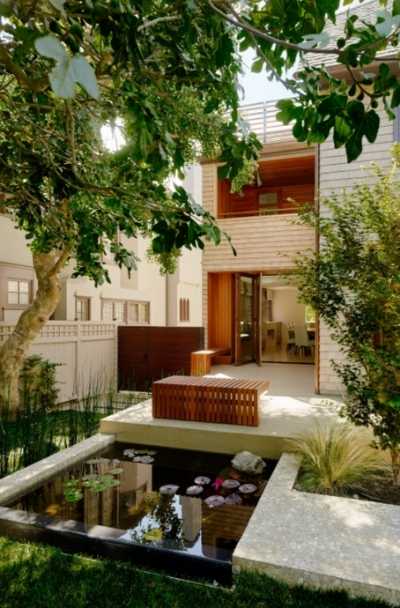 Everyone will concur that this pond design is quite contemporary and simple and blends nicely with the home. This little koi pond, located just outside the living room, honors the desire for seclusion. What a lovely and amazing pond Charles Debbas Architecture created.
Choosing Fishes For Your Pond
A garden pond provides lively, elegance, and beauty interest to a lawn. A garden pond gives a focal point that enhances most yards. But to effectively develop a garden pond which looks natural, it would be best for you to follow a couple of basic suggestions to make the construction go smoother and for the better upkeep of the pond. When digging the ground for the garden pond, one must remember that the garden pond's water level is only as high as the pond's perimeter's lowest point. In other words, the whole perimeter of the garden pond has to be as near to the same height as possible. This may be a time that seems evident from afar; however, it can often be forgotten when digging the pond. Since an actual level isn't possible, think about tolerances and deviation. For instance, in case your selected pond depth is twenty-four inches, the perimeter's deviation coming from that particular level ought to be as few as possible: only an inch or two.
If you would like to produce a water garden in a small garden, a terrace, or a balcony, a smaller pond is a wise idea. Each pond, even a tiny one, is beautiful and calming to see. No matter how small the pond will be, it is advisable to fill a part of the pond with stones and pond substrate. In this manner, you produce accommodation for useful bacteria. Water plant life in a little pond is crucial. When collecting water plant life for your small pond, you shouldn't choose plants that flourish very big, grow way too quickly, or type of plant life that overgrow others. The selection of water plants is less massive than in the case of a large pond. In a small pond, you can correctly plant pistia stratiotes or even frog bits.
Nevertheless, there are also pond plants that flourish, incredibly high, like the Japanese pipewort. If you plan to keep fish within your pond, oxygen-producing vegetation is indispensable. The more significant the amount of water, the easier an equilibrium will begin forming. Keeping fish in a smaller pond is possible; however, some factors should be considered. During summer, lack of oxygen may occur for the fish, resulting in a quick rise in the water temperature. If this happens, an air pump will have to be installed. Fishes within a small pond will be easy prey for birds and cats. You will find various solutions to approach this issue. Add water regularly to the pond. This is because water can quickly evaporate, especially during the summer season. Fathead minnow and goldfishes are suitable fishes for small ponds.
DOUBLE DECKER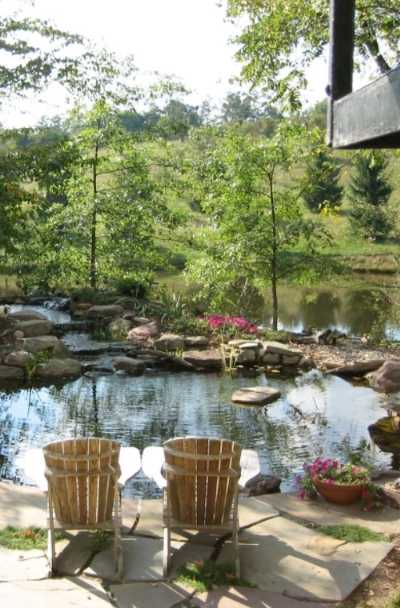 Everyone will concur that this design for a pond is so calming and refreshing and appears authentic and natural. Everyone enjoys sculpting a tiny pond area to become a water feature. The pond design by Poole's Stone and Garden is amazing.
SANCTUARY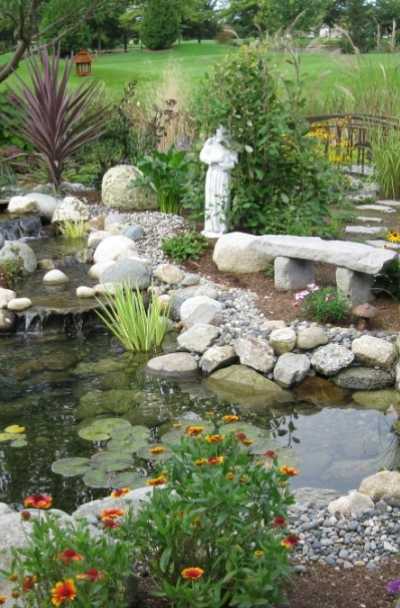 This pond is well-designed, and it has created a peaceful haven. Located in a remote area, away from potential disturbances, this haven is ideal for quiet contemplation. Wow, AquaLife Ponds Inc. did a fantastic job designing your backyard pond.
Benefits Of Having A Backyard Pond
While you might not be considering marketing your home at this time, it is worth noting that having a pond in your backyard can increase your home's value. This is because having a pond can make your property even more appealing to consumers than their other choices. From the possible buyer's point of view, all other things being the same, the pond and its surroundings may be the matter which swings the sale. Due to the higher demand, you will have the ability to charge a premium selling value! Adding a pond or any other water feature to your lawn is another natural feature that could attract local wildlife. Your backyard might quickly be a popular watering hole to the neighborhood birds, and attracting mammals, frogs, and beneficial insects. In a few small ways, you are doing your part to save nature. This is a fantastic way to help wildlife and bring an aspect of wildness to your well-kept yard.
This is an image roundup post, curated to showcase and promote other reputable contracting companies' and their amazing work. To have any of the images removed, please reach out to us and we would be happy to do so.
Other Great Articles to Read: