If you are considering a bathroom remodel; changing the bathtub (or introducing one) is one of the best ways to create a fresh look and change the feel and style of the bathroom. Depending on your budget, needs, and décor preferences, there are different types of bathtubs you can get. One of the most popular is the freestanding tub.
As the name suggests, freestanding tubs are designed to stand on their own without any attachment to the floor or walls. They are not built into the floor like sunken tubs nor are they set into the wall. A freestanding tub is great if you are looking to give your bathroom a spacious and luxurious feel.
Faucets for freestanding bathtubs can be attached to the adjacent wall or on the tub itself. The tub may also come with additional features depending on the price and it use. Additionally, you can choose from different sizes depending on your needs. For instance, a small freestanding tub is great if you are alone but you would need a wider tub if you enjoy your baths as a couple.
CRISP & CLEAN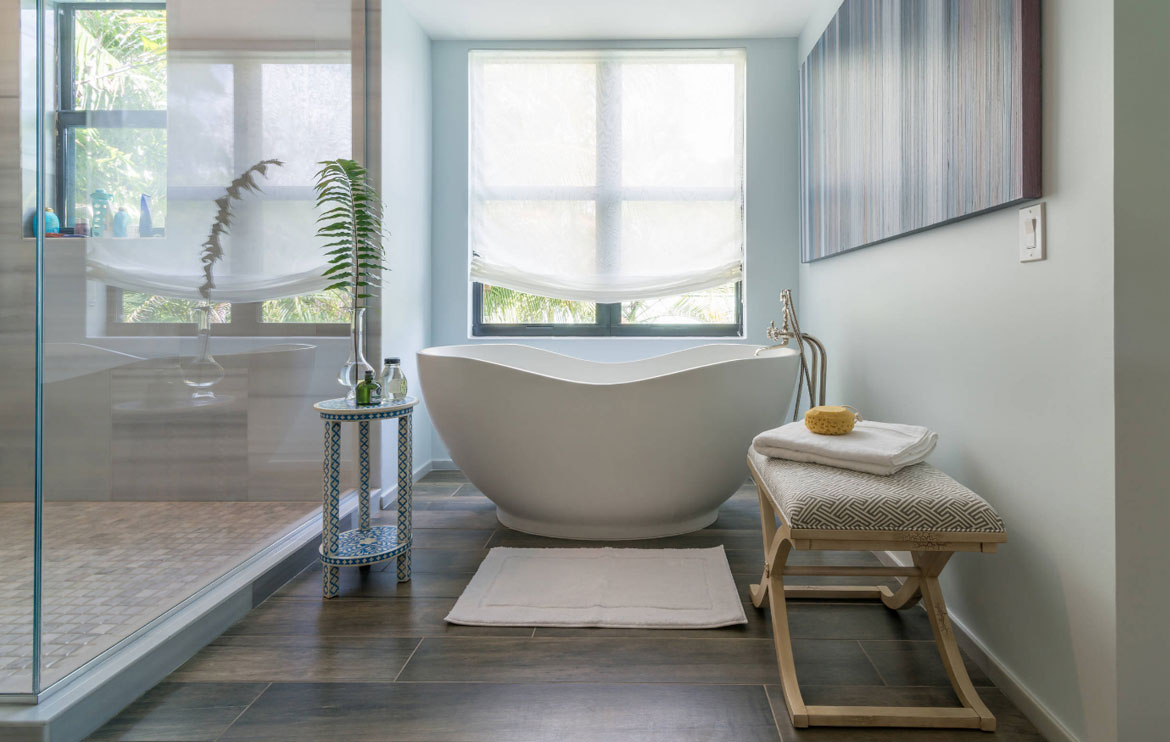 Wow, what a clean, uncluttered, and well-designed room. The freeform design of this tub is sure to please everyone who sees it. There's a cozy small chair there, too. The light from the window illuminates the entire room. Frances Herera Interior Design has done an incredible job with this space.
FEMININE RESPITE
Looking for a relaxing bath to help you forget your cares for a while? You may wash your worries away in this bathroom because of its delicate and feminine decor. The room is awash in white, and the soft lighting adds to the soothing ambiance. Purple Cherry Architects have done well with this plan.
JUST RELAX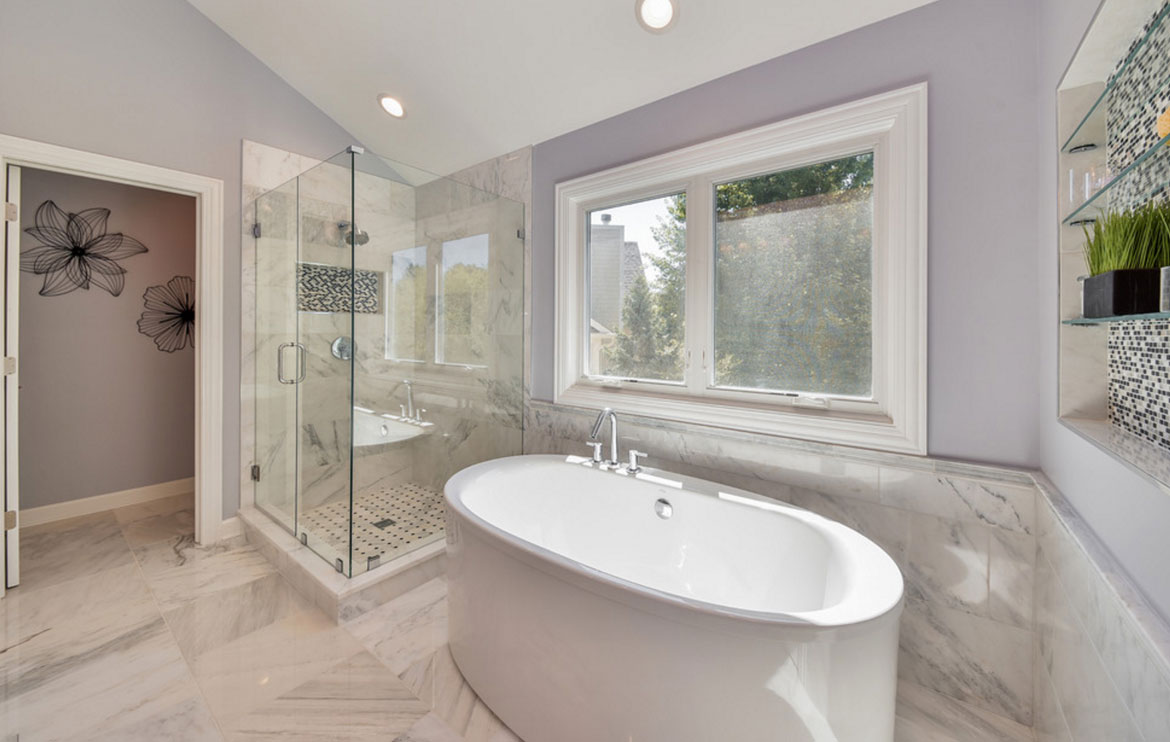 When you enter this bathroom, all you can think about is how wonderful it will be to unwind. The tub's unique design is sure to be a hit with guests. Everything about the layout is lovely and warm. Sebring Design Build is responsible for this refreshing and soothing walk-in shower layout.
SOLID STONE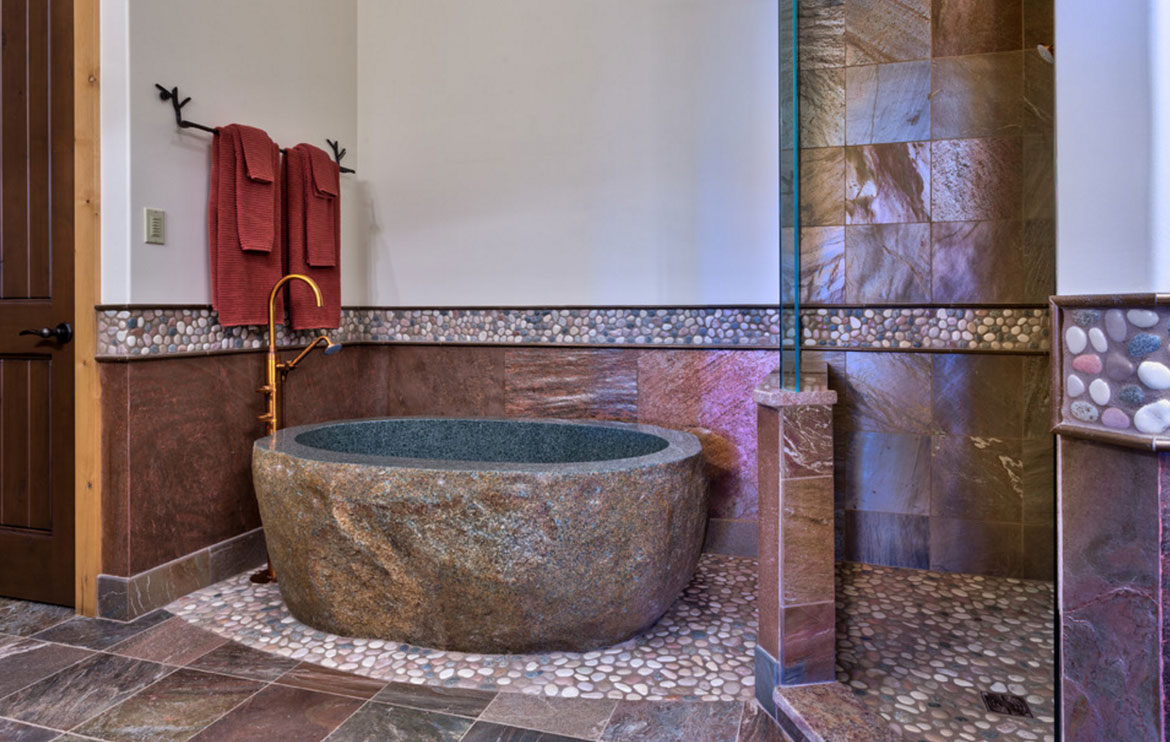 I mean, whoa, can you imagine how much weight this tub holds? Although compact in size, the stone construction of the tub gives the impression of heft. Organic, that's how I'd describe this complete bathroom. Glenwood Custom Builders outdid themselves with this one.
RIVETED TUB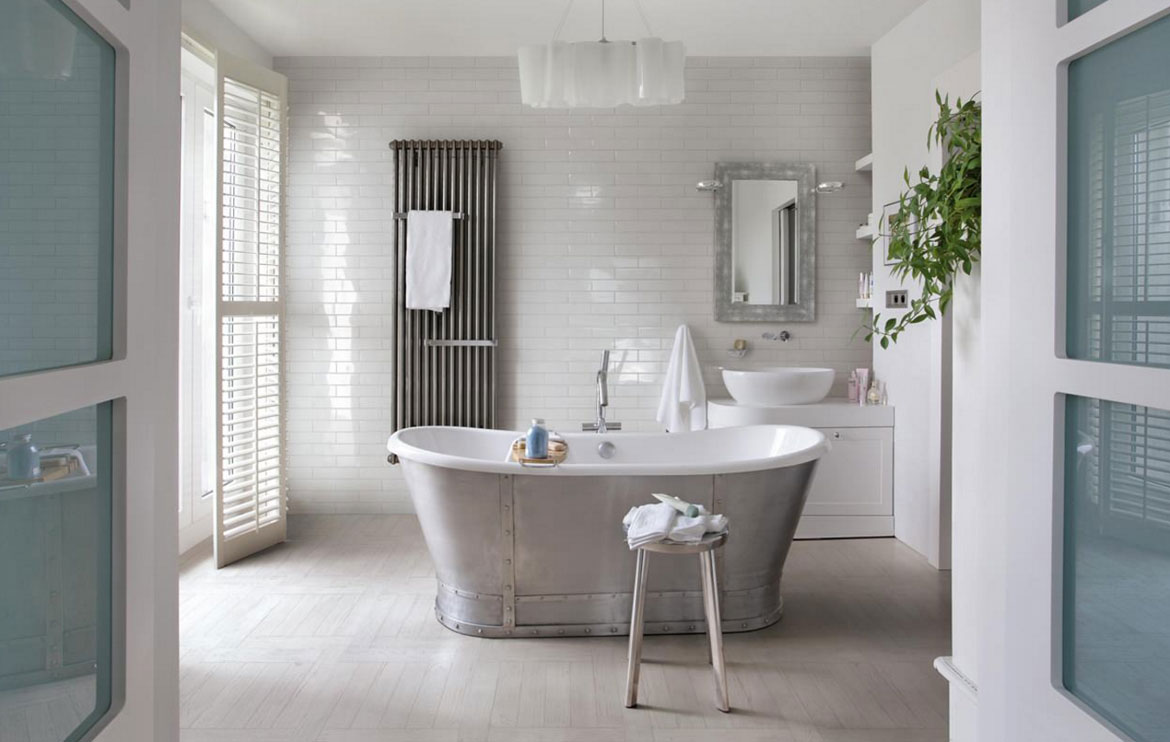 Guests will swoon over the riveted tub in this rustic-style bathroom. It seems to have been repurposed from one of your older farm gadgets. The twin doors share a remarkable appearance. Walls & Floors Ltd. created this rustic bathroom.
Materials Used
Materials used in freestanding bathtubs are generally similar to those used in other tubs. Centuries ago, they used material like stone and clay to fashion bathtubs. In the modern times, fiberglass and acrylic are two of the most commonly used materials. Here is a breakdown of the different materials used and their unique characteristics.
Fiberglass – fiberglass tubs are popular because of their affordability. The material is more budget-friendly than other alternatives including copper, cast iron and brass. It is also lightweight and can be repaired when damaged instead of replacing the entire tub. The biggest downside is poor durability and an easy to scratch surface.
Acrylic – this is another affordable and lightweight tub option. In fact, acrylic tubs have fiberglass as a major component. Like fiberglass, it can scratch easily and does not last very long.
Ceramic Tile – this is another good option if you are looking for a budget friendly freestanding tub. One big advantage of ceramic tile tubs is that they can be made onsite. This means that you can get a highly customized design with whatever size you desire. On the downside, ceramic tile tubs require a lot of maintenance work and can be a tad unpleasant on your bare skin.
Cast Iron – Cast iron tubs could potentially last forever. The molded iron is finished on the outside with enamel. The tub is hard and study, with the exterior extremely resistant to scratches and any kind of damage. On the downside, cast iron tubs are difficult to move because of their weight and can also carry a hefty price tag.
Porcelain on Steel – this type of tub consists of a sheet of steel combined with a layer of porcelain enamel. It is a low-cost but durable material. It is also easy to clean.
Natural Stone – natural stone freestanding tubs are, as you would expect, quite expensive. They are made from a variety of materials such as marble, sandstone, basalt or granite. Natural stone bathtubs are great if you are going for a luxurious spa look in your bathroom.
Copper – Copper carries with it a warm aesthetic while also creating a luxurious décor. But the greatest benefit of copper tubs lie in their health benefits. Copper is naturally antimicrobial, helping keep your tub hygienic. Copper tubs come in a variety of finishes. Though expensive than fiberglass or acrylic tubs, they last very long while requiring minimal maintenance.
Brass – brass is not a commonly used material for bathtubs, perhaps due to its high cost. The material is made by combining zinc and copper to form an extremely strong and durable metal. Since it does not rust or corrode, a brass tub will last for decades while still retaining its good looks. Like copper tubs, brass tubs are expensive but provide value for your money.
Wood – Yes, you can get a bathtub made from wood. If you are going for an ultra luxurious warm décor, this is an excellent choice. Of course, the wood has to be treated to ensure that it is completely waterproof.
SILVER METAL
The tub and tiled wall are works of art. Silver metal covers the exterior, while the interior is smooth and white, like a standard tub. The bathroom's bathtub makes excellent use of the area between the walls. Overmyer Architects outdid themselves with this one.
WARM & MODERN
This all-white bathroom is the perfect setting for the sleek, contemporary design. The overall effect is one of warmth and modernity thanks to the simplicity of the decor. Sebring Design Build did an excellent job with this bathroom.
LONG TUB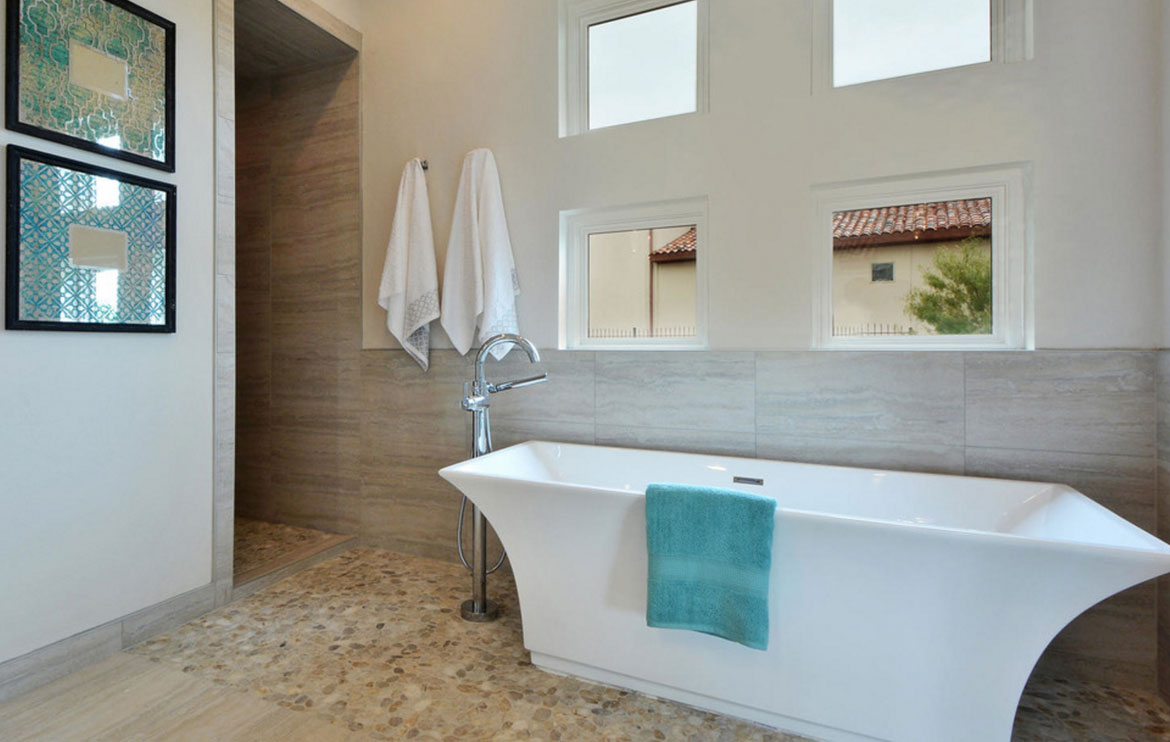 A big bathtub is complemented by gorgeous stone tile in the contemporary bathroom of this lakefront property. All love this powder room because of its cozy, at-home feel. The Interior Selections Austin is responsible for the design of this masterpiece.
STUNNING SOAK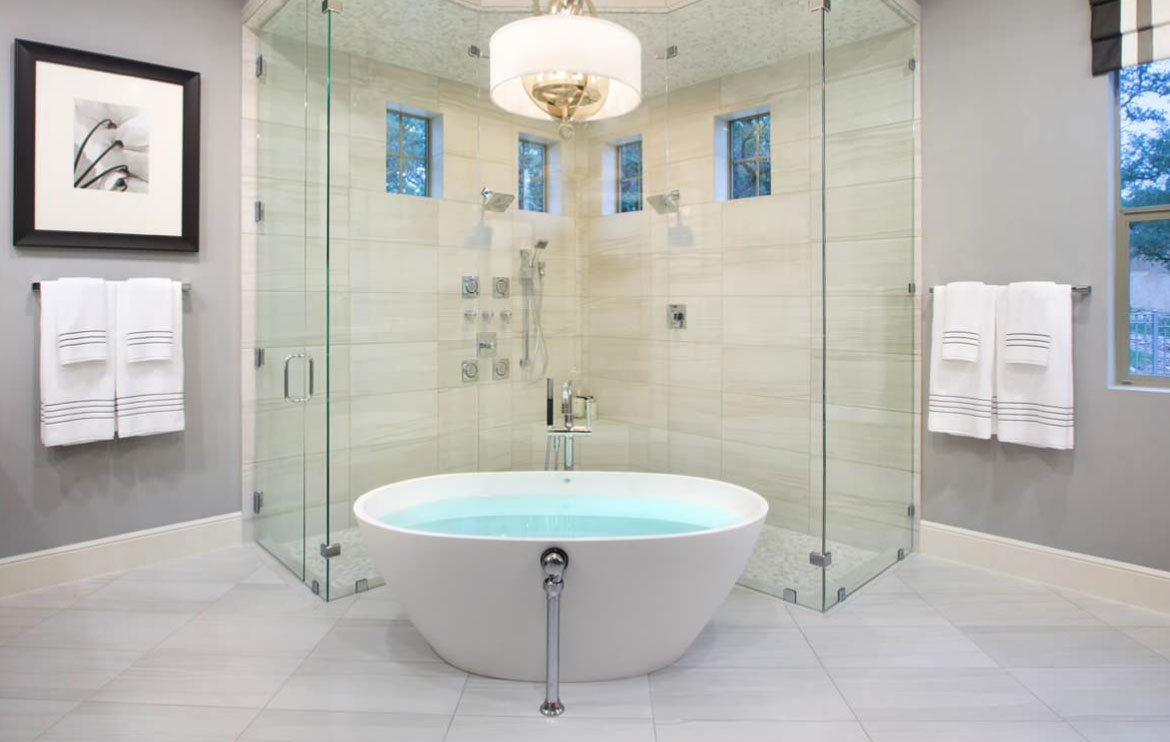 This bathroom layout is wonderful, and everyone can agree on that. It also has a picture frame cutout for adding even more specifics to the overall scene. The glass windows give the building a bright and airy feel. The Mary DeWalt Design Team created this layout.
Choosing among all these materials can be a little bit challenging. The most important factor to consider is your budget. For low to mid-range budgets, good options include acrylic, ceramic, porcelain and fiberglass. For bigger budgets, consider materials like wood, brass, copper or cast iron.
Also consider your décor needs. Wood and copper tubs tend to create a warm homely feel. Cast iron and natural stone can be used for a spa décor or an industrial style bathroom. If you are going for simple urban contemporary, we recommend fiberglass, acrylic, ceramic or porcelain.
FRESH SQUEEZE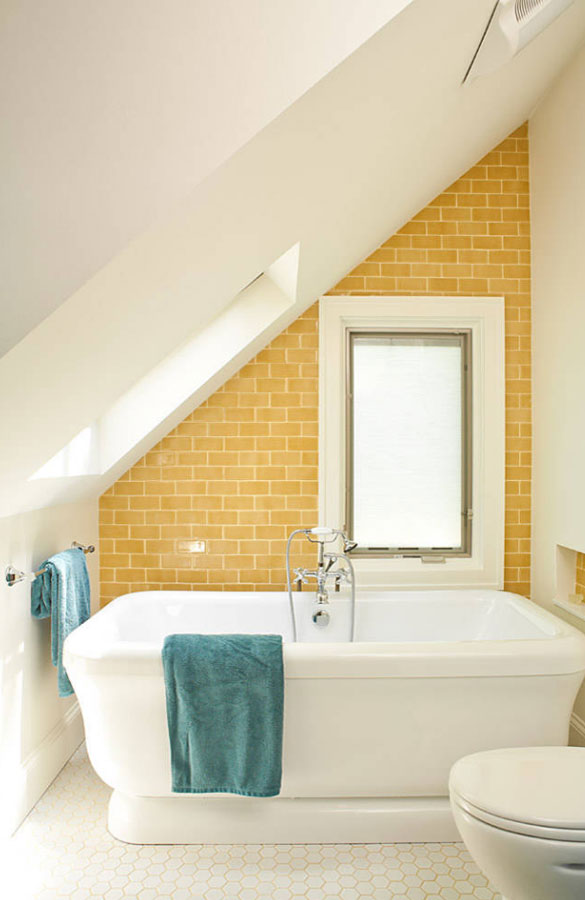 While the bathroom may be cramped, the lovely accent nonetheless found a home. The bright yellow tiles on the wall are sure to be a hit with visitors. A nice touch is a slanted glass in front of the tub—incredible work by Renewal Design-Build.
BRIGHT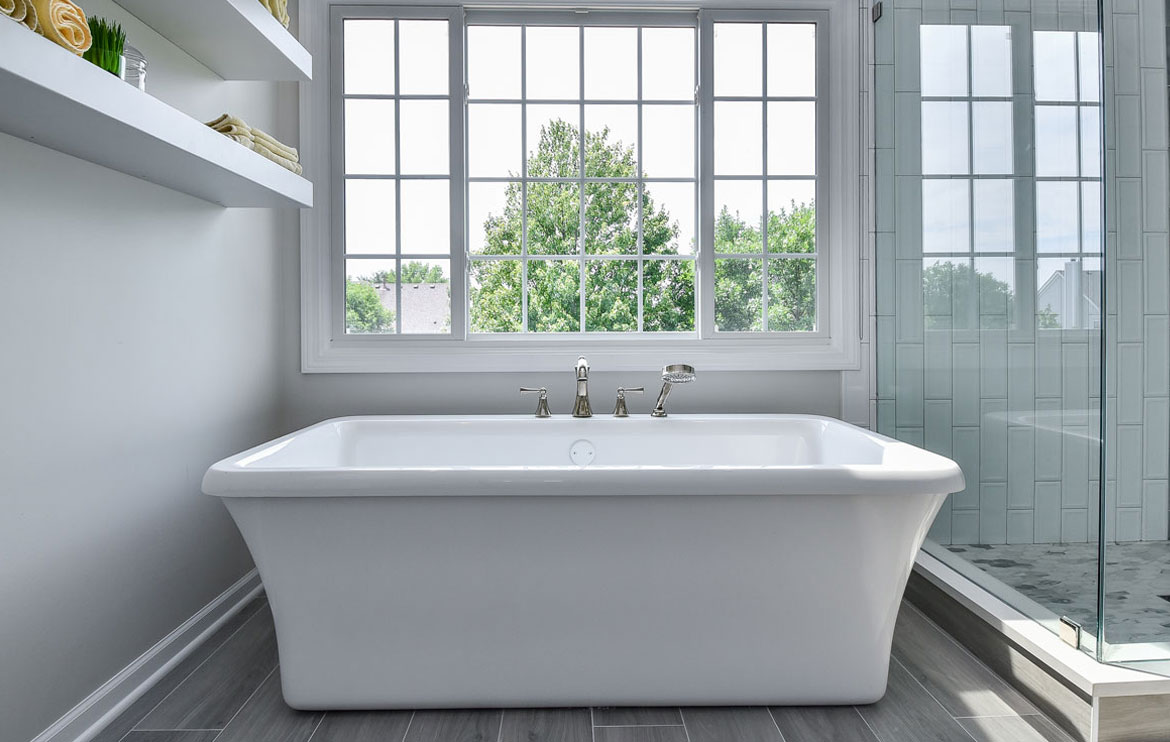 Putting your tub in a relaxing spot near a window is a good idea. What a tremendous improvement the floating shelves make! Sebring Design Build nailed the brightness of this tub with its simplistic design. This is the kind of bathroom that never gets old.
LA BELLE TUB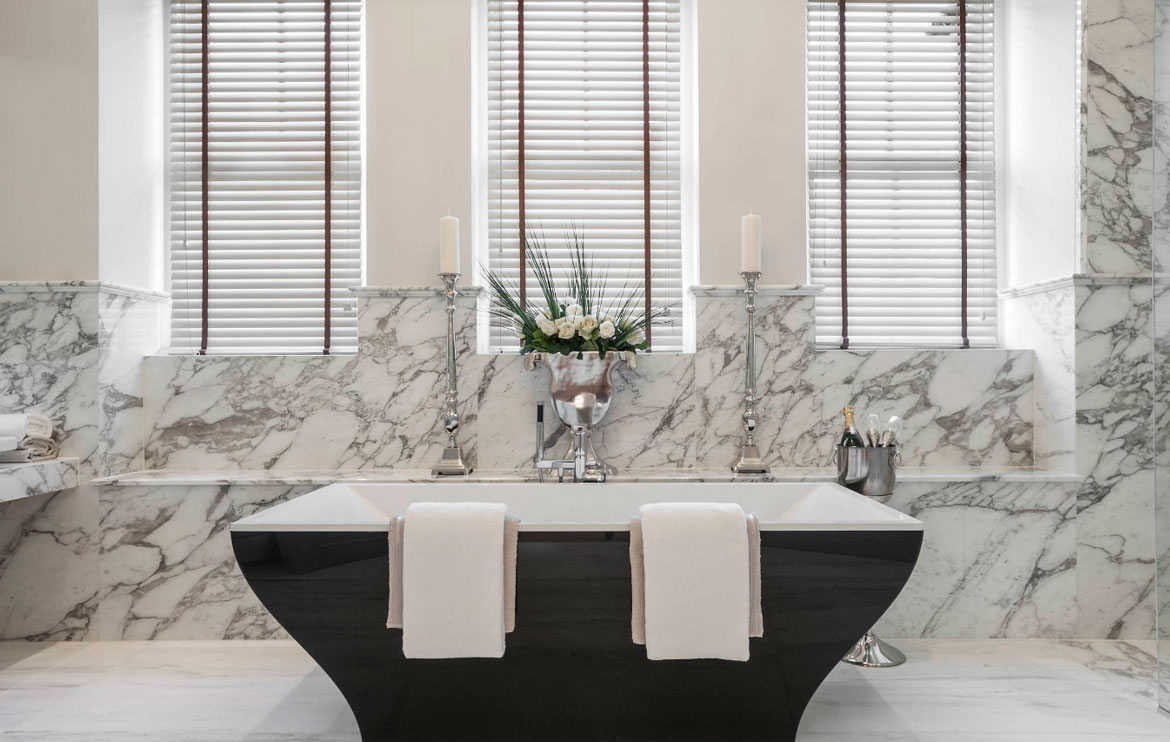 Elegance! The black color is a nice departure from typical white and the shape is different too–Villeroy and Boch–La Belle tub.
Size and Design
Freestanding bathtubs come in varying designs. Pedestal bathtubs come with a slightly raised design to create a unique look. freestanding soaker tubs, meant for relaxing, are common in Japan. They are deep and feature a slightly sloped design. Get a freestanding soaking tub if you want something to soak in for hours. If you enjoy baths as a couple, get an extra wide and extra deep bathtub for ultimate comfort.
Take a look at our remodeling and design portfolio for other ideas for your bathroom remodeling project.
The most important thing is to research extensively. Determine what your needs are, what budget you can work with and the best source of freestanding tubs (at your local store or online). In terms of size, make sure you measure the floor area and entry doors before buying.
The Difference Between A Freestanding Bath Tub And A Built-In Bath
Freestanding baths have long been seen as the ultimate romantic statement: the large claw-foot tubs of yesteryear can accommodate two people simultaneously (cue the scented candles and bath oil). However, there have been some complaints: they are more challenging to clean around, and they do not keep the bathwater hot for very long. However, the alternative, built-in bathtubs, has a negative reputation for being outmoded and less luxurious.
What is the distinction between a freestanding and a built-in bath? When it comes to bathtubs, there are two basic types to consider: built-in baths, which are typically installed in an alcove with walls on three sides, and freestanding baths, which give you more flexibility in where you place it in the room (though most freestanding tubs are installed close to a wall—and existing plumbing). The claw-foot tub is a well-known freestanding alternative that stands on four feet, unlike some modern freestanding bathtubs that sit flush on the ground or on a pedestal. (Historically, claw-foot baths had a Victorian-style ball and claw design, although today, any tub with feet is commonly referred to as a claw-foot.)
Both freestanding and built-in tubs are available in a variety of dimensions—length, breadth, and depth—and if you enjoy taking baths, you'll want a tub that fits your body, so test-drive tubs in the showroom by jumping in and lying down.
What is the point of having a freestanding bath? There is no situation where a freestanding tub is required; most individuals select freestanding baths to make a statement or achieve a vintage aesthetic. If it's the style you're looking for, freestanding models have a greater range of options.
However, there is more discretion regarding where the tub is placed—as long as piping is nearby. Consider positioning your tub near a window if you want to look out the window while you soak.
What's Your Style of Freestanding Tub?
Whether you are going for a chic look, a vintage style, an industrial feel, or a contemporary décor, there is a perfect freestanding tub for you. Whether you are looking for something to relax in, to do some aromatherapy, or simply bathe, there are plenty of design and size options available.
A bathroom does not feel complete without a bathtub. If you have been relying on just your shower to wash the day's grit and stress away, time to experience the magic of a freestanding bathtub. If your current tub is old and weary, time for an upgrade.
Leave us a message if you have any questions about installing a freestanding tub for your space.
This is an image roundup post, curated to showcase and promote other reputable contracting companies' and their amazing work. To have any of the images removed, please reach out to us and we would be happy to do so.
Other Great Articles to Read: