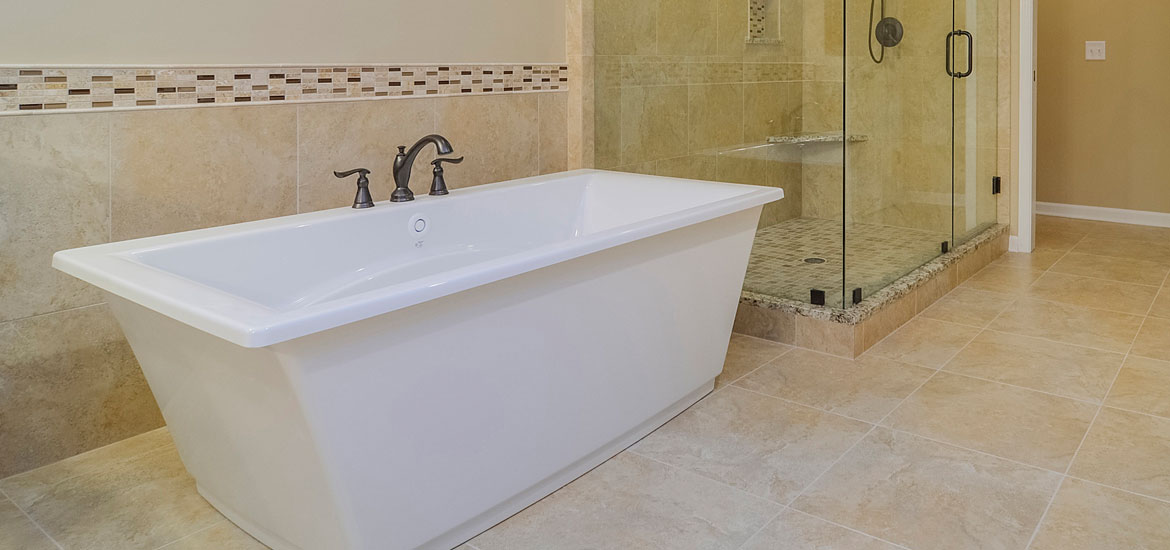 If you are considering a bathroom remodel; changing the bathtub (or introducing one) is one of the best ways to create a fresh look and change the feel and style of the bathroom. Depending on your budget, needs, and décor preferences, there are different types of bathtubs you can get. One of the most popular is the freestanding tub.
As the name suggests, freestanding tubs are designed to stand on their own without any attachment to the floor or walls. They are not built into the floor like sunken tubs nor are they set into the wall. A freestanding tub is great if you are looking to give your bathroom a spacious and luxurious feel.
Faucets for freestanding bathtubs can be attached to the adjacent wall or on the tub itself. The tub may also come with additional features depending on the price and it use. Additionally, you can choose from different sizes depending on your needs. For instance, a small freestanding tub is great if you are alone but you would need a wider tub if you enjoy your baths as a couple.
Materials Used
Materials used in freestanding bathtubs are generally similar to those used in other tubs. Centuries ago, they used material like stone and clay to fashion bathtubs. In the modern times, fiberglass and acrylic are two of the most commonly used materials. Here is a breakdown of the different materials used and their unique characteristics.
Fiberglass – fiberglass tubs are popular because of their affordability. The material is more budget-friendly than other alternatives including copper, cast iron and brass. It is also lightweight and can be repaired when damaged instead of replacing the entire tub. The biggest downside is poor durability and an easy to scratch surface.
Acrylic – this is another affordable and lightweight tub option. In fact, acrylic tubs have fiberglass as a major component. Like fiberglass, it can scratch easily and does not last very long.
Ceramic Tile – this is another good option if you are looking for a budget friendly freestanding tub. One big advantage of ceramic tile tubs is that they can be made onsite. This means that you can get a highly customized design with whatever size you desire. On the downside, ceramic tile tubs require a lot of maintenance work and can be a tad unpleasant on your bare skin.
Cast Iron – Cast iron tubs could potentially last forever. The molded iron is finished on the outside with enamel. The tub is hard and study, with the exterior extremely resistant to scratches and any kind of damage. On the downside, cast iron tubs are difficult to move because of their weight and can also carry a hefty price tag.
Porcelain on Steel – this type of tub consists of a sheet of steel combined with a layer of porcelain enamel. It is a low-cost but durable material. It is also easy to clean.
Natural Stone – natural stone freestanding tubs are, as you would expect, quite expensive. They are made from a variety of materials such as marble, sandstone, basalt or granite. Natural stone bathtubs are great if you are going for a luxurious spa look in your bathroom.
Copper – Copper carries with it a warm aesthetic while also creating a luxurious décor. But the greatest benefit of copper tubs lie in their health benefits. Copper is naturally antimicrobial, helping keep your tub hygienic. Copper tubs come in a variety of finishes. Though expensive than fiberglass or acrylic tubs, they last very long while requiring minimal maintenance.
Brass – brass is not a commonly used material for bathtubs, perhaps due to its high cost. The material is made by combining zinc and copper to form an extremely strong and durable metal. Since it does not rust or corrode, a brass tub will last for decades while still retaining its good looks. Like copper tubs, brass tubs are expensive but provide value for your money.
Wood – Yes, you can get a bathtub made from wood. If you are going for an ultra luxurious warm décor, this is an excellent choice. Of course, the wood has to be treated to ensure that it is completely waterproof.
Choosing among all these materials can be a little bit challenging. The most important factor to consider is your budget. For low to mid-range budgets, good options include acrylic, ceramic, porcelain and fiberglass. For bigger budgets, consider materials like wood, brass, copper or cast iron.
Related: 7 Must-Know Bathroom Remodeling Tips.
Also consider your décor needs. Wood and copper tubs tend to create a warm homely feel. Cast iron and natural stone can be used for a spa décor or an industrial style bathroom. If you are going for simple urban contemporary, we recommend fiberglass, acrylic, ceramic or porcelain.
SHINY GEM
Love how this tub just shines in this space.
CONTEMPORARY IN CALI
Stunning California spa bath.
CRISP & CLEAN
Such a well put-together space, un-fussy. Love the flowing shape of the tub.
FEMININE RESPITE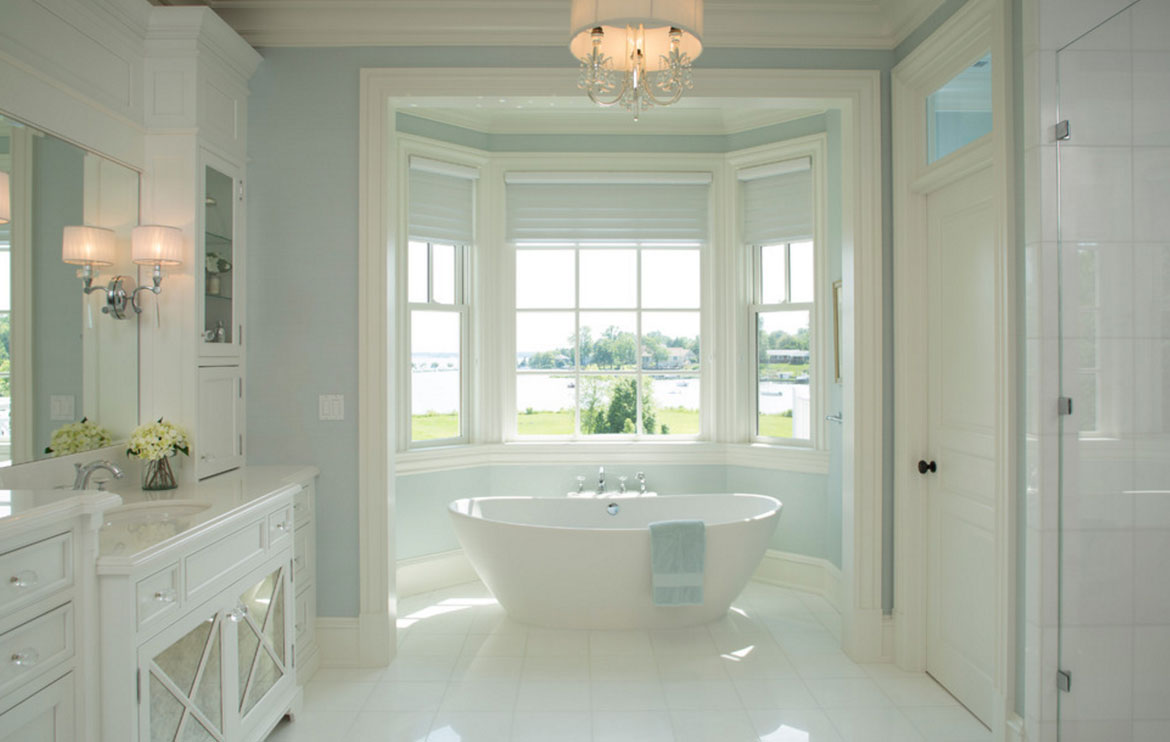 So soft and feminine, wash all your troubles away here.
JUST RELAX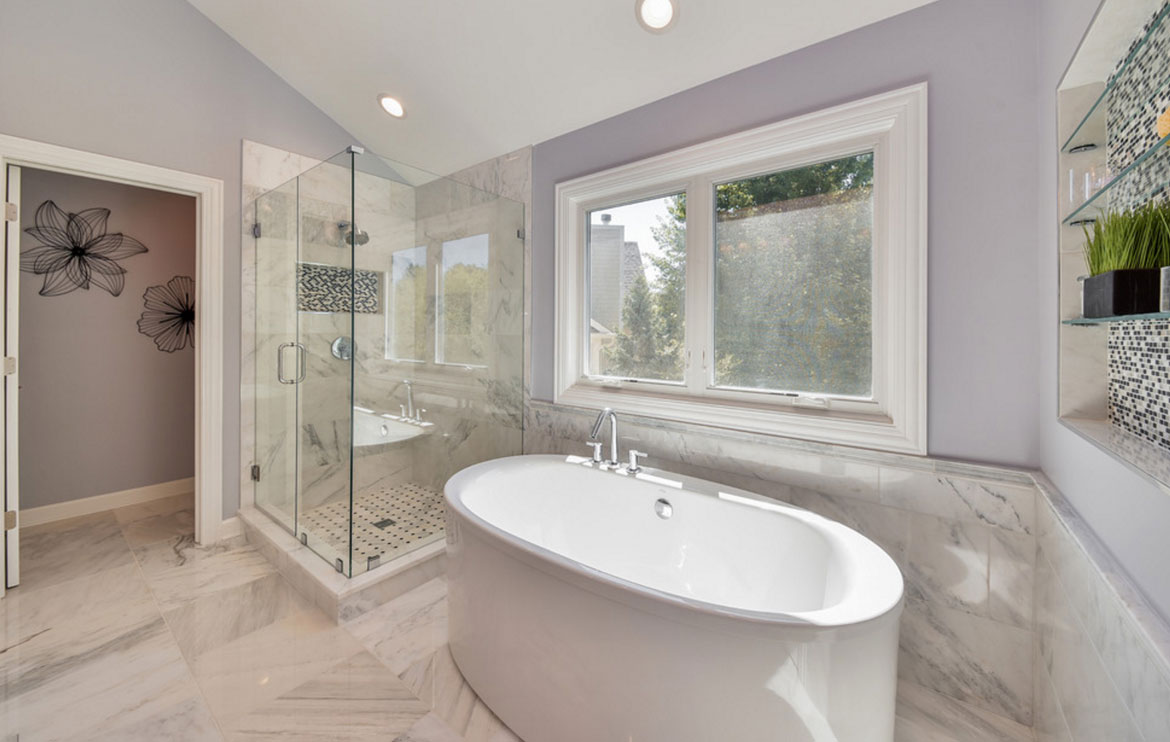 Love the shape of the tub. All the design elements are just so pretty and inviting.
SOLID STONE
Wow–I can't even imagine how heavy this tub is!
TRANQUILITY
What a wonderful and tranquil place to relax.
SLEEK MASTER