There's no arguing that white kitchens have stood the test of time. Always a statement of fashion and elegance, white kitchens can really add to the value of a home. And when it comes to remodeling a white kitchen, white is never a boring affair.  It will be obvious when you take in all these white kitchen cabinets ideas.



There are countless ways to design white kitchen cabinets using a variety of styles, materials, and alternating color pieces. This roundup of the most popular types of white kitchen cabinetry can help you compare the designs and decide for yourself what white cabinets will work best in your kitchen. Always beautiful, always marketable, and always valuable, white cabinets continue to set the trend in kitchen remodeling in a variety of different ways.
White Kitchen Cabinets Ideas
There are certainly a countless amount of ways to remodel and style your kitchen using white kitchen cabinets. Whether you're in the mood for a glossy, modern look, or you want to keep things rustic with distressed wood, you can use the color white to emphasize your personal style and character. Plus, there are plenty of kitchen countertop ideas with white cabinets that add a healthy amount of contrast and diversity. Mix it up with your favorite designs and styles to make your kitchen look exactly the way you want it.  Here are just a few white kitchen cabinets ideas to get you started!
White Shaker Kitchen Cabinets
White shaker is easily one of the most popular kitchen cabinet styles. It serves as a standard wood cabinet, while also accenting a pure white color to open up the space and make a bold statement. Shaker cabinets are typically constructed of birchwood and feature a variety of different paneling options to add as much white as you'd like.
LAKE SHAKER
After decades of outdated features, this lake house was transformed into fresh, classic and clean.
SHAKE IT IN TORONTO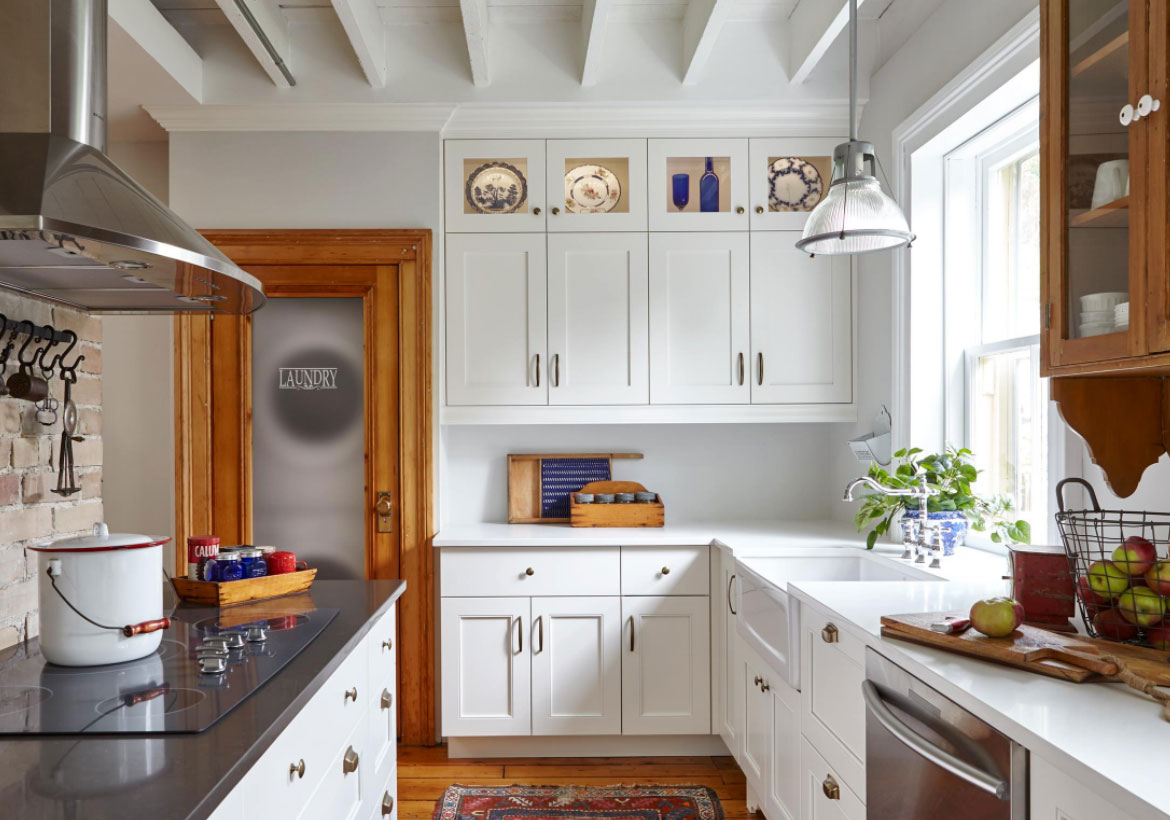 These stunning Melamine cabinets in "cloud white" are from Miralis.  Love the laundry room door and subtle pops of color along with the warm wood accents that really create an inviting space.
EAST FORT LAUDERDALE
Tons of great white kitchen cabinets ideas here.  Absolutely beautiful kitchen.  Open and airy–perfect for Florida!
White Oak Kitchen Cabinets
A great way to accent your kitchen with some contemporary styles is to add white oak kitchen cabinets to your remodeling project. Whether you have a contrasting oak base with white accents or vice versa, this is a strong way to incorporate natural, earthy tones and materials. It's innovative yet classic, making it just as timeless.
RIFT SAWN WHITE OAK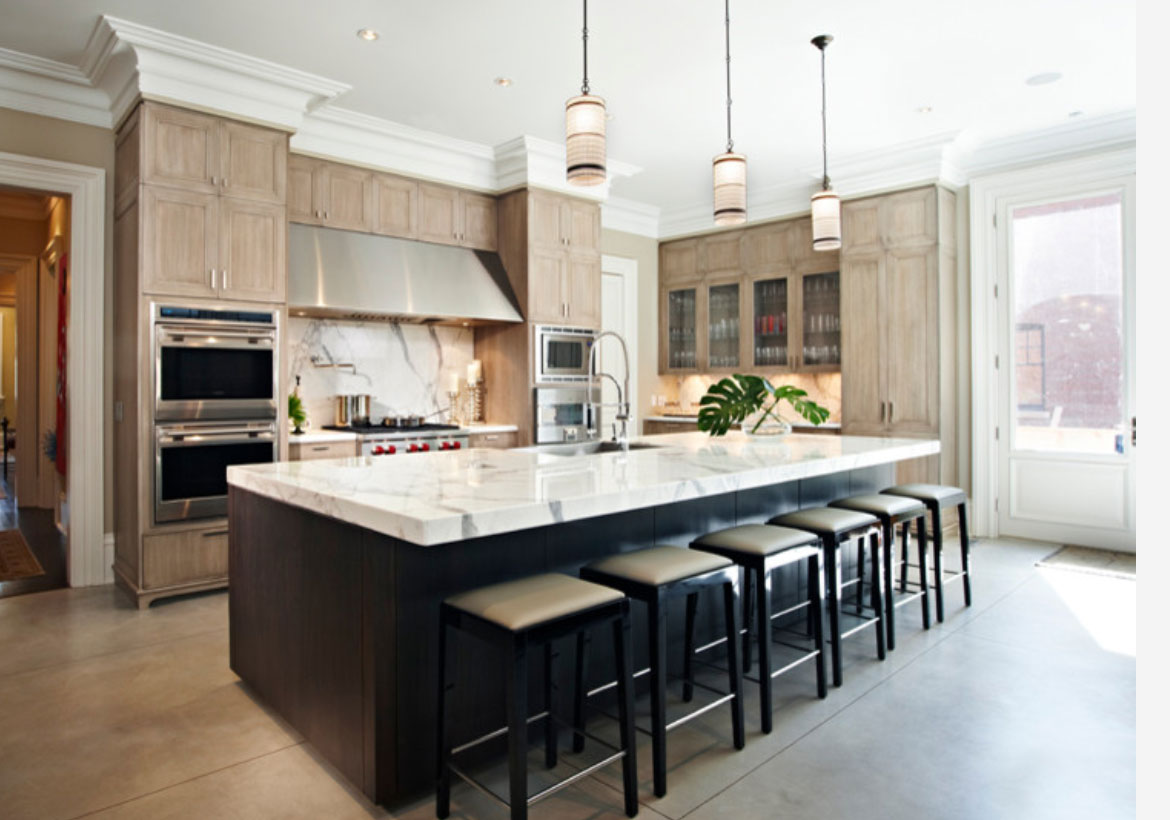 Beautifully detailed.  Cabinets are rift sawn white oak & black walnut.
CALIFORNIA DREAM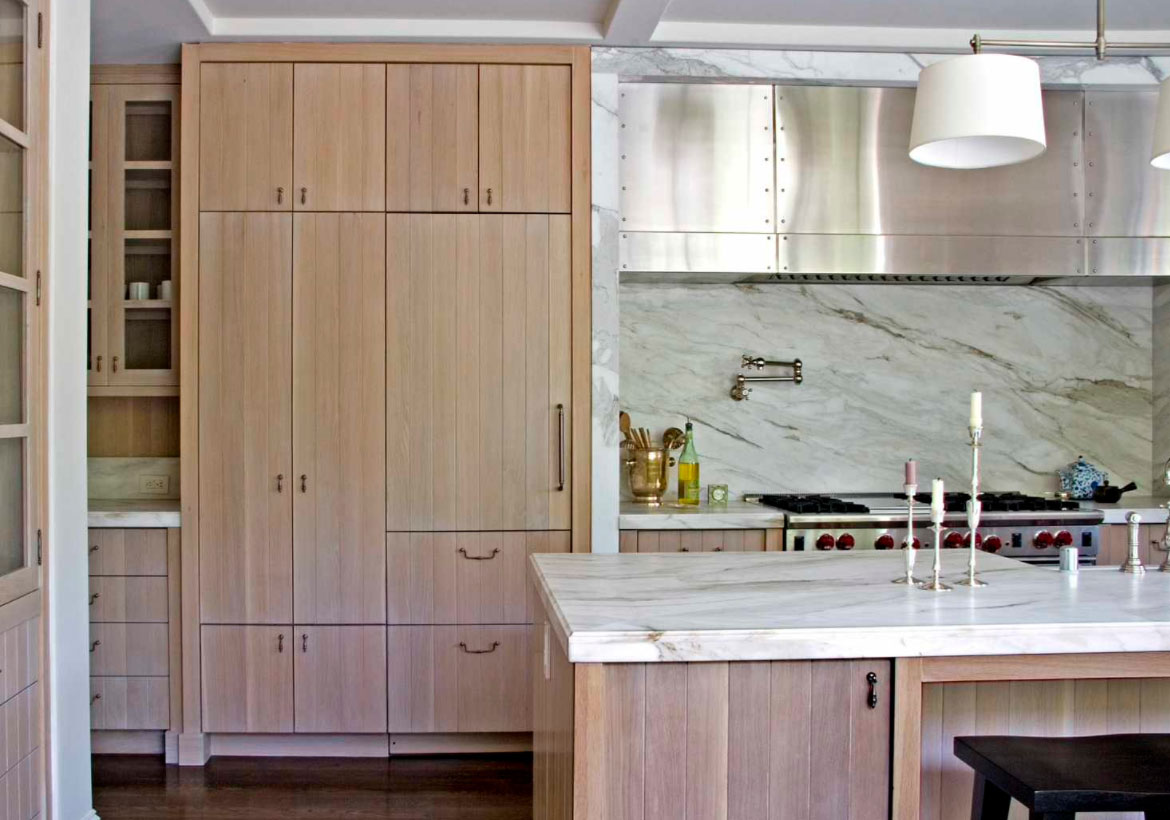 Lots of great storage within these white oak kitchen cabinets in this transitional California kitchen.  
EUROPEAN OAK
Lovely contemporary kitchen–love all the display nooks! The cabinets are cerused European white oak.
White Kitchen Cabinets with Dark Countertops
Everybody loves yin and yang. Everybody loves the balance of light and darkness to create a contrasting and bold look. You can easily achieve this with classic white cabinets that feature a darkly-colored countertop on top. Whether your countertop is made of dark wood, granite, or quartz, you can appreciate the spectacle of nature's vast color spectrum every time you walk into your kitchen.
UPGRADED CLASSIC
These white cabinets are paired with black soapstone countertops with a honed finish.  Plus stunning upgraded features: Le Cornue range and a custom range hood.
COZY NOOK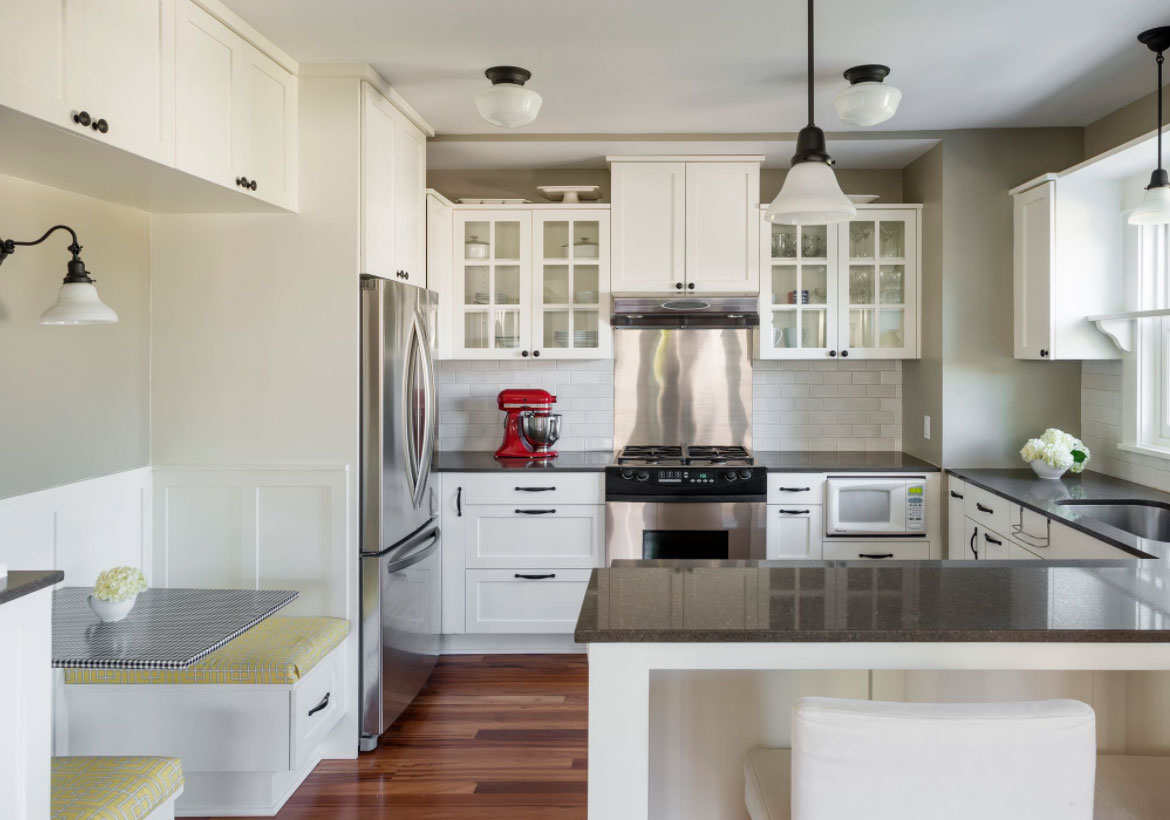 DREAMY ISLAND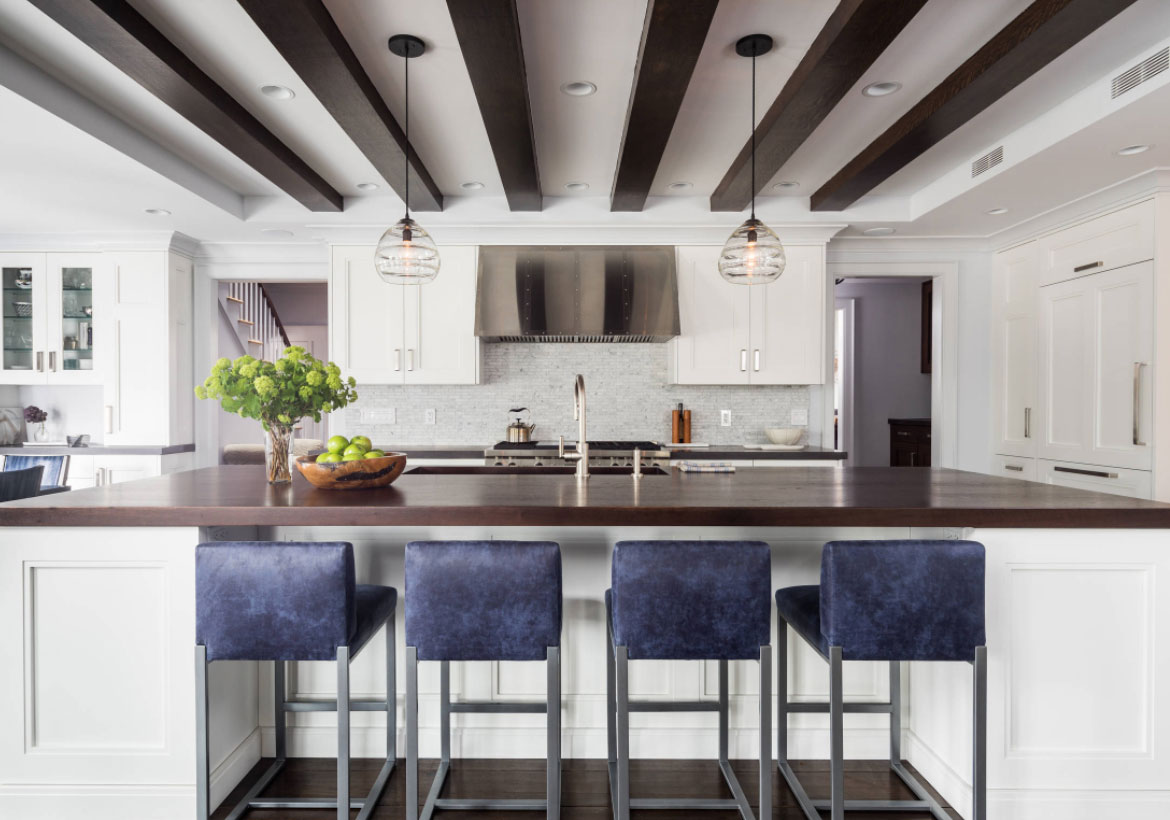 This incredible dark wood countertop was fabricated by Brooks Custom (Black Walnut/Color #2, finished with Marine Oil/Semi-Gloss).   Love how the beams and countertop balance the space and that huge island is to die for!
White Gloss Kitchen Cabinets
Another great way to showcase your love for the contemporary style, white gloss kitchen cabinets are irresistibly smooth. They add a touch of sheen and shine to your kitchen, making it look immaculate and clean at all times. It's a great way to blend your favorite contemporary and modern styles with a color choice that will never go out of fashion.
CONTEMPORARY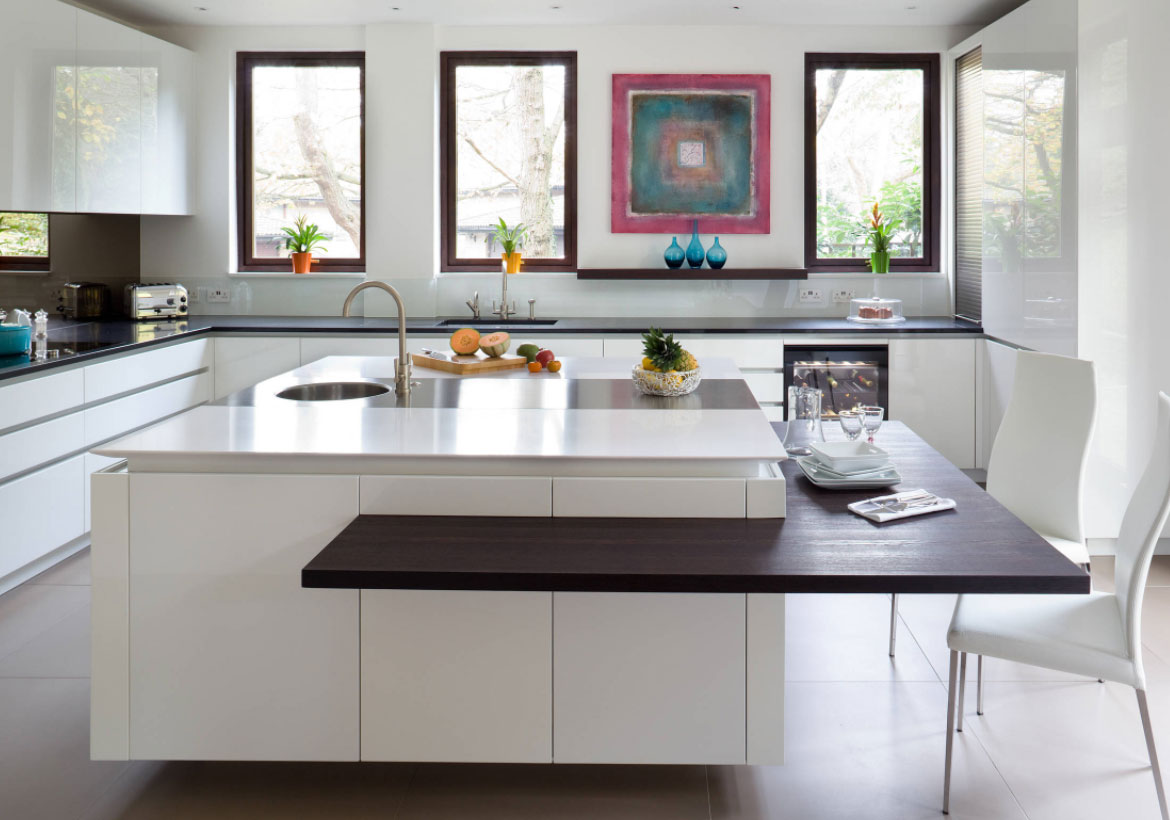 The lower counter area is a great spot to start and end your day!   In addition, the rich wood helps to warm up all the white glossy cabinets in this handsome contemporary kitchen.
MIDCENTURY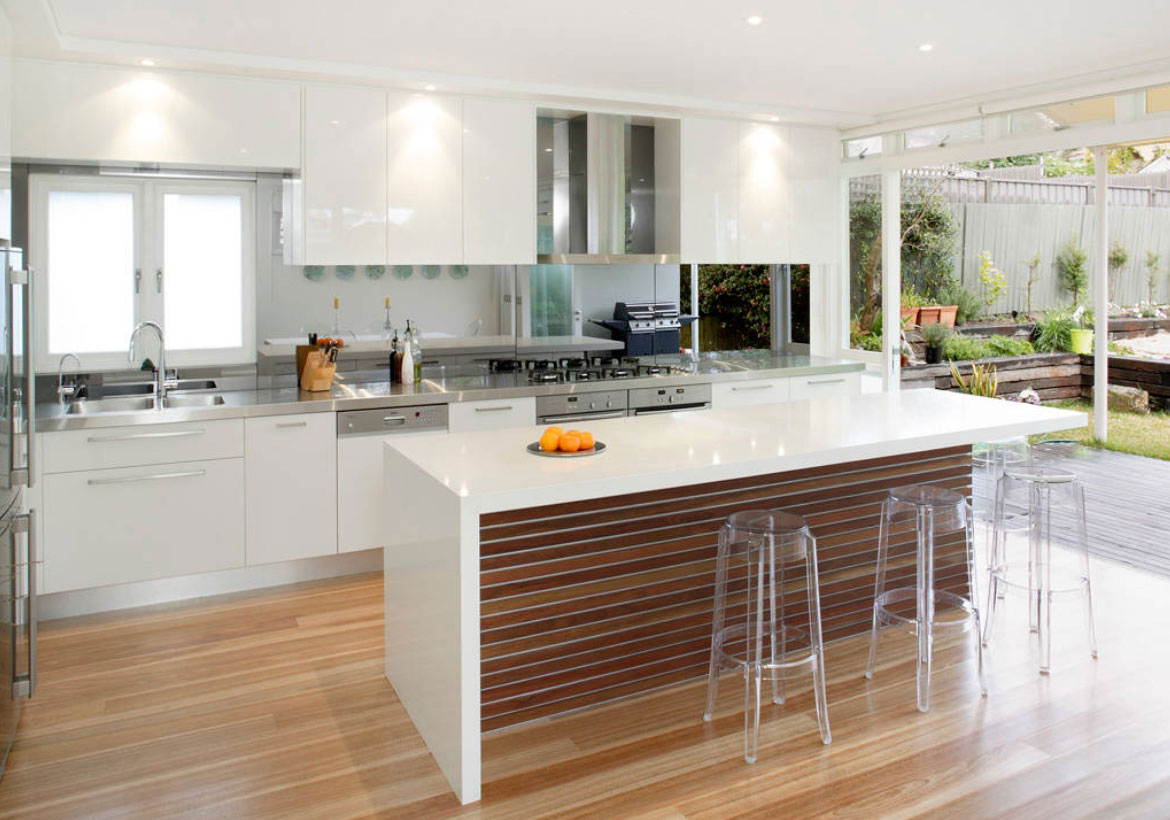 The sleek white gloss kitchen cabinets are complemented by pretty solid timber wood floors.
SOFT & SERENE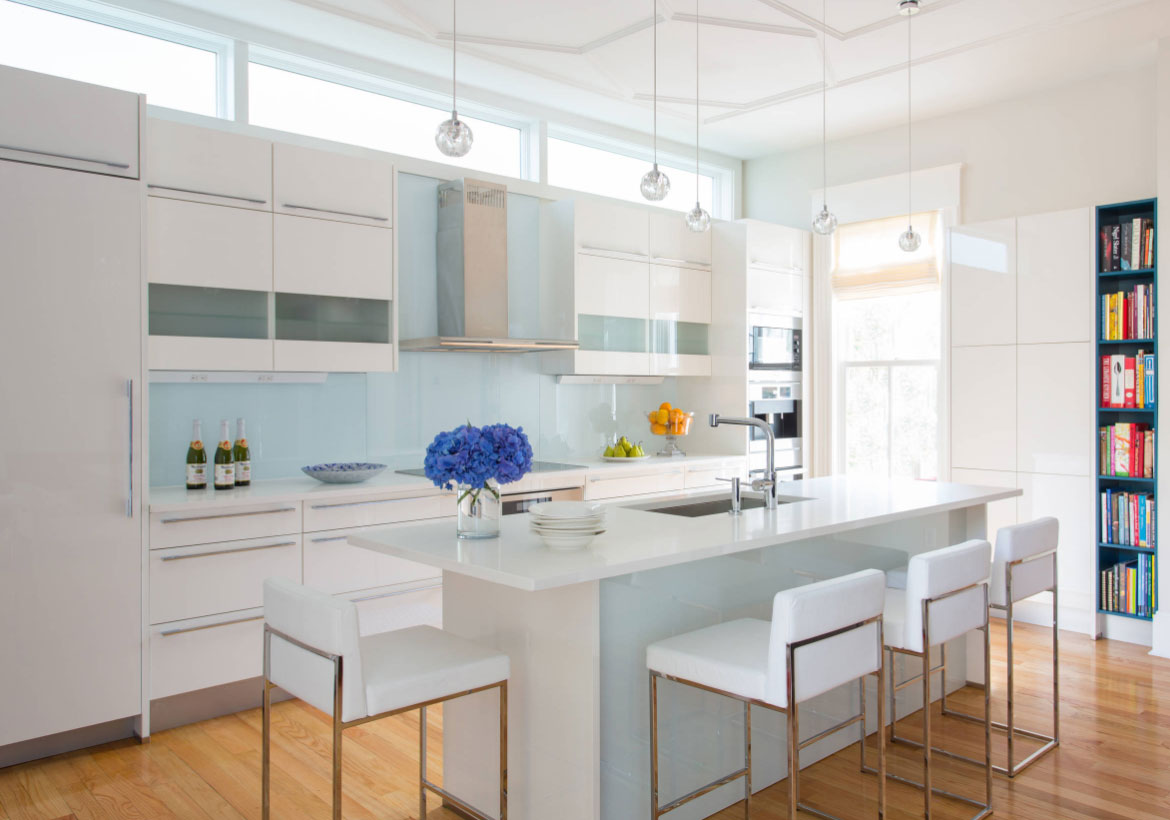 Gorgeous soft blue glass backsplash makes this white contemporary kitchen feel so comforting.
Modern White Kitchen Cabinets
Modern white kitchens are refined, sleek, and typically minimalist. You can have fun incorporating edgy yet sophisticated design with modern white cabinets, which are typically designed in large panels to reduce an otherwise "cluttered" look. White cabinetry and paneling is a great way to encapsulate your sense of modern style while still enjoying function and efficiency in your kitchen.



WALNUT & WHITE
Magnificent modern kitchen.  The beautiful wood under the island is walnut and per this builder is "book matched"– when it is peeled from the tree they label each piece to so the doors/wood grain look as if it were peeling off the tree.  The countertop is pure white quartz with a waterfall edge.
SMALL & MIGHTY
Kitchens can't always be huge.  This apartment in Spain features modern white kitchen cabinets and looks like it provides plenty of storage.  Just add your favorite color or colors for accent and it is perfect!
BEVERLY HILLS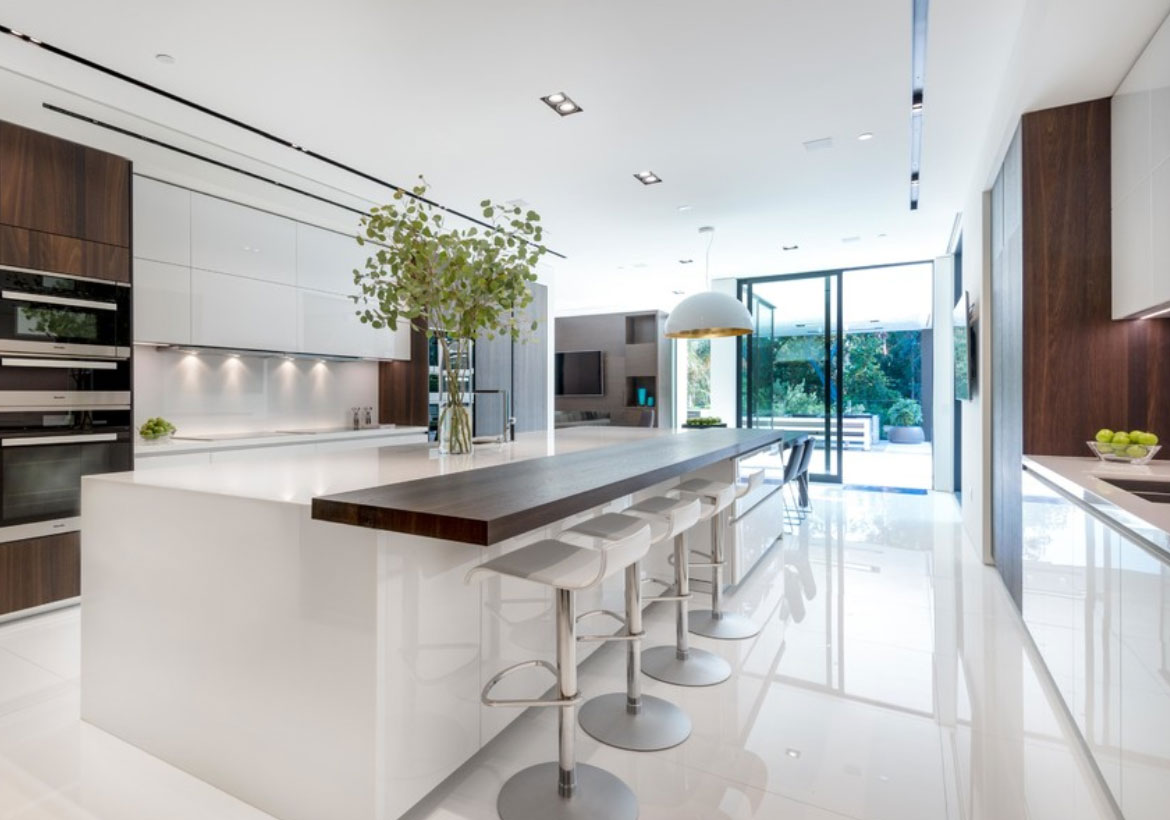 Back to big & beautiful in Beverly Hills!  Another captivating kitchen that showcases dark rich wood with modern white kitchen cabinets.
White Kitchen Cabinets with Granite Countertops
White kitchen cabinets add the style and character to your kitchen, while the granite countertops provide a place of dark contrast and solidity to unify all of the colors and themes in your kitchen. This contrast in material and color can add a sense of dynamism to your kitchen, helping you to bring together all of the colors or neutral tones you desire, without being overwhelmed by what's in your kitchen.



SEATTLE RETREAT
SUPER WHITE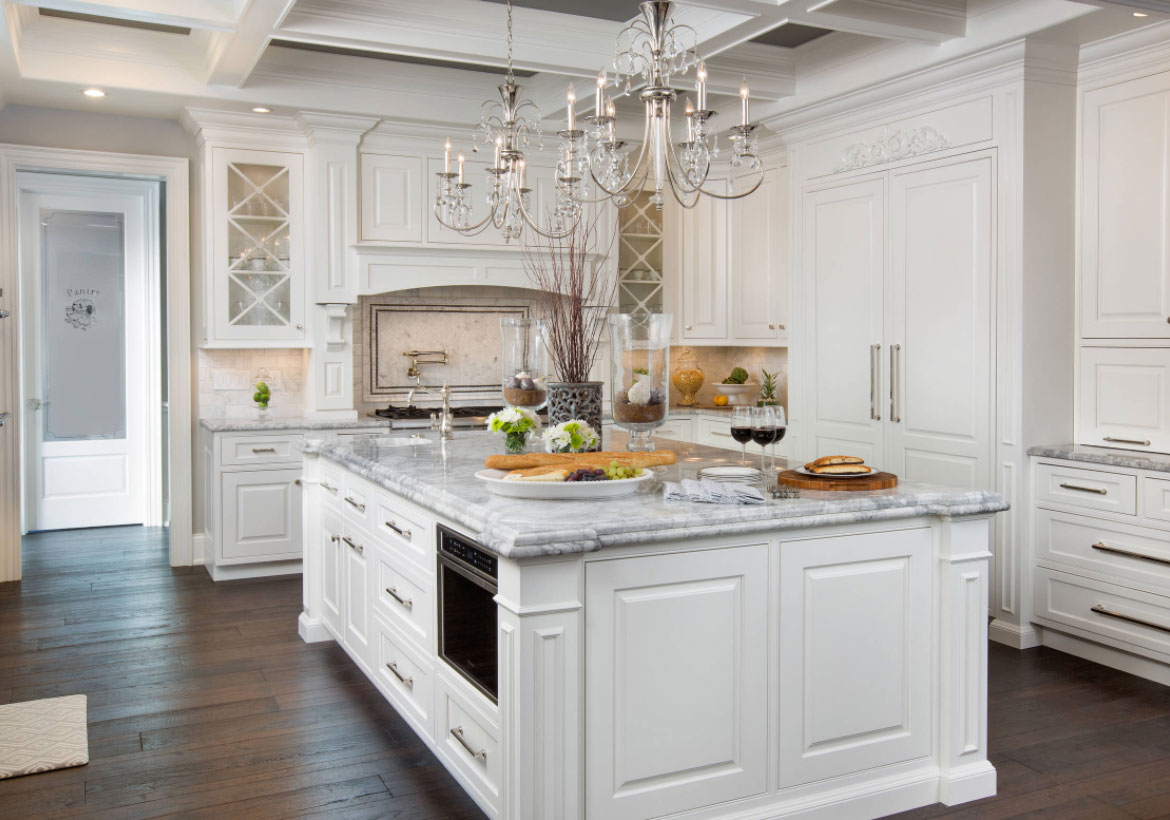 The countertop in this world-class traditional kitchen is Super White granite. It was chosen because it looks like Carrera marble, but is not as porous and requires less maintenance.
PERFECT PARTIES
A unique kitchen layout with the clever multi-angled cabinet area.  This kitchen looks perfect for hosting family gatherings and parties. Make note of the area just under the window–perfect buffet space.   The white kitchen cabinets are paired with Antique Brown granite.   The warm flooring is from Hallmark Hardwoods and is from their Silverado Collection. The name of the color is Birch Stout.
Off White Kitchen Cabinets
Off white kitchen cabinets are a great choice for designers and homeowners who wish to add a little variety to their kitchen without feeling pressured to incorporate different colors. Off white is a beautiful hue that brings some darkness to the light by adding neutral shades of gray to an otherwise pure white color. These cabinets can truly accent a kitchen regardless of how much or how little is used.
Antique White Kitchen Cabinets
Antique cabinets are truly timeless, as they have stood the test of the ages to provide your kitchen with a classic look. Antique cabinets are highly sought after, both for authenticity and for style. You can showcase your appreciation for historical design trends by giving your kitchen a real sense of character with these cabinets. Plus, they can go along well with almost any kind of color scheme!
Distressed White Kitchen Cabinets
Do you love cottage charm? Are you interested in that rustic style that can give your cabinets a charming and custom look? White kitchen cabinets in a distressed style are one of the most popular design choices on the market today. You can distress your cabinets using a variety of paint techniques to make them appear vintage and handmade.
OFF WHITE CABINETS
The cabinet color in this sensational kitchen is Benjamin Moore White Dove.  The granite chosen was White Springs.  The lights are a fantastic!
ANTIQUE WHITE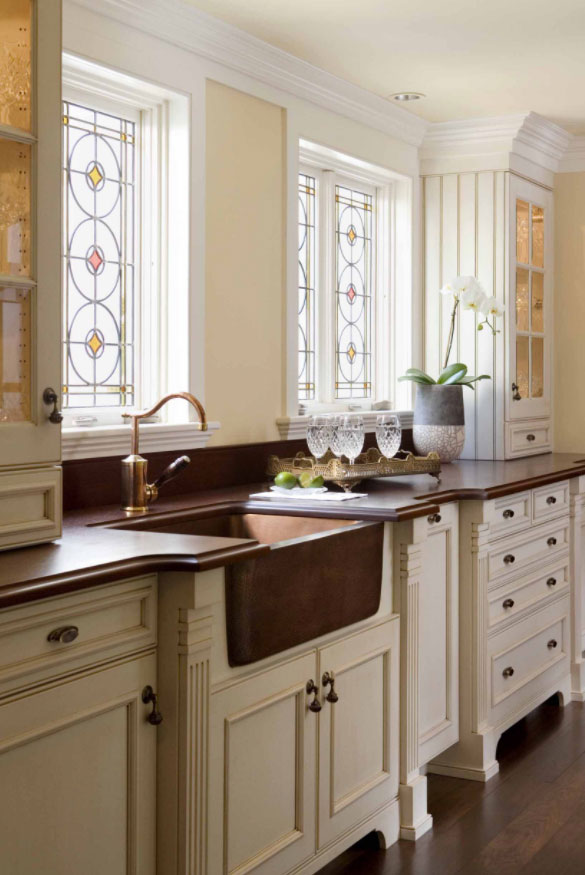 The finish on these impressive kitchen cabinets is a traditional antique white from cabinet makers, Premier Custom Built.  This kitchen also displays gorgeous solid mahogany countertops (face grain mahogany with a marine finish) with a deep ogee edge and copper apron front sink.
DISTRESSED WHITE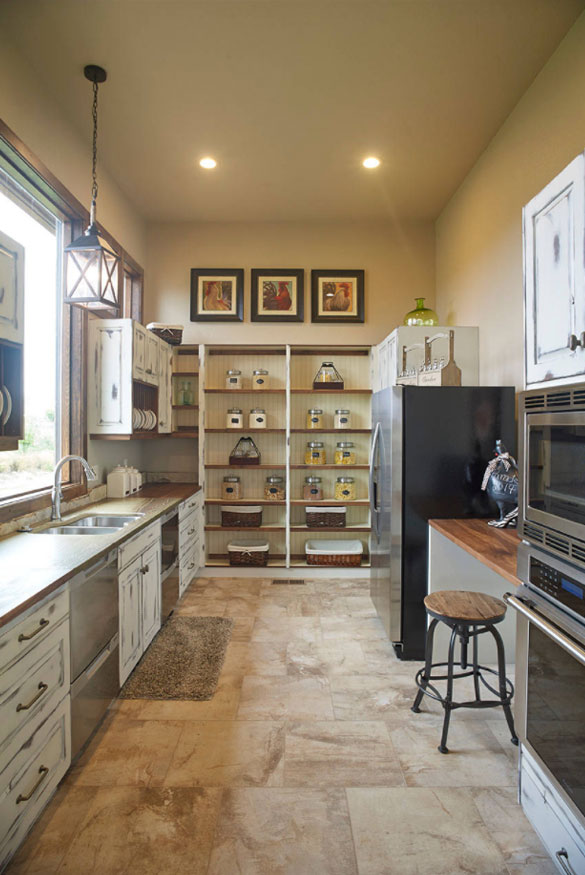 This Denver farmhouse kitchen is so cool with its distressed white kitchen cabinets.  Awesome shelving!
Sebring Design Build's White Kitchen Cabinets Ideas: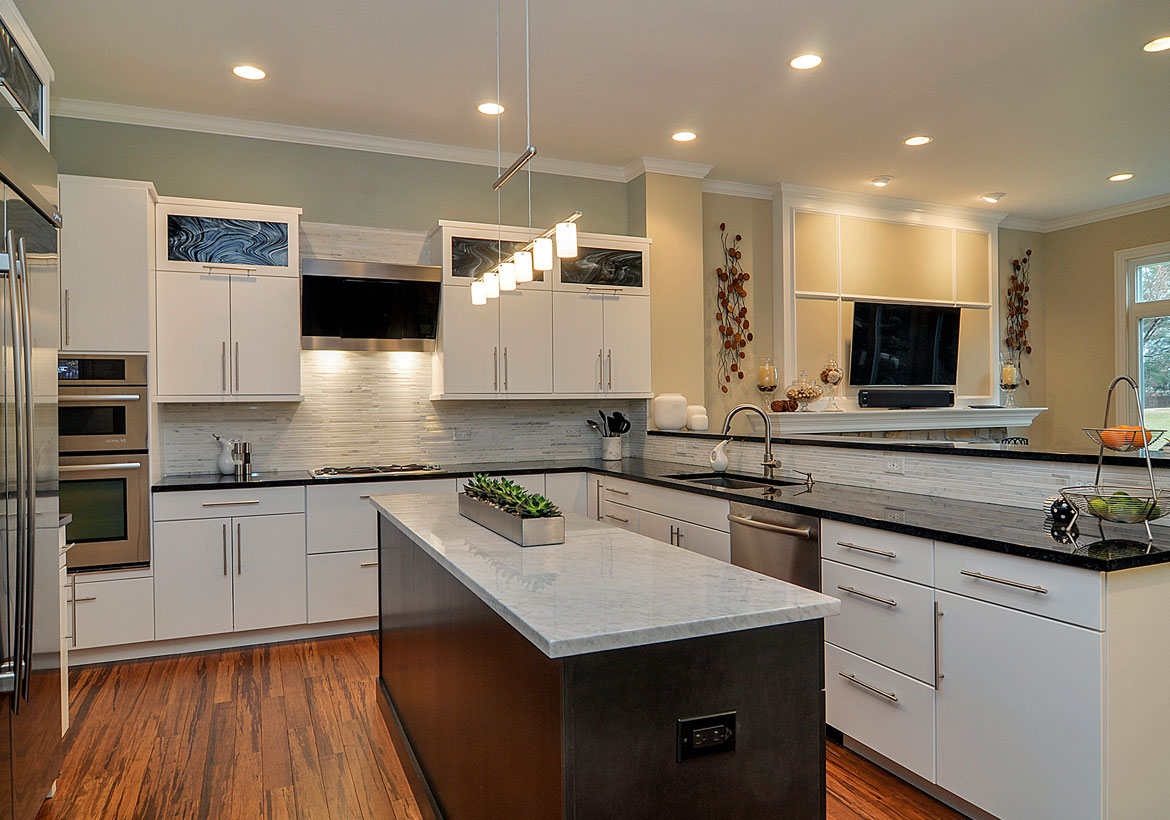 White Cabinet Design Trends
After you've decided on a specific style and design for your cabinets, you may be stuck trying to figure out the little details. There are several current design trends that you can incorporate throughout your kitchen to tie the white cabinets and the rest of the kitchen together in a sleek and sophisticated style.
Use Contrasting Hardware
If you love having white cabinets, you can create quite the contrast with gray and black hardware, which will certainly serve to accent the areas of the kitchen you want to view the most. If you want something more harmonious and serene, you can incorporate oak floors and butcher block counters to contrast well against the natural white cabinets.
Color the Inside of Your Cabinets
A great way to add a touch of color to your kitchen is to color the inside of the cabinets. While you can have white fronts, panels, and shelves, you can add color to the back for something that truly pops. Adding glass panels to the front can also increase the visibility of this color, serving as a classic yet unique style for your kitchen.
A Touch of Brass Gives Class
In 2018, brass is making a huge comeback. Add brass handles and knobs to your white cabinets and appliances for something that is truly timeless. It's a great way to add color without needing to fill your kitchen with varying tones and hues that could interrupt the sense of style you're trying to convey.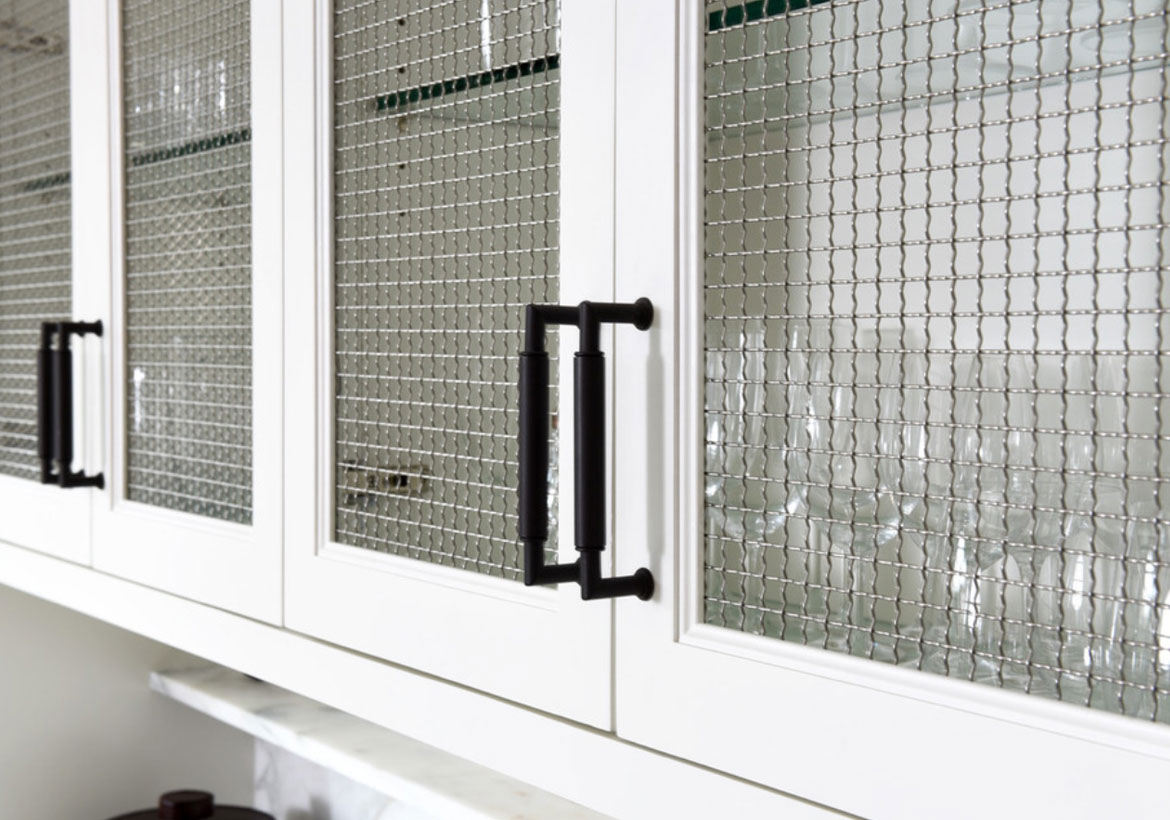 Jennifer Tulley Architects – The oil rubbed bronze cabinet pulls are great accents and the wire mesh is a unique and very attractive feature added to this white cabinetry.
Martha O'Hara Interiors – This kitchen is so pretty with so many great features.  Love that pale green color behind the sink and within the cabinet above.  Just a little pop of color like this can make a huge impact.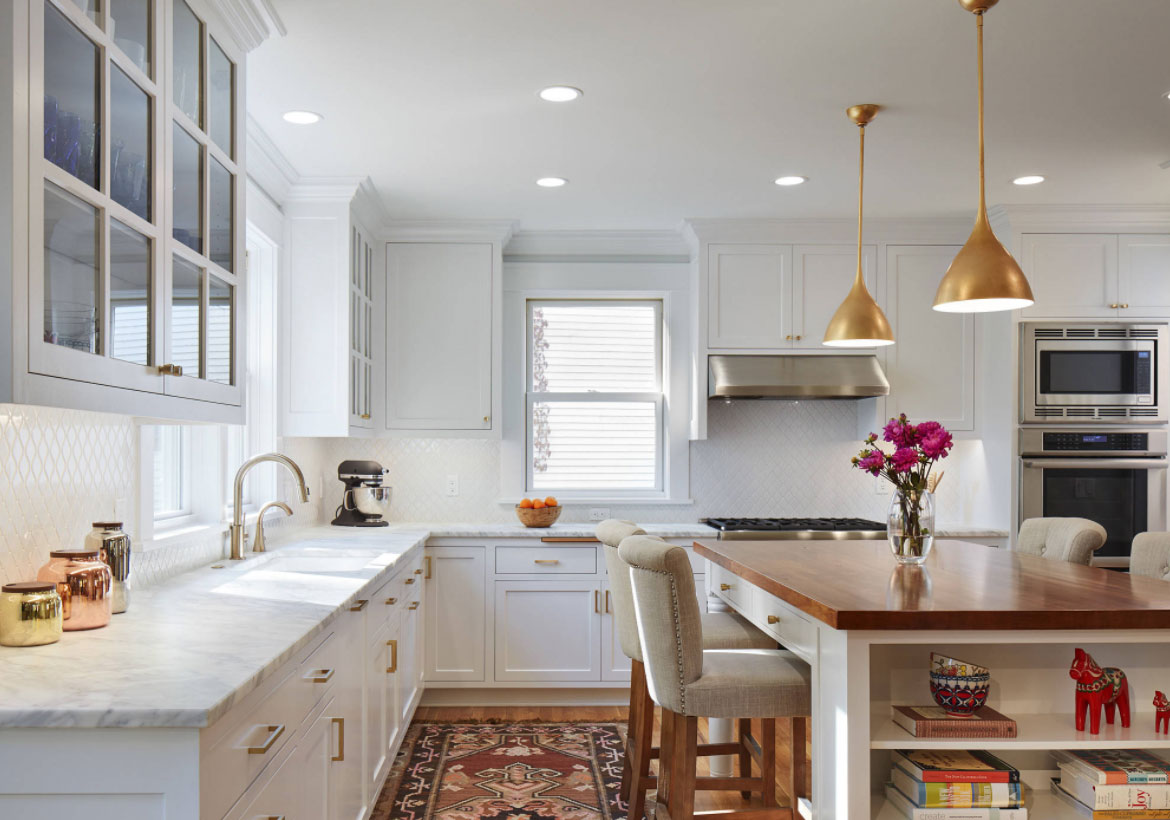 Hage Homes – A new updated twist for brass and/or gold.   While some of us may still be having flashbacks of the gold from the 90's, this kitchen makes it work and it looks fresh.  Plus the wood countertop brings in noteworthy warmth.  Beautifully designed.
Incorporate Your White Kitchen Cabinets in a Multitude of Ways!
You don't have to invest your entire bank account to create a white kitchen cabinetry set that looks good. Plus, you can keep it natural too! Take inspiration from your existing cabinets and appliances, as well as which natural colors will offer a bold contrast between light and dark. Your kitchen should be one of the most energetic and inviting places in your home, and adding white cabinets in any style can serve to heavily increase its value.
This is an image roundup post, curated to showcase and promote other reputable contracting companies' and their amazing work.  To have any of the images removed, please reach out to us and we would be happy to do so.