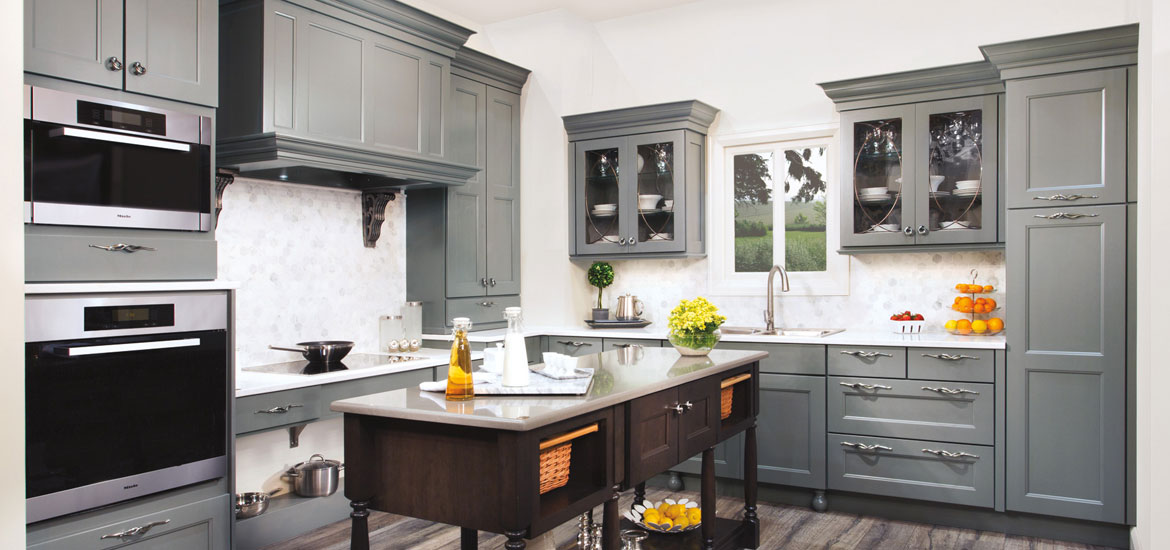 Something about grey works just perfectly for kitchens. The color teeters between a relaxing neutrality and an exciting warmth, managing to provide the best of both worlds. Of course, depending on what shade of grey you choose, your kitchen could be closer to one end or the other.
It is the perfect color to choose for your kitchen remodeling project, whether you want to contrast brighter hues on your floor or fabrics, create textured variations in your kitchen space, or create an exciting yet relaxing space. One area where it has become common is in kitchen cabinets. More and more homeowners are opting out of the popular all-white or wood-brown cabinet styles to try out grey painted kitchen cabinets.
One common reason why homeowners avoid grey is the color's association with dullness, modesty, and boredom. However, any other color scheme can also be given these attributes. It all depends on how you mix and match. In our round up of grey cabinets below, you can see how different colors and textures are used to create an amazing style with grey cabinets being a big part of it. If you are not so sure of your mix-and-match skills, a talk with an interior designer might provide some guidance.
BEACH STYLE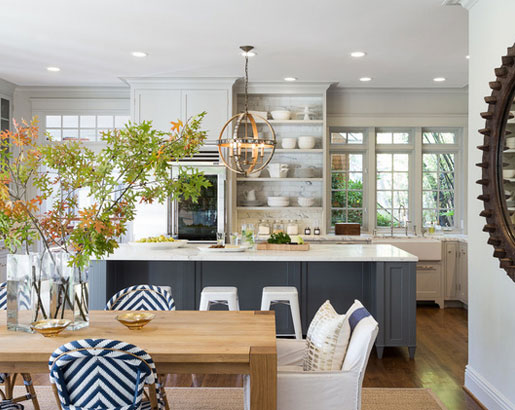 Want a well-designed kitchen that is both attractive and refreshing to look at? This beach-style eat-in kitchen has a fantastic slate gray island. In this Heydt Designs creation, everything appears to be so lovely and colorful.
GRAY & BROWN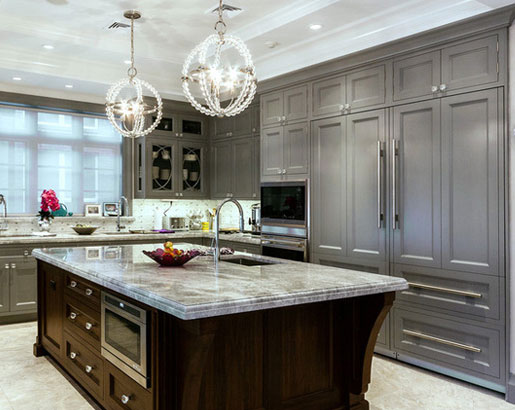 This kitchen has a classic, luxurious atmosphere. The dark brown island will be universally admired as a striking visual contrast. The Home & Stone kitchen design has sleek, contemporary elements in a neutral gray and brown color scheme.
SHAKER GRAY
Would you like your home's kitchen to have a modern yet tidy style that is light and airy? Everything in this kitchen design by Murphy & Co. Design appears to be so spacious and well-organized. A beautiful, clean appearance to this wet bar.
WOOD ISLAND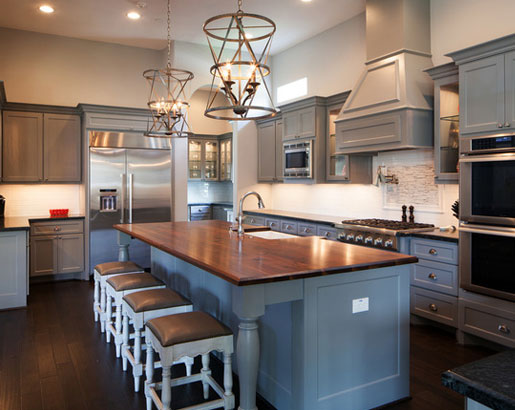 This kitchen design is extremely luxurious and pricey and looks great and spacious. The deep, rich wood counter is a welcome change from the conventional granite and quartz worktops you frequently see. This Cason Graye Homes design is stunning.
ATTAINABLE GRAY
Want to have a contemporary, minimalist kitchen with a nice white and gray color scheme? A lovely kitchen that appears to be within virtually any budget. Everyone will adore the farmhouse sink! Dura Supreme Cabinetry created cabinets with an excellent design.
DRAWER SPACE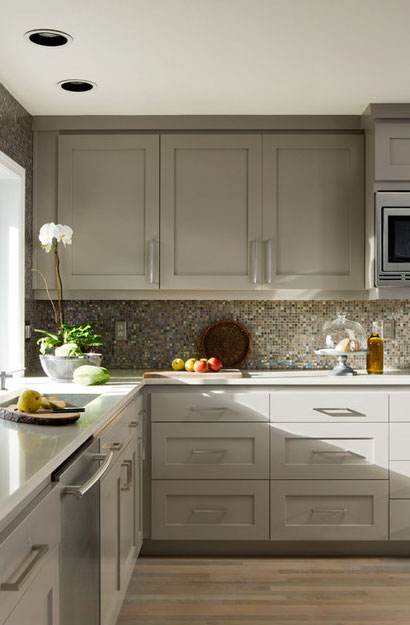 Everyone will concur that this is such a great and cheerful design, especially in the morning, that appears so amazing. Lovely gray shaker cabinets with many drawers! Everything seems to be so bright and beautiful in this design by Nordby Design Studio, Architecture & Interiors LLC.
WINE STORAGE
This kitchen layout is exceptionally neat and tidy. This gray cabinet is for you if you want to keep your wine collection neat and clean. OR to help that person become more organized about their wine consumption. Shenandoah Cabinetry outdid itself with this one.
The Psychology of the Color Gray
At first glance, gray seems like an odd color to choose for the kitchen, an area that is often associated with bright and overly warm colors. Why is it then, that more and more homeowners are opting for gray-themed kitchens? The answer is in the psychology of the color.
A kitchen where everything is gray in color is bound to be dull and quite depressing. Can you imagine a gray floor, gray walls, gray ceiling, gray everything? But in this case, we are talking about using one aspect of the kitchen, the cabinets, to create the perfect décor for your cooking space. A kitchen adorned with gray cabinets, and the right matching colors, is far from dull or depressing. The psychological experience is far more positive.
There is a feeling of expectation. Gray cabinets build anticipation for other aspects of the kitchen. You cannot wait to see the countertop, the floor, the backsplash and so on. In a way, gray allows other elements of the kitchen décor to stand out. Instead of boring, gray actually makes the kitchen more exciting.
An atmosphere of style and luxury. Step into a gray-themed kitchen and you will think you are in some high-end condo. Gray has an unmistakable feeling of classic style and unmitigated luxury.
Relaxing yet exciting. There is a certain hard-to-explain way in which gray causes a deep sense of relaxation yet sparking excitement through its contrast with other nearby colors and textures.
The gray color is a projection of attributes such as cool, wise, knowledgeable, quiet, peaceful, and clean. Gray cabinets will transform your kitchen into a place of tranquility, warmth and relaxation. What more would you want for one of the most important spaces in your home?
BASEMENT BAR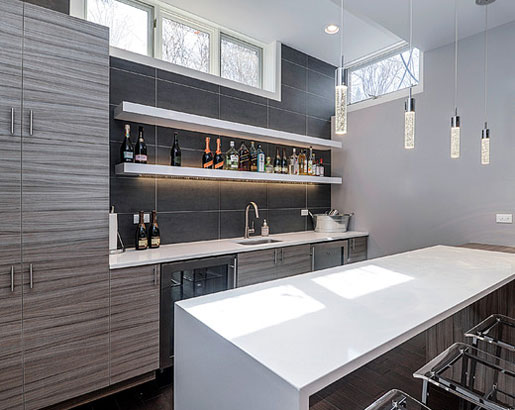 Want a chic, contemporary basement kitchen layout that appears practical and light-filled? Such a cutting-edge basement bar. The dangling pendants will be a hit with everyone. This design by Sebring Design Build is wonderful.
SHAKER
This Tom Howley Kitchens kitchen design is sure to please everyone. A soothing gray color is used to depict this kitchen island. It seems to be quite light and brilliant. The flooring made of Mazzano tumbled marble complements this style beautifully.
Choosing What Shade of Grey Cabinets You Want
Companies like Benjamin Moore stock more than a dozen variants of grey, each with its own character and effects. For example, Fieldstone by Benjamin Moore is closer to white while avoiding its sterility. On the other hand, Dragons Breath by Benjamin Moore gets threateningly close to tan, providing a good complement for brown wood flooring.
Make sure that you test out different shades in different lighting situations. Most paint suppliers provide samples that you can test with. One shade can appear ashy in one type of lighting and bluish in another.
ISLAND GETAWAY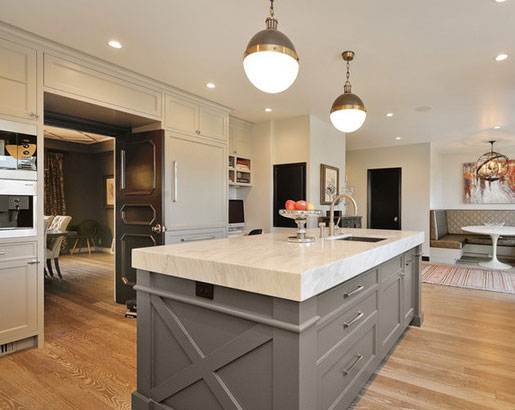 Awesome island, love the crisscross detail on the end and the extra thick Carrara countertop. It looks like two shades of gray are used in this kitchen. This is an incredible kitchen design by Artistic Designs for Living, Tineke Triggs.
GRAY ISLAND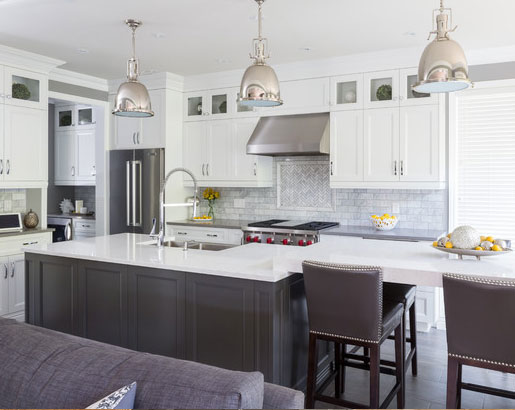 This one appears very clean and contemporary. The white wall cabinets, counters, and dark gray island make a stylish combination. Fantastic expanded island This gray island kitchen design by Paragon Kitchens is amazing.
CORNERED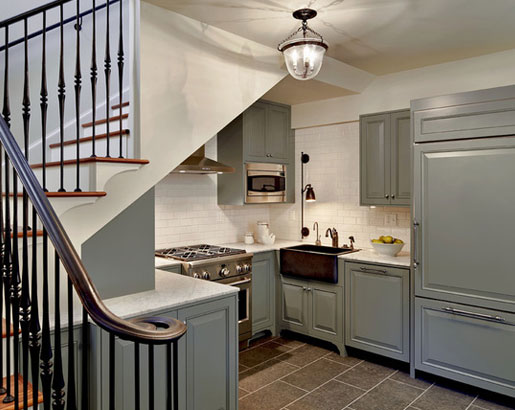 Want a practical, well-kept kitchen that fits your little area well and looks efficient? A very classic and timeless appearance in a special home space. This kitchen design by Hyde Evans Design is quite effective.
Mix and Match Different Cabinet Colors and Surfaces
One popular option is grey and white kitchen cabinets, which creates a gentle contrast. You can go for grey cabinets and a white countertop or grey lower cabinets and all-white upper wall cabinets. You can take a look at these kitchen remodeling ideas from our previous projects.
You can also choose grey painted cabinets to match a grey floor, making sure to choose contrasting shades of grey for both surfaces. For instance, a light grey wood tile floor could work well with dark grey cabinets.
Grey does not have to be boring, dull, or safe. It can be fun, exciting, and even unique. To prove it to you, here are some amazing grey cabinets that work perfectly for the space they are in.
BLACKOUT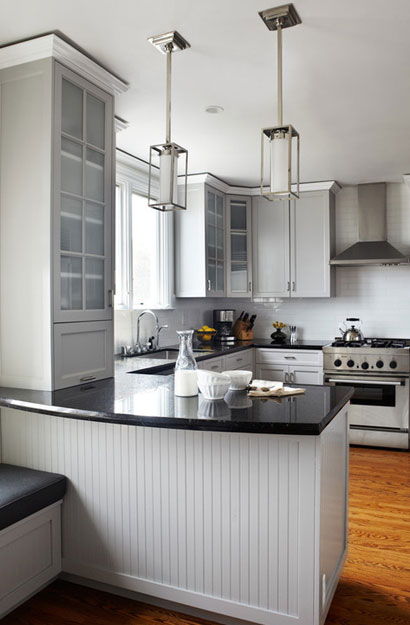 The aesthetic of this kitchen's transitional countertop, which is midnight black, will appeal to virtually everyone's sense of style. Stylish pendant lights in the shape of a rectangle. This kitchen design by Niche Interiors has a very contemporary and streamlined appearance throughout.
CHARCOAL GRAY
Everyone would undoubtedly concur that this is such a great bathroom design that simultaneously appears clean and warm. This chic Chicago bathroom displays cabinetry that is dark charcoal. This design by Michael Abrams Limited is great.
Why Choose Gray Kitchen Cabinets?
One of the benefits of using gray cabinets is that they do not reveal dirt as easily as white cabinets do. White cabinets are great to look at, but they reveal grime readily. White cabinets have ruled the home design landscape for a long time, but they have a significant disadvantage. Against white cabinetry, each smudge, stain, or droplet of liquid will stand out. Gray cabinets, on the other hand, are a little more forgiving.
Furthermore, gray kitchen cabinets do not make a room appear gloomy or heavy. When it comes to kitchen design, black can make a statement, but it can also make the space appear dreary or dull. Although dark cabinets are growing more trendy, they are not the best option. If you are drawn to the color black but are concerned that the kitchen will be too dark, you might opt for gray.
Furthermore, the gray tone of the cabinets allows for customization. While some may consider gray to be neutral or uninteresting, it comes in a variety of colors that can be used. A bluish-gray, for example, is appropriate for settings with colder tones. French gray, meanwhile, has warmer tones and can almost be read as affection. It goes well with the warmer colors when combined with French gray. You can use different colors depending on the color of the other surfaces. Furthermore, the majority of the grays complement other hues such as purple and green.
Furthermore, having grey cabinets in the kitchen is advantageous since they complement a variety of surfaces. Gray cabinets have been seen with solid surface and marble counters, which are common choices for countertops. On the other hand, Gray looks well with laminate and butcher block, especially if you're looking for a low-cost option.
Another advantage of gray cabinets is that they tend to last a long time. Gray may be found in the majority of Scandinavian kitchens. These kitchens are cutting-edge in terms of design. Although grays are not particularly trendy for traditional kitchen designs, they offer distinctive elements and have a place in the current kitchen scene. So, if you're considering remodeling your kitchen, choose gray—it's fashionable, cozy, and resistant to filth.
Styling Gray Kitchen Cabinets
In terms of choosing a color for a room's décor, it is not a simple task. Before you can choose a palette, you must first decide on a style while also considering practicality. Gray has the advantage of being extremely versatile. It may be adapted to any location or style. A kitchen with grey cabinets will appear fashionable in a majority of instances and will balance out things.
If you want to customize your gray cabinets, consider the additional colors you employ. Gray cabinetry in the kitchen can be combined with warm materials and hues. The issue about gray is that when compared to other colors, it might appear cold and austere. A kitchen, for example, needs to be both warm and inviting, which means that utilizing gray alone can be difficult. You need to match it with a warm material like wood and vibrant accent colors like red, orange, and yellow to bring out some cheer.
Maintain a neutral kitchen tone to allow the material to shine out. When you use costly materials to decorate your kitchens, such as marble or wood, it adds too much color, distracting. As a result, keeping the color palette neutral and letting the materials stand out is an excellent idea.
You may also wish to utilize light colors to give the kitchen a cheerful and open appearance. Sometimes you want your minimalist kitchen to appear light and spacious. If this is the case, a dark color like gray may not be the best choice. Choose a lighter color or paint the walls white to make the décor appear fresh and airy.
The use of gray in subway tiles creates a one-of-a-kind aesthetic. Having distinctive backsplashes is now a popular trend in most kitchen décors. On the other hand, a normal subway tile appears to be the most classic and appealing option.
Light Versus Dark Gray Cabinetry
Your particular preferences will determine the color of your gray kitchen cabinets. However, the qualities of the kitchen have a role as well. For example, if the room appears small or there is limited natural sunlight, utilizing dark cabinets can create a minimalist vibe in the kitchen—it feels smaller and darker. Light tones tend to reflect light back into the space, whereas rich, saturated hues absorb light. As a result, light shades will increase the brightness of the room. Gray cabinets and dark gray tones are ideal for grounding a larger area in compact spaces.
Warm Versus Cool Cabinetry Color
Gray may appear to be a direct neutral; yet, other hues such as reds, blues, and yellows have a strong influence on it. The gray color may appear warmer or cooler depending on the undertone or influencing color. For example, a gray color combined with a blue undertone produces a steely hue. In addition, gray kitchen cabinets with a red undertone provide a putty tone that is comparable to taupe. If you want to examine how different shades function in your area, tape paint chips with different gray hues next to each other on the wall. Examine those shades throughout the day—you'll notice color fluctuations. You can select the colors that appeal to you the most.
Painted Versus Stained Cabinets
In terms of gray kitchen cabinets, you have two options: stained cabinets or painted cabinets. You might have painted cabinets covered in an opaque gray tone or stained cabinets with a translucent finish that enables some wood grain to be seen. In terms of cabinetry painting and staining, there are numerous options.
They bring in a clean, even hue with painted cabinetry. They are also easy to clean, but stained cabinets have a textured appearance that draws attention to the wood beneath. However, with a protective coating, you can make stained cabinets easier to clean.
Grey can be a surprisingly fun color, as is evident in our article. With some creativity and the right match-ups, grey cabinets could work great for your kitchen. Whether you are planning a remodel or building a new house, consider some grey additions to your kitchen. If you need help with advice or ideas, we are always here to help.
This is an image roundup post, curated to showcase and promote other reputable contracting companies' and their amazing work. To have any of the images removed, please reach out to us and we would be happy to do so.