Nothing feels as tranquil as a sunny day under a clear blue sky or gazing out at a shimmering blue ocean. The color blue triggers feelings of relaxation, peace, quiet, grandness and expansiveness. When used inside the house, blue creates the same feelings of tranquility, space and luxury. It is also a well-known stress reducer, helping to slow down your heartbeat and lower blood pressure.
Why not try this cool shade during your kitchen remodel with blue kitchen cabinets? It will make your kitchen appear bigger, seem cooler and feel more relaxing. One other interesting characteristic of blue scientists have uncovered is that it suppresses appetite.
Picking the Right Shade of Blue Cabinets
There are literally hundreds of shades of blue to choose from depending on your décor preferences and the overall style you are going for. On the darker end of the scale, navy blue kitchen cabinets bring to your kitchen a twist of dark luxury. On the lighter end of the scale, light blue kitchen cabinets have a more airy coolness to them. In the middle of the scale, your options include midnight blue, deep sky blue, Persian blue and denim blue.
So how do you go about choosing the right shade for your kitchen? It all depends on the feel and style you are going for. If you want a somber cool-dark feel to your kitchen, you could go for navy blue or royal blue (traditional). This would be a great option for someone living in a hot sunny climate. The dark blue helps balance out the heat and light.
If the look you want is light, playful, fun and airy, the middle and lighter shades of blue are better. They tend to promote the effect of light and space in a kitchen. Some good examples of these shades include Baby Blue, Royal Azure, Celestial Blue and Cadet Blue. These light blues are especially great for small kitchens, as they tend to intensify the perception of space. For large kitchens where you need to create a feeling of coziness, the middle and darker shades of blue are best.
If your heart loves the radical, try some unique shades such as Persian Indigo, Purple Navy and Nile Blue. These colors are so far from the middle true blue that they create a kitchen that immediately stands out. Push the boundary even further by paring them up with other outrageous colors.
The most important thing when picking a shade for your kitchen cabinets is to test a number of shades. Most paint companies provide paint swatches that you can test at your home. See how the color appears in different lighting conditions and next to other colors in your kitchen.
Once you have picked your shade of choice, the next step is mixing and matching it with other colors and accessories.

Mixing and Matching Kitchen Cabinets
For your blue kitchen cabinets to work out great, you must mix and match them properly with other colors in the room. How the blue complements the color of other surfaces and accessories determines the final overall look and feel of the kitchen.
One popular trend is to mix blue and grey. This combination is reminiscent of Mother Nature; think a blue sky with grey clouds setting in. The two colors contrast perfectly, reinforcing the freshness and relaxing nature of blue. Light grey often works best, because it contrasts the blue without overshadowing its position as the central focus of the kitchen.
For more stark contrasts, try navy blue cabinets with brighter colors such as white, cream or yellow. For instance, you can have a deep blue cabinet with marble white countertops. Another idea is blue cabinets with bright yellow knobs or blue cabinets against a white wall.
The combination options are endless; baby blue and white, navy blue and wood-brown and so on. Look through some of the creative mix and matches below to get ideas of your own. The picture roundup includes everything from blue grey kitchen cabinets to all-blue kitchen cabinets. Whichever combination you choose, the most important thing is to make sure the two colors complement each other well and result in the right style for your kitchen.
Moderation in Kitchen Colors
Like with most things in life, moderation is important in achieving the perfect interior decor style. While it has many advantages (cool, relaxing, spacey and so on), the downsides of blue could manifest if overdone. Too much of it and your kitchen takes on an almost depressing feeling. Can you imagine a kitchen with all cabinets, including floor and wall cabinets, in the same blue shade? It looks more melancholy than relaxing.
The secret is knowing just how much is right? Not too little that it does not make a difference and not too much that it gets overwhelming. If you must fill up your kitchen with blue, then at least give different cabinets varying shades of blue to create gentle contrasts.
Another good way preventing an overdone kitchen is using other colors. We have discussed this in the mix and match section. Look for colors such as yellow, brown and white that give the eye a break from the blue. Something as small as a flower vase can make a big difference.
Take a look through the various blue kitchen cabinets ideas below and use them to create your own unique style.  If you are looking for more home remodeling ideas, check out our previous projects for design ideas.
COASTAL PLANTATION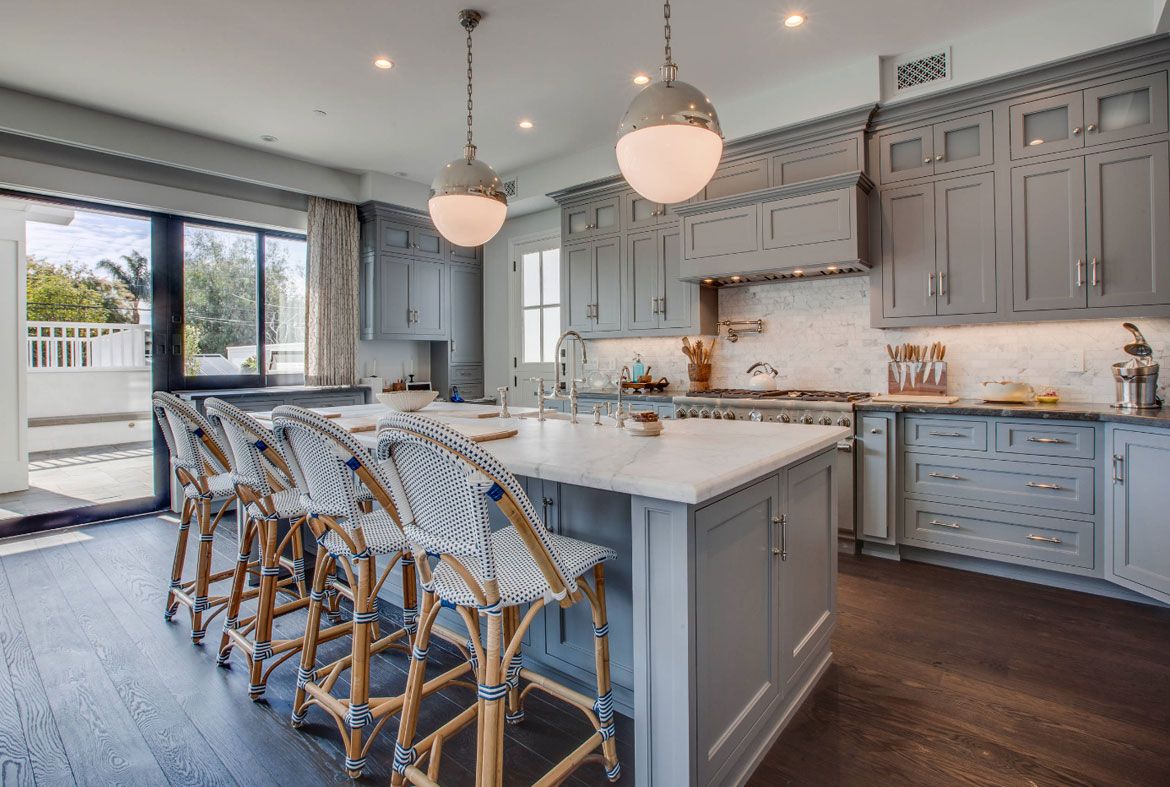 COBALT CONTEMPORARY
First thing that came to mind is The Jetsons! Different, intricate and contemporary.
DREAM ISLAND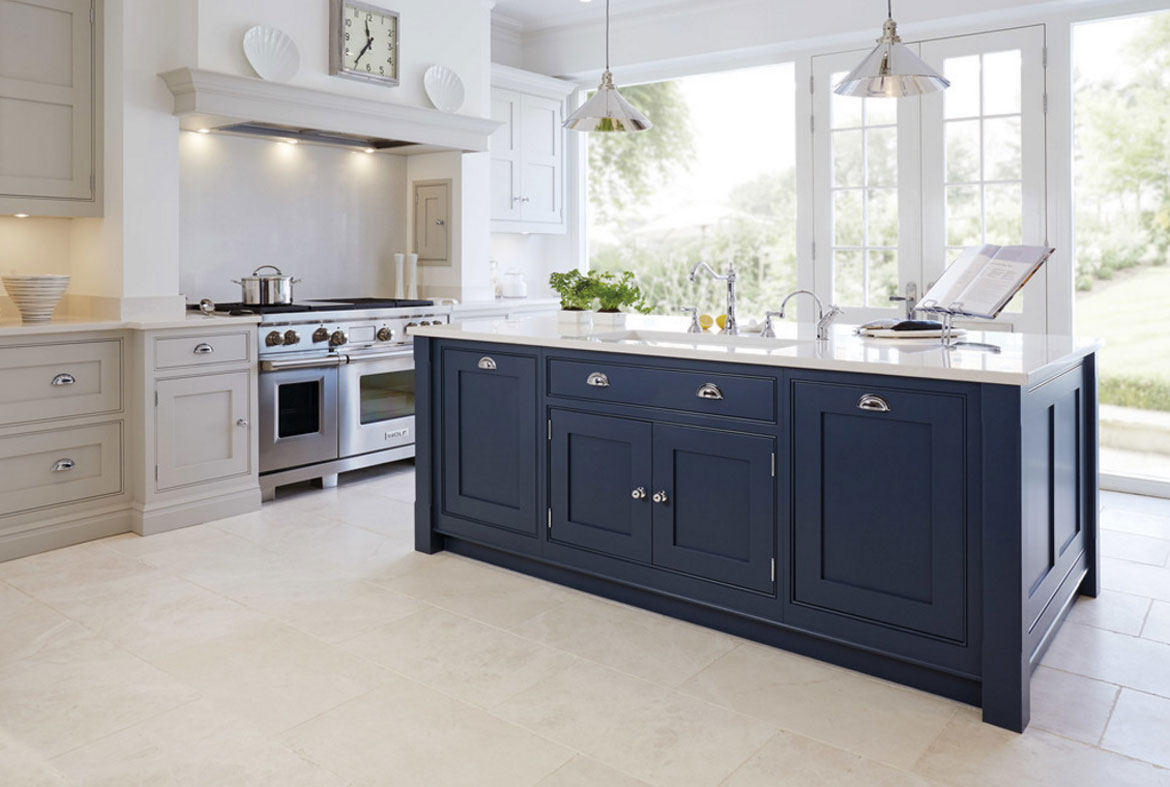 Stunning blue island, wonderful centerpiece.
BEACHY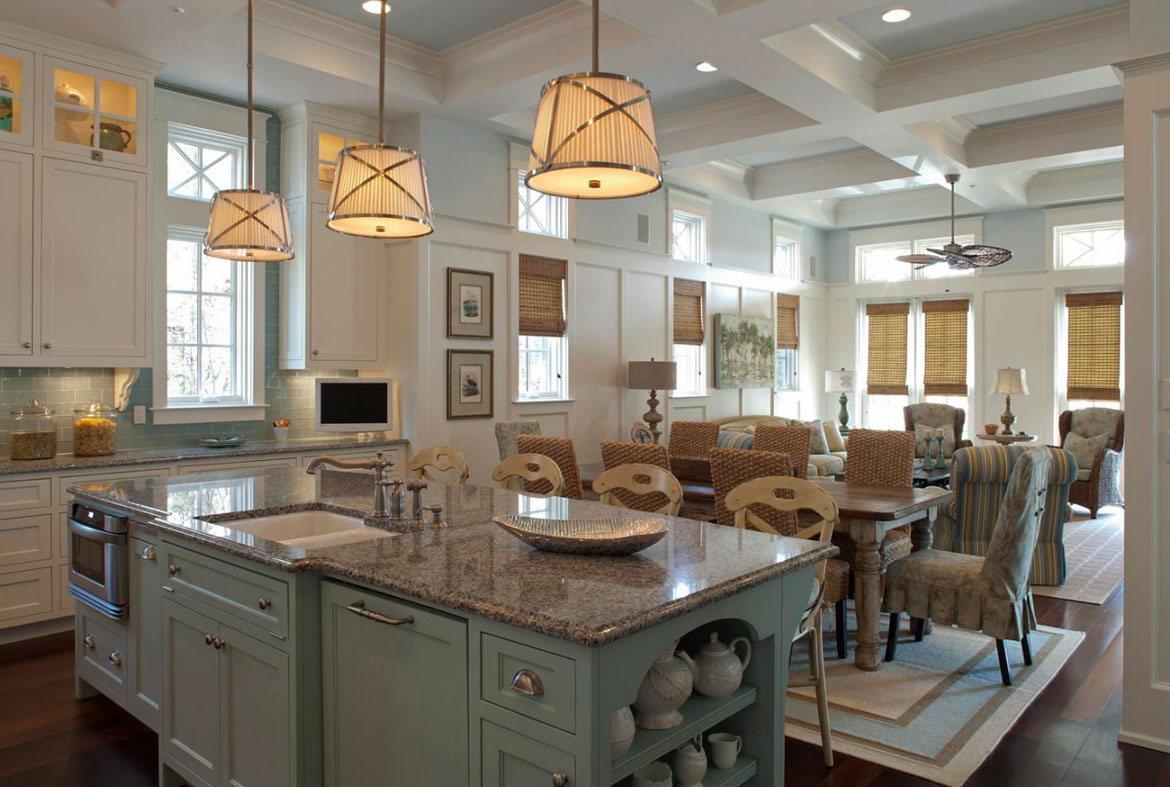 Exquisite beach style home. The light blue island is such a nice addition of color, so comfortable and welcoming. Love the lights. Wish I was there!
BABY BLUE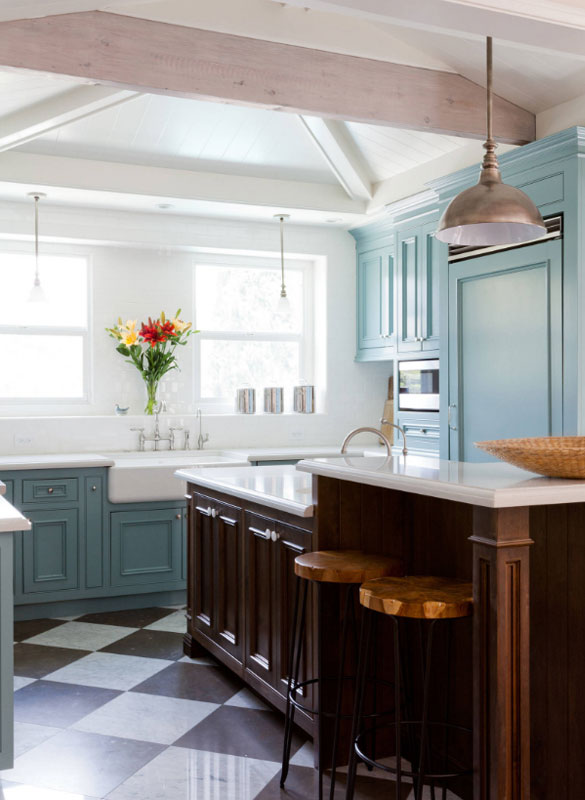 Such a warm and peaceful vibe to this pretty kitchen.
TWO TONE ISLAND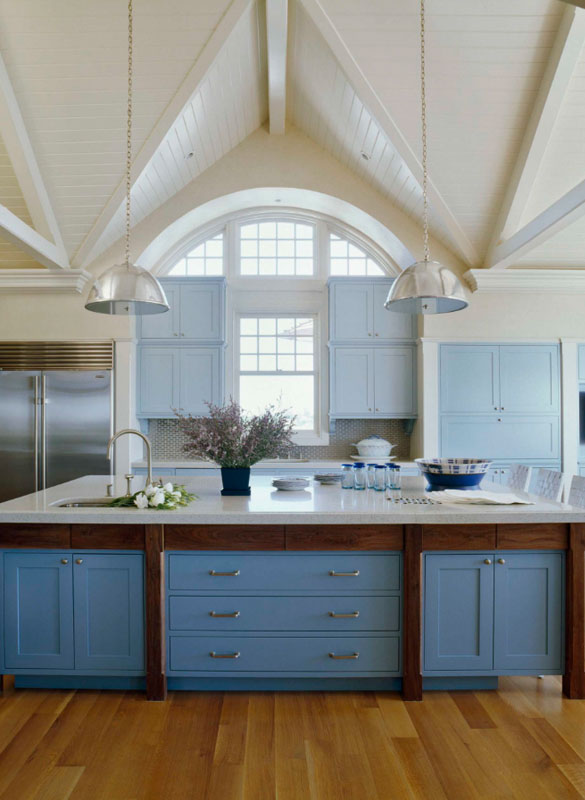 Two-tone island is the centerpiece in this waterfront kitchen.
STORAGE HEAVEN
Love all the upper cabinet space and the rounded bottom cabinet.
CHARCOAL BLUE
Lovely kitchen.   Love the pendant lights and the "splash" of contemporary over the stove.