Nothing feels as tranquil as a sunny day under a clear blue sky or gazing out at a shimmering blue ocean. The color blue triggers feelings of relaxation, peace, quiet, grandness and expansiveness. When used inside the house, blue creates the same feelings of tranquility, space and luxury. It is also a well-known stress reducer, helping to slow down your heartbeat and lower blood pressure.
Why not try this cool shade during your kitchen remodel with blue kitchen cabinets? It will make your kitchen appear bigger, seem cooler and feel more relaxing. One other interesting characteristic of blue scientists have uncovered is that it suppresses appetite.
COASTAL PLANTATION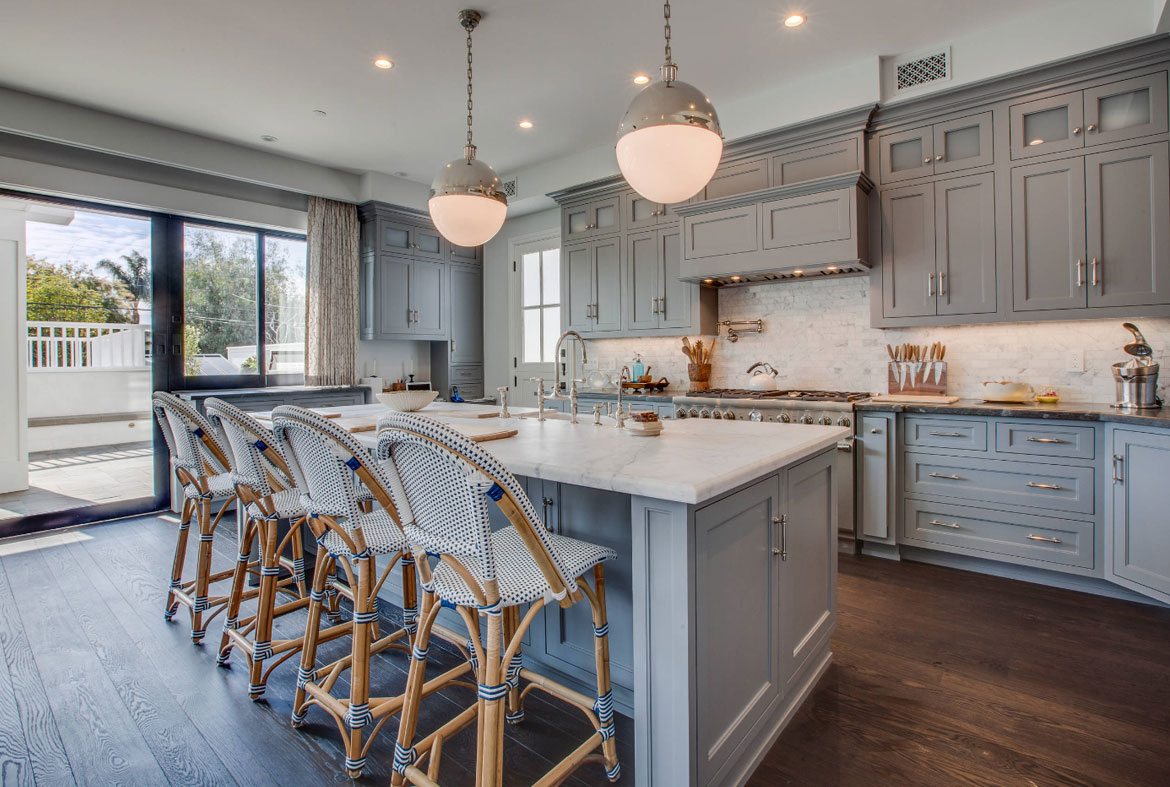 Everyone will concur that this kitchen is enormous and gorgeous and simultaneously appears coastal and lovely. This tropical plantation kitchen has beautiful soft blue cabinetry. Luke Gibson Photography photographed this excellent kitchen design.
COBALT CONTEMPORARY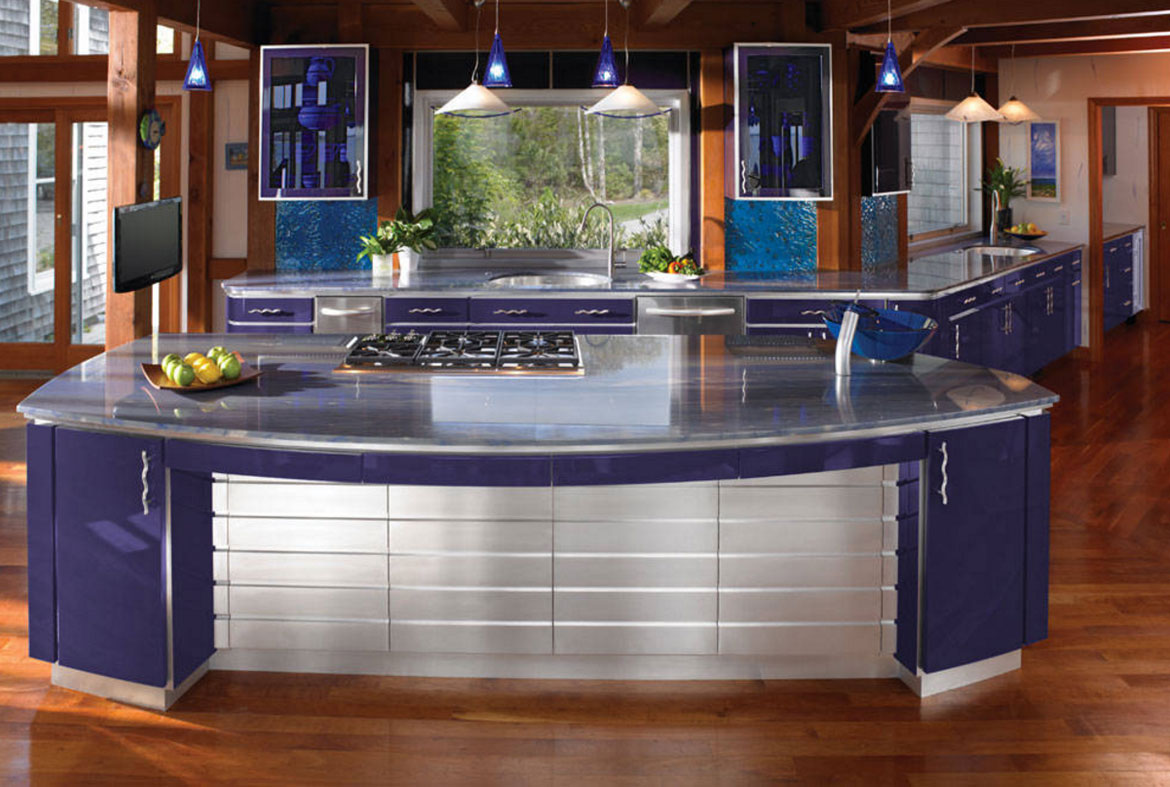 Want a sizable, contemporary kitchen with lots of sleek-themed cabinets that simultaneously seem expensive? The Jetsons are the first thing that sprang to mind! Distinctive, complex, and modern. This design by Woodmeister Master Builders is excellent.
BEACHY
Luxury beachfront mansion. The soft blue of the island is a lovely touch that makes the space feel more inviting. I appreciate the lighting. I wish I could have been there! Geoff Chick & Associates did an incredible job designing this kitchen and adjacent dining room.
BABY BLUE
Want to have a cozy and lovely kitchen design that is both lovely and straightforward? This charming kitchen exudes such a relaxed and serene atmosphere. In this Taylor Jacobson Interior Design kitchen, you may invite your pals for conversations while you're cooking.
TWO TONE ISLAND
Do you want a spacious, inviting, and pleasant home design that resembles a living room? The wooden edges and blue cabinets look fantastic together. The focal point of this lakeside kitchen by Austin Patterson Disston Architects is a two-tone island.
STORAGE HEAVEN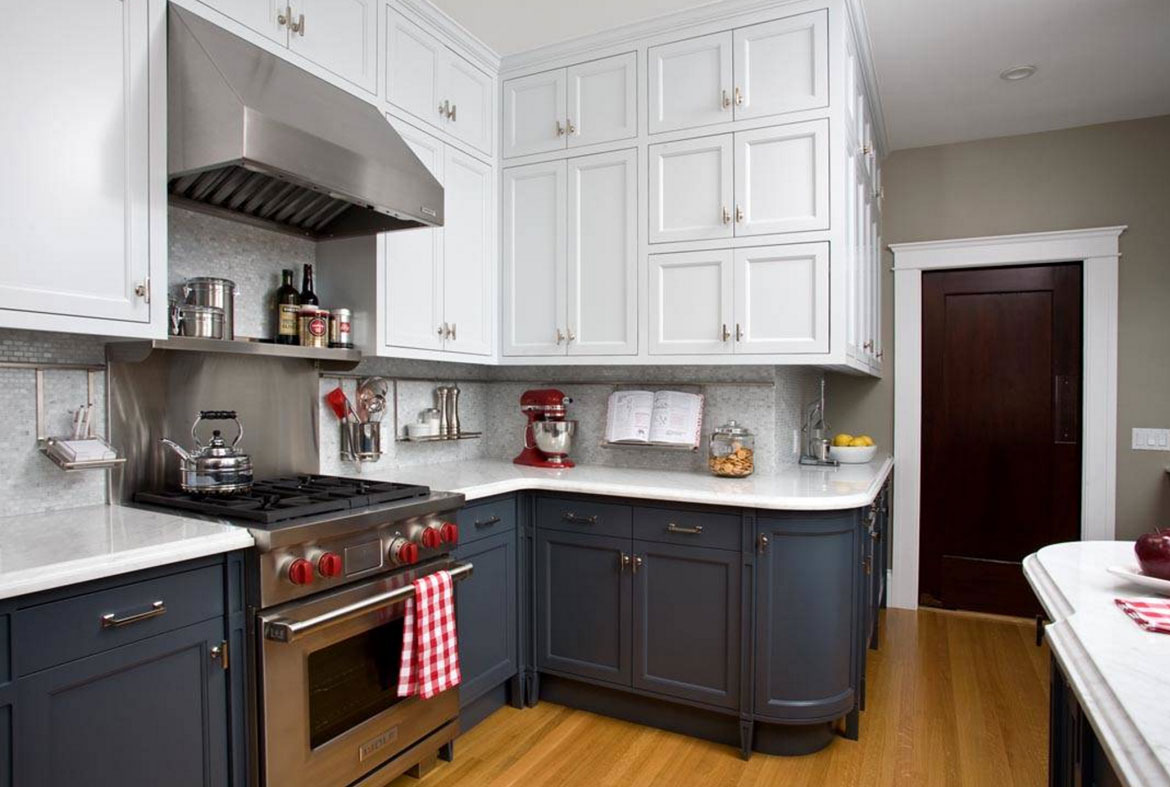 Everyone will adore this kitchen layout, which appears practical thanks to the numerous storage cupboards. I love the rounded bottom cabinet and the ample upper cabinet space—excellent kitchen design by Artistic Designs for Living, Tineke Triggs.
CHARCOAL BLUE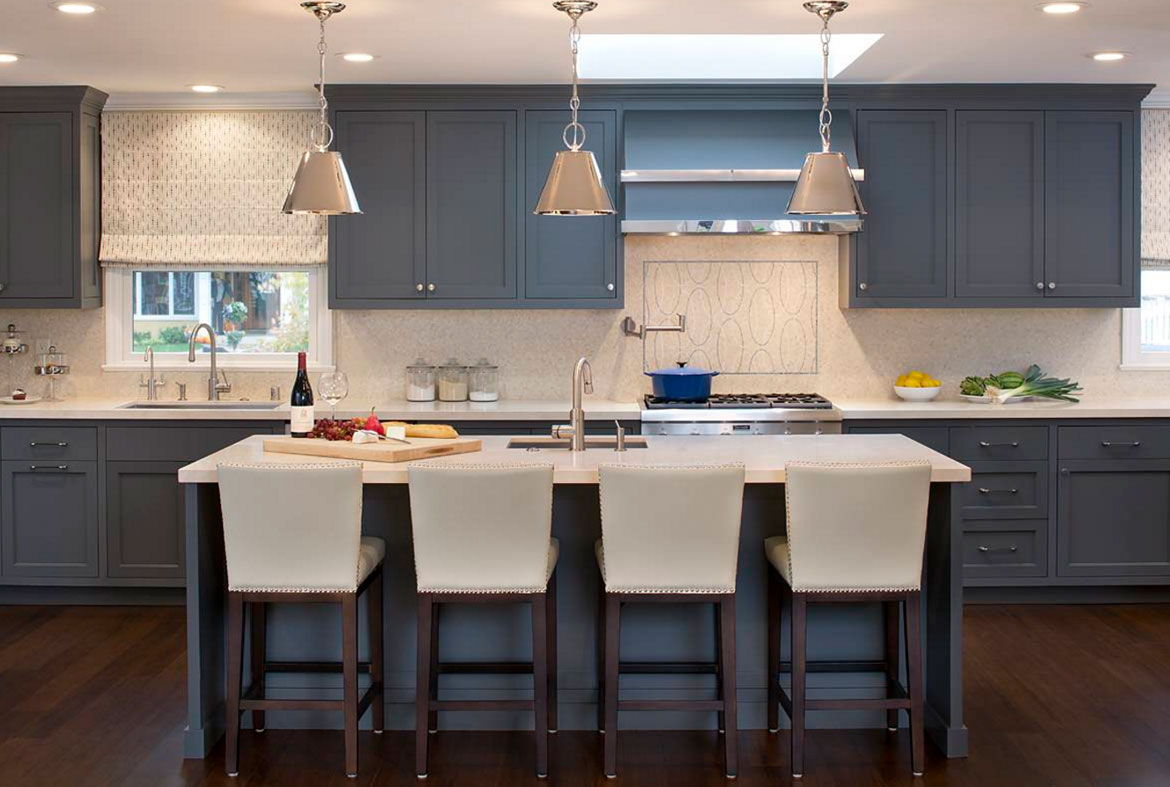 Everyone will agree that this kitchen is beautiful. The splash of modernity over the stove and the pendant lighting will be big hits. Artistic Designs for Living, Tineke Triggs created a lovely and inviting kitchen for her clients.
DEEP BLUE SHAKER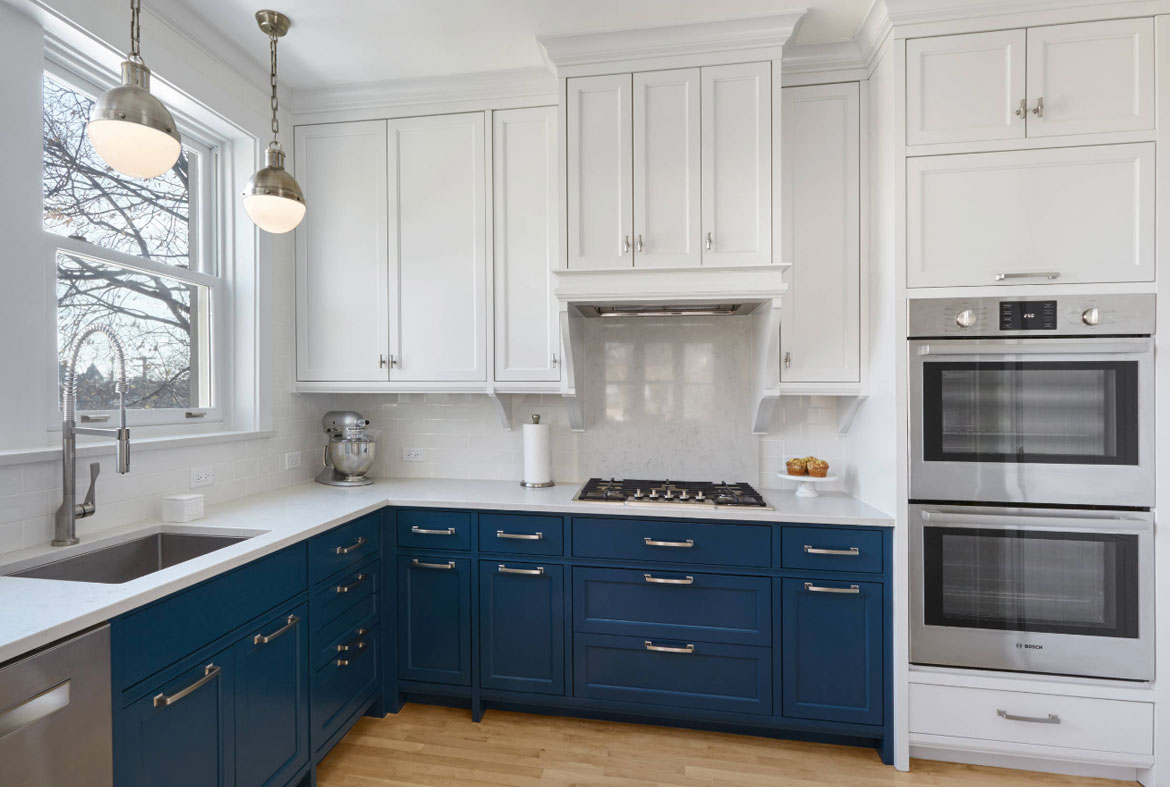 The kitchen's dark blue accents and bright white countertops are popular with guests. Moreover, the lighting is both welcoming and engaging, creating a cozy and inviting atmosphere. Randall Architects has designed a magnificent kitchen that might be found in a medieval castle.
FARMHOUSE CLASSIC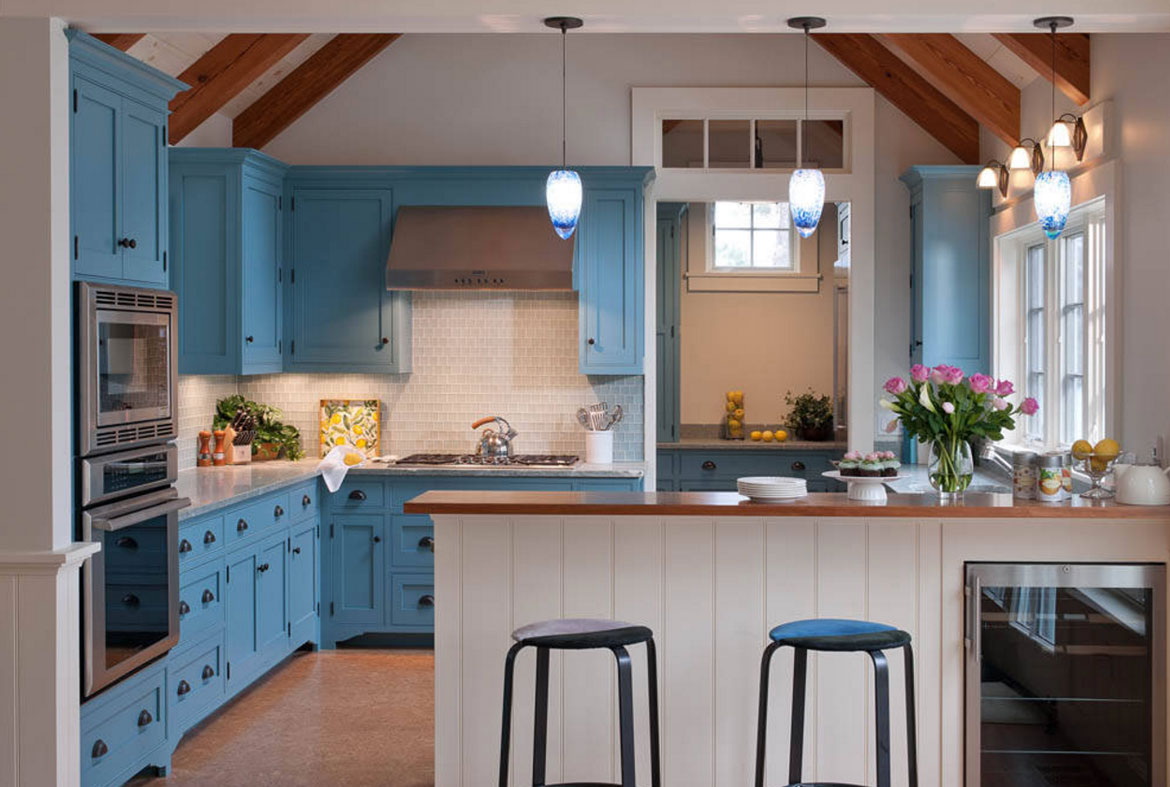 Want to have a traditional kitchen that resembles a kitchen from a vintage film? This is an excellent illustration of a classic farmhouse kitchen design by Elizabeth Swartz Interiors. This kitchen in the farmhouse design has a very traditional feel. Everyone will adore the backsplash!
Picking the Right Shade of Blue Cabinets
There are literally hundreds of shades of blue to choose from depending on your décor preferences and the overall style you are going for. On the darker end of the scale, navy blue kitchen cabinets bring to your kitchen a twist of dark luxury. On the lighter end of the scale, light blue kitchen cabinets have a more airy coolness to them. In the middle of the scale, your options include midnight blue, deep sky blue, Persian blue and denim blue.
So how do you go about choosing the right shade for your kitchen? It all depends on the feel and style you are going for. If you want a somber cool-dark feel to your kitchen, you could go for navy blue or royal blue (traditional). This would be a great option for someone living in a hot sunny climate. The dark blue helps balance out the heat and light.
If the look you want is light, playful, fun and airy, the middle and lighter shades of blue are better. They tend to promote the effect of light and space in a kitchen. Some good examples of these shades include Baby Blue, Royal Azure, Celestial Blue and Cadet Blue. These light blues are especially great for small kitchens, as they tend to intensify the perception of space. For large kitchens where you need to create a feeling of coziness, the middle and darker shades of blue are best.
If your heart loves the radical, try some unique shades such as Persian Indigo, Purple Navy and Nile Blue. These colors are so far from the middle true blue that they create a kitchen that immediately stands out. Push the boundary even further by paring them up with other outrageous colors.
The most important thing when picking a shade for your kitchen cabinets is to test a number of shades. Most paint companies provide paint swatches that you can test at your home. See how the color appears in different lighting conditions and next to other colors in your kitchen.
Once you have picked your shade of choice, the next step is mixing and matching it with other colors and accessories.
CHARMING COUNTRY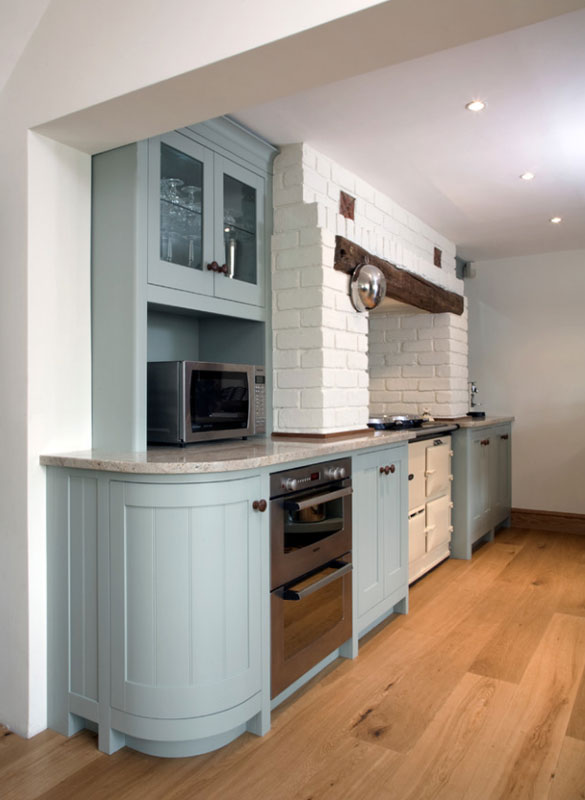 This rustic blue kitchen is very lovely. Everybody will adore the curving cabinet in the corner. The ancient stove and the brick give the space so much character—beautiful broad plank flooring. Pearce & Co. Woodsmiths did a great job with the design.
HICKS BLUE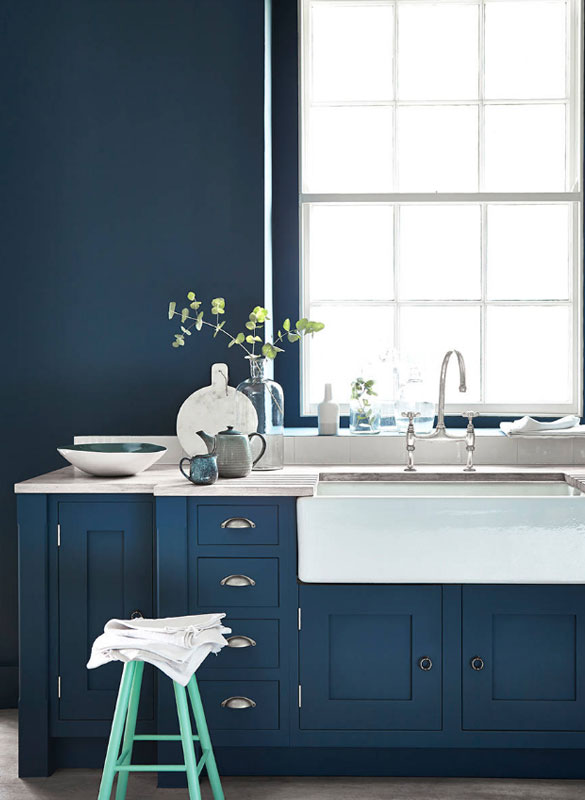 Everyone will agree that this kitchen design is for blue lovers! The awesome deep blue color on the cabinets and the walls (Hicks Blue by Little Greene). The white helps to keep it from feeling too dark—such a pretty kitchen design by Designerpaint.
MODERN LONDON
Want to have a very large kitchen with a gorgeous and well-lit appearance? The design of this kitchen has a feel of a highly contemporary London kitchen. This modern kitchen design is excellent, and Alex Maguire Photography did a great job capturing it.
SLEEK CONTEMPORARY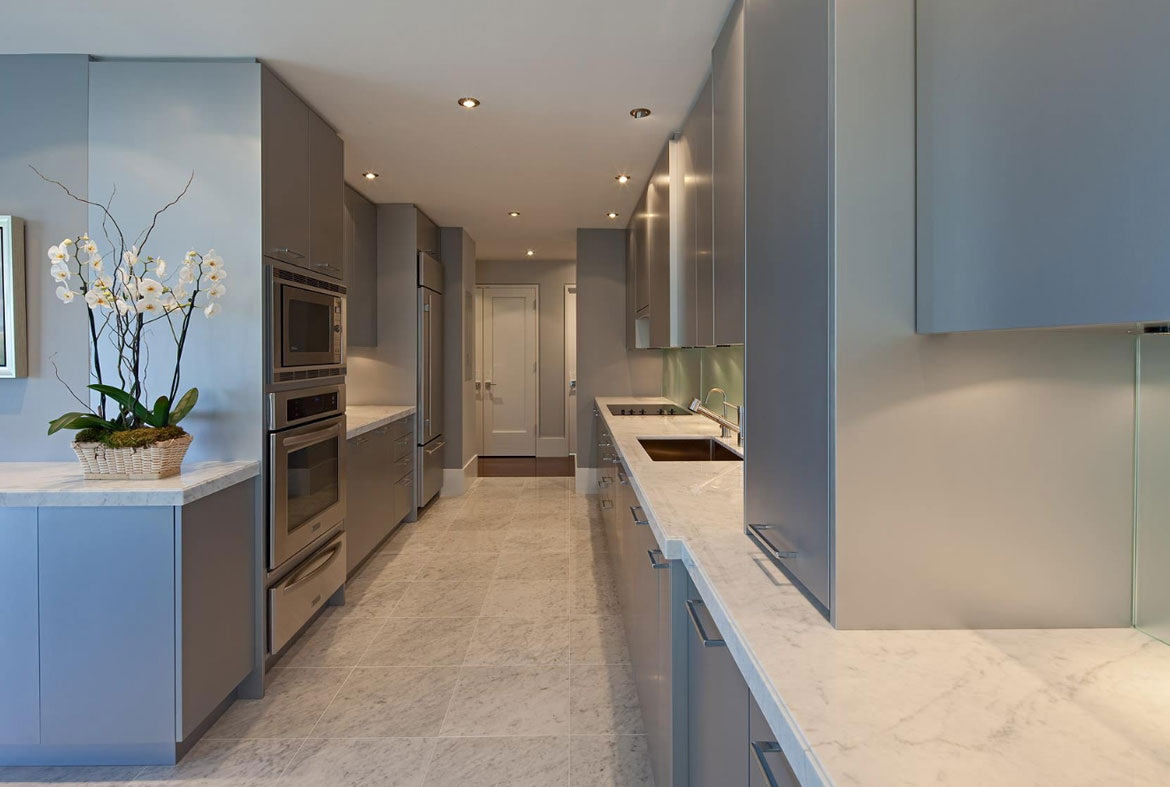 Everyone would concur that this is such a lovely, sleek, contemporary kitchen layout! It appears to be a space at a luxurious hotel! It has a ton of storage capacity and is sleek! Peter a. Sellar – Architectural Photographer captured this incredibly modern kitchen.
Mixing and Matching Kitchen Cabinets
For your blue kitchen cabinets to work out great, you must mix and match them properly with other colors in the room. How the blue complements the color of other surfaces and accessories determines the final overall look and feel of the kitchen.
One popular trend is to mix blue and grey. This combination is reminiscent of Mother Nature; think a blue sky with grey clouds setting in. The two colors contrast perfectly, reinforcing the freshness and relaxing nature of blue. Light grey often works best, because it contrasts the blue without overshadowing its position as the central focus of the kitchen.
For more stark contrasts, try navy blue cabinets with brighter colors such as white, cream or yellow. For instance, you can have a deep blue cabinet with marble white countertops. Another idea is blue cabinets with bright yellow knobs or blue cabinets against a white wall.
The combination options are endless; baby blue and white, navy blue and wood-brown and so on. Look through some of the creative mix and matches below to get ideas of your own. The picture roundup includes everything from blue grey kitchen cabinets to all-blue kitchen cabinets. Whichever combination you choose, the most important thing is to make sure the two colors complement each other well and result in the right style for your kitchen.
TRIPLE TREAT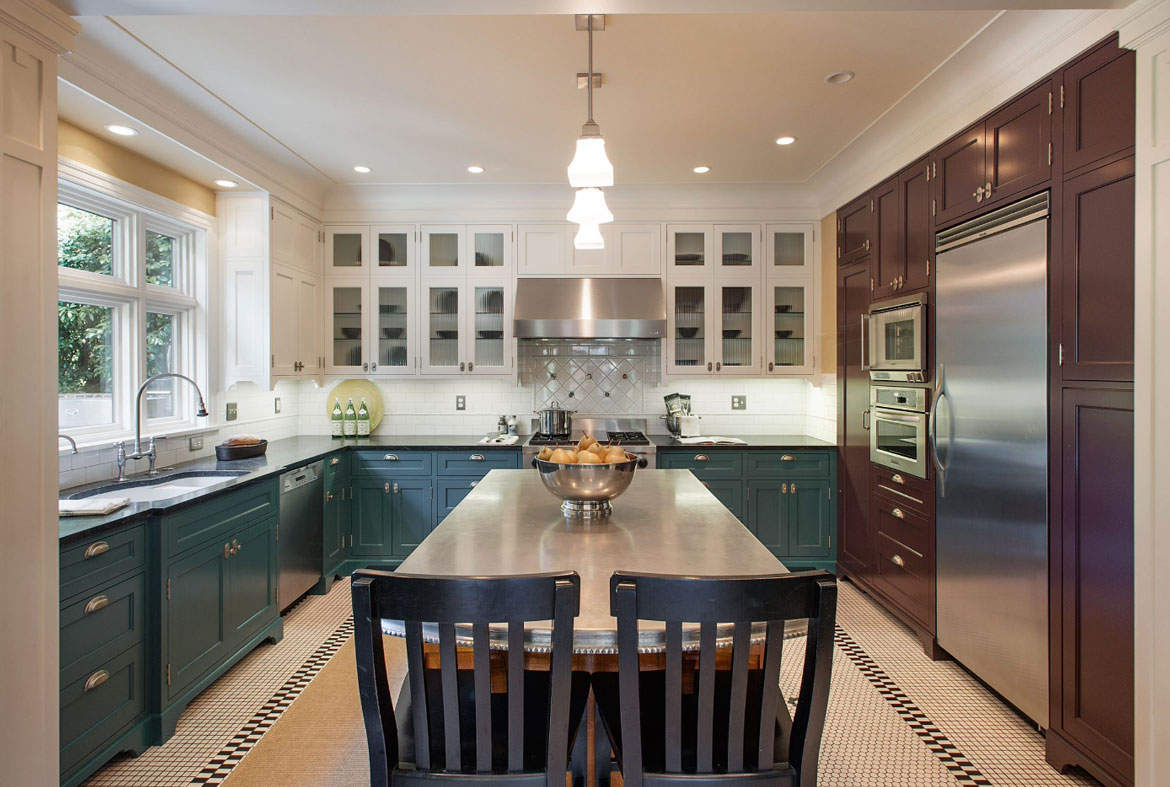 Everyone would concur that this kitchen design is excellent and gorgeous! It leans more teal than pure blue, but I thought it was intriguing how the cabinetry in this historic kitchen was three different hues. The design by Fradkin Fine Construction, Inc. is really lovely.
TRANSITIONAL WOW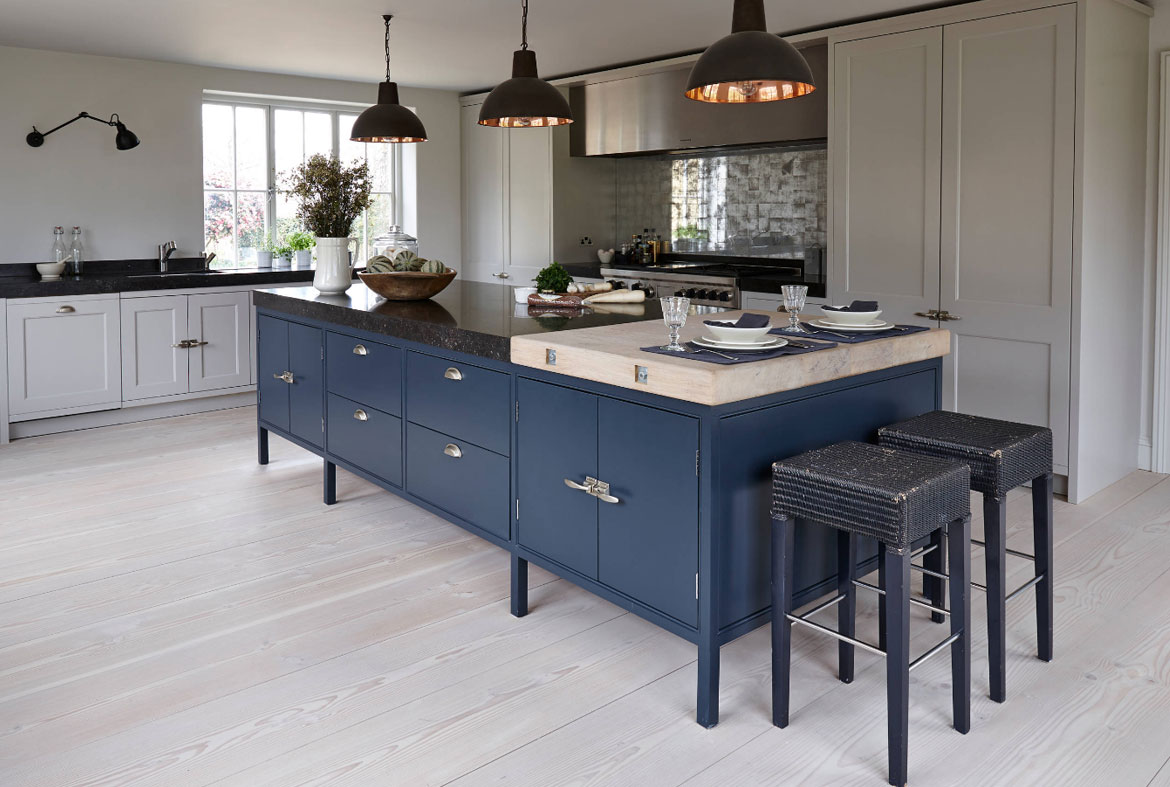 This is a lovely and light layout, which seems modern and inviting. Wow was my initial reaction. It's just so unusual and special. The likes of this island don't pop up very often. Mowlem & Co. certainly outdid themselves with this one.
DYNAMIC TURQUOISE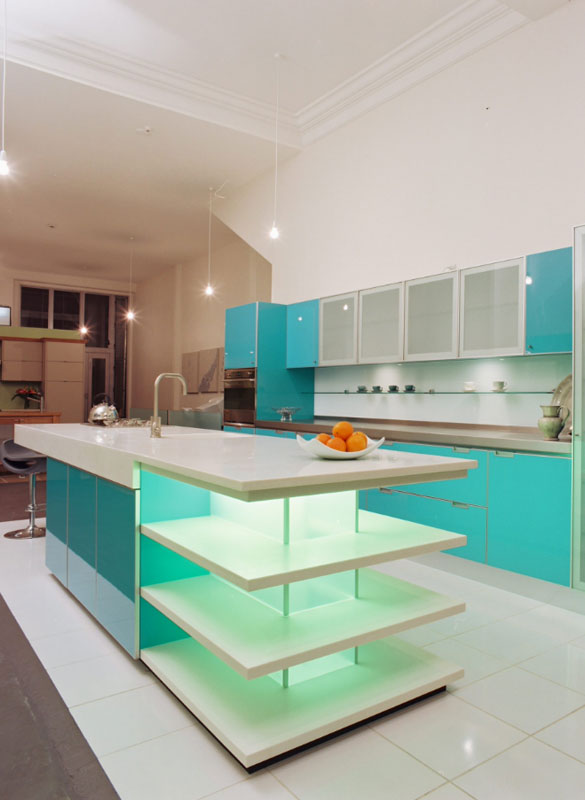 The blue hue and the illumination of the island bookcase are refreshingly new features. It's hard to believe how nice and easy to use something so sleek and lively it can appear. This Mal Corboy Design is perfect for a fun time.
WATERCOLOR KITCHEN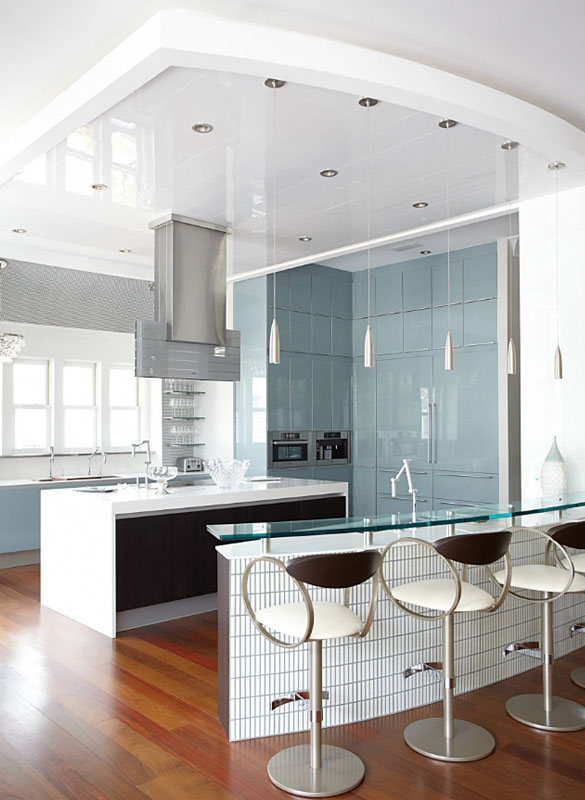 Do you desire a kitchen with an industrial vibe that is yet modern? Everyone will concur that this design screams an artsy kitchen. The contemporary kitchen in Watercolor, Florida, is amazing. Such a fantastic design by Cara McBroom, Licensed Interior Designer.
Moderation in Kitchen Colors
Like with most things in life, moderation is important in achieving the perfect interior decor style. While it has many advantages (cool, relaxing, spacey and so on), the downsides of blue could manifest if overdone. Too much of it and your kitchen takes on an almost depressing feeling. Can you imagine a kitchen with all cabinets, including floor and wall cabinets, in the same blue shade? It looks more melancholy than relaxing.
The secret is knowing just how much is right? Not too little that it does not make a difference and not too much that it gets overwhelming. If you must fill up your kitchen with blue, then at least give different cabinets varying shades of blue to create gentle contrasts.
Another good way preventing an overdone kitchen is using other colors. We have discussed this in the mix and match section. Look for colors such as yellow, brown and white that give the eye a break from the blue. Something as small as a flower vase can make a big difference.
Take a look through the various blue kitchen cabinets ideas below and use them to create your own unique style.  If you are looking for more home remodeling ideas, check out our previous projects for design ideas.
WHIMSICAL INDUSTRIAL
Everyone will concur that this industrial kitchen design is excellent and whimsical-looking. Even though there isn't much room, everything still looks lovely. This industrial kitchen is so charming and wacky—outstanding work from Sustainable Kitchens.
CHEERFUL KITCHEN
Do you desire a kitchen layout that is both spacious and inviting? Everyone will agree that this kitchen design is very open, bright, and happy. Everything appears so tidy and cheerful in this cheery kitchen design by Marco Joe Fazio, LBIPP Photographer/Mystic Kitchen.
Why Choose Blue Kitchen Cabinets
Blue works well in bathrooms, guest bedrooms, nurseries, and…kitchen cabinets? That would be a resounding yes. While you may be tempted to settle w/ classic oak Shaker cabinets or trendy but unremarkable open shelves, colors like cobalt, navy, and azure may be just what your kitchen needs.
Even the most astute color minimalists can see the appeal of blue, and it may work wonders for cookie-cutter kitchens or spaces that are feeling boring. Of course, as with any color, there are nearly as many ways to incorporate it into your environment as there are shades of it. Tastemakers and people who love all-things-bold will welcome layers of floor-to-ceiling color, but if you're a little more hesitant to add a splash of cornflower blue, try putting it into just your island for a pop that won't feel overpowering.
The Impact Of Blue Kitchen Cabinets
By using more blue, you are generating an immensely relaxing ambiance that is ideal for the kitchen.
Of course, different colors will evoke slightly different emotions. Light blue, for example, is supposed to inspire creativity (ideal for coming up with new recipes), but dark blue is connected with elegance and intelligence.
Aside from the psychological aspect, blue goes well with a variety of other culinary aspects. It can work with a variety of hues such as white, black, grey, and brown. A white countertop contrasts wonderfully with the dark blue cabinets. Cabinets in sky blue go well with whites and browns. Lighter hues of the color can be coupled with grey, while darker shades, such as deep brown and black, can be paired with lighter shades.
This versatility in mixing and matching means that homeowners contemplating a kitchen renovation will have fewer headaches.
Final Thoughts:
For many people, the kitchen is a sanctuary; the perfect place to rid your mind of all the day's stresses. Like gazing at the deep expanse of the sky on a perfect summer day or taking in the sight of a deep blue ocean, a blue-centered kitchen provides a bust of freshness after a long day.
Blue kitchen cabinets are especially perfect for homeowners in hot climates, as they help balance the stuffy heat with their coolness. They work for all kinds of home styles from classical to baroque to contemporary and futuristic. A light blue looks perfect in a ranch-style home just as a dark blue does in an urban apartment kitchen.
Use the above ideas as a starting point and feel free to be as creative and unique as possible. Whatever you need, be it some words of advice or a hand in your remodeling project, we are always here to help. Do not hesitate to contact us with a question or comment.
This is an image roundup post, curated to showcase and promote other reputable contracting companies' and their amazing work.  To have any of the images removed, please reach out to us and we would be happy to do so.