Don Lake, the company's founder, started it all in 1981 with the simple goal of providing excellent jobs to excellent people. Kevin and Caroline Gray, the current proprietors, maintain this concept by recruiting and training artisans enthusiastic about producing high-quality goods. To ensure that their customers have the best possible experience, CWP cabinetry dealers need hardworking and bright individuals to work in the store, central office, and showrooms.
Custom Wood Products is based in the Midwest and is established on a foundation of hard work, trust, and workers that take pleasure in producing the finest products available. At their 100,000-square-foot plant in St. Marys, Kansas, they are consistently implementing new technologies to improve their measurement and cutting processes for maximum accuracy. No one can do it better than their artisans when it comes to construction and assembly.
Define Your Style
With fully bespoke cabinets, you have complete design flexibility. Unique features, finishes, forms, and designs are available, in addition to custom sizes. Each client's work is custom-made, making each order unique. Custom Wood Products combines the skills and workmanship of a traditional carpenter with the trustworthiness of a business that has shown it will stand behind its product for many years.
Make Your Dream A Reality
All approved Custom Wood Products designers have been chosen because they individually represent CWP's ideals and have received specific training in kitchen and bath design, guaranteeing that customers enjoy the finest possible experience.
Lifetime Quality
For as long as you have your cabinetry, CWP backs it up with a lifetime guarantee. We can keep this guarantee because we take pleasure in utilizing high-quality components and constructing a high-quality product. We want our goods to last a lifetime, so you can be certain that if an issue arises, we will be there to help.
The CWP Process
Their professionally qualified designers will:
Work with you one-on-one to plan every aspect of your area.

For a perfect fit, measure your area.

They are accessible for consultation at any time throughout the process, from design to installation.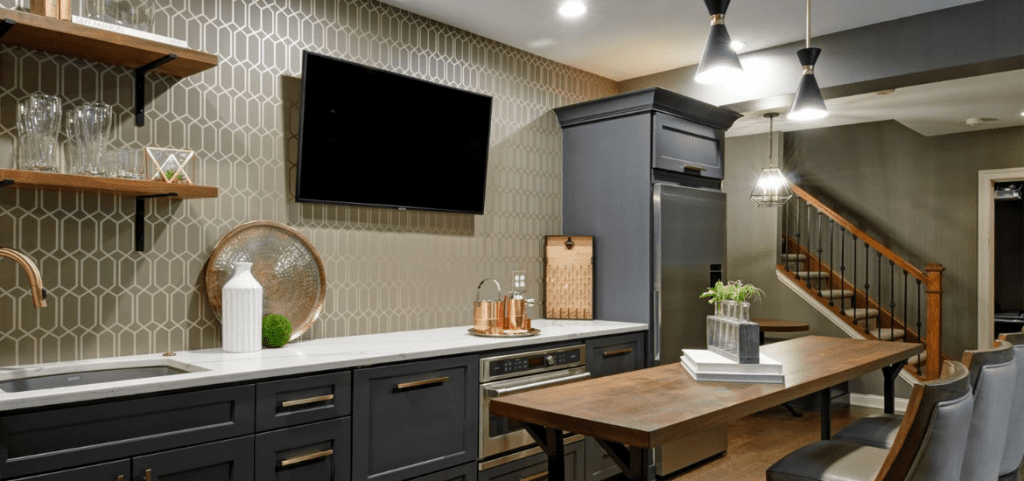 How To Choose The Best Cabinets From CWP Cabinetry
Your CWP cabinetry pro kitchen is essential. They are not only crucial in the overall dynamic of the space, but they are also vital to its function. Your cabinets keep your countertops and workstations tidy by offering enough storage space for your fantastic wine glass collection or even your extensive collection of cheese graters.
Choosing new cabinets may be difficult since selecting a design that won't go out of style soon. CWP cabinetry pricing is one of the most significant expenditures you'll make in your kitchen renovation, so you'll want to be sure you'll be pleased with them for many years to come.
Here is a quick rundown of all the things you should think about when you start looking for new kitchen cabinets:
Number Of Cabinets
The quantity of cabinets you choose is critical since it has a significant effect on the appearance and feel of your kitchen. Minimalist cabinets and open shelves have been popular in recent years. It's essential to note that this is a fad and that minimalist cabinets and storage units may not be the best practical decision for your kitchen unless you have a stack of five Anthropologie plates and nothing else.
Similarly, cramming your kitchen with too many cupboards may make it seem cramped and crowded. Only having floor-to-ceiling cabinets on every side of the room is worse than not having any place to keep your kitchen items.
Material Selection
When there are so many designs to select from, how can you choose the appropriate materials for your kitchen? The first decision is whether you want to go with a traditional wood style or one of the more contemporary styles. Glass may be incorporated into your cabinets, or you can choose cabinets made of colored laminate.
You may also choose a style created from environmentally friendly materials. Cabinets constructed from recycled wood, salvaged wood, wood veneer, or even renewable wood like bamboo are examples of eco-friendly materials.
Shaker vs. Flat Panel vs. Inset
The design of your cabinet doors may or may not add to the function of your kitchen, but it will alter the dynamic of your space. Most individuals install three kinds of cabinets; however, if you want to stand out from the crowd, you also have additional choices.
The inset cabinet style is a timeless design that will stay fashionable and attractive for decades. It is, however, typically the most costly type to install. Because the cabinets have visible hinges, they must be properly sized and cut to be functional. Although they are pricey, their worth is evident when you are still receiving compliments on them after 20 years.
Shaker-style cabinet doors are a tried and proven design that fits into nearly any house if you want to opt for a traditional appearance. These cabinet doors are the most popular in today's kitchens. The design's clean lines and simplicity make it a great addition to virtually any kitchen since it goes with everything. Shaker cabinets may be used to create virtually any design, whether you want to go contemporary or go back to a farmhouse-style kitchen.
In contemporary ultra-modern kitchens, flat-panel cabinets have become the go-to cabinet design. They have a clean, modern appearance that is ideal for a futuristic or contemporary aesthetic. The flat panel design is available in both wood and laminate. This design is especially attractive since, depending on your budget, you can transform it from an IKEA showroom appearance to an ultra-high-end one. CWP Euro full access cabinetry is also perfect!
Hardware Selection
As if picking the correct quantity, material, and style of cabinets weren't difficult enough; you also had to choose the right hardware to go with them. These accent elements, believe it or not, make a significant contribution to the overall design of your cabinets.
Choosing hardware with design elements that are similar to your cabinets is a solid rule of thumb. For example, if you've selected flat-panel cabinets for a contemporary kitchen, you'll want to choose complementary hardware that matches your cabinets' minimalist and clean appearance.
When you sum everything up, there are many factors to consider when designing your new kitchen cabinets. However, being the most costly component of your project and the main point of your kitchen, your cabinets demand your time and attention. If your designers are color-blind, seek the assistance of a reputable cabinet builder or kitchen specialist, who makes it their job to determine which drawer pulls match best with which cabinet color.
Making The Most Of CWP Cabinetry: Other Factors To Consider
Cabinets are essential components in kitchen design since they are typically one of the main focus points of the room. There are many different designs of kitchen cabinets on the market that it may be difficult to choose the right one for your home. Any homeowner would like to make the best decision for their kitchen and avoid purchasing kitchen cabinets that do not complement the area or are insufficiently practical. If you're not sure what kind of kitchen cabinets you want for your area, it's simple to make a mistake. How can you choose the perfect kitchen cabinets to improve the looks of your kitchen, offer the practical features you want, and inspire you to embark on a kitchen remodeling project? Take a look at these four helpful hints for selecting the best kitchen cabinets for your house.
Keep The Kitchen Style In Mind
Traditional, contemporary, and transitional are popular kitchen styles, but within those categories, there are many distinct subtypes. You should choose complementary cabinets that suit the design of your kitchen. The color palette of your kitchen should be reflected in the cabinets you choose. Consider how the cabinet doors will go in with the rest of your kitchen's decor. The layout of your kitchen and the amount of space available are other variables to consider. Kitchens with limited space benefit from space-saving cabinetry. Euro cabinetry by CWP custom wood products can be customized based on your preferences.
Choose The Best Material
While you want all of your kitchen design components to flow together, your personal requirements should be your guide when selecting the right cabinet material. Kitchen cabinets come in a variety of materials, with wood and wood-like materials being the most common. You may select from hardwood, fiberboard, plywood, stainless steel, metal, melamine, or thermofoil, among other options. Hardwood is generally the finest choice if you want a high-quality cabinet material. The substance used in particleboard is usually of inferior grade.
Cabinet Design Shouldn't Be Overlooked
When purchasing new cabinets, the doors get a lot of attention. They come in a wide variety of finishes, designs, and colors. Before choosing a cabinet design, consider the overall aesthetic of your kitchen and perhaps your whole home. Unless you want to create something unique and eccentric, the general style of your kitchen area and the cabinets should complement each other. Because of its classic, basic, and practical qualities, Shaker design kitchen cabinets are a popular option. They are also quite adaptable and may be used in both classic and contemporary kitchens.
Aim For Aesthetics And Functionality
You want your kitchen cabinets to appear nice while still providing the functionality you need. As a result, beauty and practicality are important considerations when choosing cabinets. Whether your kitchen is big or little, the finest cabinets will improve the appearance and feel of your room while also providing practical value. Design/style, color, finish, and even hardware are all aspects of aesthetics. You may pick between conventional cabinets with handles and sleek handleless cabinets. Think storage and organizing when it comes to functionality. All of your belongings should fit neatly into your cabinets in a manner that is both clutter-free and appealing to you.
If you approach it correctly, selecting the perfect kitchen cabinets may be a snap. Consider the design of your kitchen, the cabinet material, the desired cabinet style, as well as the aesthetics and usefulness. Consult our experts right away if you're uncertain how to continue! You can also check CWP cabinetry reviews for your peace of mind.