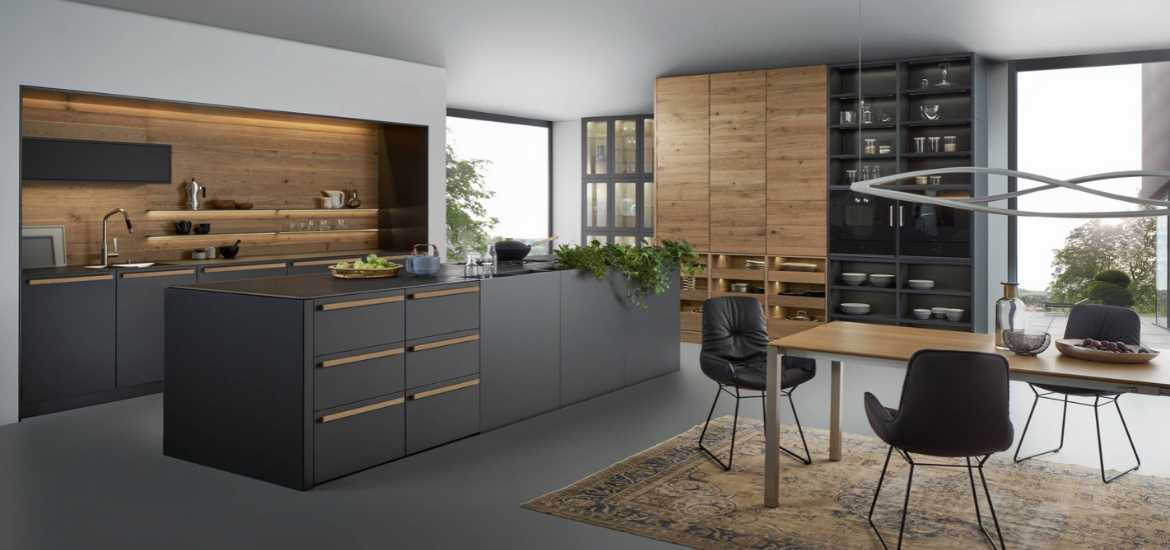 For those experiencing white-colored kitchen overload, you might want to look into another classic color—black. Black kitchen cabinets are a stylish alternative that looks way much more glam than plain white. In case you want a bit of help embracing the "dark side," you are in the right place. We share innovative ways you can add bold and dramatic black colored cabinetry to your kitchen space. Check out these 23 black kitchen cabinets ideas and be inspired!
INDUSTRIAL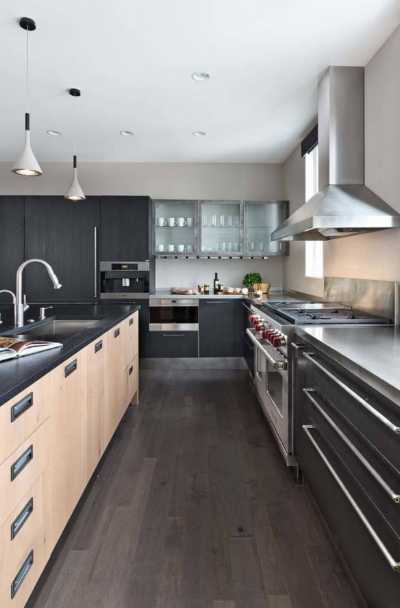 CLASSIC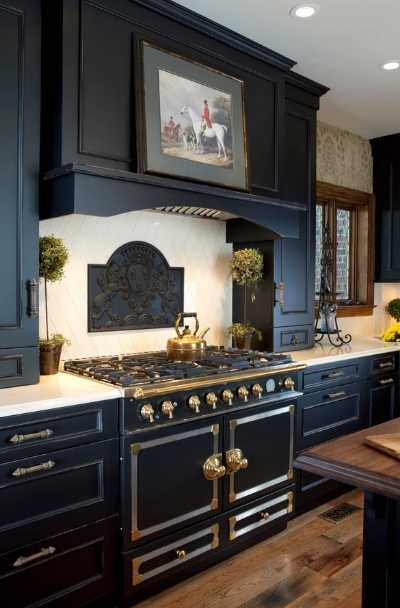 Classic and timeless kitchen with black cabinetry, gold hardware, and antique decor.
PULL-OUT STORAGE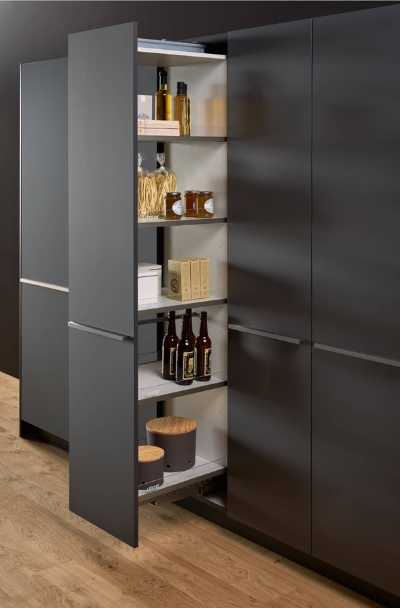 Keep your most expensive wine stash discreetly with this clever pull-out storage system.
FLOATING SHELVES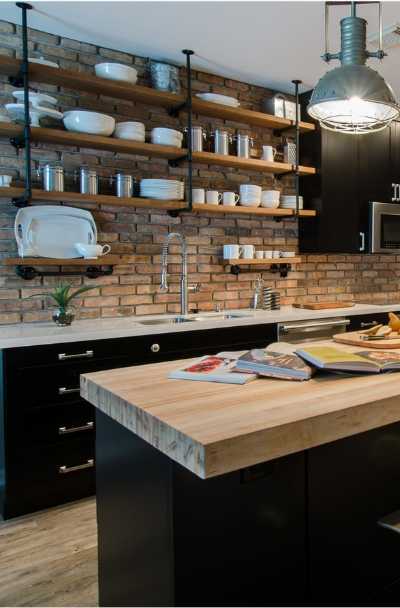 The brick walls, floating shelves, and wood island counter add texture and rustic touch to the kitchen.
CHIC
Perfect balance of black cabinets, white marble countertop and backsplash, and light wood floor.
MATTE BLACK
The kitchen appliances seamlessly blend in the black cabinets with smooth and sleek finish.
CUSTOM-MADE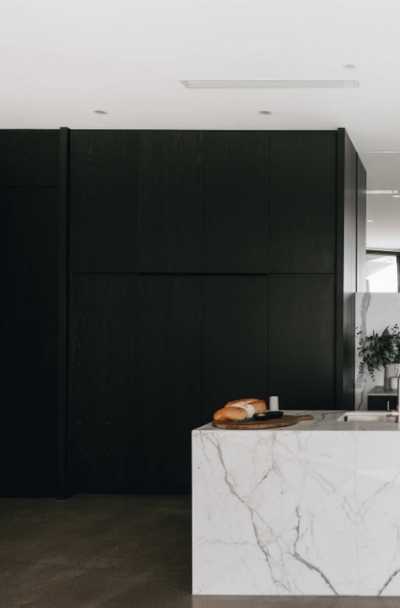 If you need a lot of storage for your kitchen, this huge black kitchen cabinet will have you covered.
TRENDY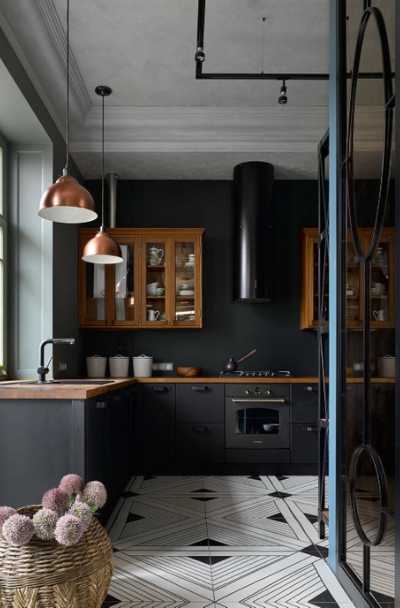 The bronze and wood accents, in addition to patterned floor tile, make this kitchen fun and exciting.
MINIMALIST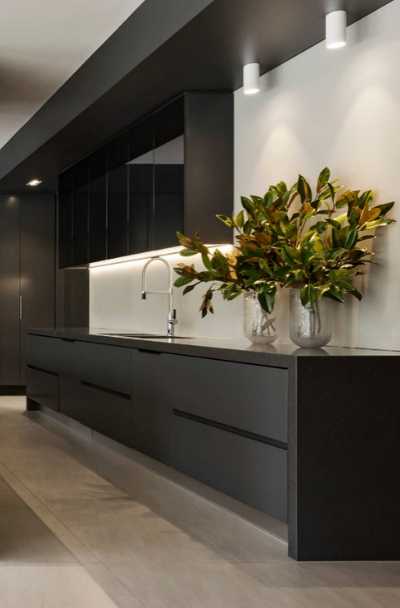 The bronze and wood accents, in addition to patterned floor tile, make this kitchen fun and exciting.
CHARCOAL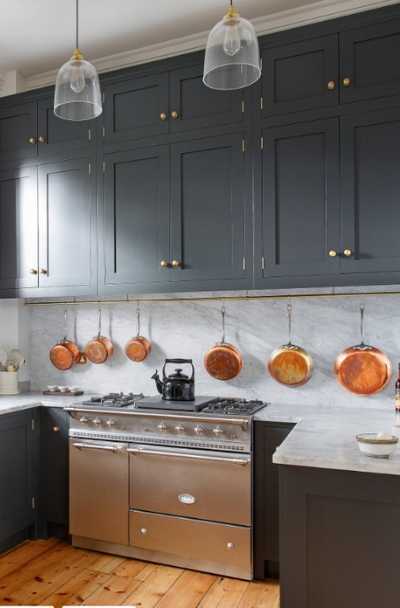 Put additional color and break the monotony by hanging your pans right in the backsplash.
Why Use Black Kitchen Cabinets
If there was one kitchen design trend that defined the past ten years, it was the all-white kitchen. The appearance is clean, cohesive, and timeless, and also features a miraculous means of making even the tiniest kitchen appear airy and spacious. But the brand new decade brings new interior trends and designers point out there is a new color you should try in your kitchen—black.
While black might appear harsh, it is less complicated to pull off than you may think. Plus, when done properly, it's completely chic. Whether you wish to dip your toes to the black cabinet trend with only a couple of black colored features or wish to have the plunge and go all in, these are our preferred high contrast black colored home styles.
The secret to having black kitchen cabinets as your color option is in the way you mix it with the countertops, floors, walls, and lighting to make an unusual and bold statement rather than a depressing and dark dungeon-like tomb.
Black and white kitchen cabinets help provide your home a thoroughly clean contemporary look, while a subdued gray will offer you more stylish and soothing to tone down the drama of the dark. Far too much black, like with any color, could be overwhelming. It actually is in the statement you wish to make, as well as the tone and vibe you wish to convey in the space.
BLACK & WHITE
You cannot go wrong with black and white. The combination is classy and never goes out of style.
CLEAN LINES
Match your black cabinets with diagonal white backsplash tiles for a more refreshing vibe.
HERRINGBONE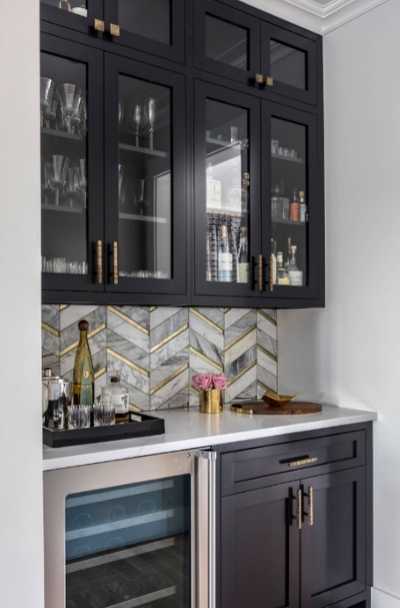 This home bar perfectly stores your wine glasses, wine stash, and wine fridge in the black cabinets.
BRICKS
Enjoy an old town vibe in this kitchen with black cabinets, brick walls, and huge windows.
Make A Statement With Black Kitchen Cabinets
You need to bear in mind the various other features within the kitchen with black cabinets. The countertops must blend with the floors, which must blend together with the wall space, that are emphasized in the lighting—all of it must mix and match with the black color in the cabinets for gorgeous outcomes. An expert designer can enable you to make it all come together for a style you will love. You can additionally utilize a designer software program or try your hand in the interactive features from home remodeling sites.
If you have black cabinets kitchen, the lighting is as crucial as the color choices to keep a balance between the dark color of the cabinets and the light of the kitchen. So you will have to take into consideration the quantity of natural lighting and windows already within the room and what extra lighting you will need to accomplish the desired effect.
For a big kitchen with a lot of cabinets, think about putting an island with black cabinets in the middle, and then make the majority of the cabinets white. This can provide you a fresh, contemporary look without going totally black so that you won't overwhelm the senses. A burst of color, such as red combined with tan, makes for the dramatic and exciting look.
The paint type you utilize is additionally really essential with black because, despite what people think, everything turns up on it. A high gloss black is going to show smudges and fingerprints easily, therefore a flat black might be your preferred option for easier maintenance. Both will need thorough planning and placement for a kitchen style you will really like for decades to come.
FESTIVE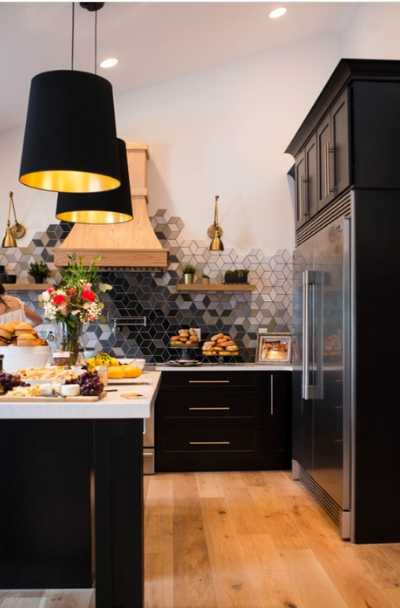 Hosting family dinners and reunions with friends is fun and satisfying with this elegant kitchen.
ZIGZAG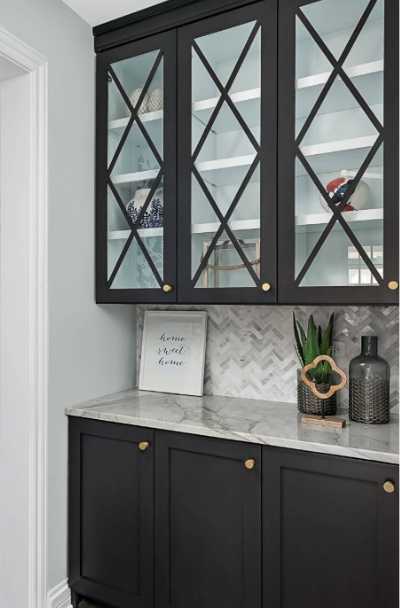 Black doesn't mean a dark kitchen. Having glass on cabinet doors will add brightness to the space.
SLEEK
Include a bit of line and texture to your black cabinets by adding battens like this.
BLACK & GOLD
Aside from the lovely details, we also adore the plenty of natural lighting in this kitchen.
Decorating With Black
In contrast to popular opinion, black is rarely the color of gloomy attire and macabre musings. Edgy and classic, black would be the perfect shade for sophistication and elegance. Why let your closet and wardrobe enjoy all of the chicness when you can implement that very same style concept to the majority of your house?
You undoubtedly spend a lot of time in your kitchen, mastering your culinary skills and entertaining guests, in addition to celebrating life's numerous joyous occasions. A black colored kitchen not just elevates the area to a brand new level of sophistication, but will keep things continually contemporary and invitingly cosmopolitan. These 23 black kitchen cabinet ideas would be the best spot to begin with a never-ending assortment of custom designs to suit your kitchen design.
From wood to glass front paneling, and every possible method of hardware, your dark wood kitchen cabinets are designed to suit your personality, similar to the proverbial black tuxedo. Far from depressing or perhaps room dimming, black kitchen cabinets enable you to punctuate your individual style without overwhelming the functional appeal of the kitchen.
The black color is definitely viewed as the go-to color for many occasions and events but is often neglected when it comes to interior decorating. Forget all of that, since modern black can be integrated into any area to give just the correct amount of edge and polish.
If you are still hesitant, why not start little and find out for yourself what a big difference it can make?
COOL
Smooth and sleek matte black finish for the cabinets make this kitchen cool and refreshing.
HUGE STORAGE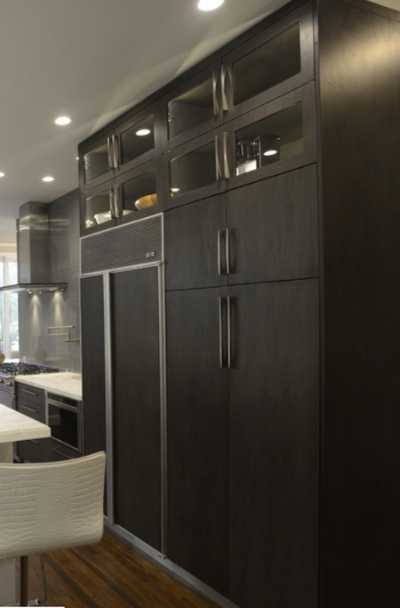 Keep all your kitchen hardware and appliance neatly in these huge black kitchen cabinets.
SOPHISTICATED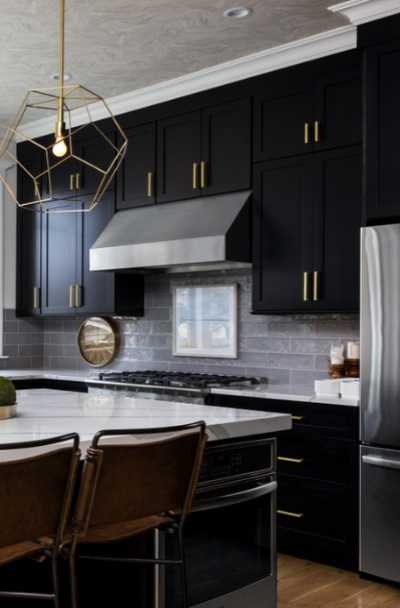 This modern kitchen features black cabinets, gray backsplash tiles, gold hardware, and white countertop.
DRAMATIC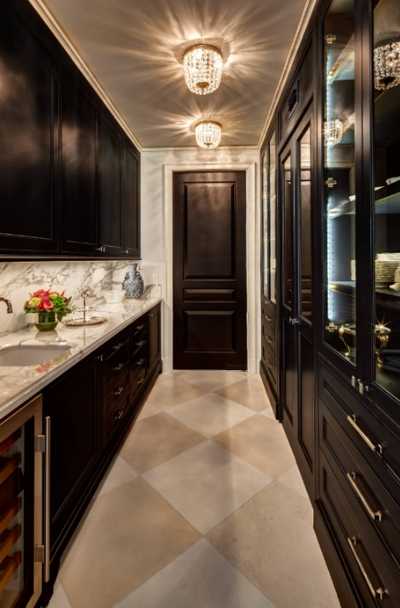 The black door and cabinets, beige floor, marble backsplash, and light fixtures offer a dramatic appeal to this kitchen.
Transform A Small Kitchen With Black Kitchen Cabinets
Black kitchen cupboards in a small space? You bet! While it is true that colors that are dark can make space seem to be smaller, it is not often the case. It truly depends on just how much light is in the kitchen. Many property owners are attracted to kitchen with dark cabinets, such as black. When integrated thoughtfully, black kitchen cabinets can render your home design feel stylish and modern, even if you have a small space.
In case you are searching for suggestions on how you can utilize black in your home layout, check out these strategies for tastefully working with black, or maybe some dark cabinetry, in smaller kitchen spaces—without making them feel overly cramped or crowded.
Black Kitchen Islands – Islands are among the most flexible design elements in the kitchen since they include more countertop room for food preparation or even seating— two huge advantages when space is limited. The kitchen below shows precisely how black will help your island mix into its surroundings, particularly with darker flooring. This can help move the distinct focus up and to various areas of the kitchen. Additionally, you can use glass inserts for the cabinet doors on the edge of the island. This is an excellent way to produce the impression of more space.
Glass Cabinet Door Inserts – While we are on the subject of glass, glass cabinets let you see all the way to the rear of the kitchen cabinet. This can help add visible space to the kitchen cabinetry. In case you are not really a fan of clear glass, think about various textures, including frosted and etched glass, that offer far more privacy while keeping a lighter feel and look.
Getting Creative With Black
The kitchen area is a room that inherits the tradition of gathering the household members in a single spot. Today, the kitchen has got the tendency to mainly fulfill the idea of a beautiful and functional space.
Due to its role in connecting the household, it must be positioned in place that is suitable for the home. The arrangements in the kitchen area count on the size and shape of the area.
Sometimes, to get a proper and good arrangement of elements, it's actually essential to change the position of the windows and doors in the kitchen.
First of all, make a summary of planned components and appliances in the kitchen. The furniture for the home is regularly changing, following the emergence of new products in the kitchen.
When you decide what you should buy, be sure the kitchen is wide enough to store all of the planned elements and appliances since in the contemporary residential spaces, the kitchens usually have smaller dimensions.
With regard to enhancing the cooking area, we recommend the use of the black cabinet in the kitchen. Combined with black kitchen cupboards, lighter countertops reflect light and produce distinctions inside your layout. In order to amplify this particular effect, consider glass ceramic tiles to help you make your kitchen seem to appear bigger. The intrinsic luminosity of glass complements virtually any countertop material and will complete the transition between your dark kitchen cabinets, along with lighter countertops.
The Rise Of Black Kitchen Cabinets
Black kitchen cabinets are becoming increasingly popular. White kitchens have dominated kitchen interior design for many years. In fact, they are admired for their simplicity, cleanliness, and ability to brighten a room. They can, however, necessitate continual upkeep, and anything that doesn't belong there stands out like a sore thumb.
Today, we see a shift away from white kitchens and toward more color. Two-tone kitchen cabinets have become popular in interior design this year. However, we begin to see what occurs when we look into the opposite of the all-white kitchen fad.
Black kitchen cabinets are sleek and stylish, and they stand in stark contrast to the long-dominant white kitchens. Is the popularity of black kitchens due to a desire to defy fashion? I believe that black kitchens have more to offer than disobedience since they are investments rather than fads.
Final Tips:
In case you're brave and bold and enjoy its elegance, a black kitchen could be the ideal option for your house. As a neutral color, black never ever goes out of style. One place where it's specifically used will be the kitchen. The black is extremely flexible, and it may be integrated into the interior of your kitchen in several ways.
Black isn't merely black! You will find various textures for every shade, and you can select a fascinating texture that can be your guiding principle when designing your stylish black colored kitchen. Matte black kitchen cabinet may be the ideal option for the kitchen area made of wood.
In case you would like a beautiful and luxurious style, we recommend choosing a glossy black which is going to reflect floors and light. Thus, the mix of dark kitchen cabinets with light floors is a wise idea.
This is an image roundup post, curated to showcase and promote other reputable contracting companies' and their amazing work.  To have any of the images removed, please reach out to us and we would be happy to do so.
Other Great Articles to Read: