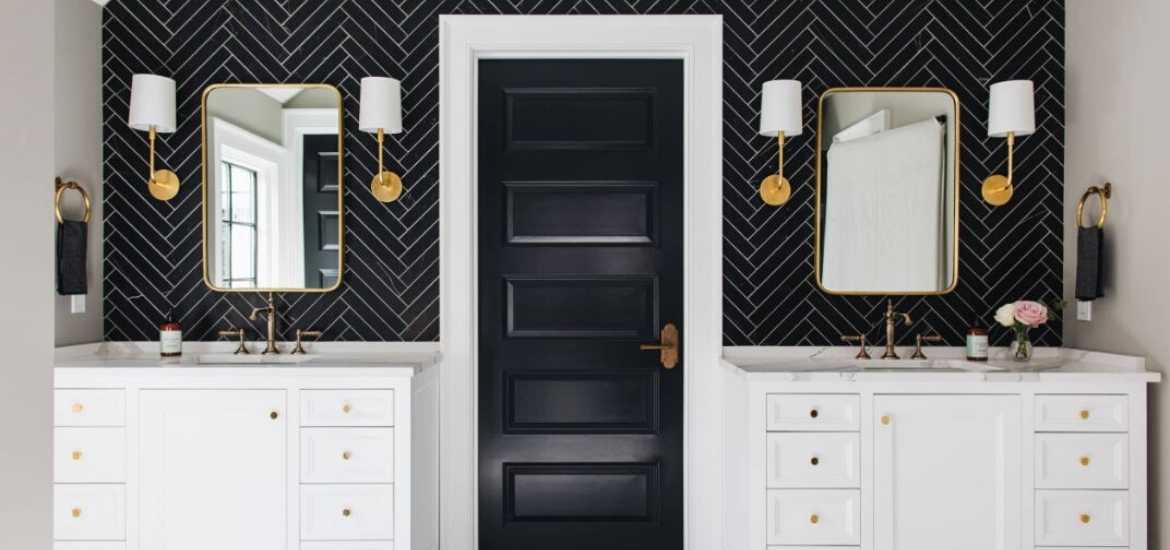 The black color evokes confidence, sophistication, and style. A favorite option for both floors and walls of bathrooms and kitchens, black tiles are incredibly flexible. Therefore, they are sure to leave a long-lasting impression. Whether you are thinking of textured black colored bathroom wall tiles or perhaps a dark gloss kitchen backsplash, we have 23 black tile design ideas and images to select from. Check them out and be inspired to use black tile on your next remodeling project.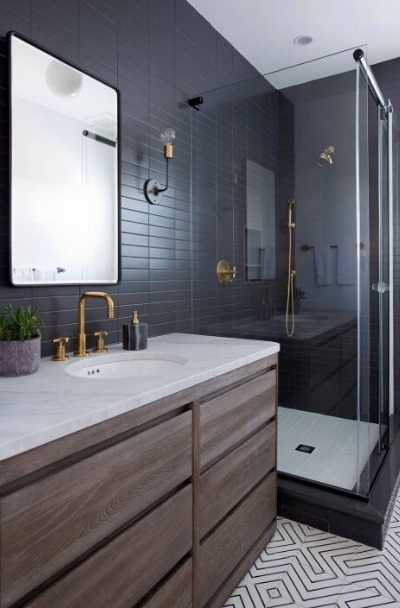 Those who have seen this Threshold Interiors bathroom would agree that it is the epitome of contemporary design. Black, straight-lay, elongated subway tile looks great against the wood tones of the cabinetry.
Want to have a stunning, opulent, and expensive-looking bathroom design? This design from Inspired Interiors is amazing. This bathroom has elegant black walls and flooring with a touch of white and a crystal chandelier.
RUSTIC TEXTURE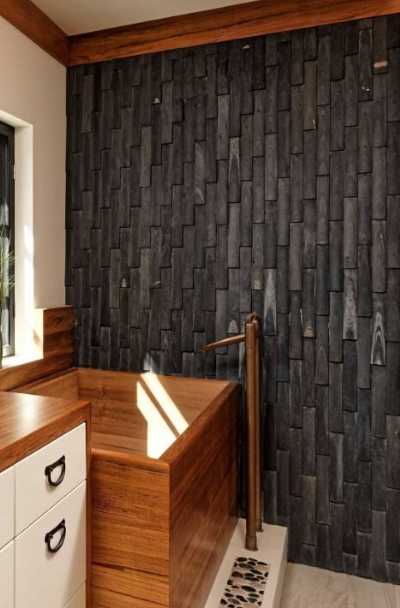 This kind of bathroom decor is very homey and natural looking. Glimer Kitchens outdid itself with this one. A Zen-inspired primary suite with enough space, black stone tiling, white cabinetry, and wood worktops.
STREAMLINE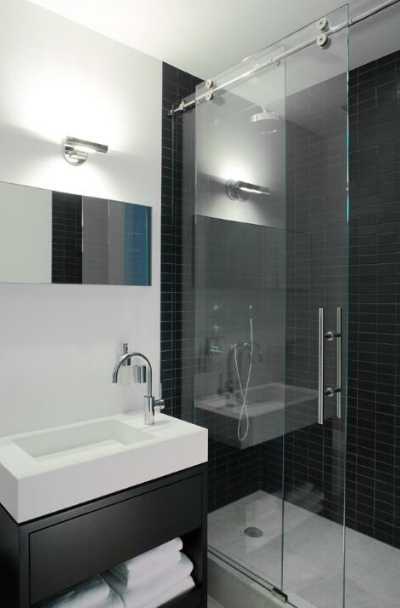 This bathroom design is cutting-edge and automated, with excellent lighting and tiling. Magdalena Keck Interior Design did such a great job with this design. New York's modern black tile has open black cabinetry and an integrated sink.
Advantages Of Black Tiles
A black floor is able to steal the show and let you update any room in your house quickly. There is more to black than simply adding a remarkable touch to the space, however. Allow us to share several of the advantages of setting up black tiles in your home. Black pairs well with nearly every color scheme and even room design. This means that you are able to smoothly update your furnishings, rugs, window treatments, and art pieces without removing your flooring.
Dark tile colors, especially those with integrated texture, add a great deal of depth to the living room. Using dark can basically bring a completely new dimension to the room design. It can actually make your space feel a lot larger. Glossy black tiles are able to help create a small room feel a bit more open and attractive. Choose lighter paint colors, home furniture, & window treatments to make a lot more contrast and evident depth. Flat and matte black tile floors are able to help hide dirt. This works particularly well in high traffic spaces and entry areas in your house.
Black and white tile can enable you to upgrade some sections of your house from the entry area to the traditional dining area in which you have friends, important guests, and family. Naturally, black tiles additionally operate in family spaces, bedrooms, outdoor areas, and kitchens. From smooth high-gloss designs to unique textures and coarse slate, dark tile comes in unique shapes, designs, and sizes for just about any decor style.
WESTERN CURRENT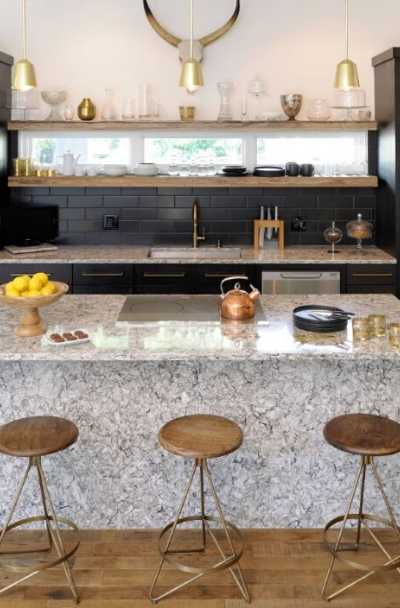 With so many gold elements throughout, this kitchen design is exquisite. What a superb creation by Savvy Design Group. Western modern kitchens use rustic components like a clean backsplash and wood cabinetry.
TILE FLOOR
Great Plains Windows & Doors did a fantastic job with this kitchen design, which exudes a sense of nature and freshness. The window is directly exposed to the sun. The expansive panoramic kitchen has a contemporary flair enhanced by the huge herringbone tile floor.
Black Tile For The Bathroom
White and black are both basic colors which can go along with nearly any other color of the spectrum. Dark tile is among the most flexible and popular selections for bathroom decor due to its ability to add character and warmth to the room when it is utilized in the proper ways. We have found several stunning examples of bathrooms that feature the usage of black hexagon tile with many other mediums. These will provide you with a number of ideas about the countless ways you are able to work with black tiles to create a particular vibe, character, and mood in your bathrooms.
We do not usually think of black as a good shade for bathrooms since it shrinks an already little space. Black color may often feel a bit of claustrophobic, but in case you are looking for a timeless, classic look that additionally causes you to think as you are entering a secret cave, black could be a great option.
It is hard to pull off an all-black bathroom unless it is large and has a lot of natural lighting, but black, together with bright and white colors, could be utilized in many fascinating ways to showcase your design abilities.
Black never goes out of style, therefore, making use of it guarantees your decor does not go stale. With a number of decor tweaks sometimes, you can refresh a black bathroom at a low price.
INDUSTRIAL MODERN
The design of this industrial kitchen is contemporary. Beautiful kitchen design by Seabold Architectural Studio. Industrial kitchen with a farmhouse sink, flat-panel cabinets, and a black backsplash.
SLATE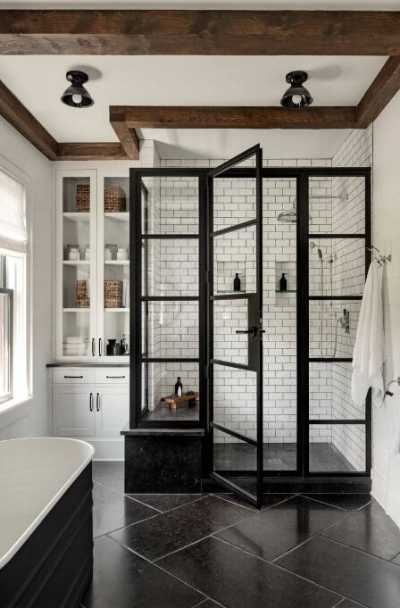 The design of this vintage bathroom is very warm and inviting. The bathroom design by Crisp Architects is amazing. The shower in the spacious cottage master has black mosaic tiles and a slate floor.
LARGE SQUARES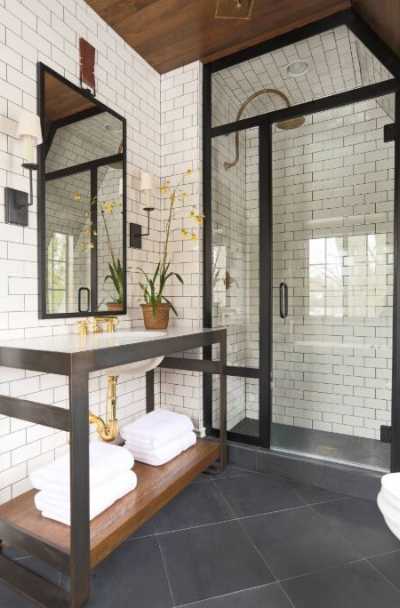 Everything is fresh and natural in this bathroom design with a natural accent. A bathroom design by Summer Thornton Design that is very organic. The floor of this little bathroom is made to look larger by the massive black square tiles.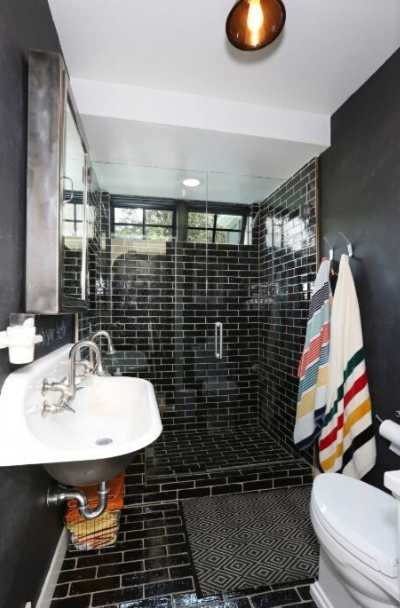 This black theme bathroom decor was photographed by VI Photography & Design, and everything appears contemporary and exquisite. Use the same tile on the walls and flooring to create a unified, monochromatic aesthetic in your bathroom.
Black Floor And Wall Tiles
A black floor provides the area where it's situated character and will produce interesting contrasts, and highlight other colors and furnishing items.
It is, nonetheless, crucial to keep in mind that the black color influences the visual perception, making the areas where it's utilized seemingly smaller. Thus, this must be taken into consideration and balanced out, along with other shades of color when furnishing smaller areas.
Solid color black colored flooring or even those with light graphics are able to produce a neutral but appealing floor that can boost the colors of the wall space and also optimize the furniture and accessories which complete the space. Once the choice falls to black tiles with increased incisive, captivating visuals, they come to be the spotlight of the ambiance, instantly drawing the attention.
Black could be utilized in complete black interior projects or even coupled with some other colors, which include gray and shades of grey, for a sleek, incredibly fashionable outcome, which is ideal for both private homes, workplaces, public areas, and shops.
BOLD COLORS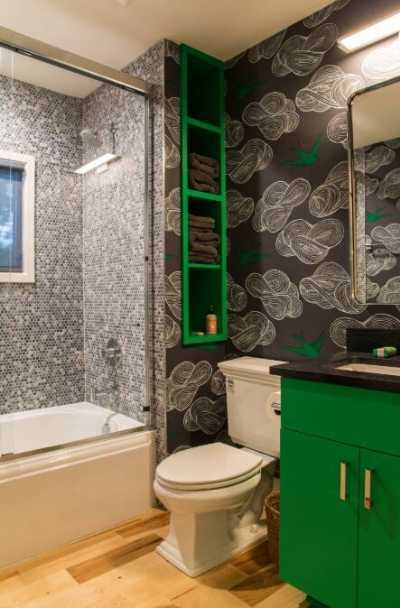 Everything in this bathroom's design, which uses a lot of vibrant hues, seems extremely energizing. This design by Roost Custom Homes is amazing. To make your bathroom lively, combine a bright, rich shade with black, gray, and white penny tiles.
How To Decorate With Black Tile
Bold, timeless, and elegant, black subway tile can enable you to breathe brand new life to your design. From a ground-up build to a complete upgrade or remodeling, it can work great things for your space. Naturally, learning how to truly make black tiles work in your house is usually a little confusing.
The best part is the fact that black goes with anything, and also with a wide variety of tile choices offered, finding the best black floor on your house does not need to be tough. Use this guide to find out about designing with black tile if you are attracted to the dark side.
Where Can You Use Black Tile?
You might believe that black tiles can just be used in a few types of rooms. The fact is that black works in nearly every area! All things considered, it does not need to be one uniform design. Allow us to share several ways you are able to use black tiles throughout your home.
Try gray tile in your entry area. Materials like slate porcelain look huge in contemporary entry areas. You are able to also extend your look outside for a cohesive style.
Go for matte dark tile with dim grout in your kitchen. This style looks contemporary and clean, though additionally, it helps hide dirt. That dark grout and tile will not look dirty or dingy in a high traffic area like the kitchen.
Choose traditional marble and granite in your primary living spaces. Durable and opulent, natural stone is a great pick for stylish living rooms, dining bathrooms, and rooms. Marble and granite additionally work nicely in contemporary master bedroom suites.
Take benefit from a black mosaic tile. Mosaic tile is used inside showers or backsplashes. You can additionally use non-porous tile styles outdoors, as well as around swimming pools. Glass tiles in black also give a contemporary appearance for these exact same places.
Shop for ceramic tile for areas which are not subjected to major moisture. Durable and strong, black ceramic tile is available in a selection of styles created for virtually every aspect of your house.
Go for porcelain tile outdoors. Non-porous tiles like porcelain can allow you to develop an enticing porch, outdoor dining area, or patio.
Different Styles You Can Achieve With Black Tile
Black tiles are smart, sleek, and bold. While it really works beautifully in contemporary design schemes, that is not your single choice for decorating. Allow me to share several of the looks you are able to achieve and the way to create them with your space:
Ultra-Modern and Dark – Matte black floor tile plus dark grout provide you with a contemporary design, which also looks a bit of futuristic. Pair it with stylish furniture, and you've got a room that is designer inspired and extremely contemporary. Textured tile styles likewise work nicely in contemporary spaces.
Retro-Inspired Spaces – Looking to generate something a bit more vintage? Make use of matte plus polished black colored tile styles with white grout. The contrast is ideal for a throwback appearance that does not feel dated.
Transitional Styles – Walking the line between vintage-inspired and ultra-modern is not easy, though it works in numerous spaces. With styles that are classic like marble and granite, you are able to see that space between marvelously contemporary and old school conventional. You can also use granite and marble with antique furniture pieces.
Having Fun With Black Tile
Be Grounded – Black tiles lay an important style foundation. Choosing black and white floor tile anchors an area with an intense and distinct statement. With black tiles as the foundation, the majority of the room features a firm, stylish foundation.
Be Dramatic – Black tiles give a sense of drama to the room. Pale floors have grown to be commonplace. Black tile attracts attention if it is unexpected and vivid. Black also can include higher contrast by blending in white tile for a traditional, but genuinely remarkable design on a floor.
Be Bright – Almost all individuals believe black colored tile or some deep color can make a room dark, but placing black tile, which has dimension or shine, will reflect light and include interest to a space. Utilized well, dark tile is going to open up and jazz up a space almost like lighter colors. It is able to additionally provide a foundation for vibrant colors to shine.
Be Chic – Borrowing a cue from fashion, black is definitely the new black. Think about the traditional "little black dress." The color is a wardrobe staple for a reason. It is classic but is also cutting edge. It never will go out of style or ever look dated.
Be Bold – The black color is a bold statement. Virtually anyone is able to pick a dull, inoffensive floor, though a black colored floor is daring. It states you are stepping right into a space that has known what it has to state and just how it really wants to make you feel.
Lastly, don't be afraid to use black tiles. Make sure you check out our design inspirations to help guide you in picking the right tiles for your kitchen or bath. Enjoy!
This is an image roundup post, curated to showcase and promote other reputable contracting companies' and their amazing work. To have any of the images removed, please reach out to us and we would be happy to do so.
Other Great Articles to Read: