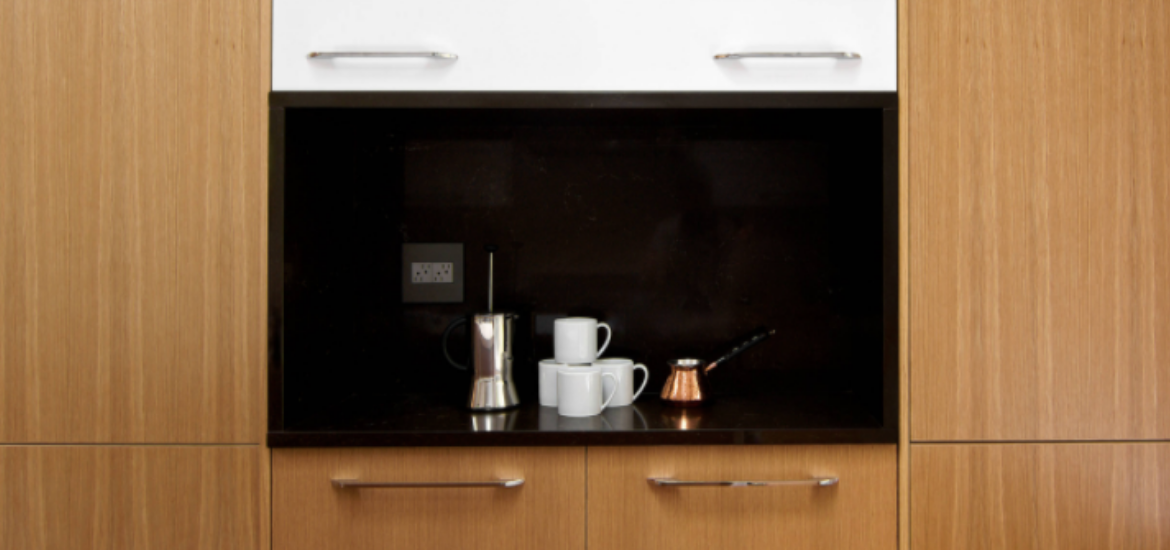 Life without coffee would be unimaginable for some people. Some people even drink coffee not only in the morning but also during other parts of the day. If you love coffee, you probably want to have a cup in hand whenever you need that caffeine fix. However, if you would rather enjoy a good cup at home instead of in a coffee shop, then having your own coffee station in your kitchen is recommended. By having a particular space in your home to house everything you need to make coffee, you can enjoy a cup or two faster. Your coffee station will surely be a hit among your friends, too, when you invite them to your home. After all, who does not enjoy a cup of coffee, right?
With some modifications, you can turn your kitchen into a coffee station. If you have empty cabinets, available countertops, or a mobile bar cart in your kitchen, you are good to go. Add some tables, carts, or any accessories that suit your style, and your kitchen coffee station will be so lovely that you may not want to leave it. Space should not be an issue. Just ensure that you have all the essentials to make that perfect cup of coffee anytime you need to perk things up. What is good about having your coffee station is that aside from being functional, it also serves as an accent to your home. Anyone who would see it would surely wish to have it in their home, too.
If you are looking for kitchen coffee station ideas for your kitchen, then we can help you. Let us start brewing!
SUSTAINABLE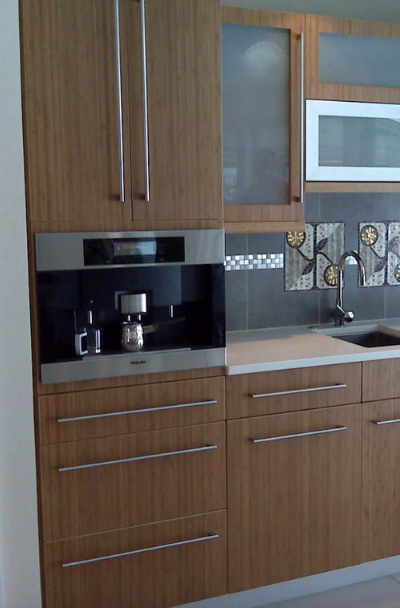 Your kitchen's coffee station is the envy of the neighborhood. Boston's custom-made coffee bar area features a built-in Miele coffee maker, bar sink, and bar refrigerator. Fantastic work by Eileen Kollias Design.
SLEEK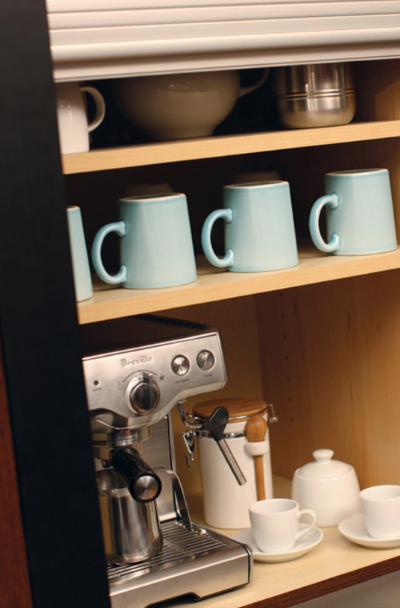 A modern shelf is the pinnacle of cleanliness and efficiency when storing your coffee utensils. Dura Supreme Cabinetry outdid itself with this one. Effective storage solution to conveniently stores cups, saucers, and sugar close at hand.
TRENDY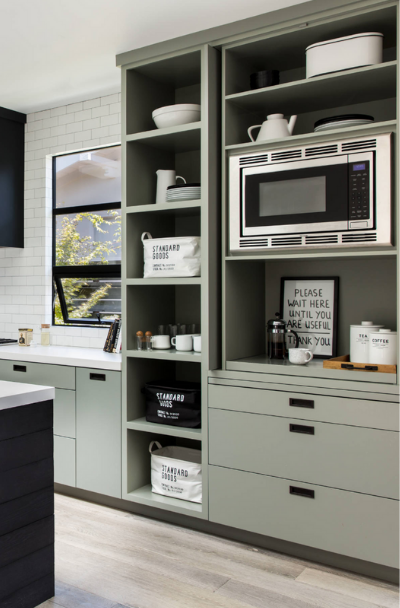 Everything looks so sleek and trendy in this coffee station design by Studio Revolution. This contemporary kitchen is a treat for a coffee lover. Notice that one part of it features all the needs for having a warm cup of coffee at any time of the day.
FARMHOUSE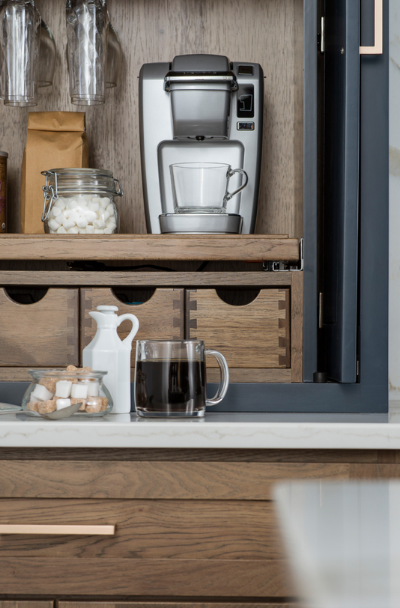 You will feel the warmth and coziness that this modern coffee station by Dura Supreme Cabinetry gives. This modern farmhouse kitchen features a gorgeous mix of navy blue painted and gray stained Hickory cabinets, sure to be an eye-catcher.
RETRACTABLE
Do you want this coffee station to make you feel like you are in a traditional kitchen design? Beautiful work from Paul N. Brow, Architect, LLC. Gray coffee bar cabinet with retractable doors. It also features internal lighting & wall-mounted pot filler.
RANCH
This coffee station features a barn-style door painted in a deep taupe. It has open shelving, a bar sink, a microwave oven, and storage behind the barn door. Rosalind Brinn Pope Design has created a beautiful kitchen with a coffee bar.
Coffee Station Ideas – The Essentials
You need some essential elements or things if you want to start having your own home coffee station. Probably one of the most important is a mug. Fill your home coffee station with your favorite mugs or cups. If you want something classic, go for an all-white mug collection. If you wish, you can also go for whatever your favorite color is. After all, adding a personal touch is important. You can also pump things up by having mugs or cups that match the coffee you will make. For example, get mugs especially made for espresso, or cappuccino, or latte.
Speaking of latte, you will need a milk frother to make one, so make sure it as one of your kitchen coffee bar accessories. A milk frother is often included in an espresso machine, another coffee station essential. However, you can also have a less expensive and easier to use a handheld frother.
Another essential is a coffee grinder, especially if you buy whole coffee beans. You can choose from different types of grinders, from industrial-sized ones to small, hand-crank grinders. Consider the size of your coffee station when looking for a grinder. If you want a grinder that is easy to use and store, an electric grinder is recommended.
You will certainly not have your own coffee station only to prepare boring coffee. Therefore, having coffee syrup in your coffee station is crucial as it allows you to customize your drinks. Get different bottles that will suit your every mood. To keep your coffee station table mess-free, go with syrup pump bottles.
TRADITIONAL
Traditional white kitchen with Capresso 465 CoffeeTeam TS 10-Cup Digital Coffeemaker with Conical Burr Grinder and Thermal Carafe. Designs for Living, Inc. has created a tranquil and revitalizing coffee bar for your enjoyment.
CUSTOM-MADE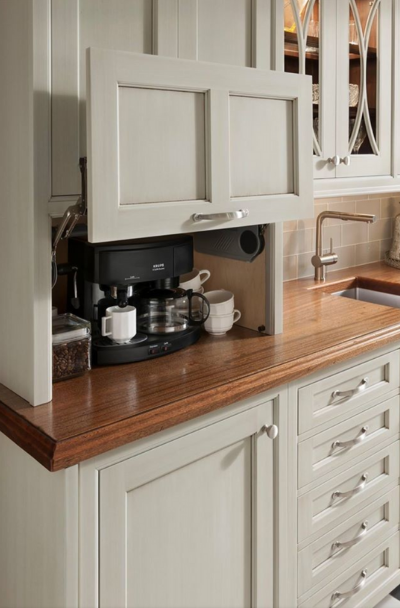 Clever and custom coffee station system that can vanish behind a cabinet that is manufactured Wood-Mode. What a treat for coffee lovers! This K&N Sales coffee station design has everything looking so tidy.
MID-CENTURY
This midcentury home bar in Minneapolis offers a coffee station, a wine bar, and a sink. This is perfect when you have your friends come over for a drink. Herrick Design Group has created a coffee bar that is both stylish and functional.
Coffee Station Ideas – Accents
Make your DIY coffee bar feel more coffee shop-like with some accents. For example, you can hang art pieces declaring your love for coffee – a painting or a poster. You can have your own coffee shop sign or even a chalkboard with your personal coffee menu.
Napkins are functional accents to your coffee station. Not only do they clean or fix spills at your coffee station. They also add colors. Pick napkins in your favorite colors or patterns that genuinely pop. When not in use, display them in a basket or on your shelf.
Another functional accessory for your coffee station is a tray. Use it to keep your spoon, napkins, mugs, and fragile items safe while on your kitchen coffee bar. Trays also keep your stuff neat and organized.
If you have a coffee station table, then we recommend having a lamp to make your station more cheerful as you prepare your cup. If your space is a bit small, get a lamp whose base is thin and tall. Aside from being a space saver, the lamp can also add some height.
For eye-catching accents, go for handcrafted items such as pottery pieces for cups, saucers made of wood. A handmade stainless steel riser will add vertical height for your containers and, at the same time, give your coffee station an industrial appeal.
You can also go with vintage items as accents that add character to your coffee station. Have small French spoons as stirrers and vintage glass shakers to hold cinnamon.
MINIMALIST
Do you want a stylish and practical coffee station for your kitchen? This sophisticated modern kitchen by Peninsula Modern in San Francisco features black shelves for coffee essentials like cups, mugs, coffee makers, and stainless steel pots.
COUNTRYSIDE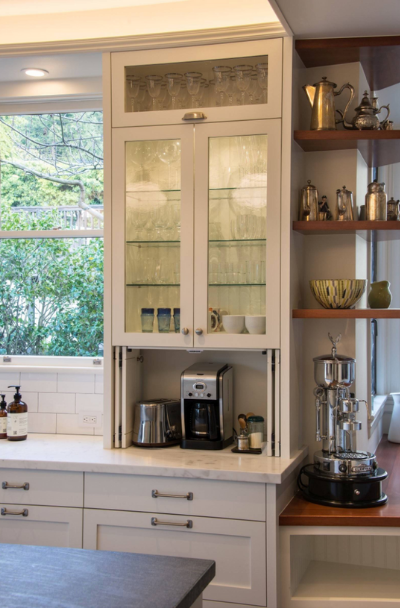 The trendy kitchen in San Francisco shows the owner's love for coffee and tea. The white cabinets with glass doors look classic and dainty. You will smell home and vacation as you see this coffee station and kitchen design by 20|20 Builders.
RESTORED
Looking for a little yet revitalizing nook to set up shop with your morning brew? Tallulah & Bird LLC, Interior Design created this lovely and refreshing coffee bar. A small cottage chic kitchen design in Philadelphia with open white cabinets and a small white fridge.
RECESSED-PANEL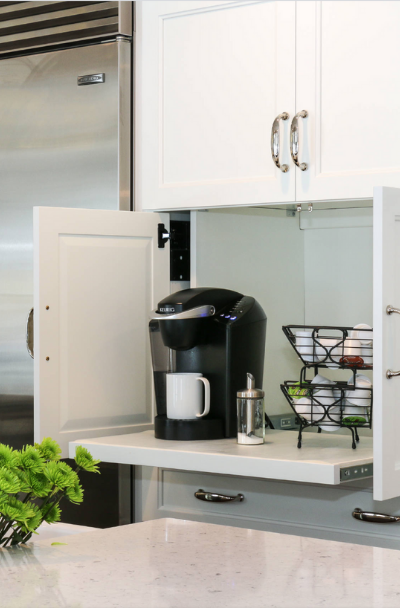 This kitchen is light and airy, with a delightful, well-organized coffee station. This awesome transitional kitchen in Chicago features a slide-out drawer made by Rev-A-Shelf. Such an incredible design by Redstart Construction, Inc.
BACHELOR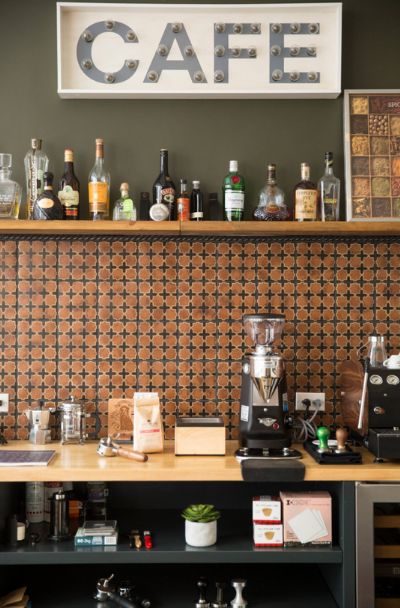 This restaurant-style coffee station design is sure to be a hit with any group of coffee drinkers. The outstanding work of Peti Lau Inc. We love this stylish bachelor loft in New York with a functional coffee station and painted Spanish tiles for the backsplash.
Coffee Station Ideas – Bar Styles
Creating your coffee station starts with having a serving space. This space could be your kitchen counter or a separate piece of furniture. Here are some coffee bar ideas for you.
An extra counter space makes an excellent coffee bar. Make it more obvious that it is a coffee bar by adding coffee bar accessories such as cup holders or coffee pots. If the space in your counter is limited, utilize trays as a base where you can put your coffee essentials.
If you do not have an extra countertop, use an available table to create a coffee bar table. Have a round table with a glass top and pair it with sleek chairs if you do not have much space. This style gives your kitchen a European look, as if you are inside an Italian coffee shop or a French bistro.
If you have enough space in your kitchen, you can have a buffet. Get one with many shelves for all your coffee-making essentials. You do not have to buy a new one. Transform an old dining room buffet into a coffee bar for a vintage look.
Your coffee bar does not have to be stuck in the kitchen. If you want something mobile, go with a bar cart, which allows you to have a coffee stand anywhere you want. Create your own by adding wheels to a kitchen island. You can take it to your living room if you have guests to entertain. An industrial-style bar cart can an urban touch to your home.
COASTAL
This coffee station by AsterHouse Design, LLC is sure to be a favorite with any fans of blue and white. This beach-style home bar features a dark wood floor, white hexagon backsplash tiles, blue cabinets, and floating shelves for the coffee cups.
SUBURBAN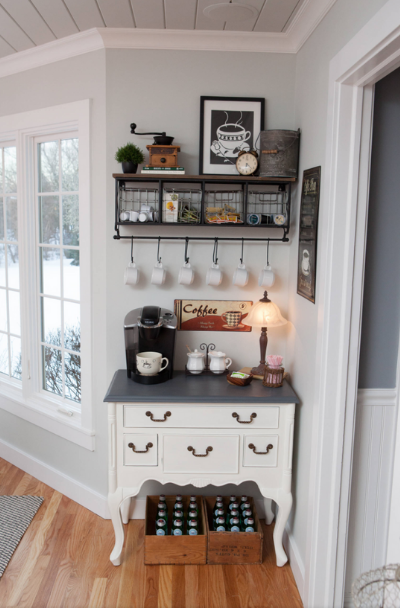 Do you want to make the most of your living space? Advance Design Studio, Ltd. has created a coffee bar that is both beautiful and functional. Lovely coffee station corner with classic gray and white cabinetry from Dura Supreme. The cup holder is a salvaged antique piece that the client provided.
Storage
You want to keep your coffee station neat and tidy so that you can make your coffee quickly. What you need then are storage solutions. Cabinet, shelves, baskets, canisters, and hooks are some essentials to keep your coffee station organized.
A coffee bar cabinet can provide ample storage for your coffee essentials. If you have an old cabinet lying around, you can transform it into a DIY coffee bar.
Shelves are great for keeping your coffee essentials organized, but they are also great for adding extra vertical storage if your kitchen has limited space. Aside from your mugs, jars, and napkins, you can also display your decors on your coffee shelves.
For your spoons and stirrers, place them in small baskets where you can easily see them. You can also label your baskets to be more organized. You can easily find the right baskets in flea markets or thrift stores if you do not want to spend on new ones. Better yet, create your own if you can.
For coffee and sugar that needs to be stored in airtight containers, use canisters. Take advantage of the different designs available to express your individuality. We do recommend, however, going with transparent ones, so you know when you need to replenish your supplies.
Use hooks to hang your coffee mugs, especially if you have limited space. You can add hooks onto cabinets or whatever coffee bar furniture that you have. Aside from mugs, you can also hang tea towels on the hooks.
Ready-Made Coffee Stations
1.
Sale
2.
3.
Sale
VASAGLE ALINRU Kitchen Baker's Rack, Coffee Bar, Microwave Oven Stand, with Steel Frame, Wire Basket, 6 Hooks, 35.4", Rustic Brown
Kitchen Shelf with Dolce Vita Flair: The smell of freshly baked pizza flows through your kitchen and a glass of red wine is ready—create the perfect atmosphere among your walls with our industrial furniture from VASAGLE
Chaos Coordinator: If the mixing bowl has to be placed on the stove or the kettle on the floor, it's high time for this baker's rack! It offers numerous shelves for storing baking utensils and more. Your microwave oven can also fit on the 35.4" x 15.7" work surface
Store What You Need: With particleboard shelves resting atop robust steel tubes, the kitchen rack is sturdy and holds 176 lb of your favorite cookbooks, a coffee maker, plates, pasta boxes, pots, pans, and more
Everything Has a Place: 6 S-shaped hooks are included for holding ladles, spatulas, and towels, while a handy, pull-out wire basket is perfect for cutlery, measuring spoons, or a whisk
What You Get: Baker's rack from our ALINRU Collection, 4 storage shelves, a wire basket, 6 S-shaped hooks, adjustable feet, labeled parts, and an easy-to-follow instructions
4.
Sale
5.
Sale
Kitchen Islands with Storage, Kitchen Carts and Islands Rolling Kitchen Island Storage Cabinets on Wheels with Drawers, Towel Rack and Shelves in Dining Room, Black
【Spacious Black Kitchen Island】: Rolling kitchen island with storage provides more storage in your small kitchen. Kitchen island equipped with 2 drawers, 2 towel racks and 2 closed cabinets to store dishes, pots and pans, keep your kitchen tidy.
【Sturdy Construction】: We have upgraded this kitchen island, which is more durable than the previous kitchen island. Kitchen island with storage constructed of high quality rubber wood and engineered wood materials and the surface is coated with black protective paint.
【Kitchen Island with Adjustable Shelves】: Kitchen island has adjustable shelves, with 3 heights to choose from, and the shelves are adjusted as needed to store items of various sizes. Adjustable design to meet your requirements to the greatest extent.
【Kitchen Island with Lockable Wheels】: The 4 rolling wheels can be swiveled with ease, you can move the kitchen island between the kitchen and dining room. Which 2 wheels have emergency lock brakes, you can stabilize the kitchen island in any position.
【Satisfactory Service】: A detailed instruction manual is provided in the kitchen island on wheels package. We are devoted to provide premium products and services for customers. Please contact us via the 'Contact seller' button in the detail page of your order for any concern and we'll response as soon as possible.
Final Thoughts:
A coffee shop is an excellent place to get your morning coffee fix, but sometimes, you may not have the time to go out of your home. Moreover, frequent trips to your favorite coffee shop may hurt your wallet. An alternative way to enjoy coffee without the hassle and expense is by having your own coffee station right inside your home.
Now that you know the different elements you need in a coffee station, all that is left is finding the right coffee maker for you. You can go with a pour-over coffee maker, which takes time to brew coffee but brings a coffee shop feel into your home. If you are on the go, however, a single cup coffee maker may be the right one for you. A French press is an ideal coffee maker if you want your drink rich and creamy without too much intensity. If you want more variety in your coffee, get an espresso machine that can make latte, cappuccino, or a smooth shot coffee for you.
With home coffee makers becoming popular nowadays, kitchen coffee stations have become a trend in home design. Whether you have a small space or a large space, with some creativity, you can make the perfect coffee station for you. We hope our coffee station ideas helped you.
This is an image roundup post, curated to showcase and promote other reputable contracting companies' and their amazing work. To have any of the images removed, please reach out to us and we would be happy to do so.
Other Great Articles to Read: