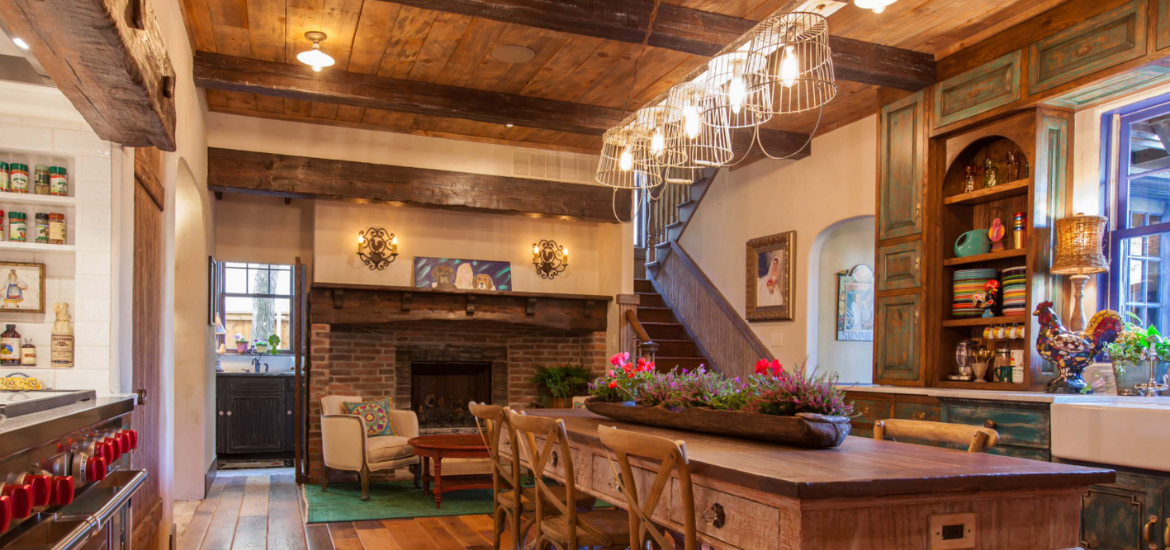 Farmhouse style is a charming decor scheme that is as comfortable as it's chic. Whether you've implemented the farmhouse trend for the whole house or you are searching for a dash of one here and there, it is suitable for virtually any decor. Farmhouse style is incredibly versatile, and it is an excellent option to pull together an eclectic collection or incorporate some unexpected warmth to modern or minimalist schemes. If you love farmhouse decor but aren't sure where to begin, look at your lights! Check out these 21 farmhouse sconce light fixtures.
This farmhouse sconce light fixture by Right Arm Construction features a rustic metal frame with a distressed finish, complemented by a clear glass shade, creating a vintage-inspired and charming ambiance in any space it illuminates.
DANISH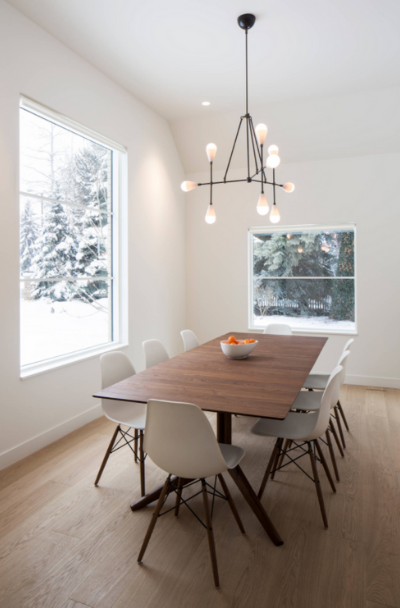 In this dining room by Lloyd Architects, the farmhouse sconce light fixture showcases a black metal base with an industrial flair, paired with a white cone-shaped shade, adding a touch of elegance and rustic charm to the area.
TRANSITIONAL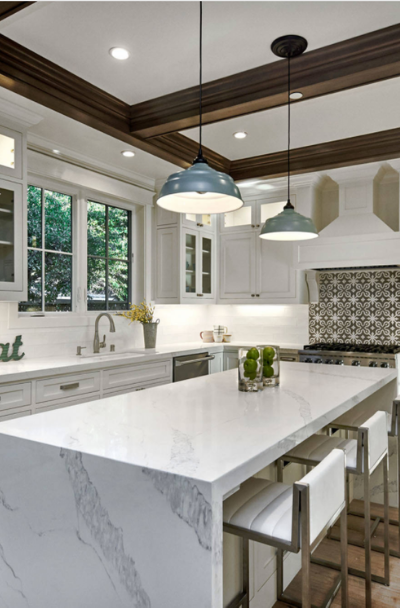 The farmhouse sconce light fixture in this kitchen by Arch Studio, Inc. features a brushed bronze finish with intricate detailing, accompanied by a vintage-inspired Edison bulb, creating a warm and cozy atmosphere for meal preparation and dining.
CUSTOM HOME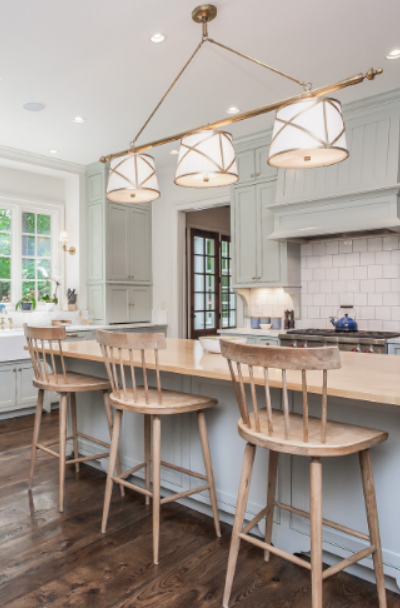 This farmhouse sconce light fixture boasts a wooden backplate with a whitewashed finish, paired with a curved metal arm and a fabric shade, adding a subtle rustic touch and soft lighting to the kitchen by Hask Custom Homes.
ENCLOSED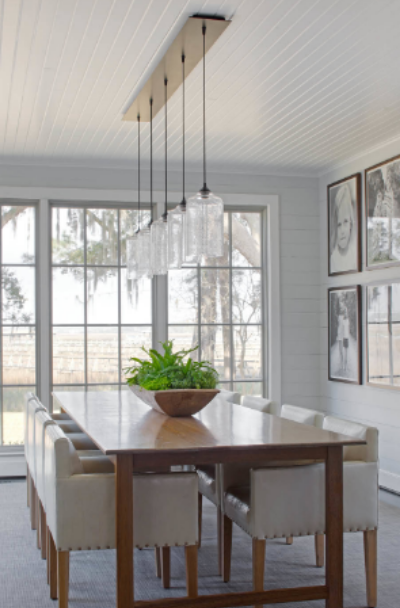 The farmhouse sconce light fixture in this dining room by Rethink Design Studio features a distressed metal frame with an open bottom design, allowing the light to shine both upward and downward, adding a warm and cozy glow to the space.
SUPREME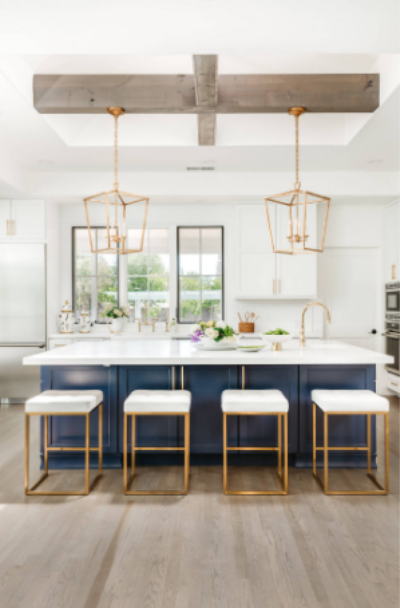 This outdoor farmhouse sconce light fixture by GOLDEN GATE KITCHENS boasts a weathered metal finish with a lantern-inspired design, enhancing the rustic charm of the kitchen while providing a welcoming glow.
FRESH & WARM
In this white kitchen by Geoff Chick & Associates, the farmhouse sconce light fixture showcases a matte black metal finish with a classic scroll design, paired with candle-style bulbs, creating a romantic and nostalgic ambiance for family meals and gatherings.
OLD-FASHIONED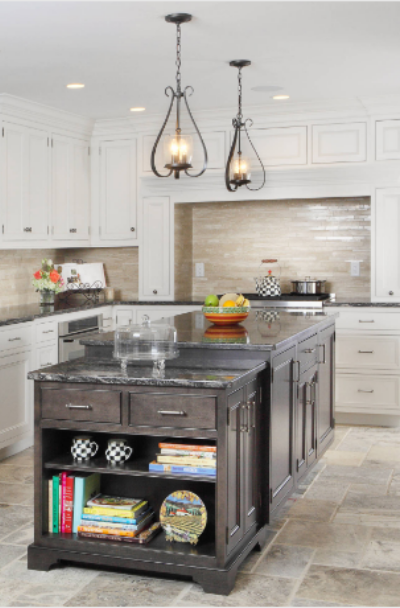 This farmhouse sconce light fixture by Signature Kitchens, Inc. boasts a galvanized metal backplate with a wire cage design and a vintage-style Edison bulb, adding an industrial and rustic touch to the area.
Choosing Farmhouse Light Fixtures
Farmhouse light fixtures run the gamut from antique-inspired to shabby-chic to warm industrial. To achieve your farmhouse lighting ideas, start with your materials: glass, metal, and wood. And do not forget the light bulbs. A light bulb with an attractive shape or an antique can genuinely make your farmhouse lighting ideas pop and give them an intriguing focal point. The signature blends of wood, metal, or glass produce a rustic and beautiful look that seems worn-in and elegant. Farmhouse style decor is starting to become increasingly more well-known with each passing year. The clean lines and light colors draw for anybody looking for a classy look on a budget. But it is not all about the decor. Lighting plays an enormous part in building the proper atmosphere on your farmhouse upgrade. Whether you are searching for rustic or modern lighting choices, we have the best ideas you need for your perfect house.
Kitchens are the best place to display your gorgeous new farmhouse light fixtures. The kitchen area pulls individuals together for food and good conversation; thus, the lighting must reflect and enhance this. Although most lighting fixtures only concentrate on their utility purpose, you find the very best of both worlds with regards to farmhouse lighting. The farmhouse-style kitchen light fixtures serve as statement pieces and provide functionality. You can rely on them to provide your kitchen area the facelift it needs. If you have a kitchen island, pendants are a fantastic addition. They can be made to be one fixture centered above the island, which is ideal for fixtures. Yet another way is to install a couple of corner pendants running parallel to one another.
Antique bulbs would enhance these light fixtures to be more eye-catching! And you cannot overlook the dining room! The dining area is the one room where individuals can take a break, and the lighting must tell them to sit down and stay awhile. Ceiling lights like chandeliers are a sure-fire way to make your dining room look elegant, mainly when utilized with candle-shaped light bulbs. Ceiling fans are also a preferred option for dining rooms, and they can even be farmhouse themed!
PLAIN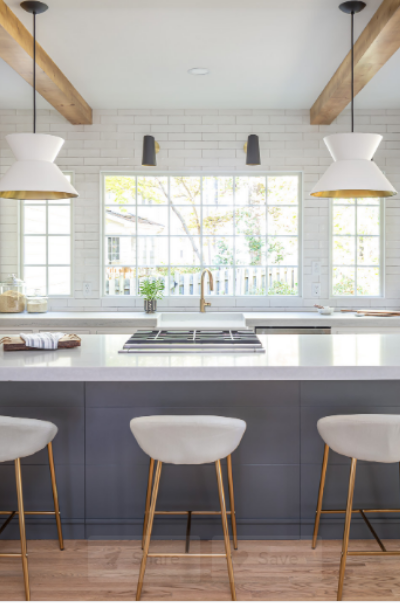 In this kitchen by Clearcut Construction, Inc., the farmhouse sconce light fixture showcases a distressed wood backplate with a black metal arm and a fabric drum shade, creating a cozy and inviting atmosphere for relaxation and rest.
MOUNTAIN-STYLE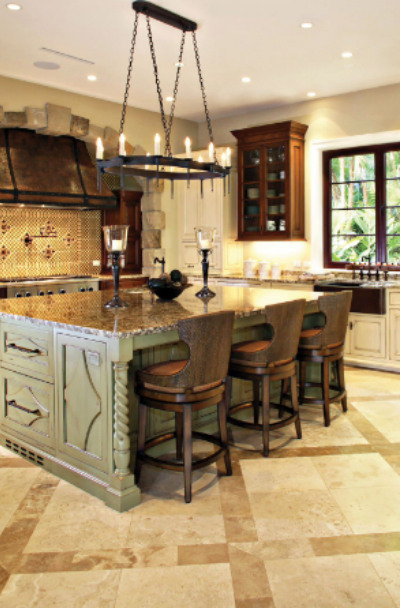 The farmhouse sconce light fixture in this kitchen by Marble of the World features a bronze metal finish with a bell-shaped shade, emitting a warm and soft glow that complements the rustic charm of the farmhouse-style decor.
GRANITE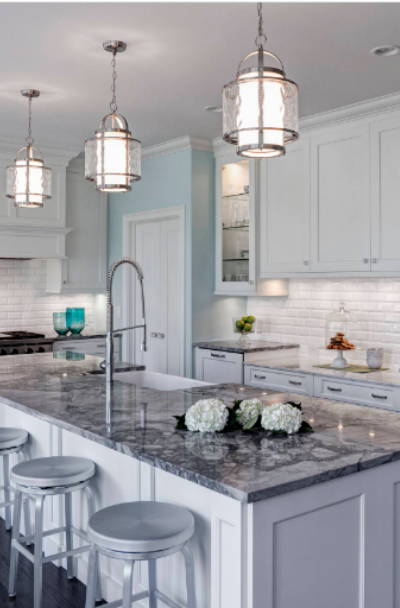 This outdoor farmhouse sconce light fixture boasts a lantern-inspired design with a distressed black finish, adding a touch of vintage elegance and a welcoming glow to this kitchen by Drury Design.
TIMELESS
In this dining room by Garrison Hullinger Interior Design Inc., the farmhouse sconce light fixture showcases a matte black metal base with a clear glass shade, offering a simple yet stylish lighting solution that matches well with the farmhouse-inspired interior.
Tips For Farmhouse Lighting To Help You Nail The Style
The farmhouse style's rustic charm, earthy color scheme, and warm lighting are quintessential cozy. But the very best part? The natural simplicity is effortless to achieve in any house, particularly when you have the right pieces to pull it together. Thankfully, farmhouse lighting does that. Farmhouse light fixtures set the tone by acting as the focal point in each room. Do not let that overwhelm you, however. Selecting the proper farmhouse lighting fixtures for your dwelling is easy when you know what features to look for and how to utilize them in your room. We have listed some tips that can help you nail it.
The first one is to know its duty. The bathroom is perfect for getting ready, the kitchen is ideal for eating, and the living room is suitable for entertaining. Each room has a distinct purpose. That is why you must pick a farmhouse lighting fixture that suits that specific room's performance. Think about the place where you need the most visibility, and that will often determine the kind of lighting you need. Next is to size up your space. With their thick wood features, several farmhouse light fixtures are too bulky for your headspace.
If you are attempting to light a dining room, measure the distance between the ceiling and your dining table. A ceiling light must hand down no more than halfway. Also, determine the length of your kitchen table. You do not need a fixture longer or even wider than the object you are attempting to light. The overall scale of your farmhouse lighting must complement most of your decor and furniture. Third, choose the best positioning. Do you need your bulbs pointing up, down, or out? The direction where the light shines is crucial for every room. You will want a farmhouse lighting fixture in the kitchen that shines straight atop your counters; therefore, the food you are prepping is adequately lit. This will require downward facing bulbs.
However, the kitchen nook or dining room is better served by a farmhouse light fixture that shines light upward and produces a softer glow. Think about your color palette. Farmhouse style is recognized by a basic color palette. You will see many earthy tones, including a selection of greens, grays, and browns. But there are enough options for farmhouse light fixtures in bronze, cream, matte black, and zinc. On the other hand, if your style yearns for a splash of color, let your farmhouse lighting lead the way. You can get a couple of farmhouse pendants available in rustic red and soft pink. Occasionally, including a contrasting copper is enough to counterbalance a wall of white shiplap. Farmhouse design is meant to seem effortless; however, that doesn't mean that little thought goes into every cozy cranny and nestled nook. You can create a warm, welcoming dwelling with the proper farmhouse light fixtures as your focal point. After you've determined the room's function and how much space you've got to deal with, you can dive deep into the design elements. Follow a uniform color palette and look for those key features to make a farmhouse style that is uniquely yours.
SUBWAY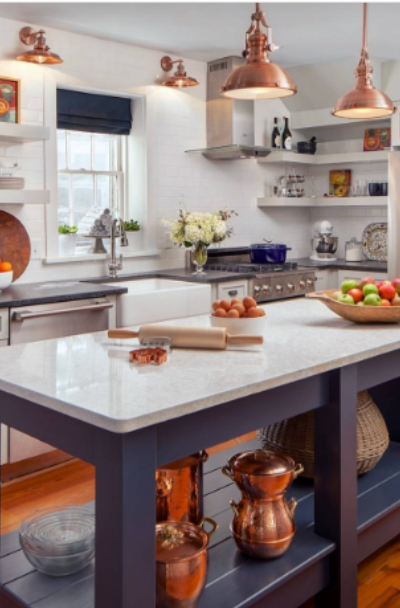 This farmhouse sconce light fixture boasts a black metal frame with a lantern-style design and a clear glass shade, adding a touch of charm and rustic elegance to this kitchen area captured by Daniel Jackson Photo.
SILVER
In this kitchen by Effect Home Builders Ltd., the farmhouse sconce light fixture showcases a sleek chrome finish with a clear glass globe shade, offering a modern twist to the farmhouse style while providing functional and stylish lighting.
ELEGANT
The farmhouse sconce light fixture in this dining area by Design Directions features a white metal frame with delicate scrollwork and a fabric shade, creating a soft and soothing ambiance.
MULTICOLORED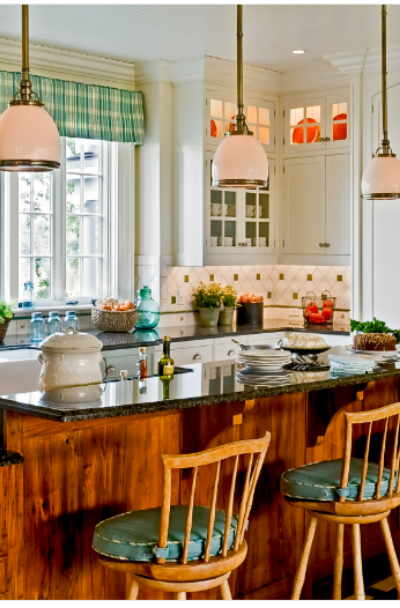 This farmhouse sconce light fixture by Crisp Architects showcases a rustic black metal frame with intricate scrollwork and a clear glass cylinder shade, exuding a timeless charm and providing a warm and welcoming glow to the kitchen.
STAINLESS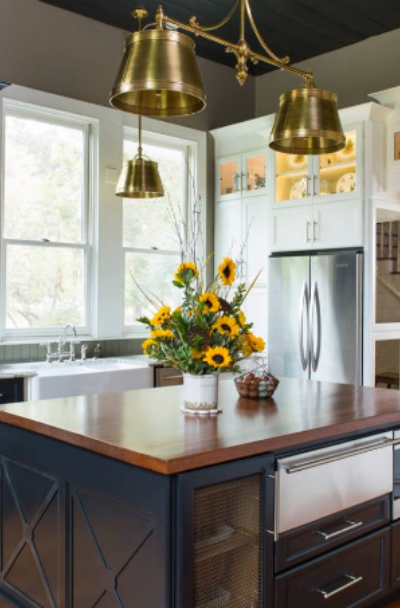 The farmhouse sconce light fixture in this kitchen by The Aldrich Group, LLC boasts a unique dual-toned design with a black metal base and an antique brass socket, paired with a vintage-inspired filament bulb, creating a stylish focal point and cozy atmosphere above the kitchen sink or island.
Creative Ideas For Your Farmhouse Light Fixtures
Farmhouse lighting plays a crucial part in shaping a room's appearance, whether you are going for country, cottage, vintage, or any design grounded in the past. Even though furnishings, paint colors, and surface materials are all essential elements, well-chosen farmhouse lighting sets a room's overall tone. And it is crucial to showing off the look you've pulled together. Here are several farmhouse lighting ideas to inspire your space.
When your design goal is a rustic charm, try a farmhouse lighting with galvanized steel shades and metal lamp guards reminiscent of those used in the 1930s-era barns. The pristine white walls, beams, and ceilings of a dining room can balance the lighting fixture's primitive vibe. Mix up metals on farmhouse lighting rather than matching them to create your vintage, farmhouse, or cottage style kitchen look like it has developed over time. The oversize scale of the farmhouse pendants make a particularly remarkable statement and guarantee lots of illumination for the task at hand. Farmhouse light fixtures are also perfect for sleek settings. They are ideal for a simple, uncluttered kitchen area, providing a spot-on job for lighting the island and a clean, refined style. Choose a drum shade on a farmhouse pendant for a traditional design that fits practically any environment, whether it is a cottage, contemporary, or a completely different look. There is a practical element that makes drum shades an excellent option for a central fixture. How one suspends a farmhouse lighting influences its overall appearance. A simple cord makes it more industrial or modern. For example, a chain can draw attention away from the wiring and produce a traditional vibe. Generous doses of white can keep an area airy and brilliant but usually require a bit of warming up. A wooden trestle table paired with farmhouse lighting with a row of primitive rusty shades can make the area feel more inviting and intimate.
No farmhouse space is done without gorgeous lighting. Discover modern and rustic farmhouse lighting ideas and look for your outdoor options while keeping your easy-going, down-home style. As we have said earlier, lighting plays a massive part in creating the proper atmosphere on your farmhouse upgrade. Ceiling fans are the most typical fixtures for any bedroom and are helpful and sexy. However, there is an assortment of lights that would be ideal in a farmhouse themed bedroom. Examples could be flush-mounted, or semi-flush mounted ceiling fixtures made for smaller spaces. This would significantly improve the correct finish and design area.
Ideas For Your Kitchen Lighting
Your kitchen lighting can completely transform your space's look and feel, taking it from ordinary to designer-worthy. Traditionally, a resident in the kitchen, dining room chandeliers has become a favorite lighting fixture for modern kitchens. You will also have to consider what ambiance you will want to create for your kitchen, from the fashionable, minimalist appearance to industrial, vintage stylish farmhouse vibes. We will help you move through kitchen ceiling lights recommendations to help you build your modern house's ideal atmosphere. Clean lines and geometric silhouettes are design choices that are included in a contemporary kitchen. Two large bulbs over a kitchen island make a festive ambiance in your house. Circular chandeliers are an excellent option since they offer a visual simplicity that works well over the kitchen table or even dining areas. Honestly, lighting will give your modern kitchen a spunky character. Add some boldness to your kitchen table with the help of a stylish chandelier dangling over it.
Clean and clear is the strategy to use if you want to bring a feeling of simplicity to the kitchen. Chandeliers with several clear orbs can create visual harmony, while conventional shapes can include a rustic farmhouse vibe into your kitchen table or island. Think of substance when choosing what ambiance you'd love to set in your kitchen. Wavy or even etched glass is an enjoyable way to merge both classic and contemporary vibes. Metal is a mark related to a modern environment, while wood gives a bright feel. Use styles in your kitchen light fixture to redefine the feeling of symmetry in the space. Coordinate a gigantic chandelier over the kitchen table with many little chandeliers over the kitchen island. Translucent glass orbs suspended along a gentle wooden beam are among the options to highlight a standard or farmhouse environment, especially against counters and islands of darker wood. Try to keep your kitchen area fashionable and classic by choosing a chandelier with vintage vibes. If you'd like to keep your kitchen looking modern and orderly, select a kitchen light fixture with a minimalist outfit. Exposed light bulbs are a traditional vintage design that'll add somewhat of an old age experience you might be looking for. This is useful in kitchens with wood, brass, or black metal finishes.
If you've got grey or white countertops with gold wall specifics, choose a farmhouse lighting with white gold and orb stems. These little nuances will make your house pop with apparent harmony. A long rubber rectangular chandelier could get the job done if you have a modern kitchen filled with wood counters and cabinets. You will find different dining room light fixtures to choose from, whether you desire small, geometric patterns with colorful and bold designs.
This is an image roundup post, curated to showcase and promote other reputable contracting companies' and their amazing work. To have any of the images removed, please reach out to us and we would be happy to do so.
Other Great Articles to Read: