Metal kitchen cabinets are not for everybody. However, if you're searching for a smooth and modern shimmering spot to do your cooking and food preparation, then metal kitchen cabinets could be the ideal thing for you.
Way back in the 1930s and 1940s, retro metal kitchen cabinets were extremely popular. In addition, these great looking cabinets were easy to care for, low in cost, and for the most part, came in white. Although, if preferred, anyone could use spray paint in a different color.
While they looked somewhat cold and sterile, the fact that they were easy to maintain was a good trade-off. Moreover, all these vintage metal kitchen cabinets needed to look great again was scrubbing with a slightly wet washcloth or spray paint. Hence, this was a huge plus for those on a spending limit.
In the event that you have a contemporary kitchen with cutting-edge appliances, tile backsplashes, or possibly a concrete countertop, your good old wood kitchen cabinets may get a little bit out of place. Also, to keep a smooth and sleek industrial look that blends with the remainder of your style, you might need to replace your cabinets with something similarly modern and chic—metal cabinets kitchen.
Regardless of whether it is countertops, appliances, or backsplashes, stainless steel never goes out of fashion. So why not finish that sharp, metallic feel by installing some new metal kitchen cabinets?
INDUSTRIAL
Can you believe that the furniture in this kitchen has existed for more than 30 years? Imagine what remodeling can do! We can all agree that the kitchen by Frederick + Frederick Architects is a breath of fresh air!
MODERN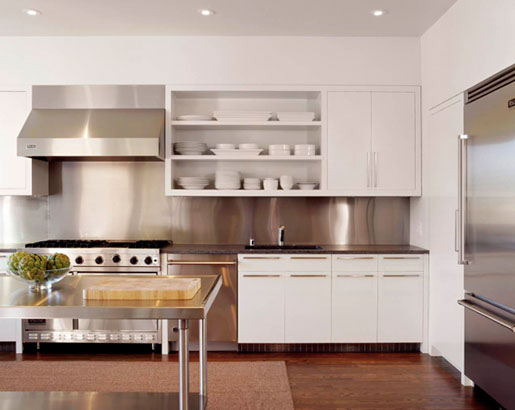 This kitchen's layout displays a genuine concern for the well-being of its viewers by including several features that promote relaxation and homeliness. Cary Bernstein Architect, created a stylish and inviting kitchen with this plan. You can try this idea for a sleek and elegant kitchen cabinet.
CONTEMPORARY
The kitchen's black, gray, and white color scheme works beautifully with the stainless steel and gold equipment. The craftsmanship of Plain & Fancy Custom Cabinetry is impeccable, and the design is just stunning. We love the details and mix of materials in this contemporary kitchen.
Wood Versus Metal Kitchen Cabinets
There is nothing wrong with wood kitchen cabinets. In fact, they come in numerous shapes and styles. In addition, you can paint and stain them in every shade, and they look excellent when installed appropriately. However, particular advantages accompany vintage metal kitchen cabinets. Firstly, they're sturdy. Consider why such a large number of garages come furnished with upright, metal toolboxes. It's because these storage devices can't be easily destroyed, look rough and rugged, and keep their contents protected and safe.
You can say the same with retro metal kitchen cabinets, which can stand some beating and yet still look great. Besides, since metal hardware is in style, your new metal cabinetry may already coordinate with your current installations. Below are some different benefits metal kitchen cabinets have over wood cabinets.
First, there is no refacing, ever. In fact, you'll never need to reface, re-stain, or supplant your door fronts, which eliminates additional maintenance costs and weekend tasks.
Next, you no longer need to stress over peeling paint. Since the kitchen can get truly humid, this can be a typical issue in wood cabinetry, while old metal kitchen cabinets consistently stand up to the moisture.
On the other hand, speaking of humidity, warping is a usual concern among wooden cabinetry. Metal, obviously, has no issues against the warp.
Finally, metal kitchen cabinets are easy to install. Besides, most metal cabinets come pre-assembled, which implies that it comes as is. Hence, all you have to do is screw them into the wall.
LOFT STYLE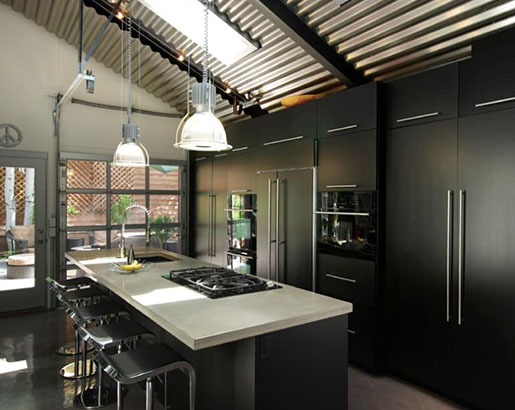 This all-black kitchen design is extremely modern and streamlined. Renovation Design Group outdid itself with this one. A stainless steel sink, a concrete counter, and black cabinetry create a loft-like atmosphere in this industrial kitchen.
GUNMETAL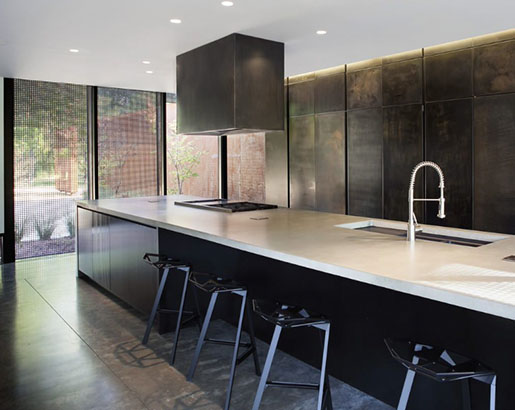 In search of a kitchen layout that manages to be both modern and country chic? Hufft designed this sleek, all-black kitchen. The gunmetal steel skin on the face of the cabinets gives this kitchen an extraordinary appeal.
TRANSITIONAL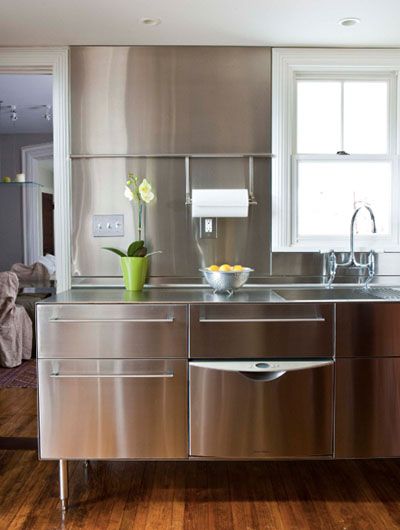 This kitchen layout is the unanimous consensus of current design gurus for its sleek, automated aesthetic—amazing work by Lankford Design Group, who also designed the rest of this beautiful home. Food-grade stainless steel looks fantastic and gives your kitchen a stunning and luxurious vibe.
CLASSICAL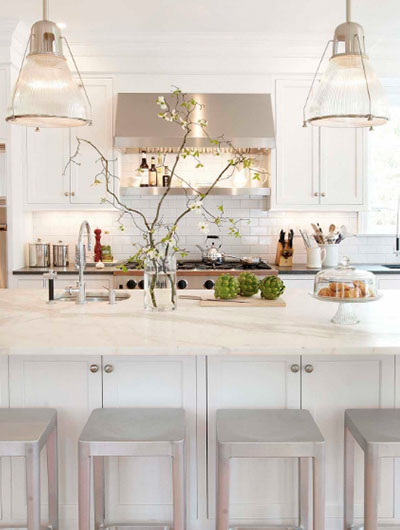 This light, traditional kitchen design appears like it was taken straight out of a very costly castle and is just stunning. Steel cabinets do not need to be industrial-looking. Just look at this dainty kitchen! Such an incredible kitchen design by Pickell Architecture.
What Are The Pros And Cons Of Metal Kitchen Cabinets?
Some people prefer vintage metal kitchen cabinets, while others are not a fan. That truly boils down to individual inclination. Besides, everybody has a different taste. In case you're uncertain, check out our metal kitchen cabinet ideas to get inspiration. However, if you are one of those who love them, the next step before buying is to be familiar with the pros and cons of metal cabinets kitchen.
Stainless steel is exceptionally solid, sanitary, and simple to clean. This is the reason why people have long utilized retro metal kitchen cabinets for outdoor kitchens. In particular, the maintenance is low, and they keep up with the harsh treatment. In addition, they don't require cleaning with harsh chemicals because of their natural sanitary properties. Moreover, they will never rust or warp. Also, water cannot damage them. At last, stainless steel cabinets can make a kitchen look bigger since they reflect light.
On the other hand, stainless steel show fingerprints and smudges more than wood kitchen cabinets. In case you're an individual who panics over each smudge, keeping the cupboards clean can possibly make you go crazy. Moreover, metal cabinets can also be costly, and they come in fewer styles than wood.
STAINLESS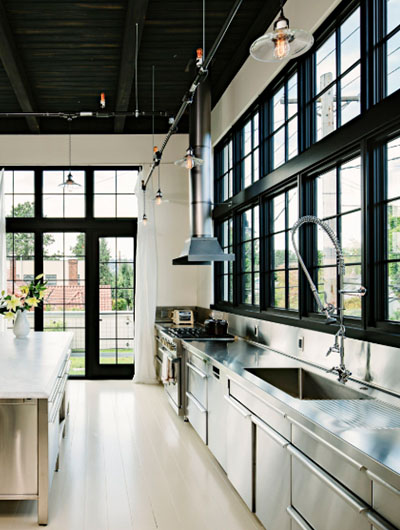 Looking for a kitchen remodel to make your home seem more open and modern? Wow, Emerick Architects outdid themselves with this kitchen. This kitchen's custom stainless steel cabinetry and high-end commercial faucet give it a distinct industrial vibe. 
SMOOTH FINISH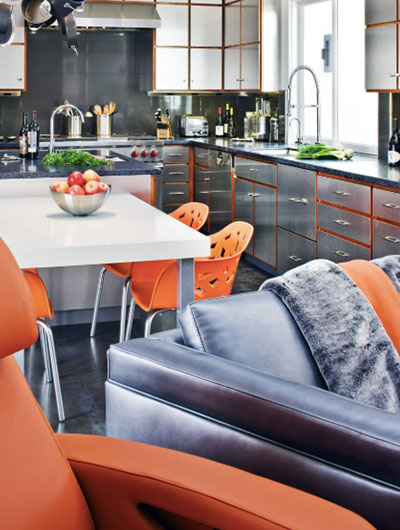 Stainless steel and cherry? Why not! We love the design and style of this kitchen. This kitchen layout is really warm and vibrant. The unusual color scheme used in this kitchen remodel by Maraya Interior Design is both attractive and eye-catching.
WHITE
Want a large, cheerful dining room and kitchen design for your home? Everything in this kitchen and dining room design by Braam's Custom Cabinets appears to be so organic and light. The kitchen cabinets are finished in stainless steel and white.
SLEEK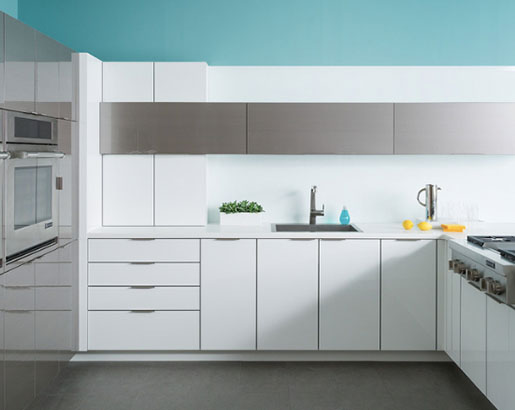 This kitchen's layout is neat and sleek but still exudes cuteness. By Dura Supreme Cabinetry, this excellent kitchen design features practical cabinets. This contemporary kitchen features stainless steel drawers and roll-out shelves.
How Do You Restore Metal Kitchen Cabinets?
Metal kitchen cabinets are a reminisce of the 1940s. Thus, unearthing a lot of these vintage metal kitchen cabinets is a fun find. Moreover, the cupboards will effortlessly supplement any retro theme you are attempting to create. However, rust is the greatest challenge with vintage metal kitchen cabinets. Notwithstanding, getting rid of the rust will make a smooth surface that will acknowledge new paint.
First, clean the cabinet thoroughly with an ammonia-based cleaner and a cloth. Expel all deposits from the surface. Next, with a steel-bristle brush, brush the cabinets briskly back and forth. This will thump free most of the rust.
You can now then sand the cupboards with medium-grit sandpaper to expel extra rust. In addition, the sandpaper will effectively work around curves and corners.
After that, spray the cupboards with phosphoric acid. In particular, phosphoric acid will transform any concealed rust into iron phosphate. Then, let the acid work on the metal cabinet overnight.
Next, brush the iron phosphate crust that developed overnight with a steel-bristle brush. This will get rid of any remaining rust.
Once done, apply a thin layer of oil-based primer to the cupboards using a smooth foam roller. Pick a bonding primer designed for metal surfaces. After that, allow the primer to dry.
Now, it's time to paint them. First, put oil-based paint into a paint pan. Next, roll a smooth foam roller through the paint, getting rid of the excess paint from the roller. Apply the paint to the metal kitchen cabinets in a thin coat. Then, give the first coat a chance to dry. Finally, apply a second and third coat, utilizing a similar procedure.
RED
In this kitchen design, you would exclaim, "Wow!" Everything about this seems very cozy and loving! Such a magnificent work of art by Dyna Contracting. This industrial kitchen, a floating house component, is best described as clear and straightforward.
STORAGE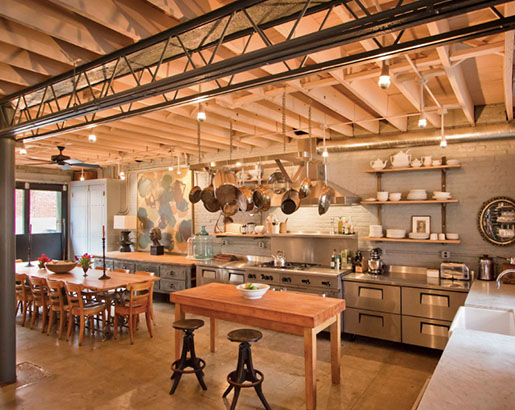 Is this kitchen's romantic ambiance clear to you? This kitchen by Bennett Frank McCarthy Architects, Inc. is very lovely. Dedicated/customized cabinets for special uses such as tray storage, knife and utensil storage, pot storage, etc.
MIXED METALS
This kitchen design is excellent and exudes an air of wealth and beauty. This kitchen design by Schanstra Design Group has a highly modern and refined appearance. Warm and cool colors are blended with mixed metals in this white kitchen.
What Kind Of Paint Do You Use On Metal Cabinets?
Normal paint won't adhere to metal kitchen cabinets the same manner in which it would to wood or particleboard cupboards—not for long, in any case. However, if you are willing to make several additional steps, you can use a primer and paint combo that will create a lasting finish for whatever kind of kitchen cabinets.
But you might be wondering. Particularly, what is the best paint for metal kitchen cabinets?
Acrylic Paint
Acrylic paint is a well-known preference for painters since it is water-based. Also, it is simple to clean with water. Be that as it may, when it dries, it becomes water-resistant to protect your painted cabinets.
For the acrylic paint to stick, you should sand the surface first. In addition, you will also need to utilize a primer.
Chalk Paint
Striking and versatile, chalk paint is the favorite paint for enthusiastic DIY-ers. Notably, there is no prep required on your surfaces for this paint to adhere. For chalk paint, you should include wax or some finish after the coats have dried in order to seal the surface.
Spray Paint
If you want to paint with ease, spray paint is your best bet. For spray painting metal cabinets, you will need to clean the surface thoroughly and then utilize a sander to smooth the whole surface you need to spray paint.
Oil Paint
Utilizing oil-based paint with respect to your metal kitchen cabinets may be a bit excessive, but it is unquestionably the choice that gives you the best long term results. In addition, oil paint is extremely thick and made to stand up after for quite some time, which might be what you need if metal cabinets are in a high traffic area.
CARBON FINISH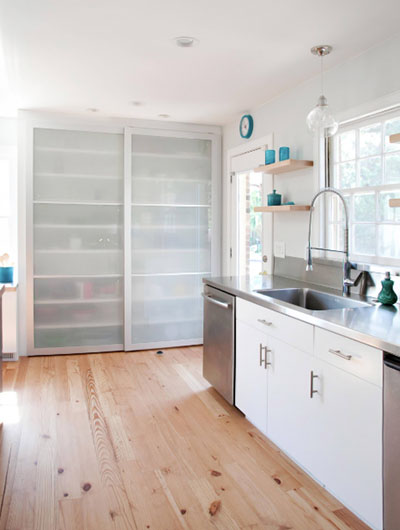 Everyone would concur that this kitchen design is excellent and simultaneously exudes calm and simplicity. This kitchen by Plain & Fancy Custom Cabinetry is amazing and has a comfortable atmosphere. Kitchen cabinets with shaker-style doors and a carbon finish.
How Much Are Stainless Steel Cabinets?
Stainless steel cabinets are regularly more costly than even top-of-the-line wood types, but again they are amazingly sturdy and last longer. You can budget at least $350 to $500 per cabinet in solid stainless. On the other hand, allot $750 to $1,000 per custom cupboards, excluding installation. In general, metal cabinets will be more costly than wood cupboards. However, remember that these are just mere guides—the price can get a lot higher based on what you pick.
For instance, let's say you have 30 cupboards in the kitchen, which is usual for an average to a big home. At $1,000 per cabinet, that brings the cost to a total of $30,000, excluding installation. At the point when the installation is figured in, you could wind up burning around $40,000 or $50,000. Notwithstanding, remember that cabinets are quite often the highest cost in kitchen plan or redesigning.
Are Metal Kitchen Cabinets For You?
Metal kitchen cabinets offer a stunning and sleek alternative to the regular scene of wooden cupboards. Moreover, you may find metal cabinets kitchen accessible in a fresh, modern stainless steel, which comes in different hues, antique touch, or the glow of copper.
Either is excellent and provides a superb solution for designing your kitchen as per the subtleties of your own preference for home decor with their bright reflective finishes. In addition, you will find that there are kitchen metal cabinets, which include different wood types into their style. This creative blend of metal and wood makes beautiful cupboards for your kitchen while considering steel metal kitchen cabinet ideas for your kitchen remodeling.
As a result, you will absolutely adore your new metal kitchen cabinets and ask why you stood by so long to exploit their innovative and reasonable solutions. Finally, metal kitchen cabinets are a no brainer to clean and maintain while they provide you a viable and trendy option of excellent and functional cabinetry.
This is an image roundup post, curated to showcase and promote other reputable contracting companies' and their amazing work.  To have any of the images removed, please reach out to us and we would be happy to do so.
Other Great Articles to Read: