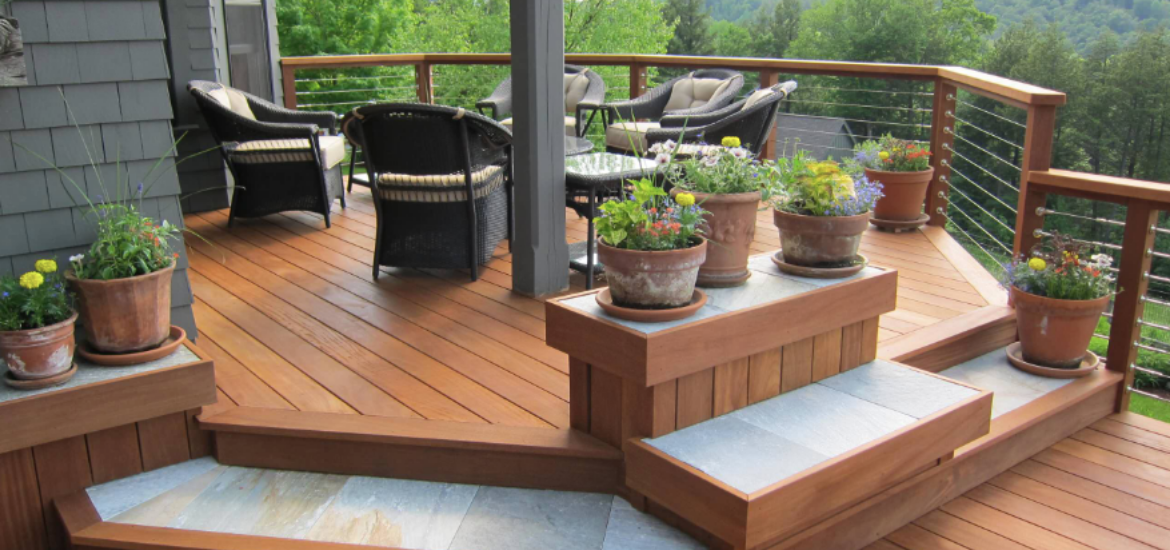 Deck railings do more than keep your loved ones safe. As a matter of fact, deck railings work great in giving support, privacy, and sometimes visual interest. Regardless of whether you need wooden deck railing ideas or metal deck railing ideas, these beautiful outdoor spaces below will certainly inspire your very own patio or porch. In fact, there is no greater time than now to deal with that much-anticipated deck makeover. Your home's backyard deck is truly an excellent spot to expand the character of your home's interior.
STAINLESS STEEL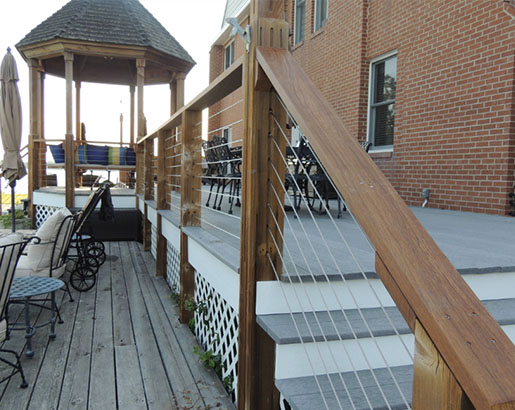 Want to create an outdoor eating area that feels like a restaurant on your property? A stainless steel wire railing and end fittings make this design's deck a cutting-edge addition. Stainless Cable & Railing, Inc. has stepped it up with its innovative design for deck railings.
SPECTACULAR VIEW
This breathtaking panorama was made possible by the removal of stainless steel wire. Everyone will agree that this one-of-a-kind deck design provides excellent access to the lake and the surrounding forest. Stainless Cable & Railing, Inc. has created a stunning deck using their expertise.
GLASS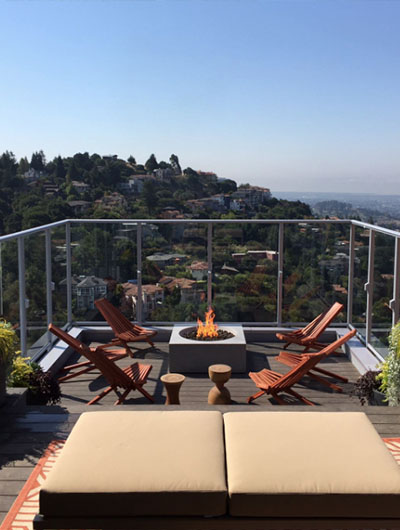 Robert Nebolon Architects created this ultra-contemporary and opulent appearing deck. Enjoy the breathtaking vistas without being bothered by the wind, thanks to the high glass fences—what a breath of fresh air, with a fire pit and plenty of seating.
GRID
This floating outdoor deck design seems both cutting-edge and utterly at one with nature. The use of grid panels in the deck's railing design is an excellent touch. Having a glass wall allows natural light to flood the room. Gary Marsh Design did a fantastic job with this.
WELDED RAIL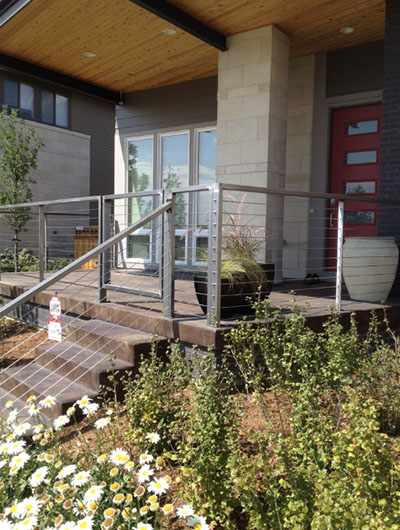 Are you interested in a deck for your front yard that will allow you to enjoy your mornings in peace? This deck's posts and top rail are welded together, and the railing is made of stainless steel cable. Stainless Cable & Railing, Inc. has created a beautiful and functional deck with its straightforward layout.
TRADITIONAL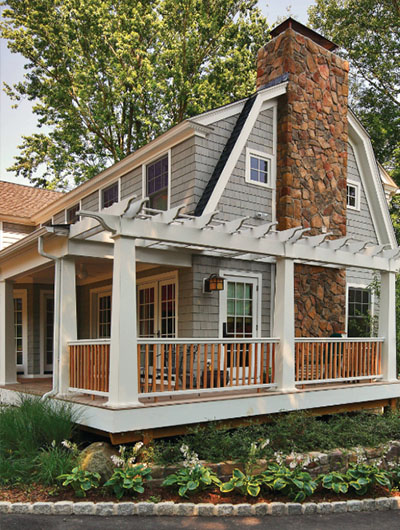 This deck's layout is universally agreed upon to be boring and basic. The railings, in contrasting orange and white, are tasteful and complement the home's style. The Taunton Press, Inc. nailed it with their classic design for this deck. It is a breath of fresh air to see something so classically basic.
In the same way, you cautiously pick your paint colors to beautify the walls of your home, your horizontal deck railing ideas are the "walls" of your deck. Aside from offering a required safety measure, railing also defines the area, providing it a definitive frame.
Also, you can utilize various materials to make different styles that complement your home design. At times, a similar base material can offer multiple looks based on the design and finish. Check out our cheap deck railing ideas to see countless ways to guard your deck.
This post about deck railing ideas will assist you with looking through your options and finding the right one for your home. Enjoy!
HORIZONTAL RAIL
Have you been searching for a deck plan that is both attractive and easy to implement? On the second floor, you'll find a well-designed veranda that offers a splendid vantage point from which to see the sunrise. It is a modern deck with a horizontal railing design that is both strong and attractive. RailPro of Oregon, Inc. nailed it with this one.
CRAFTSMAN DECK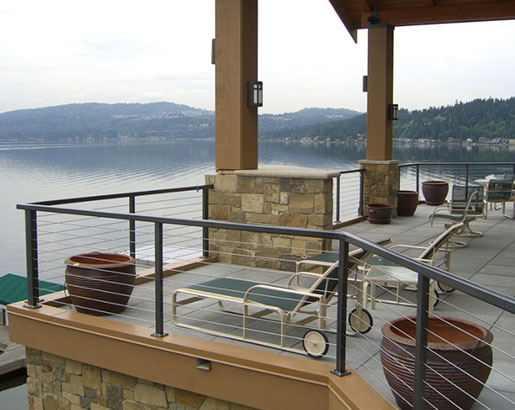 Want a fantastic deck design that offers a view of a lake that seems extremely protected and spacious? This one is safe and secure and offers incredible panoramas thanks to its wire deck railing. RailPro of Oregon, Inc., the experts in deck railing protection, crafted the one used on this deck.
CONTEMPORARY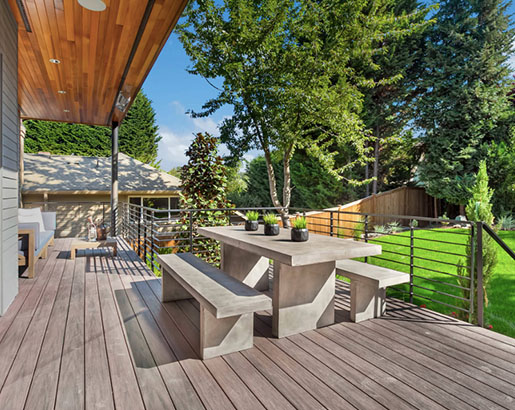 Want a great venue to meet up with loved ones at any hour of the day? This one is a modern deck design. Your friends and family will undoubtedly enjoy time outdoors with this great deck. This is another masterpiece from JayMarc Homes.
GLASS INFILL
Do you want to enjoy a revitalizing break on your terrace while keeping an eye on the neighborhood? This one is especially lovely in the evening because of the glass infill railing and LED post accent lights. Amazing deck design by Feeney Inc.
Basic Types Of Railing
Composite + Vinyl
Vinyl and composite deck railing ideas come in numerous styles and hues and are practically maintenance-free. In fact, railing kits already have balusters, posts, connectors, and rails that make installation easy for DIY deck railing ideas. In general, the fundamental core of the framework is pressure-treated wood posts secured with a composite or vinyl sleeve. Also, a few structures provide mix-and-match baluster materials like aluminum and steel spindles. Check out our composite decking pictures for more composite deck railing ideas.
Glass
At roughly $40 to $60 per linear foot, glass creates a very chic yet quite costly deck railing framework. Nonetheless, they're incredible when you need to witness all the vistas your deck offers. Utilize tempered, shatterproof safety glass, but check with your local construction regulations about glass railings before you continue.
RUSTIC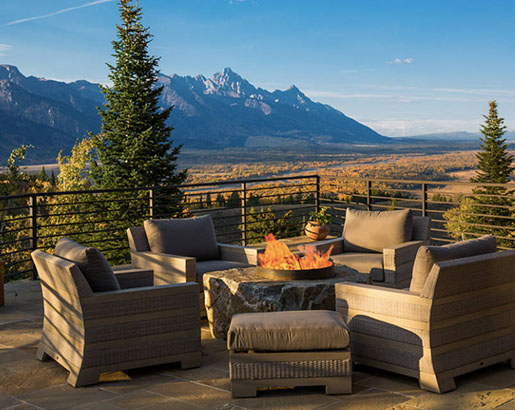 Do you want a deck that is at once natural and contemporary? You can see the trees in this one, and there is a nice sunshine effect—what a beautiful use of metal rails on a rustic deck. Zoske Construction hit it out of the park with this rustic deck.
TRANSITIONAL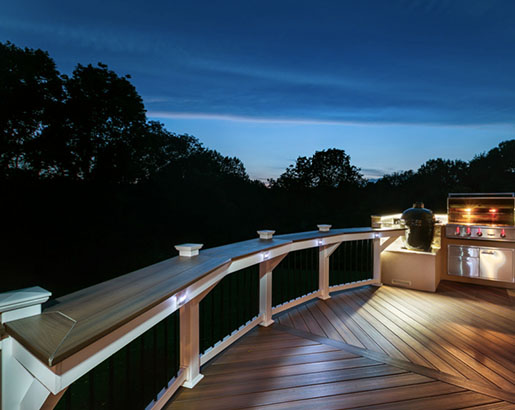 Interested in a deck that is both contemporary and transitional in style, complete with a built-in grill? What a beautiful terrace with a sturdy railing design! The top rail's large, flat surface may serve as a makeshift tabletop when extended. Fiberon Decking nailed it with this deck plan. 
BLACK RAILS
Even without the expansiveness, this place is stunning in its simplicity and beauty. Additionally, it does not include many extraneous elements. The black rails on this deck complement the cedar wood well. This is such a thumbs-up to Hills & Grant for a well-designed patio.
IRON RAILING
Are you looking for an elegant and timeless deck plan, like something out of a castle? The wrought iron railing on this bespoke deck is also used on the staircase. With Land Art Design, Inc.'s layout, everything is picture-perfect.
Metal
Made of either powder-coated aluminum or steel, metal deck railing ideas are the bomb! Although both are rugged, only aluminum is rustproof. In general, metal deck railing that you usually find at home improvement stores have limited color and style options.
Cable Railings
Cable deck railing ideas are another excellent method to make way for views and to provide your deck design a modern style. In particular, these railings include stainless steel cables and posts made of aluminum, wood, or composites, and a system costs roughly $125 to $150 per linear foot.
Wood
Wood deck railing ideas can be truly inexpensive or downright costly, based upon the wood you pick. Specifically, pressure-treated wood is the most budget-friendly, at around $10 per linear foot for a railing system. On the other hand, tropical hardwoods like ipe cost roughly up to five times as much.
SLEEK
Do you want a bright and clean deck design? This one appears to have come from a brand-new building, and it is that well-kept. The customer supplied the handrail on this one which is attached to a circular post made of stainless steel. Wow, have you seen Stainless Cable & Railing, Inc.'s decks?
CLASSIC
Excellent wood posts support a cable railing encased in stainless steel. Looking to add a long and broad deck to your massive mansion? This deck layout is in front of a relaxing pool—another masterwork from Stainless Cable & Railing, Inc.
WROUGHT IRON
Such a lovely and traditional home calls for a deck as beautiful as this one. It features a wrought-iron railing surrounding an octagonal deck. Trees and gorgeous flower containers surround everything. Land Art Design, Inc. outdid itself with this deck.
STYLISH
Do you want a deck plan that is both fashionable and within your price range? This craftsman deck with contemporary stainless steel cable railings. This deck by RailPro of Oregon, Inc. epitomizes chic and modern design.
How To Layout Deck Railing Ideas
People typically use 4×4 lumber for common rail posts. Based upon the material you utilize for your deck surface and trim, pressure-treated or cedar posts will surely function great. Moreover, post wraps or covers are also available to coordinate with most kinds of composite material, and will commonly fit 4×4 posts.
In general, it is simplest to install posts before the actual decking. You can certainly do this as the finishing step of your deck frame, or as you install the decking, stopping for installation as you proceed.
Preparing For The Layout:
First, put markings on the places of your rail posts before installing decking. Typically, one post each 4 to 8 feet is common. However, check your local building regulations to clarify and be certain to examine your railing framework to identify particular requirements.
There are two different ways to layout deck posts:
Begin from one corner and position a post every set foot to the corner of the opposite deck, or the edge of the rail, in case stairs or openings are available. Also, the spacing will rely upon code and railing prerequisites in your area. All posts, aside from the last post, will be equally spaced. This works for deck stair railing ideas too.
After that, measure the length of your rail area from corner to corner and separate the space evenly for equally spaced posts. Finally, pick spacing to meet the allowed requirements of code and your rail design choice.
FRESH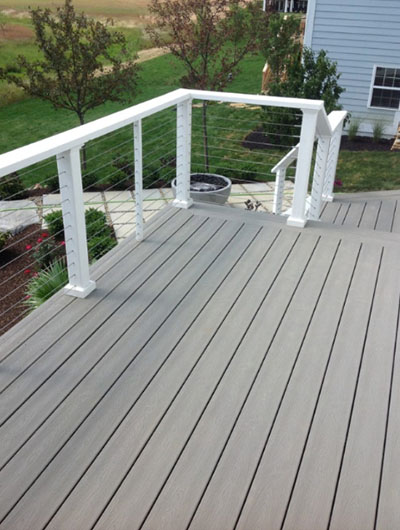 Do you want to add a touch of contemporary style to your home's outside with a brand-new deck? The vinyl-sleeved 4×4 posts and cedar top rail set this one apart. The Stairway Shop's gray and white color scheme is well admired for its beauty.
IPE POST
Do you want a contemporary deck design that exudes a modern and orderly air? The supports on this deck are made of silver wood, which contrasts nicely with the bright ipe. This deck design by Stainless Cable & Railing, Inc. again gives the impression that everything is fully automated.
Ideas On What To Do Around A Deck Without Railing
In case your deck is 30 inches above grade or lower, you don't need to have guardrails. If you happen to see a deck that has no guardrails (also popularly known as a low-rise deck), this may be the explanation: its height stays beneath 30 inches.
In case you choose to build a guard rail on a deck low enough that it does not need guards, the height of the guard rail and baluster spacing is certainly up to you. Nonetheless, these guards still should be as solid as guards situated on higher decks. Since most individuals will lean toward guards and building codes require that these guards not collapse, it is beneficial to have sturdy guards in case you choose to have them.
Indeed, even with low-rise decks, numerous property owners still choose to install creative deck railing ideas. While a 12-inch drop will not necessarily be deadly to a healthy kid or grown-up person or cause serious physical injuries, it can still injure your lower back or twist your ankle.
Viewing it like this will change the way you look at deck railings. Deck railing lights ideas, for instance, should have safety as a priority. Meanwhile, if you want to go for cheap deck railing ideas, the first thing to remember is not to sacrifice quality over price. Also, there are many DIY deck railing ideas that you can get your hands on and make your dream deck come to life.
How To Build Cable Deck Railing Ideas
There are different products and methods for installing cable railing, from complete guard frameworks to simple turnbuckle and cable products. In general, you should install these products based on the manufacturer's standards and requirements. Indeed, following the installation instructions will provide you the correct installation that the manufacturer tested. In fact, guards at the edge of raised decks have a significant role in opposing the force of individuals leaning or falling into them.
On the other hand, cable railing features hybrid of materials since you install the cables in frames of aluminum, wood, or composite. For the most part, you can let long cables can run all through intermediate posts, enabling quicker installation. In addition, you should take proper care to appropriately adjust the holes as their location administers the spacing of the cables. It is important to realize that drilling in from the two sides will guarantee alignment. Meanwhile, at corner posts, you can terminate the cables in a turnbuckle, and you can connect a new cable to the side to proceed around the deck.
Stainless steel, the basic material for cable railings, is generally soft steel that will stretch after some time. Thus, anticipate to occasionally fix the turnbuckles as the cable stretches to its maximum limit. Also, be certain to leave threads available at the time of installation, fully expecting this maintenance in the future. Moreover, building codes expect guards to have spacing that doesn't enable a 4-inch sphere to go through, so we suggest to space the cables no greater than 3.5 inches. As a result, this will allow a small safety cushion in the event that you don't promptly correct loose cables later on.
Top-Rated Deck Railings
1.
Muzata Cable Railing Post 36'' Solid Slice Heavy Duty Post Stainless Steel Brushed Finish Pre-Drilled Posts Wood Concrete Surface Mount Super Thin Deck Posts PS63
Heavy duty structure - This 36" solid slice cable railing post (brushed finish) is specially designed to be solid instead of hollow to get stronger load-bearing capacity, providing more security for you and your family. With a thickness of 3/8", it just looks like a slice of bread, rendering you safety and an unblocking view at the same time. It is pre-drilled to work on horizontal sections and save your labor. A flat bracket is welded on this post to match round handrails
Weather protection - This cable railing post is made of solid T304 stainless steel with great rust resistance and will work for a long lifetime. It is ideal for both indoor and outdoor applications like deck, stair, porch, balcony, and fence. However, plz note that T304 is not recommended for projects within 10 miles of the seaside or saltwater. Need posts applicable in humid conditions, please search Muzata PM05 to find the aluminum cable railing posts
Code Compliance - This solid slice cable railing post is designed with 3" cable spacing. Generally, the span between two structural posts should not exceed 4 feet to pass the 4" sphere test. It is important to consult local building offices about the rules since there might be different requirements in some states
SolidSlice system - This product can be applied to the pre-designed SolidSlice cable railing system. Except for the posts, there are handrails (HT10 for flat, HT20 for round, HT30 for thin), cable railing kit CR26, 1/8'' stainless steel cable WR02, hydraulic crimper cutter set CK12, protector sleeve CR72. Plz scroll down to "product description" or download the USER GUIDE PDF for complete system information. Or reach us if you have any questions
MUZATA is a leading cable railing company that provides premium products with favorable ex-factory prices. Over years of industry and product research, MUZATA cable railing system has been proven to be highly dependable and safe against the test of time. Please reach us to get FREE DESIGN Service or After-sales Service: our experts can do all the planning, designing, and estimating without extra charges
2.
Deck Man T316-Stainless Steel Adjustable Angle 1/8" Cable Railing Kit/Hardware for Wood Post,Marine Grade (30 Pack)
The angle of this professional cable railing hardware 0 to180 degrees could be free adjusted;So they can be used to all kinds of complex cable railing system:railing of stairs,deck railing and Garden fence…
This railing kit made of high quality Marine Grade T316-Stainless Steel,It is anti-rust、 durable and easy to maintain;
It applies to standard 1/8" inch cable, Hydraulic crimper is needed to connect this kit with the cable and 4-6# dies is suitable;
Max expanding size of the Swage Turnbuckle is 10 inch and it can be retract to 7 inch; this item include 120 Pcs 304-stainless steel countersunk screws and 1 pcs drill bit for wooden post, length of screws is 1.2inch;
Under strict process control and with advanced technology, our products have high quality and excellent workmanship. We believe that you will like this kit.
3.
Sale
DecKorators Aluminum Powder Coated Balusters - Classic Black 32in.- 100pk
3/4" diameter x 32" length round aluminum baluster with powder coat finish
Pack of 100 Classic aluminum balusters
For use in custom wood deck railing or with Deckorators Round or Colonial Baluster Connectors or Stair Connectors (sold separately)
Designed to finish a 42" high rail with 2.5 balusters per linear foot
Baluster connectors sold separately
4.
Nuvo Iron VDRP Veneziani Deck Rail Panel, 12" x 36 1/2", Black, 3 Sq Ft
Dimensions: 12 1/2" Wide x 36 1/2" High
Designed For: 42" high finished deck railings
Easily mount on surface of 2 x 4 or any deck with the color matching hardware provided
Installation process is quick and intuitive.
Get creative and mix and match with the Napoletani deck rail panels (NDRP) for a unique and custom project design
5.
Muzata 20Set Cable Railing Kit 1/8" Swage Toggle Turnbuckle Hardware T316 Stainless Steel for Wood Post 180° Angle Adjustable Stairs Deck 20 Cable Lines CK08 CA4 CA5
Multi-angle and Wide-Adjustment - This versatile cable railing kit works for 1/8'' wire rope at any angle. The multi-angle joint and adjustable closed-body turnbuckle enable the turnbuckle to rotate from 0-180 degrees and adjust freely from the max length of 10 31/32 inch to the min length of 9 11/16 inch. It is ideal for level and multi-angled sections on your deck and stairs. Package includes: 20pcs tensioner, 20pcs fixed end, 1pc bent wrench. This package can make 20 cable runs
Easy to Install - The wide adjustable turnbuckle makes it easy to install especially for beginners. You don't need to get cable length precisely. And the multi-angle joint design saves them from the hassle of drilling angle holes on posts. It could also be re-tightened when it gets loose as time goes by or weather changes
Marine-grade - This cable railing hardware is made of T316 stainless steel, which has excellent resistance to rust and seawater and is ideal for indoor and outdoor, even coastal applications
Advice for constructing a system - To help you build a cost-effective cable railing system more efficiently, we recommend the following product combinations from Muzata, including 1/8" toggle turnbuckle Muzata CK08, level, and angled protector sleeve (CR13-level, CR68-30°), 1/8" wire rope Muzata WR01, hydraulic crimper with cable cutter Muzata CK12, drill guide Muzata CT09
Why Choose Us - MUZATA has helped millions of families with their cable railing projects during the past years. We believe that home renovation should be easy and affordable. So we work with every effort to provide quality products and professional service, to make Muzata a reliable brand. Need professional one-stop cable railing solutions, please reach us to get Free design or After-Sales service
How To Finish Deck Railing Ideas
In general, one of the crucial details which many individuals miss is to apply a layer of finish before installing wood deck railing ideas. This method particularly guarantees that there is limited wood-on-wood contact. Notably, avoiding bare wood from contacting decreases the probability of wood decaying, so it is a smart idea to clean and apply finish or varnish on the wood deck railing before putting them together. Besides, by applying the varnish, paint, or finish before making the wood deck railing, you can avoid water from getting with the bare wood. Furthermore, this simple method additionally avoids cracking or peeling of the final finish.
Ensure that you apply the wood deck railing finish during excellent climate conditions. In particular, utilizing water-repellent at times of cold climate, or applying any finish just before downpour can result in possible washed-off finish or stained with water marks. Meanwhile, you can apply bone finishes in temperatures of as low as 40 degrees F. On the other hand, you should not use water-based finishes in case temperatures are below 50 degrees.
Evenly apply finish utilizing a brush, guaranteeing that you cover all points of the wood. However, make sure not to leave pools of finish or shabby spots on the wood.
On the other hand, it is important to realize that you must also avoid using too much finish. Also, a wood deck railing that has a lot of finish can start to crack or peel in a year. In particular, an unnecessary extra finish can make a sticky goo that does not penetrate the wood. Furthermore, Over-utilization of water-repellant completion can result in waxy, sticky, or even slick wood deck railing.
This is an image roundup post, curated to showcase and promote other reputable contracting companies' and their amazing work.  To have any of the images removed, please reach out to us and we would be happy to do so.
Other Great Articles to Read: