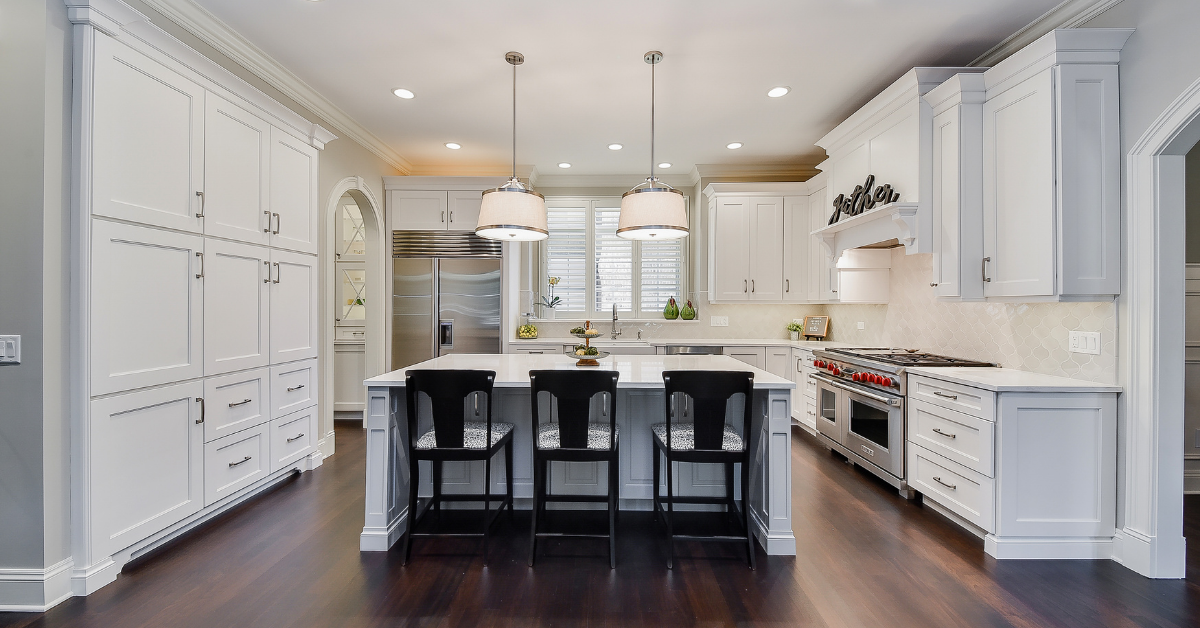 If you are in the process of planning out new kitchen and dining spaces, you may be wondering how the height of your tables and chairs will impact your daily life and the enjoyment of your newly remodeled spaces. Perhaps you're thinking of having a counter eating area built in or you want to get away from the standard dining room table, so you're considering a counter or bar height table. Either one can be beneficial for different scenarios. You will want a good understanding of the various options for standard, bar and counter height tables so that you can make the best and most informed decision for you and your family.
Understanding Your Options
Ask yourself the following questions:
How does your day to day life flow?
Do you have a big family or are there just a few of you?
Do you host family gatherings or entertain clients in your home?
How do you want your kitchen to function?
How do you like to prepare meals and where do you like to eat those meals?
The answers to these questions will provide you with a good basis to start creating the kind of space you will love. You want your kitchen and dining areas to flow seamlessly with your lifestyle.
Small Details
They say "the devil is in the details" and people do notice a difference of an inch or so in seating. As you move through your interior space, it's good to have a basic understanding of how measurement will make your space more useable. If you've ever been uncomfortable in your seat while trying to enjoy a meal, you know all too well the importance of table heights.
Comfort is King
A standard height dining room table might be more comfortable to sit at for longer periods of time because most people sitting in a standard height dining chair can touch their feet to the ground. However, standard counter height or bar height tables can be more comfortable in casual settings where your guests can easily talk with other people who are standing. Many styles of counter and bar chairs have built in foot rests to add a level of comfort.
Hosting
Guests sitting around a typical dining room table are likely to feel more formal than those sitting in a standard counter or bar table. This simple difference in table height can lend itself to an ambience that is more intimate and relaxed. Kitchen counter height tables are great when you host small gatherings so that you can step away from the table to prep more food without seeming like you are walking away from the meal.
Portability
Parties flow. Sometimes people like to gather in the kitchen; sometimes they like to take their food elsewhere. Counter or bar stools can easily be moved to the living room or family room to provide additional seating options when the party shifts.
Space Management
Make the most of limited space with creative planning. Multipurpose furnishings are crucial to small spaces. Having a kitchen counter height table which can also double as a food prep area has many advantages. Extra seating can be easily stored underneath the typical dining table height. Counter tables can also be used to spread out a buffet and allow guests to meander over to fill up their own plates. Just make sure there is enough space around the table so guests can maneuver through doorways and hallways without crowding each other.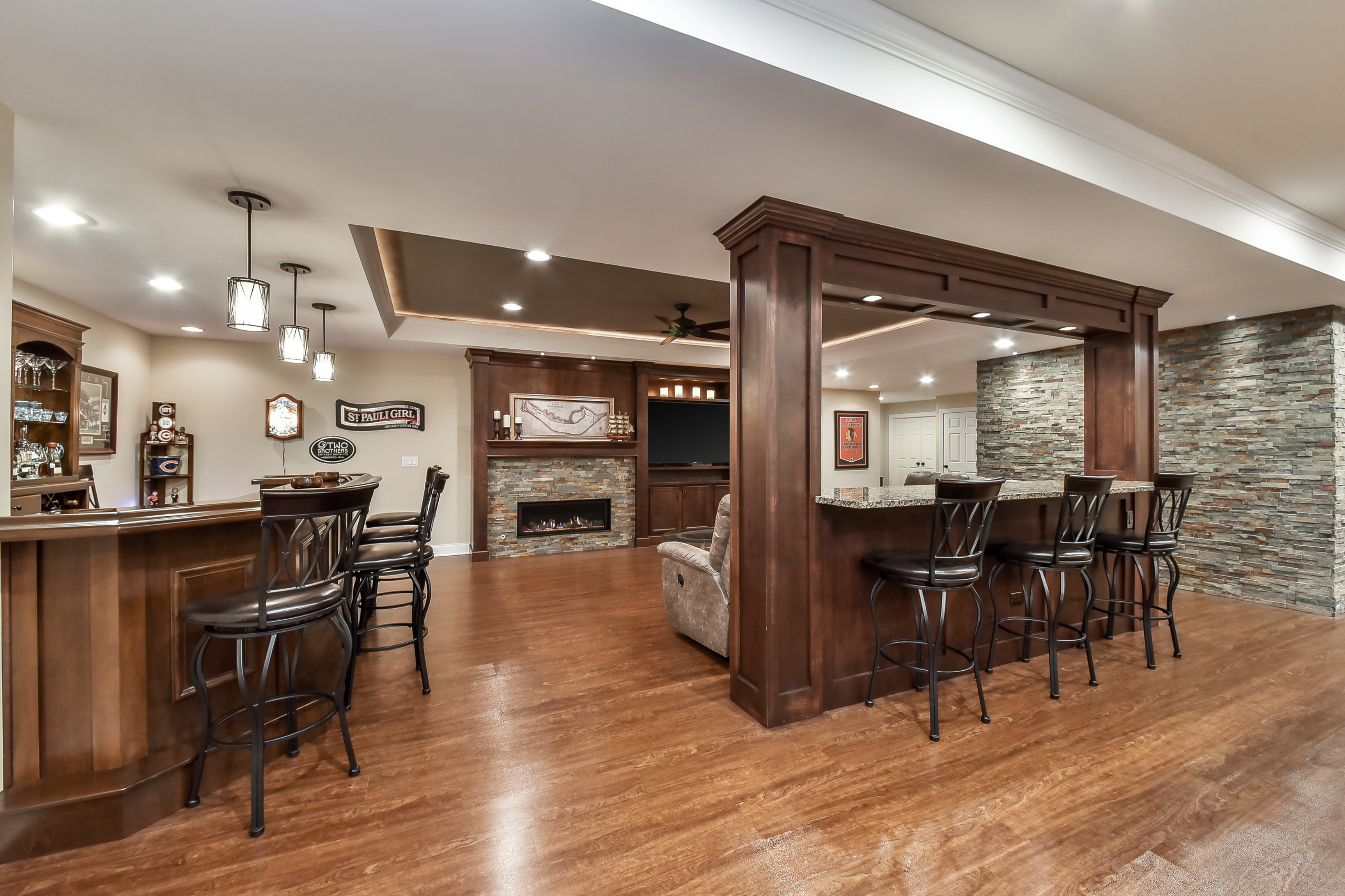 Outdoor Furniture
Small patios, decks or garden seating areas are wonderful spaces for entertaining or enjoying a relaxing evening outside. If you plan on hosting family gatherings with lots of kids around, you're going to want to go with shorter and sturdier furniture. Some kids love climbing up on stools but there poses a risk the stool could topple over.
Related: How to Create an Outdoor Dining Space that Wows
Real Life Testing
If at all possible, visit a furniture store and test out various styles of chairs and tables. Sit in the chair and pull up to the table as if you were eating the best meal of your life at that table. It's not possible when purchasing furniture online so be sure to look at the specifications before you make your online purchase. Looking at just the pictures can be confusing because bar tables and counter tables often look identical in online photos.
Aprons
Not the kind that a chef wears, but a decorative border around the edge of certain styles of tables under the surface. While this decorative element can add charm and a unique look to your dining table, it can also hinder the ability to tuck chairs or stools under the table, especially if the chair has an arm rest.
Standard Kitchen Heights
Specific height furnishings might need to be custom made and if you choose to have built-in counter tops, kitchen islands or bars during your kitchen renovation project, be aware that the standard kitchen heights can play an important role if you decide to sell your home in the future. Best to stick with standard heights that are more appealing to the majority of home buyers.
What is the Standard Height of a Dining Room Table?
Kitchen table heights vary, but the standard table height of a kitchen table is 30 inches. Countertop height tables are typically 36 inches and bar height tables (often called pub tables) generally run around 42 inches. You might find antique, vintage or custom crafted kitchen table heights in the 28" to 29" range. Taller friends and family are more likely to be comfortable sitting at a standard dining room table.
How Tall is a Dining Room Chair?
Dining room chairs typically measure 17" to 19" from floor to seat. The seat back height will vary by style but keep in mind that dining room chairs with arm rests need to fit underneath the table. In order to allow people to move comfortably around the perimeter of the table when others are seated, there needs to be at least 30" of space around the chairs when they are extended.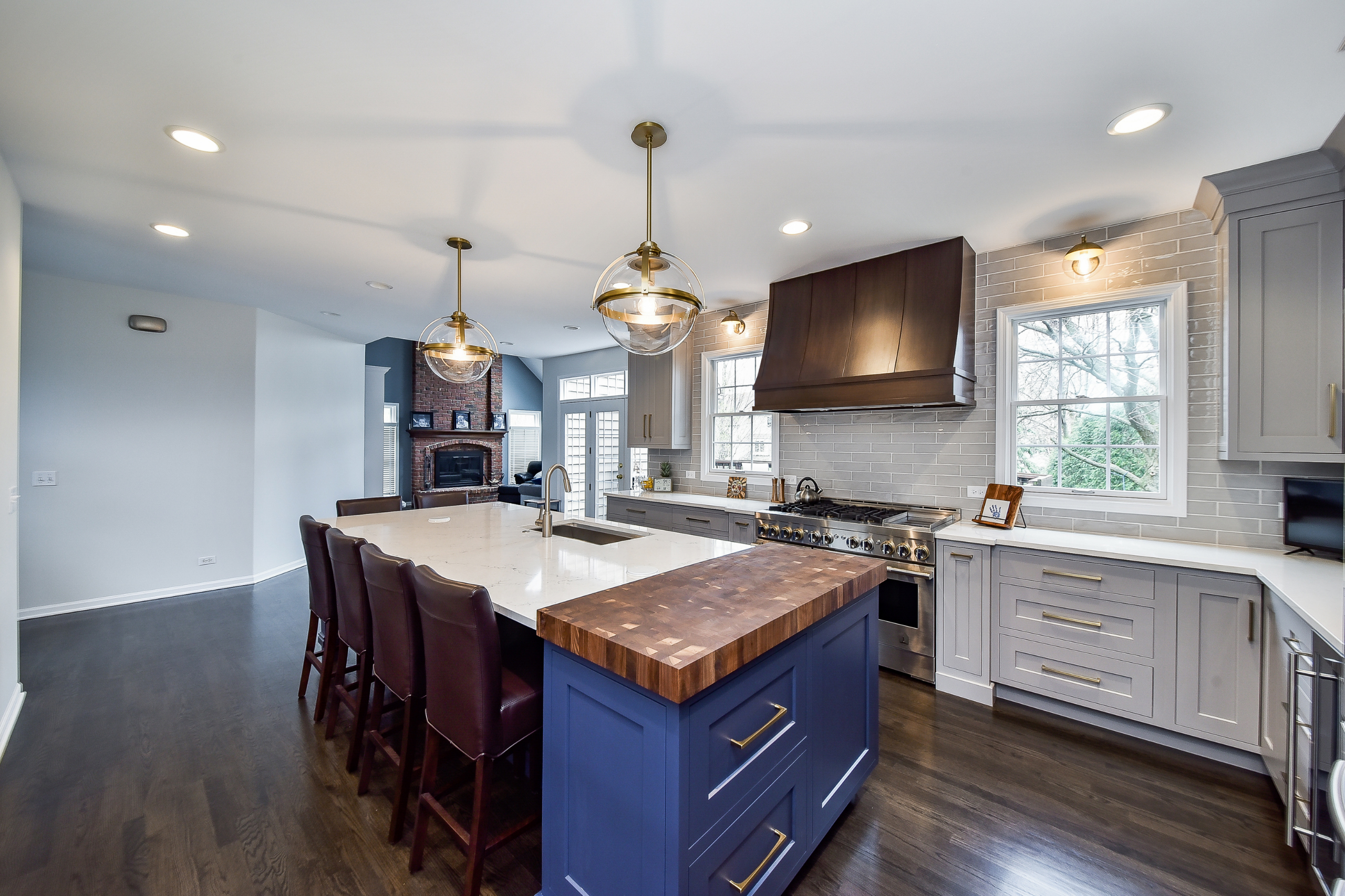 What is the Standard Kitchen Counter Height?
A standard height kitchen counter will be 36″. Sometimes a kitchen island or transition space between kitchen and family room will also measure 36" high. Some older homes will have counters that vary in height, generally a little shorter than the standard kitchen countertop height but if the home has been custom designed for a taller person, the counters could be quite a bit taller.
Transitional Kitchen Counters
None of your friends or family are going to sit at the counter with cupboards underneath since they don't bang their knees so think about getting a counter table just for casual dining, unless you have a built-in counter with an overhang to double as a seating area. Counter tables allow more casual dining experience than a traditional dining table height but still give the opportunity for family to gather around and spend time together.
Kitchen Counter Materials
Most of the time, any additional materials such as butcher block or thick granite countertop materials should be considered in advance to maintain the finished height of 36" though sometimes, this material could add as much as an inch to the overall height of your counter-height table.
How Tall are Counter Height Stools?
A standard height counter stool will be 24" from the floor to the seat and even though they appear to take up less space and work well in smaller homes, you still want to plan for open space around your counter stools so traffic can flow freely around your counter table or kitchen island. If you have a built in seating area that is taller than the standard counter height, you will might be better with a bar stool.
Counter Height Chairs
Counter chairs measure between 24" and 26" and at that height, often do not fit well under a standard height dining room table. A counter chair might have a seat back and arm rests, but most do not. Counter stools might also swivel which might make a difference in your decision about placement under the counter because you will want to be clear of any under counter details like corbels or supports so that you and your guests don't bang your knees.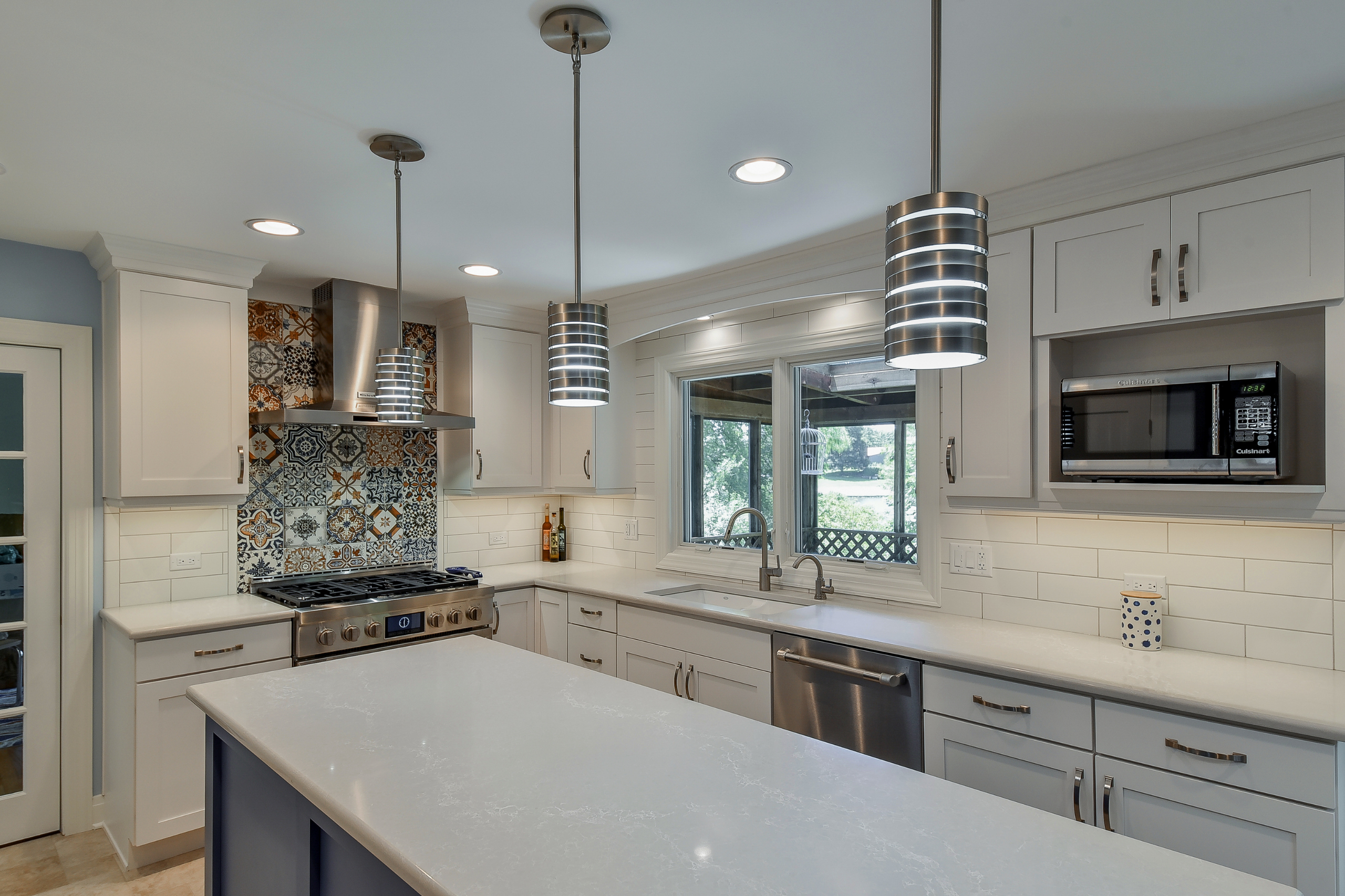 What is the Height of the Standard Bar Table?
The standard bar height table is 42″. Bar height tables can be great if you don't have a formal dining room, a big family or much space in your apartment. If you just plan to have a few friends over from time to time, a bar height table can lend a cool, casual vibe to your living space. Bar height tables and chairs are also referred to as pub sets; as the standard table height of a bar set is the same as a pub set.
How Tall are Bar Stools?
Bar stools measure between 28″ to 30″ in height from the floor to the top of the seat. Most bar stools do not have a back or arm rests, but if they do, keep in mind the overall height when planning your kitchen or dining space. Also keep in mind the overall width of the bar stools you choose to allow for traffic flow when people are seated at the bar or bar table.
The Spaces In Between Table and Chair
Make sure there's at least 12″ to 15″ of space between the tabletop and the chair seat for all types of tables, whether it's a standard dining table, a kitchen counter table, or a bar height table.
For Tables with Apron
An apron is a decorative panel that joins the surface and legs of a table while also providing structural strength and support to the furniture; the optimal distance between the bottom of the apron and the chair seat is 7″.
Armchair Height
There should also be at least 7 inches clearance between the chair arm and the tabletop or the bottom of the apron for armchairs.
Make sure there is always enough space between chairs or stools for you and your guests to dine comfortably without bumping elbows. For a more comfortable sitting arrangement, ensure at least 26 to 30 inches of distance between the center of each chair for each style of table. Allow at least 14 inches between the center of the end chair or stool and the wall or end of the table for any end chair or stool. As a result, you will have adequate space to move when sitting or standing without obstructing the person beside you.
It is also necessary to consider the width of the seat, which should be measured from the widest point of the seat. For example, if two chairs or stools are 16 to 18 inches broad, there should be 21 to 22 inches between their centers. Chairs and stools with widths ranging from 19 to 22 inches should have a space of 24 to 25 inches between the center of each chair or stool. Allow 8 to 10 inches between the edges of those with armrests.
Now you have some good information to make a decision between counter height and bar height tables to create the ideal living space for you and your family.
| Type: | Dimensions: |
| --- | --- |
| Standard Height Tables | 28″- 30″ |
| Standard Height Chairs | 18″- 20″ |
| Counter Height Tables | 34″- 36″ |
| Counter Height Stools | 24″- 28″ |
| Bar Height Tables | 40″ – 42″ |
| Bar Height Stools | 28″- 30″ |