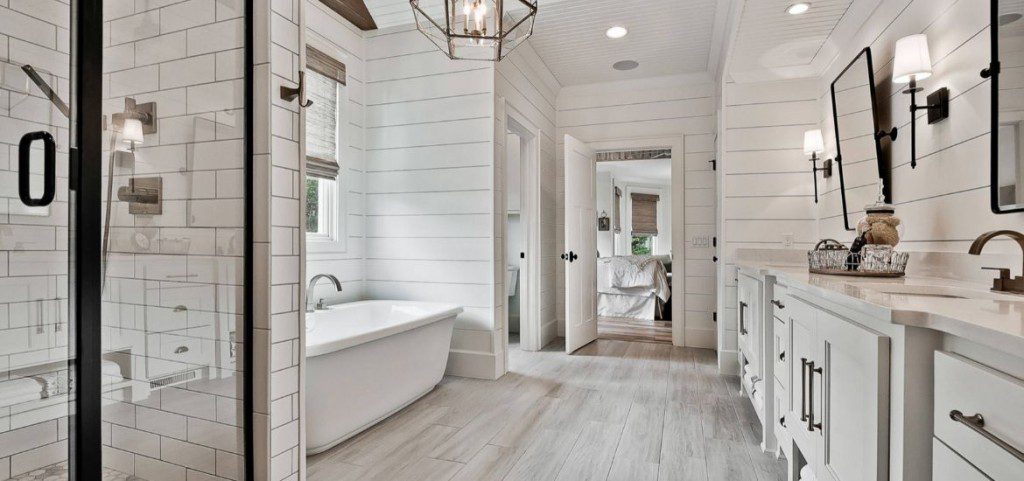 Have you ever seen one of those cozy cottages in movies and wished you could live in one? Well, you would have to build your own cottage, but there is a cheaper and quicker way to create a similar effect in your home by using shiplap cladding. In recent years, there has been increased interest in shiplap-focused interior décor. Shiplap has appeared on HGTV shows, filled up interior décor blogs, and appeared in numerous magazine pages. In our latest home improvement guide, we take a look at Shiplap cladding, what it is and how you can use it in your home. It is one of those home improvement projects that should take you a single weekend and not too much money to complete.
What is Shiplap?
Shiplap is a type of wooden board traditionally used on the exterior of buildings. It is an effective and inexpensive way to clad a building and protect it against weather elements, especially water. Homeowners have recognized the beauty of shiplap and over time, it has found a place in the warm interiors of many homes.
When used inside, it creates a cottage-like, farmhouse or shabby chic effect. It is especially good at turning a dull and cold space into a warm, cozy and welcoming interior. You can use it to accent a specific part of a room such as the wall around the hearth, the space above the tub or the area above your bed. Alternatively, it can be used more extensively to panel entire rooms such as the bathroom, living area, or bedroom. There are numerous creative ways you can use shiplap in your home. We will go through them shortly.
If by the end of this guide you area leaning toward some shiplap for your own home, you have two installation options; you could DIY it or call in a professional. As a DIY project, it's difficulty is moderate and you will need an extra hand or two to help. But if you are not sure, we always recommend letting a professional handle it.
Related: Why You Should Consider Using Reclaimed Wood for Your Homes Interior.
CLASSY VANITY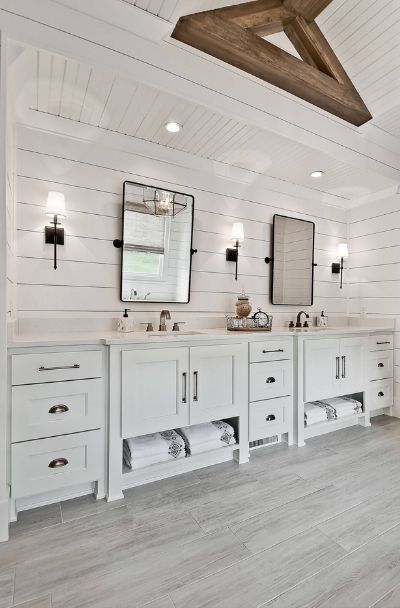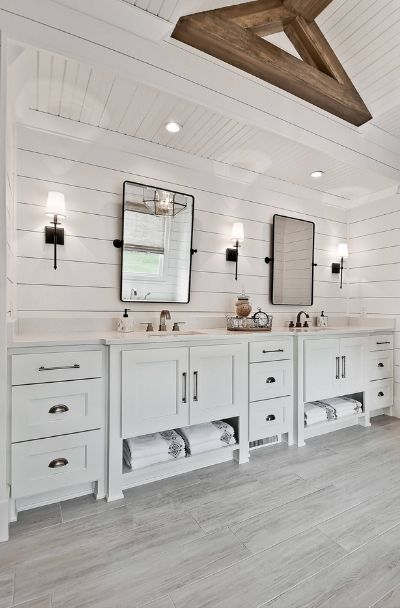 What a view to get ready to every morning.
WHITE STAIRS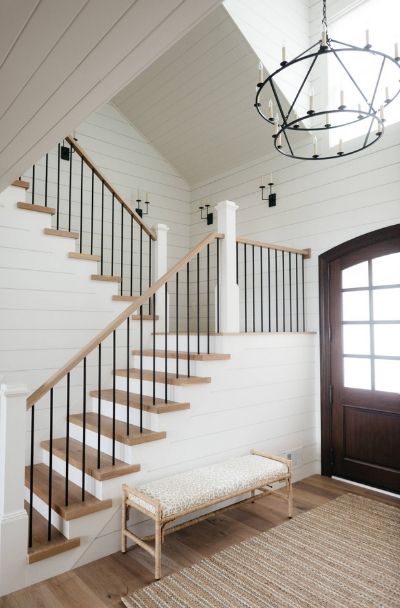 BUNK BED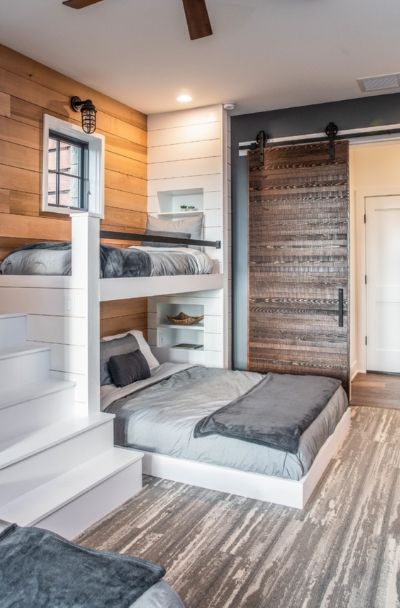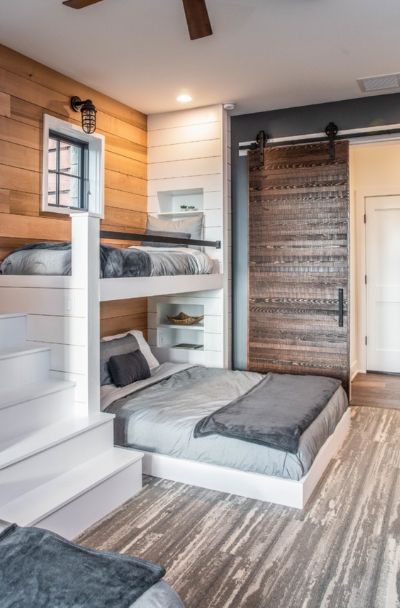 My kids would love to sleep in those!
POWDER ROOM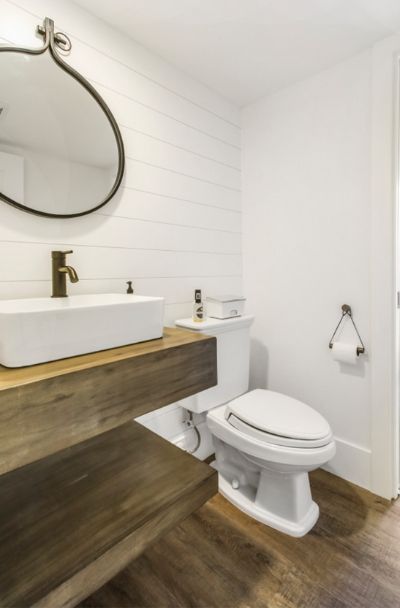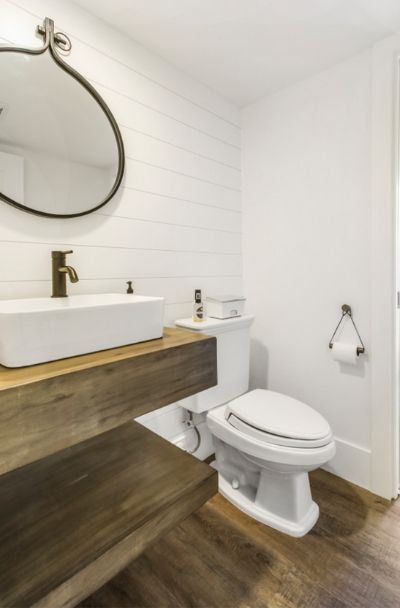 Love the vintage powder room.
Types of Shiplap
Traditionally, cheap wood such as pine was used in making shiplap boards. Today, homeowners have a range of material options to choose from. The most common is real wood, where your planks of wood are installed stack-style along the height of a wall. Real wood is especially ideal if you are planning to leave it exposed but it can also be a bit pricey.
Other less expensive options include plywood, MDF or hardboards. With these, you might have to apply a nice finish on top, such as painting, to create the full cottage effect. You can find these materials at most home stores including Home Depot.  Shiplap can also be categorized depending on their design. Some types of shiplap consist simply of planks of wood, MDF or plywood. Other types come with a design that allows them to fit snugly into each other. They are referred to as tongue and groove shiplap.
If you are doing a DIY installation, it is important that you understand the different types of shiplap and how installation varies among them.
BEAMS & SHIPLAP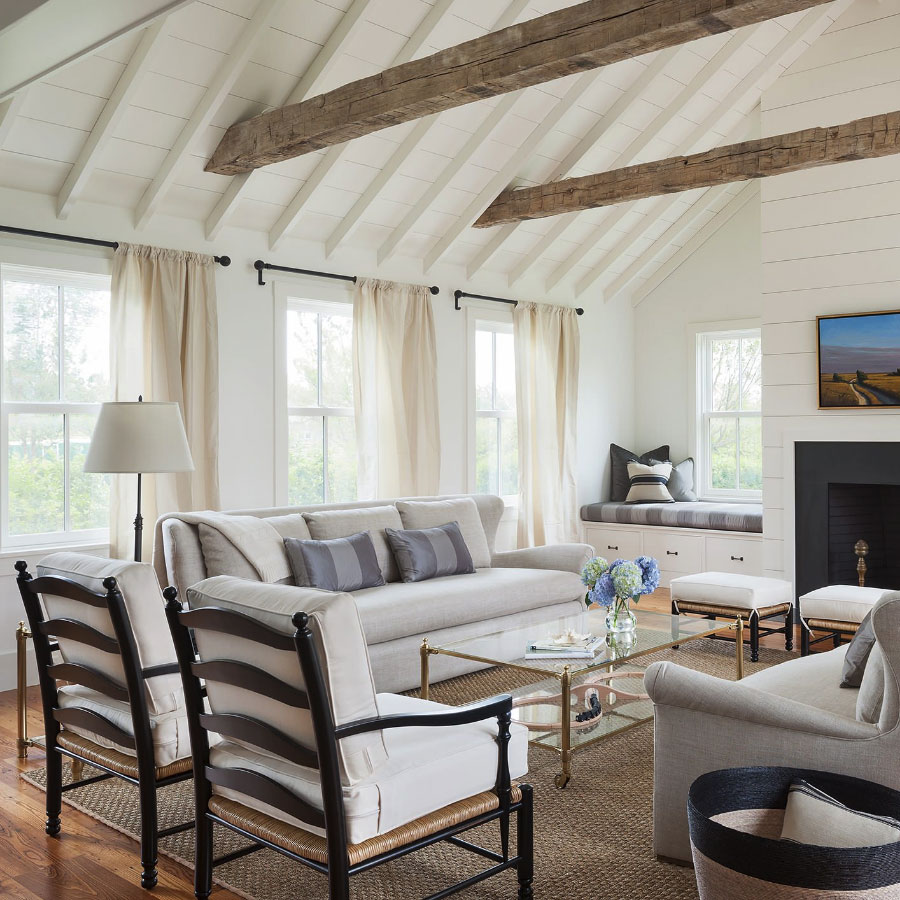 FOCAL FIREPLACE
DINING WITH SHIPLAP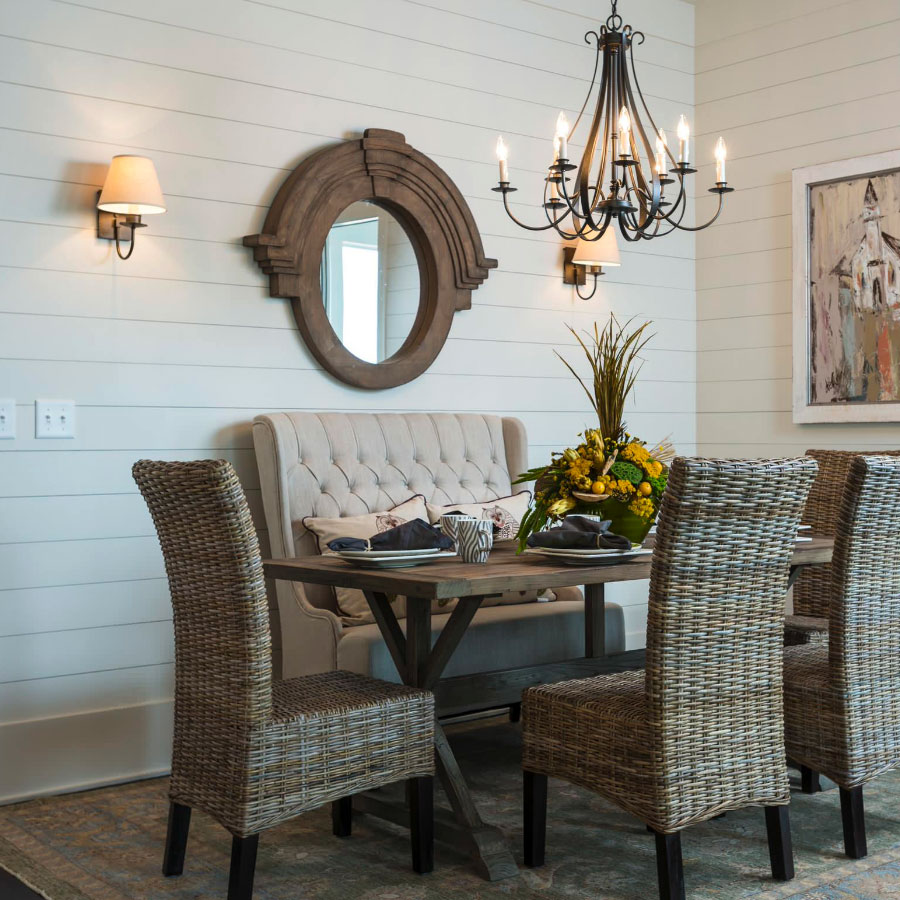 KITCHEN BACKSPLASH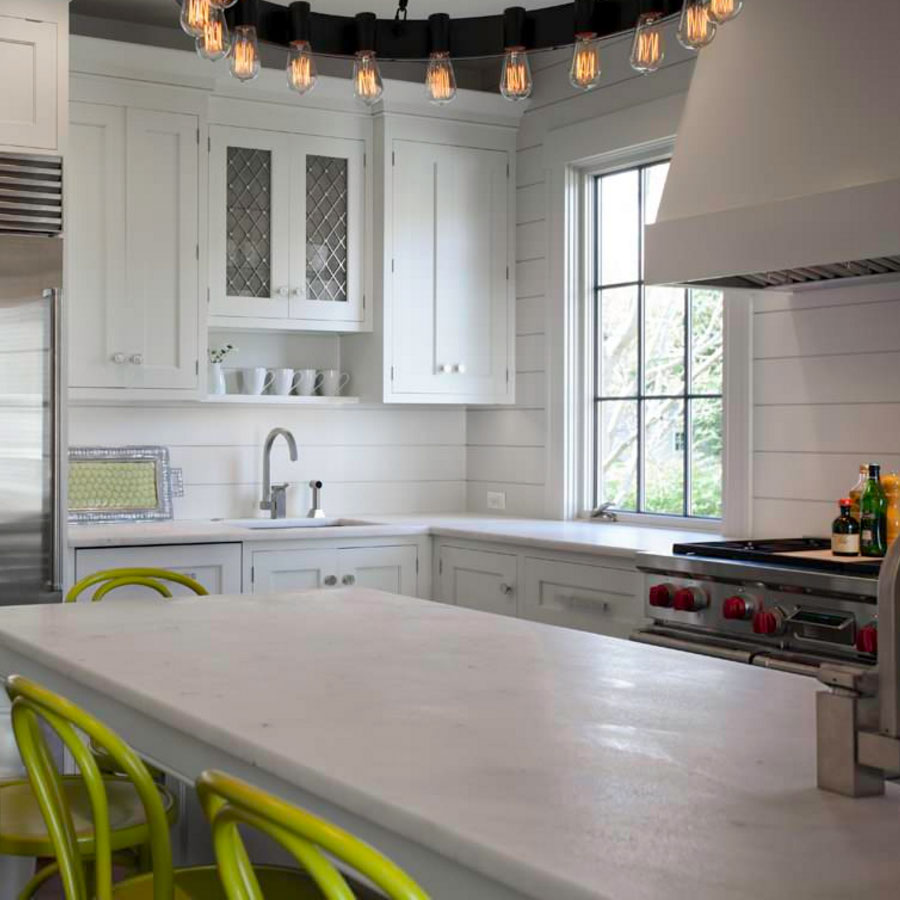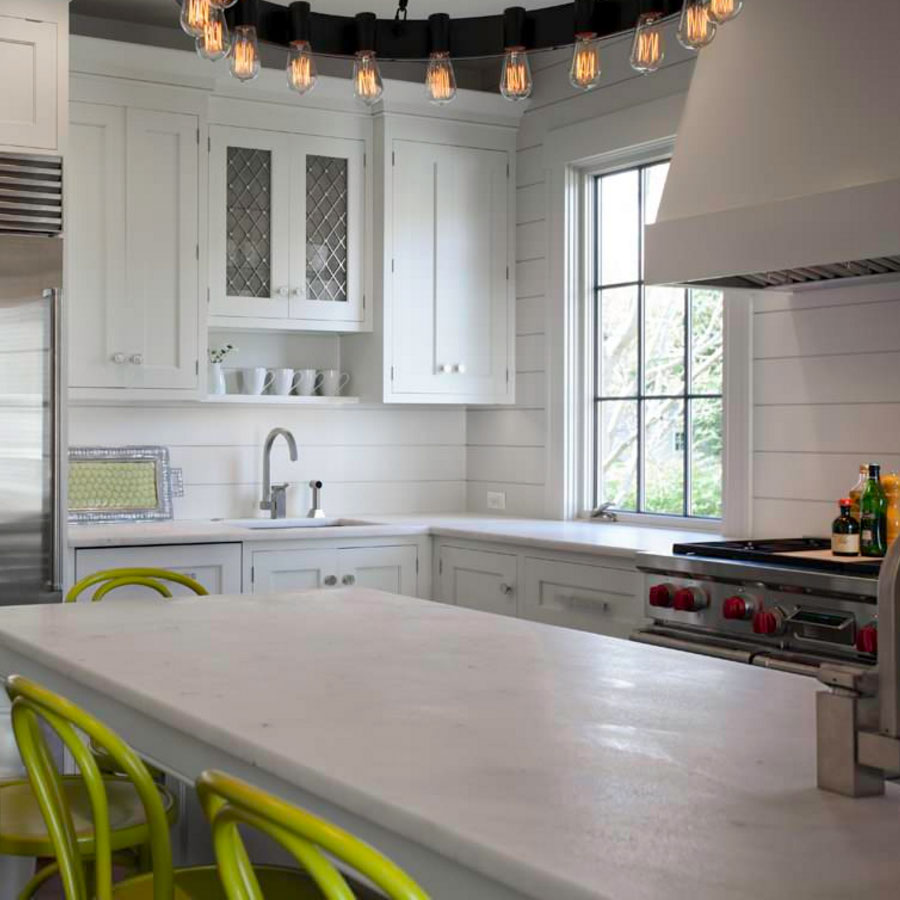 Where Can You Use Shiplap?
Essentially, anywhere in your house.  From the bathroom, to the stairs, to the hallway; the options are endless. One of the advantages of shiplap siding is that it can be customized to fit any space, big or small. We have listed some great spaces you can use shiplap below.
Shiplap in Your Living Room
If your living room walls feel a bit lacking in warmth and style, shiplap is the perfect addition. You can choose to accent a single wall or install on all the walls in the room. Considering that this is the center of your home, it makes sense to make it as warm and cozy as possible.
Note that some areas such as the place around the fireplace may require another material (such as tiles or stone) that can withstand the heat and is easier to clean. While the traditional style is to lay out the planks or boards horizontally, you can decide to put them up vertically for a more unique style. You can leave the wood exposed with all its spots and pockmarks for a realistic cottage look. Bonus tip: exposed shiplap really goes well with exposed beams for a nice quaint look. Works great for a living room, home library, or home office.
To enhance its effect, you can finish shiplap with white paint. This looks especially good in homes with large windows where plenty of natural light streams in. It almost feels like you are sitting outside a farmhouse somewhere in the countryside.