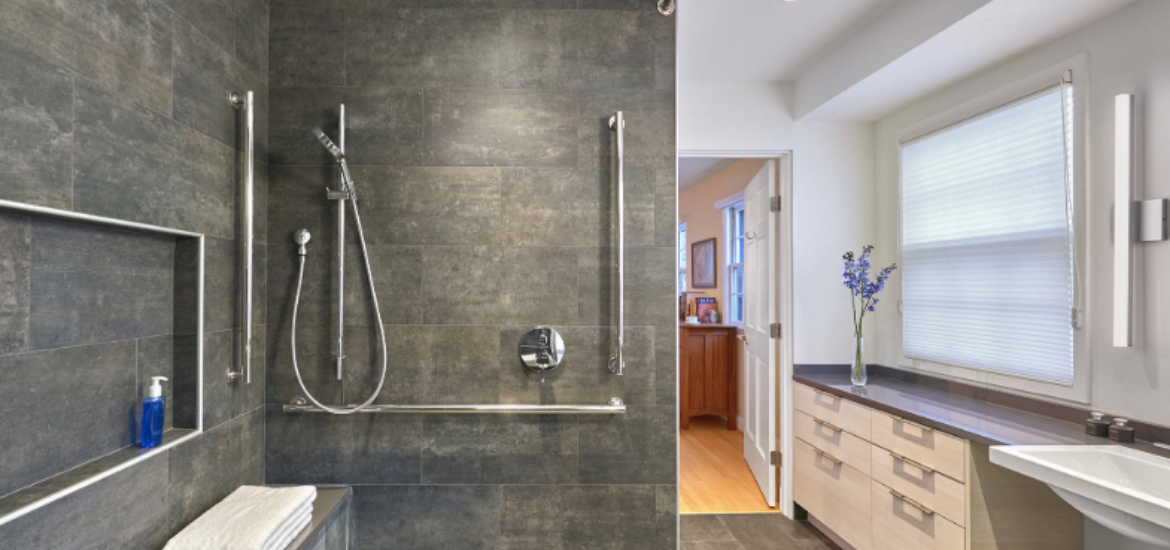 Despite the fact that it's the place we feel the most secure, an individual's home can also be a really dangerous area. Innumerable incidents happen every day that pose major risk or injury to homeowners, although a lot of these dangers and accidents are somewhat avoidable. Most of the time, we hear about individuals hurting themselves while up on ladders attempting to do housework, carrying heavy stuff up and down the stairs, or while performing simple tasks such as cleaning or rearranging appliances and furniture.
The bathroom is a perfect example where most mishaps happen, especially for elderlies. You are more prone to falls since the floor can be slippery. We have the ideal solution to avoid that—grab bars for showers. Today, we specifically look at Moen shower grab bars since it's a trusted maker of grab bars for showers. Moen grab bars brushed nickel are particularly popular since they look elegant and combine well with any bathroom design or décor. Bathroom grab bars are sturdy and dependable device that can help elderlies maintain their balance and prevent falls or slips.
As we age, certain daily tasks that were once simple and effortless can become more challenging. Among these tasks, maintaining balance and stability while using the bathroom can pose a significant risk for the elderly. Fortunately, Moen, a renowned name in bathroom fixtures and accessories, offers a wide range of bathroom shower grab bars specifically designed to enhance safety and accessibility for seniors.
In this review, we will explore the best Moen bathroom shower grab bars for the elderly, highlighting their features, benefits, and why they are an excellent choice for ensuring a secure bathing experience.Whether you are a caregiver searching for reliable assistive devices or an elderly individual looking to maintain independence, this review aims to assist you in making an informed decision to promote safety and peace of mind in the bathroom.
Let's dive into the world of Moen bathroom shower grab bars and discover the options that can greatly improve bathroom safety for the elderly.

Why You Should Install Grab Bars For Showers
As we said, the bathroom is a place where many can go wrong easily. You have an assortment of electrical appliances such as hair dryers, flat irons, and clippers, all in the area where there's a ton of water. You have razors, scissors, and Q-tips, which can all be exceptionally dangerous whenever used mistakenly. Possibly the most risky thing about your bathroom, however, is the shower and tub area. Here you'll discover surfaces made of porcelain and other generally smooth materials in consistent contact with water, creating a recipe for disaster.
Indeed, you don't need to be experiencing any physical ailments to be at risk of a bathroom fall. Although elderlies are more prone to accidents while getting into and out of bathtubs and showers, we all lose our balance every now and then. Thus, we are all at risk of slipping on a bar of cleanser. That is the reason, regardless of what your age or condition, it's always a good idea to install grab bars for shower. Regardless of whether you just ever use it once, you'll be totally thankful that grab bars for showers were there.
Therefore, if you're getting up there in age, and you need to ensure that you secure yourself against slips and falls, installing contemporary bathroom grab bars for elderly is non-debatable. On the other hand, in case you recently endured damage that makes getting in and out of the bathtub or shower somewhat more troublesome, you certainly need grab bars for showers to help maintain your balance and avoid setbacks on your way to recover. Also, regardless of whether you're in a perfect state of wellbeing, it's wide to install grab bars for showers, in the event that something goes wrong.
Things You Should Consider In Buying Grab Bars For Showers
To purchase the best grab bars for showers, we should take proper consideration of the following:
Material
The main thing we need to consider is the quality of the material. In case it is a metal grab bar, then it should be stainless steel. Meanwhile, in the event that it is plastic, then it must be corrosion-resistant plastic.
Anti-Slip Grip
The holder needs to be non-slip. Corrosion-resistant plastic guarantees comfort, as well as the gripping.
Carrying Capability
The regular capacity is 500 pounds. We should remember this when purchasing.
Durability
We must pick a product with lifetime durability. This kind is more durable than regular ones.
ADA Specification
The product should comply with the ADA requirements in order to be safe for use.
Length
Although this highly depends on your preference, a 24-inch grab bar can hold maximum weight.
Diameter
The diameter of the grab bars needs to be 1¼ to 1½ inch to offer a better grip surface.
Spacing
There should be at least 1 1/2 inch distance from the wall. Additionally, you should mind the simple installation feature.
Shape
Aside from straight grab bars, there are L-shaped, fold-out bars, and corner grab bars. Grab bars can come with LED lights and can even come in a wide range of colors. We should purchase according to our needs.
Concealed Screw
In order to give a seamless look, there must be a concealing anchor to hide the screws.
How To Install Grab Bars For Showers
In case you've mounted towel bars or other hardware around your home, you'll experience no difficulty installing grab bars for showers. It should not take long to figure out how to install grab bars in bathroom.
You'll only need a level, a hammer, a drill, and a couple of special drill bits. You can use a stud finder if you have one. Your grab bars will be sturdy if you anchor them to the studs.
If you're mounting your grab bars to regular wood-framed walls, you'll need to accurately find the vertical framing members dubbed studs. Regular grab bars have three screw holes in each mounting flange, but you will just have the option to anchor two of the three screws into a regular 1-1/2 inch wide stud. Utilize a plastic anchor for the third screw. As long as these screws get at least an inch into sound wood, the grab bar will meet or surpass the 250-pound load rating required by the legislature for public structures. Most importantly, it will be durable enough to support you, even in a fall.
Check out this video to find out more on how to install bathroom grab bars:

Best Grab Bars For Showers: The Winner Is…
In case you're searching for the best-rated shower grab bar, you should look at the Moen 8724 Home 24-Inch Bathroom Bar.
You can mount the grab bar either vertically, horizontally, or at any angle that you want. Its stainless steel material makes it sturdy and dependable. The snazzy grab bar has a 1.5-inch diameter that any hand size can grab and can support as much as 500 lbs.
This Moen product has an excellent stainless steel finish, which will match any bathroom design. Moen 8724 is a bathroom grab bar that needs drilling and permanent installation. Fortunately, you only require some DIY knowledge for appropriate fitting. It is additionally fundamental to comprehend that this item is ADA compliant and, thus, secure and safe. In addition, it's corrosion-resistant structure makes it able to withstand the impacts of bathroom detergents and chemicals.
You can experience hassle-free installation with Moen shower grab bars, and they will last you a long time. The concealed installation mounting hardware gives the grab bar a smooth appearance. Moreover, Moen backs this product with its limited lifetime warranty, which makes this a simple decision for your bathroom needs.
Other Great Articles to Read:
To view our Amazon Associates Disclaimer, please click here.