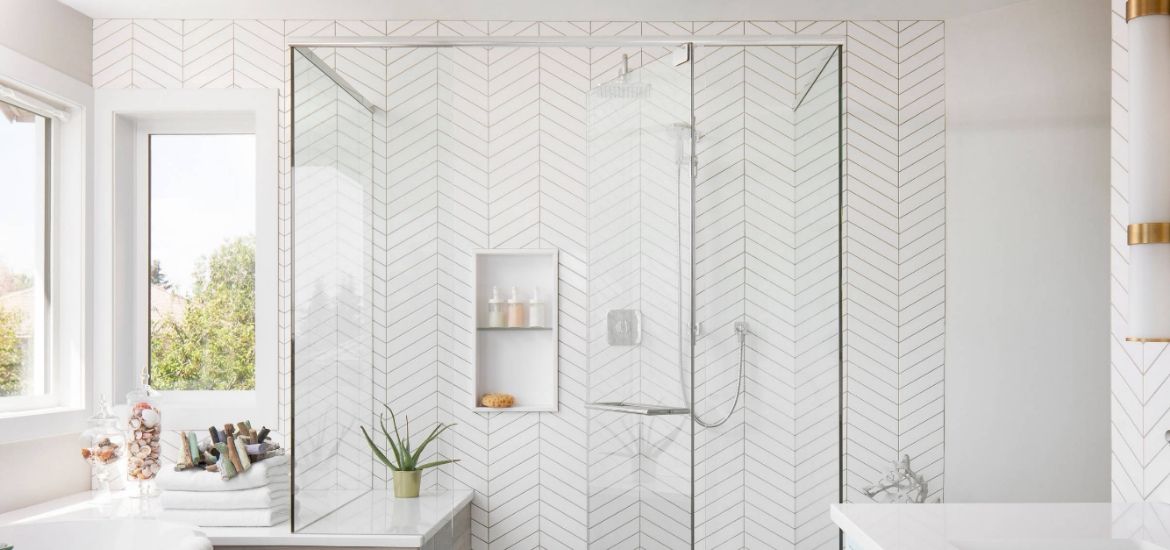 Whether you're buying a new home or remodeling the place where you already live, the kitchen and the bathroom are two of the most important rooms in the house. A bold, beautiful kitchen makes a huge impression on friends and family alike, and the bathroom design can elevate any house from ordinary to extraordinary.
A large part of that design rests in the tile of both rooms. Tile backsplashes and floors are having a major moment in the sun, and the right style of tile can go a long way towards making your home stand out from the crowd!
Many of the most popular tile designs in the public eye right now can be boiled down to two separate tile patterns: chevron and herringbone. While the two styles may look pretty similar at first glance, there are more than enough differences between the two to make your style decision feel a little bit complicated.
Ultimately, no matter which of the two styles (or any other tile-laying patterns) you prefer, remodeling your home's tile in both the kitchen and the bathroom can help your house go from a cookie-cutter house to a living, breathing work of art that stands head and shoulders above all the other houses in the neighborhood!
GRANITE HERRINGBONE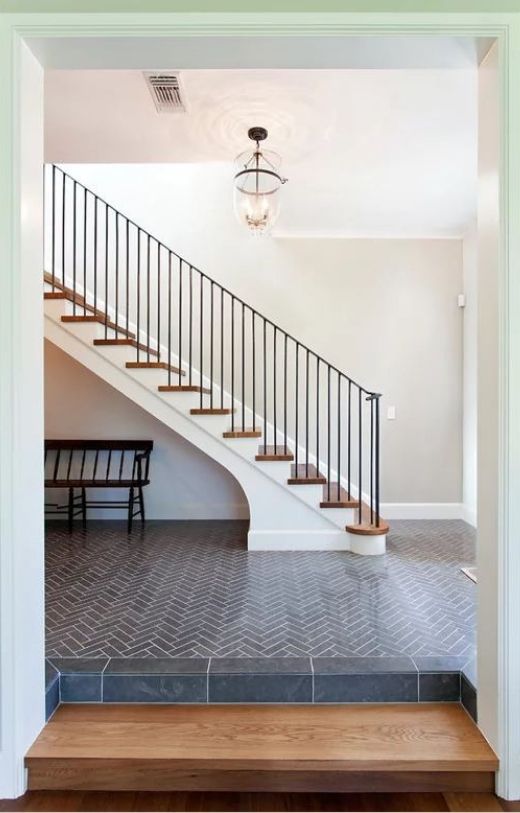 Gorgeous granite work in the entry way. Love the blue!
MARBLE HERRINGBONE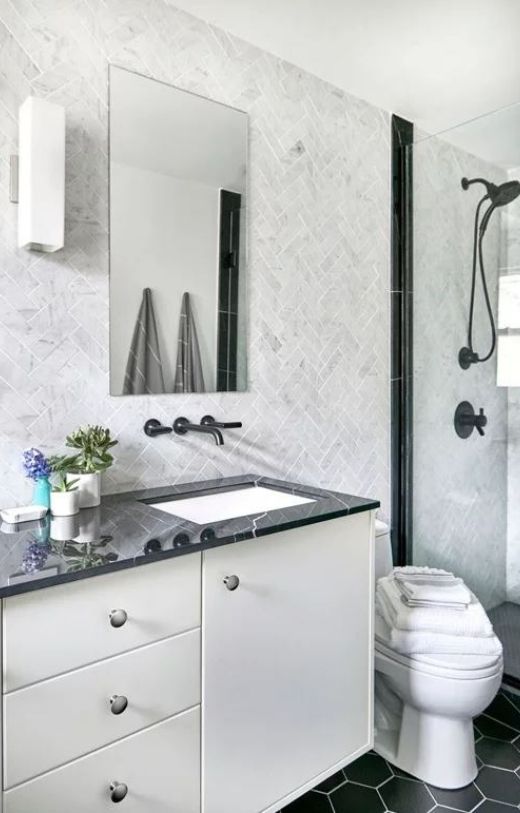 Amazing looking bathroom.
BRIGHT & CLEAN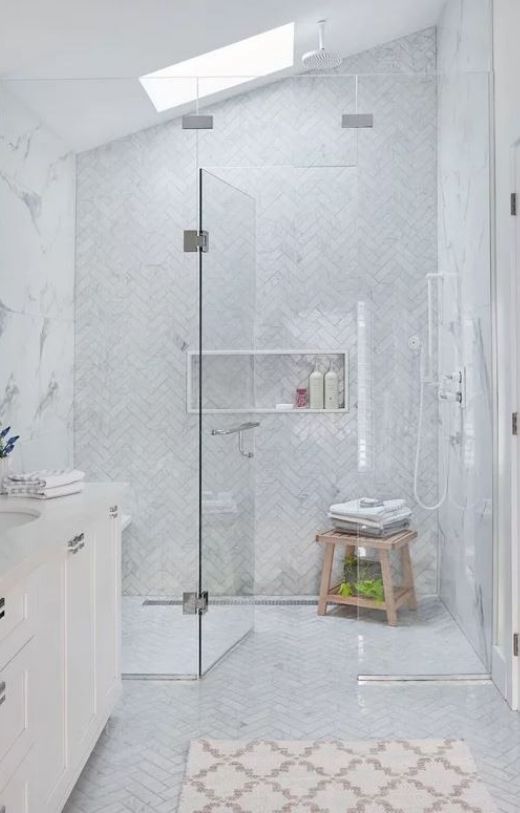 Stunning bathroom with walk-in shower.
HERRINGBONE BACKSPLASH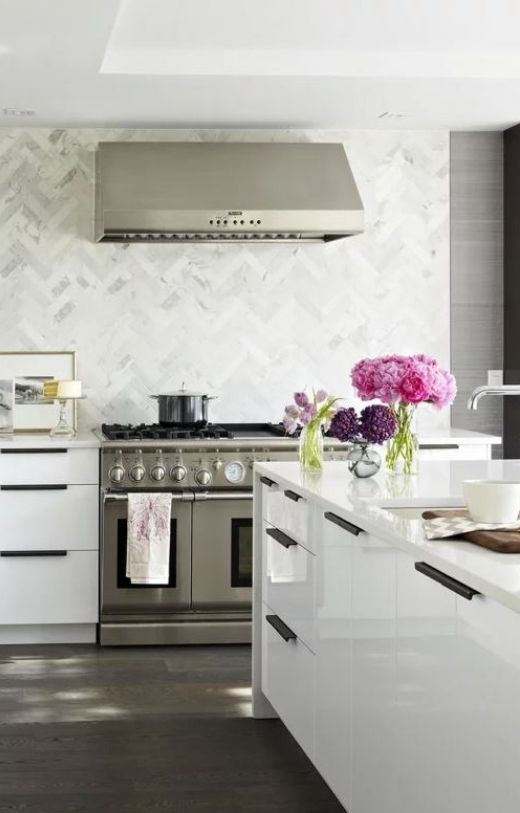 Great style and detail in the kitchen.
CHARCOAL HERRINGBONE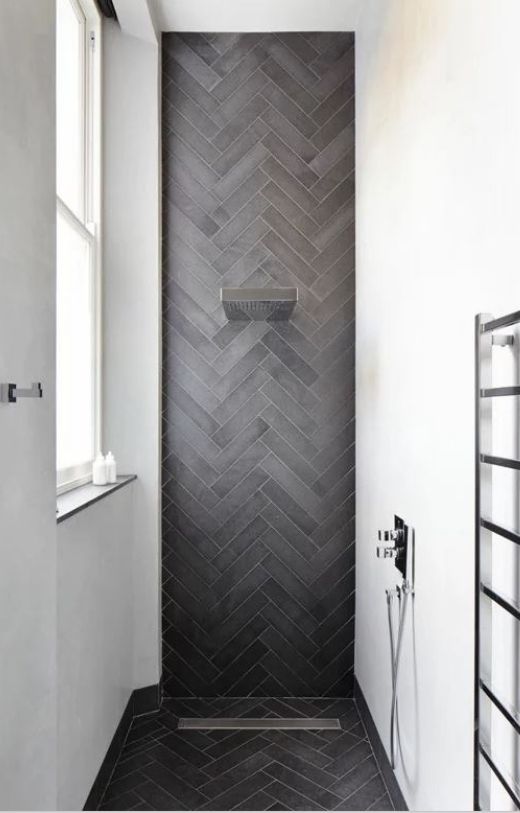 What a stylish look for a shower. the dark color works great.
WOOD HERRINGBONE
Love the way this floor looks. The color really stands out.
HERRINGBONE MURAL
Huge open kitchen that has plenty of details everywhere you look.
GOLD & GREEN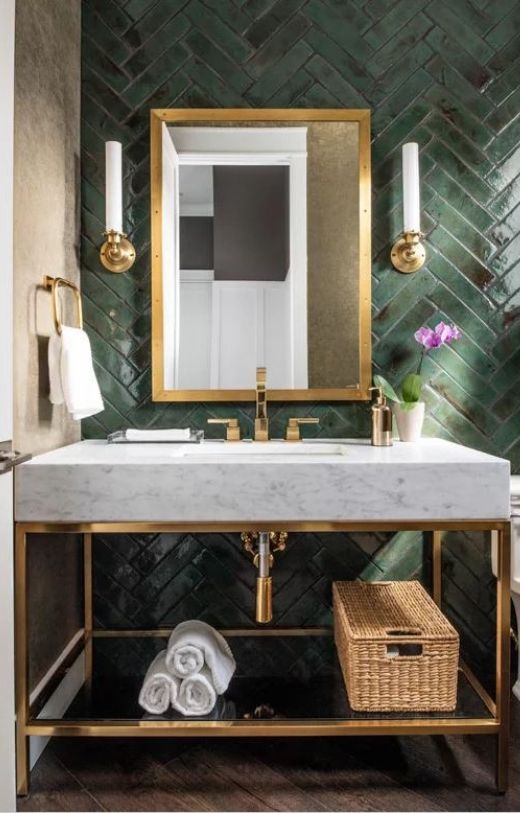 The herringbone look great but the green color looks even better!
GORGEOUS BACKSPLASH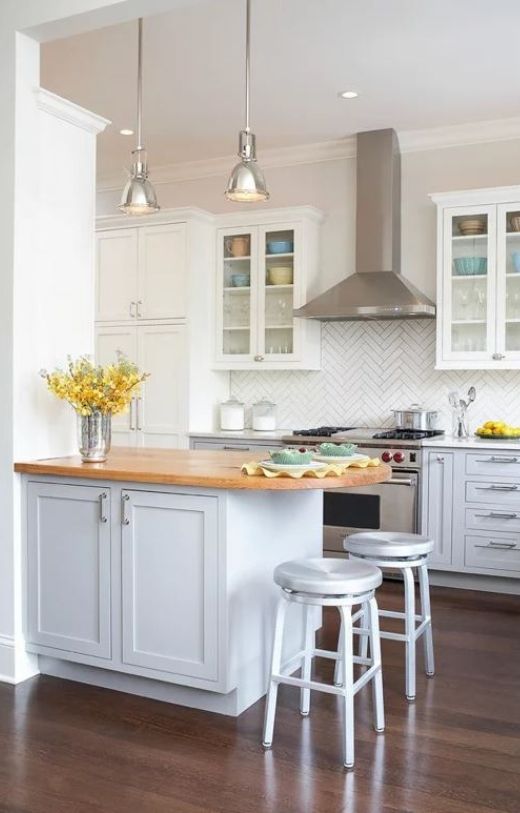 Herringbone back splashes have been becoming more and more popular. Start getting with the trends.
STYLISTIC PATTERN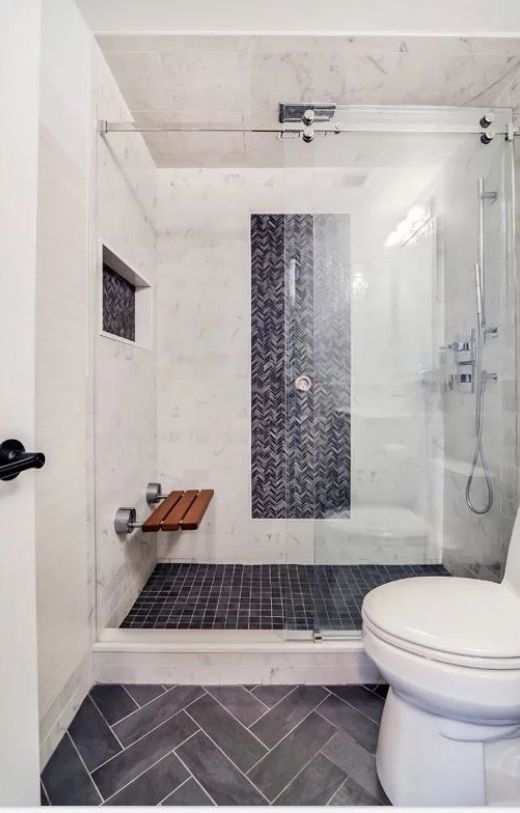 Beautiful master bathroom floors that make any bathroom stand out!
What is Herringbone?
Herringbone is a tile pattern that has long been used to jazz up standard wood floors, but is making its mark in kitchens and bathrooms alike.
Essentially, a herringbone pattern is made up of rectangular tile pieces that meet at perfect straight edges to form a "zigzag" pattern. Because it uses rectangular tiles instead of angled tiles, the pattern will look broken or staggered, so that the resulting look holds its own sort of asymmetrical, eye-catching appeal.
While herringbone tile is usually laid at a 45 degree angle to the floor or wall that it adjoins, laying it horizontally can create a unique, unusual design that makes the pattern really pop!
Depending on both the grout and tile color, as well as the size of tiles used, the pattern can be obvious, or it can be more muted.
The herringbone tile pattern provides a fun twist on a vintage design that is only just starting to really get its own chance to shine!
Advantages of Herringbone Pattern
As mentioned above, the herringbone tile pattern has been around for a while, and there are certain advantages that go along with this fact.
First, a herringbone tile floor or backsplash doesn't require any special tiles or additional cutting to be laid. While other patterns may need tiles to be cut to a specific measurement, herringbone floors use standard rectangular tiles, which can be easily found at any hardware or home improvement store.
Second, the herringbone pattern is a tried-and-true method of tile-laying, which means that it's both easier to lay down and easier to personalize! Using a darker grout against a lighter tile can make the design pop for a modern, glamorous feel. If you want a more homey or rustic look, on the other hand, try using a grout color that matches the color of the tile.
Finally, herringbone tile can make the simplest spaces look more eye-catching. A plain white tile, if laid in a herringbone pattern, can elevate the space that you're remodeling. It all depends on the tile you use, and a herringbone tile floor can go a long way towards making your new or remodeled house feel more and more like a home.
CHALKBOARD CHEVRON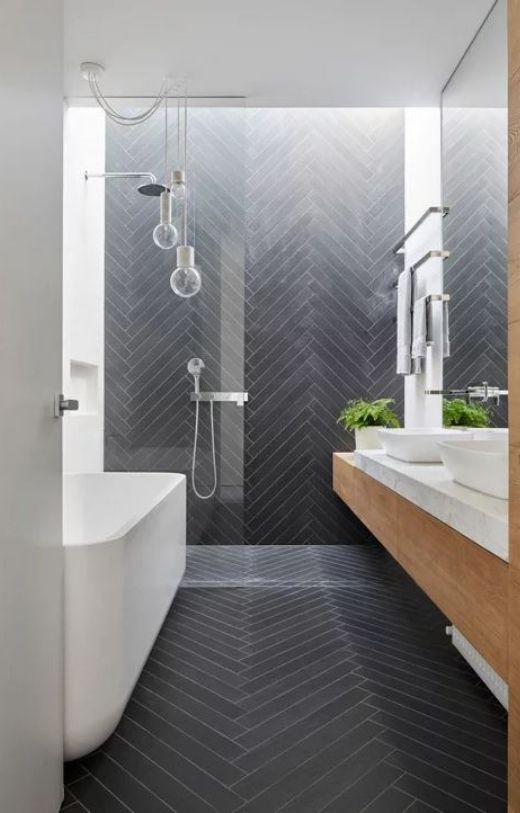 A stunning and mesmerizing look in this bathroom.
LIGHT GRAY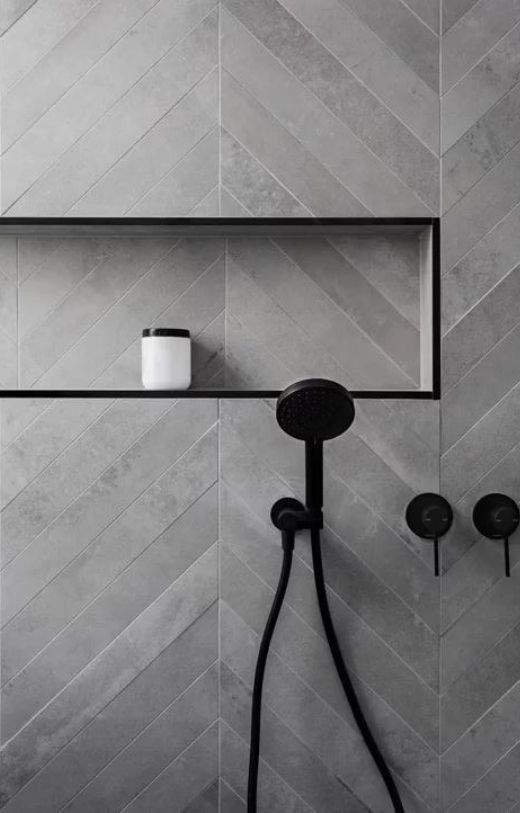 Stylish look for the shower wall. Love the way the wall insert matches the shower wall.
TURQUOISE TILE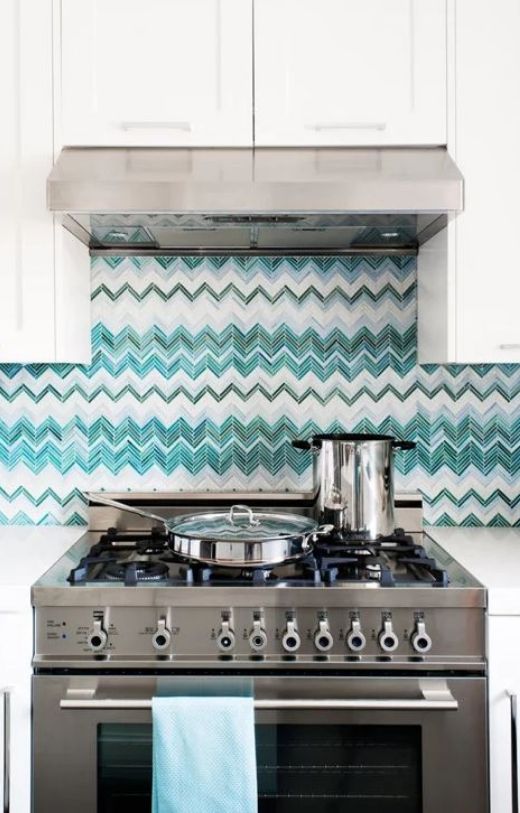 The back splash look great. the color is unique and catches your eyes.
CHEVRON OVERLOAD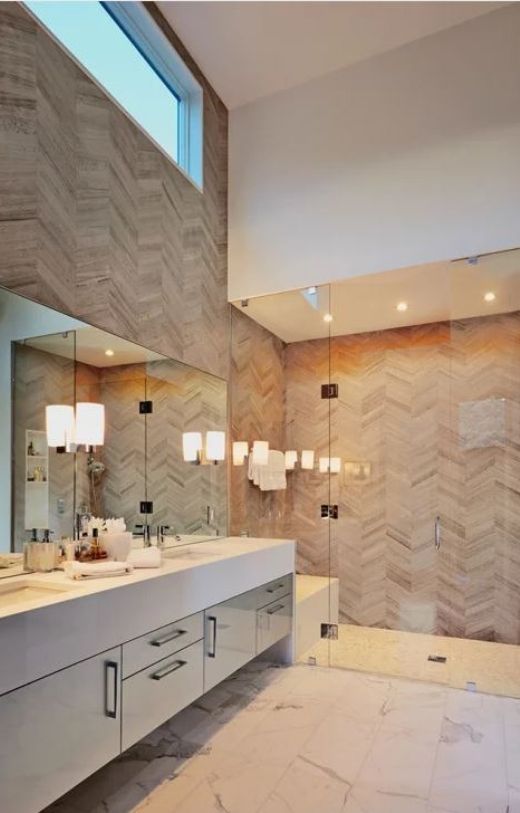 Love the tall ceilings in this master bathroom.
Disadvantages of Herringbone Pattern
Probably the biggest disadvantage of laying herringbone tile comes up in the actual installation. While it is true that the herringbone pattern is easier to do on your own than other, more complicated designs, it can still pose some level of difficulty.
If you're laying your own tile, make sure that you have aligned the tiles correctly before you start installation. With the herringbone pattern in particular, it's easy to start off strong then veer off course along the way.
While less design-heavy patterns will be able to hide any small miscalculations, the fact that herringbone tiles need to be perfectly aligned and matched up offers no such forgiveness. Any mistakes in lining up the tiles will be clearly obvious once the rest of the design has been laid into place, and the end result will look more sloppy than sophisticated.
To avoid any issues, take the time to check and double check your work before you begin. If you don't want to take any chances, it may be best to hire a contractor or professional tile company to help you with your remodeling. Either way, a little bit of extra preparation can help prevent a disaster in the making.
GOLD ACCENT
Unique style of herringbone on the wall. All in all, it works great!
MODERN GRAY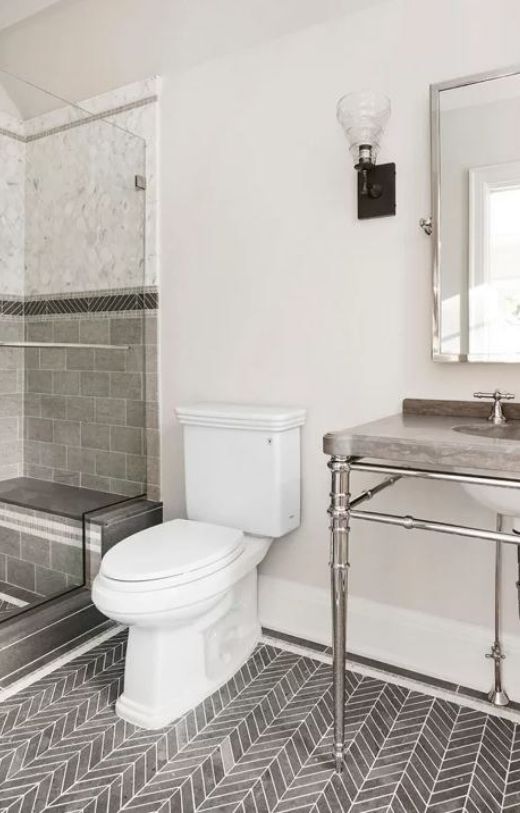 The color and style of this floor is so satisfying!
LIGHT AND BRIGHT
Another herringbone back splash. Love the trend.
DARK CHEVRON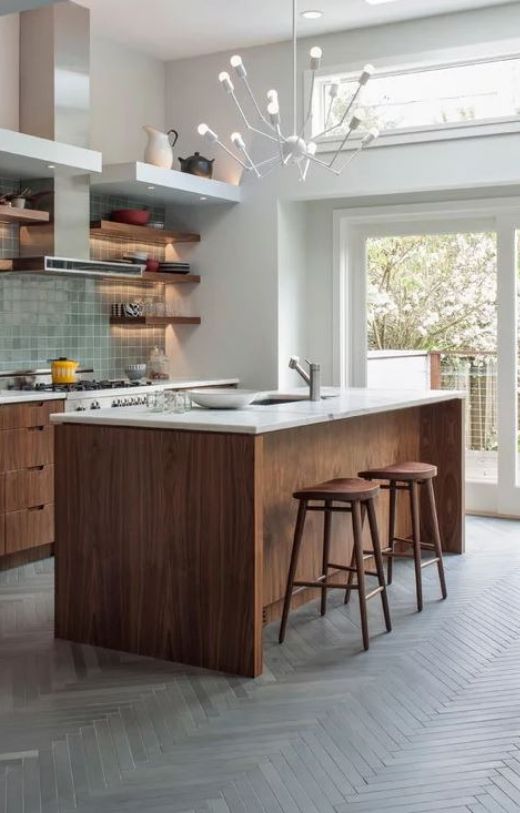 Love the grey herringbone look for these kitchen floors.
What is Chevron Tile Pattern?
If the herringbone pattern is a modern twist on a classic design, then the chevron tile pattern is its younger, more spontaneous sibling.
As previously mentioned, herringbone tiles are shaped like standard rectangles, but the chevron tile takes that standard and tilts it on its edge. The chevron tile pattern is made up of rows of interlocking parallelograms, joined end to end in order to create a seamless zigzag pattern that can run either parallel or perpendicular to the adjoining walls or floor.
The chevron pattern has really only started to come into the public eye relatively recently, so the pattern has become a great way of livening up an old space. While the diagonal, zigzagging lines hearken back to the more traditional herringbone pattern, more lively interpretation offered up by the chevron pattern makes an old space look younger and more modern without sacrificing any of the practical benefits provided by more traditional tile patterns.
To emphasize the pattern, try using tiles of very slightly contrasting colors against a muted or similarly colored grout, so that the distinctive "V" of the pattern where the tiles meet will stand out even more against the back-splash of a kitchen wall, or the floor and walls of a newly renovated bathroom!
Advantages of Chevron Tile Pattern
Perhaps one of the greatest advantages of the chevron tile pattern is its ability to highlight the focal point of a room. While more traditional tile patterns can threaten to overwhelm the room at large, a chevron tile design is versatile enough to be able to support any room without taking it over.
As with the herringbone tile pattern, the grout and tile color can play a major role in determining the strength of the design. If you use contrasting tiles, then the design can easily become the focal point of the entire room and provide an eye-catching splash of detail to any layout.
On the other hand, if you want the design of your kitchen or bathroom to highlight some other aspect of the design, try using tiles with only subtle color variations and a grout that blends into the tiles. This will create a quiet look that still is pretty impressive upon closer inspection.
The other major advantage of a chevron pattern is that it can easily be used to highlight the tiles themselves. If you find a tile pattern or color that you just love and can't wait to show it off, the eye-catching appeal of a chevron pattern is the best way to do the job!
OLD WORLD LOOK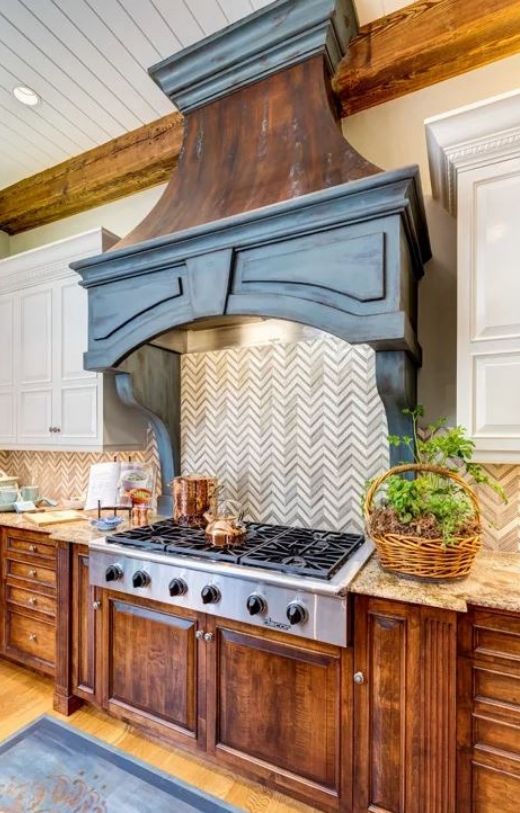 The wood surrounding this stove and hood goes great with the backsplash.
SHABBY CHIC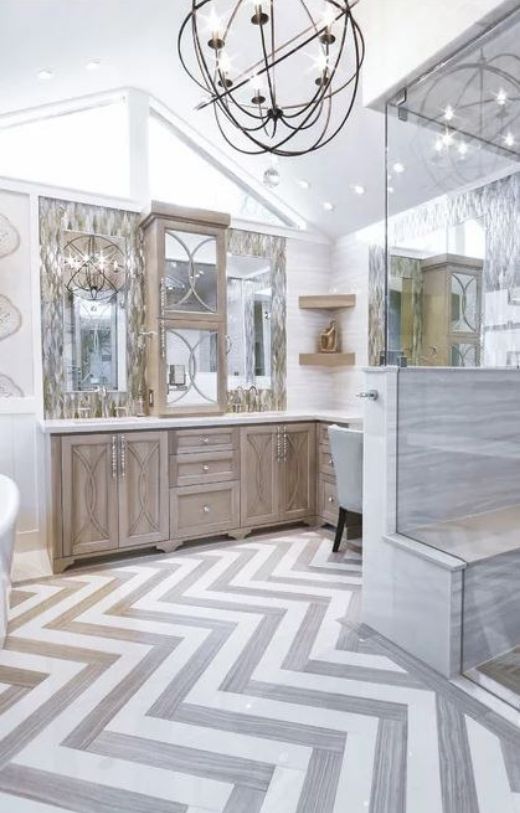 The whites and grays look stunning in this bathroom.
So Which One is Better?
No matter which of the two patterns you ultimately prefer, herringbone and chevron patterns are so easily personalized that you can be sure to find a pattern, color, style, and design that works best for you!
Unfortunately, both chevron and herringbone patterns are more complicated than simple straight lay designs. This means that, no matter what, they are going to take more time and energy to install than a simpler design would be.
If you have the time to carefully measure, check, and install each tile, then go for it! Your home will be a work of art that you've helped create, and will have the personal touch that other homes just can't provide.
On the other hand, if you're worried about how your home will look, or if you just don't have the time to devote to painstakingly going over every last detail, look for a local tile installation company. You'll save time, energy, and effort using a professional company, and you'll be able to rest easy knowing that every step of the process is in safe hands!
Ultimately, whether you install the tile yourself or rely on trusted professionals, a chevron or herringbone pattern is going to take more time to install. However, in return, you'll get a bright, modern look that will take your home to the next level.
Herringbone
As a rule, a herringbone tile design is best for walls that are going to see a lot of wear and tear. Because of the distribution of forces among the tiles, a herringbone wall or floor has great dimensional stability. This means that the tiles will retain their original dimensions even when subjected to high amounts of heat or humidity.
As a result, the herringbone design is great for kitchens or bathrooms that are going to see a lot of traffic on a daily basis. If you're known for letting things get heated in the kitchen, then a herringbone back-splash is ready to handle all the stress you can throw at it!
Finally, the V-shape of the design, as in the chevron pattern, allows for a greater dispersion of tension throughout the design, so the tiles are less likely to fracture or splinter over time—another factor that contributes to making the herringbone tile pattern a great choice for kitchens, bathrooms, or any room in the house that needs to hold up to a lot of pressure!
If, however, your kitchen or bathroom doesn't see as much use as other rooms of the house, but you still want an eye-catching, trendy design, you may find yourself leaning more towards a chevron style.
Chevron
A chevron pattern may not be as hardy as a herringbone, but that makes it even better for displaying in rooms where the priority is form, rather than function. The unique design will make whatever surface you've tiled stand out from the rest of the room, and it can be used to tie the entire space together.
Because the chevron design can have a spacing effect, you may want to use this tile pattern in a place that feels cramped or small. Especially if you use light tiles with a light grout, a chevron-patterned wall or floor can help the space feel a little less stuffy, and can make small, tight spaces feel light and airy.
Use a chevron pattern in shades of grey and white to give your home an industrial feel. Light tones in tile and grout will make small spaces larger, while dark tones will make a cold space feel warmer and more homey.
Because chevron-patterned walls or floors can see some disintegration over time, it's best not to use this pattern in a place where the walls and floor are exposed to a lot of daily use. If you have pets or small children, a chevron design may be best for small, out of the way spaces, not for large sections of the floor or wall.
Disadvantages of Chevron Tile Pattern
The biggest disadvantage of laying chevron tile is also what makes it so popular. That distinctive zigzag look can only be achieved by using tiles that are cut for this specific pattern, and that can limit some of your choices.
Since most tiles automatically come in a rectangle or square shape, the parallelograms required for a true chevron design can put a bit of a dent in your style plans. While the growing popularity of this design means that more and more tile companies are starting to offer chevron tiles as a choice in all their patterns, this isn't the case across the board.
If you're thinking about laying down a chevron pattern for your house, you may need to hire a contractor to get you the tiles that you need. Using an outside source may take a little longer, but it will also make sure that you get the tiles you want in the style you need.
If you're set on remodeling on your own, make sure you use a high-quality tile cutter in order to make any adjustments. Improperly cut tiles can fracture or splinter during the installation process, and you'll quickly lose any time that you might have been able to save by not hiring a contractor to help you out.
Variations of Patterns
Even within the constraints of herringbone and chevron tile patterns, there are a lot of variations that can give your kitchen or bathroom a unique feel that's distinctly yours!
For a herringbone tile floor or wall, the most obvious variation lies in the orientation. While the most traditional herringbone pattern has the tiles or wood panels lie in a 45 degree angle from any straight lines, aligning the pattern so that it lies at a 90 degree angle can create a whole new look. The sharp corners and straight lines still retain that characteristic zigzag feel, but with a crisp, clean edge to it that makes any kitchen or bathroom look incredibly modern.
For chevron patterns, try using a high glaze tile to make up the pattern. This will highlight the natural beauty of the tiles, as well as emphasizing the pattern of the chevron design itself. Especially if you're using handmade or hand-painted tiles, the high gloss will make the tiles themselves really stand out.
For either pattern, don't be afraid to add a splash of color. In even the most minimalist of kitchens or bathrooms, a brightly-colored tile pattern can make the whole room feel brighter and more alive. Contrasting colors will make the tiles pop, and similar colors will present a unified, streamlined look to the tiled area!
Conclusion
Whether you prefer the chic, glamorous look of a chevron pattern or the classic, updated style of a herringbone design, adding the characteristic zigzagging levity of either pattern can go a long way towards making an old home feel new and modern.
If you choose to install the tiles yourself, make sure to take the time to double check each step of your work, so that the finished product will look as good as you'd always imagined. If you choose instead to hire a professional team, you can sit back and watch as your home goes from old and outdated to new and alive!
This is an image roundup post, curated to showcase and promote other reputable contracting companies' and their amazing work. To have any of the images removed, please reach out to us and we would be happy to do so.