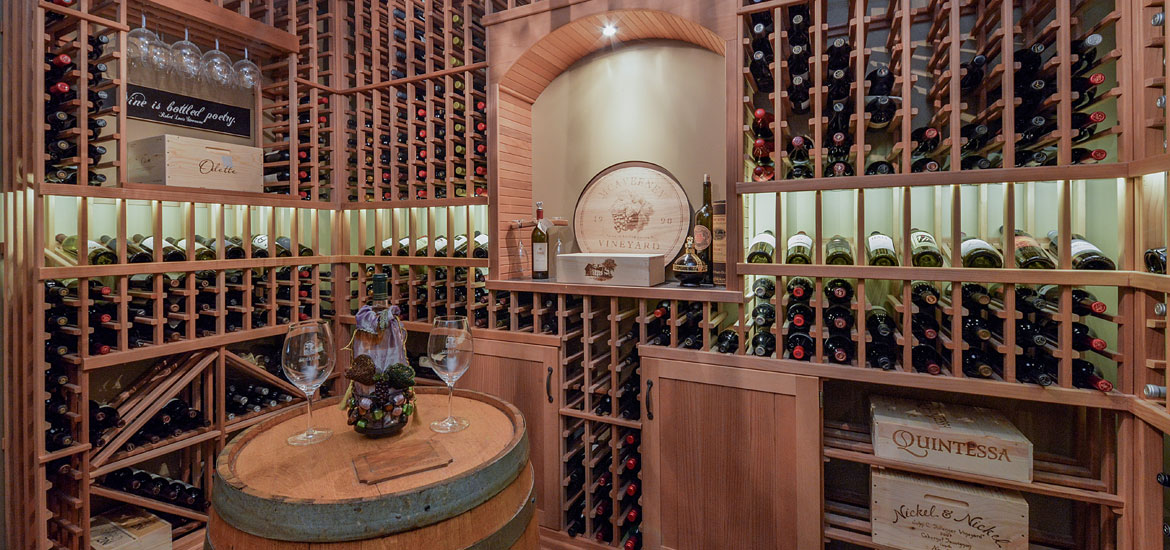 A great wine cellar is all about creating a controlled environment.  Whether it is located in a sprawling mansion or in a tiny apartment, design options are virtually limitless.  However, if temperature and humidity are not controlled properly, your precious wine may not age in the right way.
Our wine cellar ideas roundup showcases some of the most creative designs. If you are thinking of setting up your own wine cellar at home, these design ideas and guidelines should provide some inspiration.
Once you make a decision to build a wine cellar at your home, your first consideration should be maintaining the right conditions all the time. How you do this will depend on the size of the wine cellar and where it is located. A large basement wine cellar will require considerably more work in climate conditioning compared to a small wine cellar. If you opt for a pre-made wine closet or cabinet; chances are that it comes with climate control mechanism already installed, relieving you of most of the burden.
Here are some of the climate control actions you need to take when building a wine cellar:
Full room insulation to keep temperatures at a steady range. Make sure the insulation is also a good vapor barrier.
For large wine cellars, a wine cooling system may be necessary. This will also require an adequately sized exhaust room to absorb expelled heat.
If the location of the wine cellar tends to get too dry, a humidifier will be required.
Once you have the climate control part figured out, you are ready to get started on your wine cellar. Our home wine cellar image round up is a good starting point to help you figure out the design that works best for your needs and budget.
More great information for you to check out at The Wine Cellar Insider.
SIMPLICITY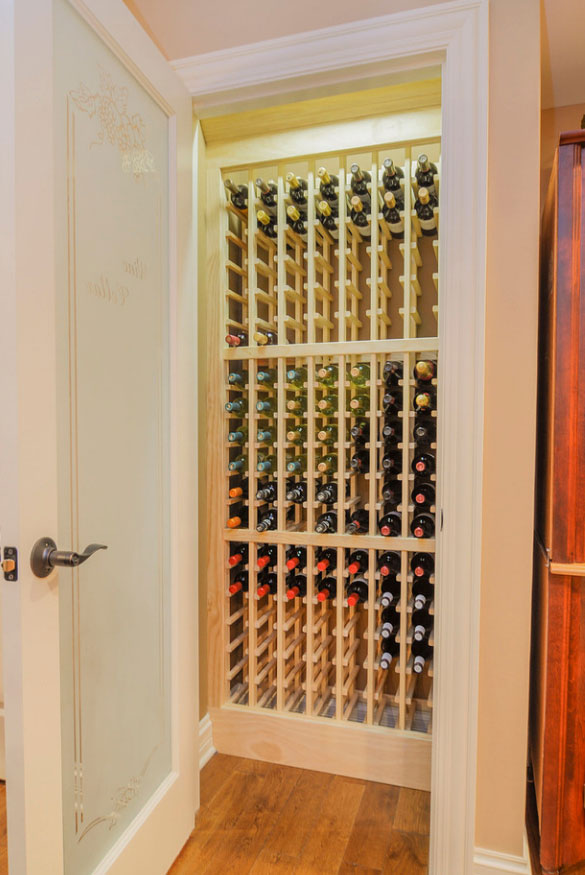 A simple and neat space for wine storage. Cool door!
WINE CLOSET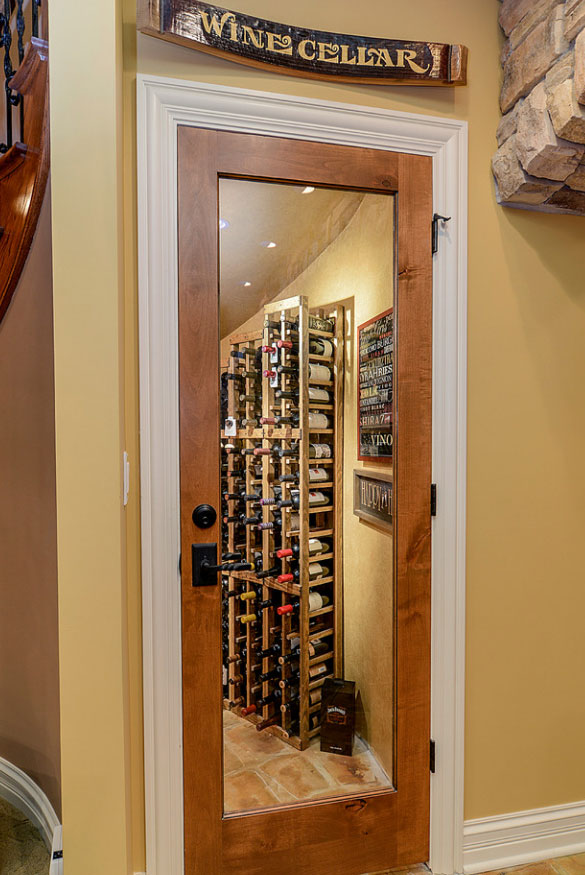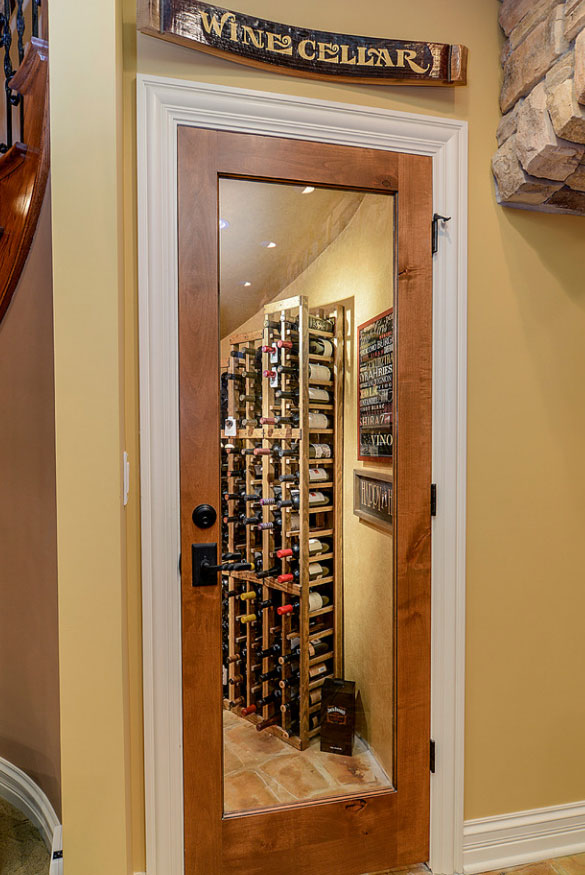 Nice wine closet located near a bar area.
SECRET STASH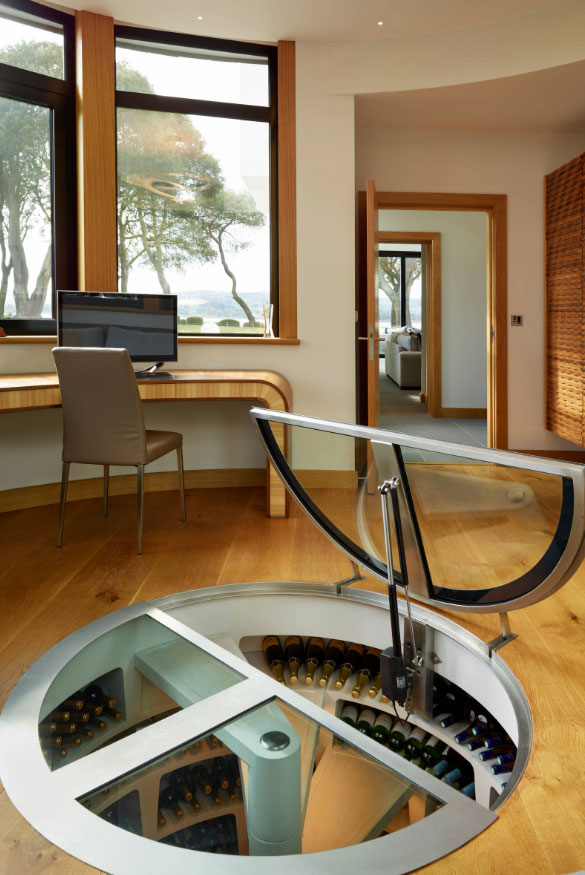 This underground wine cellar is so cool!
KITCHEN STORAGE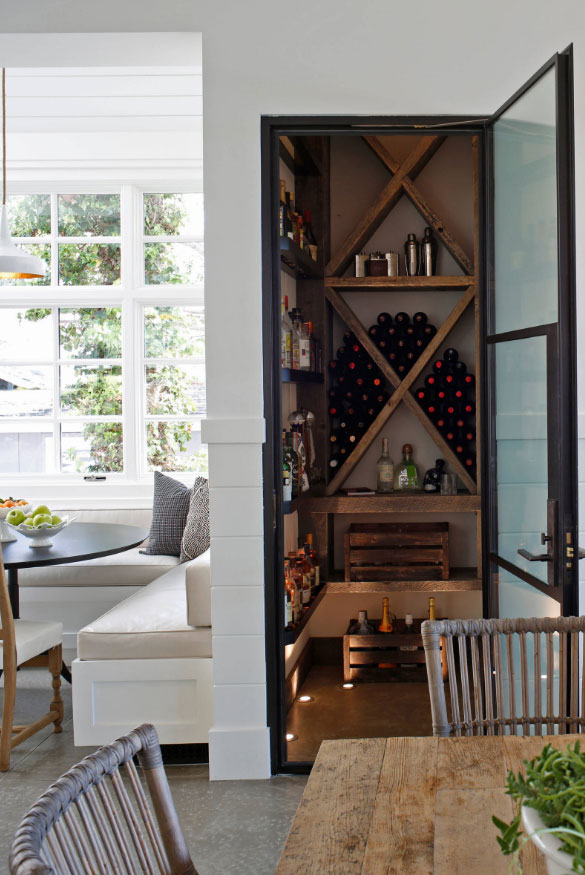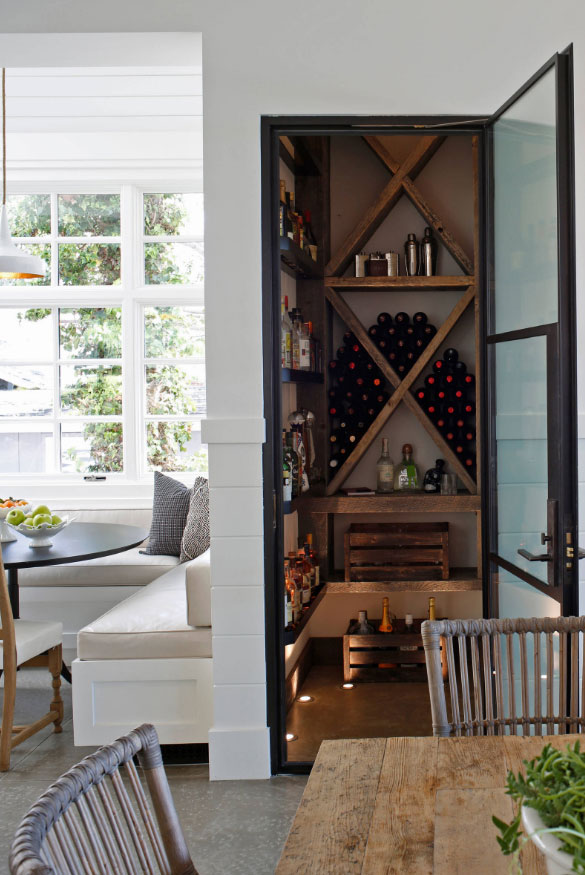 Smart storage area off the kitchen. Wine storage doesn't always have to be in the basement or lower level. Love that seating nook too!
WINE ROOM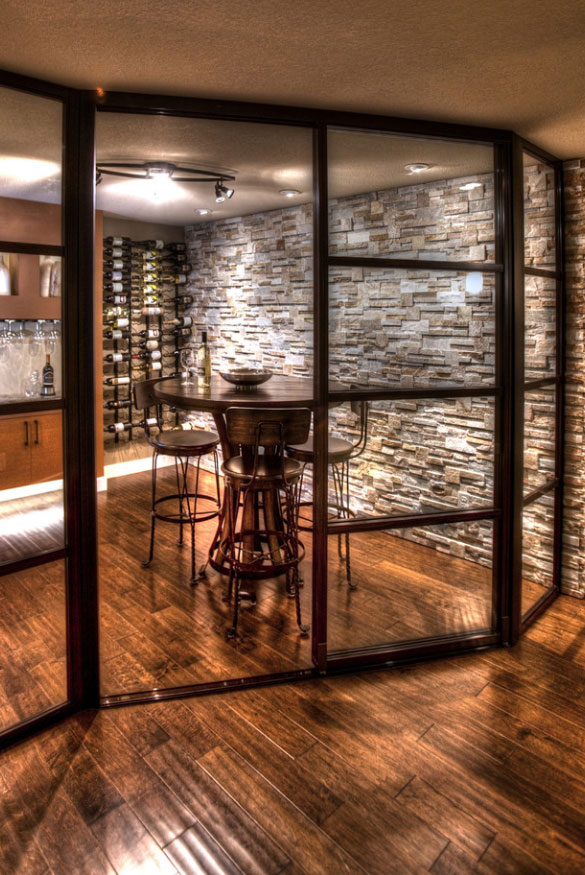 A great space to share a bottle of wine.
SPANISH STYLE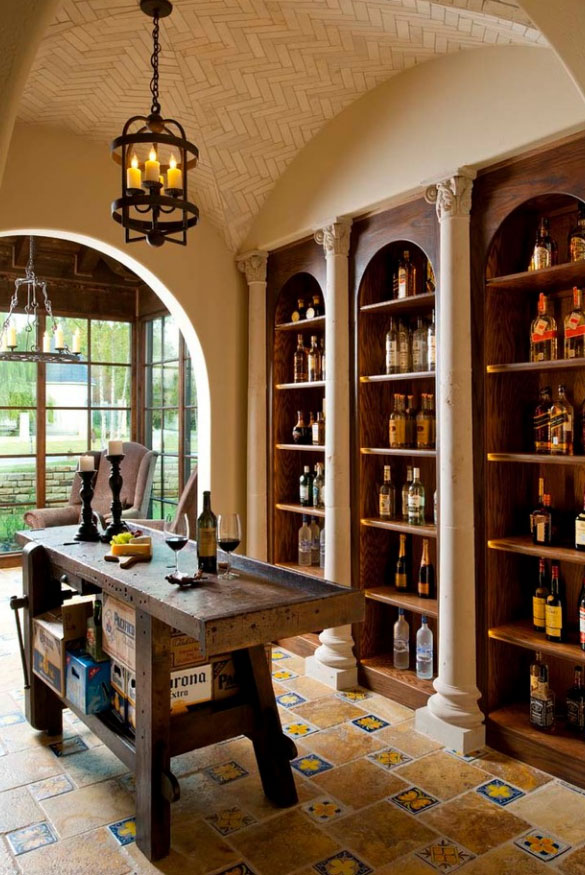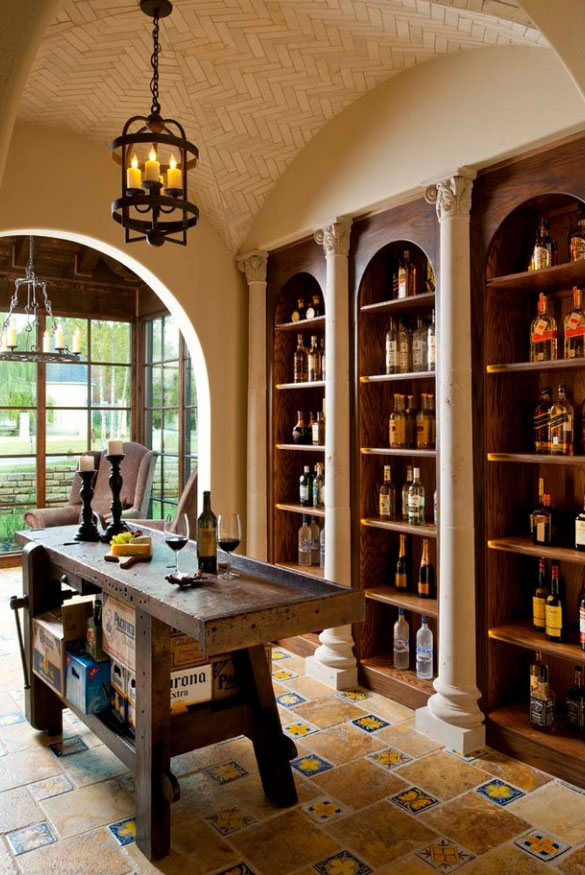 Warm and inviting wine area in Dallas.
WINE BAR
What a great space in this basement for entertaining!
MEDITERRANEAN
You are transported "somewhere else" in this expansive wine cellar and tasting area.
NARROW CELLAR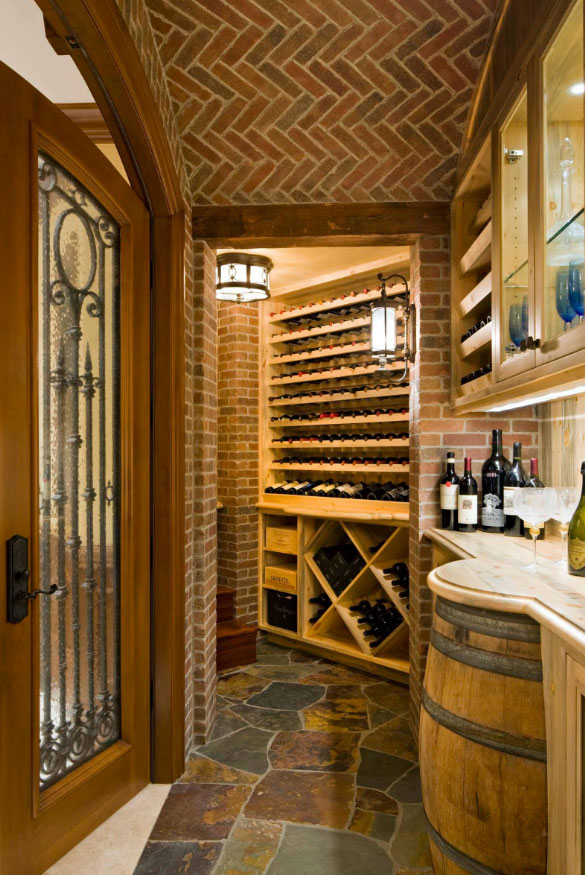 Almost looks like this is located in a hallway. Great use of space.
BARREL SINK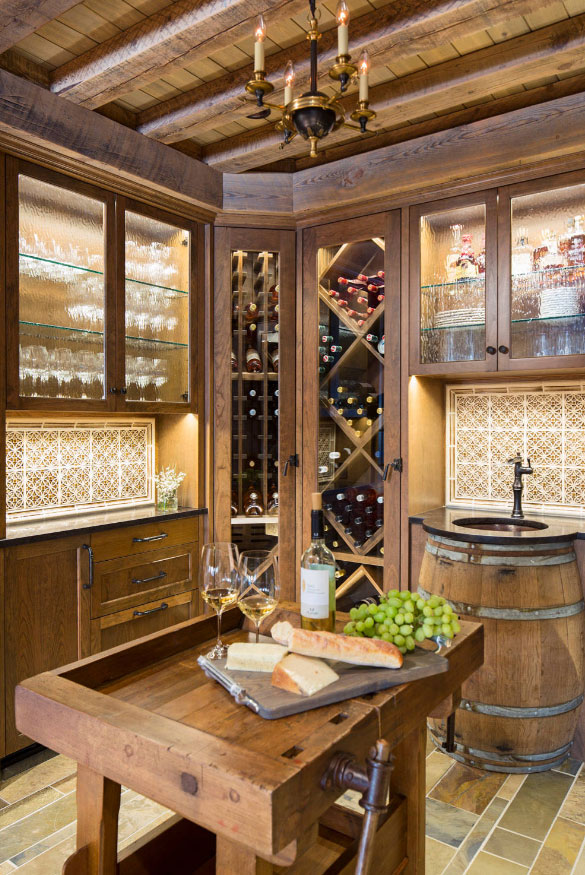 Wonderful idea to use the wine barrel as a sink!
Wine Cellar Climate Control
Climate control will make or break your wine cellar. Wine is a delicate thing. It tolerates temperature and humidity changes only within a narrow band. If it goes above or below, then the aging process is likely to go awry.
When it comes to temperature, 55 degrees Fahrenheit (13 degrees Celsius) is the accepted sweet spot. A range of 3-4 points above or below this temperature is acceptable. In chemistry, we learn that an increase in temperature increases the rate of reaction. If your wine cellar is too warm, your wine will age too quickly and produce other unwanted reactions. This will damage the quality and taste of the wine. On the other hand, if the conditions are too cool, chemical reactions slow down and your wine ages at a much slower pace.
There is also another aspect of temperature that can damage the wine and that is variability. Without proper climate control, temperatures in the wine cellar will keep swinging between cold and hot. In many cases, the cork sealing the wine is not 100% airtight. As it expands and contracts with temperature variations, oxygen finds its way inside the bottle. As any wine connoisseur knows, too much wine will damage wine flavors because of over-oxidation.
As for humidity, the slightly damp conditions of a basement are actually good. Slightly high humidity keeps the cork from drying out, which could compromise the quality of the seal. The ideal humidity level is 57%, with an ideal maximum of 70 percent and minimum of 50 percent. If it goes too high the biggest risk is the development of mold in the cork, which could damage the wine. Additionally, it can