Featured Image: TRG Architecture + Interior Design
Planning on re-fitting your home with brand-new hardwood floors? When it comes to finding luxurious materials at decent prices, teak is on the top of the list. As a timeless material, beautiful teak can be used to line your floors with shining, bright wood blended with dark streaks and rich textures that will take your breath away whenever you look at them.
But just because teak is used as one of the gold standards of hardwood flooring and furniture, doesn't mean it is the perfect material for your home or your project. There are a lot of things that need to be considered before you can make that final decision.
So, the true question is: to teak, or not to teak? Taking a look at the biggest pros and cons of teak floors may give you an answer.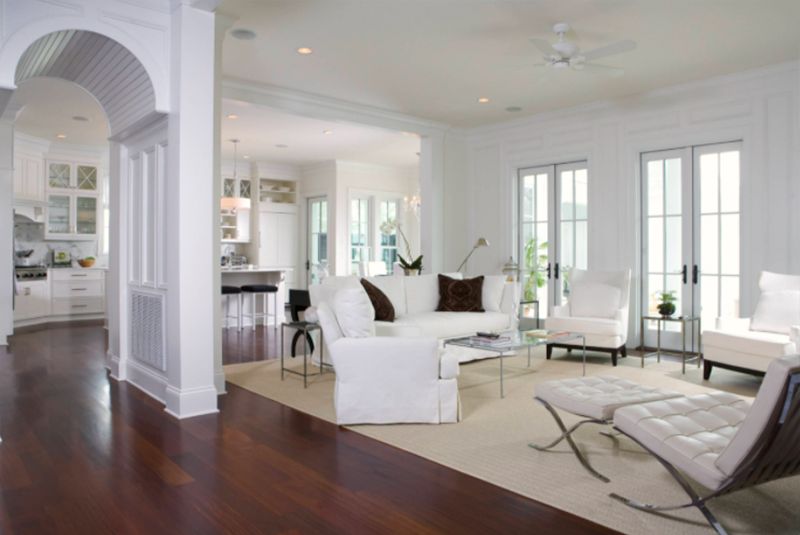 Elegant and sophisticated dark wood floor for this traditional living room.
What Is Teak Flooring? Types Of Teak Wooden Flooring In The Home
Teak flooring, also known as teak hardwood flooring, is one of the most popular types of hardwood flooring options that you can find in almost every hardware or construction store. The flooring is named for the tree it came from: the teak trees of Southeast Asia. Teak is also known to grow in parts of South America, where the wood gets richer and more beautiful over time.
South American teak is also known as Brazilian teak flooring, and it shares many of the same qualities with standard teak flooring. It is typically a little lighter in color, although it lasts just as long.
Although it is categorized as a hardwood flooring, teak actually is softer than some other hardwood options. It isn't as hard as oak, but many would argue that it has much more unique coloring. Not to mention, teak ages extremely well – your hardwood teak floors would only become more and more exuberant over time.
Ask any home design or construction professional, and they will tell you: teak is a true star. You can wow your neighbors and your family just by displaying the visual prowess of this rich wooden floor. But that doesn't mean it comes without any flaws. There are a few particularities about teak that may take it out of the running when you're deciding which wood to go with.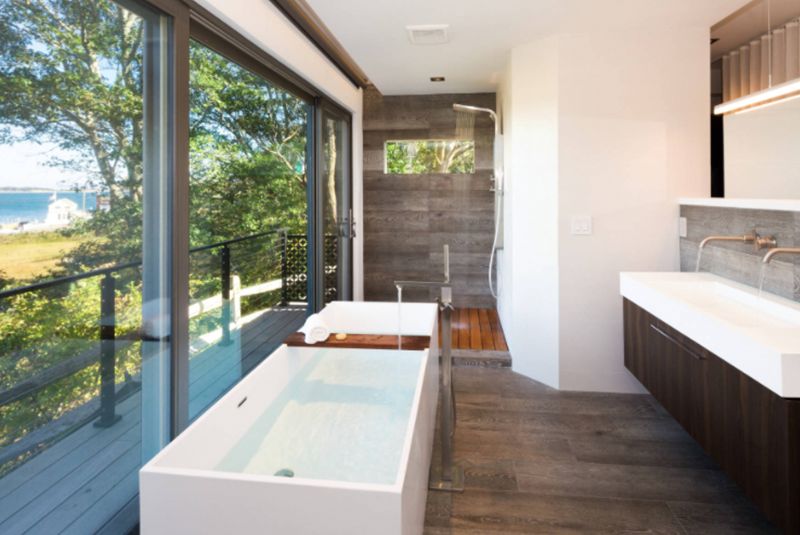 Gorgeous bathroom with floor to ceiling windows and amazing views.
Teak Wooden Flooring: The Pros
Starting off on a good note, there are many qualities of teak that make it a hot-ticket item across all markets. It has rarely left the top of the list in terms of popularity, and for good reason, too. Below, you'll find a list of the biggest pros of teak wooden flooring that can help you make a more informed decision.
Durability
By far, the number one trait that makes teak wooden flooring so popular is its strength. Teak hardwood floors are some of the strongest on the market, and they don't deteriorate or weaken over time. In fact, many homeowners enjoy the fact that teak flooring can last a lifetime, so generations of residents can be awed by the beautiful rich coloring of the wood.
Water Resistance
Teak is a naturally water-resistant wood, making it really easy to deal with in every room of the home. This just opens up more possibilities for flooring in spaces you never thought you'd be able to have wood floors, such as the kitchen or bathroom. It is impossible for teak to absorb water, so it will never be prone to rotting or deteriorating.
Insect Resistance
Just like water, insects also can't seem to burrow their way into teak hardwood. It's such a dense wood that it doesn't make for a good home for bugs that typically like to eat their way into the wood.
Not to mention, teak produces its own natural oils and smells, which to us just smells like wood, but to an insect it smells like something very uninviting, scaring the critters away.
Lasting Finish
Since teak produces a lot of its own oils and lubricants, the wood is already very shiny and sleek before you even put a finish on it. Technically, no treatment is even needed on this kind of wood. It is naturally shiny, so you can skip the sealer altogether if you want a more natural look. This is also a great way to save some money on your renovation projects in the long run. It still takes to finishers well if you do decide to treat it with a finish.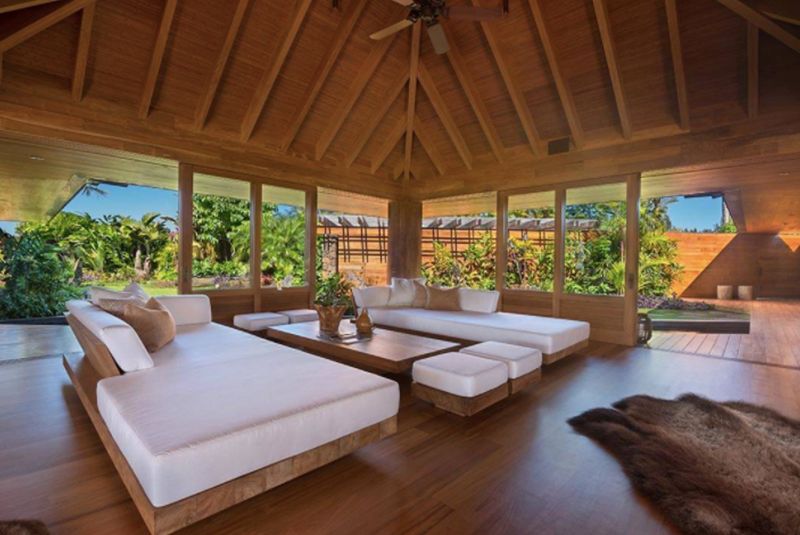 Serene and peaceful tropical living room with medium tone wood flooring.
Teak Wooden Flooring: The Cons
Teak has a lot of wonderful qualities, but there are a couple of drawbacks that may not be for everyone. The following disadvantages are good things to be aware of so that you can consider all angles when choosing the right hardwood floor for you.
Cost
Unfortunately, teak hardwood floors do come with a bit of a price tag. The biggest reason for its high price is because most teak must be imported into the U.S. from across the globe, since most teak trees that produce hardwood come from Asia. Labor and shipping costs play a huge role in the final price of teak hardwood flooring. Being such a good-quality wood, it's no surprise that it doesn't come cheap; but make sure to take a second look at your budget to determine whether teak flooring is financially feasible at this time.
Environmental Damage
Several environmental protection groups have been fighting against the heavy cutting and manufacturing of teak hardwood due to the fact that there are two species of teak trees that are endangered. While not all types of teak are endangered species, there are some that are illegally cut down and sold for varying prices.
If you are concerned whether your teak hardwood came from an endangered tree, just make sure that you are getting certified teak from your manufacturer. The best way to tell if your teak wood is certified is to look for the FSC certification on your purchase receipt. You can find more information about certified hardwoods here.
Maintenance
It is very possible to install teak flooring without any kind of sealant, but its natural oils can dry out over time. You will need to get it oiled every so often so it can remain pristine and shiny. There is a special teak oil that you can get that will allow you to re-oil your floors every 2-3 years. Thankfully, it's not something that needs to be done often, but it is quite a chore when the time does arrive.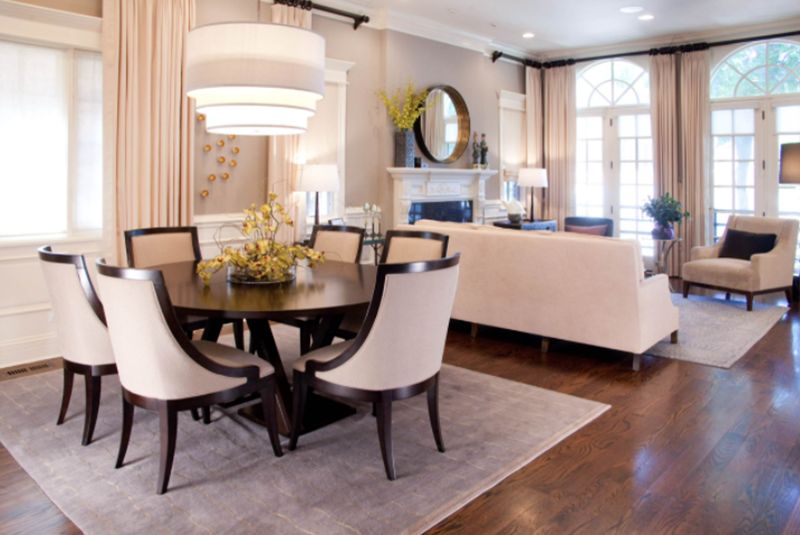 Urban sophisticated dining room with elegant furniture.
Wood Floors In The Kitchen: Pros And Cons
Thinking of installing teak hardwood flooring in your kitchen? Teak is probably one of the best woods for the job – but that doesn't mean it is a perfect choice. There are a few more factors you need to consider before you can decide whether teak hardwood flooring is something that belongs in your kitchen.
Wood Floors in Kitchen Pros:
Hardwood in the kitchen can increase the value of your home.
You can refinish it to achieve the look you want or leave it natural and soak up its brilliance.
It is warmer and often softer than having a tile or linoleum floor.
Teak does not soak up water so you can have a long-lasting hardwood floor in the kitchen.
Wood Floors in Kitchen Cons:
Teak flooring is higher maintenance when compared to tile or linoleum flooring.
It can be difficult to install in an already fully-furnished kitchen.
Teak flooring often costs more than other flooring types, especially in the kitchen.
You should work with a professional remodel consultant to determine whether hardwood teak flooring is the right choice for your kitchen.
Cleaning Your Unfinished Teak Hardwood Floors
You only need to worry about giving your teak flooring a good oiling every few years, but what about general maintenance needs? When you're performing house chores, there's a certain way you should go about cleaning your unfinished wood. Unfinished teak flooring is great for providing a rich and rustic look, but you need to be sure to take care of it the right way or else all of those expensive natural looks will wear away.
Follow these simple steps to correctly clean your teak flooring:
Get rid of dust and dirt particles. Before you can do anything else, you need to make sure the floor is properly swept, dusted, and vacuumed. This isn't the most fun part of doing chores, but it is absolutely necessary for preserving the quality and deep coloring of the teak wood. You should clear the floor of dust and dirt at least once per week.
Invest in mineral spirits. Mineral spirits are natural substances that can easily be used on unfinished hardwood flooring. It is a good general cleaner as well. Since there are no abrasive chemicals in it, you can just spray it or put it on a rag and wipe down your floors.
Sand the stains out. One of the biggest advantages that teak flooring has over other types of hardwood is that you can directly sand the stains out without having to worry about ruining the finish. This means that whenever you get an unfortunate stain, you can use a sander on it to work the stain out.
Acacia Vs. Teak: What's The Difference?
Much like teak, acacia is also an exotic hardwood that makes a really popular flooring choice for homeowners in the United States. In some cases, acacia and teak are interchangeable – at least to the average remodeler.
While teak hails from Asia, acacia can be found mostly in Australia and Hawaii. There are many similarities between the two, and they both make for good hardwood and furniture materials.
There are, of course, a few differences:
Acacia is slightly more common than teak, although they typically both come from the same exclusive lumber yards.
Acacia is reddish-brown, while teak is a darker brown color.
Acacia does not darken as it ages.
Acacia wood can take stains a little better than teak wood can.
Acacia must be finished with a top coat, whereas teak can be installed unfinished.
Most of the acacia wood flooring and acacia wood furniture pros and cons are similar to those of teak wood. The biggest difference between the two, however, lies with its price. Acacia is only half the cost of teak – sometimes even less. That does not mean it is a lesser-quality wood, but acacia is more similar in color and style to many other hardwoods than teak is.
Most people seek the natural, rustic warmth of teak wood in comparison to the red hardwood of acacia. There are even differences in its grooves and patterns: acacia has swirls and waves, while teak consists of dark streaks and deep grooves.
Both teak and acacia hardwood flooring can be used throughout the home, in just about any room you can think of. It is also possible to invest in quality furniture out of these two woods, but again you must consider the pros and cons. Teak is not often something that falls within the average budget, but there are certainly ways to make it work. Opting out of a finish is a great way to keep costs on budget while being able to enjoy the exclusivity and exoticness of this wood.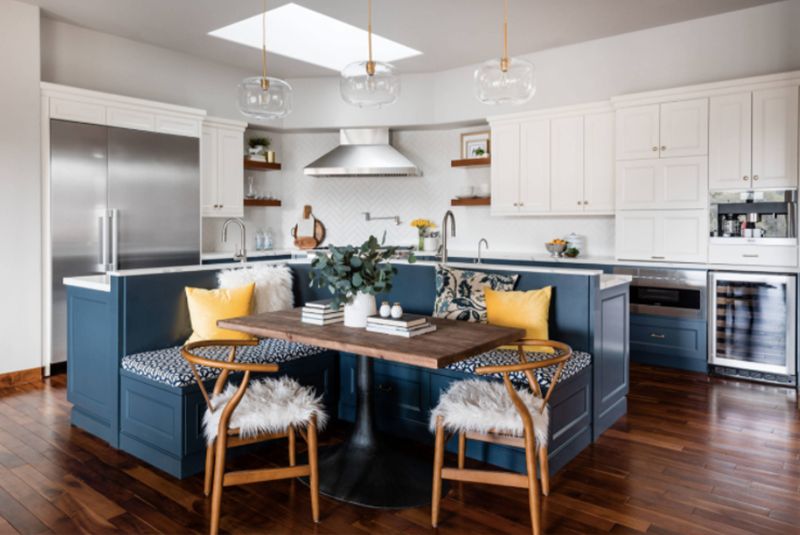 The dark wood floor blends well with the yellow and blue colors of the dining room.
Teak Flooring: Final Thoughts
Are you thinking of installing teak flooring in your home? Have you lined up a contractor or a manufacturer that you can trust to provide you with quality hardwood? Remember that there are some maintenance needs that come with this kind of wood, especially if you aren't finishing your teak with any kind of sealer.
One reason why teak has held onto its high price tag over the years is because it is so highly sought-after and so self-sustaining. Whether you are considering installing teak wood throughout your entire home, or just in a specific room, it is sure to be a show-stopping addition to your house. You'll enjoy the dark, rich colors and ageless rustic quality that will never wear out over time.
If you need more help deciding whether teak hardwood is right for you, or you need more guidance figuring out your budgeting needs for your next remodeling project, check out our free ebook: Remodeling 101: A Free Homeowner's Guide. In it, you'll find ideas for planning and designing the home of your dreams. Learn the right questions to ask and find the best places to get answers!
Other Great Articles to Read: