It has always been fascinating when people cozy up in a stone fireplace in their living rooms. Having this installed in your modern farmhouse living areas will involve a huge ton of planning and actual work but all the efforts will be worth it once this renovation has been carried out. Whether this fireplace will be big or small, this will be a noticeable change when you walk into your room. So you better pick the right material that will make this standout feature worth it.
There are various materials that you can choose from but using natural stones will be your best option because of its timeless appearance. As it is bound to draw eyes from anyone, making it with the utmost regard for its appearance will be a good starting point in working out a design plan for this project.
POLISHED
A stunning floor-to-ceiling stone fireplace by Christian Dean Architecture LLC with a raised hearth and a wooden mantel, accompanied by built-in shelves and cabinets.
MOSS ROCK
A large stone fireplace by JLF & Associates Inc with a raised hearth and a wooden mantel, flanked by built-in cabinets and shelves with glass doors.
HARLOWTON
A unique round-stone fireplace by Peace Design with a wooden mantel is located in a cozy seating area surrounded by beautiful wood paneling.
ELDORADO STONE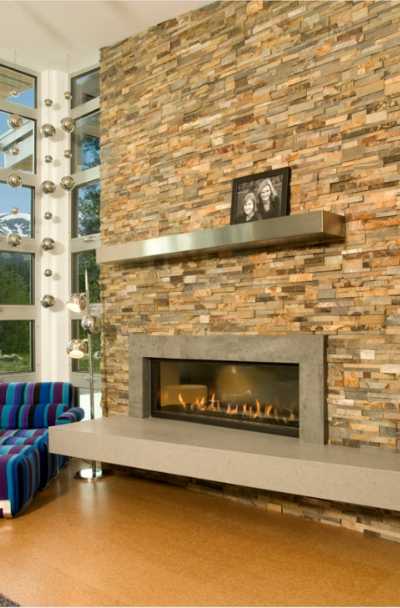 A stunning stone fireplace by Allen Guerra Architecture with a raised hearth and a white wooden mantel, accompanied by built-in cabinets and bookshelves.
CAMBRIAN BLEND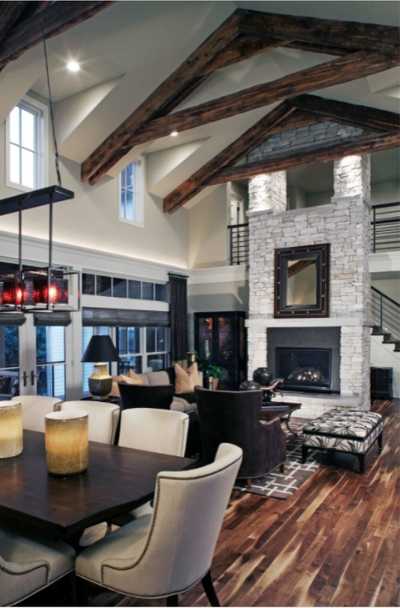 A beautiful stone fireplace by Curt Hofer & Associates with a sleek black metal mantel, accompanied by built-in cabinets and shelves with glass doors.
CONCRETE PANELS
A rustic yet still modern stone fireplace by Ward Young Architecture & Planning with a raised hearth and a wooden mantel, surrounded by natural wood paneling and a reclaimed wood accent wall.
Why use natural stones?
When fall starts most families like to get cozy next to a roaring fire and if you want to recreate that comfort within your own living room, it will be best to get fireplace ideas from blogs of interior design experts. One option that you can never skip when building beautiful fireplaces is the use of natural stone. It is simply the most elegant and durable material around that can enhance your front yard fences as well as your living areas and room interiors. It has the ability to retain heat compared to other materials that you can use for this project.
Heat Retention
Fireplace stone should absorb, store, and radiate heat. Aside from being a focal piece of your interior, your fireplace should provide warmth. It is its main function so choosing a natural stone which can improve the efficiency will make your fireplace very useful. The warmth of the fire should radiate throughout your living space and this is made easier by the stones. Marble and limestone are quite good with heat absorption, while granite on the other hand is very useful with heat conduction. You can also use basalt and soapstone because they are particularly good with heat storage over a long period of time.
Long-lasting
Rustic fireplace designs are often built with natural stone because the facade is not easily outdated. Classical looking fireplaces made from stones are still extraordinarily long-lasting up to date. Even ancient buildings around the world will have a stone or two that survive while other construction materials fade and rot away. If you want to save more when constructing a fireplace, look into natural stones because they can last many lifetimes without losing their luster. If you want something that weathers beautifully over time, picking up a limestone for your project will be the perfect answer.
Affordable Upkeep
When you have a stone fireplace in your living room you will not have a headache with its upkeep because it is exceptionally easy to maintain. You can simply give it a wipe with a cloth every now and then to keep it looking new, no need to call in a team of cleaners. However, if you have a marble fireplace, you might need to seal the material because soot and dirt might settle in. Sealing the marble will not cost you a lot and it can over the years. So regardless of the stone that you will be using for your living room enhancement project, you will spend more time enjoying it rather than trying to maintain it.
Durability
A fireplace design made from natural stone is known for being practically indestructible. It can be easily used to decorate your covered patios because of its ability to handle the normal wear and tear without falling apart. Stones are extremely resistant to water damage and mold so you can be assured that your fireplace will stay durable for a long period of time. When it is time to update your old brick fireplace or if you want to build a new one, natural stone will be your greenest choice because of its durability.
WHOLE WALL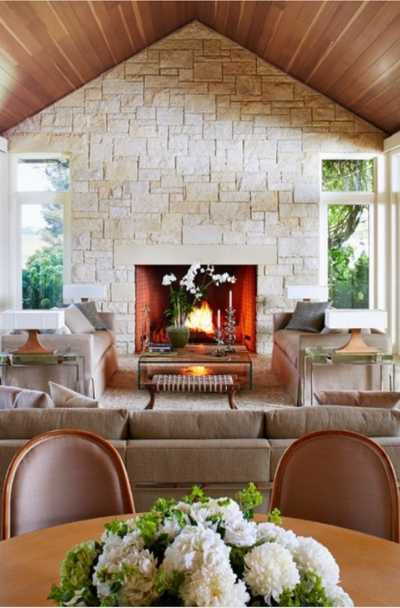 A beautiful stone fireplace by Andrew Flesher Interiors with a white wooden mantel, is located in a cozy seating area with a built-in bench and shelving.
Stone Fireplace VS. Brick Fireplace
Whether it's the decorative statement a white stone fireplace adds appeals to you because it creates warmth into your house. Over the years, fireplaces have become very popular additions to homes not just because of decorative effect but also because it adds value to a home, especially when located in the living rooms or master's bedroom. The choice of whether to use brick or stone for your fireplace design depends largely on the first impression that you want to create. However, there are other factors that will ultimately help you decide between these two materials.
Installation
Bricks have consistent shape and size so it will be easier to calculate the number of materials needed for the fireplace. Its geometric uniformity also makes the installation process simpler compared to the random sizes and shapes of natural stones. Since it is easier you can leave the work to one person which can allow you to save labor costs.
The unique quality of stones will make the installation more labor-intensive. You will need to take extra care in choosing the materials because of their shape and size. An additional process of cutting and chipping the stones to fit the other surrounding stone might be needed. Looking for someone experienced with stone installation will make the process easier but might add additional costs to your expenses. The whole installation process can be more expensive than when constructing a brick fireplace but you can choose domestic types of stone to lessen it.
Costs
Brick materials are far less expensive than natural stones. But if you will be using reclaimed bricks for a more vintage effect it will be more costly than using new brick. If you really want to achieve a more rustic looking interior, you can use bricks from your old brick walls at home. Bricks are sold by the unit while natural stones are sold by weight, so you will end up paying more when you buy natural stones. Even the variety of mass-produced cast stones are more costly than bricks, but you might be able to save some bucks because they are less expensive than natural stones. These manufactured stones are lighter and its size and shape are more predictable so installation can be a bit easier. If you really want to use stone for your fireplace this material will serve as a good alternative for you.
Although you will pay more when you choose a stone fireplace over brick, this can last for years which is a good investment because it will add more appeal to your house in the event that you decide to sell it.
STONE & STEEL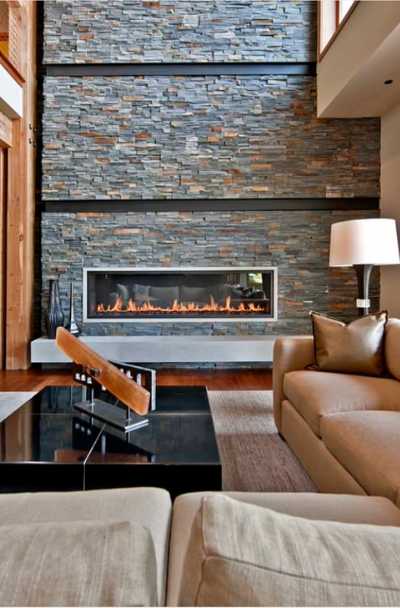 A stunning stone fireplace by Six Walls Interior Design with a raised hearth and a wooden mantel, surrounded by beautiful wood paneling and a reclaimed wood accent wall.
CRAFTSMAN
A unique stone fireplace by Cornerstone Architects with a sleek brown metal mantel, located in a contemporary living room with a built-in TV and modern furnishings.
DARK RUSTIC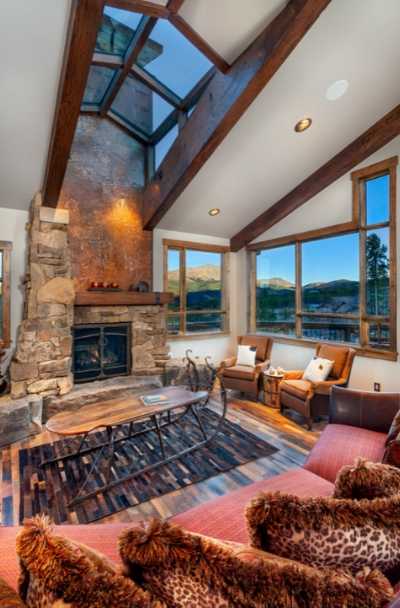 A beautiful stone fireplace by Pinnacle Mountain Homes with a sleek black metal mantel, surrounded by natural wood paneling and a reclaimed wood accent wall.
Appearance
Choosing between using stone or brick for your fireplace always starts with the design factor. Both materials are able to exude an air of warmth to the room but the stone's edge over the use of brick is its natural aesthetic. It gives the room an atmosphere of oneness with nature especially when the house is located in a place closer to nature.
Homeowners who want to achieve a more contemporary interior will often settle with bricks because of its wide variety of colors and textures. This variety allows the designer a lot of opportunities to enhance any type of room interior so you can also use it for any classic or traditional houses. The trickier part of designing a brick fireplace will be its standard sizes and limited patterns, this factor will challenge a person who desires to exhibit his personality in his home interior. On the other hand, natural stones can easily blend into a room's decor because of its closer to natural shades.
FINAL THOUGHTS
Natural stone or cast stone is definitely a material that you can use for your fireplace. It can also be used in beautifying other parts of the house like porches and patios. It will make your fireplace design turn in a grander way and make it acquire more character. May it be made from granite, marble, travertine, slate, and limestone, your fireplace will look great beyond the years as long as you are able to properly maintain it.
When deciding on the material for your fireplace, consider the effect that the installation will have on the overall atmosphere of the room. Go for materials that are of high quality to save more money in the long run. Never attempt to do it by yourself unless you are a professional because problems might arise in the middle of doing the project, this situation will cost you more than hiring a professional from the very start. The long term effect of the stone fireplace into your house will carry on memories of warmth and family time so consider it as one possible renovation opportunity that you can do in the future.
Other Great Articles to Read: