When contemplating staircase lighting, the style of the staircase, development, and preferred effects are the crucial elements to think about, along with the texture and finish. A staircase is the main spine of your house, linking people and spaces together. It should be sculptural and functional, and staircase lighting is able to make a genuine difference. In many instances, lighting on staircases is not solely a decorative theme. Additionally, it serves a real function with regard to safety. Allow us to share our 23 stairway lighting ideas to inspire you for your house.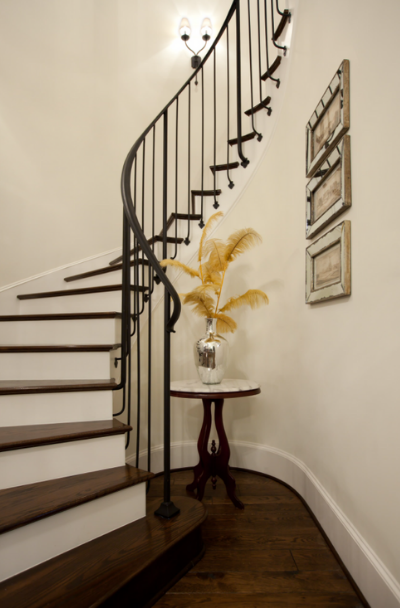 This stairway lighting design by Duckworth Interiors features recessed LED lights along the steps, creating a subtle and contemporary illumination. The warm glow highlights the beauty of the staircase while providing a safe and inviting ambiance.
In this stairway lighting idea by The Anderson Studio of Architecture & Design, pendant lights hang at varying heights above the staircase, adding a touch of sophistication and creating a captivating visual display. The combination of the suspended lights and the cascading staircase exudes elegance and creates a focal point in the space.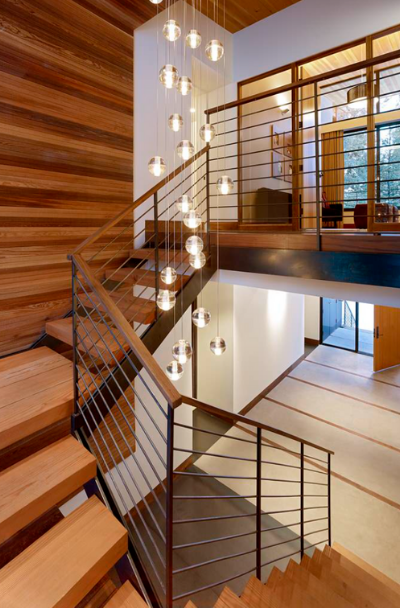 This stairway lighting design by John Maniscalco Architecture showcases wall-mounted sconces placed at regular intervals along the staircase, providing soft and atmospheric lighting. The upward illumination emphasizes the architectural details of the stairs and adds a warm and inviting glow to the area.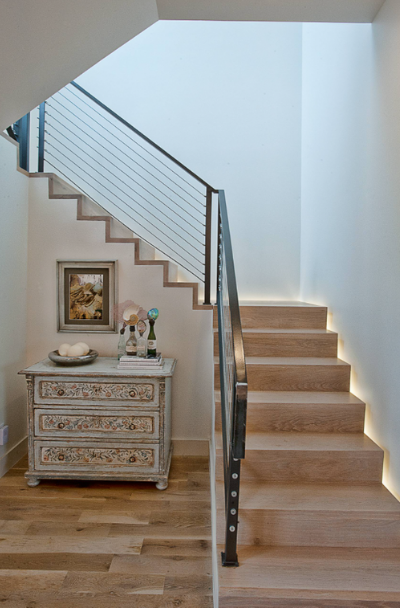 This stairway lighting idea by Cornerstone Architects utilizes recessed lights positioned at intervals on the wall adjacent to the staircase, creating a linear and symmetrical lighting arrangement. The subtle illumination highlights the architectural features of the stairs and adds a touch of elegance.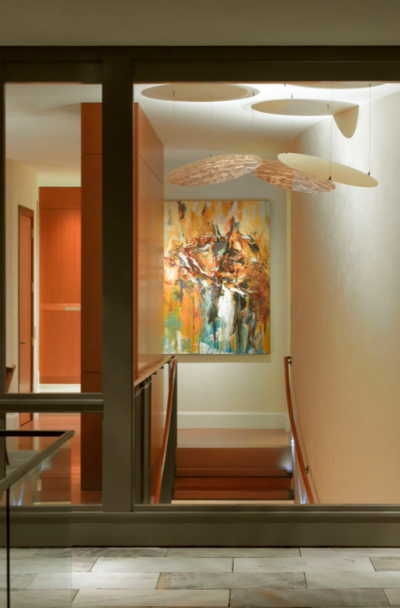 In this unique stairway lighting design by Sutton Suzuki Architects, small recessed lights are embedded into the steps, creating a dramatic and visually captivating effect. The individual illumination of each step not only ensures safety but also adds a modern and artistic touch to the staircase.
LED LIGHT BARS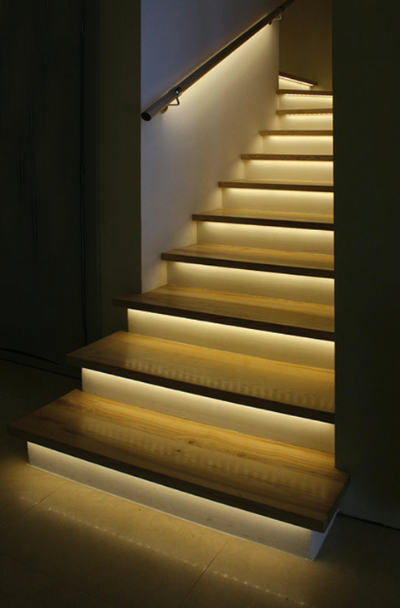 This stairway lighting concept by Super Bright LEDs features a combination of recessed lights and wall-mounted sconces, creating a layered and dynamic lighting effect. The interplay between the different light sources adds depth and visual interest to the staircase.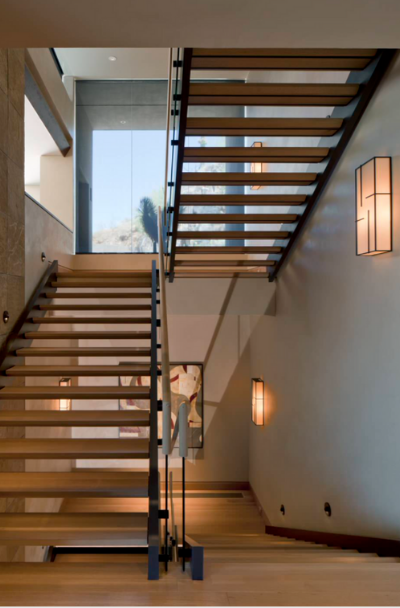 This stairway lighting design by SWABACK pllc utilizes pendant lights with intricate and decorative designs, hanging at different heights above the staircase. The combination of the ornate fixtures and the cascading stairs creates a visually stunning and enchanting atmosphere.
Importance of Stairway Lighting
The stair lighting is often ignored with regard to designing the interior. Undoubtedly, you may have gorgeous lighting in the hallway as well as on the landings. However, in case you are not concentrating on the stairway itself, you might as well drop all of the attractions. In particular, stairwell lighting is a useful and functional addition. In case you enhance the stairwell with innovative lighting and give it a lot of attention, it is able to bring life to your house. In the evening, in case you would like, you are able to make your home a marvelous place with the proper staircase lighting design. Indeed, you can transform the problematic areas into a quick highlight with the best nighttime landscape. Needless to say, including lights in the steps isn't just about adding highlights within your design, but it is additionally a safety measure.
The stairwell inside or outside your home can make a first impression. Consequently, you have to ensure they are fantastic enough to steal the show. Frankly, it could be as easy as adding lights on each step. But in case you want to take it to another level, you are able to make each step the focal point. Simply ensure the lighting provides interest and also make sense of design to space. In case you pull this off the proper way, this will make your stair look a lot more extraordinary.
In the evening, when you need to go down and you have to use the stairs, stair lighting can avoid possible mishaps or accidents. Aside from providing your stairs a dramatic effect, the lighting will save you from the trouble of having to look for the light switches before you can go down or go up. This is a safety feature, especially if you have kids or pets that are prone to tripping around the house.
LOFT SPACE
This stairway lighting idea by DRAW Architecture incorporates wall-mounted step lights that are recessed into the wall, providing a soft and discreet illumination. The concealed lights emphasize the clean and minimalist design of the stairs while ensuring safety.
TRENDY SPIRAL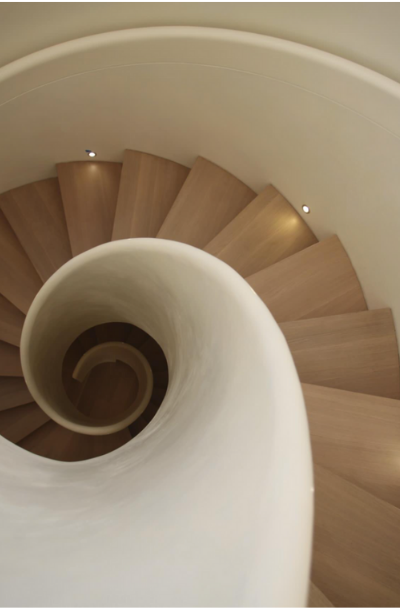 In this contemporary stairway lighting design by Wheeler Kearns Architects, LED strip lights are installed along the wall, casting a linear and uniform illumination. The sleek and streamlined lighting adds a touch of modernity and enhances the architectural elements of the staircase.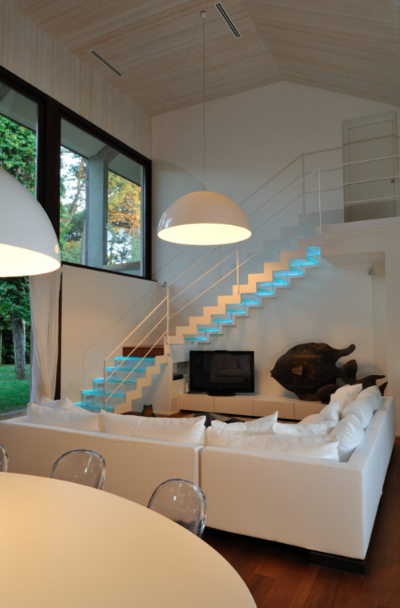 This stairway lighting concept by Tollot&C LLC. features a combination of recessed lights embedded into the ceiling and wall-mounted sconces, providing multi-directional illumination. The layered lighting design creates a balanced and visually appealing effect.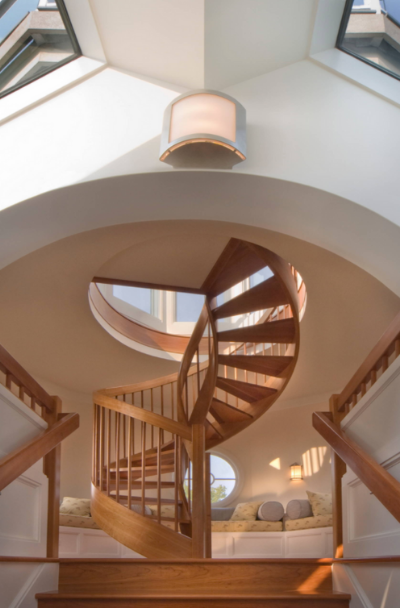 In this elegant stairway lighting idea by DesRosiers Architects, a grand chandelier hangs from the ceiling above the staircase, illuminating the space with a dazzling and luxurious glow. The chandelier becomes a focal point and adds a touch of glamour to the staircase.
Add Wow Factor On your Home With Stairway Lighting
With regards to interior design, homeowners usually overlook the staircase lighting. And truthfully, we cannot blame them. With so much to think about, such as wall designing, selecting the appropriate home furniture, accessorizing the home, room lighting, and so on, it's possible to slip up on stairway lights. In reality, the majority of individuals are not aware of the value of stairway lights. While it's a contemporary idea to light up the stairs, it's full of outcomes that are incredible. For starters, quality lights along your stairway reduce your odds to fall while climbing up the stairs. Apart from its remarkable feature, additionally, it helps uplift the visual appeal of your respective interior.
To light the stairs during the evening additionally gives a wow factor to the home, making it seem to be much more brilliant and shiny. In case you're getting several guests over, flipping on the indoor stair lights will include lighting to the home, rendering it effortlessly stylish. Your stair lights will even stay to function as the center of attention, and they would not stop praising the appearance of the illuminated space.
You are going to be happy to discover that you can find many types of interior stairway lighting choices to select from. Looking for each one of them on the Internet may be taxing and time-consuming. For your utmost convenience, we've developed a comprehensive list of all the popular kinds of staircase design ideas that are really worth your attention. Thus, have a glimpse at them and select for yourself what type you would like your interior designer to design for you!
BOLD COLOR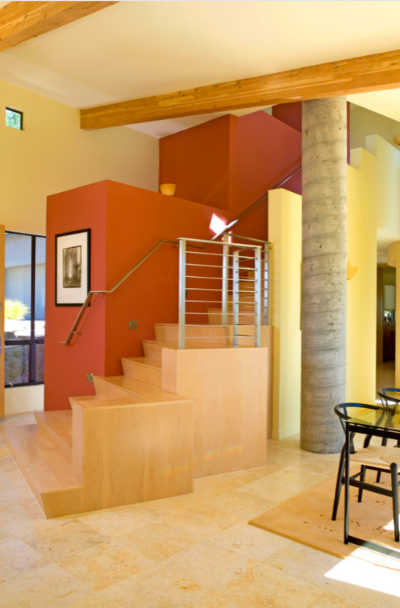 This stairway lighting concept by Elad Gonen features pendant lights with sleek and cylindrical designs, suspended at varying heights above the stairs. The artistic arrangement of the pendant lights creates a dynamic visual display and adds a touch of contemporary elegance.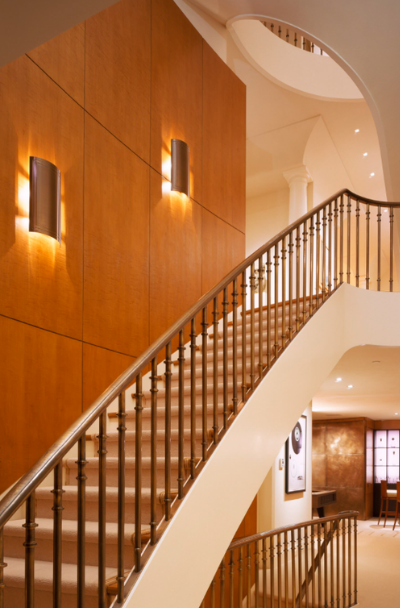 In this unique stairway lighting design by The Wiseman Group Interior Design, Inc, LED strip lights are installed along the handrail, providing a subtle and practical illumination. The linear lights not only enhance safety but also add a modern and sleek aesthetic to the staircase.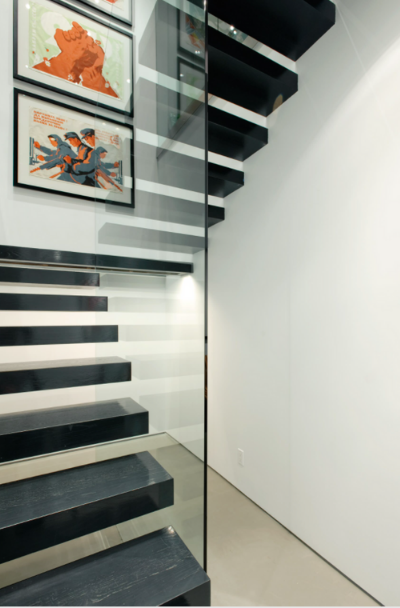 This stairway lighting idea by Dyna Contracting incorporates recessed lights that are installed on the wall adjacent to the staircase, casting a soft and indirect glow. The wall-mounted lights create a visually appealing lighting effect and accentuate the architectural features of the stairs.
Modern Ideas For Stairway Lighting
According to your personal preference, the lighting fixtures can be as large as brick or even as small as a dot—everything depends on how much you would like your stairway to bask in the gorgeous light. The shape and size of the light for the staircase are completely up to you. If you're girly and dreamy, think about getting gorgeous star-shaped bulbs on your staircase wall. It's likewise crucial to determine the color of your lighting fixtures. It's not a requirement for your stairway lighting to give off normal, boring white, or maybe yellowish beams. If perhaps you're an enjoyable, adventurous individual who does not avoid tinkering with new and refreshing stuff, then LED color changing lighting choice is right for you.
Having little colorful lights on the edge of your staircase is a refreshing change from the traditional lights. Additionally, your stairway will not be overhauled with colors, which implies that it will not look over the top either. This is the type of lighting solution which may be integrated right into a stairway design by anybody that wishes a spectacular, but subtle change in their staircase. Another smart and modern approach to jazz up your staircase is by setting up light strips along each and every step. It's the type of light that looks fantastic on all kinds of staircases, whether straight stairs, or straight stairs with a central landing, U-shaped stairs, L-shaped stairs, or maybe spiral stairs. Nevertheless, it is going to be very easy to connect the lighting fixtures in case there's a significant gap between the lower level part of the step along with its straight, vertical part.
In instances where staircases don't have sufficient flat space to set up the light, you can consider placing them at the bottom base of each step, which links to the next. This type of tip is going to work best for staircases like U shaped staircases and spiral stairs. Remember that the chunkier the stairs, the softer the light glows. Whenever the steps are closer to each other, the light of every step intertwines together and could wind up creating an overly-bright atmosphere. To make sure that your stairs give off a light glow, purchase warm-hued lights.
DIY Under Stair Lighting
Under stair lighting is a versatile and cool method to light a high traffic location in your house. This part is going to take you step-by-step through under stair lighting installations using LED stair lights. Before you start, in case you wince in the face of electric current or maybe wince at the idea of wiring, your greatest choice is leaving the particular installation in the hands of an experienced electrician. Using LED strip lights for staircases is a matter of choosing the best type and length of tape light you would like, wiring everything together, while at the same time concealing the cables and energy sources.
The easiest way to light your stairs is to use a continuous length of 12-volt strip lighting for stairs so long as the entire length of the LED strips as well as the wires on the driver is 16 feet or even less; you are able to actually utilize 24-volt strip light for an extended run. Nevertheless, in case your staircase is more than 18 feet, you are going to need to split the strip light run between 2 LED drivers to make certain the correct level of power.
You are going to need to determine the places you wish to mount your strip lights. In this manner, you will run a single line of strip light in the bottom of your railing, beneath the little lip of molding, or maybe for stairs with floating or open-air steps, run the lighting fixtures only under the whole staircase. You might have to drill holes or even lift the carpet to hide the cables. The idea is mounting the lighting in a method that the illumination is seen and not the lights.
In case you are able to do one run, peeling off of the backing tape or perhaps screwing in silicone brackets every foot, is probably the most you are going to have to do for assembly. Interconnection cables or even pin connectors may be used in case you want a gap or perhaps in case you have an odd length of the strip light. For runs that have to be split, a driver would be at both ends of the total run; however, the two runs wouldn't be attached. Each LED driver on your strip lights will have to be hidden and also wired to the most practical light switch. When you do not possess a light switch near your stairs, you are going to need to set up one, or maybe you are able to set up an outlet close to the foundation of the structure and wire the outlet for your chosen light switch.
This is an image roundup post, curated to showcase and promote other reputable contracting companies' and their amazing work. To have any of the images removed, please reach out to us and we would be happy to do so.
Other Great Articles to Read: