If you're interested in updating your kitchen, one of the first questions you may find yourself wondering is, "how much does it cost to remodel a kitchen in Naperville?" The answer to this question can vary greatly depending on the specifics of your kitchen-remodeling project.



Of course, if you want to make the most of your kitchen space and maximize your home value, you'll probably want to stick to mid-level materials and finishes. This post will serve as a general guide, providing you with important factors to consider when determining the total cost of your project.
Countertop and Cabinet Materials
The quality and cost of cabinet and countertop materials can vary greatly, so you'll want to decide what types of materials you'd like to see in your new kitchen. In Naperville, the starting point in countertops is "price level one" Granite.  When I say "level one", it refers to the availability of the stone not an inferior quality of the stone.  Granite can range in price depending on where in the world it is mined and how rare the stone is.  If higher-end is what you're going for, then you can't go wrong with manufactured quartz.  These countertops typically cost between $50 and $100 per square foot depending on the level you select, however, they will last much longer and add significantly more value than laminate.
As for cabinet materials, wood is generally the best way to go if you want to create your luxury dream kitchen. Shaker-style cabinet doors are very popular these days.  They come in a variety of wood species and colors. Depending on the cabinet line you choose and other options you want to add, the average mid-level Naperville kitchen cabinet cost can run between $17,000 and $30,000, depending on the size of your kitchen.
Choice of Flooring Material
Flooring is another important aspect to consider when planning financially for your kitchen remodeling project. Because your flooring can extend into other rooms, like your foyer, family, living & dining rooms, this decision can be a very important one.
For higher-end kitchen flooring options, consider durable yet elegant materials, such as hardwood, engineered hardwood, natural stone tile or porcelain tile. Hardwood that is sanded and stained in place is the most common choice for homeowners here in Naperville. Because we use a commercial water-based finish, it tends to stand up to common spills and high levels of foot traffic. A typical red oak hardwood floor may be professionally installed anywhere from $10 to $15 a square foot depending on the finish and the size of the plank you select. (2 1/4″ wide planks are still the most popular.)
Need for Wall Removal
Last but not least, you'll also want to factor in the associated costs of moving or removing any walls to expand your existing kitchen space. One popular step many homeowners are taking when remodeling their kitchens these days is that of removing walls to create an open floor plan, which opens the kitchen up to the living and dining spaces of the home. Open floor plans are in very high demand among today's buyers, so remodeling to create an open floor plan can add significant value to your home.
The cost to create an open floor plan kitchen will vary greatly depending on how many walls need to be removed, if there are any mechanicals inside the wall that need to be rerouted and whether or not any of those walls are load-bearing. If you want to remove a load-bearing wall, a new support beam will need to be installed, which can add thousands of dollars to the cost of your project overall.
Tile and Backsplash Materials
Don't forget to add a stylish backsplash as part of our remodeling project, if you don't have one already. There are many material choices now that will fit any budget.  Anything from ceramic to marble, glass to travertine or even metal.  Subway tile is a very popular option because it's both trendy and practical, providing easy cleaning for those splashes and stains while cooking. Depending on the dimensions of your backsplash, you can typically expect to spend a few hundred dollars on tile material.



These are just a few of the most important cost considerations to keep in mind when you plan for your kitchen remodeling project. By going with higher-end materials and creating an open floor plan, you can add significant resale value to your property.
For more information or assistance with your next remodeling project, feel free contact us to speak with a professional today.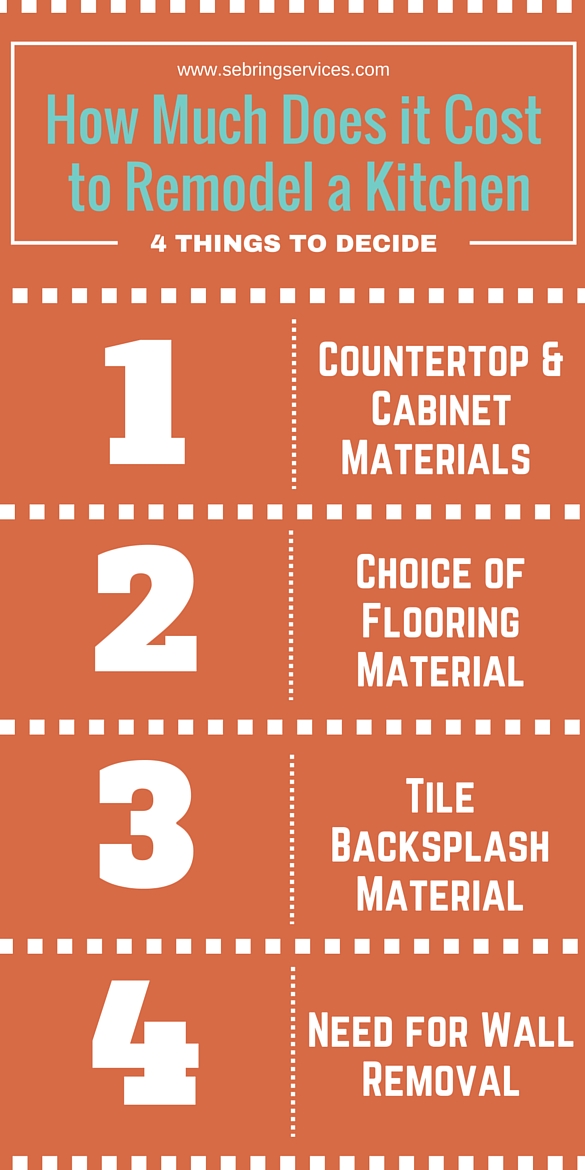 Share this Image On Your Site