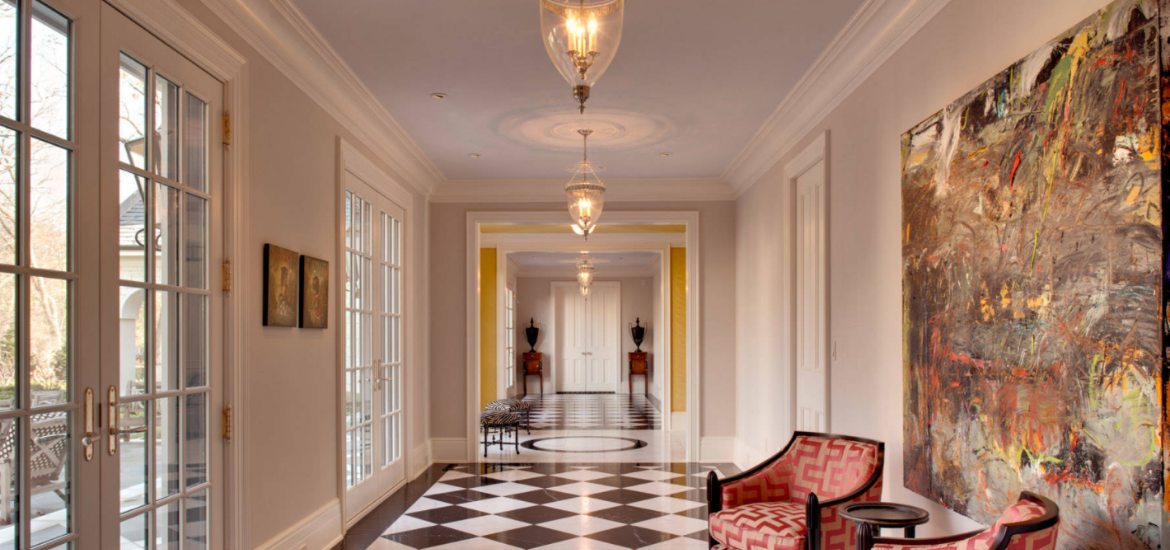 Mixing up hallway lighting design ideas is crucial to getting this particular area right. We have to admit the fact that hallways are often neglected when it comes to decorating a house. We want to change that so that you can experience the glorious effect lighting offers to your hallway. Upon seeing our hallway lighting design ideas, you will know how good lighting could brighten even your house's tiniest room.
A large, multi-tiered chandelier adds grandeur and sophistication to this elegant hallway by Cameo Homes Inc. Hallway painted in Coventry Gray with lighting design by Lighting Design-Mike King.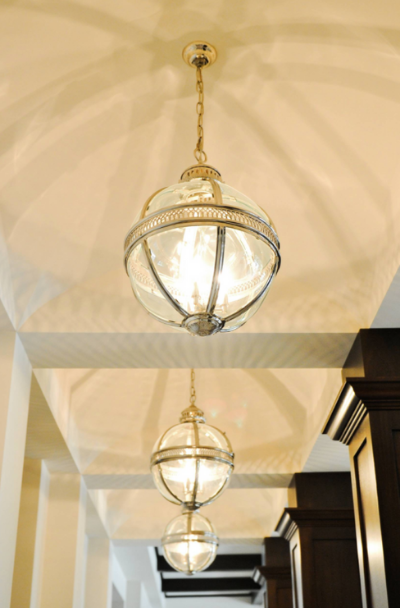 This contemporary hallway by tuthill architecture features a pair of slim, minimalistic pendant lights that create a clean and unobtrusive look. Three light pendants with distinctive hanging fixtures represent an updated styling of a classic glass globe lamp.
TRENDY
A trio of oversized globe pendant lights creates a statement piece in this eclectic and stylish hallway by Rosewood Custom Builders.
MONARCH
This rustic hallway by M. Elle Design features a chandelier made from antlers, adding a touch of natural charm and character. Large hallway design with white walls and a custom-made light by Elle Décor.
LOFT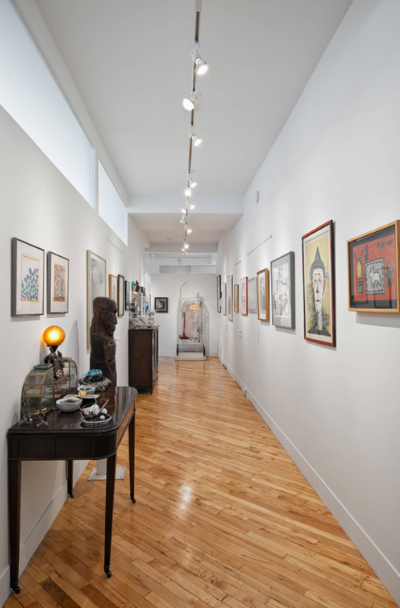 A cluster of unique pendant lights creates a sculptural effect in this minimalist hallway by Virtus Design. Contemporary medium-tone wood floor hallway with accent lighting to showcase the art collection.
FARMHOUSE
This contemporary hallway by M. Barnes & Co features a large, circular light fixture with a unique metallic finish that adds a touch of glamor.
Things To Consider For Hallway Lighting
Whether you've got a dark hallway that will require an inventive lighting option or in case you're searching for an elegant statement light to become a focal point of your room, we've got you covered. Check out our hallway strategies in case you are searching for new inspiration and in case you're a newbie at hallway design. First, consider including pendant lighting for a hallway with higher ceilings, and do not be fearful of a remarkable chandelier if you find it working in your room. Wall-mount sconces are often utilized besides the hallway ceiling lights for better-layered lighting and more style. It is time to step into the corridor and adopt the possibility of adding one more impeccable level to the home's look.
Along with artwork, framed pages, and different accessories, lighting effects will be the key to some welcoming hallway. Plus, it goes without saying that you will find no incorrect choices like any issue pertaining to personal expression. A definite shade that shows off the bulbs will not look obtrusive in a narrow or small hallway. If you would like your apartment or home to feel inviting, it must be well lit. That is very straightforward in most of your house. You place a lamp on your nightstand. But how about the smaller, trickier spaces? For starters, the little available floor space necessitates a specific light type. You cannot just place a lamp in this case. When you have to light your hallway, but want clear pathways, mounted lighting will be your primary option.
An additional hallway lighting challenge would be the hallway's narrow design and style make it feel claustrophobic. Your hallway has to be brightly and thoroughly lit. Or else, it risks feeling very confined. But do not worry. You will find answers to both of these issues. The necessity for maximal free floor space may well push your hand in selecting certain lighting types, but you will still find plenty of great choices. And you can simply fend off that claustrophobic perception by mounting lights at smartly positioned places throughout your hallway.
CLASSIC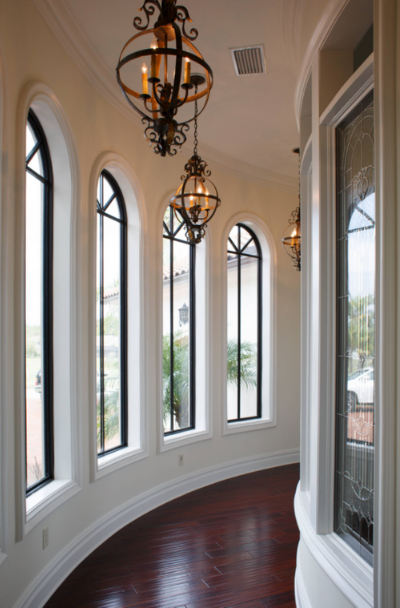 A classic chandelier by CSR Interiors Inc. adds elegance and sophistication to this grand hallway with its intricate details and ornate design.
SKYLIT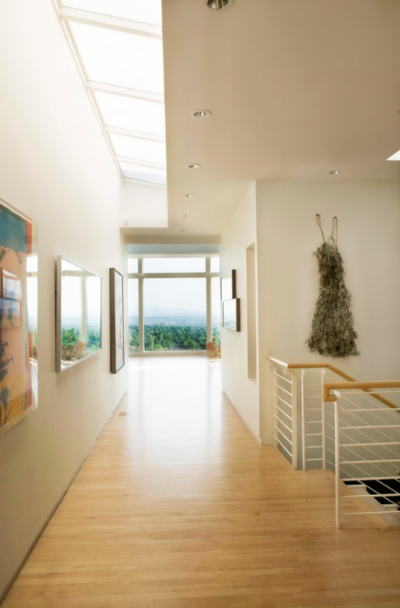 This hallway by hmharchitectsandinteriors features a pair of modern globe pendant lights that make a statement with their simple yet striking design.
MINIMALIST
A sleek and modern track lighting system illuminates this hallway by Dlux Images while adding an industrial-chic touch.
Lighting Your Hallway The Most Effective Way
Most hallways are made to be broad enough to enable one individual to go through them comfortably—without much challenge. If your hallway is broad enough to accommodate a console table, count yourself fortunate. Pendant lighting can make a statement in your hallway. Choose one that genuinely catches your eye and hang it to change what would have been an extremely forgettable space. Pendant lighting is ideal for hallways with ceilings that are high. Or else, a reduced hanging fixture might induce that sense of claustrophobia you are trying very hard to stay away from. You do not always need to rig a thing to the ceiling to light your hallway using wall sconces. When you choose sconces, put them at the top of the wall to bring the eye up and make the room feel open. Stand in both ends on the hall and examine for dark spots. Brighten shadowed areas of the hallway to keep the area feeling open and alluring. That is it! And, sure, your visitors might never notice what a fantastic job you did. However, they will also certainly not feel as they are traversing via a cavern when they are walking on your hallway.
Setting up the best lighting inside your hallway is necessary: it can help individuals see their path and stop some accidents and bumps. To put it simply, getting the best lighting fixture within the appropriate locations can render your hallway, entryways, and corridor as good as possible. For remarkable lighting strategies for these aspects of your house, check our best tips here. Make use of black and gold. Gold and black lighting fixtures are all the rage these days, and the reason for that is it looks great. The blend of matte black and lustrous gold metals can make an excellent example of the correct amount of sophistication lighting can give to a room. Hang it in place on your modern or contemporary style hallway for accent, or maybe to strengthen your industrial-inspired and rustic passageways' appearance.
Think about using pendant lamps with geometric shapes. Upgrade the appearance of your bare hallway ceiling with one smart trick: use shadows. This nifty little method is going to give your ceiling depth with little work on your part. Set up the lighting fixture and you're all set. With different designs offered, the choices are limitless, and the charm is impeccable. Make it sculptural and see-through. To reuse wood and offer life to it through its earlier iteration, you can create a DIY chandelier to fit your rustic style entryways. If you notice an industrial style lamp but not entirely in love with the surface, you can always repaint it to jive together with your respective decor's color pattern.
PIED A TERRE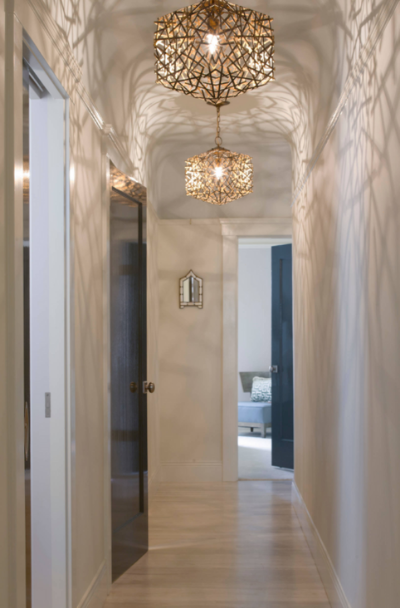 This contemporary hallway by Angela Free Design features a linear light fixture that enhances the sleek and minimalist design of the space.
WHARF
A trio of oversized drum pendant lights adds drama and interest to this chic and modern hallway by Lee Kimball.
RUSTIC LODGE
This hallway by Centre Sky Architecture Ltd features a combination of recessed lighting and wall sconces that work together to create a warm and inviting ambiance.
SPOT ON
Tips For Stylish And Functional Hallway Lighting
Include a statement piece. A very good illustration that a little design can go a long way. Next, let the floor glow. Include LED hallway lights on the ensuing walls to throw light to the middle of the hollowed part and, after that, punctuate it with a plant or a sculpture placed directly in the center. Then add white pebbles and stones for texture. And lastly, if you wish to put in a contemporary vibe, hallway light fixtures embedded on your walls will make an attractive choice, mainly if your hallway is a tad narrow. The number of lights on each side of the wall space will help make your hallways look like a more costly gallery, and thus, artwork, painting, and any other decorative items are stylish supplements.
These are merely several of the excellent choices you can take a look at in introducing lighting to your hallway parts. Naturally, a pair of table lamps, in addition to a console or buffet, is undoubtedly a welcome aspect in any household styling. Make a cheerful and bright hallway with flush mount ceiling lighting. If they are there, lights with dimming abilities can add additional functionality to your room. Create an enchanting patio hallway by suspending fixtures in the middle of the arches which resemble floating orbs. Choose one that improves the home's ambiance by including warmth and character, and make sure you pair it along with other lighting fixtures for best-layered lighting.
A hallway that gives way onto a stairway needs abundant ambient lighting for safety, but that does not mean you cannot choose stylish lights. At the broadest portion of the hallway, get a larger semi flush mount fixture and work with smaller sized fixtures in the same design down the hallway's length for cohesive lighting. For a modern-day farmhouse hallway, pick a pendant light that brings together metallic accents and wood for a homey and rustic vibe. A gorgeous big caged chandelier is an attractive option for an immense hallway with an all-natural or botanical aesthetic.
Choosing The Type Of Lighting
Think about your respective entryway or hallway's dimensions, the level of your respective ceilings, your different lighting options, and the visual of your house to identify the kind, specifications, and a selection of ceiling lights you are needing. And do not hesitate to work with the lighting fixtures to bring style to the hallway. Keep reading for the most practical hallway lighting ideas. While it's a functional part of a house, the hallway is usually ignored during the decorating procedure, particularly when it comes to lighting. Stay away from this direction and maintain the hallway seeming open and airy with the appropriate lighting.
For a household with wall lighting rather than ceiling lighting, sconces stylishly provide lighting. You will find an assortment of hallways wall sconces, like types made of crystal or iron, and sconces that fit traditional and contemporary houses. These light fixtures must be positioned a minimum of five feet above the flooring to offer adequate light. Wall lighting ideas could also be applied to boost existing decor, like paintings or perhaps framed photographs. You can also adjust track lighting to illuminate dark corners or perhaps shine on doorways, particularly. Search for track lighting that will come with a dimmer alternative if you'd want to increase or decrease brightness throughout the region. Chrome and stainless hallway lighting fixtures can enhance several homes, as traditional black fixtures.
Lots of newer homes have recessed baseboard lighting, particularly in the hallway. You might apply recessed lighting to offer adequate lighting in the hallway or use it as an accessory portion for other wall decor or artwork. Since it is lacking the hardware that accompanies many other lighting suggestions, recessed lighting might help the room seem larger. Nevertheless, these kinds of hall lighting fixtures must be equally spaced to avoid looking commercial or harsh. Place lamps around the hallway ceiling to make a warm ambiance.
Let us know if you enjoyed these hallway lighting design ideas and if you used them in your remodeling project. For inspiration, check out our blog and see our wide range of tips and design trends.
This is an image roundup post, curated to showcase and promote other reputable contracting companies' and their amazing work. To have any of the images removed, please reach out to us and we would be happy to do so.
Other Great Articles to Read: