Hallways. You probably don't think much about yours. Often, they're simply a windowless walkway. A straight line, to get from point A to point B. It's not a place you generally linger, like your kitchen island or family room sofa. There's no place to sit down. Nothing to look at. What if instead of a closed-off corridor, it was a gallery, a library or even an architectural highlight of your home? Hallways can do more than connect rooms, they can reflect you, the homeowner.
How they reflect you depends on the size of your hallways and your style, of course. You're not going to squeeze a console table into a three-foot wide hallway, and you're probably going to need more than a few 8×10 pictures if you have a long hallway that's five feet wide. As with any design, you have to consider scale and function along with style. Here are just a few hallway decorating ideas.
Galleries, Sculptures, Bookcases — Oh My!
The most obvious way to upgrade your hallway is to do a gallery wall–a curated collection of your favorite art pieces and/or photographs. You can display them in a modern grid style with matching frames, or a mishmash of frames and sizes for a more eclectic, thrown-together look. Consider highlighting your gallery wall with directional lighting to showcase your favorite artwork or cherished memory.
Prefer a cleaner look, but still want to add style? Custom millwork, creates an architectural feature out of a blank slate. Bare walls become artwork themselves. Creatively worked ceilings draw the eye up.
Flooring & Lighting
Don't forget about what's under your feet. The floor can be a great place to add pops of color and pattern. Wood planks can be shaped into a pattern different from traditional patterns in rooms. Intricately designed runners add warmth and style to the space.
You may be tempted to overlook lighting in the hallway. Most hallways have one, maybe two, standard ceiling lights. Maybe they're flush mount, or recessed, but chances are they're not very interesting. Small chandeliers can add drama to the ceiling. Spotlighting artwork adds interest and directs the eye across the walls. Sconces can also sculptural interest to otherwise bare walls. West Elm is great if you're looking for modern lighting pieces – though try scouring through Pinterest first to get an idea of what you want.
Check out these highlights of hallway ideas. They are sure to inspire.
LOOKING UP
A clean, contemporary hallway is given warmth through rustic wood beams, helping to balance the space. The bright and natural motif of this hallway design by M. Elle Design makes everything appear welcoming and cozy.
TOP TO BOTTOM BEAUTY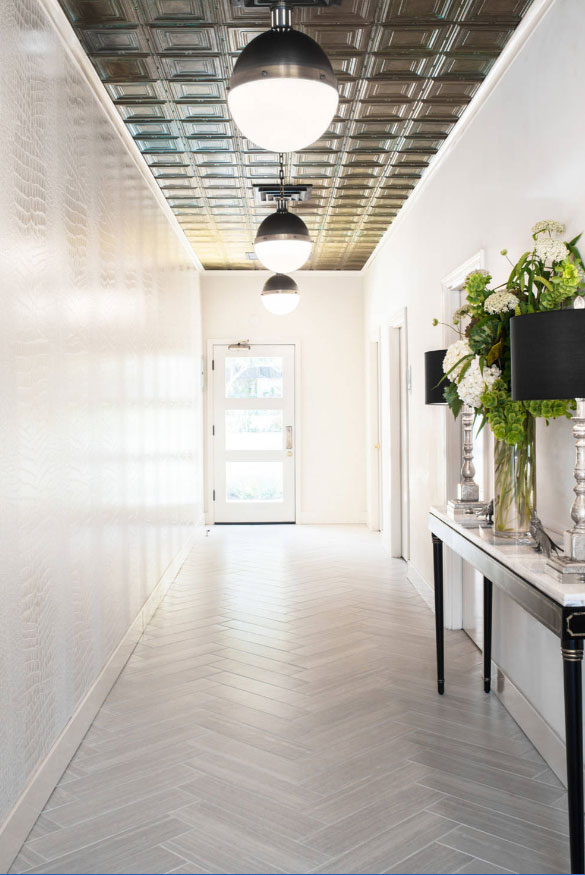 The tiled ceiling and herringbone floors add enough interest so that the white walls do not feel painful, while the console table provides extra space for light and greenery. This design by FORM – Design Studio is excellent.
HALL OF MIRRORS
This collection of mirrors does double duty as a visual display and reflects light in this otherwise dark hallway. This design even looks like a museum now! This Michael Abrams Interiors hallway design is gorgeous.
RICH & WARM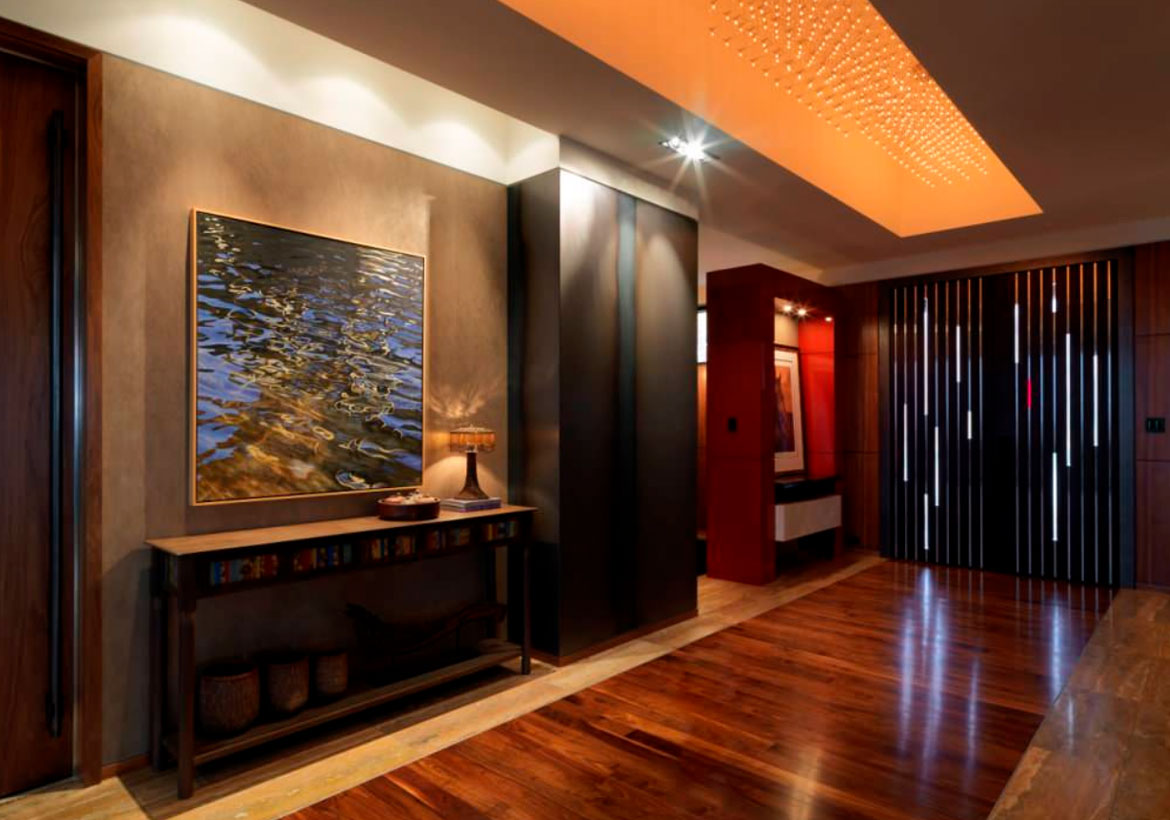 Everything in this hallway is rich. Deep dark colors give it warmth. Distinctive ceiling light feature, and the floors are beautiful! You'll get a deep, cozy feeling in this hallway by Birdseye Design.
So many wonderful ideas to transform a boring hallway and make it special. Which one inspired you today?
This is an image roundup post, curated to showcase and promote other reputable contracting companies' and their amazing work. To have any of the images removed, please reach out to us and we would be happy to do so.
Other Great Articles to Read: