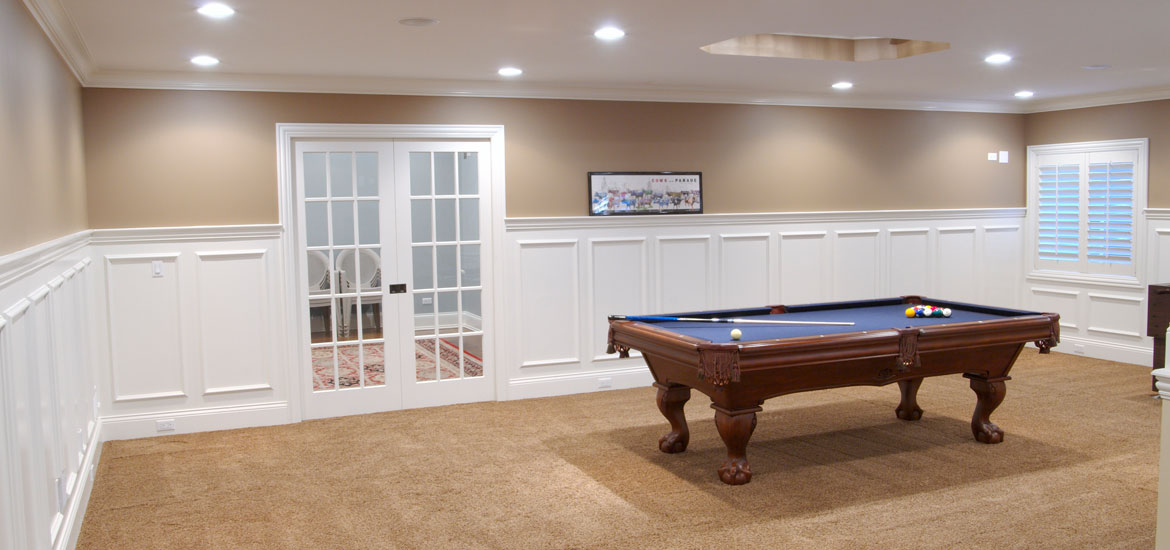 Let's take a look at a very popular request: a pool table room or game room. Who doesn't love having a space set aside just for fun? Do you love your current home and/or its location, but a pool table room addition or upgrade would make it your ultimate dream home?  Then why incur the headache and expense of moving, when you can improve your existing home for a fraction of the cost? But before we delve into figuring pool table room sizes for your new space, we need to make a few design decisions.
Things to Consider First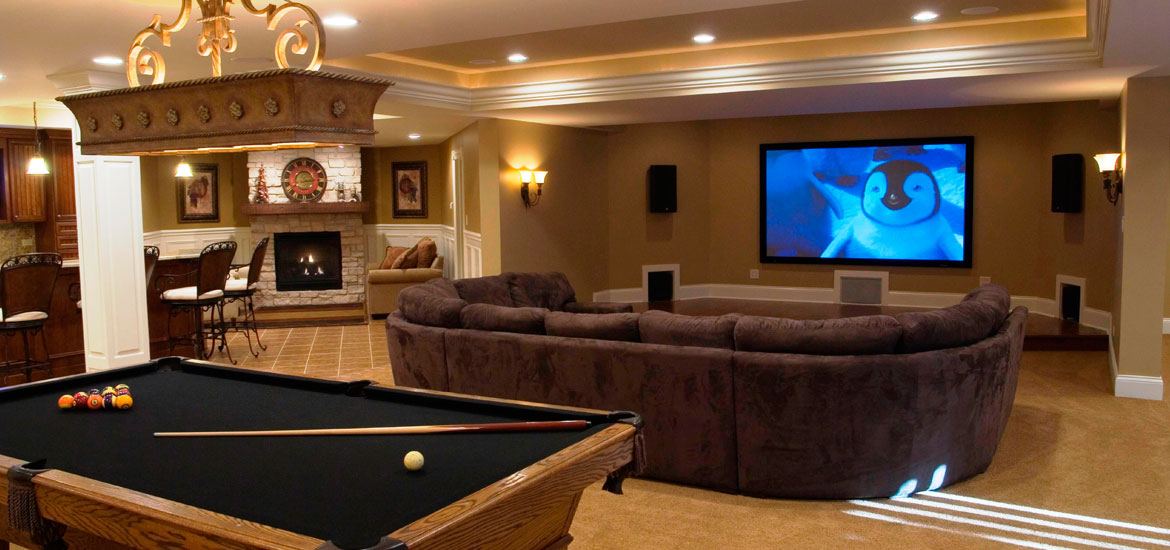 One of the first things you want to be clear on is how you will be using the room.
Will you need room for just a pool table or will you be including another type of gaming table?
Will you also be setting it up as a home theater room, in which case you will want to make sure you leave plenty of room for a big screen television and ample seating.
These are important questions and considerations as it will help you determine the square footage needed.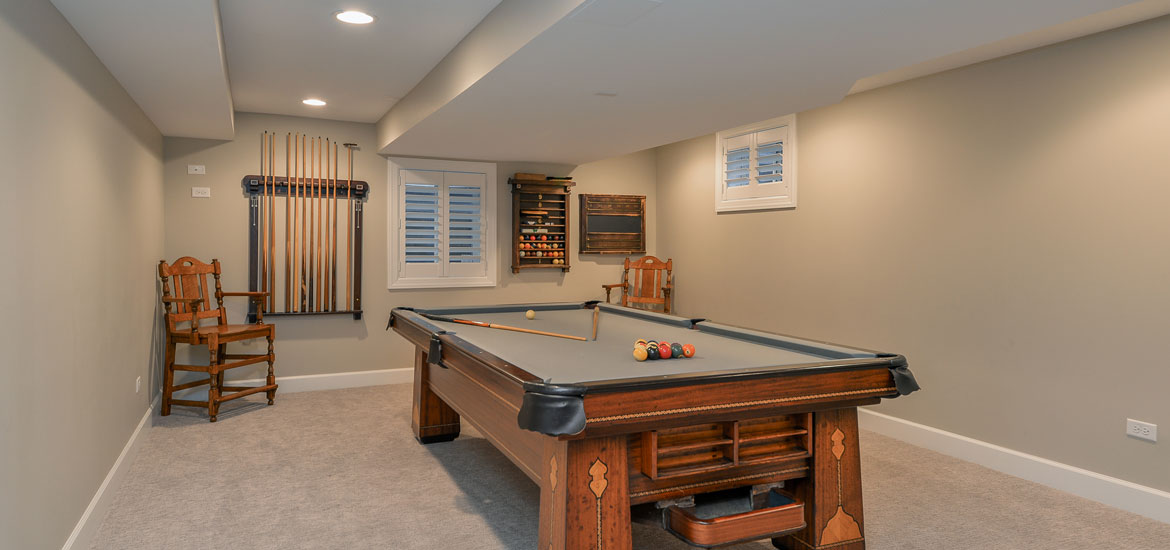 Pool Table Room Sizes
How do you figure out your perfect pool table room size or square footage? Many factors will be considered, depending on the purpose of the room. You will need to take into consideration not only pool table dimensions; but also include adequate room for shooting (pool table spacing) from all angles without hitting a wall in the process. Regardless of what size table you are using, the formula for figuring square feet will need to be considered.
Regulation pool table dimensions are: 4-1/2 feet wide by 9 feet long.
Take the measurements of the pool table and add twice the length of the pool cue.
Standard two-piece pool cues measure at least 58 inches in length.
So, in this example, you will figure square footage as follows:
50″ plus (58 inches x 2) = 13.83 feet wide, and 100″ plus (58 inches x 2) = 18 feet long.
When measuring square feet, you also want to be sure and use the actual playing surface dimensions, which in this case is 50″ x 100″. Keep in mind this is just how to get square footage to accommodate the larger regulation size pool table. There are smaller pool tables, starting at 7 feet and going up typically by a 1/2 foot in length. Most rooms will have at least one tight corner, and that's okay. You will just use a shorter pool cue for those tighter areas in the room.
If children will be the primary players at the pool table, you may want to scale it down to make it easier for them. Shorter pool cues are also a good idea.
These parameters should hopefully help you determine the perfect pool table room size for your game room.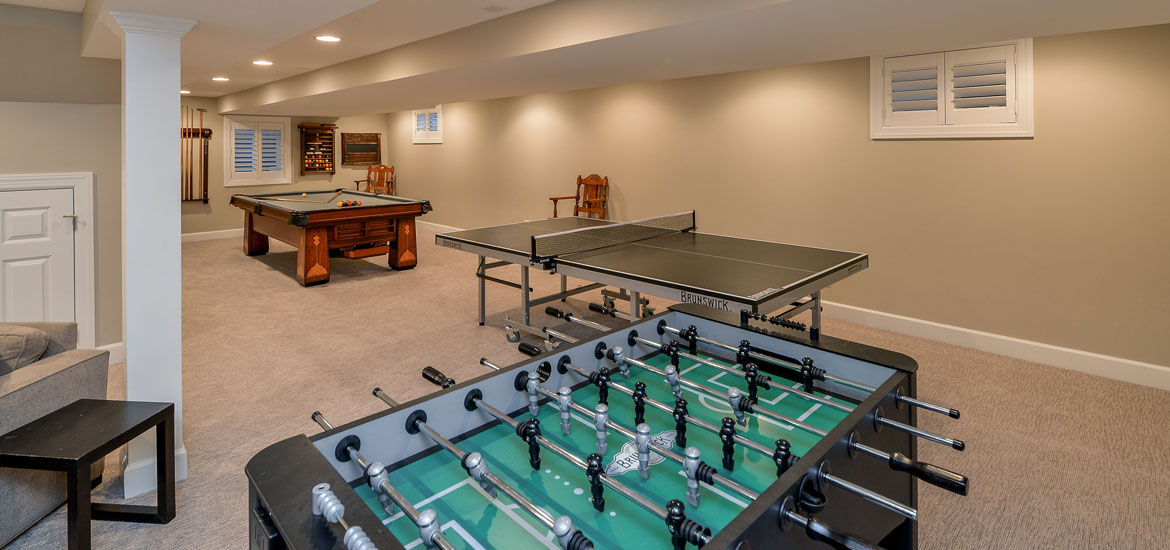 Other Amenities That Affect Square Footage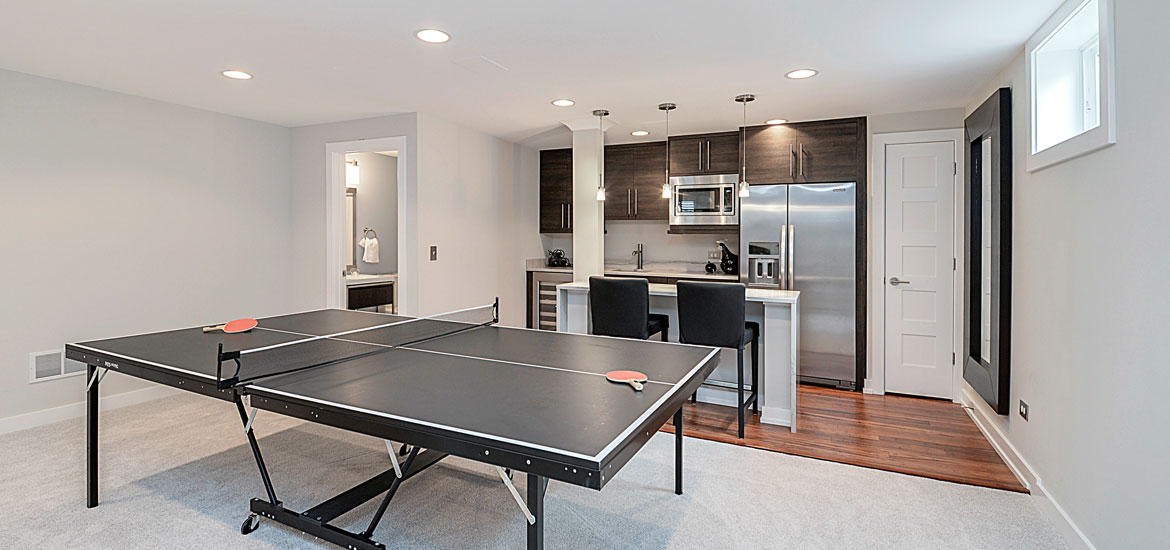 How do you figure square feet when you are looking to add other amenities in the room such as a serving bar area or a movie theater seating arrangement? That is where your renovation expert can help you design your perfect game room. You may also need to engage the services of an architect if you are adding on an entire room. Either of these experts can help you with how to calculate square footage needed to bring your vision into reality.
A square footage calculator can also be used to help with the layout of the game room or pool table room. A small game room can present a challenge, but with a good square footage calculator, you can find the best placement of a poker table, shuffleboard table, vintage pinball machine, foosball table or bumper pool table. Dart boards are also a good option, since they do not take up as much floor space. Wondering how to figure square footage needed for darts? Regulation distance is 7 feet, 9-1/4 inches from the throw line to the dart board.  Plus don't forget video game areas!
Other Game Room Features to Consider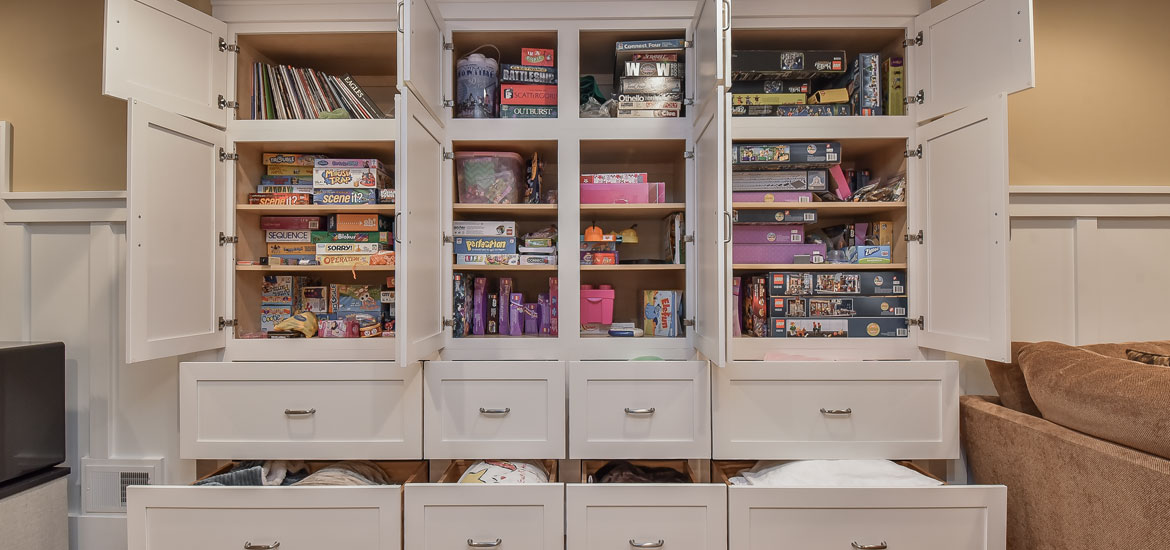 Storage – Speaking of children, you also want to include storage in your game room design. You will want to store board games out of sight, and maybe even floor cushions or pillows.
Lighting – Another design element is lighting. You need good lighting in a game room. An ideal solution is overhead lighting, but a good lamp or lamps will work to add to the ambience. Lighting can also be a fun continuation of your game room theme. If you are using lamps, you will need to incorporate them into the square foot calculations for floor, while a pool light or track lighting will not impact the footprint of the room.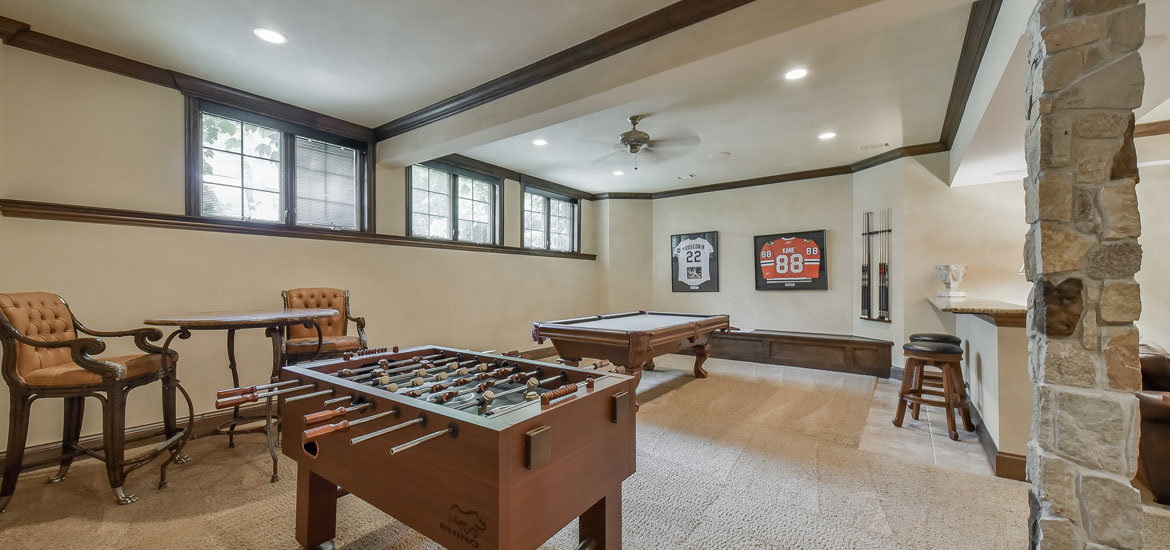 Flooring – Another aspect of your game or pool table room is flooring. What kind of flooring do you want in your game room? Carpet gives it a cozier feeling, while tile is easier to maintain. If you like the look of wood floors, but not the upkeep, then the wood look tiles may be a good choice for you. Wondering how to figure square footage for flooring? A square foot calculator for flooring can be found online.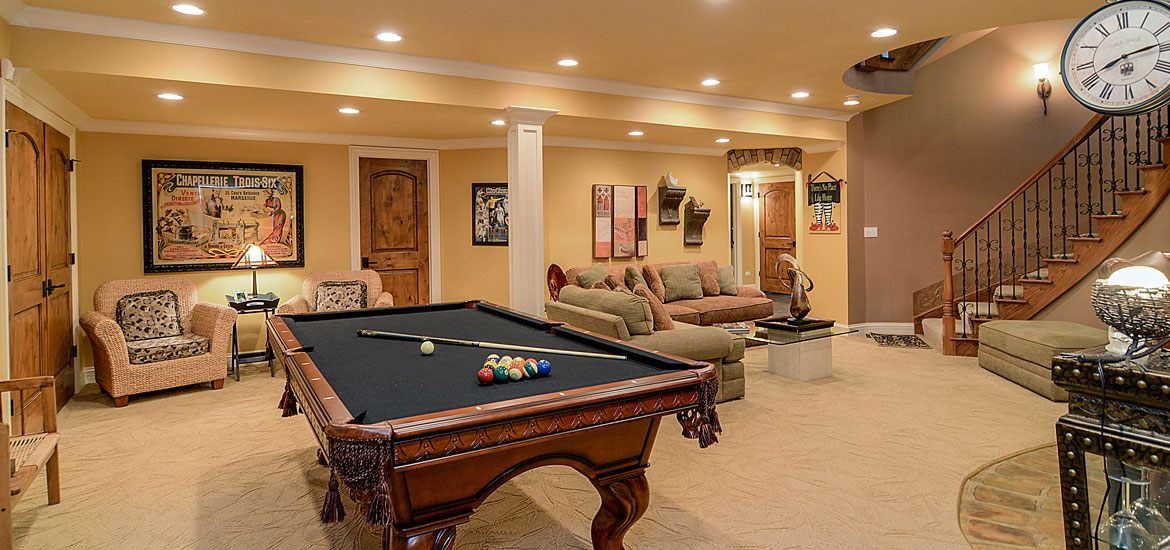 We hope this article has been helpful in unlocking the possibilities of your game room or pool table room. Game room design is an important element of the interior design of your home. Our design experts can help you calculate square foot requirements and bring your dream game room into reality.