Basement kitchenettes are starting to gain popularity as more and more basements are turned into warm living areas.  We are seeing many homeowners including a kitchenette or some type of beverage center in their basement renovation plans.



In almost all cases, a basement kitchenette is a small part of a larger basement living area. For example, you might have a family room in the basement with a kitchenette built at one end.  Maybe you have a theater area with a kitchenette nearby where the family can enjoy some refreshments; or even a guest bedroom with a kitchenette–giving the occupant some additional privacy and saving them the trouble of using the main kitchen. It could also be part of an entertainment area, or a basement bar or anything else you have in mind.
Before we delve deeper into this new trend, what is a kitchenette? It is a simple small kitchen used for basic food and beverage preparation activities.
Planning For a Basement Kitchenette
The most important part of setting up a basement kitchenette is the planning stage. Any successful home improvement project begins with thorough planning. It is important that you coordinate with a contractor early on. This blog will help you make the right decisions and save money right from the get go.
First, what is the state of the basement? Finished or unfinished? If you already have a finished basement, your work is much easier. It's all a matter of designating a space for the kitchenette and setting it up.  On the other hand, if your basement is still a catch-all for your old junk; there is plenty of work that needs to be done before you can even think of setting up the kitchenette.



Here are other important issues you need to think about when setting up a kitchenette in basement:
Ventilation – You cannot have cooking fumes and odors getting trapped in the basement. Proper ventilation is essential both for safety and comfort. Discuss with your contractor to determine which type of ventilation is best for your kitchenette.
Safety – With a kitchenette in the basement, you cannot afford to take safety for granted. Find out what the local code is regarding basement renovations and take adequate safety precautions including sprinklers, smoke alarms and escape routes.
Size – A kitchenette is by definition smaller than a standard kitchen. But there still are size variations among different kitchenettes. On the compact end, there are really small ones with the most basic of necessities: a small counter, a small wall cabinet and perhaps an appliance or two. It is small enough to fit into one corner of the basement. You can also go a bit bigger, taking up one end of the basement. Here you have a few more appliances and a larger working space as well as storage; but still not at the level of a normal kitchen. The right size will depend on your budget, family size and basement size.
Storage – In a kitchenette, storage demands are not many. You can make do with a few wall cabinets combined with floor cabinets below the countertop. The amount of storage will depend on the size of kitchenette and how heavily it is used. If you use it to entertain friends regularly, more is better.
Appliances – Even a kitchenette needs appliances for proper functionality. The biggest challenge with kitchenette appliances is space. Most likely you will not have room for a full fridge, microwave, and oven in that small space. So decide which appliances you need most. Once you decide, buy them in smaller sizes. You can even get appliances like the fridge and microwave recessed into a cabinet to save space and create a cleaner look.  We found some helpful information at Remodelista regarding smaller scale appliances.
Dry Bar Vs. Wet Bar – A wet bar is defined as one with running water and a sink, however it does not always have to serve alcoholic drinks. A dry bar is simply a beverage center and has no running water. So who's the winner between wet bar vs. dry bar? It all depends on your preferences and budget. A wet bar will likely prove to be more convenient, but will be more expensive to build because of the plumbing required for the running water.
Lighting – Finally, plan your lighting with both aesthetic and functional goals in mind. On the aesthetics part, decide what look you want–warm, elegant, cool etc. and use lighting to achieve it. You can also use puck and strip lights for decorative effect on various areas of your kitchenette. On the practical side, make sure the overhead lighting will provide adequate illumination. Add under-cabinet lights to further illuminate the working area.
Take some time to look through our basement kitchenette round-up.  We've also included some photos of wet bars and other beverage/food preparation areas to help with the conception of your new space!
MOVIE NIGHT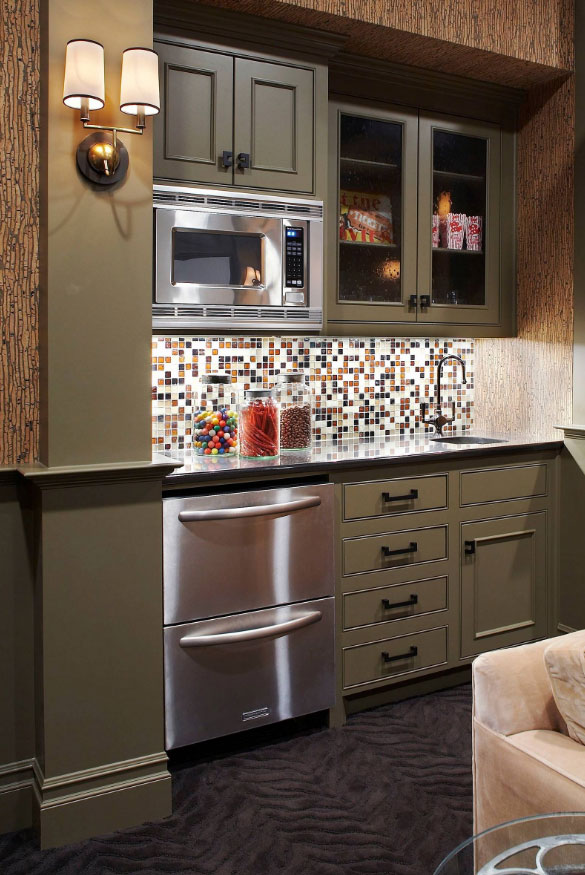 This is all set and ready to go for the next movie night!
TUCKED AWAY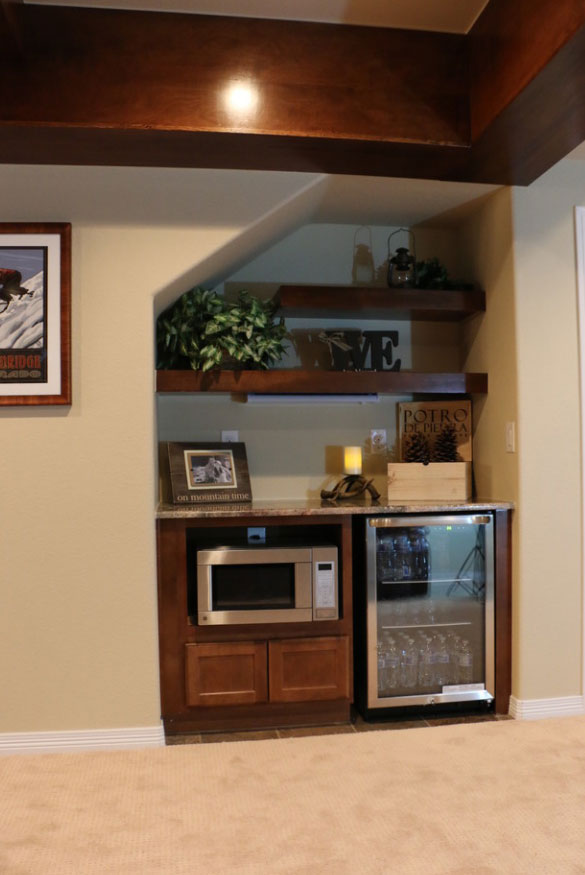 You don't need a ton of space to have something great-looking and functional.
GREAT SPACE
This kitchenette is a great extra area to have in a basement.
SIT AND RELAX
You have everything you need here.
SOFT & SERENE
Pretty blue/gray color on these basement kitchenette cabinets.
CABIN CHIC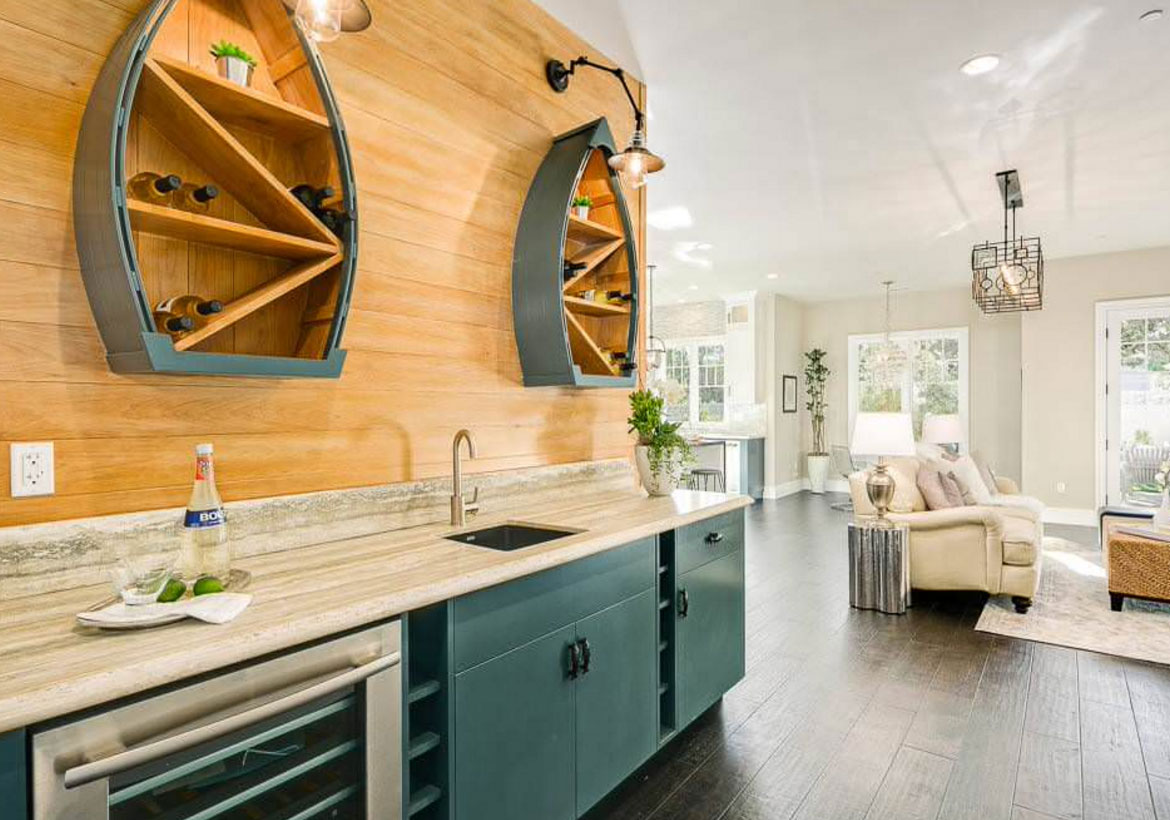 Perfect wet bar for your cabin get-away.
BASEMENT WONDER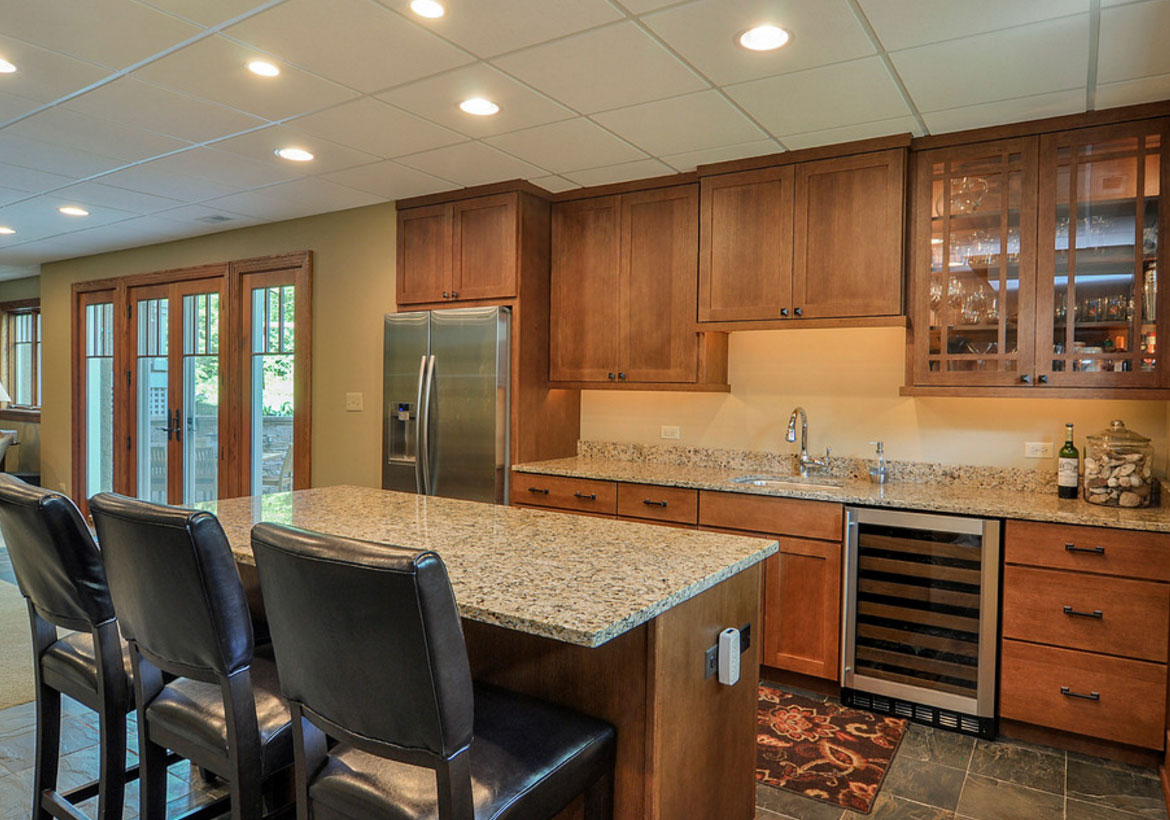 What a great area to have in your basement. Cabinets are so rich and warm.
BEACHY
This room has a subtle beach feel. Great lighting in the wet bar area.