Basements that are under your main floor don't necessarily mean that they are completely underground. Having a walkout basement can shed a little bit of light – literally – to this dynamic and creative space you have in your home. Whether partially or fully above ground level, these basements can open a homeowner up to a lot of different walkout basement ideas.



Typically, walkout basements are situated on a slope, so that a part of them resides above ground. You can find a large variety of different types of walkout basements depending on where you live and the architecture of your home. From walkout basement patios to walkout basement landscapes, there is a lot that can be done with this extra space.
We've showcased just some of the most popular and creative walkout basements ideas are listed to spark your creative imagination. The best walkout basement ideas and walkout basement pictures can help you decide whether or not this is something you'd like to achieve for your own home.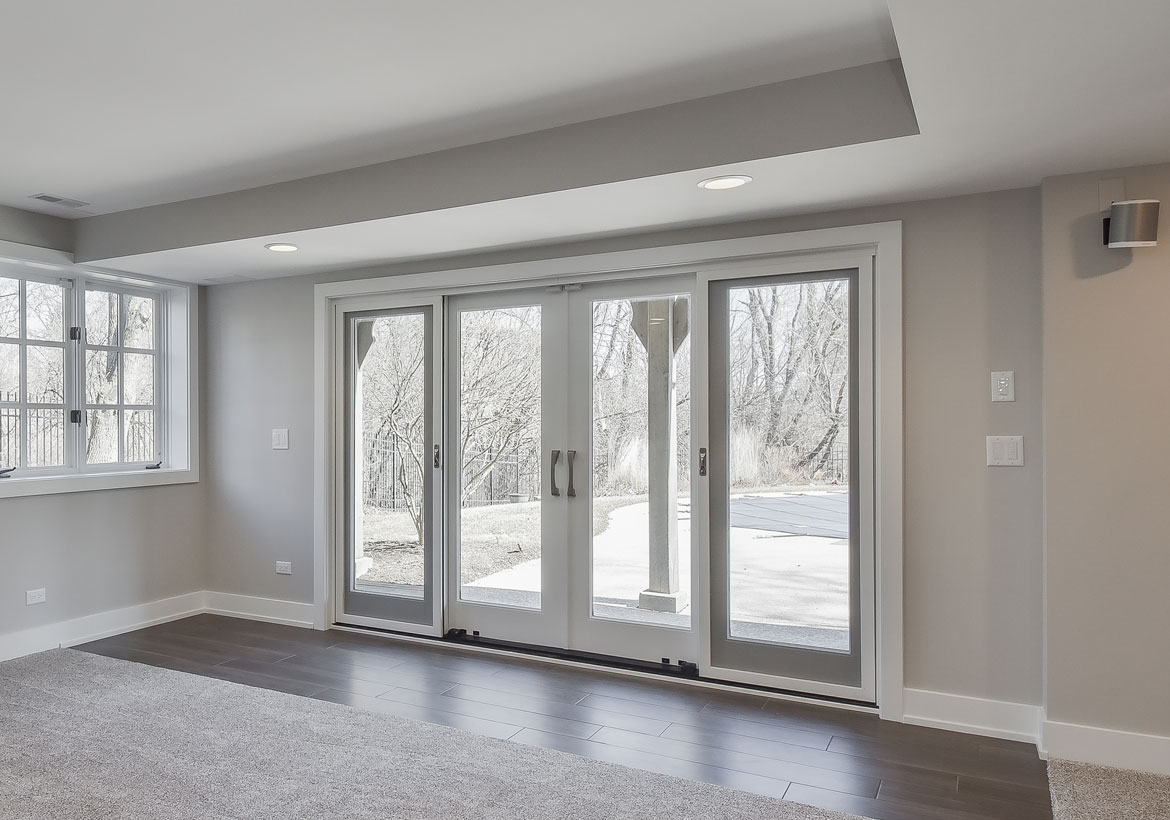 Walkout Basement Doors
Walkout basement doorways leave plenty of room for customization and inspiration. They can make a flashy and inviting addition to any home, letting each guest know that there is a beautifully decorated basement or guest room waiting just inside. Depending on the style and aesthetic design of your home, you can choose a door that goes along well with what you currently have. They should be designed to complement and add value to your property while remaining safe and comfortable for all who see it.



Double doors, single doors, and grand entryway doors are some of the most popular walkout basement door options that people look for when designing a custom door for their walkout basement. While some homeowners prefer to keep it simple, others can enjoy personalizing the design of the entire door, from the color and shape of the handles to the number of glass panes used.
Walkout Basement Ideas – Door Options
Looking for something unique and stylish as a testament to your personal style and flavor? There are plenty of basement door options that can add a lot of value to your home. Some of the most popular options include:
Basement Bulkhead Doors
Cellar Doors
Reclaimed Wood Doors
Farmhouse Doors
White or Wooden French Doors
Sliding Doors
You have a lot of creative freedom when it comes to designing a basement door. Having a unique look might add increased value to your home, making potential buyers smile when it comes time to sell.
FRENCH DOORS
Nice crisp shiplap paneling makes this basement area bright and comfortable.  The walkout basement doors chosen are french doors.
POOL VIEW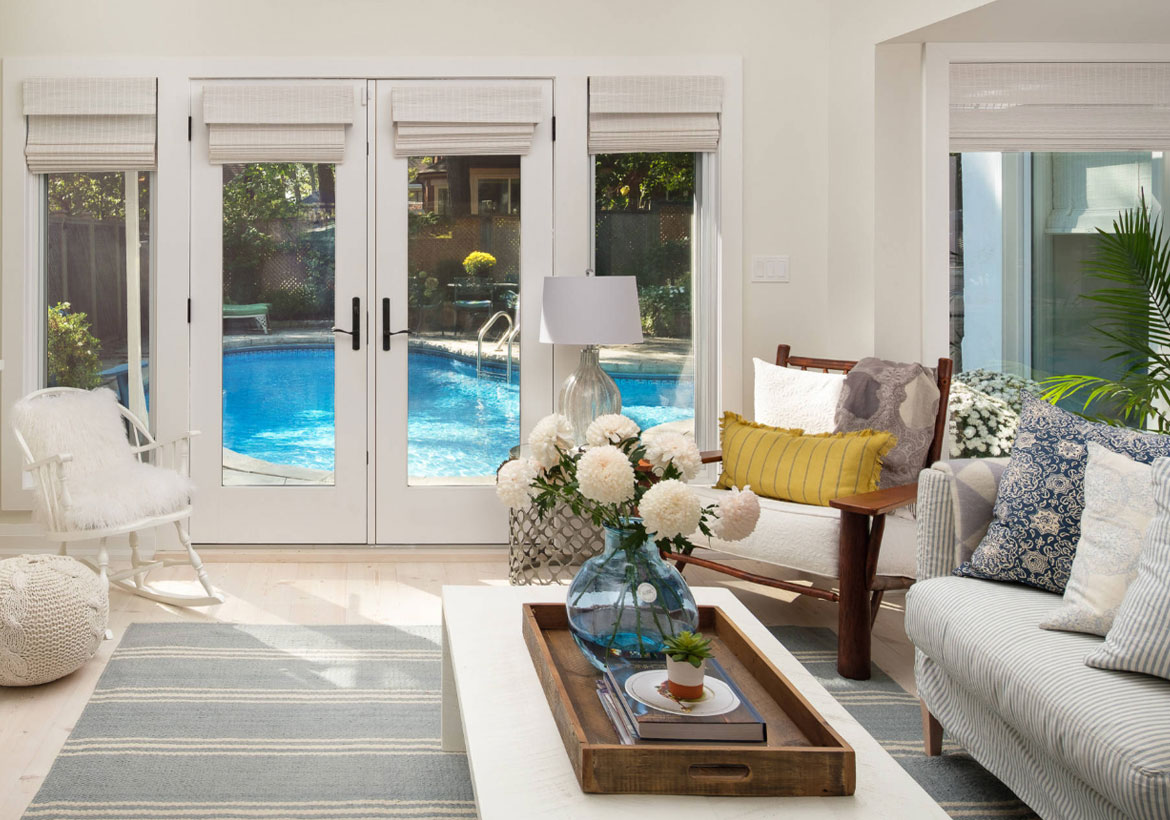 French doors again for this basement walkout and they lead to a spectacular looking pool!
LONDON AIR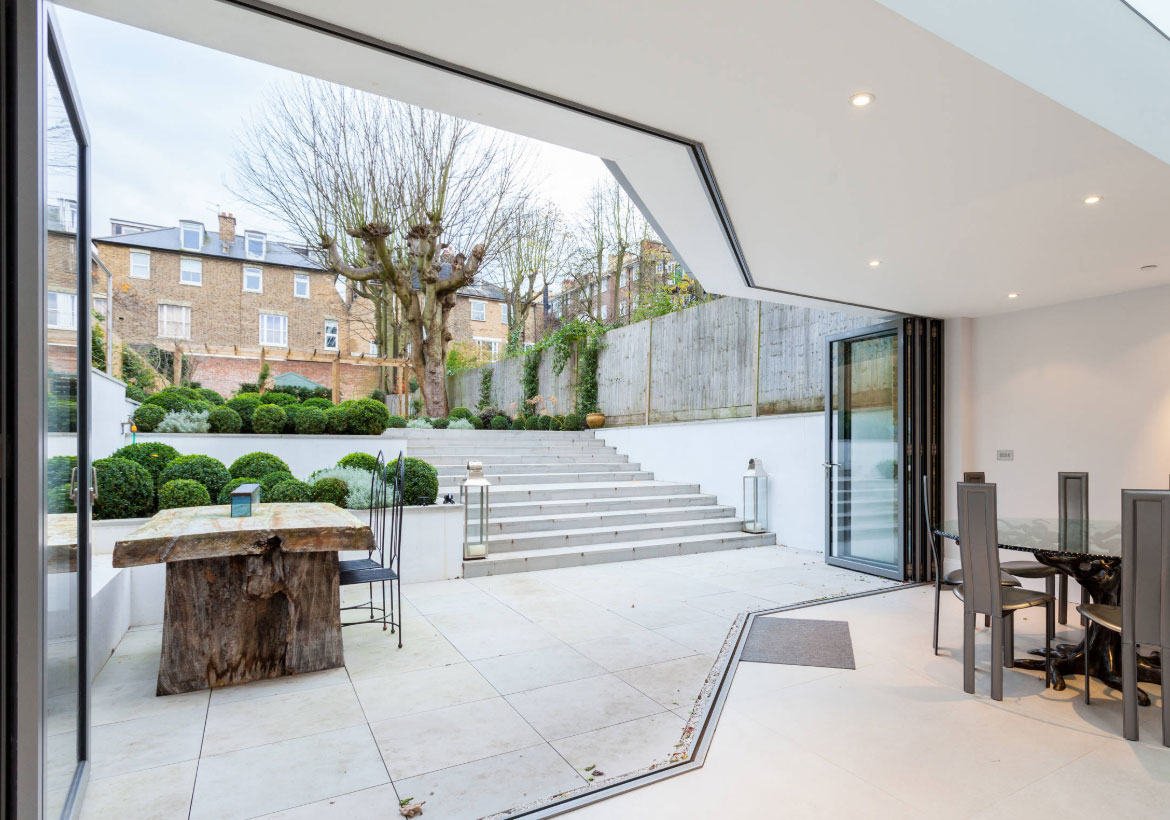 What a great way to let the outdoors in!  Photography by Chris Snook.
LONDON WALKOUT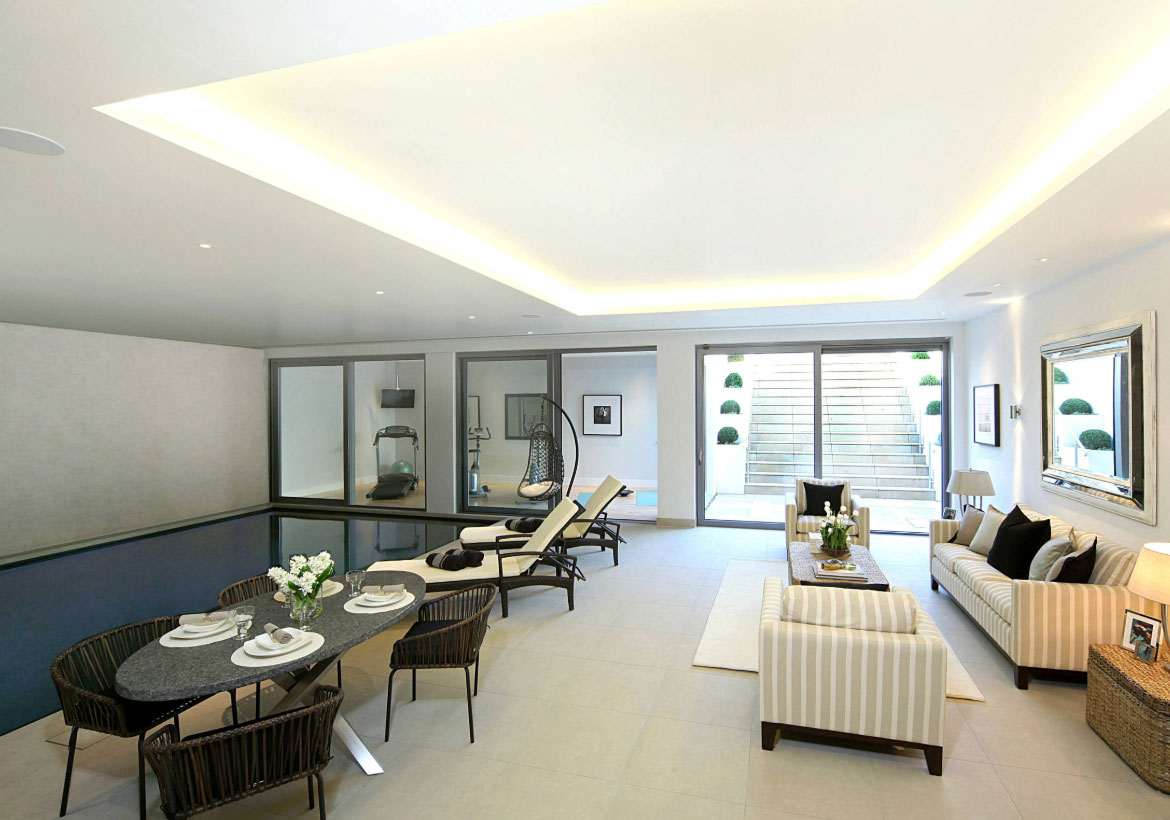 This 10,000 square foot home in London has an unbelievable walkout basement.
KIDS PLAY
Great play area for the kids with lots of light.  This basement walkout also has a wonderful workout area for the adults that leads out to the patio via sliding glass doors.
CRISP CONTEMPORARY
Crisp, clean and bright.  Looks like a perfect walkout basement to entertain in.
CLASSIC BEACH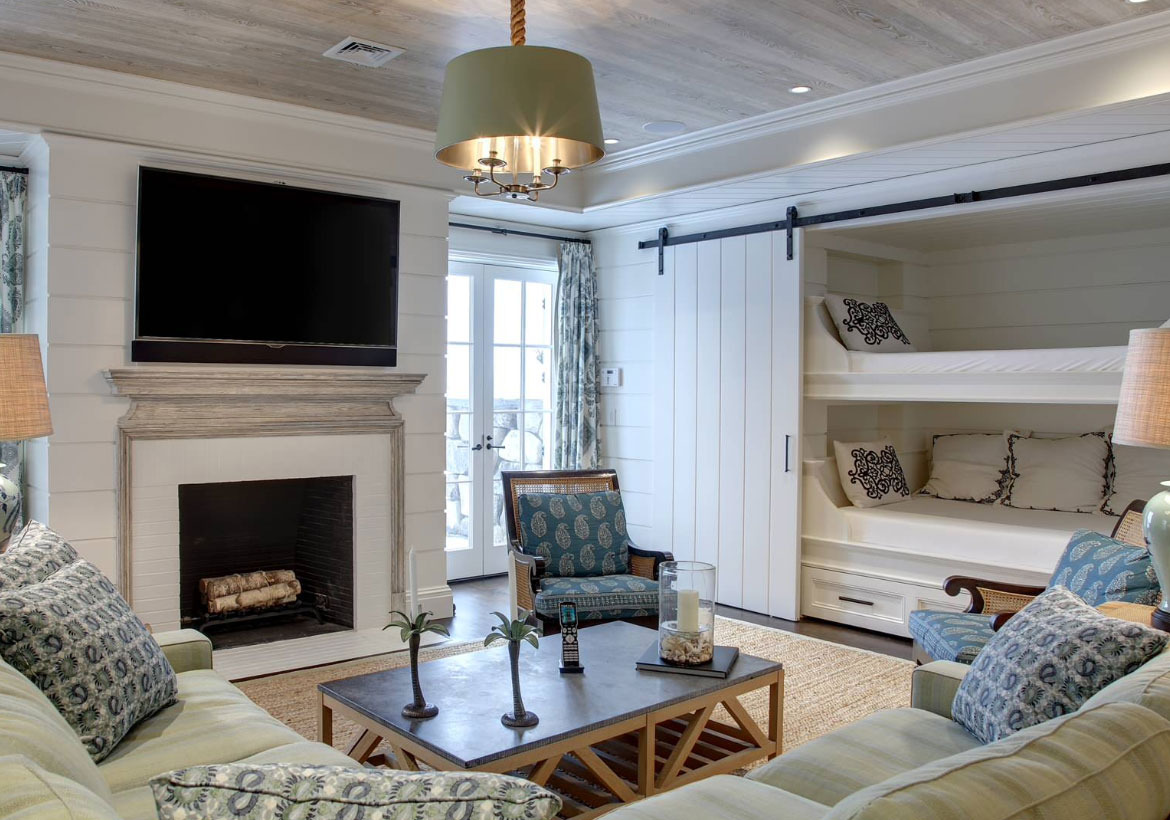 Classic beach style.  Love the barn door and bunk area.  A couple sets of french doors lead outside in this basement walkout.
MOUNTAIN CHIC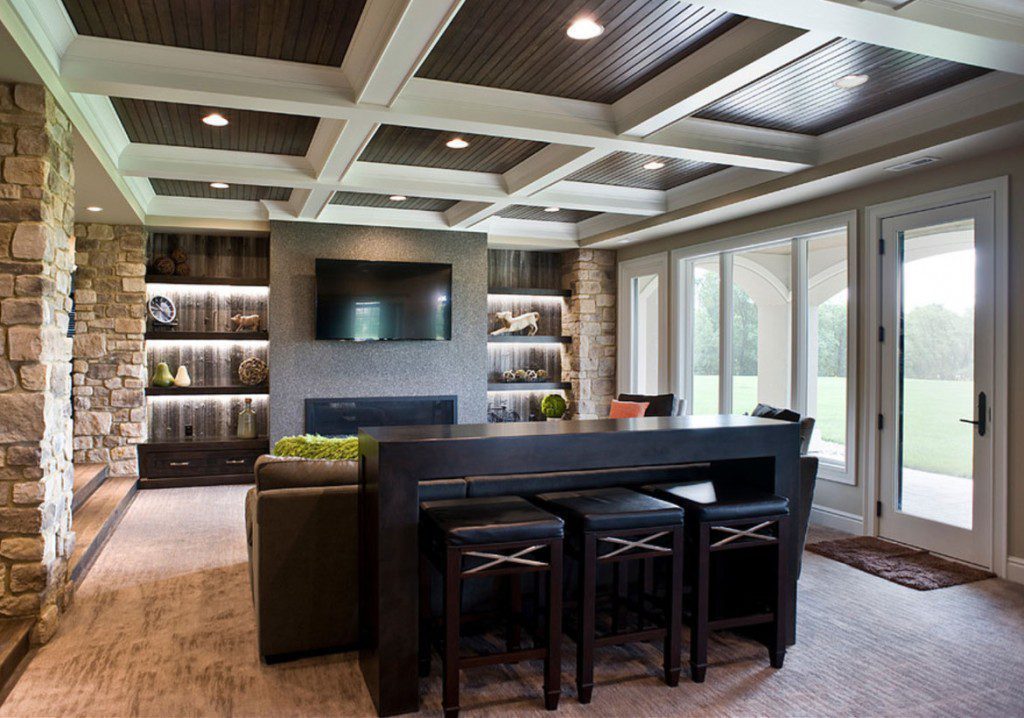 This impressive Sioux Falls walkout basement features rustic wood-backed shelving and a beautifully detailed ceiling.