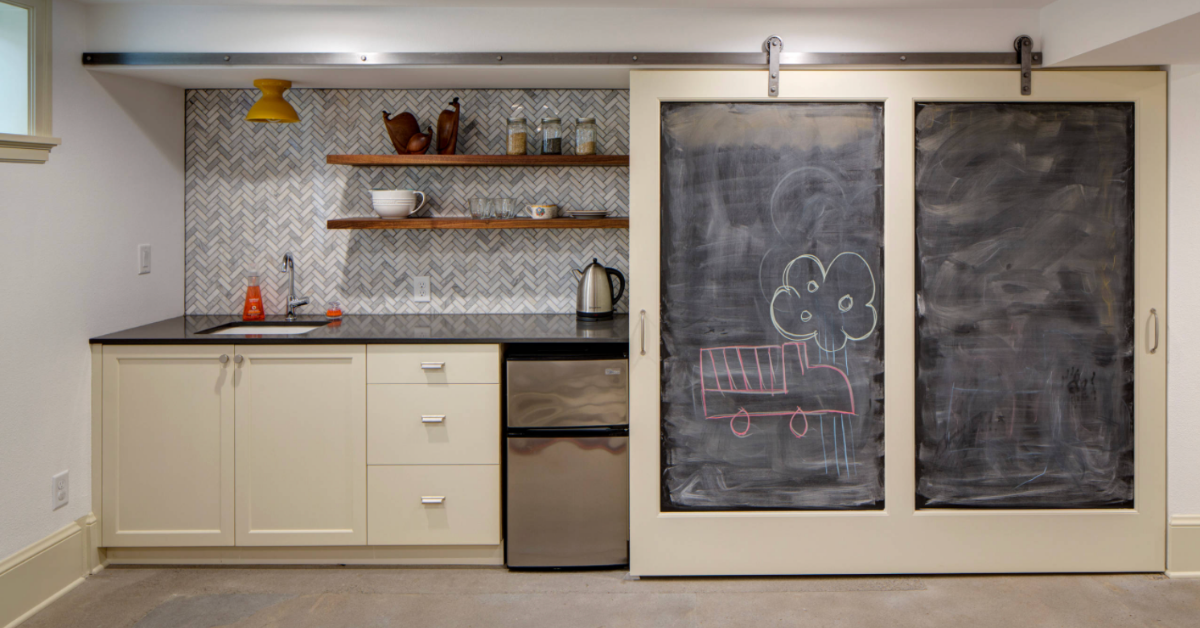 Most design inspirations that present unfinished basement ideas are seldom hard to follow through because of the external conditions involved in the basement. Planning for a remodeling project of your basement will somehow make you face issues like the existing pipes in the ceiling, moisture on walls, and even mold on hidden areas. You might even find yourself giving up while in the middle of doing the project because of other issues that will arise. In the event that you have a hard time finishing up the whole plan, stopping midway and creating the most of what you have done so far will be the starting point for the intentional unfinished basement interior.
To help you decide on what to do with your basement, we will be listing down a few unfinished basement ideas on a budget that will help you decide on how to improve your design plan. That dreary feeling that you are trying to get rid of in your basement is also the reason why unfinished basement interiors are becoming a trend. This type of design allows you to enhance your basement with the intention of keeping the changes at a minimum which in return keeps the cost less expensive.
RED
The concrete floors and crimson walls give this place a colorful, retro feel. Despite the basement's quiet ambiance, thanks to the low ceiling, it's the perfect place to watch some of your favorite shows or movies. The crimson, unfinished basement is a fantastic concept by Merrick Design and Build.
LAUNDRY
Isn't it nice if there was a way to make doing the laundry a pleasant experience? Use a daring blue mud bench to create a laundry room you won't mind spending time in. You can enjoy some quiet time in this laundry room in the basement designed by Construction Ahead while waiting for your clothing to be washed.
MODERN LIVING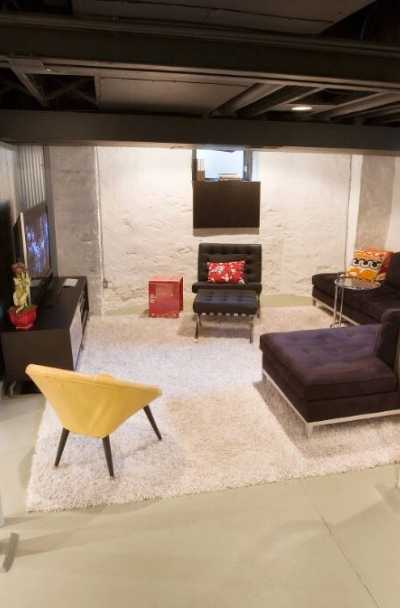 Cost-prohibitive materials and labor are unnecessary for a stylish basement to remodel. The installation of up-to-date furnishings and the painting of the walls white have opened up this formerly cramped basement. The provision of secure space for bicycles is also essential. This unfinished basement is designed by RDA Architecture and is a great place to relax and watch TV.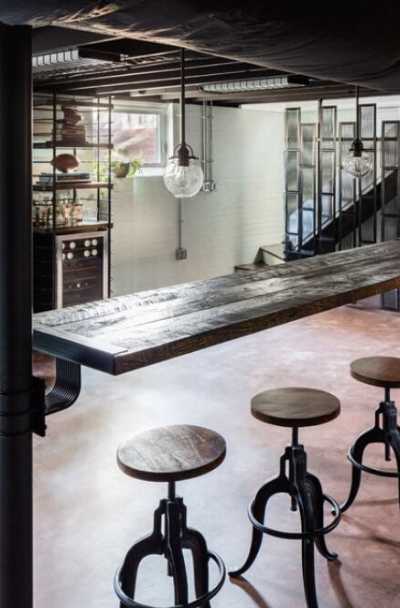 All the unfinished columns in the room are put to good use by being arranged into a bar with comfortable seats for socializing with loved ones. This basement looks so nice. No one would ever guess it's unfinished! You can have guests over and use the counter table and chairs. Calico Studio did an excellent job with this basement.
OFFICE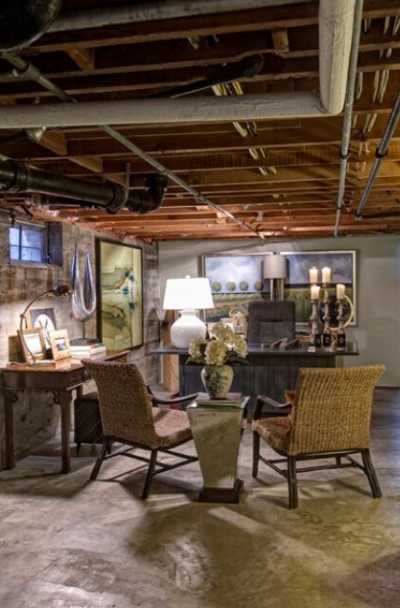 And who says you need a fancy, high-priced workplace anyway? This well-planned business space in the basement impresses with its cleanliness and efficiency. Don't forget to plan for client expansion when packing up your home office and moving it to the basement. Obelisk Home has done an excellent job with this unfinished basement office.
URBAN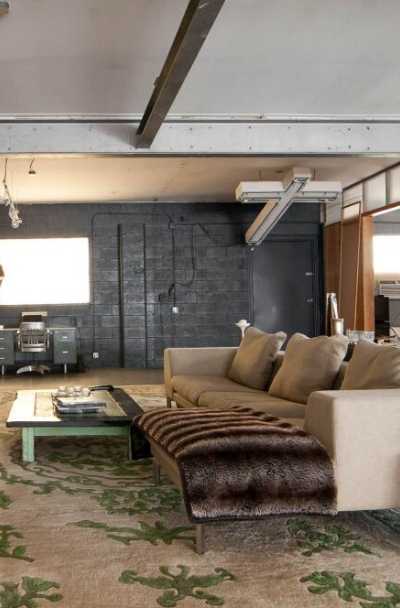 If you have unfinished concrete floors, putting down a huge rug is a great way to warm up the space and make it feel more like home. The huge mat disguises the unfinished floor so it won't look like a cellar. Stunning photography by Lucy Call Photography of a stylish urban basement.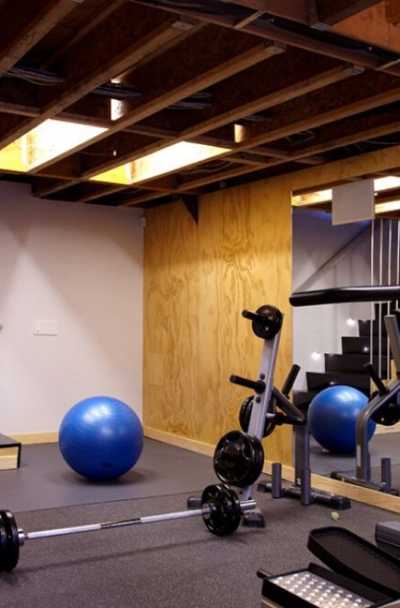 Putting a big mirror on the wall may turn any room into a makeshift gym where you can work out with your weights at your convenience. The gym isn't huge, but everything is so well-organized and at such an accessible location. Narofsky Architecture has created a functional and attractive unfinished basement space.
BASKETBALL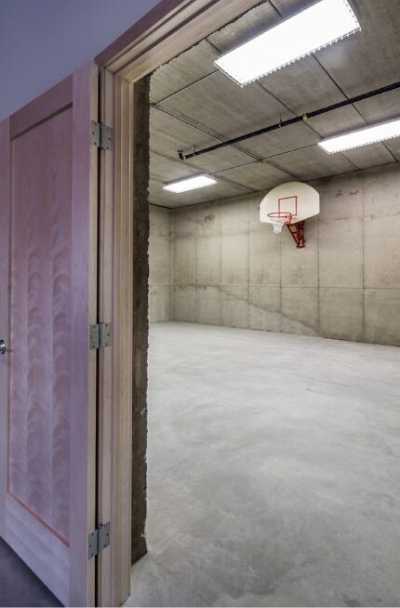 What if you can provide a space for your children's basketball place inside your own house? Your kids can always have fun playing basketball inside the house without harming anything valuable—what a good use of space by Quartersawn Design Build.
STAINED CONCRETE
Are you want to give your living area a more country feel? To achieve that classic look, stain your existing concrete floors. This unfinished basement manages to look well-organized, thanks to clever storage solutions. Enjoy Hammer & Hand Construction's excellent vintage tinted concrete.
Tips to Create a Successful Unfinished Basement Interior
When you decide to let go of your basement plans and just let it be unfinished for now, it does not technically mean that you'll keep it untidy and disorganized. The great thing about your basement is its location, whether you let it sit for a long time no one would really pay attention to it aside from you. However, once you want to pick up the pace and create an interior with what you currently have, designing it will not be as hard as you think. But before you start with the project, here are tips that you can actually do to make sure that this remodeling will be a success.
Prevent the Moisture
Basements are often targeted as a damp area because of the lack of damp proofing, all the plumbing and leaks that might have occurred. If there are no leaks in the basement but you still feel that dampness, the only resolution you have is to find ways to ventilate the area. You will be in luck if the basement has windows but if yours doesn't have windows for ventilation the best way to handle this problem is through a dehumidifier. Make sure that you buy a quality dehumidifier because you will need this to bring in the coziness into the room once you're done remodeling it.
Paint the Ceiling
There are a lot of unfinished basement ceiling ideas that you can find in Pinterest and other home remodeling blogs that can actually help you out with what paint will go well with your whole interior plan. The pipes, joists, and air ducts that are usually found in basement ceilings can take away the vibe that you are trying to establish for your project. Some homeowners just leave these elements out in the open when they cannot afford to cover the ceiling with drywall. Others actually paint them over with light colors (white) to emphasize space or with dark colors (black or gray) to create a cohesive block colored ceiling. Nowadays, painting in other colors like dark blue is also an option.
SUBWAY STATION
If you think your unfinished basement has to be boring, think again. The basement's interior can look like a subway station by utilizing various distinctive components and colors. Terri Weinstein Design did an amazing job transforming a boring basement into a futuristic-looking subway station.
PANELS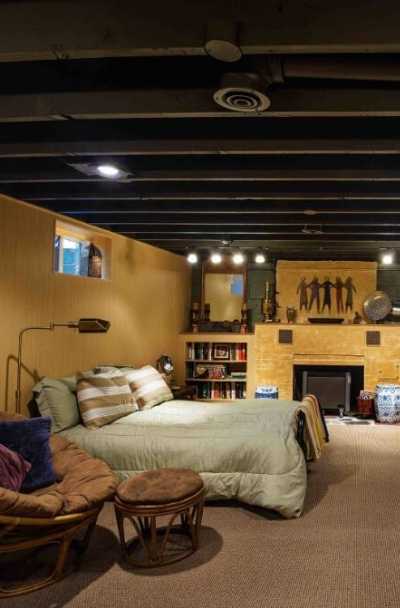 Wood paneling is a great way to give your newly finished private space a rustic, homey feel. You may rest assured that your new room will not look like an unfinished basement but rather a chic bedroom. Deimler Family Construction has created a fantastic blueprint for a cellar that has yet to be constructed.
SKATE PARK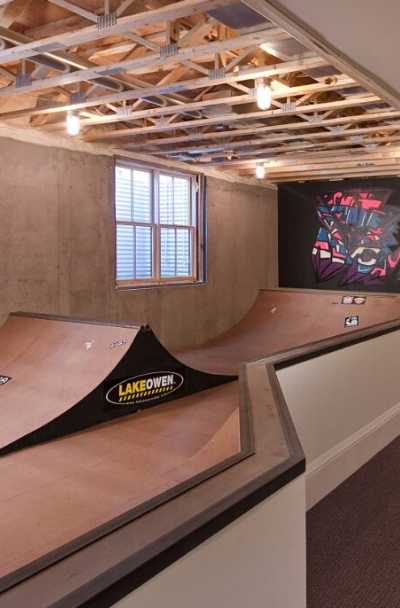 Making your basement into a skate park is a great way to keep your kids entertained. Wow, that's a smart use of space if the basement is unfinished. This space is designed to be fun but also useful for helping your children develop important skills. The basement skate portion designed by W.B.Builders is awesome.
STORAGE
Do you wish you had a dedicated space in your home to store your possessions? Can you have too little or too much of something? Put up shelving along any empty walls to store seasonal boxes and decorations. Unfinished basements in most houses are used as storage rooms. Case Remodeling is responsible for this hum-drum cellar plan.
Decide on the Flooring
Basement floorings are usually left with just concrete slabs. Homeowners don't really pay much attention to this area's flooring unless it is being remodeled. If you have the budget for the flooring improvement, getting it tiled will be so much better. However, if you want to save money and time in doing all the work yourself, area rugs will be a great cover-up for the concrete flooring surface. There are a lot of area rugs that will help you create your desired warmth for your basement. Area rugs can also serve as a great highlight if you are putting up relaxing couches in front of the television or even under a table for your workspace. You do not need to buy an expensive rug, you can always score homey and cozy ones from thrift stores. You'll be surprised what other things you can buy there, pay them a visit when you are looking for additional accessories for your project.
Another excellent choice for flooring in your basements is foam mats. This type of flooring will be a perfect option for your unfinished basement playroom ideas. Kids will surely enjoy their playtime when the floors are transformed into something softer than the existing concrete. A great thing about this square puzzle-like floor mats is that they can be easily removed when they aren't needed anymore. This type of flooring will also be perfect for your unfinished basement home gym ideas. This will provide you protection to your body when doing floor exercises or even yoga. Since your basement can be used for any purpose, it will be best to make sure that your flooring will go with the entire purpose of the room.
Invest in Good Lighting
One thing that creates the dreary feeling in your basement is the lack of lighting. If you want a cozier room, you will need to go beyond the usual naked bulbs hanging from the ceiling. Look into other lighting options that will go well with your interior plan. Your unfinished basement wall focal ideas can be easily highlighted if you add wall lights that will make them pop from the background. Another replacement for the usual bulbs is floor lamps and string lights. Having your unfinished basement bedroom ideas come to fruition with a cozy combination of inexpensive string lights and fabulous floor lamps will make you realize why you should have remodeled this area sooner.
Make the Drab Spots Vanish
There are a number of things in your basement that can ruin your whole interior plan. Once you enter the room, that water heater in the corner will stick out like a sore thumb. However, this problem can easily be resolved by resorting to the use of room dividers. The most inexpensive way to hide them is by using curtains but if you feel like curtains are not enough you can also use bookshelves or wine crates. These kinds of room dividers are charming and easy on the eyes. If you are planning on creating one of those unfinished basement laundry room ideas from design blogs, you can actually encase these unsightly spots into one of your laundry cabinets. You can always try different ways to make these things vanish from plain sight depending on your budget.
Just like any other room in your house, there are infinite ideas that you can do with your basement remodeling project. All you need to do is to make sure that you have resolved all of the existing problems that will hinder the transformation.
PERSONAL GYM
The idea of setting up a gym in an unfinished basement used to be considered uncool. The wooden columns and walls appear so fresh that it's hard to believe this is an unfinished basement. The gym's contemporary aesthetic is complemented by the gray carpet. It is The Everygirl who designed this fitness center.
MASCULINE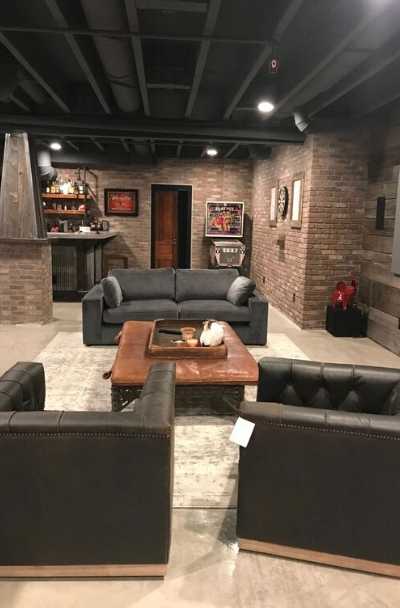 A man cavern, if you will. The absence of masculinity in the space is compensated for by the black leather couches and impressive wall accents. Not to mention the solid appearance of the brick foundation. What a ruggedly handsome way to decorate a basement in need of finishing with Faux Wood Beams.
WHITE LAUNDRY
It's not every day that you see a laundry room decorated as creatively as this modern farmhouse laundry in the basement, complete with a clean and pure white interior concept. Even though the space is clean, the ceiling has that unfinished basement sense. The Southern Hospitality Blog created this pristine basement with a laundry room.
LIVING SPACE
Your family will benefit from the quiet and privacy of your basement apartment. There is a table and seats here, so it may also be used as a dining area, therefore it seems to be a living room. Standard living room wall colors are included throughout. Hometalk is responsible for the design of this basement dwelling.
FLOORING ART
The flooring in this basement is an excellent match for the project's plain white walls and other accessories. This basement has a one-of-a-kind look thanks to the artistic flooring from Hunted Interior. There is also decor that complements the space perfectly.
HOME OFFICE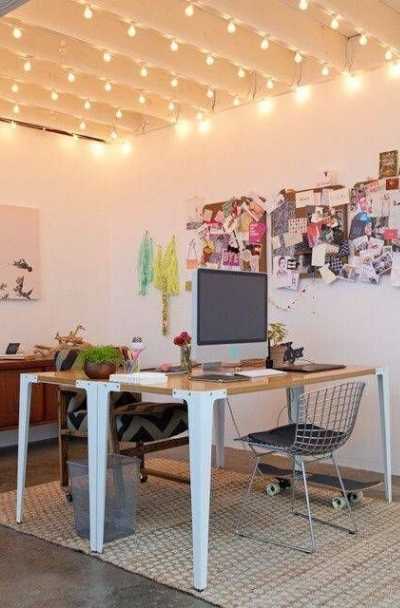 The basement is transformed into a chic and modern home office by the addition of string lighting and white walls. With all of your office supplies and the scribbled reminders on the wall, you'll be able to get a lot done in this space. Brit+Co really outdid themselves with this one.
Basement Workshop and Storage
One of the most common inexpensive unfinished basement ideas is transforming it into a workshop or storage area for woodworking. A lot of homeowners who do not have enough space in their garage will turn into their basements when looking for areas that they can easily convert into a workshop or storage area. This sounds like the most ideal thing to do since a basement is a well-hidden place and kids don't usually like going into dark places.
If you are a DIY project lover creating your own workshop will require you to divide your basement into sections. One of which is your assembly area, this is where all of your small to large DIY projects will happen. Make sure that this area is roomy, in case you will be building something big like cabinets and chairs. You will never know what projects you will do in the future so keep that in mind when planning for this section. Another section that you will need to focus on when building your workshop is the storage area for your tools. The safest option when storing your tools is by using wall cabinets. Aside from providing you room for your assembly area, these cabinets will keep your tools away from kids. Make sure that your tool storage has a system in order for you to easily access them while working. Group your tools according to their use and size. The last section that you can incorporate in your basement workshop is a designated storage area. There are a lot of unfinished basement storage ideas you can find on the Internet that you can actually get inspiration from. It does not need to be fancy, as long as it is functional and neat, your basement workshop and storage will surely be a haven for you.
Final Thoughts
The basement in your house has endless potential. You can transform this area by scouring unfinished basement ideas you can find on the Internet. When done correctly, all of the possible ideas that you have in mind can actually add value to the house when you want to flip it. Aside from profit purposes, basements can also serve as a perfect alone space for men, one of the major reasons why husbands usually transform their basements into their personal "man caves".
The most important thing that you need to consider when wanting to create an unfinished basement interior is the feasibility of the plan against the budget that you have. Prevent yourself from going over budget, cut down on unnecessary. There are a lot of inexpensive basement ideas that can help you create your desired outcome without breaking the bank. After all, the "unfinished" interior was meant to save you bucks.
Other Great Articles to Read: