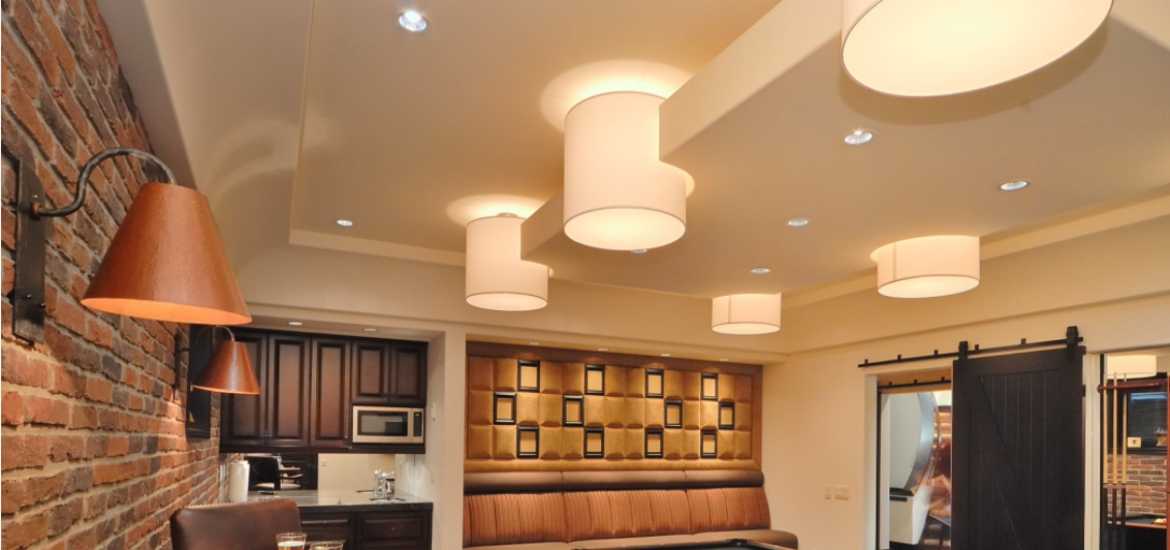 Now that basement remodeling projects are becoming more common, basement ceiling ideas are becoming more innovative and grand. A number of updates on your basement will actually turn it into a magnificent room that everyone in the family will come to love. One of the most common hitch when doing this project is not knowing what to do with the ceiling. Aside from the walls and flooring, your basement ceiling also plays a big part in enhancing the aesthetics of your interior plan.
Creating an extra room out of your basement that will help the family to get additional living spaces. Once you have decided what to do with this extra space, the vital part of transforming the ceiling will become evident when the project starts rolling. You can find a lot of unfinished basement enhancement ideas that you can carry out on your own.
Basement Ceiling Options
When you allocate ample time for research, you will find a lot of solutions that you can actually use for your basement ceiling. Most of these ideas can entirely address your problems with the exposed beams, ductwork, and wires involved in your project. We all know you want a clean look for your ceiling to make it look cozier and nice because you're worried that your guests might find them an eyesore when you give them the tour of your place. So, we have compiled the most common solutions that we also find helpful when faced with the same problem. Here are some of the few ceiling options you can use for your basement remodeling.
Drop Ceiling Ideas
When you have enough room in your basement, the most effective way to make it look cozier is to use drop ceilings. This idea is the perfect way to hide the exposed beams and wirings from plain sight. It can even hide larger pipes and other ductworks. It also makes the placement of your light bulbs and other lighting fixtures magnificent because it creates an illusion of having the perfect fit. Aside from these benefits, drop ceiling tiles can also be a brilliant way to save money in the long term. Once an area of your ceiling is damaged, you do not remove that tile and pop in a new panel to replace and fix the damage.
Drop ceiling panels are also good for its noise dampening capabilities which makes it a viable option if you want to convert the basement into an entertainment or music room. Aside from these great features, modern drop ceilings can also be used for decorative purposes. There are a lot of designs you can work with when looking into this choice.
Low Basement Ceiling Ideas
The height of your basement ceiling plays a big part when you start the construction of the whole project. Unlike high ceilings, low ceiling basements will give you less space to work with when you decide to cover up the messy elements found in the upper part of the room. At the most, attaching a ceiling directly to the support beams will be a workaround if covering up the exposed drab areas will be your final decision. Looking for the perfect material for this task will be less stressful, as we will be providing you with a list of materials that you can use for your low basement ceiling.
Beadboard
As a popular option for porch ceilings, the beadboard can also bring the needed bright feeling into your new basement interior. More than its decorative value, tongue-in-groove beadboard can provide you with a sturdy finish while the sheet beadboard can actually give you more options when it comes to sizes. However, since tongue-in-groove beadboard takes a lot of time to install, most homeowners use a mix of these two types of beadboard. This somehow creates an aesthetically pleasing ceiling surface that you can paint or varnish depending on the type of interior you are planning.
Corrugated Metal
Believe it or not, YES!, you can use this metal roofing tile as an alternative for a ceiling material for your basement. The best way to use these corrugated metals as a ceiling option is when you are planning for a more rustic interior design. It will provide an incredible rustic metal effect which is hard to achieve when you use other materials. Most rustic interior plans fit perfectly for the gaming rooms and man cave interiors. What's best about using the corrugated metal is that you can actually recycle the old ones to gain a more rustic feel to your basement's interior. Once they are attached to your ceiling it can reflect the light and would help to make your room appear spacious.
Drywall
As one of the cheapest ceiling material options on this list, drywall will save you bucks while creating a smooth and stylistic living space out of your basement. This material can be easily cut and fitted on almost any surface which will be convenient for you. Once properly installed, you can easily coat it with a primer and your favorite paint color that will go well with the theme of the entire room.
However, before you decide on using drywall, you might need to check if your house is in an environment that is prone to termite and ant infestation. Moisture can also damage your drywall basement ceiling so you need to make sure that these elements are not present at your home before you pick drywall as your material.
Exposed Beams and Pipes
Who would have thought that exposing those ugly beams and pipes in your ceiling will be considered part of a modern interior plan? This trend is actually very prevalent in cafes and is also becoming a hit with homeowners who want to maintain a modern carefree look for their houses. A painted basement ceiling will be a great way to enhance the exposed ceiling plan that you have in mind. Most of the time, using block colors helps you to create a more unified theme for the whole basement. Having a gray, white, or black basement ceiling are the common options for most designers but there are also emerging color choices just like some brighter yellow tones, and deeper blues that helps in creating a space with more personality in it.
Final Thoughts:
Your basement ceiling contributes a lot to the entire feel of your newly renovated room. Aside from what we listed on this blog, there are other materials that you can actually use for this remodeling project. Simple wood planks and other wood panellings that you use around the house during repairs can also be used as ceiling materials. You can use any material that you decide on as long as it will get along well with your entire plan.
This project will be a great success when you are able to create a space that everyone in the family can actually enjoy. May it be the basement ceiling or some pieces of furniture that you need to install, you can ask for input from them to make sure that there won't be any reason for them to hate the newly built space once the entire project is over.
This is an image roundup post, curated to showcase and promote other reputable contracting companies and their amazing work. To have any of the images removed, please reach out to us and we would be happy to do so.