A home gym can be a great convenience. However, coming up with the perfect home gym design to suit personal preferences can be a challenge. The best home gym design increases the chance of achieving maximum workout benefits while maintaining aesthetic properties with the rest of the house. Nonetheless, it could get utterly frustrating deciding the best gym setup from the myriad of home gym designs available. It is advisable to take time in planning before making a considerable investment in any design.
Working out and keeping on track can be very time-consuming and the thought of working out in a crowded gym does not make the situation any better. A personal trainer is another option, but wouldn't it be better to have the right equipment in the comfort of your own home?
Spacious home gym with a large antique mirror.
Factors To Be Considered for Basement Home Gym Design
The following questions should address your home gym design planning strategies and highlight what considerations need to be observed before making any commitments:
Is the living space large enough to accommodate a well functional gym?
Will the gym affect home décor/how can the gym space be designed to uniformly match the rest of the home décor?
How much equipment can fit in the space without cluttering the space?
Is there adequate natural lighting/how else can the room be lit up if there is no access to natural light?
Are there electrical requirements that need to be addressed?
What are the flooring considerations/options?
Is the design easy to maintain?
Are there health and safety standards that need to be observed?
Does the budget at hand facilitate the desired design and is the design cost-effective?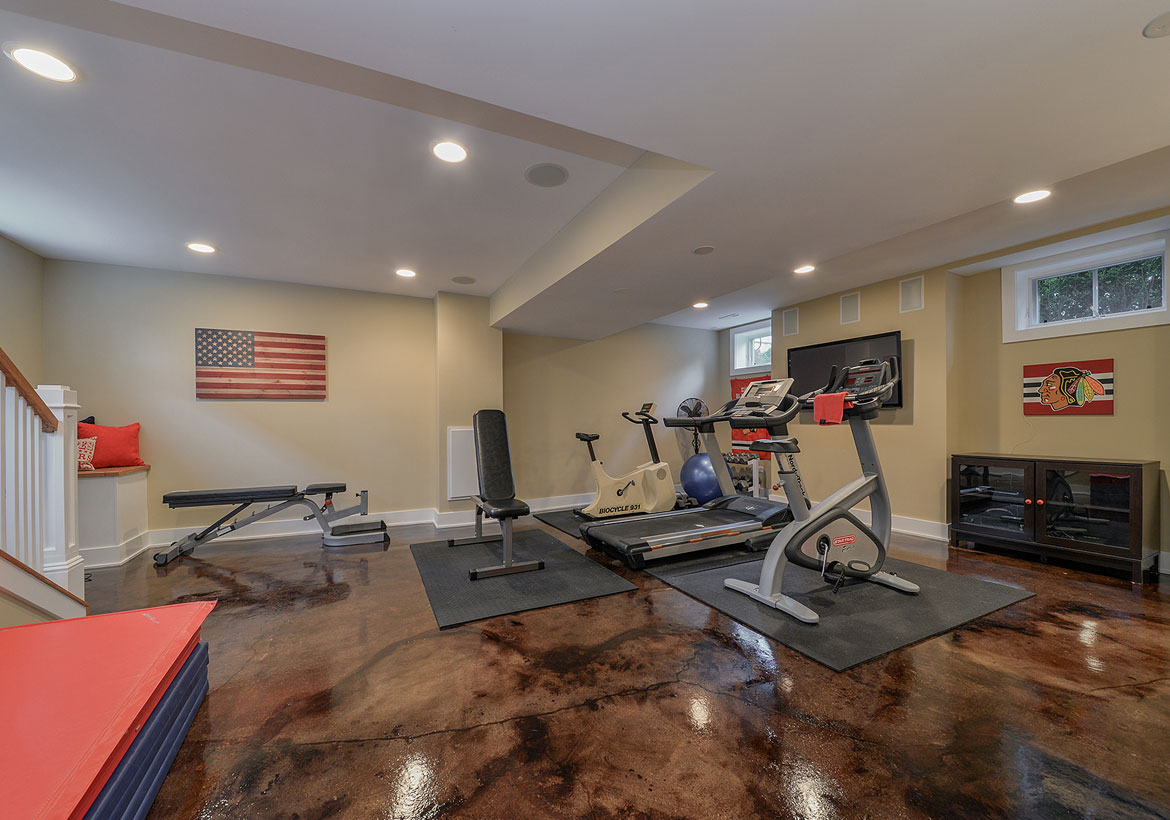 A basement transformation with polished concrete.
Careful considerations on the whole design aspect go a long way in achieving the best results within a particular budget. Here is an overview of these home gym design considerations:
1. Space and Location
Ideally, fitness spaces should be as spacious as possible to facilitate numerous workout positions as well as accommodating adequate training equipment and storage. The home gym design should allow for future expansion or addition of more equipment. Choosing the most appropriate location for a home gym significantly tailors personal workout habits. For a comfortable alluring home gym design, the location should allow natural light and ventilation. Creating an ideal interior design environment not only boosts energy but also impacts focus throughout the workout sessions.
2. Equipment
As this will be your personal workout area, the equipment you stock should revolve around your ultimate training goals. Consider your comfort and personal desires when picking out your home gym equipment. Ensure that they serve your specific needs effectively. The size of the equipment also determines the home gym design. Make sure to remember that equipment that is electric has to be conveniently positioned close to power outlets to avoid wires running across the space.
Different home gyms for different needs. Make sure you have your gym essentials!
3. Supportive Environment
Creating a home gym design that enhances your focus and staying motivated is a key aspect in designing a home gym. Factors such as the room color, lighting, air quality, and air conditioning; as well as architectural factors like high ceilings and interior décor, have a potentially massive impact on workout routines. Incorporating technology in your home gym layout has become increasingly popular and is found to be very effective in mood-setting; from sound to visual effects. However, this could prove to be a distraction at times and should be done within moderation. Intelligent design choices for this kind of environment in workout spaces ensure optimal benefits from training sessions and positively contribute to personal goal outcomes.
4. Gym Flooring
Before determining what flooring to install in your home gym, it is important to note that as much as you would require a flooring material that would cushion you in case you fall during a workout, the continuous wear and tear from heavy machinery and activities impacts durability. Choose flooring material that is stiff enough to sustain weights and simultaneously be safe; ideally, use non-slip surfaces like rubber.
Polished concrete, wood, carpeted, with or without mat? The choice is yours!
5. Hygiene
One of the reasons why a home gym is better than the local options is that you get to control your own cleanliness. It goes without saying that there is a direct correlation between workout productivity and the general workout environment. While designing a home gym, it is important to put into consideration some key features, from air filtration systems to shower accessibility.
6. Home Gym Accessories
What steps up your motivation? This question should guide you in picking out the accessories that complement your workout sessions. The most popular gym design accessory are mirrors. Among other accessories are TVs and sound systems. They not only serve functionality but also make your workout sessions more fun.
7. Health and Safety
Safety and wellness are critical in any home gym design. Some injuries from accidents within your workout space could be fatal. Typically, most people would blame faulty equipment for accidents but the truth of the matter is that the entire design of the home gym space could facilitate accidents. To minimize injuries and accidents arising from human error, the following is recommended:
Ensure ample storage and put away equipment after workout sessions to avoid tripping over them.
Frequently check your equipment for faulty parts.
Avoid outside distractions while working out.
8. Budget
Arguably, a home gym is perceived as a luxury. However, if you have specific workout goals but are too busy to achieve them due to the time constraints, then a home gym is the best solution. On that note, designing a basement home gym does not necessarily have to be expensive. Creating the best home gym design on a shoestring budget is very doable depending on your fitness goals. Having specific goals enables you to purchase the most effective and necessary equipment for your design. Whether you are creating a basement home gym as a luxury or a necessity, it must not push you beyond your budget. Second-hand equipment is available at more affordable rates but be very careful not to purchase faulty ones, especially out of warranty. You may also opt to start small and build up your gym over time.
BASEMENT HOME GYM DESIGN IDEAS
To help you with your own home gym design–make sure to check out the following outstanding workout room ideas.
BRIGHT BLUE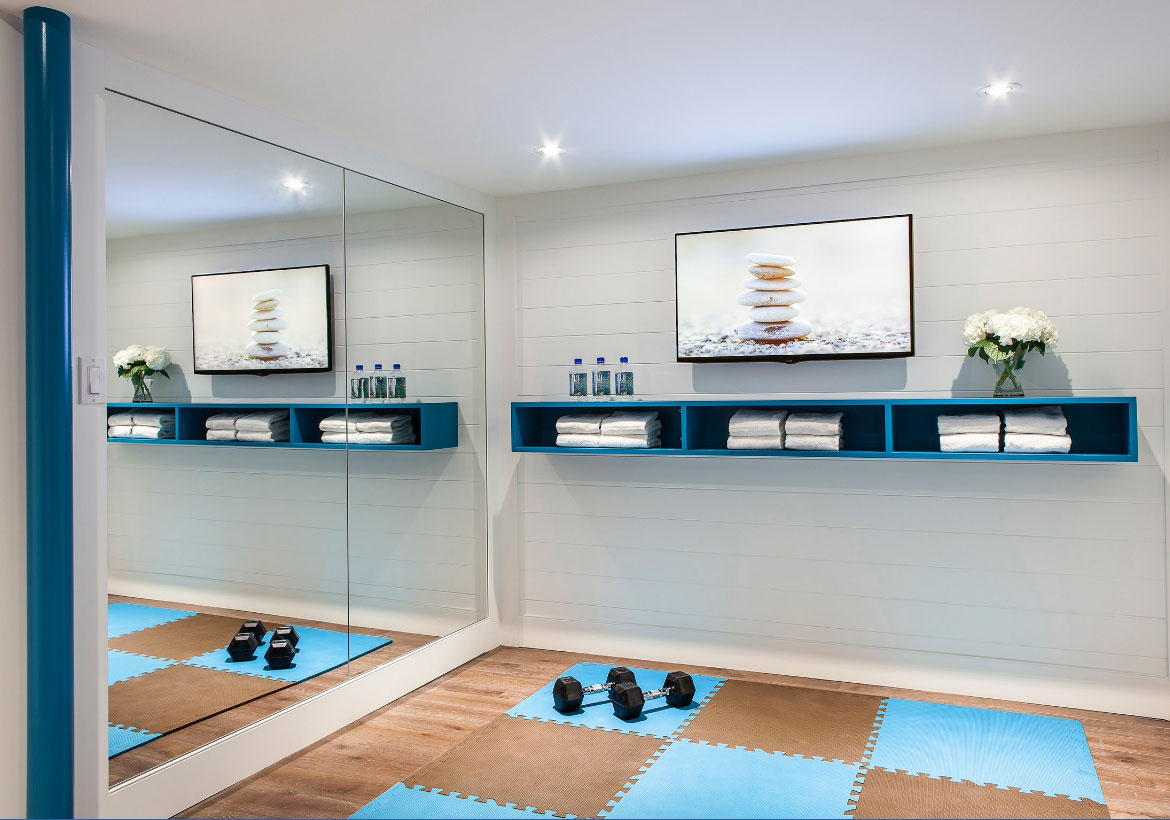 The splashes of blue are sure to please anyone who appreciates the color blue or likes aquatic themes. This basement layout is a work of art by One Three Design Inc. You can fit all of your various pieces of exercise machinery in there. Wow, that's some seriously clever engineering.
INDUSTRIAL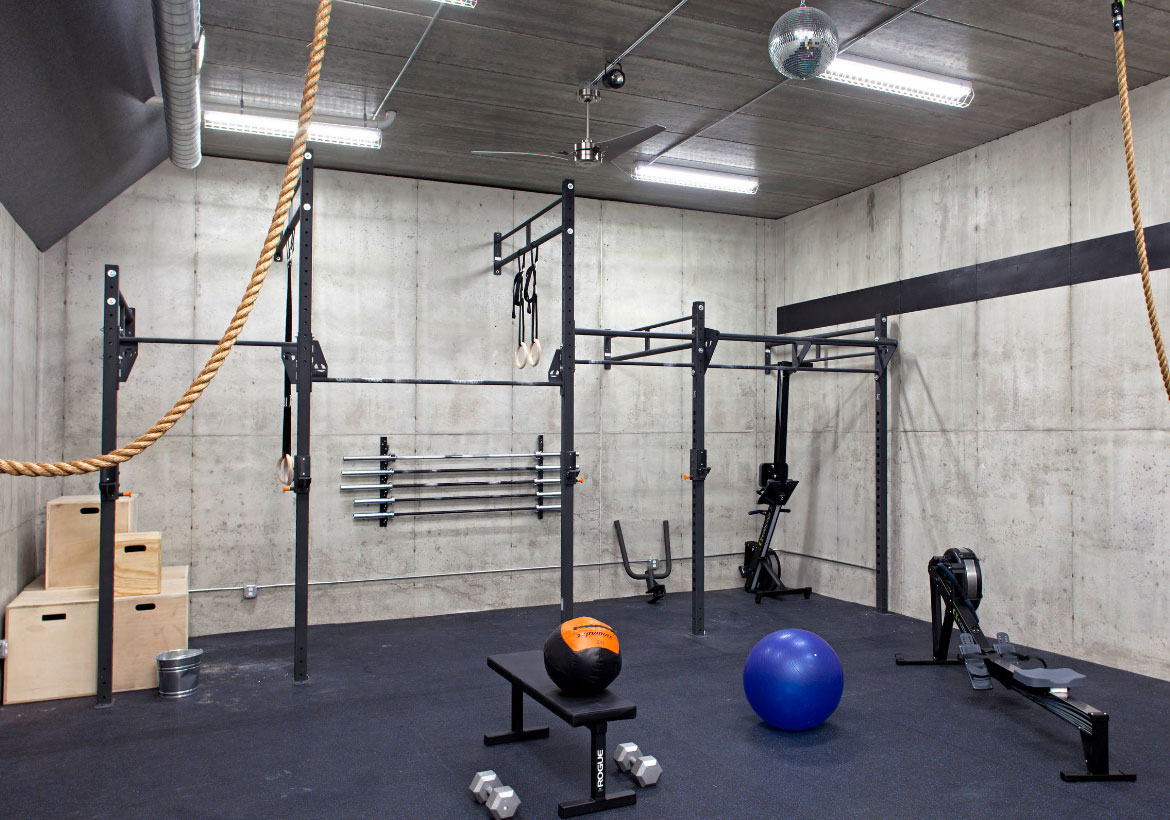 John Kraemer & Sons have created another masterpiece with this home gym in the basement. It looks like a home gym—industrial, serious, and ready to go to work. Spending time at this fitness center will make you feel like you've teleported to another world. The gym's color scheme also suggests that businesspeople frequent it.
CALIFORNIA COOL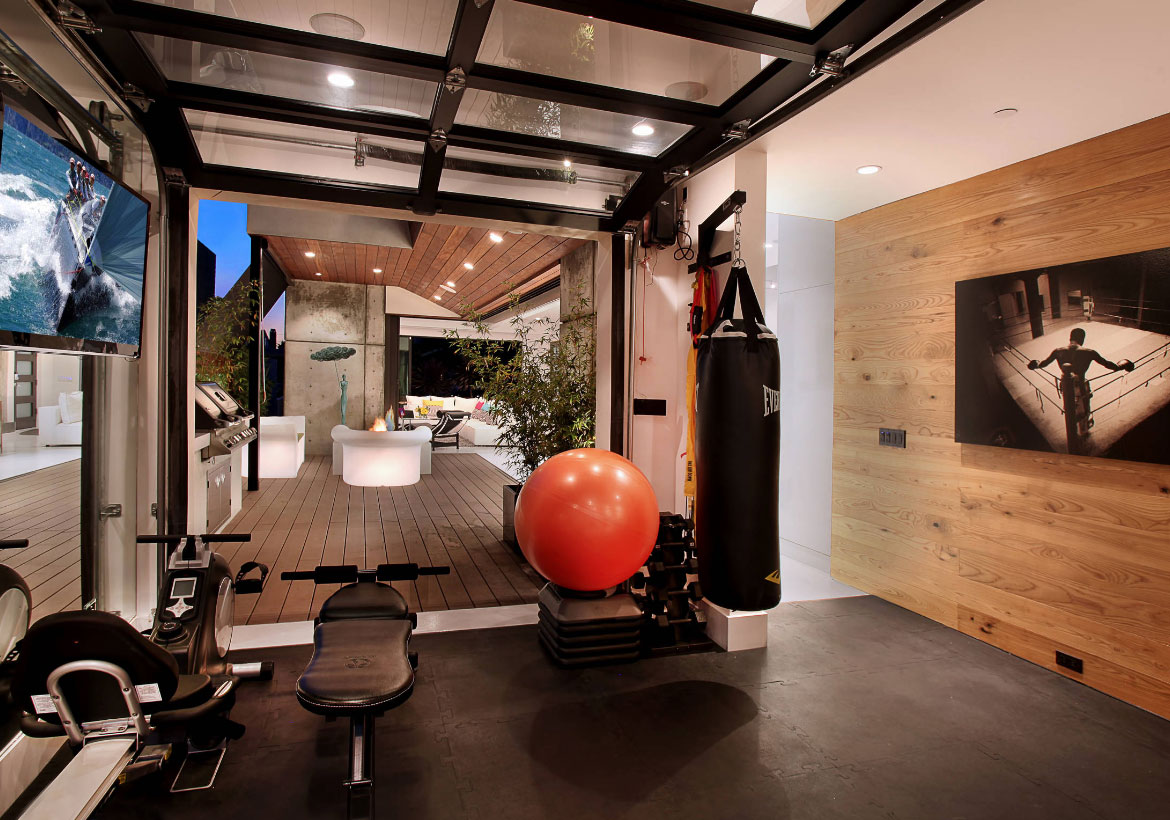 These photos are of a "cool" home gym in Orange County, California, which is an excellent example of a modern, minimalist design. This home gym is in the basement, and every piece of equipment and detail screams luxury. Besides a gym, it also features a lounge area where you may unwind. In other words, Patterson Custom Homes has created a masterpiece.
REBEL YELLOW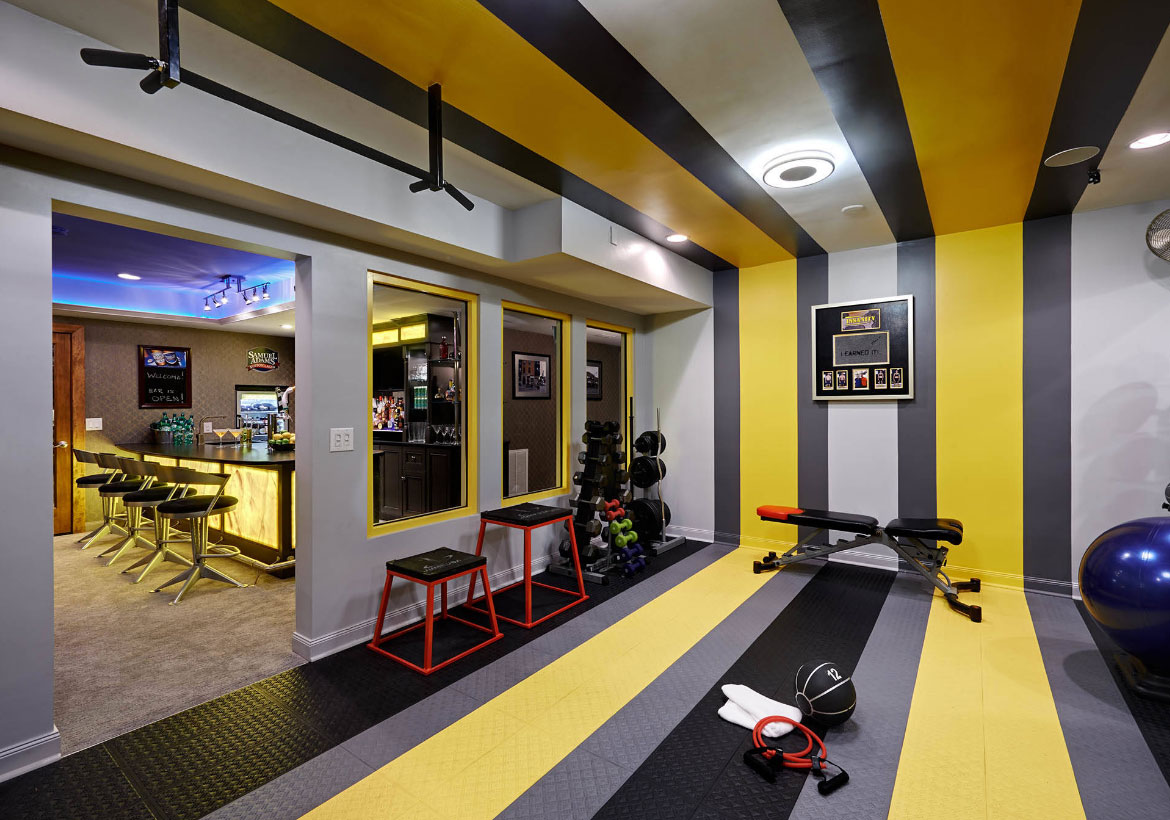 I've never seen a more stunning example of a modern home gym than this one. The splash of yellow is an energizing accent. In addition, there is a hip, modern bar just outside the entrance. The rebel yellow basement room design by Vonn Studio Designs is a lot of fun. Numerous pleasures await you in this location.
EXTENSIVE
With no shadow of a doubt, this is the best home gym for a complete workout. Your entire collection of fitness apparatus will fit in the basement you have designed by Sanctuary Architects. After rigorous training, you can relax in the facility's tiny pool. This subterranean fitness center layout is fantastic!
TRANSCENDENT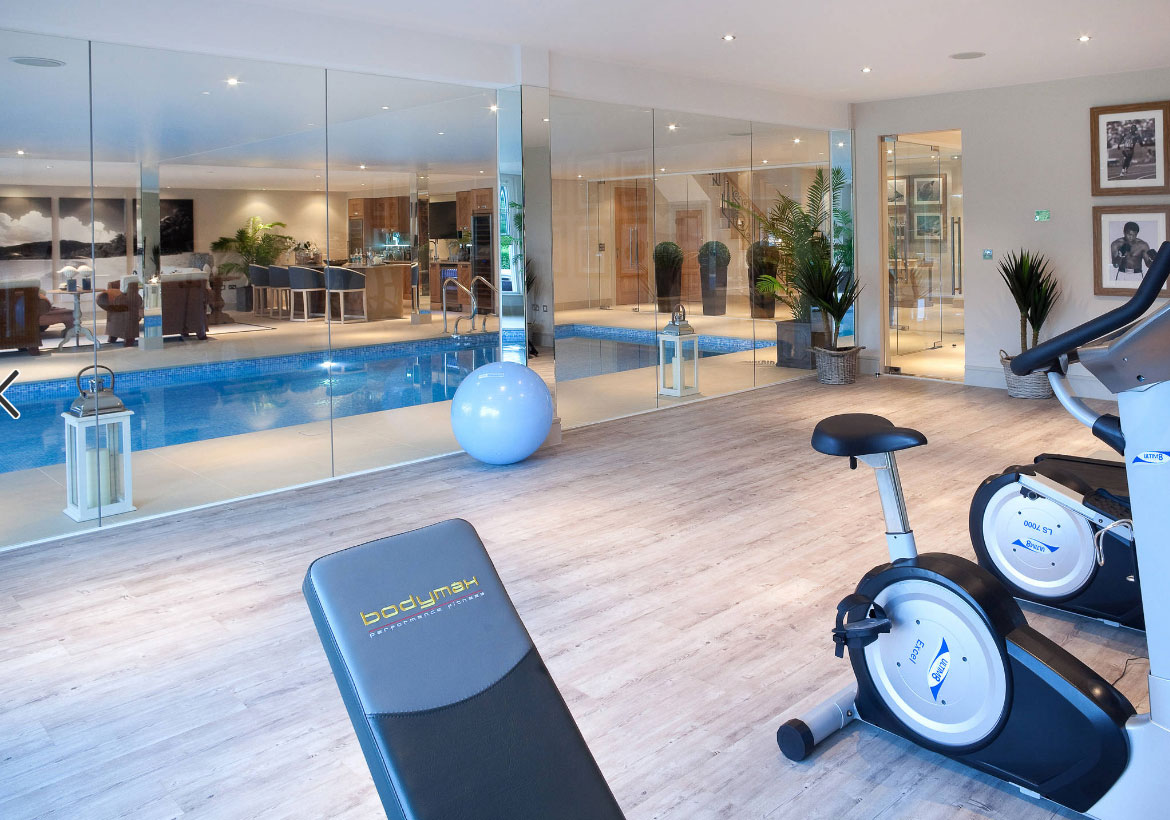 Words fail when you try to describe how amazing Alexander James Interior's work is. Everything appears to be high-end and spaciously designed. Because of its size, the basement serves multiple functions. The complex includes a fitness center, a long pool, a restaurant, and more. This basement layout is perfect for activities and entertainment.
RUSTIC KNOCK-OUT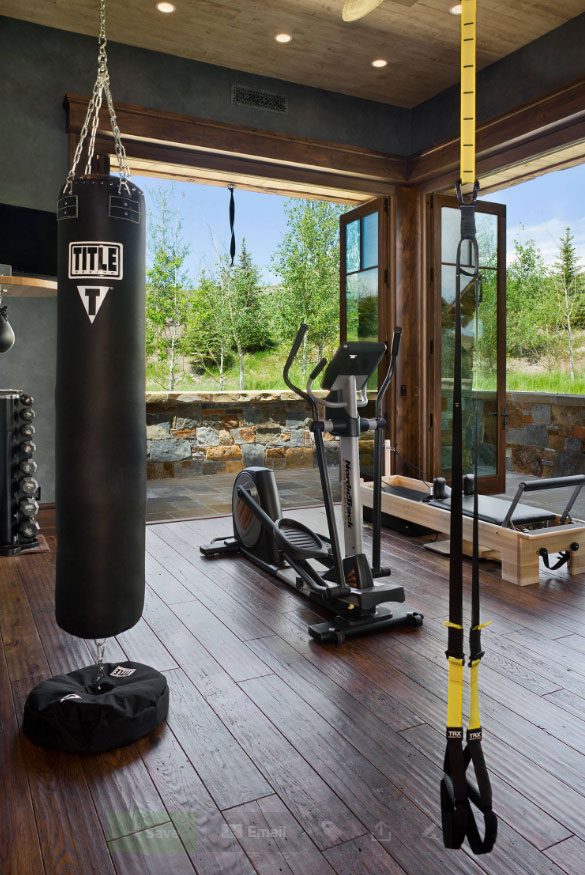 It's great to see a rustic twist on the traditional gym. Another outdoor, scenic, and open-air gym. After working out in this underground recreation room designed by Locati Architects, feel revitalized. The universal appeal of a black and brown color scheme mimics the landscape outside is not to be underestimated.
BEVERLY HILLS BARN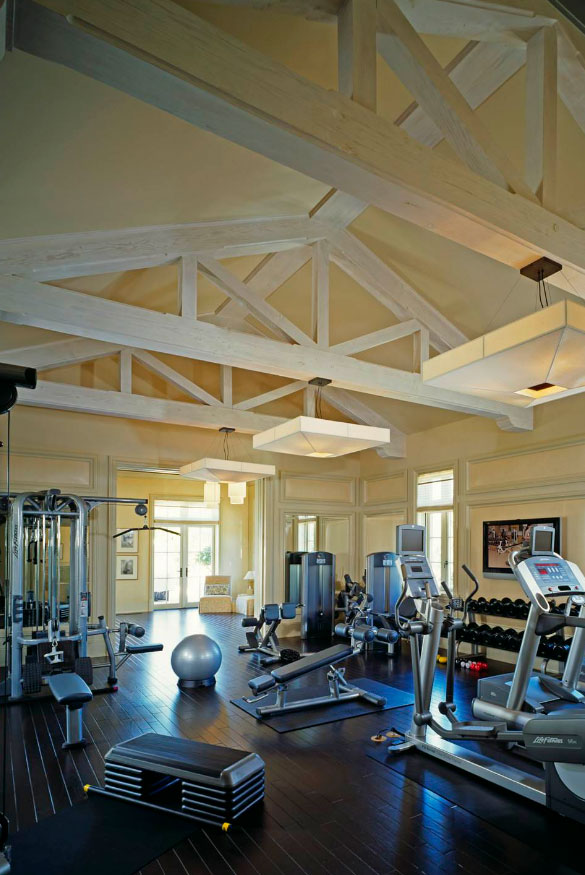 Of course, that would be the posh Beverly Hills equivalent of a barn. This one has a beautiful gym, which is why we chose it. The ceiling hints at the basement room's barn architecture, but the exercise machines scream luxury. Finton Construction outdid itself with this unique fitness center.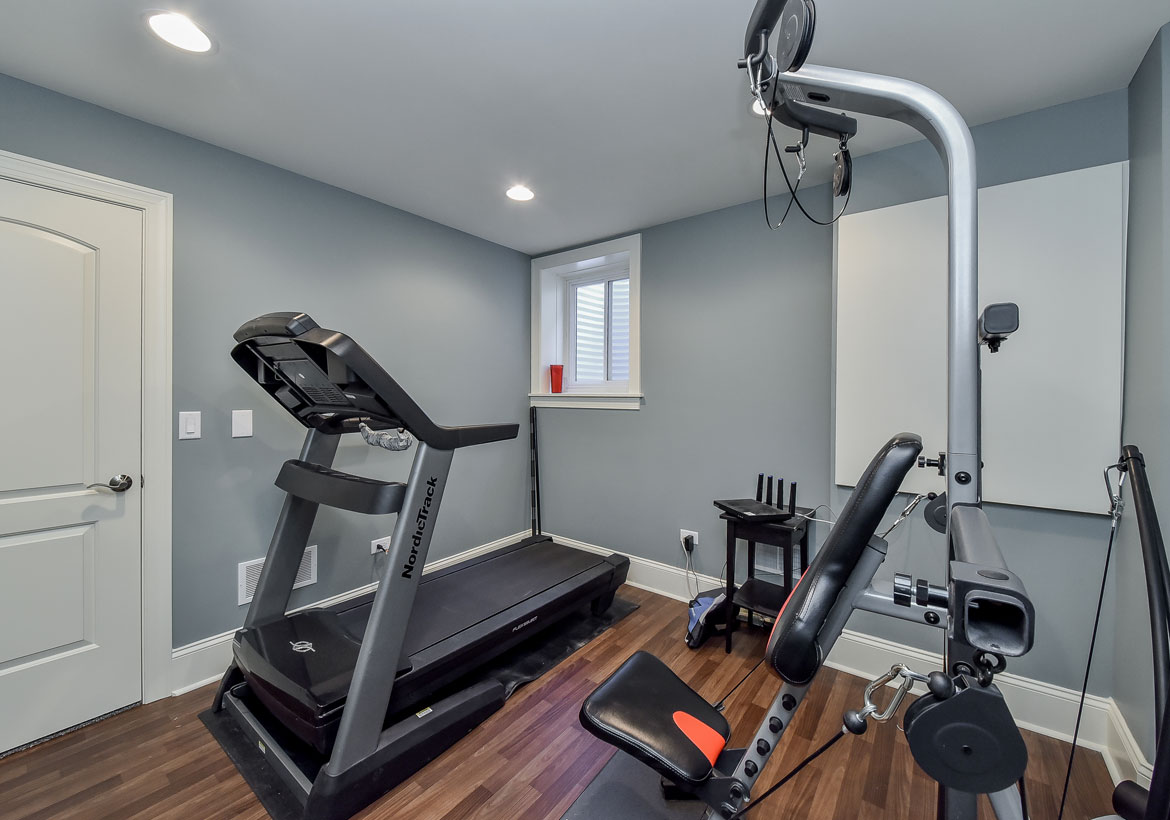 A treadmill is usually a must for most home gyms.
Workout Room Equipment
With the previous considerations in mind, the next step would be to purchase the equipment that best suits your needs and fit into the allocated space.
Chances are, your training is either based on cardiovascular fitness or strength training. When you are certain about your workout purpose and desired outcomes, here is a recommended range of equipment you can choose from in designing home gym layouts.
Cardio Fitness Home Gym Equipment:
Essentially, these are activities that facilitate blood circulation; working the heart and lungs which increases oxygen levels in the blood. These activities are also essential in maintaining general health wellness; cutting fat while bulking up.
Treadmills: Popular choice for burning more calories than other cardio equipment. However, it would be advisable for one to take the jogging outdoors if the terrain and environment facilitate it. Here's a link from A Sweat Life for just one of their treadmill workouts.
Cross Trainers: Involves working both the upper and lower body, involving a lot of muscle movement. They are considered most effective for whole body training.
Lifecycle/Stationary Bikes: Provides a gentle form of cardio activity improving muscular flexibility and easing back pains.
Rowers: Particularly effective for endurance training; increasing heart function. Has minimal strain on back and joints therefore suitable for older trainers.
Stair Steppers: Intense cardiovascular workout equipment that majorly focuses on lower body muscles. Not only improves muscular strength but also prompts more balance and stability.
Strength Training Home Gym Equipment:
These are activities designed to induce muscular contraction by the use of resistance; improving anaerobic endurance as well as increasing skeletal muscle size.
Free Weights: Demand more coordination and control which could be quite challenging but strengthens large muscle groups simultaneously. Includes barbells and dumbbells.
Medical/Stability Balls: Ideal for relieving lower back pains and for expectant women.
Resistance Machines: Uses stacks of weight for resistance. Focuses on particular muscle groups at a time.
Resistance Bands: Giant springs or bands that provide resistance when stretched. Are well portable but are incapable of adjusting resistance.
Squat Rack and Pull-Up Bar: Apart from versatility on the numerous positions and activities, it is easier and safer to use due to the design that allows you to work alone with the help of lateral safety pins on the rack. It also is a great choice as it consumes minimal space.
Accessories:
In order to add a dimension to your workout sessions, you might want to have complementary accessories such as:
Yoga Mat
Flat or Incline Bench
Kettlebells
ABS Wheel Roller
Safety Gear
If there is one sure fact about picking the correct equipment, it is that you get to optimize small spaces and small workout rooms with the best workable home gym designs. Having laid out these considerations, what benefits would you achieve in establishing the best home gym design?
The greatest mistake that people tend to make is not planning ahead of designing their home gym. It is always important to lay out a strategy based on goals, expectations, space availability and how much you are willing to invest in creating the perfect workout space within the confines of your home.
Here are some of the benefits that you get to enjoy from a well-thought home gym design: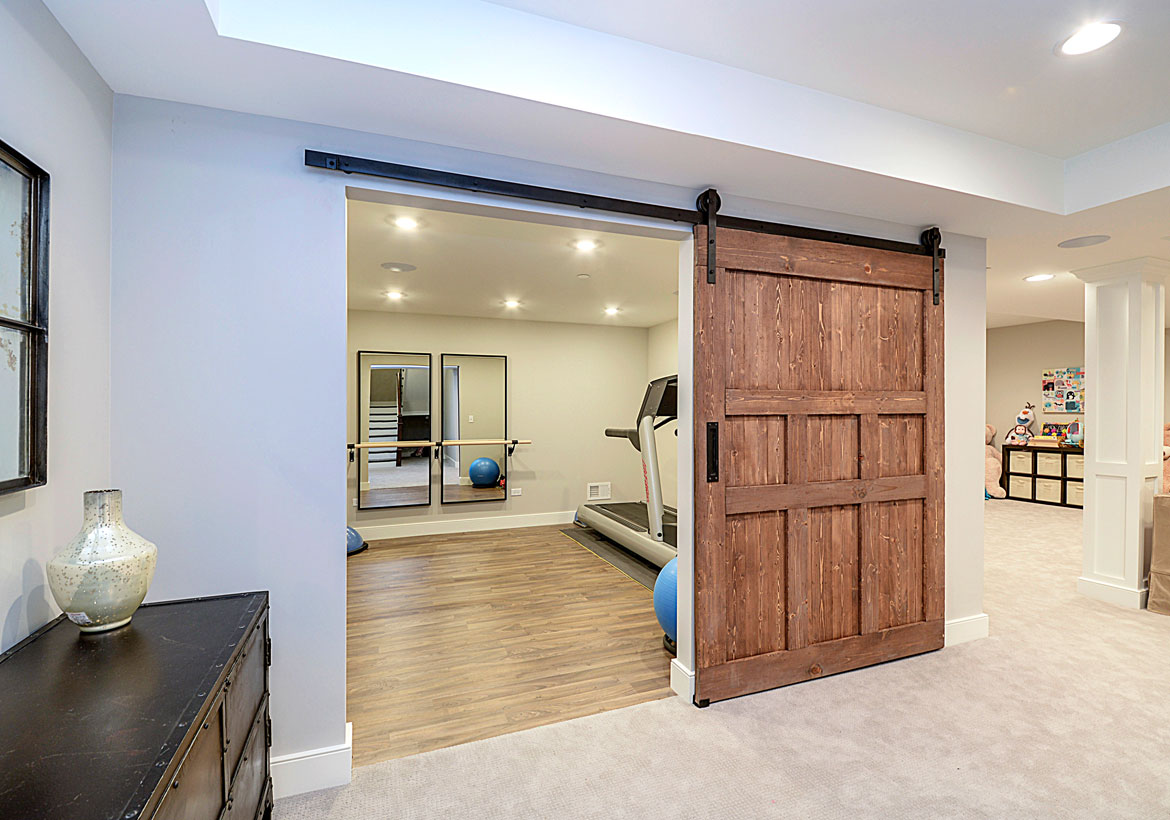 The sliding barn door is a nice touch to this home gym.
1. Comfort
The biggest and most notable advantage of having a nicely designed gym in your home is the level of comfort it provides. Unlike commercial gyms, a home gym can be designed to include finer details that suit personal needs such as the installation of sound and visual systems that one can control with ease; encrypting motivational messages or putting up posters to create a more enabling and inspiring workout environment and having the ability to move equipment freely. Needless to say, being at home allows you to dress comfortably without judging eyes.
2. Quality Control
Investing in a sturdy home gym designs offers great opportunities for controlling the quality of workout sessions. In contrast with local gyms, one can equip the gym with machines that target their specific goals other than keeping up with the ones that are made available but do not cater to the desired needs. When you create your home gym you also get to control hygiene and safety levels. Proper air quality and clean machines facilitate better focus without distraction from unwanted smells, slime, or germs on workout equipment.
3. Convenience
Accessibility and immediate access to workout equipment is a key element in ensuring a fit lifestyle. Local gyms can be very intimidating at times; from having to queue to use a particular machine, to the commuting, to the hefty membership charges. A dependable home gym not only saves time, but it is also cost-effective. From the smallest and simplest home gym designs to the most intricate of them all, the ability to access them whenever there is a minute to spare without having to pay out those hefty membership fees is without a doubt a major benefit.
When it comes to personal health and fitness, compromising the outcomes could result in an epic fail. It is clearly outlined that a home gym is the most effective way towards achieving fitness goals. Design aspects of a properly designed home gym could go a long way in keeping you motivated, focused and fit. It is, therefore, crucial to pay particular attention to home gym designs and setting up the most brilliant design on the basis of personal needs and desires.
Workout and then cool down after with the couch and TV on the side.
SHOWCASED ON WGN TV HOUSESMARTS
Check out Bryan Sebring's HouseSmarts TV Episode, which featured home gyms and aired nationally. Our two gym segments start at 2 min 11 seconds.
More photos of these two highlighted projects are available below:
This is an image roundup post, curated to showcase and promote other reputable contracting companies' and their amazing work. To have any of the images removed, please reach out to us and we would be happy to do so.