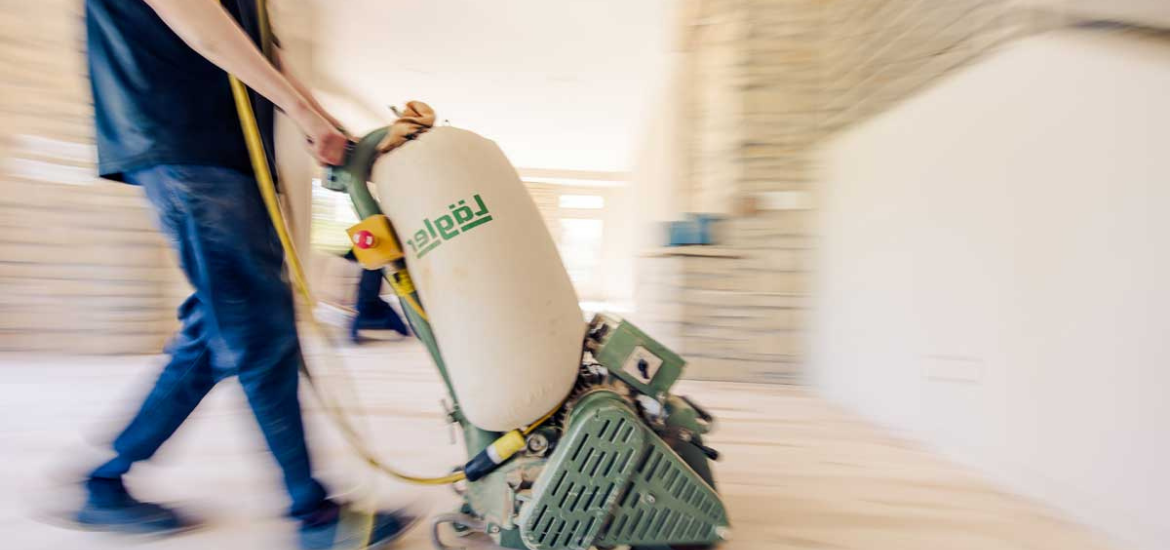 If you're into flooring or you are invested in a DIY maintenance project, you'll quickly learn about the different types of sanders. Whether you need a sander for flooring, or you are interested in getting your hands on a small sander, each type has its specific uses that can help you complete your project with ease.
Many unfinished wood floors require a bit of sanding before they can be stained and finished. And in order to achieve that perfect smoothness, you will need the right tool for the job. But it can be overwhelming when you realize there are so many different types of sanders available at your local hardware store.
Floor sanders and finishing sanders are required for any woodworker who needs to smooth something out. If you're looking to learn more about these primary floor finishing tools, the below information may help you out. We've compiled a list of 7 main types of floor sanders to help you understand which of these tools will work best for the project you have in mind.
Black Decker handheld sander is an affordable and easy-to-use electric sander.
What Are the Different Types of Floor Sanders?
There will be more detailed information about each type of sander below, but first, we want to show you how big of a range exists between each type of sander. This is why it is so easy for the average homeowner to feel overwhelmed during their trip to the hardware store. This is especially true for someone who has never used a floor sander before. So, what are the different types of floor sanders?
Manual Sanders
There are many types of manual sanders if you are interested in finishing your project the old-fashioned way. Some projects literally require manual sanders, although most flooring areas are big enough for you to use a powered device. But in the event you need to do it by hand, you can find strip sanders or even plain old sandpaper to do the trick quite nicely.
Handheld Sanders
One step up from traditional manual sanders is the hand-held sander, which is small but powered with electricity. It's good for small to medium-sized flooring projects where you still want to have manual control without having to wear yourself out. Palm sanders and orbital sanders are two common types of hand-held powered sanders.
Large Bench Sanders
The bench sander is the most common type of sander you'll see in any large or industrial projects. It is a heavy-duty machine for a heavy-duty job. They use larger wheels, run at faster speeds, and can withstand much coarser sanding paper. Disc sanders and belt sanders can be found in this category.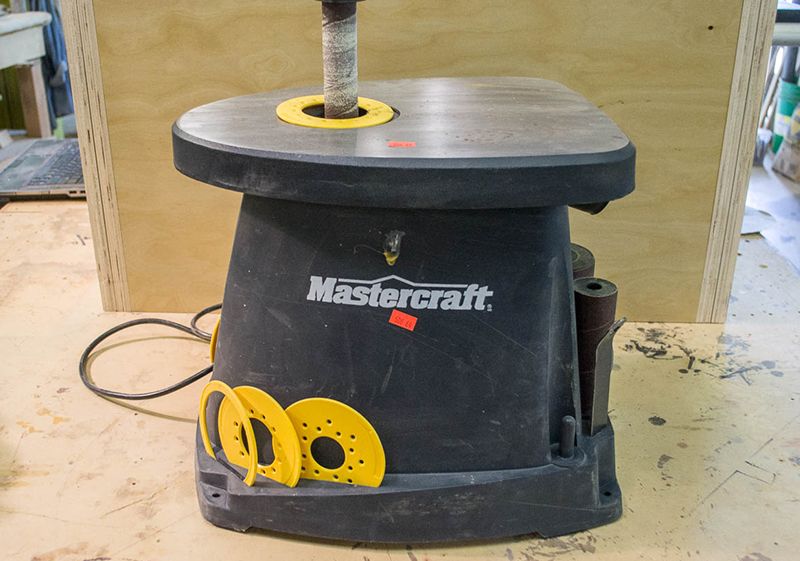 Mastercraft oscillating spindle sander for ultimate smoothness of your project.
When To Use Different Types Of Sanders
There are many types of sanders that seem similar to each other at first glance. This is why it can sometimes be difficult to figure out which tool is best for which project. By reading through this guide, you can hopefully come to understand when to use the different types of sanders listed here.
Since many of these sanders are specifically made for use on flooring, it's easy to see where sanders can find their use. But there are many other types of projects that may require the use of the different types of sanders. These projects can include:
Staircase making and finishing
Furniture production
Cabinetry making and finishing
Smoothing unfinished wood for DIY projects
As you familiarize yourself with the different types of sanders available to you from your local hardware store, you will be able to determine which sander works best for your projects. As you look through the 7 most common types of sanders, you'll find out what the difference is between the types of small sanders, as well as what types of sanders are best for smoothing out your rough flooring.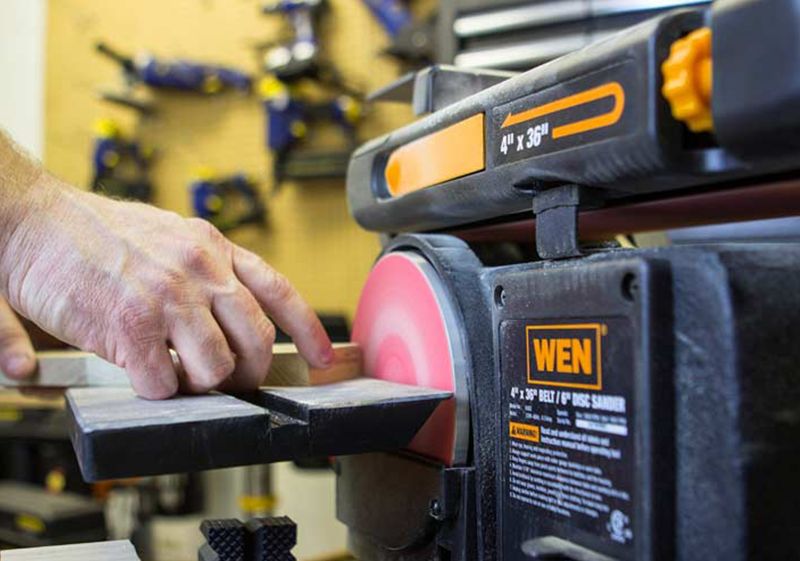 Belt disc sanders are best for precision edge work.
7 Floor Sanders You Need for Your Next Renovation Project
Below, you will find a mix of manual, hand-held, and large bench sanders for your consideration. Read on to find out what each type of sander does, and what kind of project it will work for.
1. Palm Sander
Palm sanders are popular hand-held power sanders that work well with small-scale projects. Most palm sanders come with a square sanding pad that moves in an orbital motion as you glide it along the area you're looking to smooth out.
Palm sanders usually come with specific square pads of sanding paper, which you can find in various sizes in the sanding section at any big-box hardware store. There are clips on the side to secure the sandpaper into place before putting it to work.
The best uses for a palm sander include:
Sanding the corners of your unfinished (or finished) wooden floors
Sanding veneers or plywood
Smoothing varnish, paint, finish, or plaster on a variety of different surfaces
Think of a palm sander as a "final details" kind of machine. The sandpaper is very fine, so you won't be doing a lot of heavy labor with this sander, but rather you'll be in a good position to provide some final touch-ups.
2. Oscillating Spindle Sander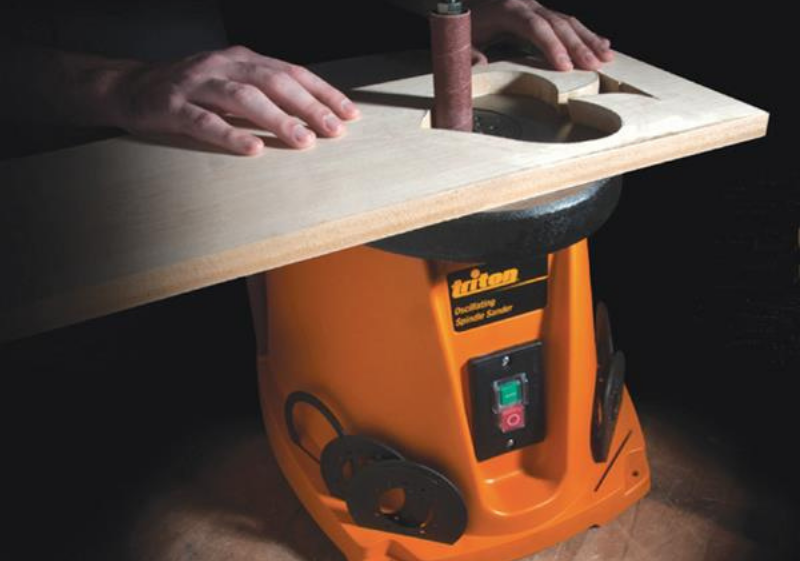 If you're looking for ultimate smoothness on your project, the oscillating spindle sander will be your friend. This type of sander is specifically designed to work with tough nooks and crannies, or finished wooden pieces that have strange shapes. Think curves, edges, and corners. Instead of having to go through all of these tiny areas by hand with a piece of sandpaper, you can use this machine to get into all of those hard-to-reach spots.
It moves like its name suggests: it oscillates back and forth, up and down, and in circles, making it perfect for sanding down unique shapes. It comes with an abrasive sleeve that can be used for different grades of sanding, and it is fixed to a base so you always have a way to keep it stable.
You can also use this for convenient parts of the home like the banister or even the arm of a wooden chair.
3. Belt-Disc Sander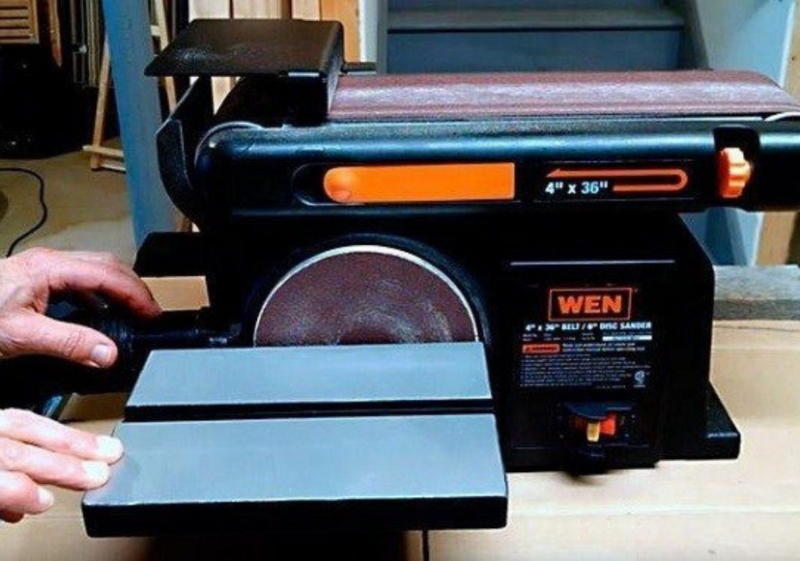 Some professionals consider the belt-disc sander to be the "odd one out" in comparison to other sanders. But like all other tools, this one certainly has its place and its good uses. This is an important type of powered sander to use when you need something really abrasive to do the sanding.
The belt-disc sander is unique in that it has two drums that sping two loops of sanding belts without interruption. There is a motorized component on the inside that spins these discs, so essentially, you get the best of both worlds: a sanding belt and a disc sander all in one.
This is a large sander that runs a bit on the heavy side, but is an excellent choice for large-scale projects. You would typically use a belt-disc sander for:
Getting rid of glue, rust, or any sticky residue that's hardened on a wooden surface
Smoothing out surfaces before they are finished with varnish
Sanding down patches or other materials
This industrial-grade sander is used by professionals who have a lot of ground to cover or who have a particularly rough piece of wood to sand out.
4. Belt Sander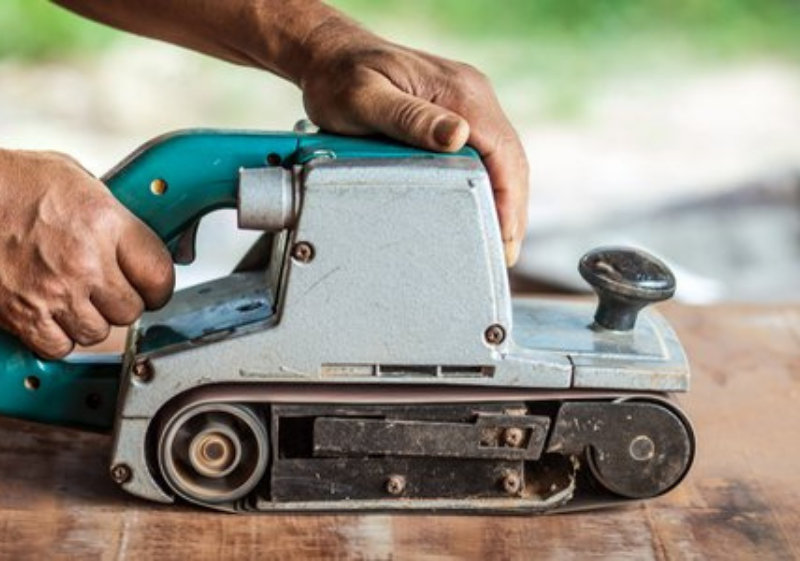 Similar to the belt-disc sander is the belt sander, another heavy-duty option for all of your tough sanding jobs. One of the biggest advantages of the belt sander is that it is a large machine that comes with quite a steady work surface, giving you plenty of space for your projects. It will allow you to do all the sanding and grinding you want without ruining anything.
Belt sanders include abrasive sleeves that are much longer than those of other types of sanders, meaning that you can do more with them before they are worn down. This is one of the best devices for getting rid of large amounts of material at once. Plus, the ability to adjust the size and speed of your range is quite nice as well.
Belt sanders should be used for:
Flat-surface sanding
Flooring and flooring edges
If you have any heavy-duty job that a regular sander may not be able to handle, this one is sure to get the job done right.
5. Detail Sander
A detail sander is a hand-held sander with a powered motor. It is unique in that it comes with a triangle-shaped sanding head, rather than a square or circular one. This makes it an effective tool for smoothing out areas of wood where there may be a tricky design or a tough-to-reach spot. You can also use them for cabinets and furniture.
Detail sanders use very fine sandpaper, so they should only be used for what the name implies: the details. Whether or not you have a large or small job ahead of you, you should never turn to the detail sander first. Instead, save it for the very end when you just have a few more little kinks to sand out.
It is most similar to the palm sander, especially because it is so compact. But it is even better than the palm sander when it comes to awkward positions, like trying to sand out the corners of window frames or tight grooves in a piece of furniture.
6. Drum Sander
You can't get more heavy-duty than the drum sander. This is an incredibly dense tool that uses a large motor and a lot of power to turn a massive sanding pad. Think of a drum sander as the static arm of a saw but with sandpaper rolled on it instead.
Most drum sanders allow you to adjust the height, size, and speed of the arm so you can fit it to whatever specifications you need. Despite its size and weight, it is surprisingly versatile. You can open or close the ends of the drum depending on what works best for you.
Drum sanders are particularly used for:
Keeping square edges square
Large sanding projects involving wide boards or a large area of flooring
Smoothing large wooden pieces that have already been assembled (i.e., assembled cabinet doors or door frames)
Not only can the drum sander smooth just about anything of any size, but it also does so consistently. You won't run into the risk of having your boards come out with different thicknesses on each end. It's an efficient, precise, and surprisingly fast-acting machine that no heavy-duty project connoisseur can go without.
7. Random Orbital Sander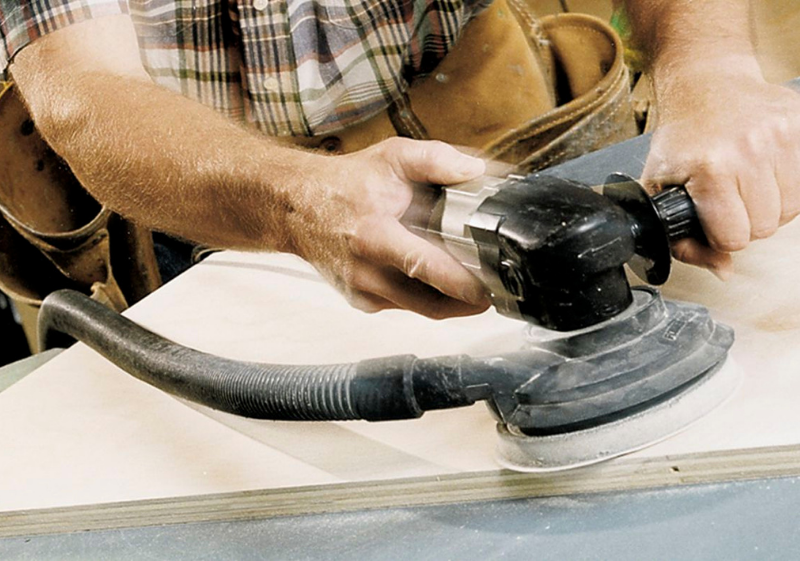 The random orbital sander is almost the same as an oscillating spindle sander, but there is one glaring difference: the random orbital sander makes random sanding movements to prevent a pattern of sanding from repeating so much that it makes a mark in the wood. It's a way to fine-tune the smoothing process so much that it keeps your materials perfectly consistent throughout the project.
Keep in mind that this is a hand-held sander, though. And while it is affixed to a durable base, it can be quite heavy. It is also more costly than some of the other hand-held models mentioned on this list. But this particular sander is a good investment if you are in need of something for your wooden furniture projects.
It is compact enough that it provides tons of versatility without having to carry extra weight. It may not be the best for flooring, but it is great for smoothing out the finer details on other wooden products.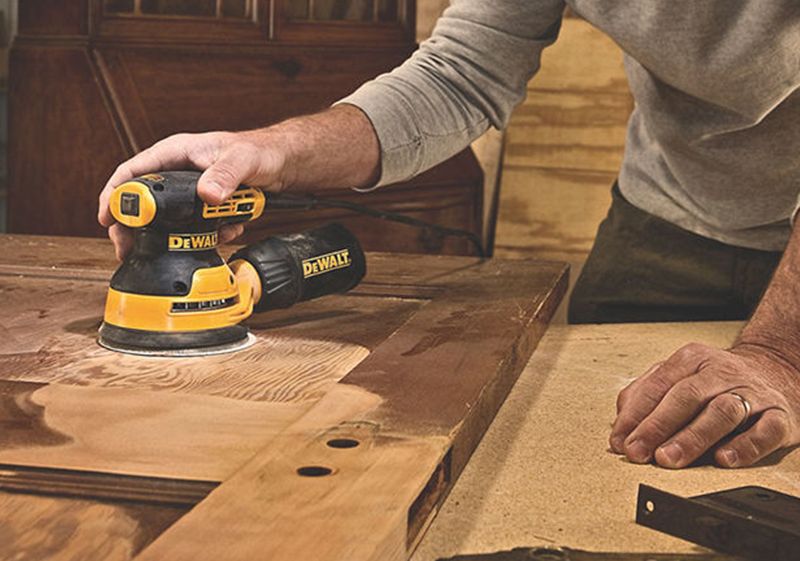 For extra smooth surfaces, you can use fine-finish sanders.
The Bottom Line
Sanders are made to suit a number of different woodworking projects. There is such a wide variety of sanding devices and heavy-duty machines that you'll find at your local market, and it can sometimes be impossible to figure out which kind works best for your specific needs. Continue researching the different types of sanders in order to find the perfect fit. Looking for a type of floor sander that will work best for your newly-installed planks? Or perhaps you are looking forward to your new kitchen cabinetry but you need a way to work out some pains in the corners and grooves. No matter what kind of project is ahead of you, there is a type of sander that will do the job best.
If you are invested in a DIY project or you are trying to learn more about the home renovation process (and which tools you'll need along the way), you can check out our free resources for homeowners. Take a look at Remodeling 101: A Free Homeowner's Guide to learn everything you'll need to know about your next big renovation project.
Other Great Articles to Read: