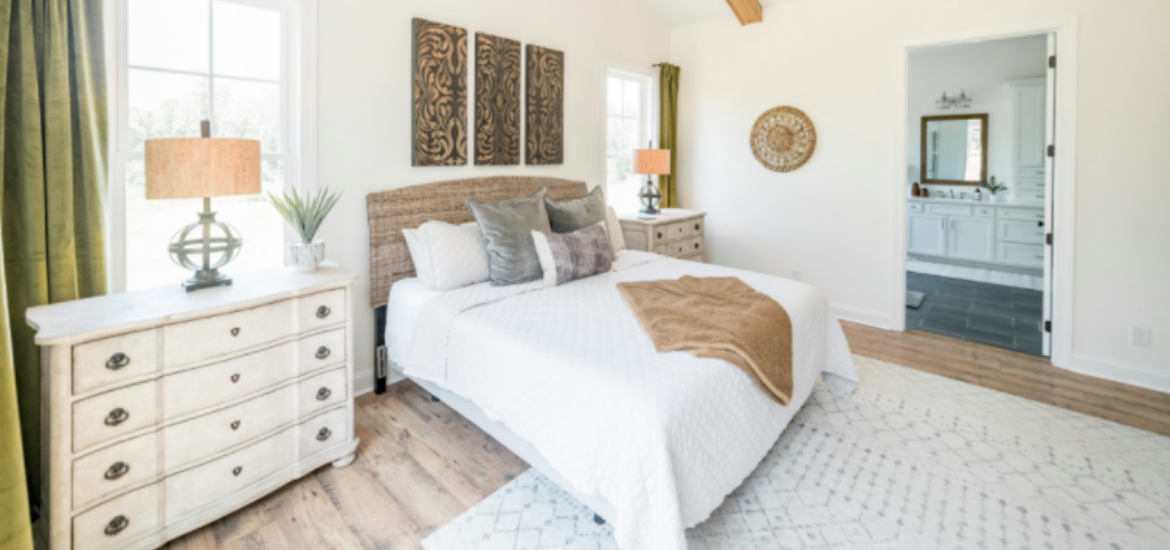 Featured Image: Frank Good Builders
When you are investing in a remodeling project, you will quickly learn that you have a lot of choices to make. Everything from the size and shape of your cabinet knobs to the make of the cabinet itself must be considered according to your preferences as well as your budget. When browsing your available furnishings and materials, you may come across something known as whitewood.
It's a clean, light-colored wood that provides a lot of durability. But that's probably not the first thing you will notice about it; in fact, whitewood is known for being incredibly affordable.
But why? What makes it so cheap, and still good quality? Why should you consider it for your cabinets, shelves, or tables? Let's take a look at what whitewood really is and whether you will want to use it as part of your next home renovation.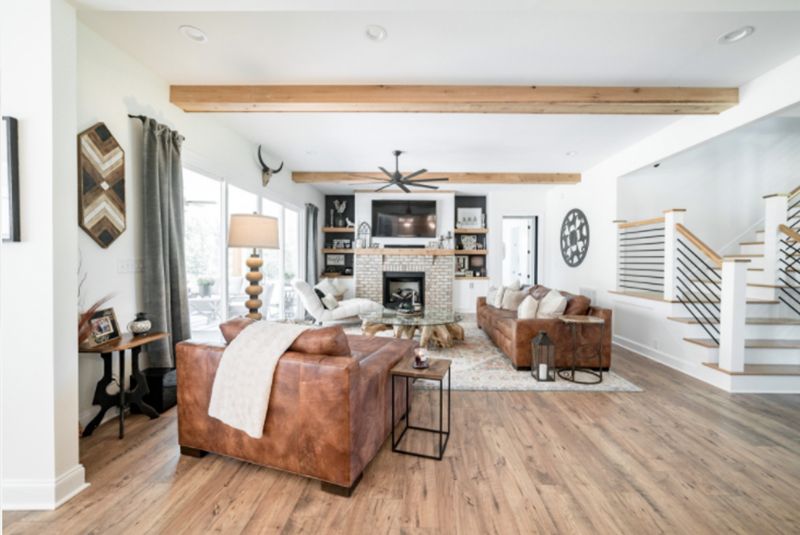 Farmhouse living room with leather sofa and light wood flooring.
More About Whitewood
There are certain pieces of furniture or shelving that will boast being "100% whitewood". Why exactly is that a boast, and what does that mean? Is it a specific type of wood, or is whitewood a different type of construction material? Either way, we'll explain why you might want to consider it for your next refurbishment.
Usually, whitewood refers to the wood from the American tulip tree or yellow poplar, and it's one of the tallest hardwood trees in the world. In nature, it can be seen as high as 160 feet tall, making it a prize choice for lumber mills. It also grows very fast, there is almost no risk of reducing the natural population of these trees. In the industry, whitewood describes a utility lumber used for things that are largely unseen and internal. For example, brackets, webbing, and toe kick framing are often made from whitewood. But that isn't to say a lot of visible things aren't made with whitewood as well. It wouldn't be difficult to go to your local furniture store and find chairs, cabinets, decorations, and ornamental items. Smaller items like picture frames are also often made from this durable and versatile wood.
Whitewood is the term most commonly used in the industry, as it describes the color and type of wood you'll get when you order it from your local hardware store. There are other types of "white" wood that you may come across in your search for the perfect construction materials for your project.
Let's review a few of them.
Types Of White Wood
While "whitewood" usually refers to specific material, there are those who may also refer to a white washed wood or a white oak wood as "white wood". It's important to understand the distinctions between these types of wood so you know what your choice will be when it comes to building your own home.
White Oak Wood
White oak wood is a popular hardwood that offers an economic choice to those looking for an upgrade. It can withstand a lot of different finishes and is resistant to rot. You'll most often see white oak wood in flooring, veneers, and a variety of different furniture.
While it's named for its heartwood, white oak wood can actually come in various shades. It is typically white to light brown and is one of the choices for the stronger "light" colored woods. It can be used for furniture, cabinetry, and even some outside decorations as it is naturally resistant to the elements.
White Washed Wood
A strong choice if you are keen on the rustic and vintage look, white washed hardwood can serve a variety of purposes. You can buy it in pre-washed boards at your local hardware store, or you can go through the white washing process yourself. Some homeowners and renovation enthusiasts will use the term white wood as a broader term to include all boards that have been white washed through a staining process. In fact, white wood stain is one of the most popular types of stains and finishes for furniture and cabinetry. If you are looking to add an authentic, rustic look to your home, you can ask about whitewood or white washed wood.
The staining process is simple and does not require a lot of materials or colors; in fact, a little bit can go a long way!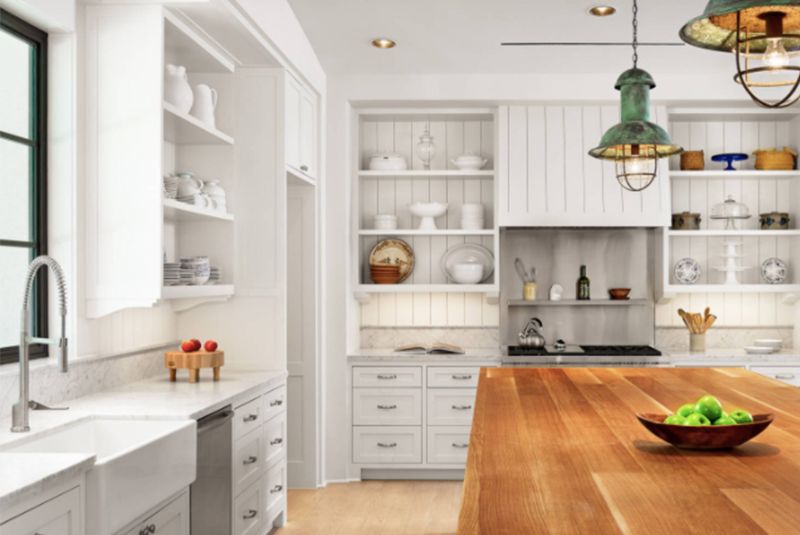 Large cottage kitchen with light wood flooring and white cabinets.
Whitewood Grades
Whitewood can be slightly different in appearance based on its grade. Did you know that whitewood used to come from other trees such as fir and pine? Nowadays, in North America, it usually comes from the poplar tree. However, different grades of whitewood can be made from a combination of whitewood trees.
For example, a popular grade of whitewood is SPF, which stands for spruce, pine, and fir. A whitewood that is graded as SYP means it is from yellow pines, or the yellow poplar, which is the most common and native to North America. You can find different grades of wood at a lumberyard, or through your local home design specialists.
Other Characteristics Of Whitewood
Let's look back at the whitewood hardwood for a moment. This wood from the yellow poplar tree is incredibly sturdy and is known for its straight grains. It is one of the best woods for precise cutting, which is why it lends itself so well to the furniture-making process. Cutting cabinets, furniture pieces, and other intricate decorations takes a certain level of physical integrity, and whitewood certainly holds up.
It's one of the smoothest and finest-cut finish woods on the market because it works so well in a variety of situations. For example, this wood can easily be cut to seal against any pipes or valves in your home. It is used a lot in the interior finishing process of most homes, as well as exterior siding.
All in all, whitewood is a superior type of wood for almost everything. It is even resistant to termites! Besides, many large and valuable pieces of furniture, including musical instruments like organs and pianos, are often made out of whitewood. At least, the interior parts of the structure are made of this type of wood, especially due to its smoothness.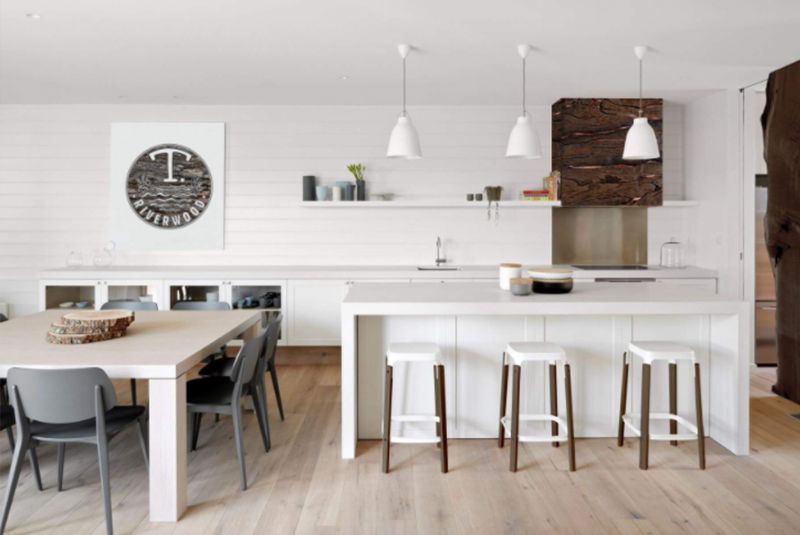 Warm and inviting contemporary kitchen with white, gray, and beige color combo.
Using Whitewood For Furniture And Cabinets
Looking for a durable and long-lasting wood that is also affordable? You won't get much better than whitewood. It's one of the cheapest woods on the market that doesn't sacrifice quality or structural integrity. It is used most often for furniture and cabinets, so you can easily find this wood available.
Plus, the light color of it is appealing because it matches with pretty much any style. You can incorporate it into your cabinetry or your new kitchen furnishings as a way to make a unique statement!
But, if you want to use the wood and you aren't a fan of the bright white color…you can always paint it!
Painting White Wood
Using a white wood stain or paint for your whitewood boards requires a little bit of caution. The first thing that's important to remember is that whitewood is very fine, so you need a paint with texture in order for it to actually stay on the wood. Since the wood itself doesn't really provide much texture, you will either need a special kind of paint, or a LOT of paint to get it to cover the white wood background completely.
You can use sandpaper to strip the wood down some, which may allow it to open up more and absorb the paint. But you don't want to over-sand your wood, as just a little bit of texture is good enough.
Sebring Tip: Don't apply the topcoat or varnish to your wood until all of the paint is completely dry! This is a good rule of thumb for every coat of paint. The previous coat should be totally dry before you're able to decide whether your wood needs another coat. It's a slow process that requires a lot of patience!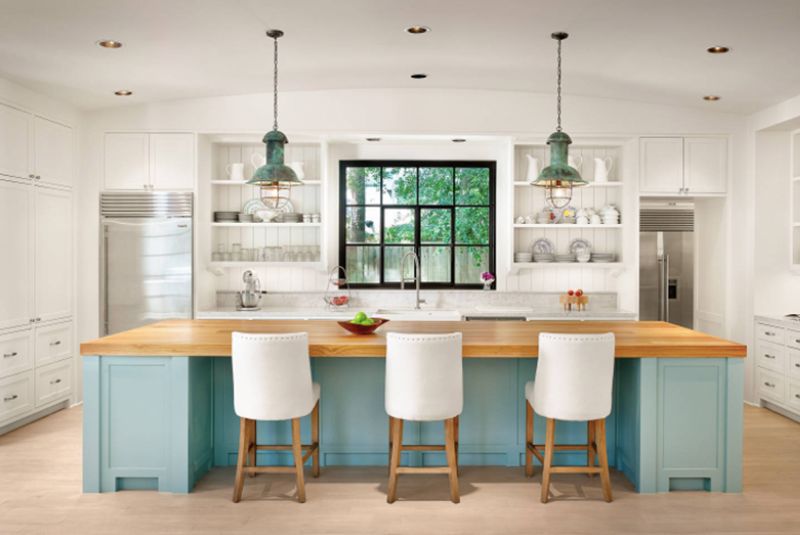 Beach style kitchen with white and green color scheme.
Get A White Wood Background In Your Home
One reason why whitewood is such a universally popular wood for pretty much any style of interior design is that people often love that "distressed" wood look. But instead of spending a small fortune on real distressed wood boards and backdrops, you can invest in cheaper whitewood and create a pleasantly bright and light-colored background in your home.
A white wood background can be an excellent backsplash in your kitchen or a backdrop in your living room that amplifies the use of natural light in your space. If you like things bright and cheery, then this is the wood for you.
Some of the best places to use whitewood include:
Large and small pieces of furniture
Interior decorations and backdrops
Exterior decorations
Exterior foundational structures, such as siding
Window frames
Kitchen cabinets
Home office furniture
Interior construction needs
Internal or invisible structures
Since whitewood is naturally resistant to a lot of things that other types of wood aren't, it makes it almost a superior choice for just about any piece of furniture or structure you can think of. While there are of course other types of wood you might want to consider due to its quality and color, whitewood is always a hardwood that you can depend on.
As an example, let's say you want to build an outdoor patio set. Whitewood is a good lumber choice due to its termite resistance. However, other types of wood like cedar may be more durable and more capable of withstanding the outside elements over a longer period of time. But as long as you reinforce the whitewood with a solid overcoat, it should be just as resistant to water and other temperature changes.
Ultimately, it takes some maneuvering with your budget and stylistic preferences, but whitewood is something that should definitely be considered for your next project.
Is Whitewood a Good Value for the Money?
As a secondary or "utility" lumber, whitewood is one of the best in the business. While it sometimes falls short of some of the qualities shown by superior woods like cedar, pine, or mahogany, it holds up very well against all kinds of elements. It's a great lumber of choice for furniture, decor, siding, and backgrounds.
It's not too difficult to paint, as long as you give it a little bit of texture first. But most homeowners prefer to enjoy it for its natural look. In most cases, all you need is a little bit of varnish or a topcoat to protect it from the elements. It's already naturally resistant to termites and other invaders, so it's a good choice for structural objects as well.
Final Thoughts
Whitewood typically comes from the yellow poplar, but in a lot of cases, it's actually made from a combination of species. It usually comes in different grades as well, which are all designed to be very termite and moisture-resistant, making it an ideal choice for any construction project large or small.
If you do your own woodworking, it can be a good choice to start with. However, whitewood becomes the true star of the show when it's used for home remodeling or reconstruction projects.
Not to mention it is highly affordable. Since the wood is easy to come by and easy to work with, it drastically reduces its price when compared to other cream-of-the-crop hardwoods. However, that surprisingly doesn't give it a reduction in quality. You'd be surprised how much you can rely on this formidable lumber.
Consider whitewood for your next remodeling project, whether you are looking to install new kitchen cabinets or invest in more secure external structures for your home. For more information about getting started with your next redesign project, check out our free eBook: Remodeling 101: A Free Homeowner's Guide. In it, you'll learn everything you need to know about starting your next remodel project.
What do you love about whitewood? Are you trying to find the perfect lumber for your home remodeling plans? Get in touch with us to learn about more ways you can use whitewood to make a big statement for a little price!
Other Great Articles to Read: