Spring is always a good time to spruce up your home or to revamp the house interior. Most people simply resort to the dreaded annual decluttering and deep spring cleaning, but there are those who are already "window shopping" online for new paint colors or a colorful plush carpet to change the look of their bedrooms, living room or family room. They are eagerly coming up with ideas on how best to remodel their home. So, we can all agree that a dream renovation project renders the perfect opportunity for folks to choose and buy new carpeting.
Why Choose Carpet?
You may have always lived with carpet, but now imagine fresh plush carpeting in a great new color to replace the worn out floor covering. Some people don't need convincing or need education about their merits. But those of you who associate carpeting only with dust mites, wine stains and pet vomit–you may become carpet converts by the end of this. You will soon find the clickety-click sound of your own steps on the hardwood surface at home more intolerable. And as a result, you may well find yourself secretly browsing for a fluffy new rug or carpet.
Be at peace in your own haven with this lovely bedroom with gray carpet.
1. The Instant Home Changer
Carpets are a great way to completely transform your interior. With the vast choice of patterns, yarns, colors and fibers, you can refurbish your floorings relatively cheap and achieve a dream new look for your living spaces. So, whether you are replacing old carpeting or you are carpeting a brand new remodeled room or home; installing a soft floor covering will instantly alter the overall appearance of your home interior.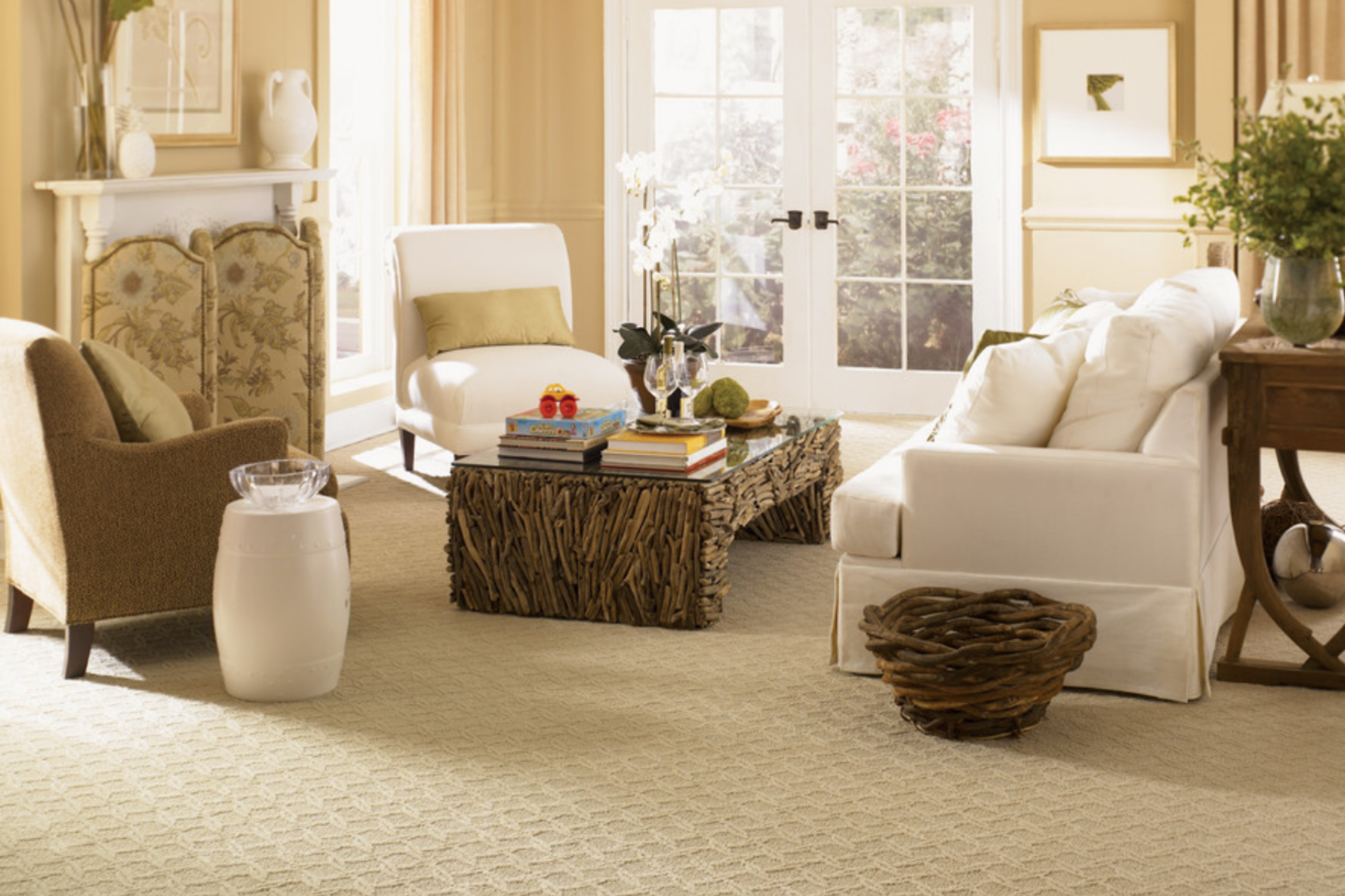 Luscious wall colors deserve an equally gorgeous carpet like this one!
2. Promote a Cozy Feeling at Home
There is nothing like walking barefoot on a plush carpet and enjoying the snug feeling without the need to look for your misplaced slippers. Carpets are the ultimate booster of comfort and coziness. They are warm in the cold months and can give your dwelling an unmatchable luxurious feel. You wouldn't sit by the fire on a bare parquet floor, would you?
3. Environmentally-Friendly
This is a little farfetched–but they do have proven insulation properties. Carpets keep your heating bills low and save you money in the process. By not wasting energy, like so many poorly insulated homes, you undoubtedly contribute to the environmental cause. A carpeted house keeps the heat in better and requires less energy to stay warm for longer. Modern carpet technology has evolved and improved over time to produce hardy and long lasting floor coverings. While all carpets are not easy to recycle, it is only good and rather eco-friendly that carpet lovers can enjoy them for longer.
It's twice the fun here in this twin bedroom.
4. Vulnerability Proofing Medium
Anyone can slip on a shiny hardwood floor, but children and older people are more prone to lose their footing. Carpets not only provide good traction, but will also soften the blow if a toddler trips over and falls.
Contrary to popular belief, carpets can help allergy sufferers and alleviate their symptoms. By effectively trapping dust particles, carpets improve the indoor air quality. If all allergy villains are vacuumed regularly, carpets may actually benefit an allergic person. After all, dust mites are more likely to swirl freely in the air if there is nothing to trap them.
5. It Won't Break the Bank to Install and Maintain
Carpets cost half of what hardwood floors will cost you to install. And you don't need to do much to keep them in great condition. Regular vacuuming and some general TLC are usually sufficient. Anti-stain carpet protection and an additional mat, placed in a high-traffic area will help you enjoy your beautiful carpet for many years to come. The experts in deep carpet cleaning recommend having your rooms professionally cleaned no more than once or twice a year. Surely, most people can afford this and give their soft floor covering a VIP treatment now and again.
In contrast, sanding and varnishing your dull-looking wood floor regularly or replacing a beat-up laminate floor altogether will prove a more expensive option.
Don't settle for less! We love the intertwined details of this one.
6. Your Friend Against Sound Pollution
Wooden floors are simply noisy if not covered with a rug or carpet. If you live in an apartment and can't sleep because of the sound of high heels coming from above–you can relate to this. Laminates, natural stone surfaces and timber floors will conduct the sound waves and vibration produced by moving chairs and footsteps or by kids playing in a distressingly magnified manner.
Other the other hand, carpets keep the noise down, hence, they are a smart solution for bedrooms, your kid's playroom on the second floor or for your teenage son's room who is still learning to play the guitar.
So, overall, many people choose carpet for its home-friendly properties and eminent advantages over bare wood or tiled flooring. Of course, there will be always advocates for marble or tile surfaces and their sleek look or for the trendy slippery "dance floors" made from hardwood.
What about you–what will you choose?